TEXT Cathy Lai
The 2017 Decorations, Medals and Certificates of Merit Awards were given to 42 individuals and organisations in January
Loreto Mijares Jr. becomes the first non‐resident to receive the Honorific Title – Prestige at after rescuing three lives from massive flooding.
Born in 1987, Loreto de Guia Mijares Jr. was about 16 years old when he nearly drowned while swimming in a lake with his cousin in his hometown, Catarman, Philippines. Although he was rescued in time, he swore off water activities completely. 14 years later, when catastrophic flooding threatened to take lives in front of his eyes, Mijares gathered the strength to overcome his ultimate fear.
Mijares and his wife live in the Barra area near Rua da Praia do Manduco. The couple were at home when Super Typhoon Hato, the strongest storm in more than 50 years, struck Macao on 23 August 2017. He was preparing lunch while his wife, Jhunnafe Mijares, was by the window filming the rising waters with her phone.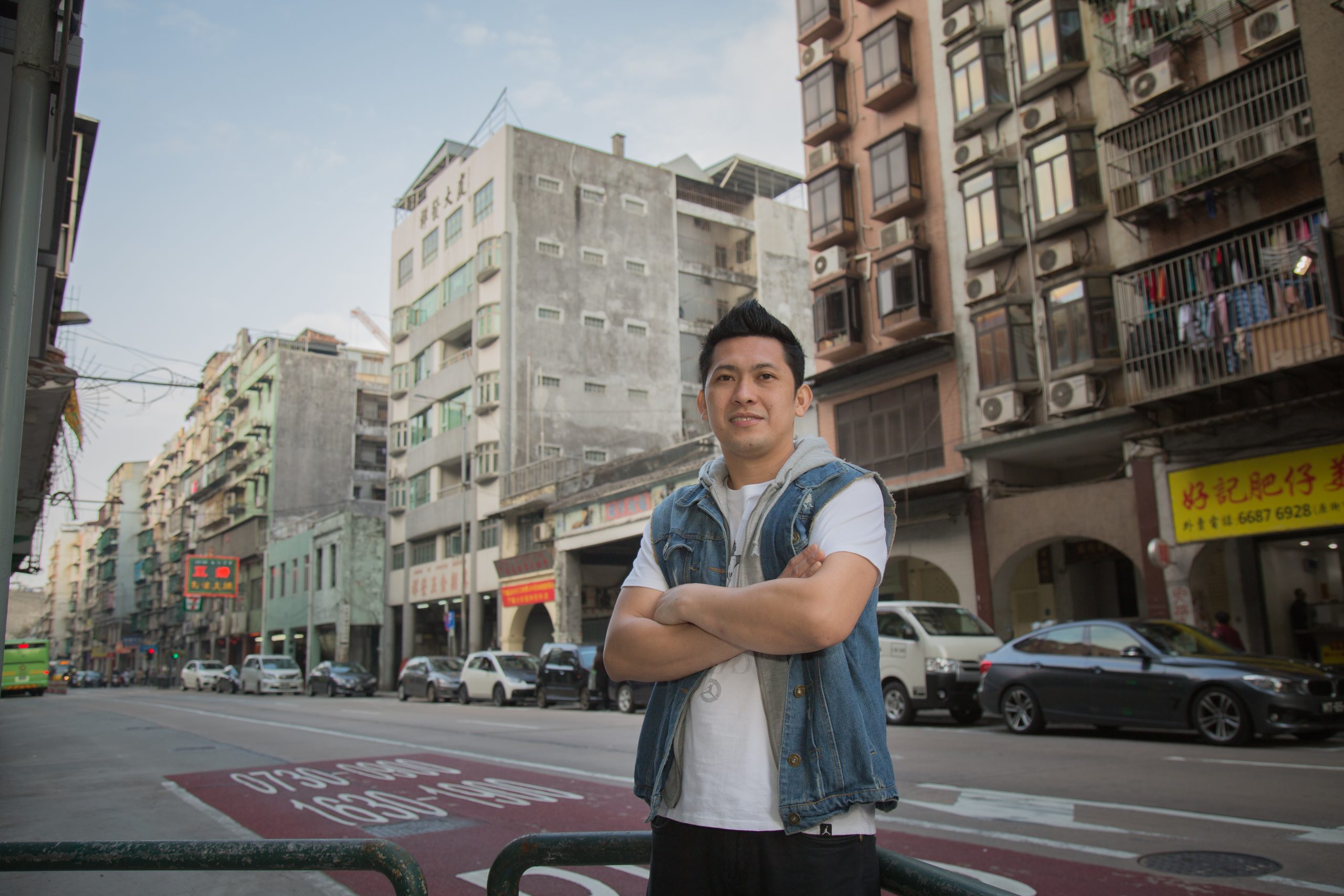 "The wind was so strong and water kept flooding into the street. In less than a few minutes, the flood had already gone up from knee to shoulder level," she recalled. "I noticed an old couple trapped in the deep water and I started to scream."
Her fear multiplied when she turned her head and realised that Mijares had disappeared from the apartment. She looked out of the window again, and found that her husband was already in the water.
"I didn't think too much; I just ran down to the ground floor," Mijares explained. "I knew I had to do something about it, so I asked God to give me strength when I jumped into the water."
Mijares swam across the swirling water, just in time to grab hold of the husband who was about to drift away. Meanwhile, people living in the surrounding buildings began throwing lifebuoys to him, which he immediately threw to
the old couple and a man who was floating on the water with a piece of wood.
One by one, he pulled them toward the top of a nearby vehicle. The wind continued to rip through the street, so he embraced the old couple with a lifejacket, which was also thrown down by the neighbours. The three clung to each other for 15 minutes before the strong wind subsided. Afterwards, neighbours helped them get into a nearby building.
I didn't think too much; I just ran down to the ground floor. I knew I had to do something about it, so I asked God to give me strength when I jumped into the water.

Loreto Mijares Jr.
Mijares's heroic act was captured on video by his worried wife watching from their apartment above; it quickly went viral on social media. People started greeting him on the street, praising him for his courage and kindness. Some requested to take pictures with him, and his compatriots called him "our Filipino hero."
They were not alone in recognising Mijares' heroism: various news outlets lauded the rescue and he received a number of awards. One of the most prestigious came this January when the Macao government awarded him the Honorific Title – Prestige, making Mijares the first non‐resident to receive the title. He called it a "big honour" for him, and for the Filipino community.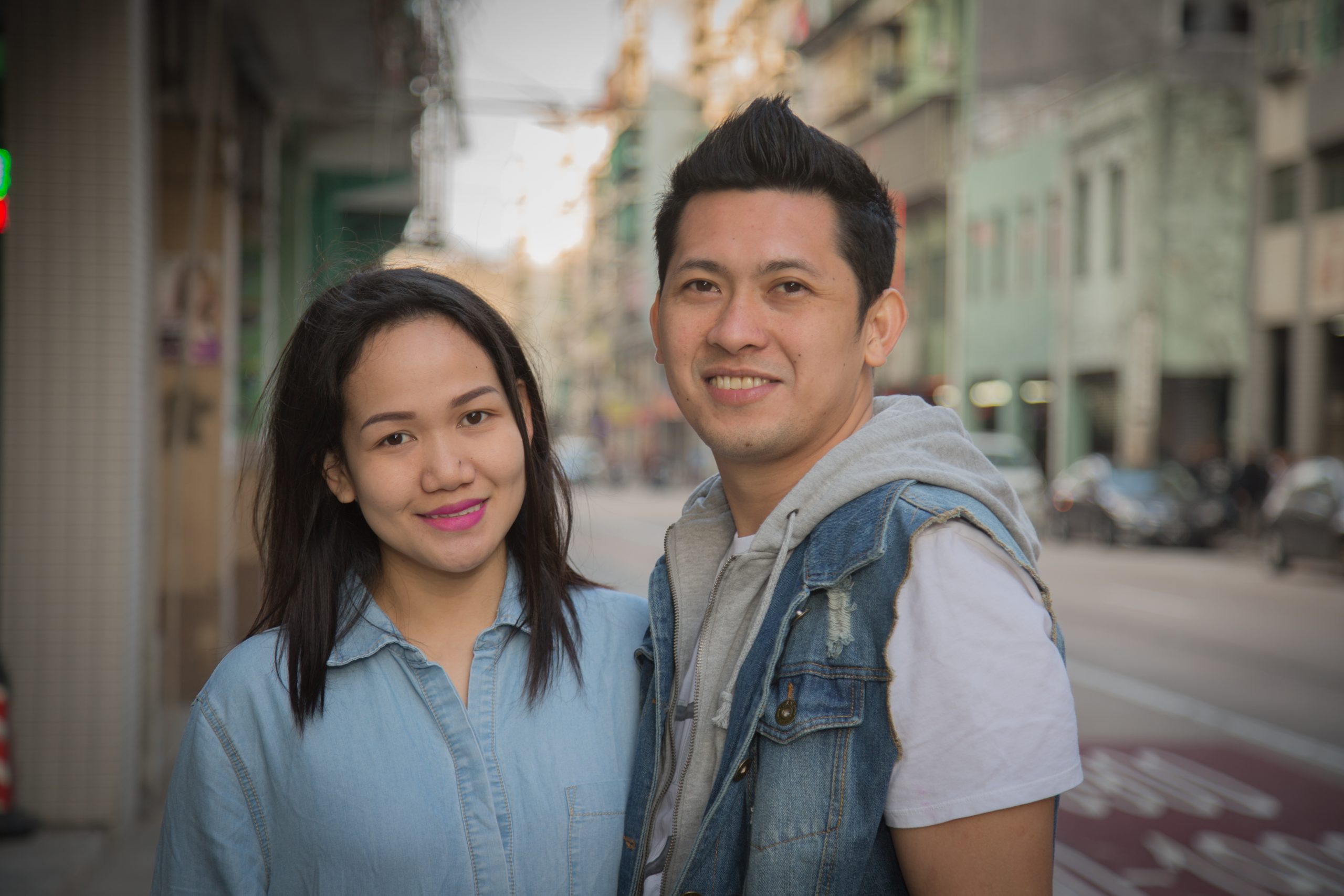 Having come to Macao in search of a better living more than a year ago, the couple now work as housekeepers in local hotels. Mijares, whose background is in security, admitted that it has not been easy for him to adaptto the hotel industry, which has measurable standards to follow at all times. "There is so much to learn," he smiled.
Since that terrible August day, however, unexpected friendships and happy developments have made them feel more connected to their new home.
"The man and the old couple we rescued treat us like family now," said Jhunnafe Mijares, "and because we live near the old couple, every time we run into them in the food market, they give us a lot of food as gifts. We are so overwhelmed."
The Mijares' family is changing in other ways as well. The couple had been trying to apply for a visa for their 2‐year‐old daughter, who is now in the Philippines. "Everybody told us that it wouldn't be easy, because she was not born in Macao," she explained, "but after we submitted the award certificate to the immigration, we quickly received a call from them, saying that the visa had been approved."
The couple are also expecting a baby girl in July. They look forward to growing their family in Macao, not only with a second child, but also with the dear friends they have made here in the city.
The top honours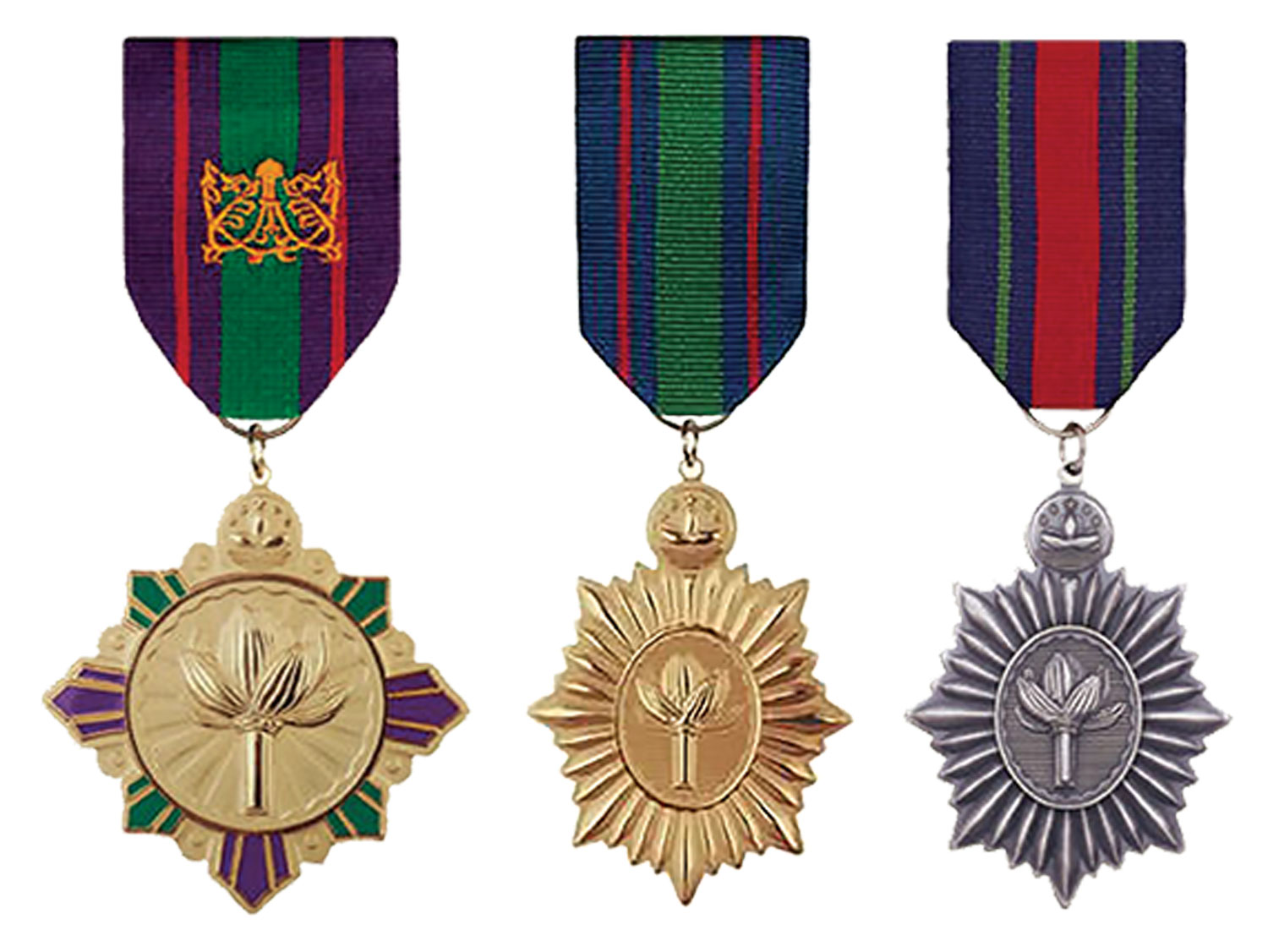 The 2017 Decorations, Medals and Certificates of Merit Awards Ceremony of the Macao SAR of the People's Republic of China was held at the Macao Cultural Centre this January. The highest honour awarded this year, the Golden Lotus, went to Choi Lai Hang, who served as the first director‐general of the Macao Customs Service. Lei Loi Tak, registered auditor and chairman of Associação Budista Soka Gakkai Internacional de Macau, and Vong Kok Seng, vice president of the Board of Directors of The Macao Chamber of Commerce, were awarded the Silver Lotus.
Heroes who saved lives and protected property during Super Typhoon Hato were also recognised during the award presentation ceremony. Mijares, for his daring rescue of an elderly couple and another man from the floodwaters, was awarded Honorific Title – Prestige, Certificate of Merit. The Medal for Distinguished Service – Medal for Bravery went to members of four government entities heavily involved in the response and recovery effort: the Diving Team
of the Macao Customs Service; the Special Patrol Group of the Public Security Police Force; the Special Rescue Squad of the Fire Services Bureau; and the Centre for Disease Control and Prevention of the Health Bureau.
In addition to Medals for Distinguished Service and Certificates of Merit, there are seven types of Medal of Merit. These are awarded to individuals and entities that have made significant or excellent contributions in the fields of industry and commerce, culture, education, professions, philanthropy, sports, and tourism. Of the 42 individuals and organisations recognised this year, there were 22 Medals of Merit, 11 Medals for Distinguished Service, 6 Certificates of Merit, and 3 Decorations of Honour awarded.

Choi Lai Hang
Decoration of Honour – Golden Lotus
Choi Lai Hang served as the first director‐general of the Macao Customs Service, and was appointed to a two‐year term as coordinator for the Security Forces Co‐ordination Office in 2015. In a career that spans 30 years, Choi has received public recognition awards six times, including the Medal of Professional Merit in 1998.
Upon receiving the Golden Lotus award, Choi thanked the former Chief Executives of Macao SAR for their trust and support. He also paid tribute to his former colleagues from the Marine and Customs Police and its successor, the Macao Customs Service, who have supported him throughout his challenging career.
Born in Macao on 28 September 1965, Choi joined the Marine and Customs Police in 1987, completing the Police Officer Training Course and the Course for Commanders in 1995 and 1998 respectively. Between 1995 and 2014, Choi served in a number of leadership positions in the security force, including Head of the Supervision Division of Macao, Director of Operations Management Department, Deputy Director of Marine Inspector, Head of the Operational Management Department, and Commander of the Marine and Customs Police.
Choi was appointed as the first director‐general of the Macao Customs Service when it was officially inaugurated in 2001 as a replacement for the Marine and Customs Police. He has long been commended for his effectiveness in coordinating different departments to continuously improve the civil protection mechanisms of Macao.
Vong Kok Seng
Decoration of Honour – Silver Lotus
As a vice president of the Board of Directors of the Macao Chamber of Commerce Vong Kok Seng has been devoted to promoting Macao's business and commercial sectors for years. He also plays an active role in various government committees.
Upon receiving the Silver Lotus award, he thanked his friends and colleagues for giving him support and guidance throughout the years, which has greatly motivated him to follow the path of community service. He believes that the award has further encouraged him to make continuous contributions to Macao and other areas.
Prior to the Silver Lotus, Vong received the Medal of Merit ‐ Industry and Commerce in 2003 for his outstanding achievement in the field.
Lei Loi Tak
Decoration of Honour – Silver Lotus
Registered auditor Lei Loi Tak was a key member of Tung Sin Tong Charitable Society and Chao Zhao Natives Association Macau for years. He was also the chairman of local Buddhist group Associação Budista Soka Gakkai Internacional de Macau.
In an interview after the award presentation ceremony, Lei expressed gratitude to the collaborative effort from different social sectors in making Macao a harmonious and prosperous city. He also took the occasion to encourage young people to enrich themselves through embracing different challenges, and contribute to the stability and prosperity of the city.
For his long‐term commitment to promoting peace, culture, charity and education, Lei was awarded the Medal of Merit – Culture in 2006. Lei passed away on 21 February, 2018 at the age of 76.