Macao has been fortunate not to experience a local outbreak, though it has come close on a number of occasions. This has been down to the work of local health authorities who have prevented the spread of the virus. In late February, after a frequent visitor from Tanzhou tested positive, 8,000 people who she may have come across during her trips underwent mass testing while 300 students and teaching staff living in Tanzhou had to switch to online classes.
Sticking to Covid zero
The measures described are part of Macao's "dynamic Covid zero" strategy, which combines systemic contact tracing, mandatory isolation, mass testing, border closures and targeted lockdowns to quash local chains of transmission. It has been key to keeping case numbers low in the city. In three years, only 82 cases have been reported (authorities no longer count imported cases) with no Covid-related fatalities.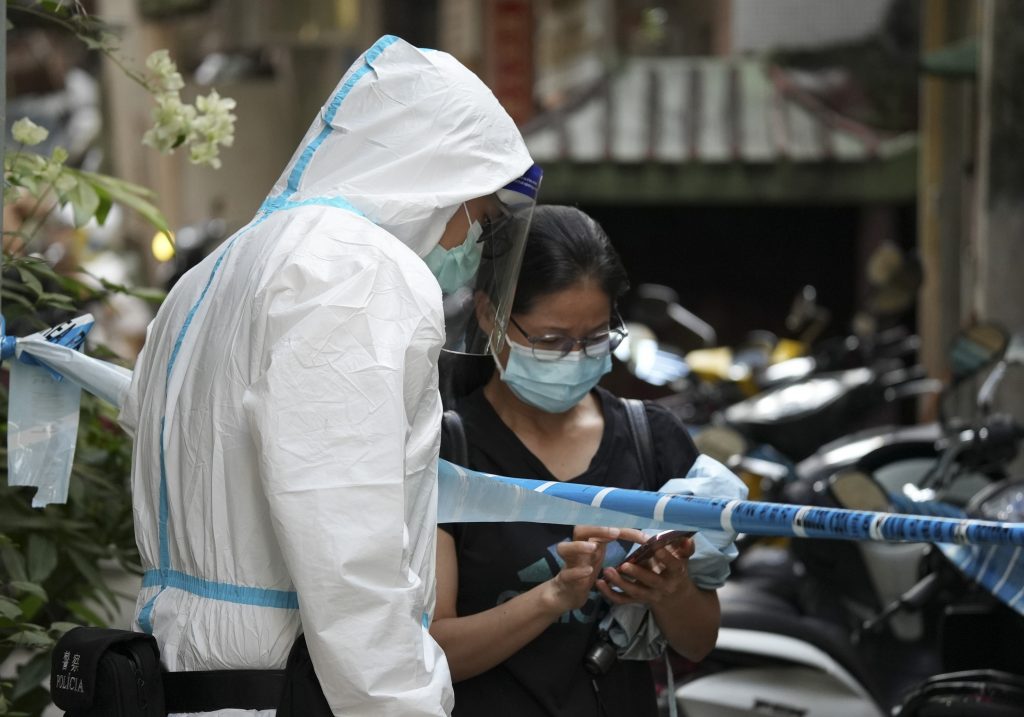 More stringent measures are being added as we learn more about Covid-19. After traces of the virus were found on imported packages and frozen goods, incoming products from high-risk areas must now be thoroughly disinfected. Meanwhile, those working at parcel pick-up points (for items ordered from the mainland) must get tested weekly after being deemed at higher risk of contracting the virus.
Other countries that have had similarly strict measures before, such as Singapore, South Korea and Australia, have now adopted a "living with Covid-19" outlook, acknowledging that the coronavirus is simply here to stay. They have since opened their borders to certain vaccinated travellers and tried to reduce the impact of the virus on day-to-day life (by limiting school and business closures, for example).
These countries are now seeing surges in case numbers driven by the Omicron variant, but they have kept the number of deaths relatively low. Their success in reducing deaths can be credited to high vaccination rates, as studies have shown that the variant is much less likely to cause severe disease among those who have been inoculated.
In Macao, Chief Executive Ho Iat Seng continues to stand firm on the city's current strategy. He reasons that doing so is imperative to keep Macao's travel bubble with the mainland – its main source of tourism and gambling revenue – open. "We stay in line with the mainland [on Covid-19 policy] as we have over 350,000 people entering and exiting Macao every day," he told reporters at an International Women's Day event on 25 February.
Local health authorities argue that the city's medical infrastructure in its current state will not be able to handle a mass outbreak. There are fewer than 2,000 hospital beds in Macao, of which only 266 are isolated and suitable for Covid-19 cases. Furthermore, Macao's vaccination rate has not reached the same levels as the previously mentioned countries, which could spell trouble for the city should an outbreak occur.
The great vax rush
Macao's general vaccination rate (those who have received at least one dose) stood at 82.2 per cent as of 17 March. Roughly 50 per cent of the population has received two doses of the vaccine, while just 24 per cent have had a booster. In comparison,  87.8 per cent and 92 per cent are already fully vaccinated with at least two doses in the mainland and Singapore, respectively.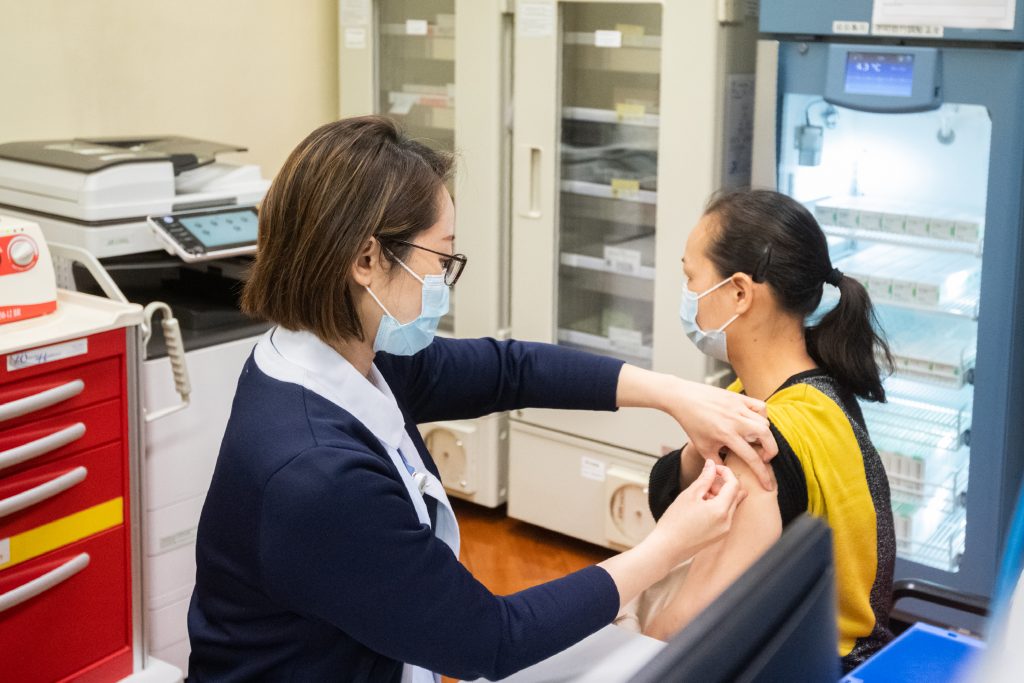 The Chief Executive has acknowledged that the government has not implemented "very tough" measures to push locals to get vaccinated. Vaccination is not mandatory by law and is not required to enter certain venues and facilities, for example.
The city has not yet inoculated much of its elderly population, either. As of 17 March, government data show that 60.6 per cent of those aged 70 to 79 have received even just one dose. That rate plummets to just 33.7 per cent for those over the age of 80.
These low vaccination rates among the elderly suggest that Omicron could have devastating effects on the vulnerable if it were to spread here. Analysis from the Hong Kong Centre for Health Protection show that more than 91 per cent of Covid deaths in Hong Kong were among the unvaccinated with those over the age of 60 particularly susceptible to severe disease.
In response, the Macao government is targeting this demographic in its vaccination drive. The Social Welfare Bureau tasked over 200 private social service facilities to phone about 50,000 senior citizens or their relatives to encourage them to get jabbed. Unvaccinated visitors to elderly homes are also required to present a nucleic acid test from the past 48 hours, compared with the seven day validity period for those who are fully inoculated.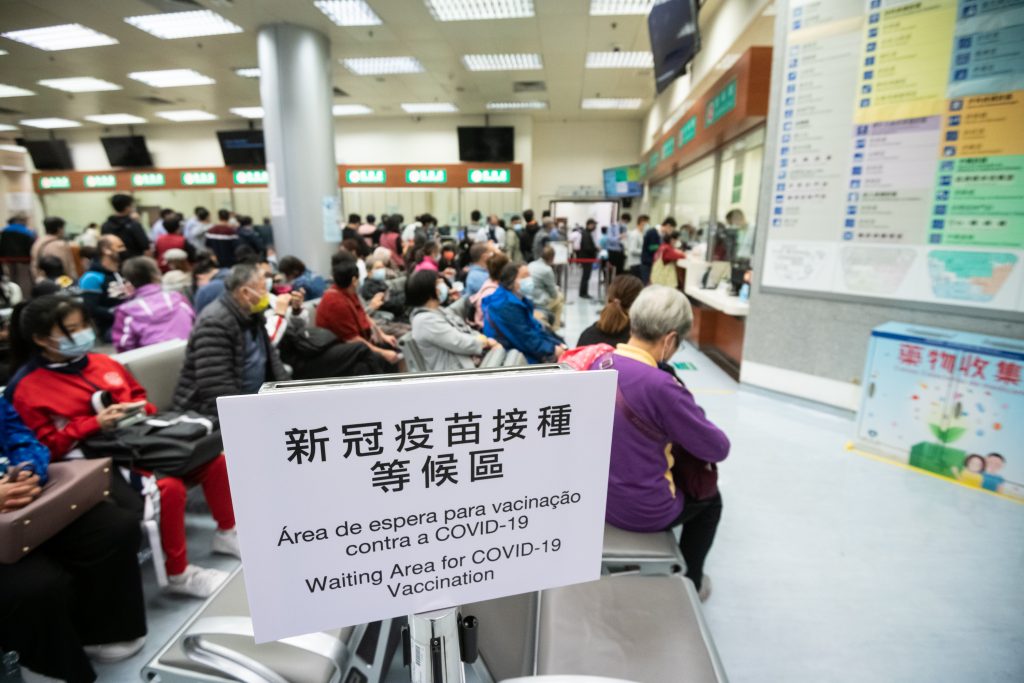 The Social Welfare Bureau's Choi Sio Un said the campaign resulted in a 6 per cent rise in senior citizens who have received at least one Covid-19 jab within only a week. However, Choi said that although the increase was "encouraging", the overall jab rate among the age group is still "not ideal".
Local authorities are making a similar push amongst Macao's youth with outreach programmes being expanded in kindergartens and primary schools. The jab rate among those aged from three to 11 now hovers at around 27 per cent, more than double from 11 per cent in February after the implementation of other measures, such as requiring schools to regularly ask parents if their children have been vaccinated.
Civil servants have also been incentivised to encourage their parents and grandparents to get vaccinated by giving them the day off if they accompany their senior relatives to their appointments. The scheme already covered parents who went with their children for their vaccine appointments.
The private sector went one step further, with all six gaming operators offering an extra day off to staff so that they could take their elderly family members or children to get vaccinated. This follows existing incentives offered by some firms which include offering a free night's stay at a hotel.
Plan B
Despite many stringent measures, a local outbreak may still occur. To stay a step ahead of the virus, the government has come up with a contingency plan that will see a shift in the allocation of resources, which includes locking down the city and "implementing strict restrictions on social gatherings and activities".
If cases climb to more than 100 per day, the government plans to transform the city's largest sports facility, the Macao East Asian Games Dome, into a temporary treatment centre to provide an extra 1,400 hospital beds.
"When a large number of people infected with the new coronavirus appear, most of them are asymptomatic infections or mild symptoms based on the current vaccination rate in Macao. Therefore, large-scale isolation facilities are required to treat mild or even asymptomatic infections," said Health Bureau Director Alvis Lo at a press conference on 17 March.
Health authorities are also in contact with private companies to set up an open-air medical facility, also to be situated in Cotai. It will take up roughly 10,000 square metres of space and will add another 1,000 beds, increasing the city's total capacity to 2,700. Once deployed, it will take a total of 10 days to complete.
Additional toilets, showers and changing rooms will be built in these temporary facilities to supplement existing ones. According to the Novel Coronavirus Response and Coordination Centre, the ratio of bed to amenities is better than the World Health Organization's standard.
If Macao starts recording over 1,000 cases per day, more hotels will be repurposed as medical observation facilities. Home isolation may also be considered.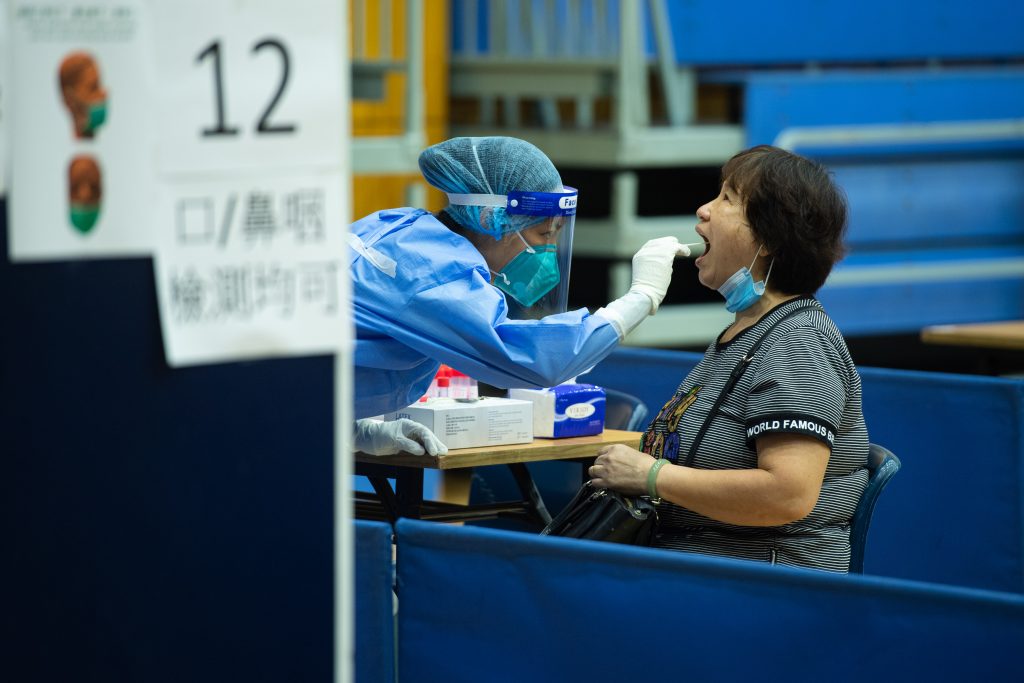 Currently, Macao has the capacity to process 340,000 nucleic acid tests (NATs) per day, which covers only half of the population. To address this, there is a plan to set up temporary testing stations in the form of vehicle and air-inflated labs, which can add up to 1.1 million samples to the daily testing capacity.
Additionally, authorities plan on purchasing rapid antigen tests in bulk. Although not as accurate as NATs, rapid antigen tests provide results within 15 minutes, can identify highly contagious individuals and don't require special facilities, since they can be administered at homes.
The city has already established a "Daily Living Support and Social Support Team" to ensure residents have ample supplies of daily necessities. Meanwhile, an emergency drug-selling registration system is in the works to prevent unnecessary hoarding of medicine and panic buying.
Bracing for the worst
Through tough measures, Macao has been able to stave off the city from Covid-19 but government leaders have acknowledged that our efforts could still be upended by the evasive virus.
In our October 2021 issue, we said that "vaccinations are the best way to reopen borders and revitalise the economy". That statement rings truer than ever today. With an even more infectious variant at the doorstep, however, we must remember that success is not defined in economic terms alone. We must work together to protect the most vulnerable members of our society.