Macao Post & Telecommunications – the CTT – has been connecting the city with the world for 135 years. We celebrate its birthday by looking at its history, its importance and what it offers today.
In today's fast-paced world, when we think of communications, we think of emails and instant messages on our mobile phones. We don't immediately think of letters, parcels and telegrams. But, 135 years ago, there was no instant messaging. If you wanted to communicate with others who were not in your neighbourhood, your local postal service was of paramount importance to your life.
And that's just what Macao Post & Telecommunications was – of paramount importance. From the day it was founded on 1 March 1884, it was – and has remained to be ever since – Macao's window to the outside world, sending and receiving mail from across the globe while also creating some of the most beautiful stamps in Asia. Life may have changed beyond almost all recognition over the past 135 years – but the postal service is still just as important. It has changed dramatically over the years as it modernises to keep up with today's world.
Macao Post & Telecommunications – also known as CTT, which comes from the former Portuguese name of 'Correios, Telégrafos e Telefones', meaning 'Post, Telegraph and Telephone' – has been celebrating its 135th birthday throughout this year by issuing commemorative stamps and publishing a philatelic book entitled 'CTT Headquarters' Building – History, Architecture, Functionality'. But what makes this historic organisation so important to Macao – and how does it manage to keep up with the ever-changing world?
Still financially strong
The organisation was founded as a separate entity from China Post in 1884, as a sub-member of the Universal Postal Union, a specialised agency of the United Nations that coordinates postal policies among member countries. The CTT has seen countless changes over the years but it says it is confident of the future, despite a fall over time in the traditional postal business. Last year, it posted a profit of MOP 80 million (US$9.92 million) on revenue of MOP 562.7 million (US$69.79 million). Approximately a third of the revenue comes from telecommunications, a third from postal services and stamps, and one third from other sources.
The CTT belongs to the SAR government. It has close to 600 workers who are civil servants – but it is an entity with autonomy over administration, finances and property. From January 2017, its staff increased by more than 100 when the government gave it the task of regulating telecommunications and managing the radio spectrum – a job it had previously done before 2000 – earning it the name CTT, or the Macao Post and Telecommunications Bureau in English. It also runs the Communications Museum, which opened in 2006.
Derby Lau became the organisation's first Chinese – and first female postmaster general – in 2010, a post she has remained in ever since. "Looking ahead, we face several challenges," she admits during an interview in her office inside the iconic Macau Post building off Avenida de Almeida Ribeiro, next door to Senado Square in the centre of the city. This grand building was built between 1925 and 1929 and it is one of the most recognisable structures in Macao, entering the Macao Heritage List – which includes renowned monuments with architectural or historical value – in 1992.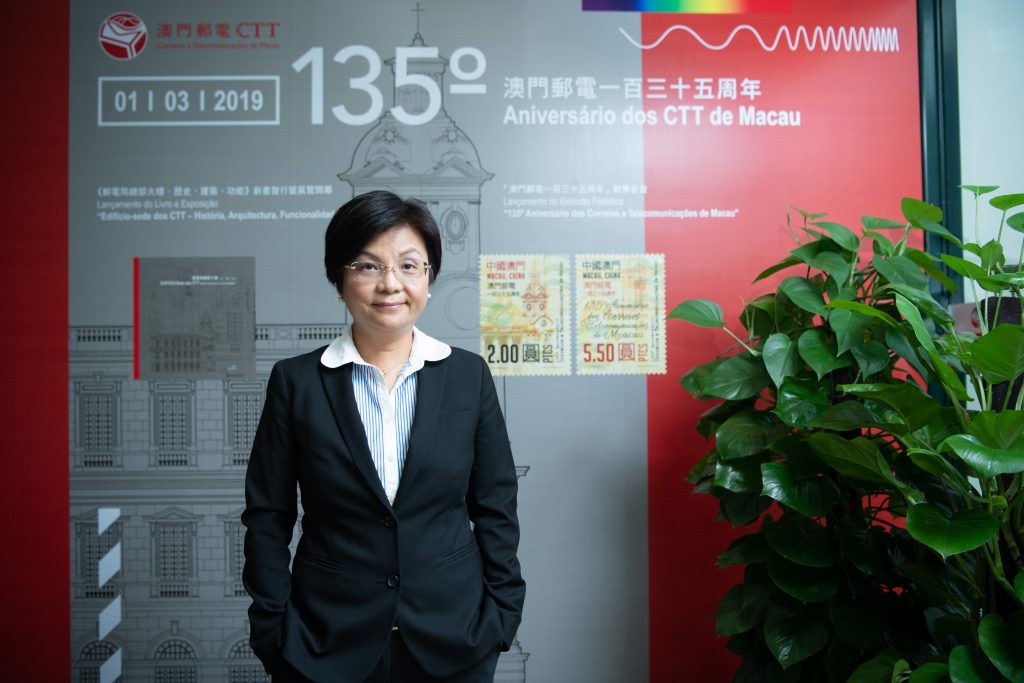 "We must keep pace with the rapid changes in technology and laws in the telecom market," says Lau. "We must develop our business in a market of only 700,000 people. Our labour costs are equivalent to 73 per cent of our expenditure because we are a government body and our staff are civil servants, following all the rules and regulations within the regime of public administration. It is hard to hire expert staff for the regulation of telecommunications. We cannot match the salaries paid by the private sector. And we have a broad responsibility of civil protection operations in the SAR – in typhoons and natural disasters, we must ensure the continuity of our services to the public."
Posting a letter
The CTT began life 135 years ago as a small post office which was also the residence of its director. Now it has a network of 16 post offices across the SAR, including four that have opened over the past few years. It also operates a handling and delivery centre that deals with the inbound and outbound distribution of mail, as well as 42 automatic stamp vending machines and two postal kiosks around the city and in government and commercial buildings. In 1934, it started the first direct airmail dispatch and, in 1979, it launched the Express Mail Service – or EMS – for faster postal deliveries.
Lau says that the volume of domestic mail in the SAR is 'stable' from one year to the next, with most of it coming from government departments, businesses, banks and insurance firms. "But the volume of international mail is falling by between five and 17 per cent a year," she claims. "This is a result of the development of telecommunications and electronic media – and also the keen competition from the private sector."
The CTT's 2018 annual report records decreases in outgoing international mail and outgoing air mail from 2017 by four per cent and 17 per cent respectively. The total volume of international mail last year was 6.28 million items, down from 6.42 million in 2017 and 7.58 million in 2013. But the volume of local mail last year was up at 30.6 million items, compared to 29.66 million in 2017 and 30.52 million in 2013.
Lau notes that the postal market is extremely competitive – especially when it comes to private courier companies. "We have a stable business with our EMS from countries like Japan and South Korea," she says. "But the growth of our business is slower than that of the private companies. Our costs are high and their management is more flexible. We cannot compete on price but we do believe that the quality of service is guaranteed."
Being a government department, the CTT cannot hire non-Macao citizens, which the courier companies can. "This ban applies to all departments," says Lau. "If the government removed it, the unions would protest. This issue touches on major policy issues, such as what kind of people the government wants as the citizens of Macao in the future."
Collecting stamps
Philately has always been an important service of the CTT. Visitors to the main Macau Post building are surrounded by panels showing the rich variety of commemorative stamps which the department has issued over 135 years.
Prior to 1999, Macao's postage stamps bore the Portuguese words 'Republica Portuguesa' but they now bear the words 'Macau, China'. The city started selling stamps in 1884 – and they were originally designed and printed in Portugal and sent to Macao. From 1982, the CTT started to use Macao designers and themes, as well as international and Chinese elements. And from 2000, it initiated international tendering so it could obtain more qualified international printers and more specialist techniques, meaning the SAR's stamps could look even more beautiful than before. None of the stamps are printed in Macao, however – they are printed by companies in China, Australia, France and Holland. Interestingly, though, is the fact that more than three-quarters of those who collect the stamps are Chinese – the rest live all over the world.
Each year, the philately division draws up a list of designs and subjects that are approved by Macao's Chief Executive for its annual issue plan. Each stamp can cost as little as MOP2.50 and the recent printing quantity of an ordinary issue is 200,000 sets, with 250,000 for those that focus on the Lunar New Year. The two record years for sales were 2015 and 2016, with the CTT's income from the stamps being MOP 370 million and MOP 170 million respectively. This was, according to the CTT, because of some heavy spending funds in the Mainland which saw the stamps as 'excellent investments'.
In 2017 and 2018, sales of stamps returned to their normal level of MOP 40 million and MOP 50 million respectively – in fact the CTT says that 'average normal sales from philately' is around the 40 to 50 million MOP mark. Last year, the CTT issued 15 sets of stamps and in September it hosted the 'Macao 2018 – 35th Asian International Stamp Exhibition' at The Venetian Macao, attracting 9,000 visitors from across the Asia-Pacific region.
Many foreign postal administrations, dealers, agents and printers came to the CTT's booth, with the organisers labelling the entire event – the first one ever held in Macao – a 'success'. "We mobilised the staff in all our departments," says Lau. "We invited judges for a competition. We had visitors from
Australia, Thailand, Malaysia, the Philippines, Indonesia, Hong Kong, the Mainland and elsewhere. Our purpose was not to make money but promote Macao philately."
Among this year's stamp issues are ones marking the 'Guangdong-Hong Kong-Macao Greater Bay Area', which are being issued jointly with Hong Kong and the Mainland on 26 September. Then there will be stamps marking national achievements issued on 1 October for National Day – and, of course, on 20 December, special stamps commemorating the '70th Anniversary of the Founding of the People's Republic of China' and the '20th Anniversary of the Reunification of Macao with the Motherland' are to be issued.
For Lau, the stamps are not only an important source of revenue but also works of art, enabling local designers to show their skills. The stamps show many themes – including the '65th Macao Grand Prix', the 'Hong Kong-Zhuhai-Macao Bridge', a series of Chinese zodiac stamps and the '60th Anniversary of the Publication of Macao Daily News'. The CTT uses a variety of technologies and raw materials to make the stamps – including embossing and varnishing – to increase their value as collectors' items. Many awards have been won on an international or regional level for Macao's stamp designs over the years.
More than just mail
Visitors to the main room in the Macau Post building may notice a queue of foreign workers – including people from the Philippines – at one end on most days. This queue has formed because they are making use of the CTT's International Money Transfer Service, which it operates with the Philippine Postal Savings Bank and Western Union. This enables the workers to send money back to their families at home.
The department launched its Postal Savings Services – also known as 'Caixa Economica Postal' or CEP – in 1917. Its services now include deposits and loans. It also manages a government fund, the Housing Credit Assistance Fund, and it runs a savings and loan division for civil servants and employees of private companies such as utilities and hospitals.
A relatively new service that has taken off is SEPBox, a secure electronic postal box which the CTT launched in October 2013. It's a platform – there's an app – for all manner of electronic deliveries, so people can receive electricity, water and other bills, bank statements and promotional material safely through a closed and secure system. The users know who sent the bills and who received them. The CTT, in this case, is the neutral carrier that provides legal proof of sending and delivery.
 And yet another new feather in the CTT's cap is its eSignTrust Certification Services – the first and currently the only Certificate Authority that's accredited by the government. The eSignTrust services are managed by the CTT in accordance with the SAR's Electronic Documents and Signatures Law, issuing electronic certificates for businesses and focusing on services related to Public Key Infrastructure – the technology for authenticating users and devices in the digital world.
To further promote electronic signatures, CTT has launched the eSignCloud Service to provide a safe, reliable and user-friendly online signing tool capable of providing real-name authentication for government departments, business organisations and individual users. The eSignCloud Service enables users to sign electronic documents on mobile devices anywhere and at any time.
Looking back
Life has definitely changed over the past 135 years. But the CTT has adapted with the changes and although the services it now provides may seem a world away from those it ran in 1884, it still all boils down to one priority: giving the people of Macao the best when it comes to communications. But why take it from us? See all these changes, adaptations and improvements for yourself at the CTT's Communications Museum on Estrada de Dom Maria II, across the reservoir from Macao's ferry terminal.
Unlike the rest of the department, the museum receives a subsidy from the government. It presents exhibitions in two major areas – 'post and philately' and 'telecommunications', with experimental and interactive features throughout the space. It aims to serve the Macao population – especially primary and secondary students – stimulating their interest in stamps and promoting the scientific and technical knowledge of telecommunications. It also aims to attract visitors to the city.
But no visit to the museum should go without a trip to the main Macau Post building, with photographs outside and a long look within those historic walls. Lau walks gently through the spacious ground floor of the building, which has adapted itself many times since it opened in 1931.
Asked if she would prefer to move to new custom-built headquarters, she says that's out of the question. "This is classed as a historic building," she says. "We could only leave it as it is. Many people in Macao are attached to the building as part of the city's – and their – Macao memory."
---
The iconic Post Office Headquarters in 3D
Macao's Post Office Headquarters is a historic building that's been captured by artists and photographers for almost 90 years. And the city's most recent artistic impression, which is now being sold as a 3D image on a postcard, has a beautiful story behind it. The image was designed by autistic artist 0.38 – real name Leong Ieng Wai – and the postcard was created by the people who use the Fuhong Society of Macau's services. Fuhong is a charity organisation funded by the Social Welfare Bureau that provides a vocational training centre for people with disabilities and autism.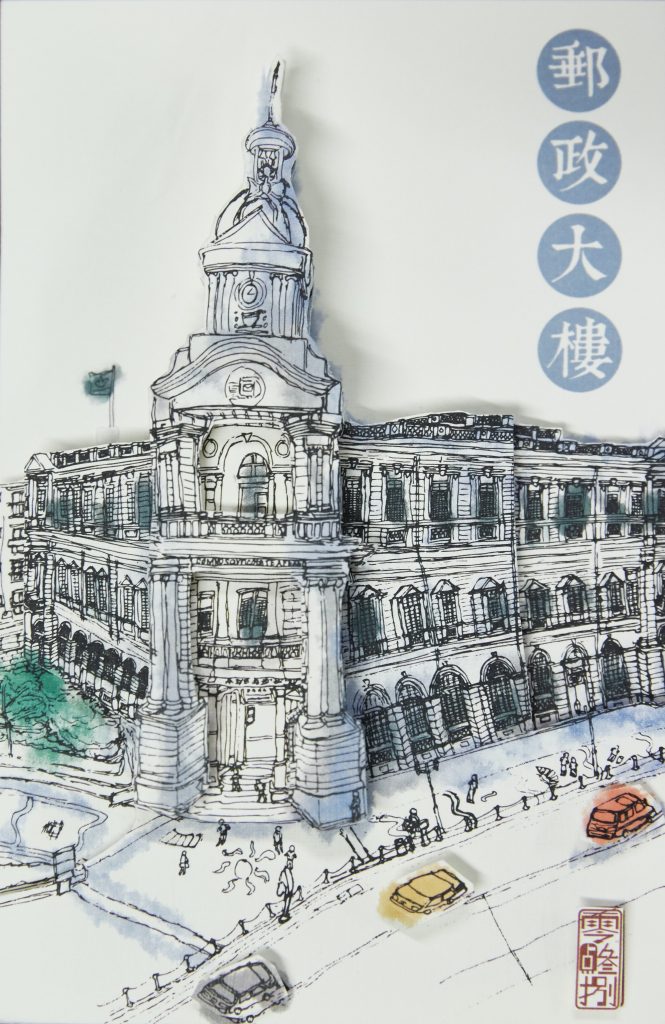 Charlie U, manager of Fuhong's centre for vocational training near Macao's border gate, says: "Basically, because we cater for people with special needs, especially intellectual disabilities, who are unable to work like us but who have graduated from special schools and need a job so they can gain self-confidence and contribute to society, we have built a centre where they can work and gain a salary. So many of the users design and create pieces of art."
The Post Office Headquarters postcard is one of a collection of five that is being sold in Macao. Whoever buys the postcards sees their money going directly to Fuhong – and directly into the salaries of those with disabilities and autism. But why this building? "It was a coincidence, actually," says Charlie U. "We found these amazing drawings of cars in the centre and couldn't work out who had done them for a long time but we eventually found out it was 0.38 when he was putting them in a bin without us knowing. From there, we asked him to create designs of great Macao landmarks and one of the designs he chose was the Post Office Headquarters as it is a listing building that is iconic in the city. The rest is history!"
To purchase one of the postcards, head to Fuhong's shop on the 58th floor Observation Lounge of Macao Tower.