In an exclusive interview with Macao Magazine, the President of the Portuguese Republic, Marcelo Rebelo de Sousa, speaks about relations with China, the role that Macao continues to play, and the opportunities for Portuguese entrepreneurs in the Chinese Belt and Road Initiative.
This will be a year of commemorations. What are the main lessons to learn from the four decades of diplomatic relations between Portugal and China, and the two decades of Macao's integration into the People's Republic of China?
Indeed, 2019 will mark 40 years since Portugal and China re-established diplomatic relations. Despite being the oldest such ties between a Western European country and China, they had been circumstantially interrupted between 1949 and 1979. It will also mark 20 years since Macao returned to Chinese rule.
The resumption of diplomatic ties and our relations over the last 40 years are very positively appraised by both China and Portugal, as well as how we negotiated and implemented Macao's retrocession to China. Proof of that common positive assessment is the fact that during the state visit of President Xi Jinping, the two countries signed a commitment to hold, over the course of 2019, a festival of Portuguese culture in China and another one of Chinese culture in Portugal.
The main lessons to learn are the same ones we had learned during more than 500 years of relations between Portugal and Chinthat respecting the inherent differences of each nation's culture and lifestyle ensures that there is plenty of space for all the interests and prospects that bring us together. We do not have to be the same to understand each other, and we understand each other well and with mutual esteem.
What is the significance of Chinese President Xi Jinping's visit to Portugal in 2018? And what are the objectives of your visit to China in 2019?
President Xi Jinping's visit to Portugal was of paramount importance for the vitality and strength of the two countries' relationship. It made a historic contribution to those two aspects, singularly helping enhance contacts and commitments to develop partnerships between the two countries' public and private sectors. Today, we have more agreements and more joint commitments for the future, clearly a result of that visit. It was the third time since we re-established diplomatic ties that a Chinese president came to Portugal on a state visit, which by itself indicates the special attention given to our country by Chinese policy, of which we are naturally very proud and content.
Given the current level of bilateral relations, which both governments consider to be "at the highest level in their history," is China's rising status in the world an advantage for Portugal?
The increasing affirmation of China is a result of its own merit, of the arduous and selfless labour of the Chinese people, and the persistent choice of development policies which have brought about economic wellbeing and a pace of growth unparalleled in the history of China – unparalleled in the world of today. That is why the progressive affirmation of China in the international scene will always be advantageous for the world as a whole, and certainly for Portugal as well. Portugal sees many opportunities in this development of China.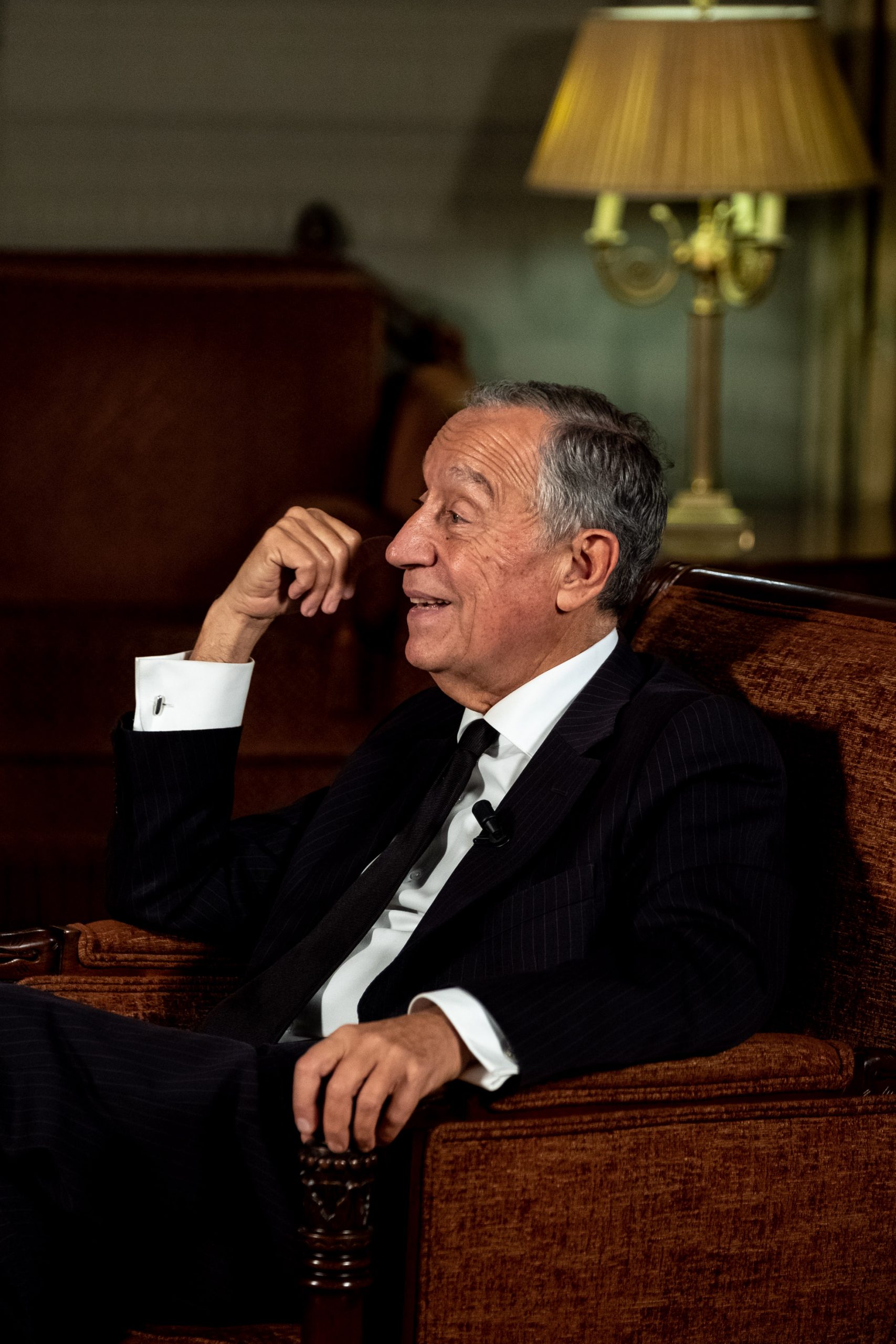 Has Portugal known how to benefit from the Portuguese-Chinese 'link' of the Macao SAR to project its economy and culture, or are there still aspects to improve? Which ones?
Macao will always hold a very central position in the picture of Portuguese-Chinese relations. The ever-friendly and special relations between Portugal and China would never have happened without Macao's unique contribution. On the other hand, the special identity of Macao has created the conditions enabling the Special Administrative Region of  China to continue playing a unique role in China as a platform for dialogue with Portugal and with all the Portuguese-speaking countries. The relationship between Portugal and China extends beyond the relationship via Macao, though Macao can always play a unique role by boosting or optimising that relationship.
Thee ever-friendly and special relations between Portugal and China would never have happened without Macao's unique contribution.

Marcelo Rebelo de Sousa
The future establishment of the Guangdong–Hong Kong–Macao Greater Bay Area promises to create one of the world's biggest markets, open to Portuguese companies. Is Portugal aware of these new opportunities in southern China?
Portugal and Portuguese entrepreneurs are certainly very aware of this stimulating regional economic integration project in what will be one of the world's most dynamic regions, there in the Pearl River Delta. The population density, productivity, and consumption capacity have already made the region one of drivers of the global economy, and all countries and companies naturally pay attention to those figures.
Chinese companies have invested in sectors of the Portuguese economy such as energy, banking, health, and insurance. Has Portugal become an important gateway for China in the European Union?
The Chinese investors you refer to are three: State Grid, which has invested in the domestic power distribution network; China Three Gorges, which has invested in energy production; and Fosun, which has invested in banking, insurance, energy, and health. These are very important investments in key areas of our economy and our society. They are investments that result from the fact that in the respective tenders the Chinese investors presented proposals that were more advantageous for Portugal than those of the other interested parties. In other words, they won due to their own merit and are making a major contribution to sustaining employment in our country. Like other investors, with other origins; all are welcome.
Beyond those companies, Portugal is surely capable of attracting new investment, ideally in other areas and with other more industrial characteristics, with the creation of structures from the ground up. Finally, we cannot forget that Portugal is neither the first nor the second nor even the third ranked destination of Chinese investment in Europe – we are the fifth. We must therefore keep the facts in mind and continue working based on a rigorous understanding of the realities.
What advantages can Portugal, particularly its economic players, bring to partnerships with large Chinese companies in third countries, specifically in Africa and Latin America?
That is a good question to ask the Chinese companies that seek us to develop partnerships in third countries. Factors and comparative advantages indicated to us by our Chinese counterparts usually include our deep-seated knowledge of the economic and legal systems of those countries and the ease of interpretation and communication with the respective societies.
How do you assess the importance of China's new Silk Road strategy for development of the global economy and for Portugal in particular?
The Belt and Road initiative launched by President Xi Jinping in 2013 is a major infrastructure and trade connection project, basically oriented toward what we call 'Eurasia.' It is a very promising initiative and has kindled debate about the development of trade and transport frameworks linking Asia and Europe, with branches to other continents, namely Africa and the Americas. It complements the European connectivity initiative launched by the European Union, as well as other partners. Surely, we all stand to gain from the success of these complementary initiatives, which should together foment global trade, development, and prosperity.