Tour groups from the mainland will be allowed to visit Macao as early as "late [October] or early November," said Chief Executive Ho Iat Seng on 24 September. Ho spoke at a special press conference at the Government Headquarters, to relay information from a video conference held with Vice Premier Han Zheng the day before.
Ho said mainland authorities will also start issuing electronic permits (e-permits) for individual travellers again "very soon." Tour group and individual e-permits for mainlanders were suspended from early 2020, in response to the Covid-19 pandemic, meaning mainlanders had to apply in person for permits – a more arduous process. The mainland was Macao's main source of visitors before the pandemic. Since 1 September, foreigners from 41 countries have been allowed back to Macao.
Mandatory quarantine to remain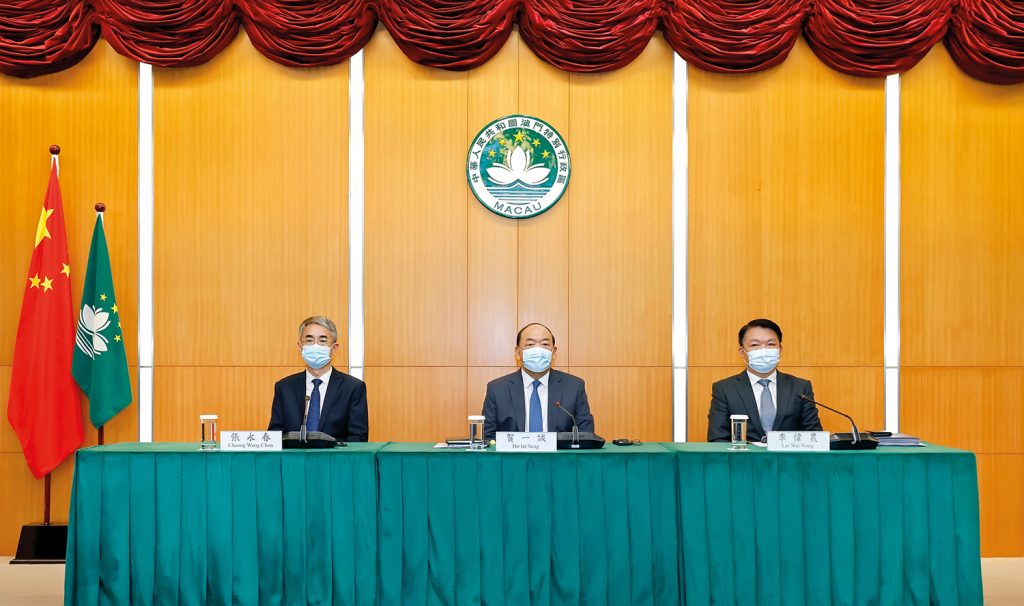 While Hong Kong has scrapped mandatory hotel quarantines for all arrivals in the city, Macao will not, said Ho. He confirmed that the current "7+3" arrangement – seven days in hotel quarantine, then three days self-monitoring for Covid-19 at home – will remain for anyone from outside the mainland. This is in keeping with policies issued for the mainland. "Hong Kong's decision is not related to Macao," Ho said. The easing of quarantine restrictions was not discussed in the video conference, he added.
The government expects daily numbers of visitors to double once tour groups are allowed back in, said Ho. That would bring arrivals to 40,000 a day, still far off the pre-pandemic average of 110,000. Ho acknowldged Macao struggled to cope with pre-pandemic numbers, adding that the government was aiming for more manageable 80,000 daily arrivals in the medium-term.
According to official figures, Macao received 39.4 million visitors in 2019, 71 per cent of them from the mainland. In 2021, just 7.7 million people visited the city – 91 per cent of them mainlanders. The first tour groups and individuals with e-permits allowed back into Macao will be from the provinces of Guangdong, Jiangsu, Fujian and Zhejiang and the city of Shanghai. In the event of a covid outbreak in these places, Ho said travel would likely be halted.
"The economy is the priority of priorities"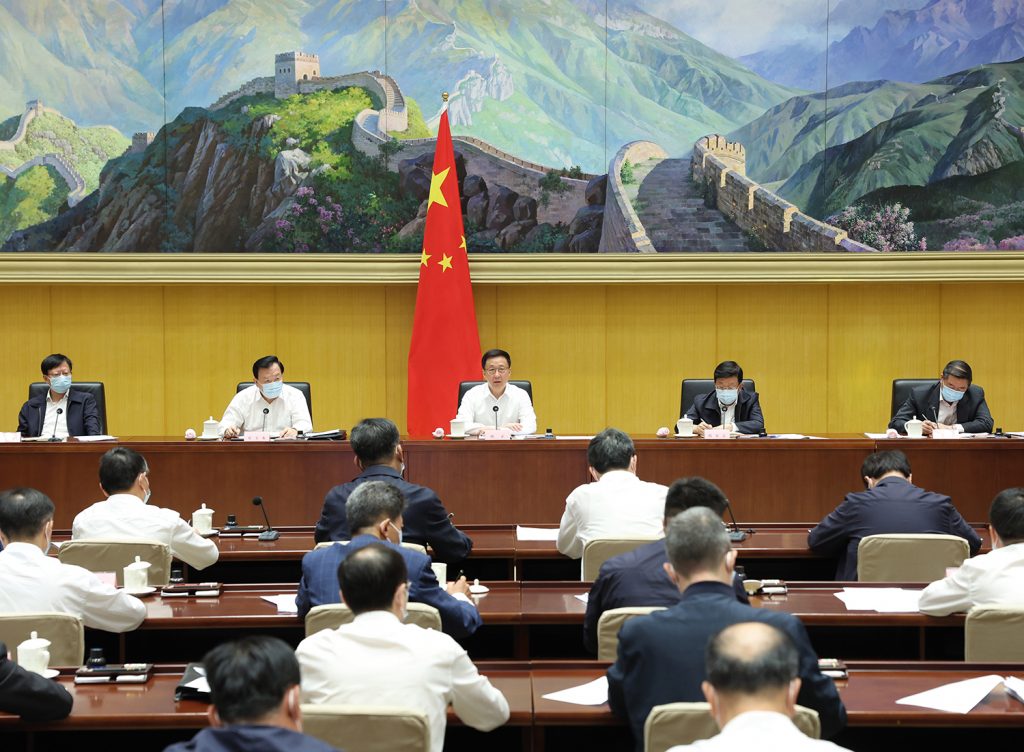 Ho admitted that Macao's economic situation has been "very difficult" during this time. On the same day he spoke with Han, the government announced Macao residents will receive an additional MOP 8,000 (US$1,000) e-voucher in October to help alleviate financial strains.
"The economy is the priority of priorities," said Ho. He outlined several infrastructure projects discussed with Han in their video conference that would benefit Macao. One was extending Macau International Airport's runway so more planes could be accommodated. Another was dredging Macao's coastal waters to make it easier for ships to safely navigate the city's waters.
The new Light Rapid Transit (LRT) line between Taipa and the Qingmao border in the Macao peninsula is another major project, construction of which is set to begin in 2023. To facilitate transit between Macao and the mainland, the government is planning on leasing a 10,400-square-metre plot of land from Zhuhai – right next to the border. Prior to this, the closest LRT station to the border was projected to be a 10-minute walk away. With this new development, travellers will only need to walk for 2 minutes to reach the Qingmao border.
Ho and Han also discussed further development of the Guangdong-Macao In-Depth Cooperation Zone, in Hengqin. Set up one year ago, the Zone encourages more cross-border collaboration and investments under the "One country, Two systems" principle. Despite the differing legal systems between Guangdong and Macao, the two will co-administer the zone under a pilot governance scheme. Macao will implement civil and commercial laws, while mainland authorities handle public security matters.
Han concluded with emphasising the central government's "full support for Macao in speeding up its infrastructure construction and appropriately diversifying the economy."