Local Macao bands spoke of the challenges they faced, and the perseverance that keep them moving forward amid the city's fledgling music scene.
Inside the student hall of the Saint Paul School, the atmosphere heated up amid upbeat drums and guitar riffs. As Angus Chao, vocalist of local rock band Scamper, invited everyone to stand up and let loose, students started waving their hands in the air, singing along with the chant.
The four-person band appeared as part of the School Music Ambassadors, one of several outreach activities that recruited local bands to perform and promote original music among local students. The activity was a warm up for this year's HUSH!! Full Music festival, which took place between 28 April and 1 May. Organised by the Cultural Affairs Bureau (IC), the annual event has become a major platform for local rock bands since its inception in 2005.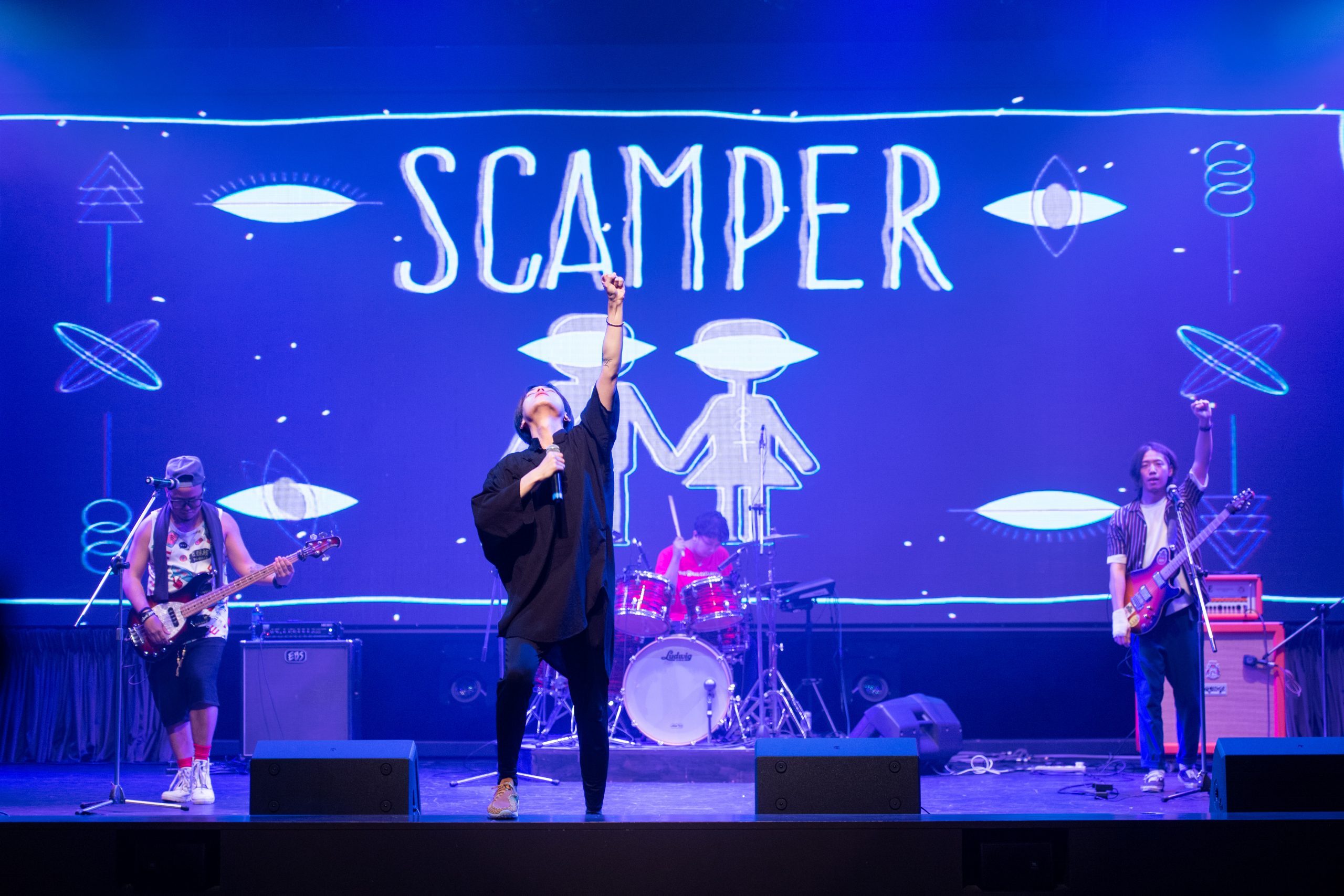 "The students are very excited to see the local bands," said Karen Lai, Music Department head of the school. "They understand that it's not easy to thrive in such a small city as Macao, and they are especially appreciative of the original music they produce."
Echoing Lai's remark, Jun Mak, Scamper's guitarist, observed that public perception towards rock music, which was often seen as incongruent within Chinese society, has changed a lot over the past decade. "The schools value young people with different musical talents, and parents have become more open-minded; they give their children freedom to explore different interests," he said.
Despite a late start, the band scene in Macao is definitely taking shape. A quick internet search will lead you to some of the most familiar names to local music fans, such as Black Sheep, Blademark, Evade, Forget the G, and Catalyser. Meanwhile, more and more new bands have been forming in recent years, striving to make their music heard.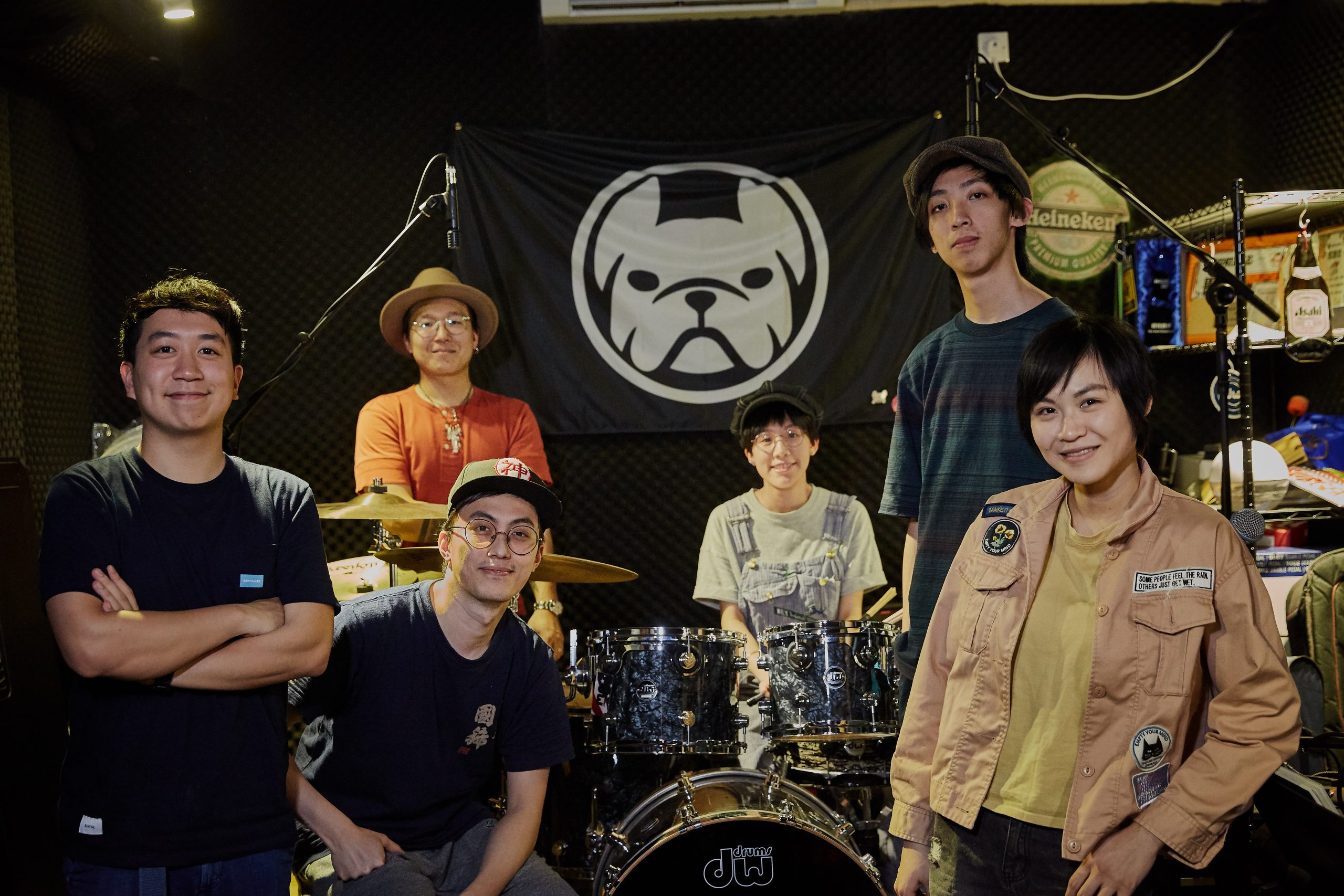 However, in a highly commercial city like Macao, the environment does not offer support  those who follow an artistic path. With rising rent and all forms of financial pressure taking their toll, artists and musicians remain cautiously optimistic about the future of Macao's creative scene. In the wake of the biggest rock festival in the city, we spoke to local bands about the challenges they face and the efforts they've made to push forward.
Finding a way home
Active since 2005, Scamper has made frequent appearances at major musical events in the city, from the annual HUSH!! Full Music festival, through to opening for Linkin Park's Macao show in 2009. The band has gained broader visibility in recent years, performing at music festivals in different parts of Asia, such as Thailand, Taiwan, and mainland China.
In 2016, the band had their first China tour, taking the stage of big and small live houses across 18 cities. "I think we have made a name in mainland China; people [there] have started to recognise us and want to see us. Now, we are trying to develop the market in Macao," said Chao.
You may wonder why the Macao rock band has to find its way back to where they are from. Mak cited the local's mentality as a major reason: "Macao people have been following overseas music scenes for a very long time, from Hong Kong to Korea. But when it comes to local music, [although recognition is growing] it is still not substantial enough to make them want to pay attention to local productions," he explained.
This lack of enthusiasm among local audiences imposes challenges, especially on fledgling bands and less affluent music show organisers. Catalyser, a six-person band formed in 2012 that represented the city at the ABU TV Song Festival in 2017, is no stranger to such a dilemma.
"There are only a few private band shows hosted in Macao each year. To make matters worse, not many Macao people are willing to pay money to watch local bands. Therefore, these private shows often have limited budget and can only offer the bands nominal payment," explained Agostinho Jesus, Catalyser's bassist.
According to Catalyser, performance opportunities usually come in the form of celebratory events hosted by associations and universities. However, they don't earn enough to cover all of the incurred expenses, including renting a practice room and buying musical instruments. Very often, band members have to rely on their full-time jobs to sustain their passion, finding it almost impossible to turn their passion into a full-blown career. "If we could devote more time and energy into the band, our production and performance would definitely be better," said Jesus.
Every penny counts
Their struggles did not go unnoticed. Efforts have been made by the government to help local musicians financially, such as the Subsidy Programme for the Production of Original Song Albums launched by the IC in 2014.
Offering a maximum subsidy of MOP150,000 (US$18,572), the programme grants financial aid to eight music producers each year. In the span of one year, the recipients have to produce an album featuring a minimum of eight new songs.
Both Catalyser and Scamper have taken advantage of the programme and received the full subsidy. The former released Reflection in 2016, whereas the latter invested the money in their upcoming album The world can't be locked, scheduled to release in June this year.
According to Catalyser, the subsidy covered most of the production cost of its album, from renting a studio, through to recording the music and printing the album. "As a band, we could already save some on cost because we're able to get everything done by ourselves – from song and lyric writing to even designing the album cover," said Jason Chang, the band's producer.
As for Scamper, the subsidy allowed them to record their music at studios with better equipment. "We tried to do our best with what we have at hand," said Chao. "[Having an album] is the first step for further development; if someone appreciates it and wants to invest on us, then we can produce something on a larger scale."
Another funding programme that musicians and artists can pursue is the Creative Industries Fund, which provides financial aid to creative endeavours in the form of subsidies or interest-free loans. Scamper applied for the fund in 2017 and successfully received a subsidy of MOP697,782 (US$86,396), with a funding period spanning 23 months. "It's certainly a big boost, especially for our China tour, as we needed to spend money on everything, from transportation and accommodation, through to promotion."
Catalyser hasn't decided to apply for the fund yet. "We are not full-time musicians. It may not be reasonable for us [to receive such a large subsidy]," Jesus admitted.
"The money should be granted to the people that truly know Macao's music scene and genuinely want to improve it. Otherwise, it will just benefit the businessmen who do not know how to organise a good music event or develop local talents," he warned.
Taking a systematic approach
Jun Mak and Joel Alves, guitarist and drummer of Scamper respectively, may hold the answer to further developing the music scene in Macao. The two believe that it requires a good environment to learn, a platform to connect, and a chance to shine.
And they are keen to make an effort. In February 2018, they opened Redwood Arts and Education with two other local musicians. The diverse learning space aims to provide a range of music classes such as drums, guitars, piano and singing, as well as some leather and painting workshops.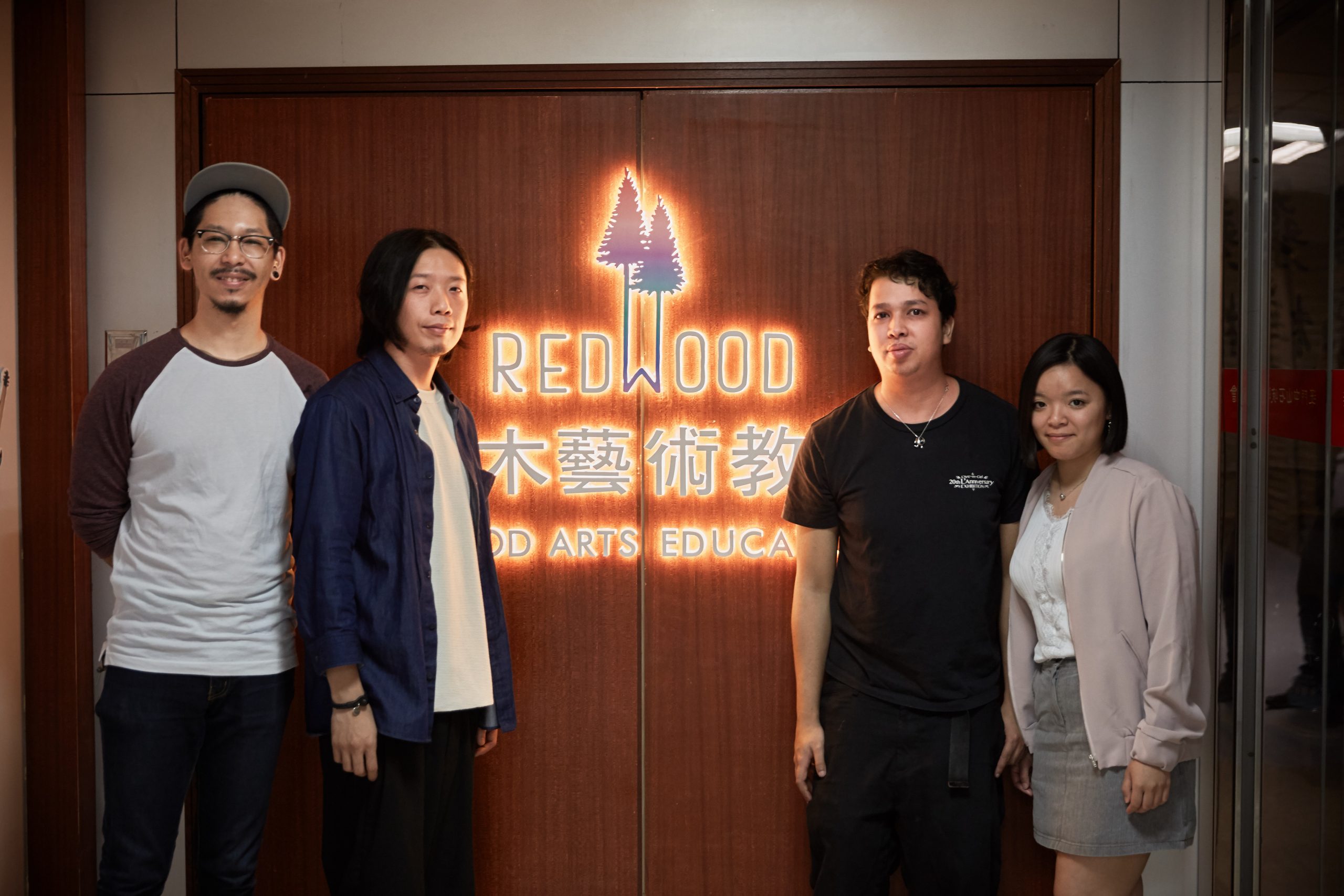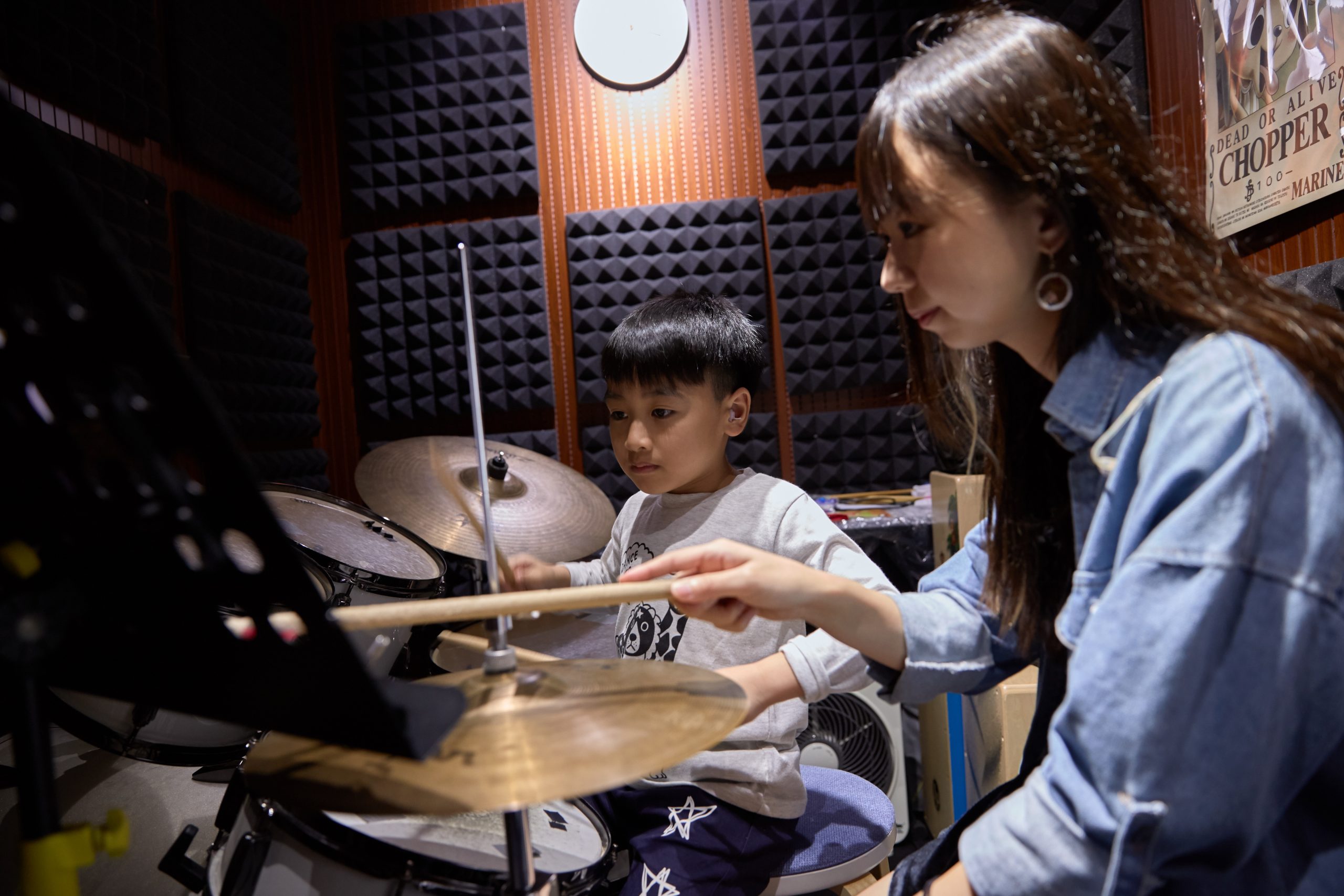 "We'd been teaching music before, and believed that with our experience and network, we would be able to create a good environment for those who are passionate about teaching or learning," said Alves.
According to the duo, Redwood has drawn a wide range of learners, from students at different grades, through to housewives, firemen, doctors, and retired people. "They want to realise an unfulfilled childhood dream," said Alves.
One thing that makes Redwood special is that it has become an exam venue of Rockschool Ltd (RSL), an internationally acclaimed music qualification provider based in Britain. Established in 1991, the organisation delivers graded exams in over 40 countries across six continents, covering modern music genres such as rock, punk, blues, pop, funk, jazz, and metal.
Each year, the RSL examiners visit Redwood two times to host exams for around 30 students in two formats: Rockschool Graded Music Exams require candidates to play three songs and undertake an oral test; Performance Arts Awards require candidates to perform five selected songs and improvise for 8–16 empty bars.
The certificates granted by RSL are especially useful for students who want to further their music career, Mak noted, as they are recognised by music schools and universities worldwide. "It's like IELTS [an international standardised test of English language proficiency] in music learning," he added.
As instructors at Redwood, Alves and Mak believe that the collaboration with RSL makes the teaching of rock music all the more systematic. "In the past, we only learned the music given by our teachers randomly. But now, we can follow the standard syllabus created by RSL and help our students improve their skills step by step," Alves explained.
"Moreover, when people know that there are graded exams for learning drums, for instance, they will find it more professional and attractive."
At the other end, the Redwood founders are trying very hard to create performance opportunities for their students by reaching out to government departments, companies, and educational institutions. The most recent one happened on the Cultural Promotion Day hosted by the IC in April, where the young members of Redwood's percussion band impressed audiences by performing with water buckets.
"By delivering more performances, we believe we can change how Macao people view local music, and at the same time, prove to young musicians that it is possible to grow your career in Macao," said Mak.
A more diverse future
As local musicians look forward to a wider variety of performance platforms, they continue to enjoy HUSH!! Full Music festival, which ran for 18 hours over a span of three days at Hac Sa Beach this year.
The latest edition of the music festival featured a diverse line up of rock, pop, and electronic musicians from Macao as well as Hong Kong, Japan, and Europe that included Jun Kung, RubberBand, and Scandal.
To Catalyser and Scamper, the HUSH!! festival has become a familiar stage, and they've seen how it has evolved – from relocating to Hac Sa Beach, through to expanding from one day to three and adding two more stages alongside the main stage to allow more bands to participate in the event.
"The event has matured a lot in recent years. Of course, we still cannot compare it to the big festivals in other cities, but I think we have all done our best here," said Chao. "Macao's music industry had a late start, but we can always improve ourselves by learning from experience."
This may remind Scamper, and many other emerging bands in the city, of their own development path. "Even for Macao musicians, there is also a lot of room for improvement, in terms of equipment and creativity. After all, we are still at the entry steps [towards becoming top-level music professionals]."
Looking ahead, the band is planning a second China tour, where they will take the chance to promote their new album; however, Macao will always be the place where they want to take root. "We believe that it will be easier for us to gain recognition among Macao people after we have earned more fame outside," said Chao.
As for Catalyser, playing music will continue to be a passion to follow and a vehicle for self-expression. "Although we all have our own challenge to overcome," their Facebook page says, "music will continue to be a 'catalyser' that motivates us to move forward on our journey."
With limited budget, the band has shifted its focus to the digital market, releasing new songs and building a fan base through social media. "In this information era, going digital is the dominant trend," said Jesus.
When asked about their advice to young aspiring musicians, he said, "Just give everything a try when you are young. And at the same time, try to diversify your skills and knowledge – whether or not is related to music. These will give you more leverage to explore a different direction if one doesn't work out."