Tai Kin Ip, director of the Macao Economic Bureau, discusses financial schemes in Macao and how the SAR's cash is spent on supporting businesses and young entrepreneurs.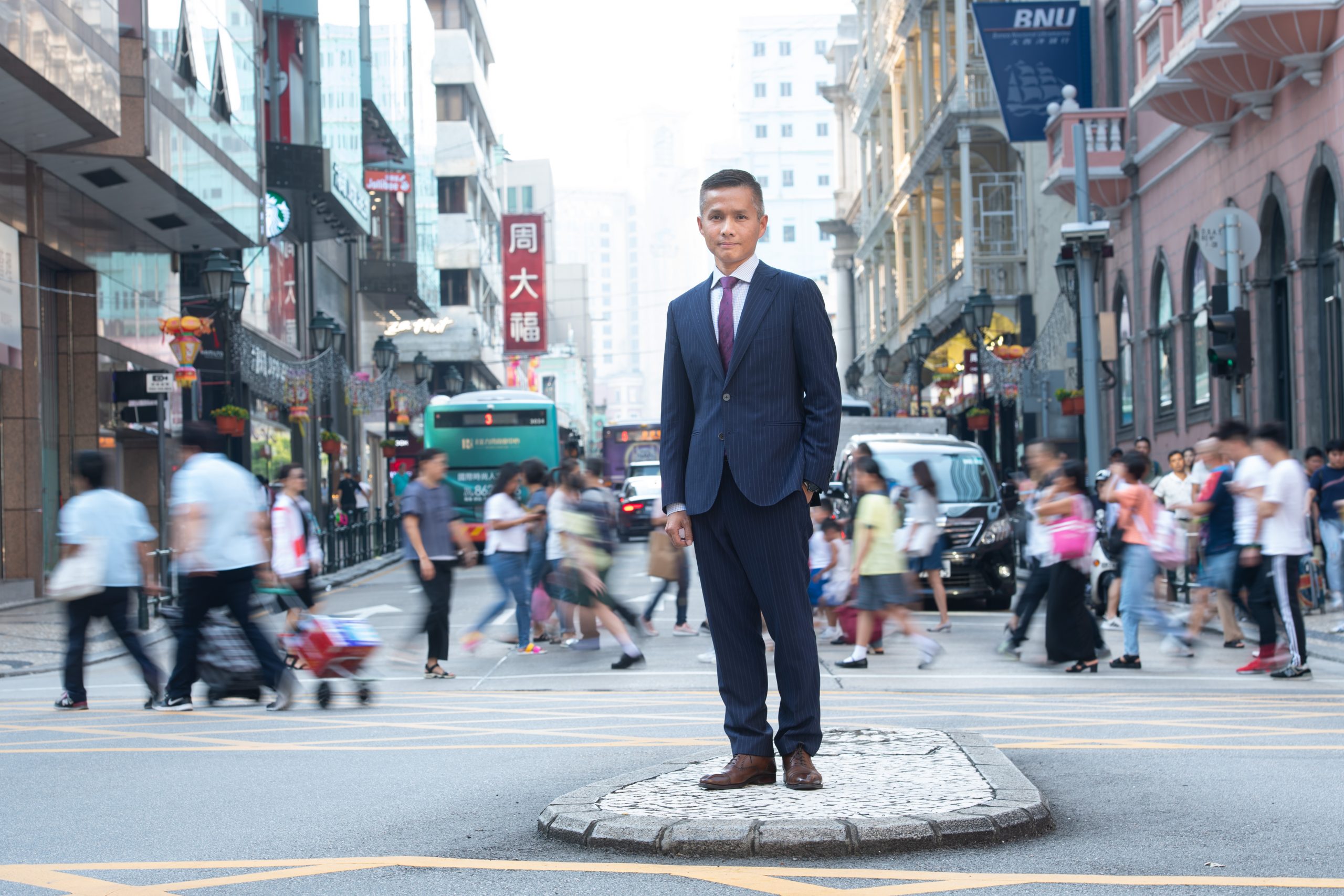 Macao's government has earmarked more than MOP 4.7 billion – US$583 million – over the past 16 years in support of Macao's entrepreneurs and youths at home and abroad. Macao's Economic Bureau director, Tai Kin Ip, tells us how this money has been used and for what initiatives. He also shares with us his recent trip to Portugal and how his bureau is actively working on bridging closer connections between Macao, the Greater Bay Area cities and the Portuguese-speaking countries.
How much funding and resources does the Macao Economic Bureau – DSE – allocate to SMEs in the city?
Launched in 2003, the SME Aid Scheme offers interest-free loans up to MOP 600,000 (US$76,600), repayable over a maximum of eight years. Meanwhile, the SME Credit Guarantee Scheme offers a 70 per cent guarantee on loans up to MOP 7 million (US$894,000). The SME Credit Guarantee Scheme Designated for Special Projects provides SMEs with guarantees of up to 100 per cent of the bank loans needed for financing specific projects and the loan ceiling is MOP 1 million (US$127,700). In 2013, the Young Entrepreneur Aid Scheme was also launched to offer interest-free loans up to MOP 300,000 (US$38,300). Amid the rapidly changing business environment, these schemes have been reviewed several times to streamline the application process, expand the scope of fund use and increase the amount of funding support. We also assist local SMEs by providing know-how training, optimising the market channels via regional co-operation and so forth.
Does the DSE work closely with the gaming operators on SME initiatives?
We have been actively advocating the 'large enterprises leading small enterprises' business model. In line with this, the Macao Chamber of Commerce has organised a series of local SME procurement partnership programmes with the large integrated resort operators. These include business matching sessions, training workshops, procurement cooperation and so forth. These strategic partnerships do not only provide vast business opportunities to the local SMEs but also enhance their ways of doing business and, thus, their overall competitiveness. The Macau Productivity and Technology Transfer Centre (CPTTM) also works closely with SMEs.
How do the CPTTM and the DSE work together when it comes to SME initiatives?
The mobile app 'Macao Happy Play', which is jointly developed by the CPTTM and DSE, provides a platform to consolidate and share all relative information of the participating SMEs. Another example is the SME360, an informational website which addresses a wide range of SMEs' needs by providing information such as how to set up a business in Macao, introduction to government business support policies and procurement information. The Young Entrepreneur Aid Scheme implemented by DSE also involves the CPTTM. The scheme was revised in 2017 to be more targeted, with one of the major changes being applicants must possess and provide certificates of at least 42 hours of training courses on entrepreneurship. The CPTTM is responsible for arranging a series of entrepreneurial courses for the applicants of this aid scheme. Applicants can only be exempted from this if they possess an academic degree or diploma from a tertiary education institution in the fields of business administration or management studies. Other initiatives launched jointly with the CPTTM are the SME Funding Scheme for Lifting Platforms against Flood Damage and the SME Funding Scheme for Flood Gates and Water Pumps against Flood Damage, which are open to application until the end of June 2020. Through these two schemes, qualified SMEs will be funded for the installation of lifting platforms, flood gates and water pumps to prevent or relieve the loss caused by extreme weather conditions. The maximum amount funded for each application is MOP 100,000 (US$12,700) for the former scheme and MOP 50,000 (US$6,385) for the latter. The DSE launched the Macao Young Entrepreneur Incubation Centre (MYEIC) in 2015.
What type of support does the MYEIC provide local entrepreneurs?
We launched the MYEIC with IPIM [the Macao Trade and Investment Promotion Institute] and the CPTTM. Managed by Parafuturo de Macao Investment and Development Limited [a company created by the Macao government in 2015 with one of its purposes being to support young entrepreneurs as well as local SMEs], the centre operates around the clock to provide a wide spectrum of services to innovators and entrepreneurs in Macao. It offers co-working spaces, professional consulting, expert advisors, roadshow marketing, investment capital-matching and so forth. The centre also co-operates with domestic and overseas business incubators to enable young entrepreneurial teams in Mainland China, Portugal and Macao to exchange entrepreneurial resources and explore business opportunities. The centre also hosted the 'Parafuturo de Macao' Innovation and Entrepreneurship Competition in June, aimed at discovering and nurturing entrepreneurs.
How can the Greater Bay Area support Macao's SMEs?
As we know, Macao is a small economy with limited resources. The initiative of developing the Greater Bay Area provides new impetus for diversifying the local economy. Since 2016, the DSE has signed various cooperation agreements with incubation centres in six cities – Guangzhou, Shenzhen, Zhuhai, Dongguan, Zhongshan and Jiangmen – and through mutual recognition of start-up projects, as well as recommending and introducing the incubation centres in the Greater Bay Area to Macao youths. Through this, the Macao government has assisted them in exploring and starting up businesses in the Mainland. Noting that SMEs and youth start-ups might not have sufficient resources or networks to navigate the complexity of different systems and regulations in operating businesses in the GBA, the DSE initiated the 'Professional Consultation Services Exchange Programme' in June. Through collaboration between the MYEIC and various incubation centres – six cities, 11 centres – in the GBA, both sides have agreed to provide advisory services, particularly in the area of legal, accounting and taxation, to start-ups who wish to attain their initial footing in the new market.
How is the bureau facilitating business across the GBA?
To facilitate Macao SMEs and entrepreneurs in setting up companies in the Mainland, the DSE-supported local association, the Guangdong and Macao Federation of Industry and Commerce, in setting up the Pilot Service Centre for Mainland Business Registration in Macao. The centre provides free-of-charge business registration services to Macao enterprises and residents for their incorporation of individually owned stores in Hengqin and Guangzhou. To assist Macao enterprises and individuals who need to register trademarks in the Mainland, the DSE-supported local association, the Macao Chain Stores and Franchise Association, in establishing the China Trademark Registration Consulting Centre. According to the needs of the enterprises, the centre will provide free consultation services on trademark information, application procedures and channels in the Mainland. It also introduces Mainland trademark registration agencies and assists in establishing initial connections. This cooperation not only enables Macao to break through the bottlenecked areas of the economy but also plays an important role in achieving the goal of economic diversification.
The HK-Macao CEPA agreement was signed in 2017 and besides the continuation of zero tariffs, how else does the agreement benefit the SARs?
On 27 October 2017, Hong Kong and Macao signed the HK-Macao CEPA, which has been implemented since 1 January 2018 with a view of strengthening trade ties and exchanges in respect of technical co-operation between the two sides. The HK-Macao CEPA is the second FTA [Free Trade Agreement] signed by Macao with another WTO member, the first CEPA being signed with Mainland China. The agreement essentially covers the liberalisation measures of Trade in Goods and Trade in Services, while the Economic and Technical Cooperation Work Programme specifies the co-operation in trade facilitation and so on.
Young people should continuously enrich themselves with new knowledge to become competitive not only in Macao but also in the Greater Bay Area as well as the PSCs.
On the scope of the liberalisation of the agreement, both parties committed to continue to apply zero tariffs to goods – and not to apply non-tariffs and anti-dumping measures to goods – that originate on either side. Hong Kong was the largest merchandise export destination and the fifth largest source of imports from Macao in 2018, with the bilateral trade volume reaching MOP 14.6 billion (US$1.8 billion). After the implementation of the agreement in 2018, Macao's export of goods to Hong Kong has risen by 14.7 per cent, while import of goods from Hong Kong increased by 3.6 per cent. The HK-Macao CEPA has established a long-term co-operative relationship, providing an even more favourable investment environment for trade and business and forging a closer economic relationship and development of both sides. We believe that the HKMacao CEPA will open a new page of bilateral relationship in the future.
Do you think opening up our economy to more foreign talent would benefit the city?
It is notably obvious that talents are of utmost importance to social and economic development. In the process of building up the 'One Centre, One Platform' objective, there is an intense demand for talents. Hence, the government is actively exploring and cultivating talents through the Talents Development Committee. As for the issue of bringing in specific talents, it is necessary for all sectors of the community to reach a consensus. Undoubtedly, young people nowadays have more development opportunities than their previous generations with their careers being not only limited to Macao. My advice is that young people, whether they choose to throw themselves into the job market or start their own business, should continuously enrich themselves with new knowledge to become competitive not only in Macao but also in the Greater Bay Area as well as the PSCs.
You recently went to Portugal with local entrepreneurs to seek business opportunities and partnerships. Could you share how these visits went?
Being a commercial and trade co-operation service platform between China and Portuguese-speaking countries, Macao is bringing its role into full play by setting up the 'ChinaPSCs Youth Innovation and Entrepreneurship Exchange Centre' in 2017. To complement the establishment of this centre, the 'China-PSCs Youth Innovation and Entrepreneurship Exchange Programme' was launched to encourage our youth to learn and develop in Portugal, inspire innovative thinking and foster opportunities for business and collaboration. In addition, to nurture young entrepreneurs and promote exchange among talents in the GBA, the programme was extended to Mainland entrepreneurs currently in Macao incubators which include MYEIC and the University of Macau Incubation Centre, as well as to Mainland students in Macao who wish to explore opportunities in PSCs. As of 31 August, 50 out of 57 cases have been approved for the exchange programme. The applicants are mainly engaged in business services, cultural and creativity and technology sectors.
While in Portugal, I met with João Correia Neves, the Secretary of State for Economy in Portugal, to give him an account of our work. Neves appreciated our efforts to help Portuguese young entrepreneurs to extend their connections and markets to the Greater Bay Area and welcomed Macao's young entrepreneurs to explore market opportunities in Portugal through the exchange programme. I also visited João Borga, the director of Startup Portugal, and briefed him on our work on increasing co-operation in innovation and entrepreneurship between China and Portugal. He shared their experience about how the Portuguese government has incorporated the startup visa into Portuguese immigration law to develop a better business environment to attract talents and entrepreneurs.
The Economic Bureau has also continuously organised visits for young entrepreneurs, representatives of local youth associations, university professors and other stakeholders to PSCs such as Portugal and Brazil. This gives the members opportunities to exchange views with relevant parties as well as to learn more about local business environments and support policies. For instance, DSE, together with the MYEIC, organised a visit of around 30 representatives to Rio de Janeiro and São Paulo in March. The group visited several public services, incubators and local associations to discuss the possibility of future co-operation. During the visit, we arranged 11 start-up teams from the University of Macao and MYEIC to participate in a roadshow held at an incubator. We also facilitated the conclusion of two co-operation agreements between Macao and Brazil associations.
The 'Macao Classic Brand' – businesses existing for more than 40 years and offering unique products, techniques or services – was launched last year. Tell us about it…
In order to promote the revitalisation of Macao's long-established stores which is one of the elements of the 'The Five-Year Development Plan of the Macao SAR (2016-2020)', the Economic Bureau signed the 'Macao Classic Brand Support Group' co-operation agreement with the Macao Chain Stores and Franchise Association in November 2017. The DSE supports the association in discovering and evaluating classic stores with distinguished Macao characteristics and to introduce new development elements into these stores. By rigorous evaluation of the 'Macao Classic Brand Evaluation Committee', which is composed of representatives from the government, industry and commerce sector, professional services and academia, 12 stores were honoured in the inaugural 'Macao Classic Brand'. In fact, the evaluation of 'Macao Classic Brand' is itself a kind of protection and support for the stores' businesses. It not only enhances the image and popularity of the stores but also combines the historical and cultural heritage owned by these stores.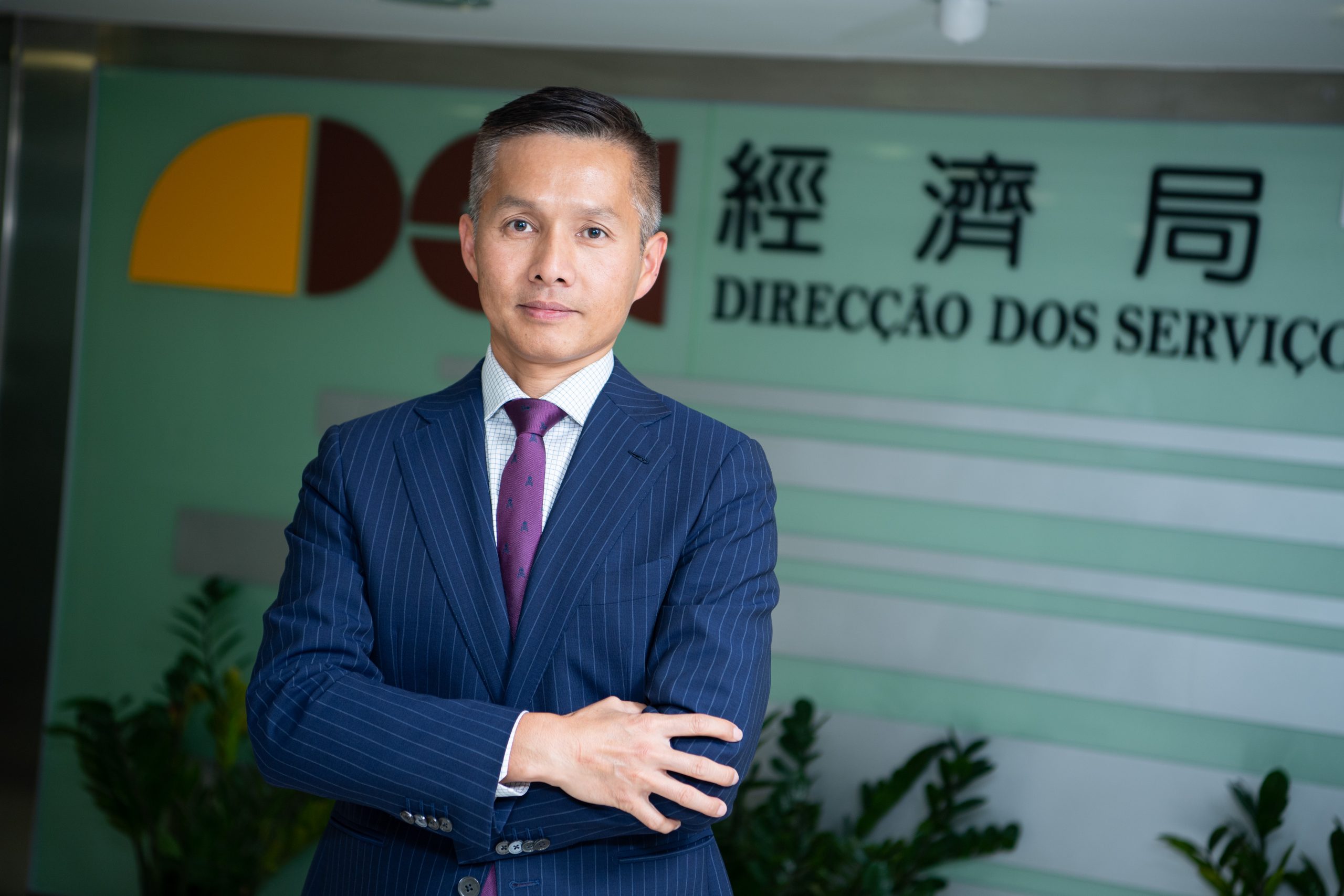 Explain the diamonds initiative and why Macao chose this…
The government has been striving to promote Macao's development into a commercial and trade co-operation service platform between China and the PSCs, as well as to foster economic diversification. Portuguese-speaking countries such as Angola, Brazil and Mozambique are rich in natural resources of gems and the demand for luxury accessories in Mainland China is considerably strong, therefore an initiative in promoting the manufacturing industry towards a high-end and high value-added cluster was derived to fully utilise the advantages in gem resources of those PSCs and the role of Macao as a trade platform.
Considering that rough diamonds are the raw material for a variety of industrial equipment and luxury accessories, we saw the need to implement the Kimberley Process Certification Scheme (KPCS) to participate in the international trade of rough diamonds as the first step. Since the start of the initiative of introducing KPCS to Macao, works have been done in forging the legal framework for the trade of rough diamonds and the legislation on implementing the KPCS in Macao came into force on 1 October. Macao could act as a bridge between buyers and sellers of rough diamonds and other precious stones, giving full play to our advantages as a service platform between China and PSCs. In the future, the implementation of the KPCS will bring a new industry to Macao, not only filling the gap of raw material supply for the diamond industry but also helping to build a complete jewellery industry chain by attracting jewellery design and processing enterprises to establish footholds in Macao. This would improve the development of the local jewellery industry, increase opportunity for new investors and attract new investment, injecting impetus to Macao's efforts in promoting a more diversified economy.
Looking at next year, what budget has the DSE allocated for SMEs – and are there any new initiatives to be launched?
Given the current regional and global economic uncertainties, the government will keep a close eye on the development of local SMEs. We will continue to study and assess the impact of the external environment and make policy refinements or introduce new initiatives where necessary. At the same time, we will continue to enhance the business environment and encourage SMEs to improve their operations through capacity building and other means in order to strengthen their overall competitiveness.
---
The 12 'Macao Classic Brand' firms
These dozen businesses have been around for more than 40 years and offer unique products or services. They have been honoured for being 'classic' by the government…
Ourivesaria Chee Lee Yuen
Pastelaria Ng Teng Kei
Solmar Limited
Estabelecimento de Comidas Lok Kei
Fong Kei Pastelaria Chui Heong
Tong Iec Pak Fa Fui Cheong Un Company Limited
Mercearia de Mok Yi Kei
Estabelecimento de Comidas Medan
Estabelecimento de Comidas de Canja (Loja de Sopa de Fitas) Seng Kei Pak Chok
China Products CoE
stabelecimento de Bebidas Lai Kei
---
The story of the schemes
Four schemes set up to help businesses and young entrepreneurs. Here are the figures…
SME Aid Scheme: 10,250 applications have been approved in total*, amounting to MOP 3.05 billion (US$389 million); 320 of those applications were approved between 1 January and 31 August, amounting to MOP 128 million (US$16.3 million).
Credit Guarantee Scheme: 714 applications have been approved in total*, amounting to MOP 1.3 billion (US$166 million) in guarantee bank loans; 29 of those applications were approved between 1 January and 31 August, amounting to MOP 56 million (US$7.1 million) in credit bank loans.
SME Credit Guarantee Scheme Designated for Small Projects: 66 applications have been approved in total*, amounting to MOP 55.6 million (US$7.1 million) in guaranteed bank loans.
Young Entrepreneur Aid Scheme: 1,490 applications have been approved in total*, with MOP 343 million (US$43.8 million) granted; 126 of those applications were approved between 1 January and 31 August, with MOP 24.9 million (US$3.2 million) granted.
*Figures correct up to 31 August