The biggest star of the 14th China International Aviation and Aerospace Exhibition, also known as Airshow China, was the country's first domestically built passenger jet. The C919, built by the Commercial Aircraft Corporation of China (Comac), is set to rival the Boeing 737 and Airbus A320. Other debuts included a number of never-before-seen military aircraft. The airshow was held in Zhuhai from 8-13 November.
The single-aisle, 168-passenger C919 received its 'type certificate' – meaning the plane is officially airworthy – from China's Civil Aviation Administration in September, after 14 years of development. Its price tag is around the US$99 million (MOP 796 million) mark.
Exhibition flights took place each day of the airshow, showing the C919 off to the public for the first time. China Eastern Airlines will have a C919 in its fleet by the end of 2022, according to Comac. The company secured orders for 300 planes from seven different leasing firms during the airshow, it said.
More than 740 enterprises, from 43 countries and regions (including the US, France, Germany, Italy, Brazil and Saudi Arabia) attended the 2022 airshow – either on-site or virtually. China's ongoing Covid-19 restrictions meant there were fewer visitors and participants than pre-pandemic years. People attending in person were asked to reach Zhuhai three days before the event, which was held at Jinwan airport in Sanzao – 25 kilometres southwest of Macao.
A new plane from Brazilian Embraer; Airbus to increase presence in China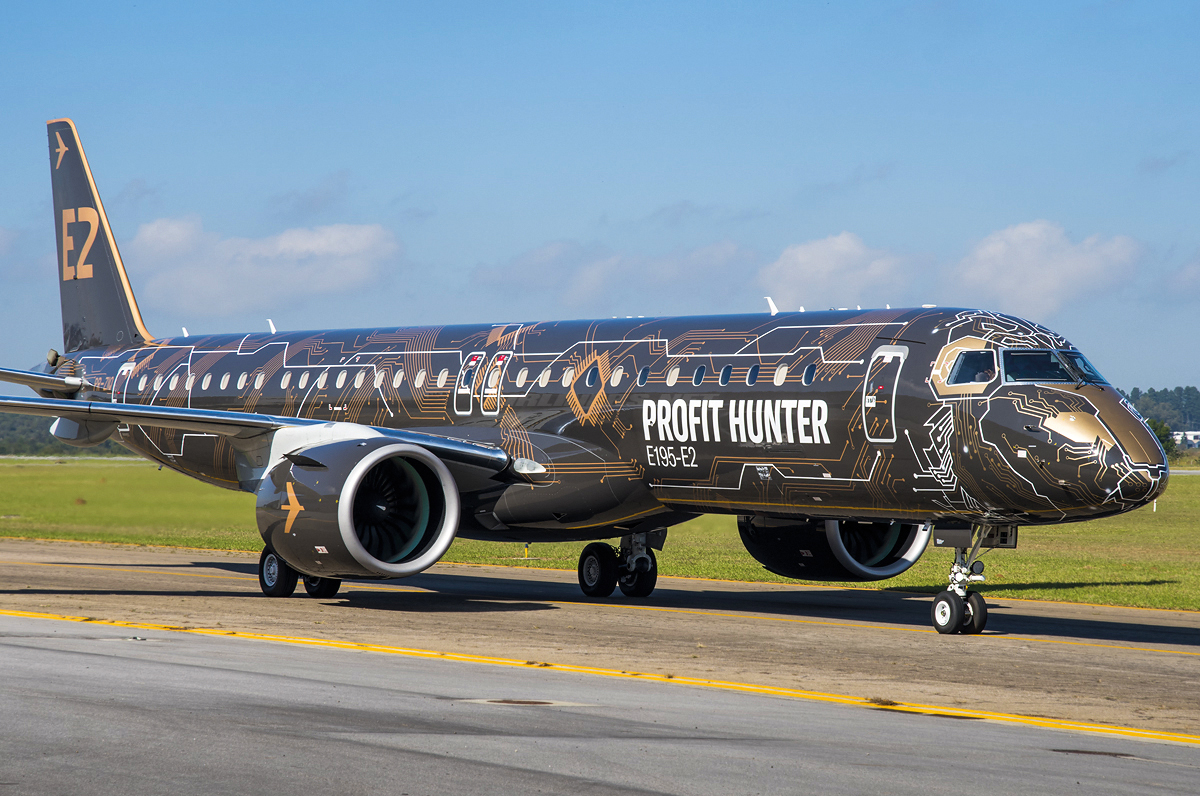 About 100 different types of planes were on display at Airshow China. The Brazilian aerospace manufacturer Embraer's newest commercial plane, the TechLion E195-E2, was of particular interest. It's a slightly smaller single-aisle aircraft than the C919, able to carry 132 passengers and fly a maximum range of 4,815 kilometres.
Embraer's first E195-E2 began flying in 2019, as part of Brazilian airline Azul's fleet. It competes with the Airbus A220-300. Before the Covid-19 pandemic took hold, there were 91 Embraer planes operating in China. They carried around 15 million passengers annually, on 460 routes and to 150 destinations.
Chinese airlines operating Embraer aircraft include Tianjin Airlines, Guangxi Beibu Gulf Airlines, Hebei Airlines and Colorful Guizhou Airlines. They fly in Mongolia, too, with Aero Mongolia and Hunnu Airlines.
Between 2004 and 2016, Embraer assembled its Legacy 650 and ERJ-145 in northern China through joint venture company Harbin Embraer Aircraft Industry. The Harbin factory closed due to weak demand for private planes in the country.
Airbus was also at the airshow, and made a big announcement: 40 of its A320neo jets will be joining Xiamen Airlines' fleet. Currently, the airline only flies with Boeings.
Big reveals for the People's Liberation Army Air Force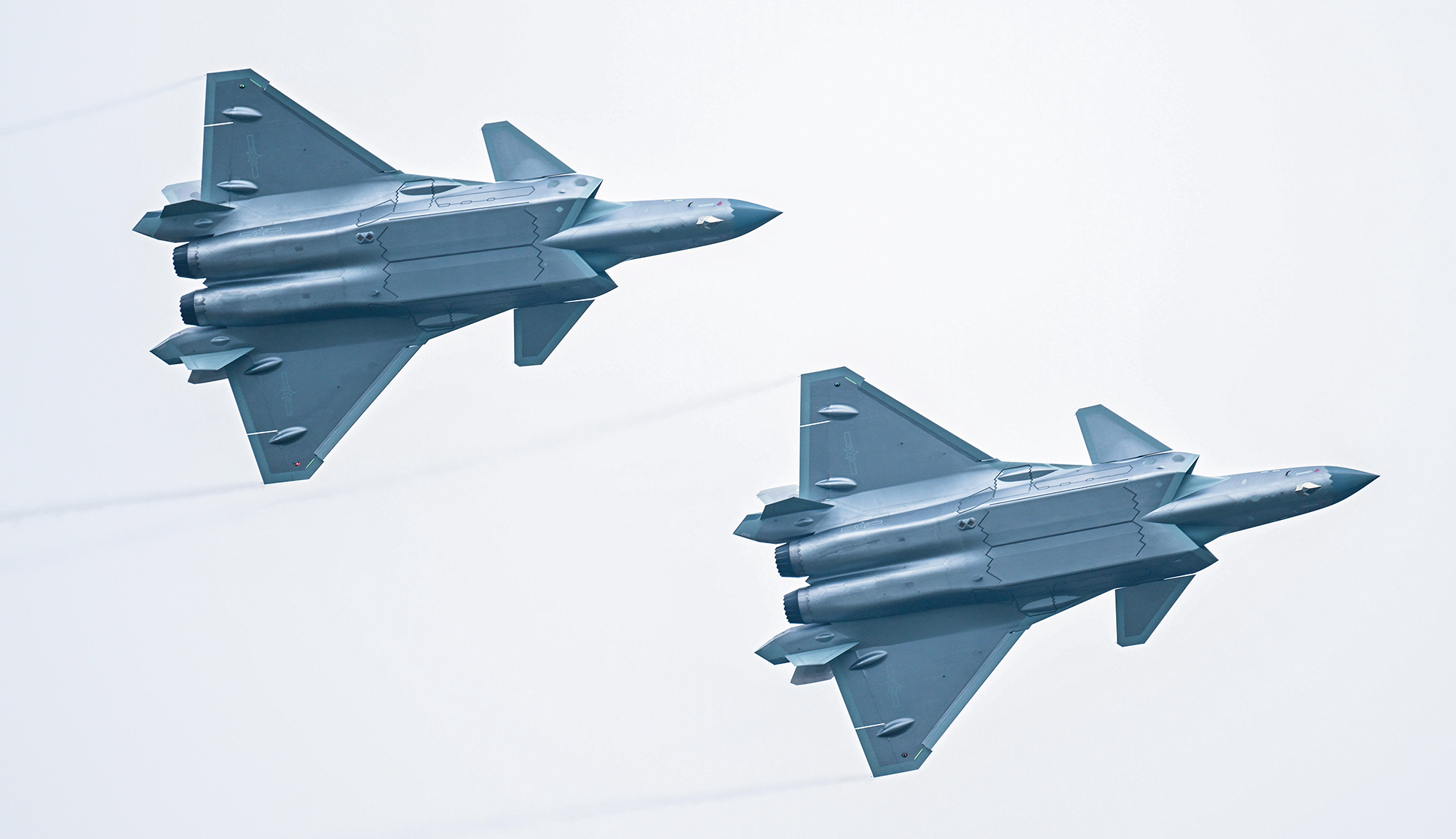 Along with commercial planes, the latest military aircraft and weaponry systems were out in force at Airshow China. This included the J-20 stealth fighter, the Z-20 helicopters, the H-6K bomber and the Y-20 military transport aircraft of the Chinese People's Liberation Army Air Force (PLAAF). Public information reveals that the PLAAF has 150 Chengdu J-20 'Mighty Dragon' jets in service, across six military bases.
The world's largest amphibious aircraft – the Aviation Industry Corporation of China (AVIC) AG600 – was also on display. Designed to fight fires, the AG600 can carry up to 12 tonnes of water. China will build four prototypes of the full-configuration firefighting AG600M aircraft which are expected to enter the market in 2025, according to AVIC.
An important PLAAF exhibit was the new ZR-1500, one of China's most advanced anti-drone defence systems. It features integrated early warning detection and command and control systems, and interception missiles produced by state-owned China Aerospace Science and Industry Corporation (CASIC).
Several new drones were on display for the first time, including AVIC's Wing Loong-3, a medium-altitude long-endurance unmanned aerial vehicle, and the WZ-10 electronic reconnaissance drone. The PLAAF had not mentioned the existence of the WZ-10 before its debut at the airshow.
The Wing Loong-3 is 12.2 metres long, 4.3 metres tall, and has a 24-metre wingspan. It has nine payload hardpoints and can carry as many as 16 missiles and bombs. Chinese Global Times revealed that "the Chinese People's Liberation Army (PLA) Air Force for the first time displayed a vehicle-mounted laser weapon system that targets small drones, a new and thinner missile of the HQ-9B air defence system, as well as the HQ-11 universal terminal defence system, which includes a vehicle equipped with vertically launched missiles and another vehicle equipped with a close-in gun."
The Shaanxi KJ-500A is another previously unmentioned development; a variant on the
KJ-500 early warning aircraft, with the addition of an aerial refuelling probe.
Space stations and aerobatics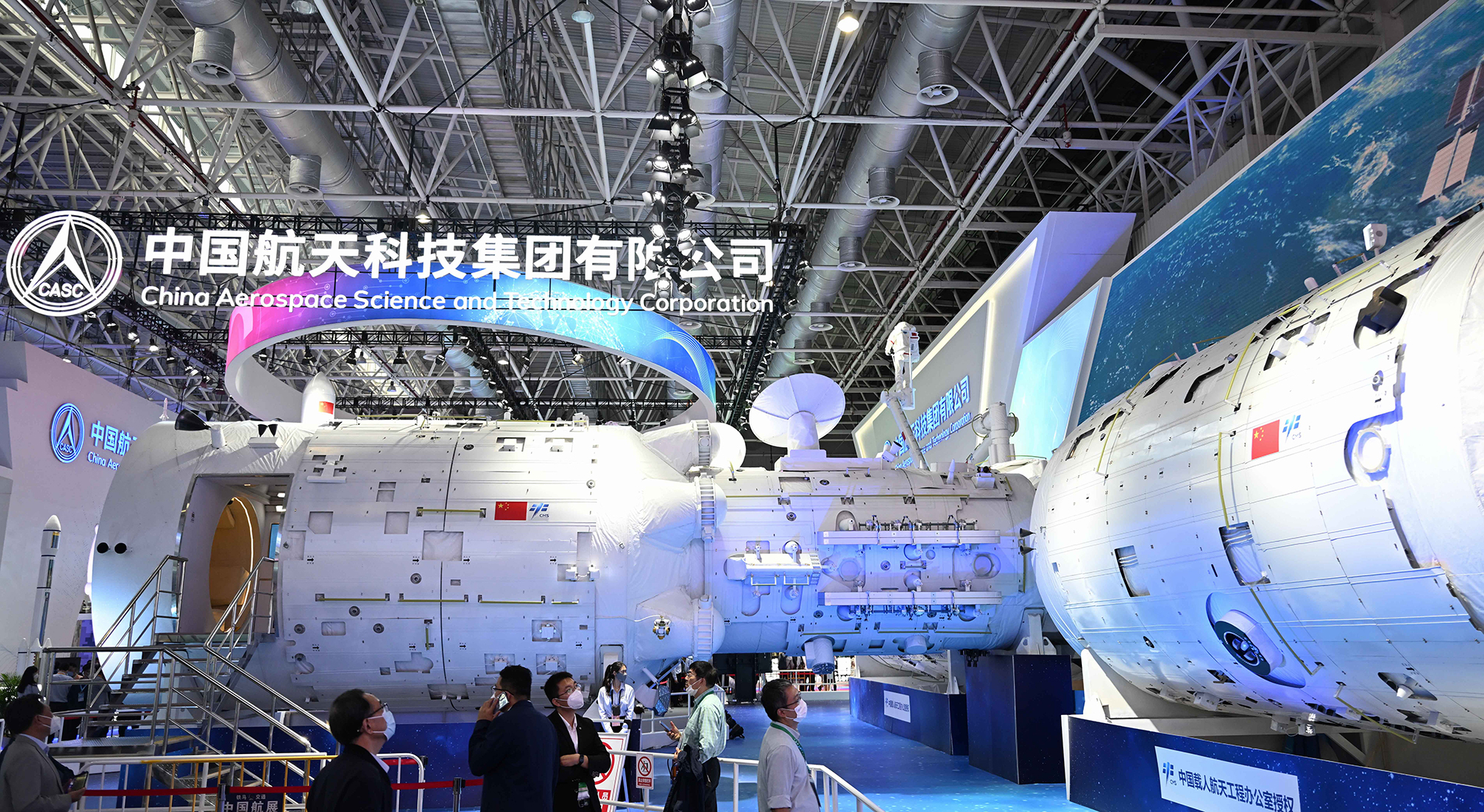 Visitors to the airshow had plenty of novelty activities to enjoy. They could enter a life-size exact replica of the Tiangong space station to get a feel for what it would be like inside the original, which orbits between 340 and 450 kilometres above the Earth's surface. The T-shaped structure featured a model of the Tianhe core module, solar-powered wings, relay antenna, and robotic arms.
People could also watch thrilling demonstrations from August 1st, or Ba Yi, Aerobatics Team of the PLAAF. The team is named for the date the People's Liberation Army was founded: 1 August 1927.