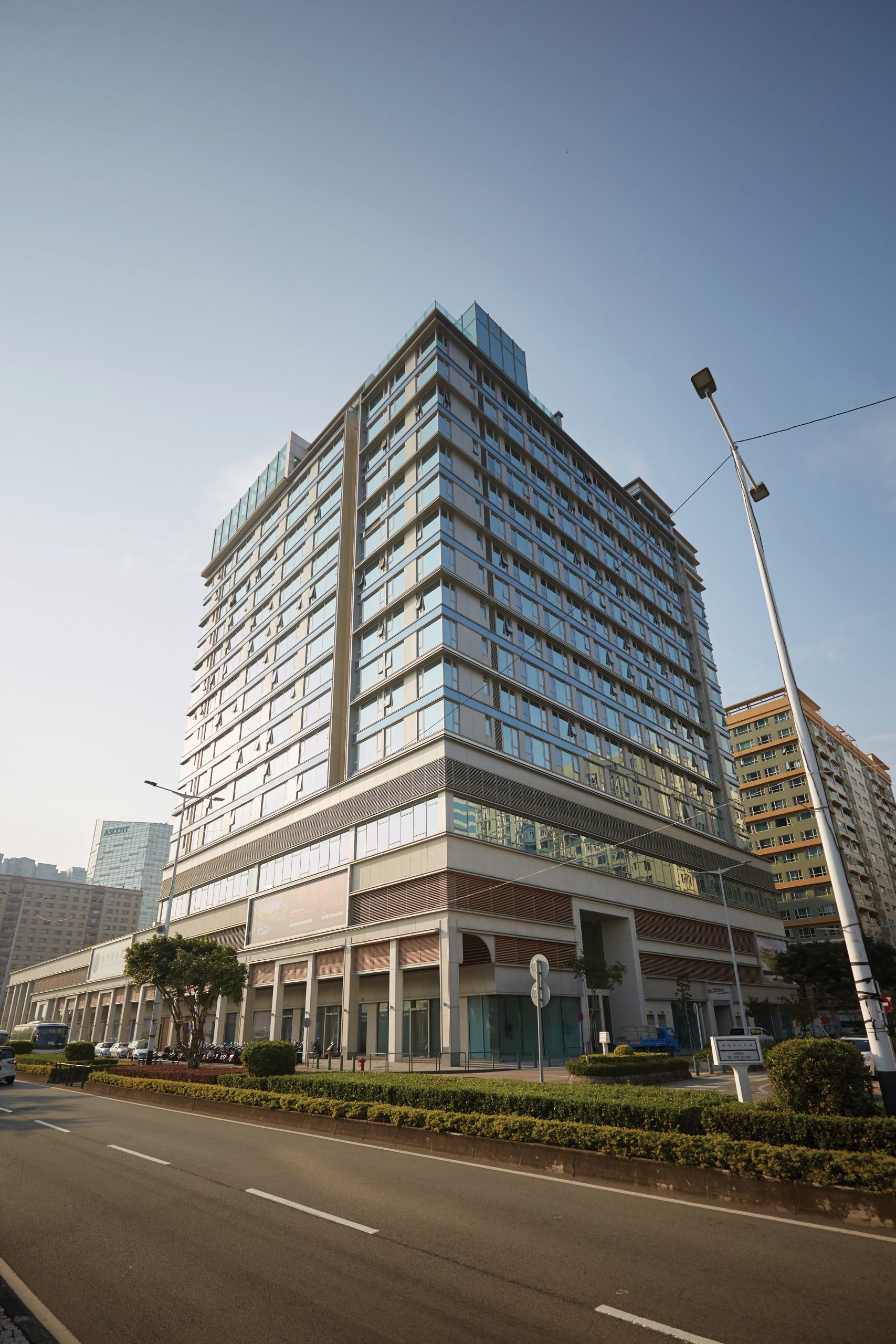 Over the past five years, the Macao Young Entrepreneur Incubation Centre has delivered a major shot in the arm to the city's burgeoning start-up scene. We peek behind the curtains and find out why this incubator has quickly become a success story.
Macao isn't really known for its start-up business community… yet. Its local economy, over the past 20 years at least, has often relied upon the gaming, travel and hospitality industries to bring about the incredible financial success it has enjoyed. However, no country or region can rely on one or two industries forever, so effort is being put in across the territory to grow and improve other industries – and one of these is the industry that covers new and exciting enterprises. The start-up industry.
There are a number of methods that a city can use to bolster its start-up community. One can be help from the government, financial or otherwise. This is certainly evident in Macao as the authority firmly supports the development of the city's start-up ecosystem. Another method is to offer courses and support at higher education institutions. Again, the evidence is there in Macao as its universities and other places of higher learning do indeed offer a range of business courses for bright young entrepreneurs. Regular networking events also help, as do mentoring programmes – both also available in Macao. However, one of the most innovative methods is to use 'incubators' – and it's this entrepreneurial area that's beginning to attract much praise as it nurtures a new breed of start-up.
Business exchange schemes organised by the MYEIC reflect our role as a bridge between China and Portuguese-speaking countries.
Incubators – which can include co-working spaces and business accelerators – have a simple mission: to help entrepreneurs define and build their initial products, as well as helping them to identify promising customer segments and to secure resources like capital and employees. There are generally plenty of networking opportunities at an incubator as well as, of course, working space and legal services to tap into.
They have been running in Macao for the past few years, with the majority directly funded by the government and the minority privately held. The Macau New Technologies Incubator Centre – or Manetic – based in The Macau Square was the first major incubator in the city, opening in 2001. It was co-founded by the Macao government as well as a number of local enterprises. Six years ago, another pioneer incubator was added to the list: the Macau Design Centre, which is dedicated to supporting start-up businesses in the creative industry.
With the aim of creating an international innovation and entrepreneurship incubation platform rooted in Macao, a new incubator and accelerator concept was launched in 2015 by the government. Two years later, the Macao Young Entrepreneur Incubation Centre (MYEIC) moved to its current site at the Zona Nova de Aterros do Porto Exterior. The MYEIC opened to great fanfare and ever since it has been an important hub in the nurturing of the city's innovative new start-ups. Supported by the Macao Economic Bureau, the membership-based centre was placed under the management of Parafuturo de Macau Investment and Development Limited (PFM Macau) by the government in October 2017 and, since day one, it has served more than 120 start-ups, many from the fields of science and technology, as well as a plethora of creative businesses. It's a Macao success story.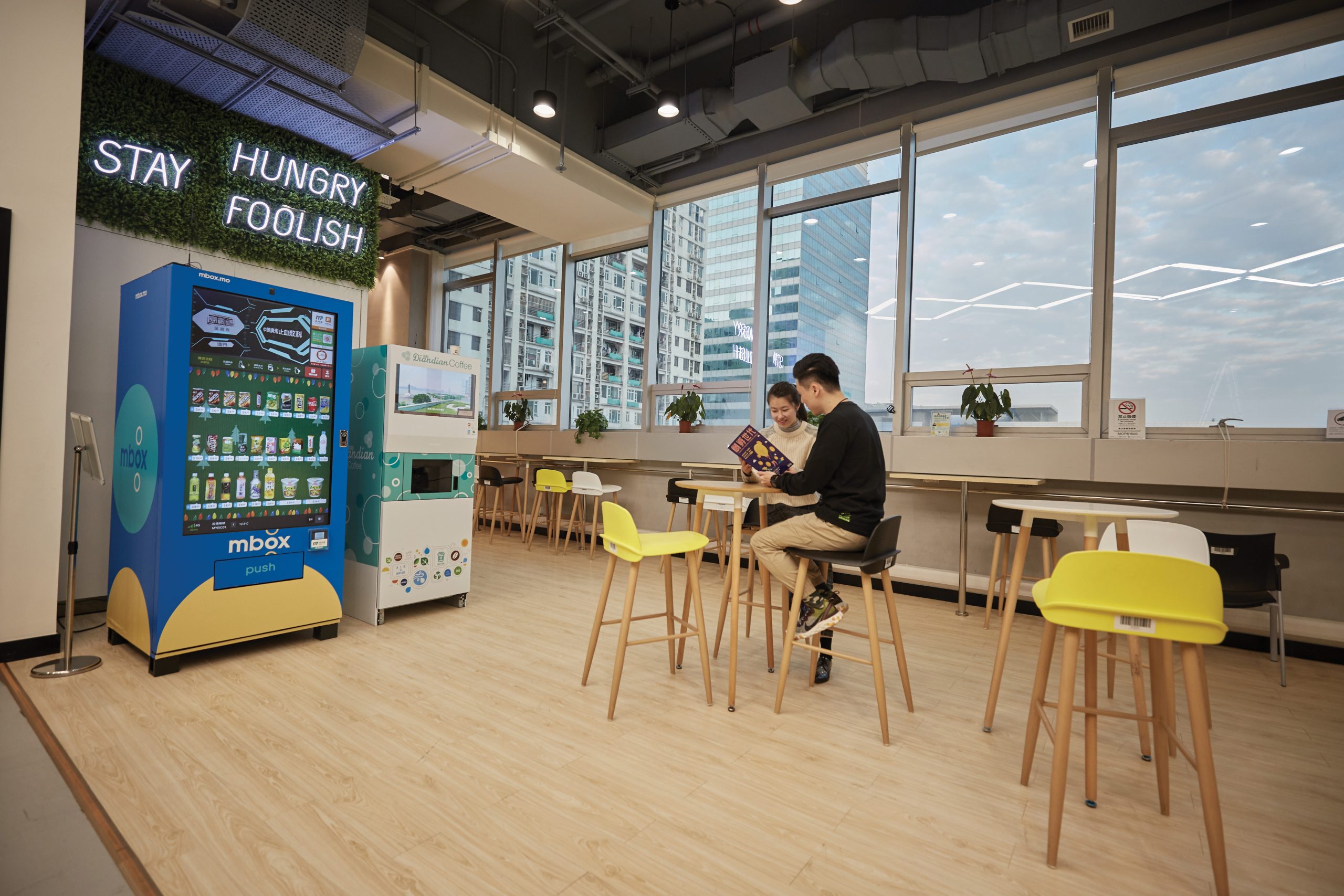 The centre that never sleeps
The MYEIC operates around the clock to provide a plethora of support facilities and professional aids for 'innovators and entrepreneurs or those who seek to contribute to Macao'. The 1,300-square-metre facility offers shared office space and includes a lecture hall and 'road show hall', each of which can accommodate up to 60 people. There are all sorts of services available, including consulting and training, and there are also plenty of resources to tap into when entrepreneurs move to the centre.
The MYEIC doesn't just offer business services either. If you ever feel like an unusual cup of coffee in Macao, head to the centre and treat yourself to a drink from the Diandian Coffee machine, which brews with water captured from air moisture and was developed by a company at the MYEIC. You might also want a snack, which is no problem as there's an ample selection of food in the Mbox vendor machine, which was also developed at MYEIC. It uses an e-pay system you can access through a mobile app.
There are also advantages for businesses who want to expand overseas or into Mainland China at the MYEIC. It is closely connected with Portuguese-speaking countries and has many links with the Mainland too, co-operating with domestic and overseas business incubators to provide facilities and office space, as well as training and exchange opportunities, for young entrepreneurial teams. The members who use the centre are ambitious, entrepreneurial people who are working hard to make their start-up a success. Together they are contributing to the entire scene, helping to turn Macao into a regional start-up haven.
In a special Macao Magazine feature at the end of last year, the director of the Macao Economic Bureau, Tai Kin Ip, said the MYEIC was launched by the bureau with the Macao Trade and Investment Promotion Institute (IPIM) and the Macau Productivity and Technology Transfer Centre (CPTTM). He said that PFM Macau was created by the Macao government in 2015 with one of its purposes being to support young entrepreneurs as well as local SMEs – and that it provides 'a wide spectrum of services to innovators and entrepreneurs' in Macao.
Tai Kin Ip proudly said: "It offers co-working spaces, professional consulting, expert advisors, roadshow marketing, investment capital-matching and so forth. The centre also co-operates with domestic and overseas business incubators to enable young entrepreneurial teams in Mainland China, Portugal and Macao to exchange entrepreneurial resources and explore business opportunities."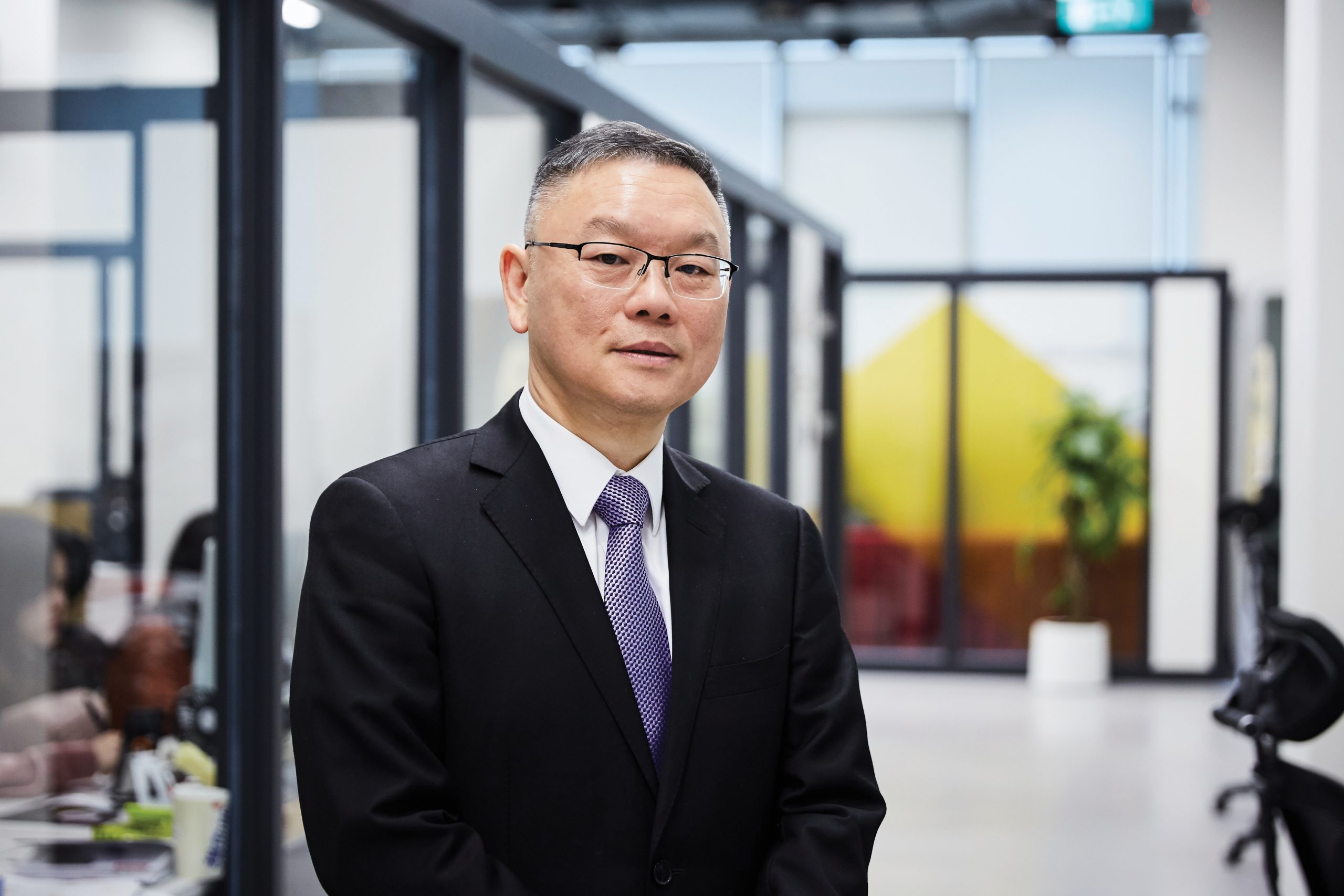 National treasure
A great honour was bestowed on the MYEIC in 2018 as it was officially recognised as a 'National Co-Working Space'. In a special ceremony to toast the achievement, Tam Pak Yuen, chairman of the board of directors of PFM Macau, expressed his gratitude to China's central government for its Ministry of Science and Technology listing the centre as a 'National Co-Working Space' – the first of its kind in the Hong Kong and Macao SARs. Tam, who also thanked Macao's government for its support, said the move showed that China supports and attaches great importance to the cause of innovation and entrepreneurship in Macao.
A National Co-Working Space is expected to 'deepen exchange and co-operation' between the Mainland and Macao when it comes to innovation and entrepreneurship. Tam, during the ceremony, noted that it was of 'great significance' for the promotion of Macao's mass entrepreneurship and innovation in the future. He added that it helps the MYEIC integrate into the standard of National Co-working Spaces, thus marking an important milestone in its efforts to 'improve services and realise professionalism'.
Showing its dedication to entrepreneurship and innovation, the MYEIC last year launched the MYEIC ProQ Alliance's Pitching and Business Matching Sessions with gaming operator MGM Macau to help its entrepreneurs connect with large enterprises for procurement and co-operation. The scheme offers young entrepreneurs a one-on-one business matching session to explore co-operation opportunities. According to the chairman of the MYEIC, Chui Sai Peng, within one year, the deals that have originated in these sessions have generated millions of HK dollars in income for the start-ups.
The MYEIC has, over time, also signed co-operation agreements with incubators in Guangzhou, Shenzhen, Zhuhai and other cities in the Greater Bay Area. Through the centre, the Macao Economic Bureau has co-operated with 11 incubators in six cities in the Greater Bay Area to offer professional consultancy services to entrepreneurs from both Macao and the Mainland. It has also jointly launched the 'Pan-Pearl River Regional Incubation Alliance' together with incubators in all 11 GBA cities. Among other benefits, the alliance allows MYEIC members to access incubators in cities like Shenzhen, where they can meet potential investors, clients or partners.
PFM Macau's parent company, Macau Investment and Development Limited, is also responsible for the development and operation of the Guangdong-Macao Co-operation Traditional Chinese Medicine Science and Technology Industrial Park (GMTCM Park) in Hengqin. Last year, reports in the press suggested that Macao's government increased Macau Investment and Development Limited's registered capital by 88 per cent to MOP 9.2 billion (US$1.1 billion).
Until 31 December, nearly 300 projects had applied for MYEIC membership, with 120 start-ups actively under incubation at the moment. More than 50 per cent of these projects are in the field of information technology, with others sitting in the business services and cultural industries arenas. The MYEIC has a staff of 30 people who are there to assist the young entrepreneurs in their daily business, as well as in their strategic planning.
Lusophone ties
The MYEIC is a key player when it comes to connecting Macao start-up businesses with enterprises and incubators in Portuguese-speaking countries. For instance, it has signed co-operation agreements with incubators like Portugal's Beta-i, which helps new and established businesses, and Brazil's Fábrica de Startups, which literally means 'Start-up Factory'. Since June 2018, Macao start-ups have been designated a dedicated area in Beta-i's facilities in Lisbon, as well as government support, to undergo specific acceleration programmes. Fábrica de Startups also offers similar acceleration programmes for young entrepreneurs from Macao.
One of the jewels in the MYEIC's Lusophone crown is the 'Parafuturo de Macao' Innovation and Entrepreneurship Competition, which has been held twice and is run in partnership with PFM Macau and the Macau Association for the Promotion of Science and Technology. The second edition, which was held last summer, attracted 179 projects from Macao, Hong Kong, Mainland China, Portuguese-speaking countries and other territories, which was double the amount of projects from the previous year. More than 90 per cent of the projects were in the science and technology innovation sphere. Last year, Tai Kin Ip told Macao Magazine that the competition was 'aimed at discovering and nurturing entrepreneurs'.
A massive draw for the competition – which saw the finalists visit tech enterprises in the Greater Bay Area so they could participate in roadshows in a bid to garner more interest and investment – was the fact that the MYEIC took advantage of its role as 'an innovation and entrepreneurship exchange centre for the youth of China and Portugal' and attracted 53 Brazilian and Portuguese projects to enter, with four of them reaching the finals. It works the other way, too – many members at the centre have had the opportunity to visit Portugal and Brazil on multiple occasions to learn more about their entrepreneurial scenes. Chui Sai Peng sees these exchanges as important. He says: "This reflects our role as a bridge between China and Portuguese-speaking countries."
Chui says that, over the next three years, there are plans afoot at the MYEIC to assist Chinese start-ups who want to explore business opportunities in Portuguese-speaking countries. And he says there are also initiatives being drawn up to help start-ups from the Portuguese-speaking countries who want to launch or further their projects in the Greater Bay Area. "Step by step," he says, "the centre will continue its efforts to connect with other regions and to further explore possible co-operation with African Portuguese-speaking countries such as Mozambique, Angola and Guinea-Bissau."
Chui says that the MYEIC is monitoring incubators in Portugal, as well as in Hong Kong and on the Mainland, in a bid to get more ideas for the Macao centre. He says the MYEIC team is observing their practices, such as how they promote entrepreneurship through investment mechanisms. "Macao's entrepreneurship started recently," he says. "The quantity, quality and specialties need further enhancements."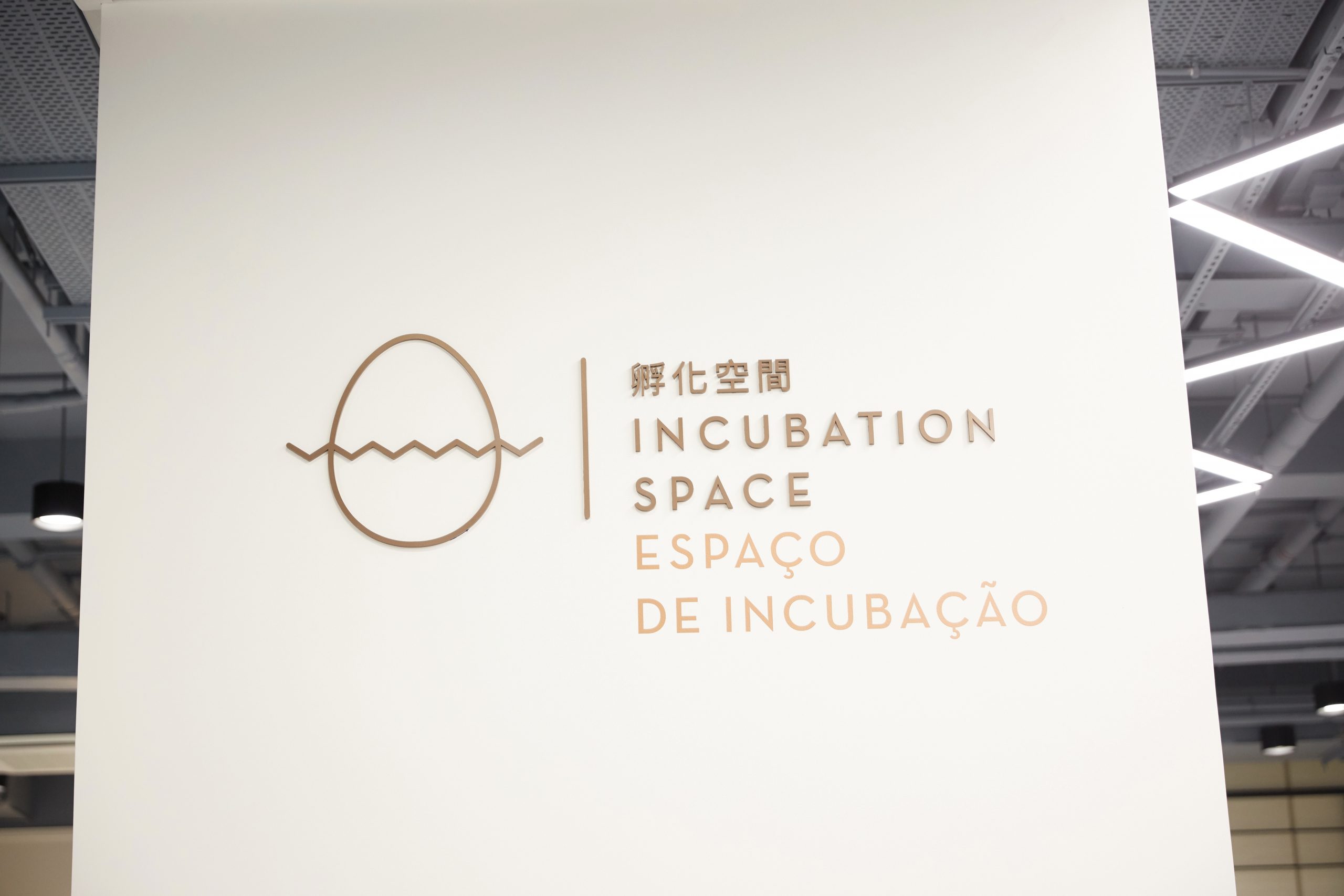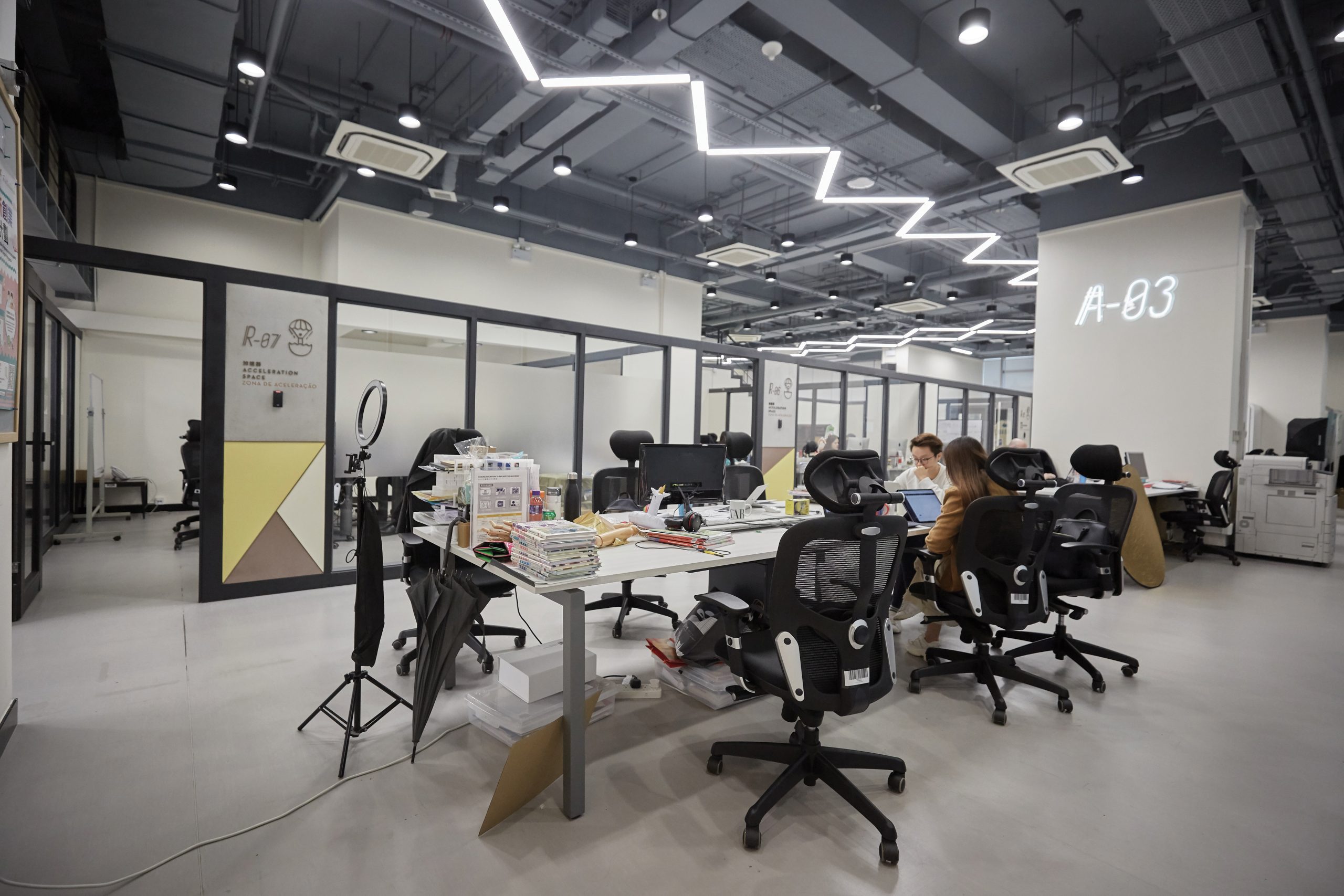 Help from the Mainland
To support innovation and entrepreneurship on the Mainland, Chui says that the central government in China, over the past few years, has made investing in start-up enterprises easier by eliminating legal obstacles, lowering the capital threshold, increasing the amount of foreign investment for start-ups and allowing the establishment of one-member companies. The government has also improved the regulation of the 'supervision and administration of privately offered investment funds', as it's called, in recent years. These measures aim to make investing in start-ups more attractive for venture capital.
The authorities in Macao are also learning from the experiences of government-led venture capital funds in China, Israel, Australia and Canada, says Chui. Although the funds are different to each other, he adds, they all show the country's governments putting money in to promote the development of specific industries that are 'not entirely for profit'. "What can we learn from these successful practices?" asks Chui. "Obviously, up-to-date laws and regulations and strong policy support are indispensable when it comes to promoting early-stage venture capital. Appropriate government promotion and market intervention can help stimulate the development of start-up industries."
Macao, adds Chui, is able to integrate with the Greater Bay Area in terms of market, talents and investment and the city is also able to introduce venture capital funds from the Mainland and overseas, considering 'the opportunities brought by the Guangdong-Hong Kong-Macao Greater Bay Area and the Belt and Road' Initiative, as well as 'the advantages of the Science and Technology Innovation Corridor', along with 'the business and trade platform between China and Portuguese-speaking countries'.
Across the border, the MYEIC is co-operating with the Ministry of Science and Technology's Torch High Technology Industry Development Centre, which was founded in 1989 and aims to encourage the development and industrialisation of high technology. China's Torch Programme, a guidance programme for developing new and high tech industries in the Middle Kingdom, has created more than 150 high tech zones across China and, more importantly, has become the engine room of innovation, urbanisation and economic growth. According to the Torch Innovation Precinct at the University of New South Wales in Australia, which is a Torch Programme partner, the scheme is responsible for more than 11 per cent of China's entire GDP, more than 10 per cent of the country's total industrial value and close to 16 per cent of its total foreign exports.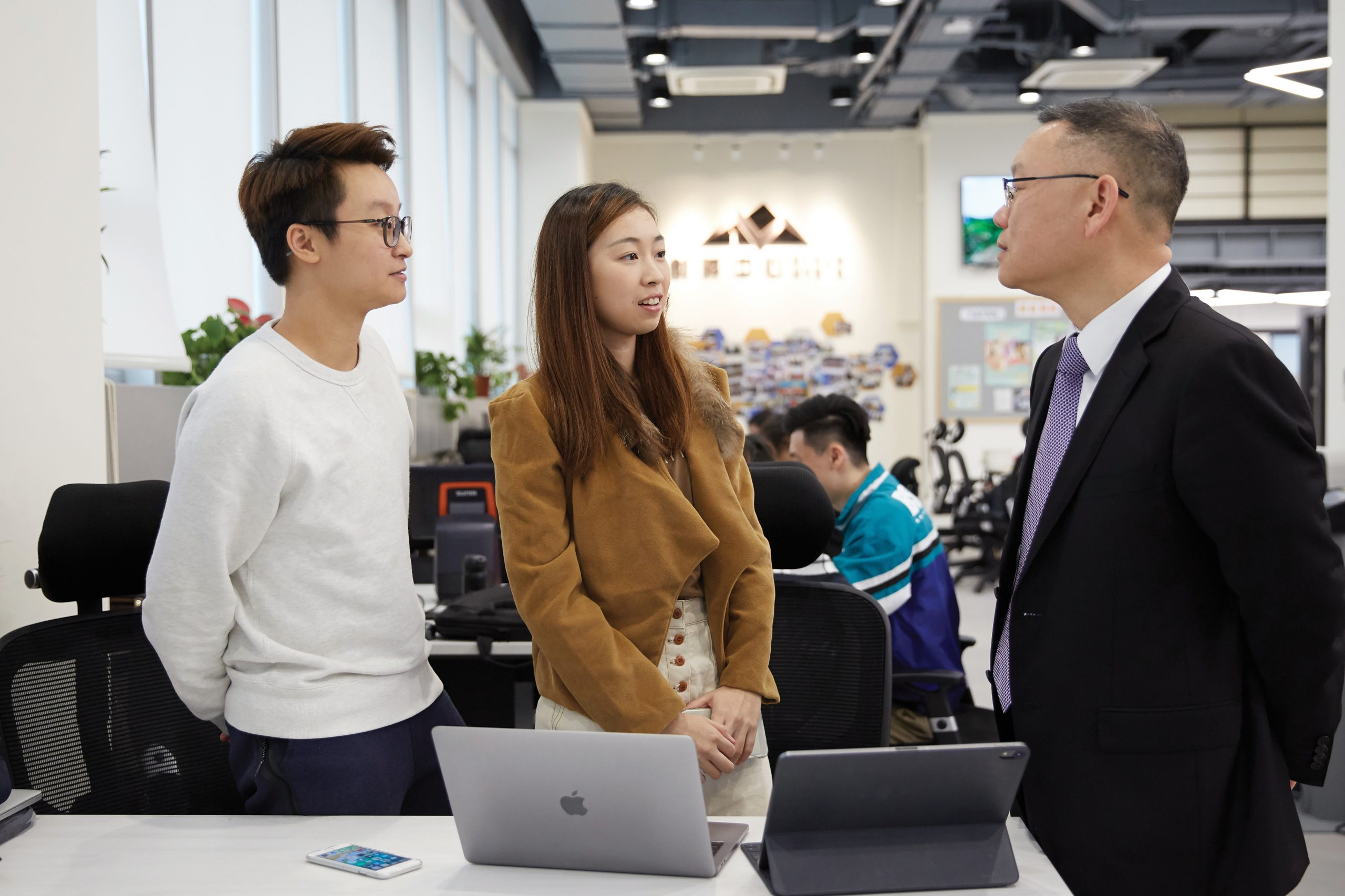 Landmark projects
One of the 'landmark projects' for Chui is the co-operative project with the Torch Programme in establishing the PFM Torch Innovation Park in Zhongshan. Already in operation, this is one of the first three Guangdong-Macao youth innovation and entrepreneurship bases in the province that's recognised by the Guangdong and Macao governments. The others are the Macao-Hengqin Youth Entrepreneurship Valley – or Inno Valley HQ – that has incubated hundreds of companies over the years, and the Guangzhou-based Guangdong-Macao Young Entrepreneurs International Industry Accelerator. The Zhongshan base has an area of 18,000 square metres, providing office, conference and exhibition spaces. It also offers entrepreneurial services, namely startup consultancy, marketing and investment and finance services.
The Macao Innovation and Entrepreneurship Education Centre, another key project, is set to be launched over the next three or four months. Operating inside the MYEIC´s facilities, the centre will work with Chinese multinational conglomerate company Alibaba and Macao financial media firm New Fortune to provide business training schemes and courses that focus on topics such as cloud computing, big data, the 'Internet of Things' and new media applications. Anyone who is interested in starting a business can attend. With the help of these companies, says Chui, 'entrepreneurs can master new thinking, strategies, actions, self-examination and sustainable development'. "This will help our new generation of entrepreneurs better prepare for the new economic era and ensure their sustainable development in the future," he says.
The MYEIC has quickly become a success story – but it's clearly not resting on its laurels and is making bigger and better plans for the future to help nurture and accelerate the startup scene in Macao. Chui and his team at the centre are proud of their successes so far and this perhaps mirrors China's startup success on a global scale. In last year's Fortune Global 500 list – the list of the world's top 500 companies in terms of revenues and profits – 129 firms hailed from China compared to 121 from the USA. For Chui, 'this reflects the fact that China's startups are a sign of economic vitality'. "The potential of startups is unlimited," he adds, before concluding with his 'unicorn company' – a privately held startup valued at more than US$1 billion (MOP 8 billion) – ambition for the MYEIC. "Our ultimate goal," says the chairman, "is to incubate a unicorn company from Macao." It's a dream that, given the centre's swift ascendency, could happen sooner than you'd think.
---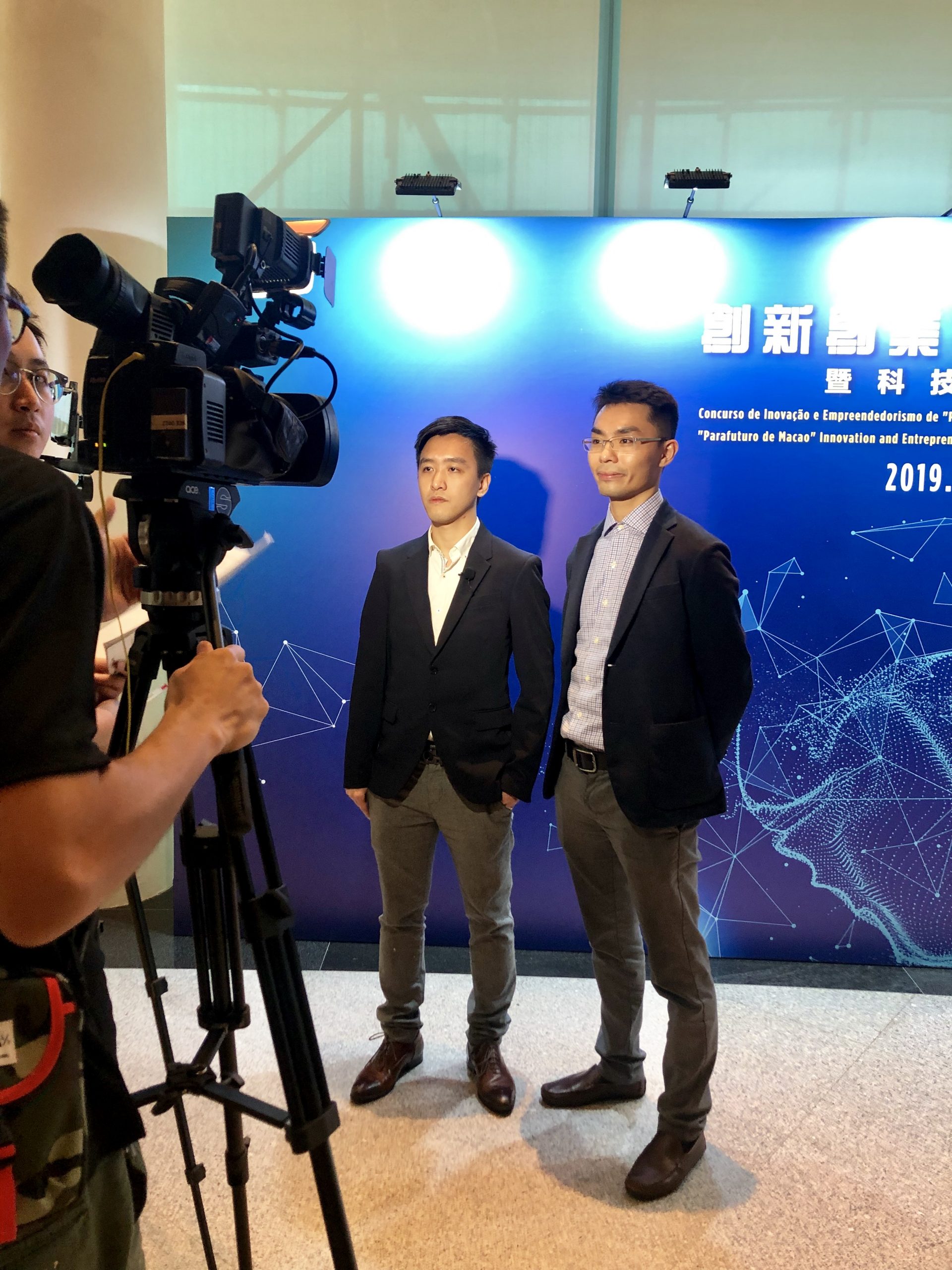 CASE STUDY: Casper Technology
One of the MYEIC's members who has made great strides in his business is Kazaf Fong Chon Kit, the 28-year-old behind Macao start-up Casper Technology Limited. He and his team have used deep machine learning and computer vision to develop a high-tech 'smart casino'. Replacing the fallible human eyes of the gaming supervisors, Casper's 'computer vision' uses artificial intelligence to identify gaming chips and count the size of each player's stacks when they are gaming, providing the exact amount that's on the table. With this technology, the gaming operators are able to monitor the amount the chips – and thus the amount of money – on every table in real time. Fong says: "With everything we can judge with our eyes, we can also judge with AI."
"The accuracy [in gaming establishments] is very low today," continues Fong. "The supervisors go around and input an average number [per table]. But we can see the precise number and monitor the operation across all of the tables." Major casino operators in Macao have taken an interest in the project and Fong claims that one of them has offered to assist in the 'smart casino's' development 'in situ'. Fong says that the 'smart casino', when fully operational, will be reliable and stable enough to be shipped to gaming floors from June. He says it needs more fine-tuning, plus needs data added to improve its accuracy so it can consider every situation that can possibly happen on a gaming table.
Casper Technology had a great 2019. It received angel funding from private investors in Singapore for research and development. It was also a runner-up in the 'Parafuturo de Macao' Innovation and Entrepreneurship Competition. To top it off in style, it won an Alibaba Create Award in the 'AIoT' – Artificial Intelligence of Things – category for the innovative tech concept. Asked if this project will make Fong and his company famous, he isn't shy, answering with a resounding 'yes'.
The path to success, however, has been a long and difficult one for Fong. After attending high school in Macao, he went to university in Australia to study engineering, where he learned to code and became excited about machine learning. Upon returning to Macao, he took traditional engineering jobs at the casino resorts. In 2015, he started his first company in Macao, dedicated to home renovations. But it was 'not too interesting and not good business', he recalls. He then moved to Hong Kong and started his second company, developing virtual reality home models for real estate companies. He then sold the business to his other co-founder in 2018 and went on to found Casper Technology – and to find the MYEIC.
With his AI know-how, Fong pinpointed Macao's gaming establishments as his target market and looked into where he could have a bigger impact. "We found that the chip counting part should be a good problem to solve and bring added value to the casinos, optimising workflow and avoiding fraud," he recalls. "The technology is very flexible. We just had to see where the business opportunities lay." The 'smart casino' technology, he believes, will 'speed up the whole gaming workflow', generating more gaming and thus more revenue, as well as improving an establishment's data analysis capabilities.
For the next few years, says Fong, the 'goal is to start in Macao but [make the 'smart casino'] open to every casino in the world'. "Macao is the biggest market, so it's the best place to experiment and develop our product," he says. Other potential markets Fong pinpoints are South Korea and Singapore. "Our goal," he says, "is to solve valuable questions in Macao and [then to] start opening to businesses in China and the rest of the world."
Fong is confident that his 'smart casino' has more advantages than the Radio Frequency Identification (RFID) technologies that are also being tested in gaming establishments in Las Vegas and Macao. He claims RFID technologies generate health concerns and are costlier. "We can see where our advantages are," he says, "and we're confident in competing against them. They're very new – but we're even newer."
Starting a tech business in Macao, says Fong, has several advantages, including less competition. And he says the support is there, particularly with the MYEIC. He cites the free office space with 24-hour access, the consulting opportunities and the business matching sessions as great benefits to his business. "Some people," he says, "may even not know that we have so much support here." Fong also cites other incubation centres like Manetic as extremely useful to start-up enterprises. The start-up ecosystem in Macao, in terms of the amount of investors and tech clients, he concludes, 'is not very mature' – but, he believes, 'it is coming'.
---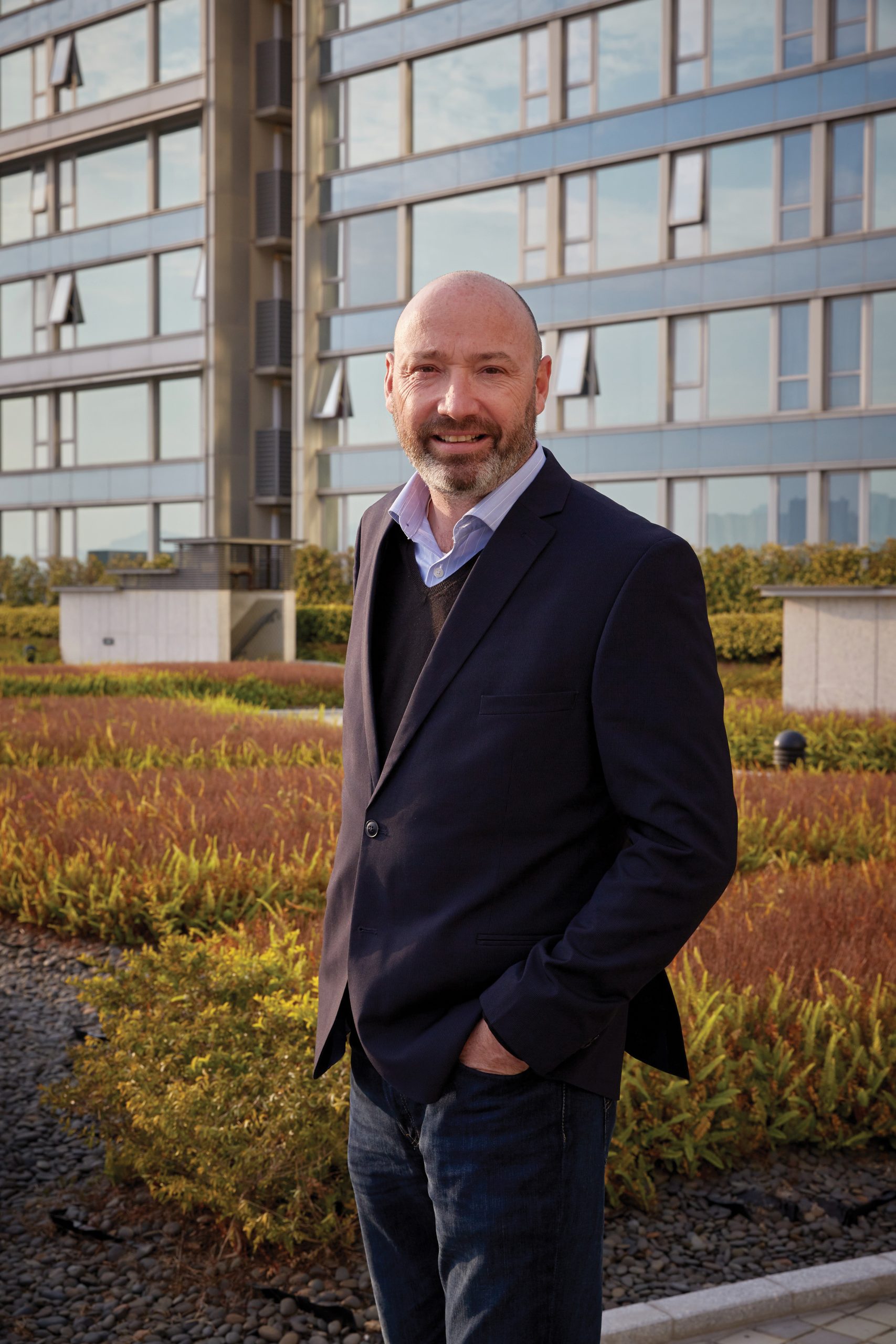 CASE STUDY: Follow Me Macau
Leisure and entertainment are close to Marco Duarte Rizzolio's heart. The Portuguese entrepreneur forever holds the distinction of being the first person to be 'incubated' at the MYEIC in 2017. After living in Spain and Brazil, he and his Macao-born wife decided to raise their family in the SAR and Rizzolio came up with his Follow Me Macau app due to the fact that the city is a major tourist hotspot in the region. The app offers local entertainment and leisure experiences, similar to Hong Kong's Klook. The booking engine offers some of Macao's most popular attractions, like bungee jumping at Macao Tower and The House of Dancing Water show at the City of Dreams entertainment complex, as well as activities like bike tours and egg tart workshops.
Having gained a foothold in Macao, especially among Westerners, the start-up is now looking to expand to Mainland China and Portuguese-speaking countries. "Macao can be a good laboratory for entering China," says Rizzolio. Focusing only on the Western corporate niche, which Rizzollio estimates as a mere five per cent of the tourism market, the start-up broke even in just 14 months. Last year, its income more than doubled to HK$1.3 million (MOP 1.34 million) and the entrepreneur thinks it's now time for the next step.
"Now we have interesting numbers," says Rizzolio. "There is a case to show here. If we capture Chinese clients, then we can double or triple [our income] and then offer experiences in Portuguese-speaking countries." Africa is not a hotspot for Chinese tourists but Rizzolio says that the 'potential is enormous' in countries like Mozambique, especially among the growing millennials market. A Follow Me Mozambique booking engine, he says, is already in the works. As is a Follow Me Portugal. Venturing into the Chinese market demands bolstering the team and the start-up is looking for Chinese speakers for marketing, sales and digital roles.
A lecturer in tech entrepreneurship, Rizzollio values being in the Greater Bay Area. And he believes having access to various incubators in the region, like in Shenzhen, will help grow his business. Macao may not be a start-up hotspot just yet but it will get there, he believes. He says that Hong Kong initiated its drive to become a startup haven 20 years ago and the USA's Silicon Valley began its ventures 35 years ago. Lisbon, he reckons, started seven years ago 'and already a lot of things are happening' there. "In Macao," he concludes, "we are only in year two [of  MYEIC´s support programme] but there is a strong political will. The ecosystem will develop but it will take time."