As you walk into the Centre for Regional Oceans (CRO) of the University of Macau (UM), you might feel as if you have stumbled upon a secret. Here, you will find three laboratories under one roof which form a de facto ground zero for Macao's sustainability movement. Ground-breaking research accelerates Macao's efforts to future-proof society, enhance infrastructure and cut carbon emissions.
Tianwei Hao, assistant professor in the Department of Civil and Environmental Engineering at UM, is hard at work in one of these laboratories, where dozens of 5-litre water tanks house bacteria called ordinary heterotrophic organisms that possess the power to purify polluted water. With the help of these microscopic critters, Hao hopes to identify the most effective bacteria and engineering conditions for removing harmful contaminants from water.
In another study, Hao and his team are exploring ways to reuse sewage sludge, a mud-like residue generated by wastewater treatment. According to the scientist, this residual material contains many natural substances that can help solve common problems. For example, sodium alginate, a glue-like substance generally derived from algae, and fucoidan, an ingredient in some dietary supplement products, can be used to repair cracks in historic buildings. Meanwhile, the remaining sludge can be used to produce biogas, a renewable fuel for generating electricity.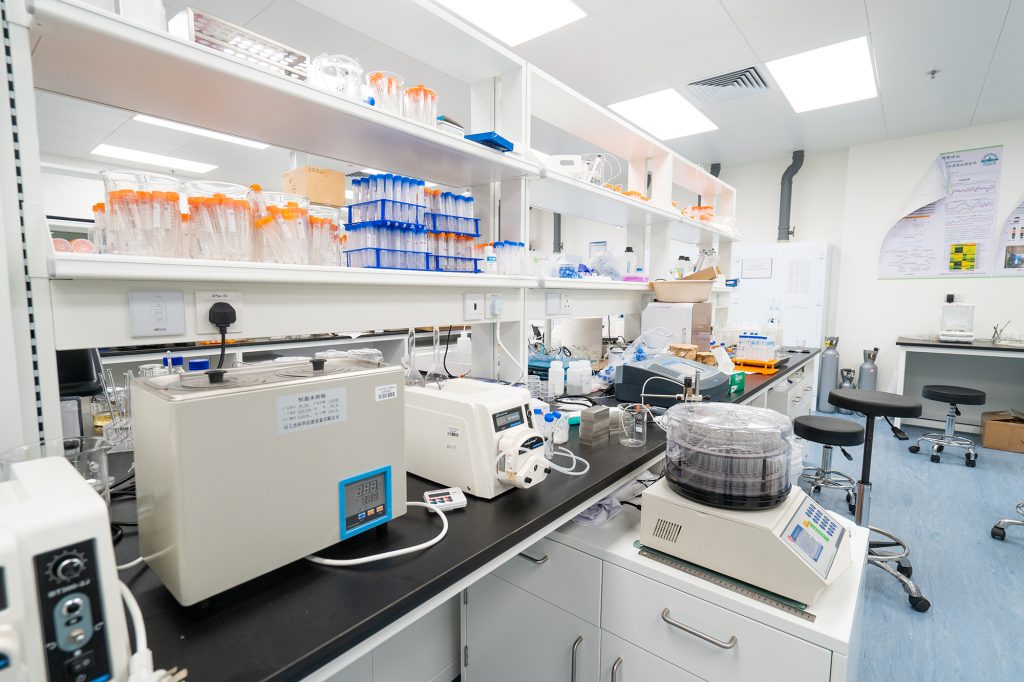 Increasingly, Macao universities and research institutes, led by academics like Hao, are playing a pivotal role in the city's quest to create a more sustainable future. While much of the work occurs in the science lab, many developments are happening outside of it too, transforming campuses and, perhaps soon, all of Macao.
Saving the planet with science
The scientific projects conducted at CRO are part of UM's commitment to the Sustainable Development Goals (SDGs). Ratified by the United Nations General Assembly in 2015 as part of the 2030 Agenda for Sustainable Development, these 17 global goals aim to make the world a better place for everyone. The SDGs include ensuring access to clean water, sanitation, and affordable and clean energy for all; promoting responsible consumption and production; and conserving biodiversity, among others.
Since UN member states adopted the SDGs, many educational institutes and universities around the world have taken the lead to turn the goals into reality. For many, it is a continuation of work they were already doing to address global challenges on the horizon.
In Macao, local universities have long been conducting impactful research, advancing academic opportunities and even modifying campus grounds to prepare for what's ahead, particularly when it comes to environmental challenges.
"Having the most cutting-edge resources and technology, research institutes and universities like UM have become the vanguard of the sustainability movement providing strategies and approaches to solve the technological and scientific challenges of achieving a sustainable future," says Hao.
Using a newly developed bioprocess, Hao hopes to overhaul Macao's wastewater treatment system. The new system will cut the size of the current water treatment plants in Macao in half and lower their carbon footprint by 30 per cent. It will also slash costs, from MOP 1.2 per tonne of wastewater to MOP 0.3-0.5.
UM is not labouring alone. Researchers at the University of Saint Joseph (USJ) are also involved in a range of sustainability-related projects, from upcycling fabrics to green architectural design and marine conservation.
One of these forward-thinking projects, PlastiFish, examines the impact of microplastics on fish production in two distinct ecosystems: Macao and the Algarve, the southernmost region in Portugal.
According to Sara Cardoso, a postdoctoral researcher at USJ, since the study was started in 2019, researchers have found a dangerous link between personal care products and microbeads (tiny pieces of plastic used in skincare products, such as face washes, body scrubs, cosmetics and lotion) in Macao. Based on their findings, citydwellers may release over 37 billion microbeads per year into the environment via wastewater treatment plants. Examinations of coastal sediment from several locations across Macao also revealed a high density of microplastics – an average of 21,111 pieces per square metre of beach surface – which is among the highest reported densities in the world. Whereas microplastic concentration of beach surface is 5,595 items per square metre in Hong Kong and 133.3 in Portugal.
"Microplastics are one of the major sources of pollution around the world, and our findings have shown that Macao is no exception," Cardoso stresses. "If we want to [conserve] biodiversity below water, we urgently need to understand how microplastics affect the marine ecosystem and find mitigation measures to [address] the problem."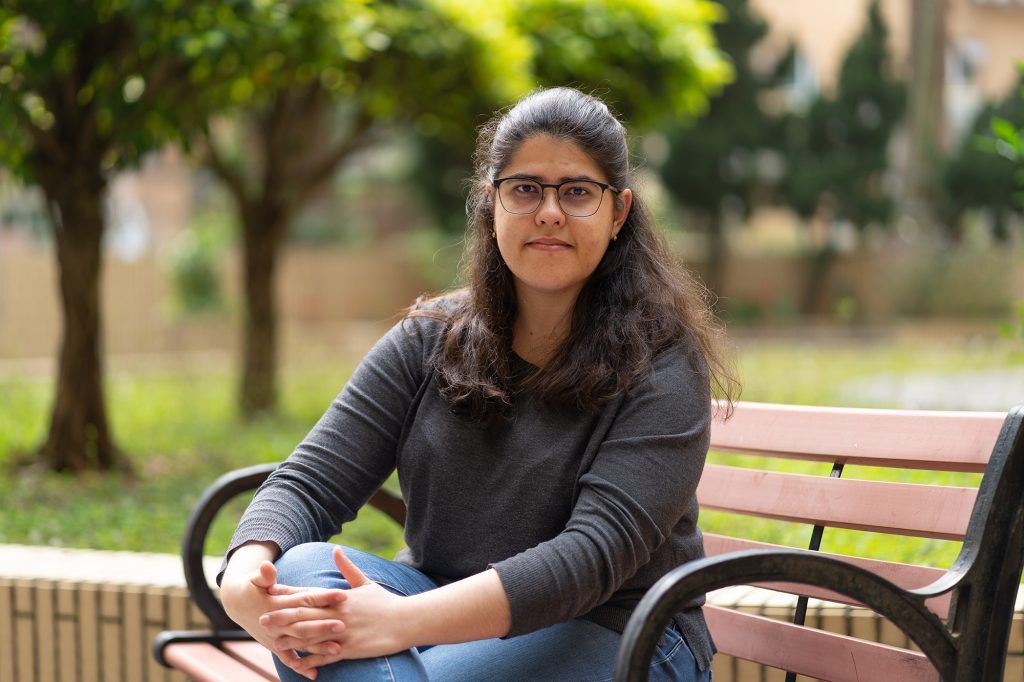 According to Cardoso, the team will soon start experimenting with fish in the laboratory using the data they collected in the field. The team will expose fish to a range of microplastics and observe how these tiny pollutants affect their behaviour and physiology at different stages of development. They hope that the experiment will shed light on how microplastics impact species, ecosystems and, ultimately, human health.
According to Cardoso, ingested microplastic particles can accumulate and lead to organ damage, as well as expose people and animals to toxic chemicals. "If these particles accumulate in the food chain, the whole ecosystem might be compromised," she warns.
Cultivating green campuses
Macao's institutes of higher education are looking beyond the lab in pursuit of the SDGs by incorporating environmental protection into their teaching, policies and daily operations. The Macao Institute for Tourism Studies (IFTM), for example, a school exclusively devoted to tourism and hospitality education, has been promoting environmental sustainability across its campus for the past 10 years.
"We want to raise environmental awareness and inspire change, not only among our students but also among our colleagues and guests," says Helena Lo, general manager of the Educational Hotel at IFTM. "By doing this, we can encourage stakeholders from [across society] to adopt a greener lifestyle, reduce waste and cherish [natural] resources."
To reduce water and energy consumption, IFTM's campus has installed a rainwater collection system. The school uses the rain it collects to water the lawn and plants. In addition, each of the guestrooms at IFTM's Educational Hotel features a CO2 metre – a simple way to help guests understand that they can leave a carbon footprint just by using the electrical appliances in the room.
When it comes to waste reduction, the institute has installed an artificial intelligence-enabled technology called Winnow Vision, which helps the IFTM canteen and restaurant adjust portion sizes and menus by tracking food waste. Of the food waste produced, the restaurant strives to turn 80-90 per cent into organic fertilisers for gardening or distribution. Furthering waste reduction efforts, the school has also eliminated disposable amenities in guestrooms and set a printing quota for staff and students.
While these initiatives focus on reducing the school's carbon footprint, other projects seek to cultivate an eco-conscious mindset within the community. Every September, IFTM staff joins hands with its student union to organise Healthy and Green Month, a campaign that champions environmentalism.
Last year, in its 10th edition, Healthy and Green Month introduced a contest – called "Have you saved the world today?" – that promoted eco-friendly behaviours, such as reducing water usage and recycling, through rewards and recognition. Meanwhile, a "Mid-Autumn No Air Con Night" campaign encouraged students and staff to turn off air conditioners for one night to highlight the importance of energy conservation.
Last year's campaign also featured a major milestone for the school: IFTM permanently removed plastic bottles from all vending machines across campus, making it the first higher education institute to do so in Macao.
"At first, many people were upset about the new policy. They missed the convenience of plastic bottled water," says Oscar Chan, an undergraduate student majoring in tourism event management who promotes eco-oriented activities and policies on campus as an IFTM green ambassador.
But, as Chan observed, behavioural changes can happen quickly when options are limited. In just a few days, he says, reusable plastic bottles could be seen everywhere on campus. "Because water is an essential part of life, this left us no choice but to adapt. This shows that unified action for the environment is possible, as long as we have the will for it."
Concrete actions for a sustainable future
Looking ahead, Lo believes that sustainability will play an even bigger role in the curriculum and daily life at Macao's universities. "More and more young people realise that it is important to have knowledge and awareness about sustainability," she explains, "as it is not only important for environmental protection, but also for improving their competitive edge as they graduate and enter into an increasingly low-carbon society."
This awareness has taken root across the IFTM campus. According to Lo, their students proactively organise green initiatives and challenge wasteful activities at the school. They host charity flea markets regularly, she says, giving second-hand items new life instead of sending them to landfills. Students also made the call to cancel a fashion show the university had held annually for a decade, because it required many single-use materials.
"Once you start incorporating sustainability on campus, there's no going back. We will continue to do more and more for a better and green future," Lo says.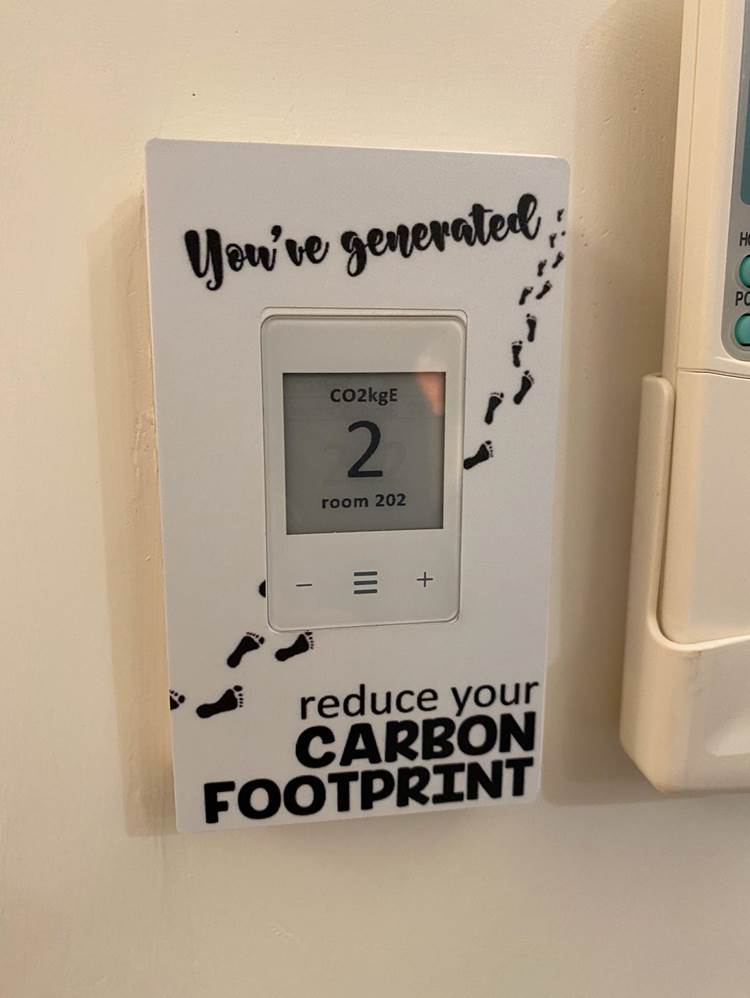 On a regional level, Hao believes the integrated development of the Greater Bay Area (GBA) has boosted cooperation between universities from different member cities, with universities in Macao, Hong Kong and Guangzhou co-establishing several environmental laboratories in the GBA for research cooperation and data-sharing. For instance, UM's Centre for Regional Oceans collaborates with top-notch research units, such as the South China Sea Institute of Oceanology in Guangzhou, to advance marine science and technology in the region.
As promising as these projects may be, he also stresses that the development of the GBA, a mega-city cluster with a total population of over 86 million, will pose further environmental challenges. As the region develops, Hao believes local universities will need to come up with increasingly innovative – and actionable – solutions.
"The Greater Bay Area has a huge demand for fresh water, not only for the survival of humanity but also for industrial and agricultural use," he explains. "We need to look into alternative water supply, such as using seawater for flushing or air conditioning, in order to preserve fresh water."
He also foresees waste becoming a serious issue, since highly developed economies tend to be some of the largest waste producers. Unchecked waste can harm our environment, threaten water resources and lead to disease, warns Hao. "We need to find a sustainable way to detoxify our waste and even turn it into useful resources."
While there is a lot of cooperation between universities in the region, Hao says it's largely academic in nature. "We have a lot of published research but little concrete action," he says. "I hope to see more solutions from scientists and researchers that actually have an impact on communities, so that we can tackle the environmental problems happening in front of our eyes."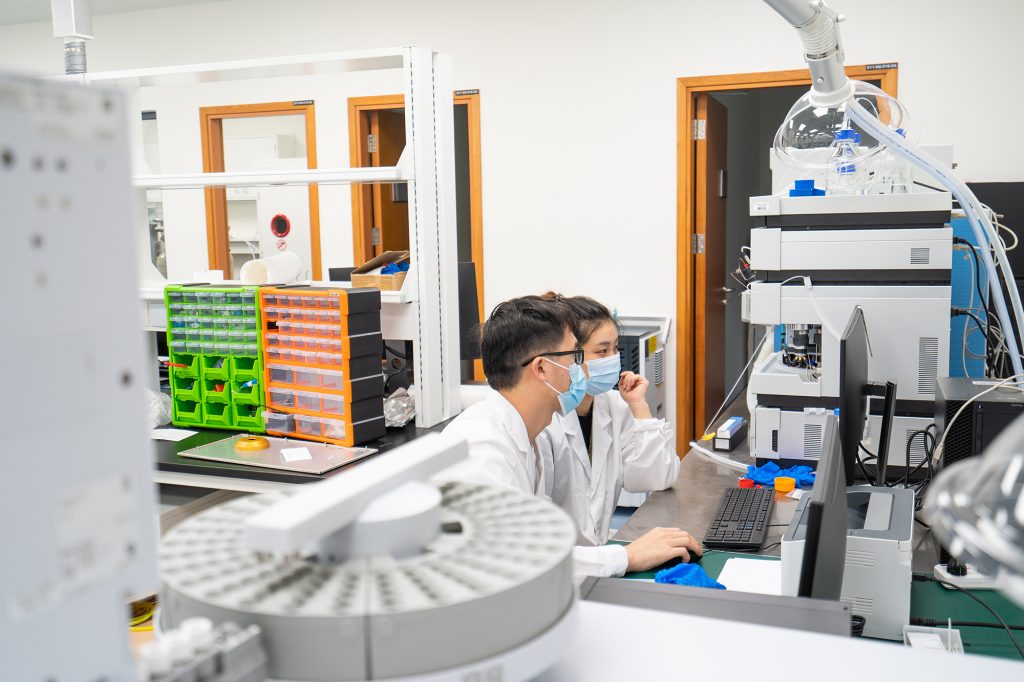 ---
Timeline: Macao's Sustainable Development Goals Progress
Mid-2004 – The government constructs the Ecological Zones in Cotai, an area of about 55 hectares that's home to more than 162 types of birds and 35 types of fish.
September 2012 – The Environmental Protection Bureau releases the first environment protection plan of Macao, with a goal to increase clean energy, promote waste recycling and improve coastal water quality.
August 2019 – Macao introduces a MOP 1 plastic bag levy to reduce plastic waste.
January 2021 – The government bans importing and selling disposable styrofoam takeaway containers.
January 2022 – The government bans importing and selling single-use plastic straws and stirrers.
January 2022 – The Environmental Protection Bureau releases their five-year environmental protection plan, which focuses on cutting carbon emissions.
January 2025 – The government plans to convert 90 per cent of Macao's public buses to electric or clean energy by 2025.