Ana Menezes Cordeiro was appointed Portugal's Consul General in Guangzhou in September. One of three Portuguese consulates in China – the others being in Macao and Shanghai, alongside the embassy in Beijing – its area of jurisdiction covers Guangdong, Hainan, Hunan, Fujian and the Guangxi Zhuang Autonomous Region, with a total population of 294 million people. Portugal and the People's Republic of China established diplomatic relations in 1979 and took this relationship a step further with an all-round strategic partnership agreement signed in 2005 in Lisbon.
The multi-lingual, German-born diplomat has traveled the globe, serving her country in France and Brazil and also as a diplomatic adjoint to the Portuguese Prime Minister between 2003-2005. She has published a book about the Western Mediterranean Dialogue titled O Diálogo 5+5 e a copresidência Portuguesa in 2018. Now she is the first Portuguese female diplomatic head of mission in China. How does she plan to promote Portuguese-Chinese links in one of the world's most dynamic economic regions?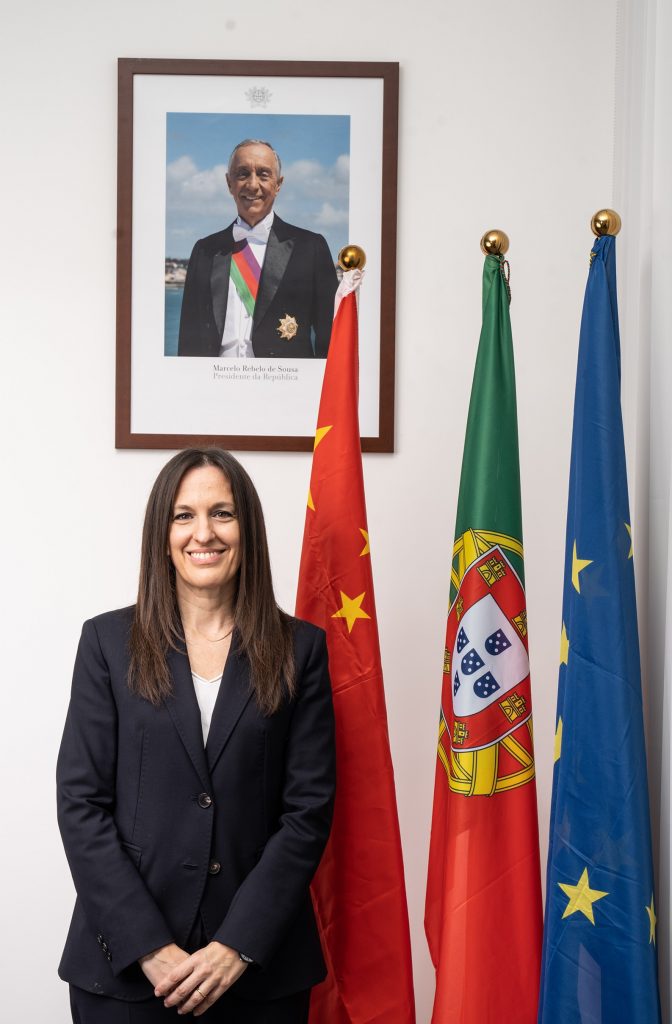 The Portuguese Consulate General in Guangzhou is located in the city where trade between Portugal and China started in the 16th century. How do you feel about being a diplomat in this city and what do you expect to find in the region?
Guangzhou is a very modern, innovative and extremely impressive city, with many high-rise buildings and contemporary infrastructure. It's also a very green place and a very pleasant place to live.
Portugal decided to "return" to Guangzhou in the 21st century, with the re-opening of this consulate in 2018. It turns a new page in the Sino- Portuguese relationship in southern China. My main priority is to make Portugal's presence in this region stronger and increasingly visible.
Being a diplomat anywhere in China is fascinating, but being a Portuguese diplomat in Canton is particularly inspiring.
What is the main role of the Consulate? How many Portuguese nationals are there in southern China?
Our consulate's fundamental function is to assist and provide services to nationals from our home country. It's true that we have a small Portuguese community in southern China. But in the Guangzhou consulate, we oversee five Chinese provinces – about nine times the entire size of Portugal.
Clearly economic and trade links are a major priority. Guangdong is one of the most dynamic and important trading provinces in China and our consulate has been actively working to increase economic and trade exchange between Portugal and southern China, as well as to promote contacts between companies and entrepreneurs from both sides and assist them in deepening their mutual understanding and enhancing further cooperation.
We also attach great importance to bilateral cooperation in the fields of education, language, culture, health, science and technology.
With the creation of the Greater Bay Area development programme, do you believe that Portugal and its entrepreneurs might have new business opportunities in the region?
The GBA represents a great opportunity to develop and reinforce investment and trade between Portugal and South China. With four major cities at its core – Hong Kong, Macao, Shenzhen and Guangzhou – the Greater Bay Area is one of the world's most dynamic areas, offering many opportunities for companies and investors. I hope Portuguese companies can contribute to technological innovation in the GBA.
Beyond traditional products, such as food and beverage, copper, ornamental stone such as marble, granite and quartz, paper, automobile components, textiles or cork (Portuguese products in these sectors are extraordinary and some, such as cork, are unique),we also focus on bringing Portuguese experience and expertise into areas such as tourism, the pharmaceutical sector, providing components for Artificial Intelligence and smart cities, E-commerce, logistical operations support, software service platforms, high technology and green industries.
Given the partnership between Guangdong and Macao for managing Hengqin Island, do you think you can also promote the zone to Portuguese companies and business people?
Certainly. According to the general plan of China's central authorities, the Guangdong-Macao Intensive Cooperation Zone will develop new industries that promote Macao's economic diversification. Scientific-technological research and development and high-level manufacturing will be promoted. The idea is also to attract talent from outside China. I believe that this project presents an opportunity to strengthen our presence in
the region. The consulate and the AICEP [Portugal's trade and investment agency] delegation in Guangzhou are also available to help Portuguese entrepreneurs and investors.
My first trip outside of Guangzhou was to visit Zhuhai to meet with the dynamic Commercial Association of Zhuhai-Macao Cross-Border Import, Export and Retail Industry, with whom I discussed the Hengqin project. This has the potential to be an excellent platform for importing Portuguese products. We already have a Portuguese restaurant in Zhuhai, for example.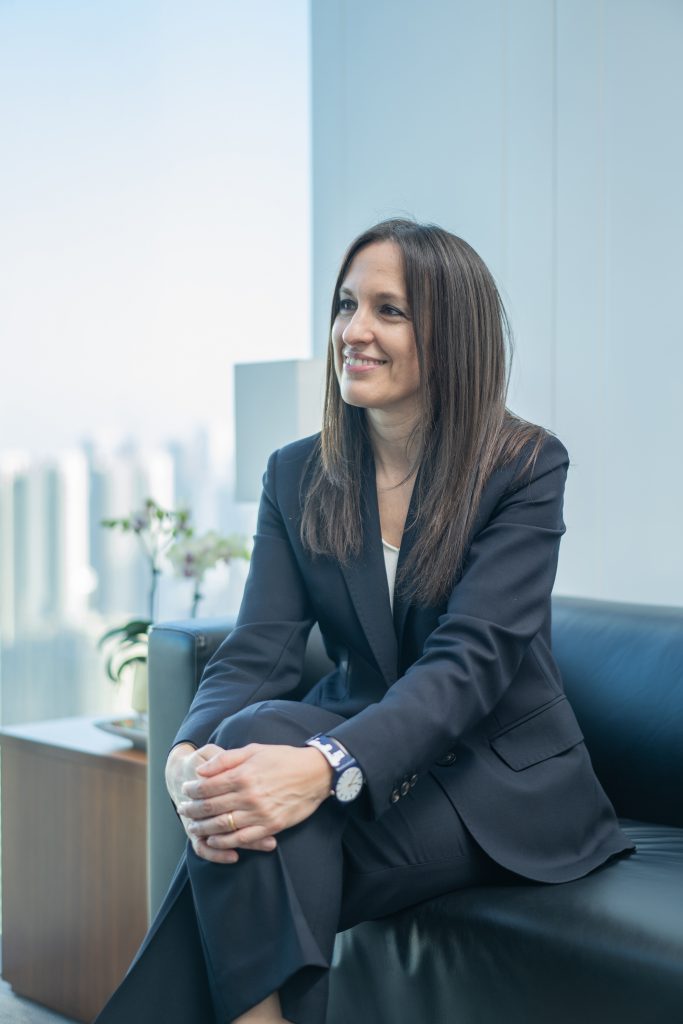 What are you doing to promote Portugal's economic potential in southern China?
We have been involved in investment and trade fairs, to present Portuguese brands, products, corporations, and expertise. We also meet with entrepreneurs from both countries to connect them and to further cooperation and encourage exchanges between both sides. Here are some specific examples:
Portugal Global – Trade & Investment Agency (AICEP) has launched a campaign entitled "Tales of Portugal" (Contos de Portugal) to promote the Portuguese food sector in China, focusing on E-commerce platforms. The campaign will run until April 2022. The programme includes 29 digital influencers and activities in Guangzhou and also in Beijing and Shanghai. China has been the world's largest online sales market for the past eight years and according to official data, in 2020, the total transaction volume of online sales in China reached 11.76 trillion yuan (1.6 trillion euros). The influencers will promote the "best Portuguese products available in China", through social networks such as Weibo, WeChat, Yizhibo and Xiaohongshu. AICEP estimates that the campaign will reach more than 5.5 million consumers and industry professionals over the next six months.
We are also doing promotional work with Guangzhou's top supermarkets, to make products more visible to potential customers, through promotions such as "Portuguese corners".
We are accompanying the introduction of a famous Portuguese fashion brand in Guangzhou. This project will be an important catalyst for the "Portugal trademark" in the region.
We are supporting a national software company for the packaging industry, which is being developed in one of the largest companies in the area.
A Portuguese automotive company is developing a project in an automobile factory in Foshan.
We also have a number of initiatives planned for the upcoming year to promote Portuguese culture and language, depending on pandemic conditions and restrictions.
Which Guangdong sectors are particularly attractive to Portuguese business people and vice-versa?
Guangdong is one of the most important trading provinces in China and it is also home to the production centres and head-offices of a wide-range of Chinese and foreign corporations. Most of the Portuguese companies in Guangdong are based in Guangzhou and Shenzhen, and are engaged in food, wine, consultation, finance, and import/export businesses.
We believe that engineering and software could also be key areas to boost economic relations between Portugal and southern China, given the recognition that Portugal has won in these areas in other parts of the world.
Naturally there are also opportunities for the food and beverage sector to expand and bring the excellence and quality of Portuguese products to this region. New technologies are also a significant sector in Guangdong. Portugal could become a privileged partner in this field.
Does Portugal's trade and investment agency AICEP have any representation in Guangdong? What do they do?
Yes. In Guangdong, AICEP encourages Chinese companies to invest in Portugal but it also contributes to the success of Portuguese companies inside southern China, including their exports.
Additionally, AICEP works as a business matchmaker. This helps Chinese entrepreneurs find the best business partner for Portuguese products or services. AICEP has a global network that supports foreign companies to find the Portuguese brand, sector, product or service that they are looking for.
In the investment field, AICEP also provides support and consultancy services, and coordinates contacts with Portuguese firms involved in investment.
Portugal's trading links with China are the longest-lasting of any Western nation, dating back 500 years. What does the future hold for Sino-Portuguese relations?
Portugal and China are two very historic countries, with a friendly and mutually respectful relationship. We have strengthened this relationship and deepened areas of exchange and cooperation, particularly since the signing of the global strategic partnership in 2005. Bilateral trade between our two countries was worth more than MOP55.1 billion (US$6.9 billion) by 2020.
This partnership is comprehensive, covering not just trade, investment and commercial ties but also areas that promote common understanding between our two countries, such as language learning, cultural exchanges, tourism and education.
When did you first become interested in Asian and Chinese political and diplomatic affairs?
I've been fascinated by China since I was a child. In the 1980s, I lived in [the west African state of] Guinea-Bissau, where my father was Portuguese ambassador, and the then Chinese ambassador gave me a stuffed toy panda and told me that one day I would visit and work in China. It took me 40 years to get here – but I still have the panda! Some time ago, I read the book L'Histoire du monde se fait en Asie [The history of the world is being made in Asia] written by the French historian Pierre Grosser and became even more convinced that to understand the 21st century it is essential to know and understand Asia and, in particular, China. I couldn't be more motivated about my appointment as Consul General in Guangzhou.