Thirty-six years is a long time to wait to re-open a family business. But that's how long it took for one young Macao entrepreneur and his Taiwanese girlfriend. Keng Si Wong and his girlfriend, Kim Chen, opened the doors of their incense shop, Veng Lei Laboratory, in May of this year, reviving a historic local brand established by his grandfather almost 80 years ago.
The Veng Lei business was first opened in 1942 by Keng's late grandfather Chan Lai. For 43 years the shop served Macao residents, producing and selling traditional incense and joss paper, the paper items burned as offerings to Chinese deities and for family ancestors. The business was originally located in a shophouse on Rua da Praia do Manduco, near Macao's inner harbour area, where local fishermen would board the hundreds of fishing boats moored there.
Zaak Wai Yin, Keng's late grandmother, told him that those going out to sea would burn joss paper as offerings to ensure their safe return to shore. "At that time, the shop had so many people coming in to buy joss paper – the business was really booming."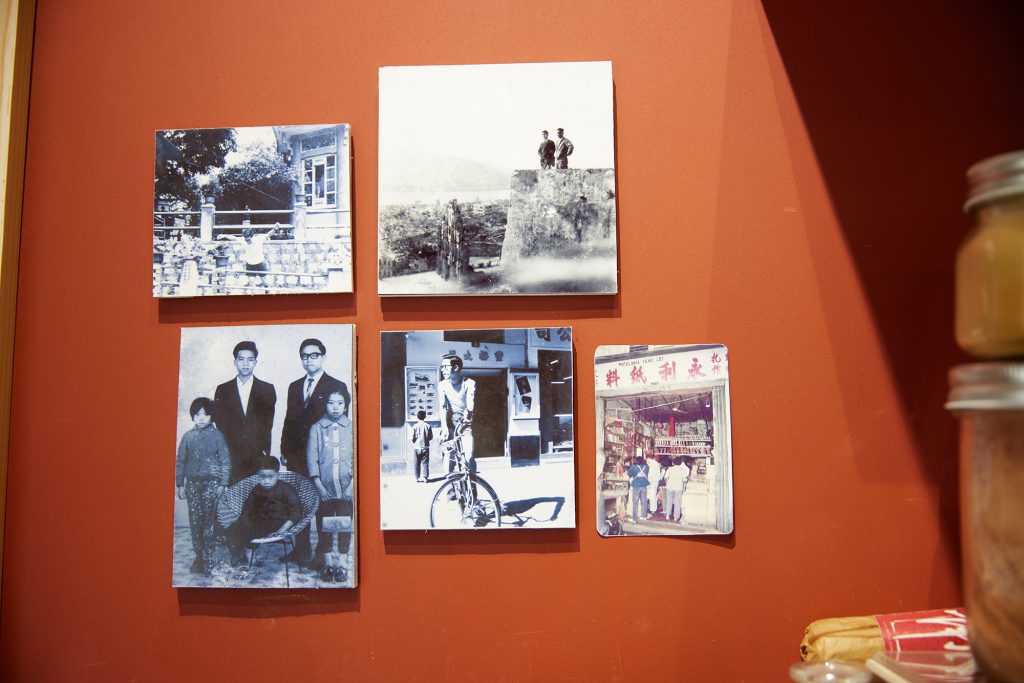 His grandfather, Chan Lai, was born in 1900. He learnt the arts of joss paper and incense production from an early age before opening Veng Lei Paper. This was truly a family business. Chan moved his wife and seven children into the living area above the shop and the whole family pitched in and helped run the business over the course of four decades, according to Keng.
The incense industry has been recognised by Macao's Cultural Affairs Bureau as one of three historic manufacturing sectors, together with the match and firecracker industries, and therefore classified as part of the city's 'Intangible Cultural Heritage'. For much of the 20th century, incense manufacturing was a key economic pillar of Macao. The Bureau noted that the production of incense peaked between the 1950s and the 1970s, when there were more than 40 local incense factories.
However, the gradual contraction of the local fishing industry, new competition from incense manufacturers in mainland China, combined with pressure on rental space, all resulted in the decline of the traditional incense industry in Macao in the 1970s and 80s.
Sadly, Veng Lei Paper closed down in 1985 when the government reclaimed the rented shop to redevelop the area. It was a momentous change for Keng's family members, who had to leave the family business behind and pursue new career paths.
"My uncles and aunts all went to work in other places after the shop closed down," he explains. "They're all creative individuals – they practise calligraphy, sculpture, writing, or Chinese paintings of flowers or dragons and phoenixes."
Keng's grandfather passed away in 1988 before Keng was born, but his grandmother told Keng many stories about him and Veng Lei Paper. By reopening the family business, Keng says he hopes to revive some of its traditions, while at the same time modernising the production and marketing of the incense and its everyday uses to attract younger customers.
The young incense-makers
Keng was born in Macao in 1993 and his partner, Chen, in Taiwan in 1995. They met each other as students in the same art programme at Kun Shan University in southwestern Taiwan. After they graduated in 2017, Chen continued her studies at the Beijing Film Academy, while Keng moved on to Taipei University of Arts.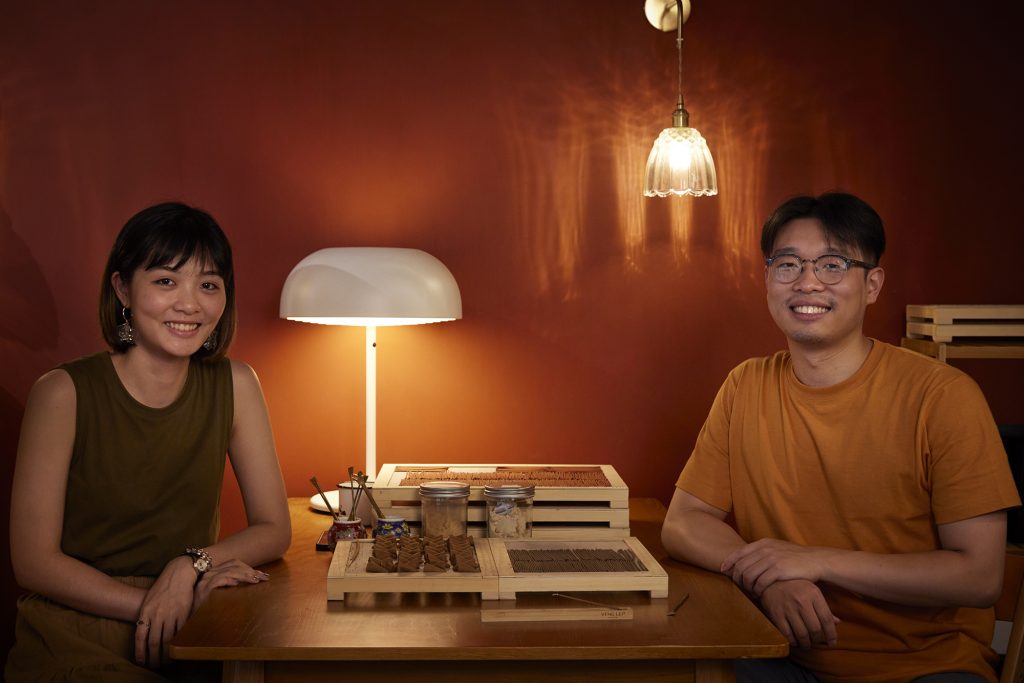 When they completed their graduate studies, Keng met his girlfriend in Beijing as he worked in the film industry and Chen at an advertising company. Just as the pandemic worsened in 2020, both decided they were in need of a new adventure. Keng, harking back to the stories of the family business, broached the idea of re-opening his grandparents' old incense business.The idea quickly took root. Just five days later, the couple arrived in Macao and began planning their own business.
Keng's grandmother, Zaak Wai Yin – who lived to be a centenarian – had already passed on to him the tricks of the trade. She had shared with him a trove of historic resources that she had stored for nearly 70 years, including electricity bills, delivery notes and business registrations, as well as original joss papers and incense sticks from the old shop.
She had also given Keng practical training. During his childhood, his grandmother and mother taught him how to make joss sticks, or sacrificial incense. Although he and Chen both needed to learn the art of hexiang (合香 in Chinese), or fragrant incense.
"The basic skills required to make both sacrificial incense and hexiang are the same," Keng explains but, particularly since the latter aims to benefit health: "there's a difference when learning hexiang because you get a deeper understanding of herbs and flowers."
Veng Lei 2.0
Located in Edificio Va Un, Rua das Estalagens, Chen says that they chose the new address for two reasons. Firstly, because of a Taiwanese custom of favouring locations with a certain orientation that is thought to be good for business. "We liked that it had an L-shaped area where people can see and enter the shop from two sides. That was a big part of the decision."
Secondly, Chen says she fell in love with the shop's historic neighbourhood. "This street is really old, and still sells handmade products, such as shoes, tools, and fabric. Since we are reviving an old brand and want to bring back that same spirit of tradition, we thought it was a perfect spot."
The couple started with a pop-up shop for 12 days near the future store site, selling joss paper and incense sticks and creating a buzz among locals about the shop. Once they moved in, the two got to work making the shop their own under the Veng Lei Laboratory brand. The store had previously been a pet bird shop, and the pair repurposed old materials that had been left behind.
"There were hundreds of birdcages and a few bird cups [a tiny cup made of glass used by birds to drink water]," says Chen. "We loved them and wanted to preserve the items, so we cleaned them and used them as lamps in our store."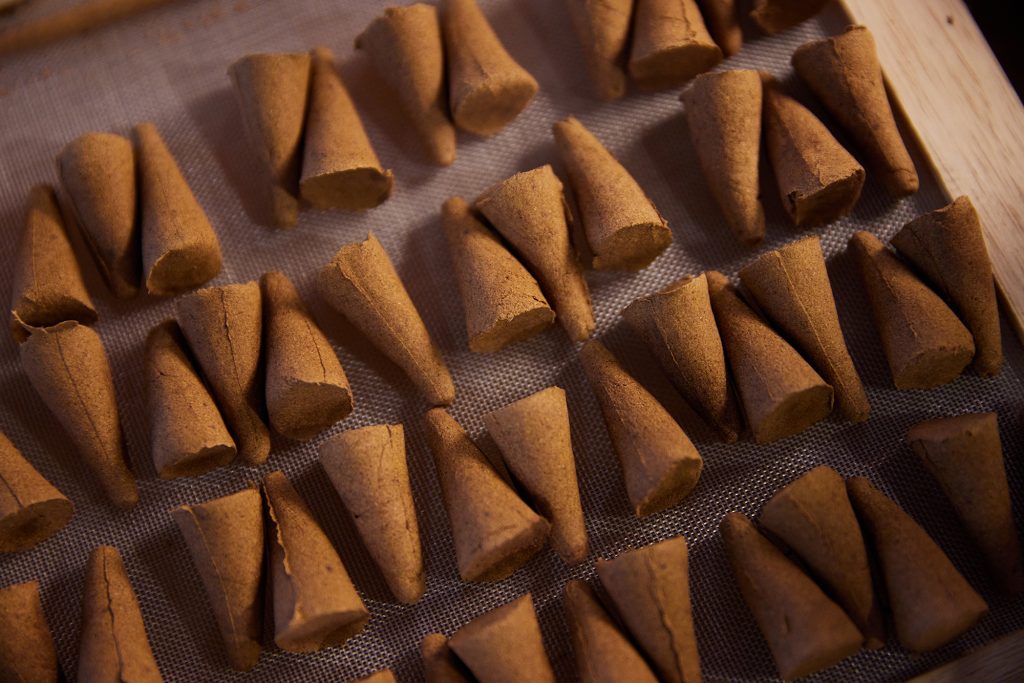 Keng and Chen hand-make their own incense in-house, sometimes ending their day at 1 am. It's hard work, but it allows them the freedom to customise the aromatic properties of their incense. "If customers prefer a floral smell, for example, then we can add in rose. It's adding something special to it, and making it more memorable," explains Chen.
Veng Lei has a collection of four signature incense types: traditional, floral and fruity, sage tea and one called "algorithm", a blend of traditional scents and any other fragrance notes someone might want to add, such as grass or fruit.
Chen says their inspiration for scents has come from movies, novels or personal experiences. Veng Lei's creations are a modern departure from classical Chinese incense aromas, such as agarwood and sandalwood, though the store sells these too.
The two brainstorm every day, to create products that chime with modern sensibilities; for example, crafting incense designed to help sleep or mindfulness. According to Chen, their product lines are the result of joint collaboration.
"Sometimes, he'll come up with a concept and I think of how we can make it happen. It's like when we used to make films together [as students]; he'd write the script and I'd set the scene."
Veng Lei Laboratory also offers workshops for all age groups, teaching students how to make their own incense, making a paste from the blend of fragrance powders and water, and shaping them into their final form. "The whole process takes about two hours, but the customers seem to enjoy it," laughs Chen.
This reflects the overall ethos of Veng Lei Laboratory. Nothing is rushed; everything is done with care, love in tribute to a family tradition and as a modern revival of an important part of Macao's cultural heritage. It's a place that reminds its customers to stop and smell the roses – or in its case, the rose-scented incense.