For 89 years, Lai Kei has offered Macao hand-churned ice cream for any season and any reason, whether you're seeking a reprieve from the scorching summer weather or something sweet to celebrate a milestone in life.
The shop is a memory capsule of its near-century in existence, with vintage square floor tiles, hand-painted frames, banquettes separated by round tables and foldable chairs that have all been there since it first opened. Today, its vintage look is as much of a draw as its excellent ice cream, available in unique and timeless flavours like coconut, mango, peanut and classic vanilla.
Wanting to keep this living antique alive for years to come, third-generation owner Ambert Kong, 46, has maintained the shop just as it was when his grandfather, Kong Lai King, opened it.
"I was not too keen on taking over the ice cream business at first, but locals, old and young, deserve to have this memory kept alive," Ambert says.
While Ambert may have envisioned a different life for himself, today, he has no regrets about his decision to enter the family business. On Avenida do Conselheiro Ferreira de Almeida, many shops have come and gone, but through it all, Lai Kei is still standing.
From painter to vendor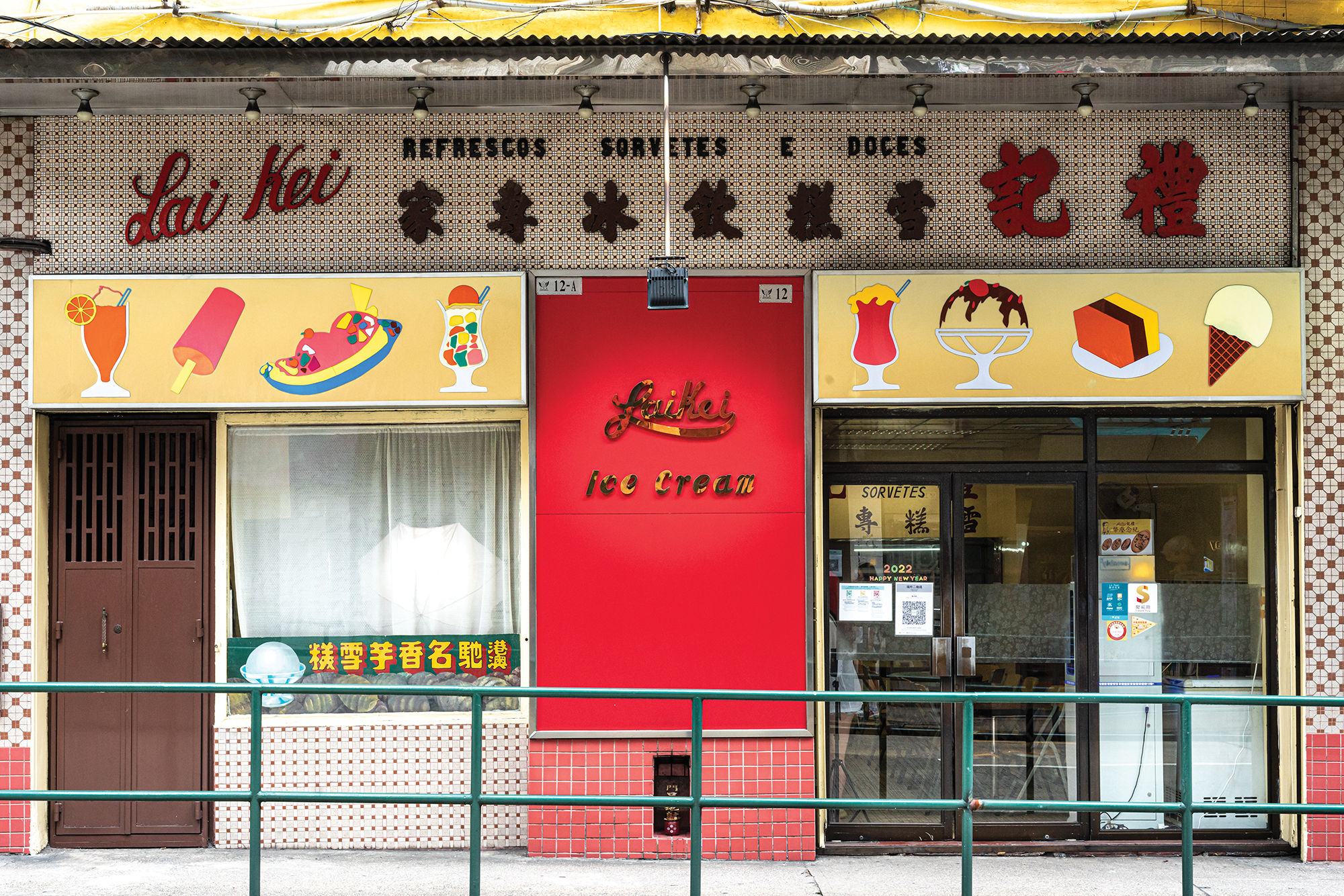 Born in 1914, Kong Lai King started his professional life as a ship painter in Guangzhou and then moved to an ice block factory as a machinist. During his time at the factory, the enterprising Kong came up with the idea of making ice cream.
From an ice cream machine to cups and spoons, Kong purchased all his products from Hong Kong and started as a licensed street vendor in 1933. "He sold ice cream near the Macau Tower or the Macau Government House, since that's where the rich people lived," Ambert recalls. Six years later, Kong managed to rent a shop opposite the current location on Avenida do Conselheiro Ferreira de Almeida, where he also set up a small factory to make his own ice cream.
During the late 1960s, he opened Lai Kai in its current location and turned the old shop into his ice cream-making factory. There, he started producing flavours like mango, chocolate, vanilla and strawberry, as well as his famous coconut ice cream. Today, it's one of the most popular items on the menu, but it was also one of the first few Kong made. There's a reason for that.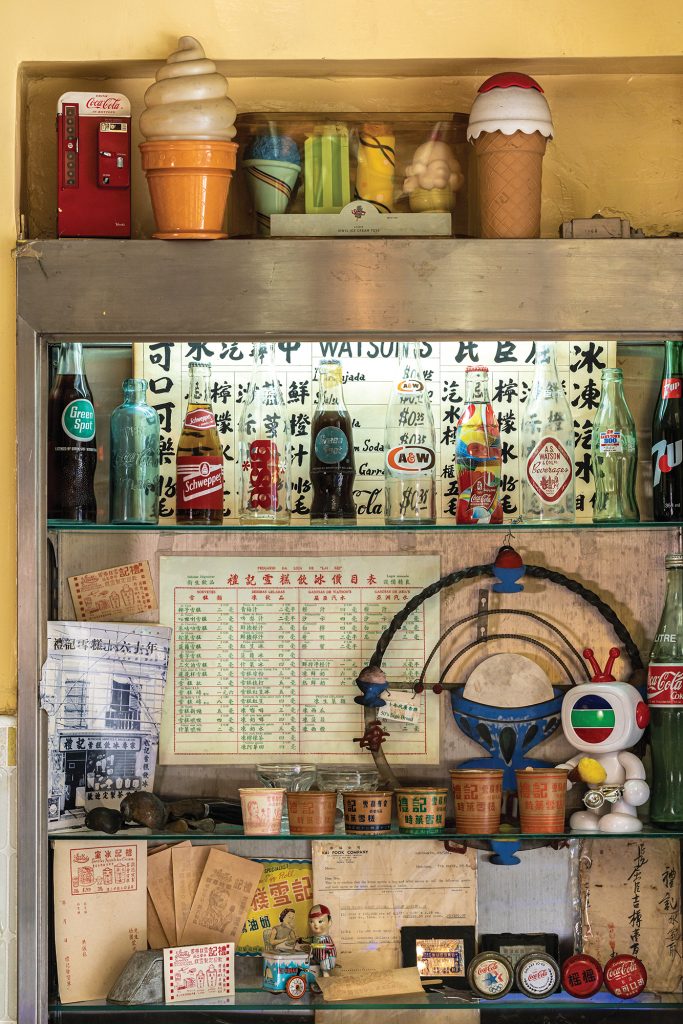 "Whenever there was a natural disaster or war in the mainland, Hong Kong or Macao citizens donated some products to support them," he says. "There was a time when my grandfather did so too and when it ended, in gratitude locals from the mainland gave him boxes of coconut puree. My grandfather and his brother brought it all back to the shop and made the first [batch of] coconut ice cream."
Back then, the major entertainment centre in the area was Cineteatro Macau, today one of Macao's oldest running cinemas. Before or after a movie, locals would come to the shop for ice cream, especially couples on dates. "The target customers were locals … as time went by, there were more tourists from Hong Kong, Japan, Taiwan, Singapore and all over the world," Ambert says. "There were more locals who came here to eat ice cream while watching the television or listening to the radio since back then not many people owned one."
Handing over the keys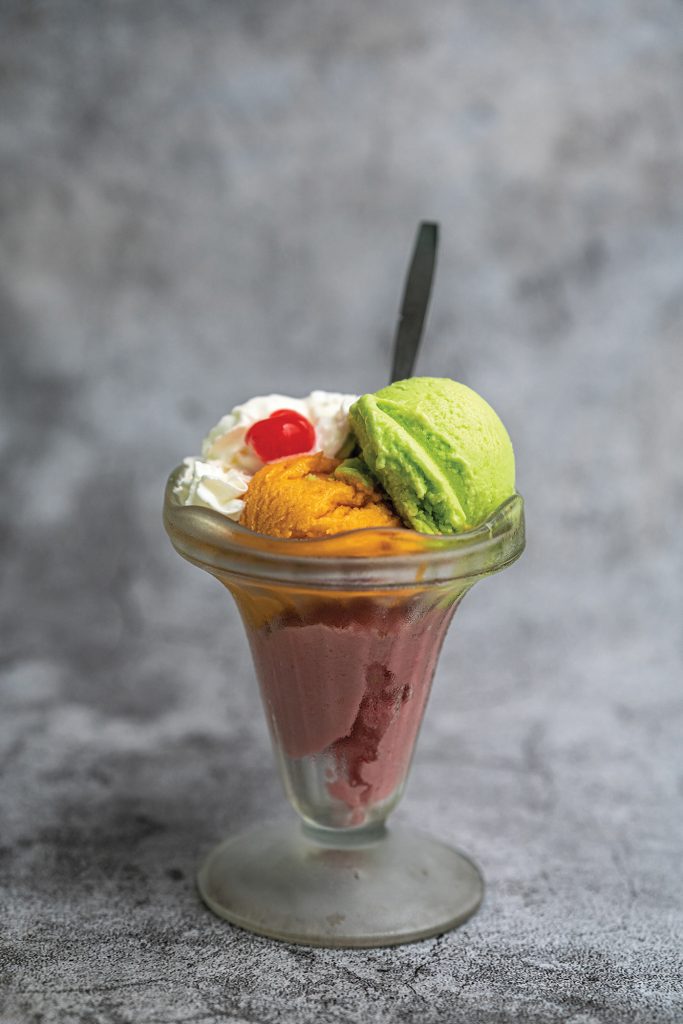 Even though he grew up around the ice cream shop, some of Ambert's fondest childhood memories came from spending time in the city with Kong. In 1979, as Kong was getting older, he handed over much of the business to Ambert's father, Kong Kun Hong, which freed up time for him to be with his grandson. "He often took me to the garden or to buy groceries," Ambert recalls. "I loved going to have yum cha [a brunch of tea and dim sum] with him. We had good memories."
Still, shop duties often beckoned Ambert back to Lai Kei, where he helped his family by cleaning tables, tending to customers and, as he grew older, handling money. His role became especially important after Kong passed away in 1989 and Ambert's father took over the shop. When Hong fell ill and passed away in 2011, Ambert, the eldest son, took over.
"I was not too keen on this kind of business as I liked graphic design," says Ambert, who graduated from UCLA in the US with a degree in graphic design in 2001. "I came back not for my own [desire to take over], but because the shop had been running for many years and locals always told me not to close it as it [represents] fond memories for many people."
Ambert also admits that his lack of interest in running the family business stemmed from his childhood. During the summer holidays, while the rest of the children or his friends were out playing, Ambert would have to put in shifts at the ice cream shop.
When a ground-breaking casino-resort opened in 2004, footfall at local shops suddenly plummeted. For tourists, there was little reason to leave the resort, because everything they needed was under one roof, according to Ambert. Although many shop owners sold or rented out their spaces as sales cratered, Lai Kei's local fans urged Ambert against doing the same.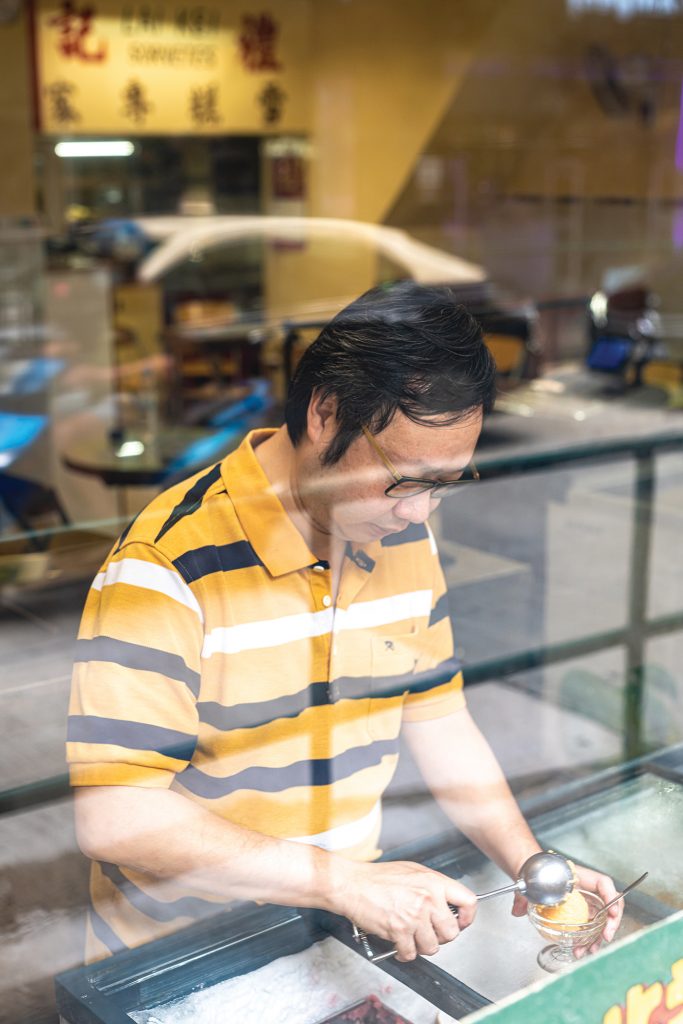 "They said, 'Please don't close. My grandmother and children love your ice cream.' They supported us, and because of that, we're still here," Ambert says.
So are several community relics. Lai Kei has six pieces of hand-painted art hung up on the wall, each over 60 years old. "A family came in one day and saw the paintings, and found the signature and art familiar," Ambert says. "They said, 'Oh it's my father's work,' and showed me a few pictures. He was a school teacher and had made some advertisements for my grandfather."
A long overdue overhaul
After Ambert took over, he made a few changes, like replacing rusted table legs, adding a new air conditioner and wall lamps, and repainting the walls. Almost everything else remains the same. You can still enjoy 11 different flavours of ice cream, all for MOP 13 – peanut, taro, honeymelon, peppermint, coffee, sesame and more. And tourists and locals alike still flock to the shop for ice cream sandwiches that only cost MOP 17.
Ambert takes pride in using fresh market fruit and no artificial flavours in any of Lai Kei's products. He concedes that competitors like Häagen-Dazs are "good and their packaging is eye-catching", but still he stays true to Lai Kei's timeless flavours, as well as his tried-and-true processes. "It's just like how some people like Mercedes while others would prefer a Honda. But there is a lot of competition [today]," Ambert admits, as well as external pressures that could cause a family-run business like his to go under.
During the pandemic, many shop owners in Macao have struggled to pay rent. Ambert's family has not had that problem, as they own the property Lai Kei occupies. "Besides that, we have a wide range of customers from old to young locals, government workers, singers and movie stars, so our business is still alive," he adds. "We just want them to smile and have a good time."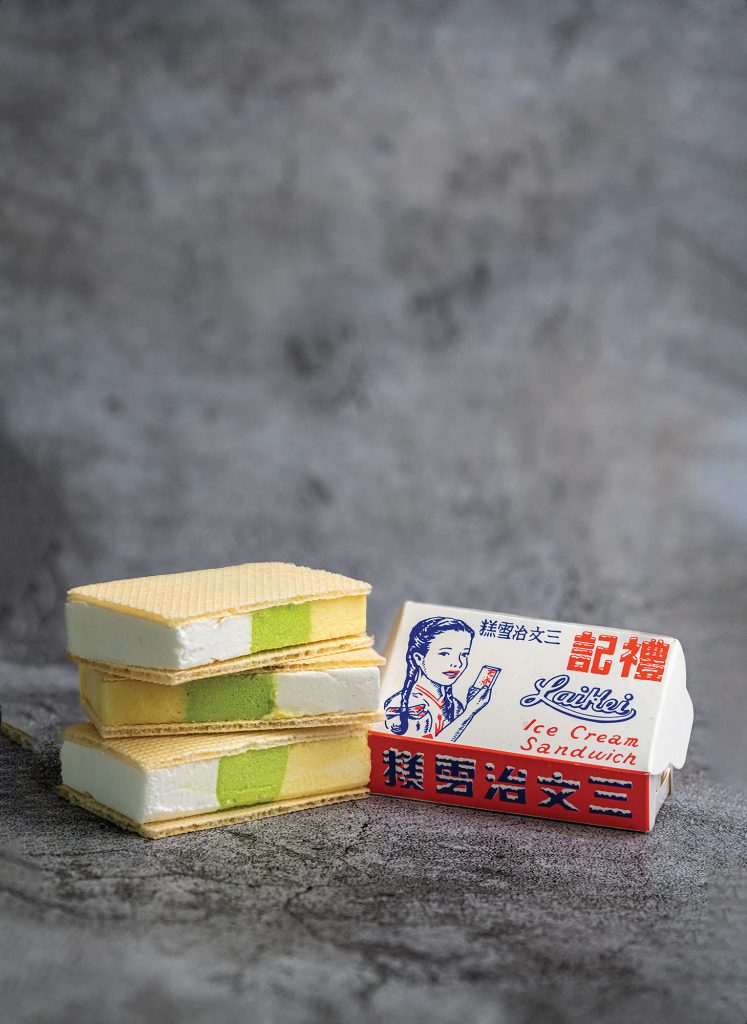 Lai Kei is still open seven days a week from 12 pm to 7 pm, but in some ways, times have changed. Ambert says locals used to love sitting in the shop during summer holidays or on weekends, but today most customers prefer ordering online since parking is difficult to find around the shop.
But he has an ace up his sleeve, too. The store works in collaboration with Lady M and Circle K, distributing ice cream each month to their stores around the city. "They support local brands," Ambert says. "We're lucky to have these businesses supporting us during this period." During events at the city's integrated resorts, Lai Kei also sets up booths, spreading icy joy to visitors.
These new initiatives have given Ambert hope that an old-school shop like his can thrive in the future. One day his own children – he has a 10-year-old daughter and an 8-year-old son – might want to run Lai Kei, just as he took over from his father, and his grandfather before him.
"They spend a lot of time playing here and love all the ice cream," he says. If either decides to take over the shop, they will become the fourth generation of owners to run Lai Kei. But they will also become part of a much larger family in the process.
"I like it here now, and the stories I hear from loyal customers [keep me feeling satisfied]," Ambert says. "Some come here a few months or years later and tell me about their children getting married or that they have a baby. I feel like I am part of their family."