Jazz music has been hot stuff ever since it originated in the African-American communities of Louisiana in the United States in the late 19th century. With its roots in genres like blues and ragtime, it quickly became a style that put experimentation and musicianship at the front of centre. Often controversial, jazz was once frowned upon by musical purists but it has thrived over the years and is today celebrated by enthusiasts across the globe. Sure, jazz gigs may have been on hold in most countries over the past year due to the pandemic but it hasn't stopped fans and musicians preparing for concerts as soon as they're back on.
Jazz has been in Macao for decades. It came with the Portuguese community who brought Western music to the city but it has been universally loved by people from all cultural backgrounds for a long time. Countless jazz performances by local and international musicians have taken place in Macao over the years and behind every performance is a team of dedicated organisers, educators, skilled musicians and stage management professionals. However, life for these talents and enthusiasts in the city is challenging – there are only a few venues that stage jazz gigs and the knock-on effects include a lack of audience development, performing opportunities and musicianship experience.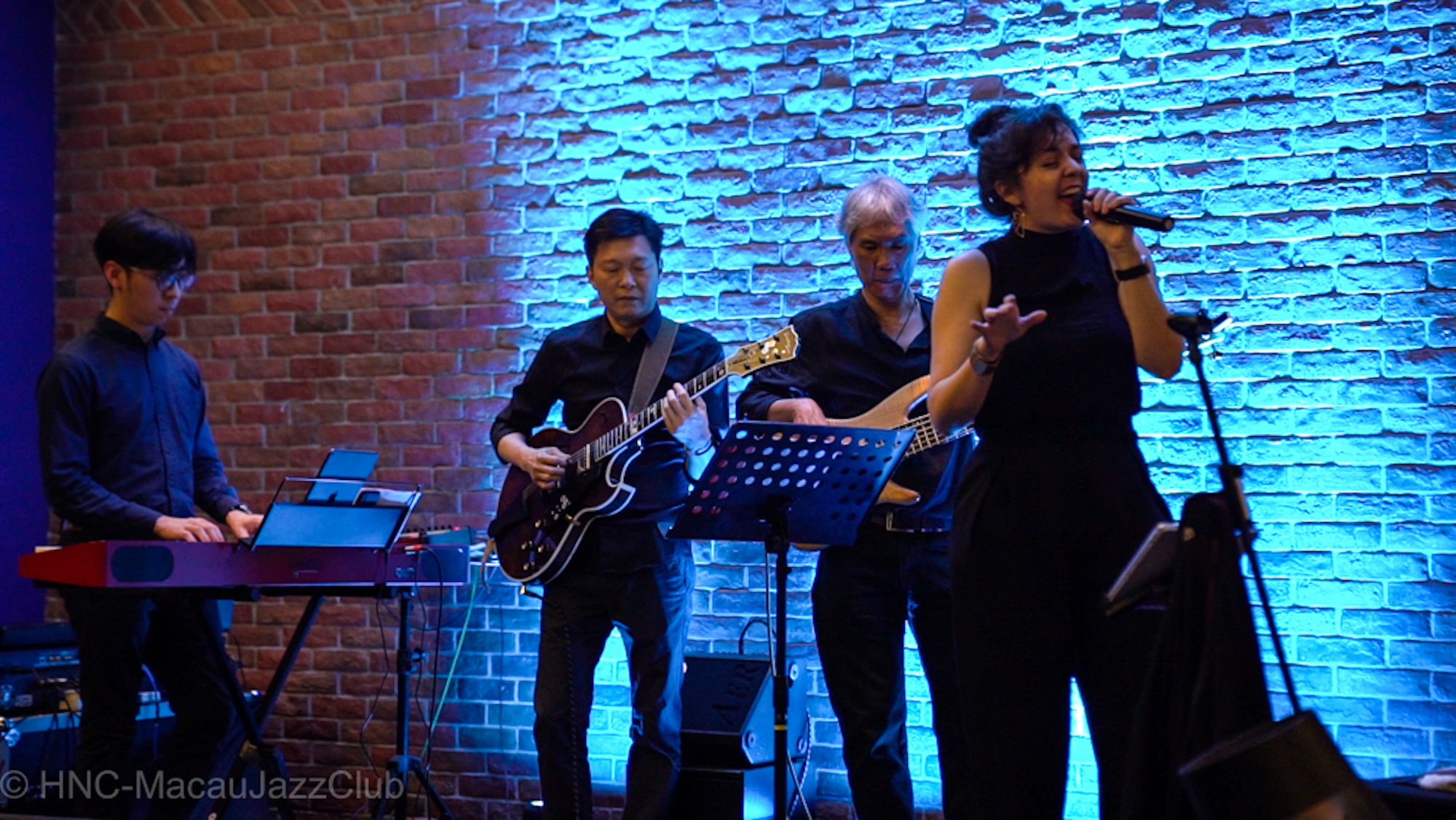 Some live music venues in Macao receive subsidies from the government so that they can pay musicians, hire sound equipment, bring in international jazz maestros for performances and educational workshops, and attend overseas events for learning exchanges. But getting a jazz movement going in the city is a challenge. Some concert organisers look to places like bars and restaurants instead of small band rooms to cater for the local fans, the tourists and the students who return from the West with a new interest in the musical art form.
When you visit a city, you may have missed the jazz festivals but you can still catch the regular jazz performances. An international city should provide entertainment daily.

José Luís de Sales Marques
A handful of local children have been learning jazz instruments, while the number of jazz instructors in Macao has been growing steadily. However, the genre still needs promoting among parents as many still prefer their children to learn classical music, in which musicianship gets recognised through official exams and grades. So, who is doing this promotional work?
The cool cats

 
When it comes to staging jazz shows around town in Macao, one name stands out – the Jazz Club de Macau. Also known as JCM or simply the Macau Jazz Club, this institution was founded in 1985. 
The JCM runs gigs across a range of venues in Macao these days. It also organised the Macau Jazz Festival every year until 2015, touting it as 'one of the oldest jazz festivals in Asia'. The festival always had a hot mix of local and international talents on stages across town but it hasn't been run since its 15th edition in 2015 due to a lack of funding, given the fact that such an event requires substantial costs to run. Perhaps it will one day return but it stands as an advertisement for how challenging putting jazz gigs and festivals on in Macao can be.
José Luís de Sales Marques – author, president of the board of directors at the Institute of European Studies of Macau and a well-known figure in the city – has been the president of the JCM since 2013. He says he's always been looking for ways for jazz to be on the rise in the city. "When it comes to the Macau Jazz Festival," he says, "we have tried to be independent from the government's funding because the subsidy can be hard to predict. But the festival is an expensive event to organise. We hope it will return one day." Sales Marques adds that the club itself has been going strong, particularly since 2017, when 'we teamed up with the Live Music Association (LMA)'. "We have previously held Sunday jazz sessions together," he says. "There was always a special atmosphere [at those sessions]."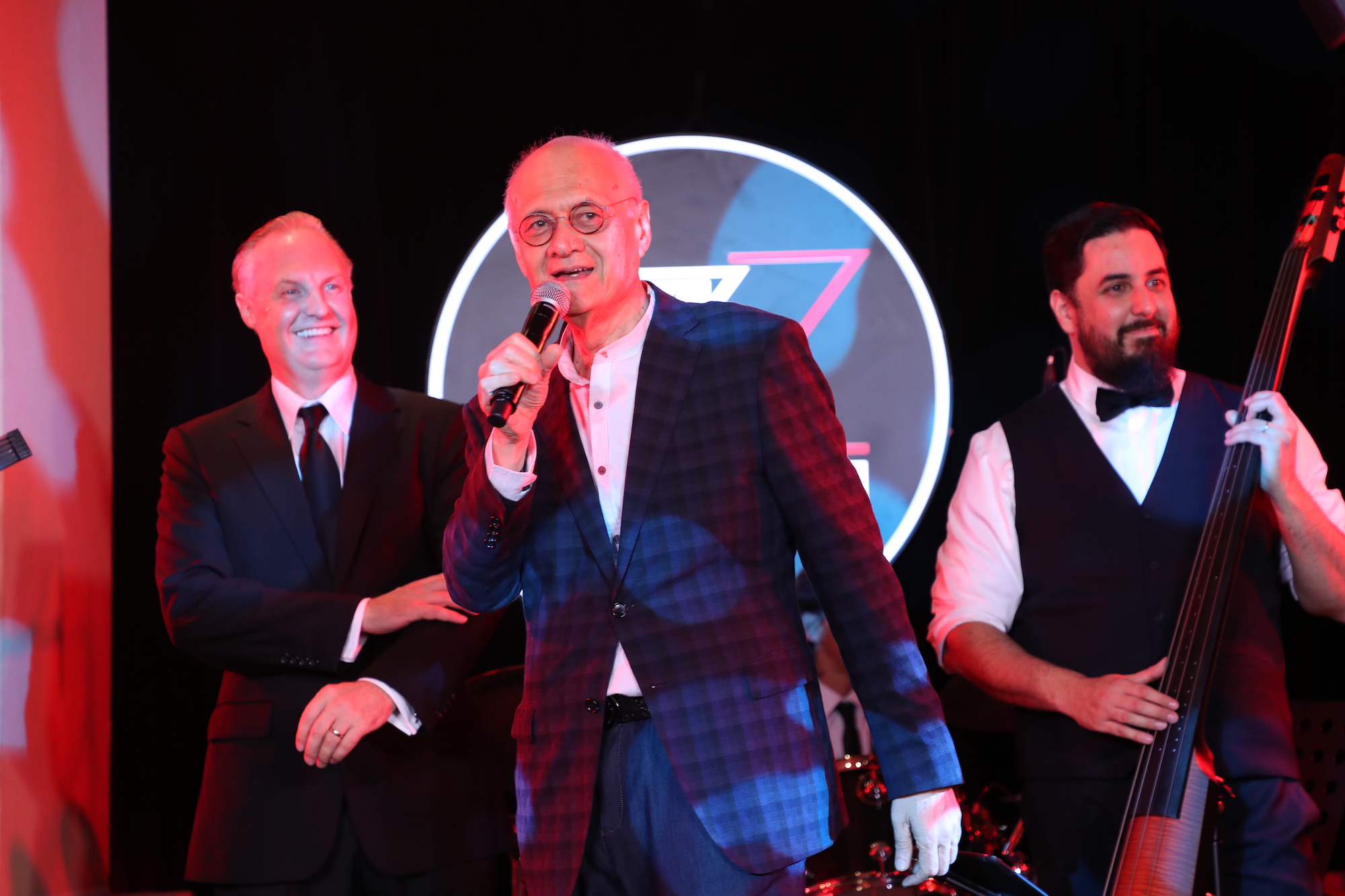 Miguel Khan – once a video jockey in Tokyo – is the vice president of the JCM. He says that jazz gigs need bigger spaces than the small band rooms in Macao. "The partnership with the LMA has been great," he says, "but I have noticed some audience members have wanted more in terms of space and food." Khan says that he learned a lot about how to stage a jazz concert when he was in Tokyo. "When I played in Tokyo," he says, "everything was elaborate. Many jazz performances were held in restaurants. And they not only featured musicians but also invited music critics to write reviews on the performances. That's why they invited us to perform. They wanted to know what influenced us."  
Commitment is key in the development of a city's jazz scene, notes Sales Marques. "If there is an investment in music festivals [in a city]," he says, "what about the day-to-day performances? When you visit a city, you may have missed the international jazz day or the musical festivals but you can [still] catch the regular performances. An international city should provide entertainment daily." He says that the club has thus formed partnerships with hotels and restaurants, including the Tromba Rija in Macau Tower, the Sofitel Macau at Ponte 16, the Four Seasons Hotel and Rocks Hotel at Fisherman's Wharf. 
As for Macao's local audience, many Westerners are used to live jazz gigs. But members of the Cantonese-speaking community can be more used to listening to music with lyrics. Khan says: "If we go completely instrumental, the audience must have a deep understanding of the instruments. We've received some feedback so, in a recent performance, we invited a lady singer to perform with our jazz music. The music followed what she sang." Khan adds that 'the more events that take place, the more the audience will get to understand the layers of jazz music and instruments'.
Last summer, local jazz band The Bridge started performing at the Gathering at Dusk in Senado Square event. It was a relaxed event offering food and drink, and live music to help lift the shadow of pandemic – and it's still going today. The band plays daily to residents and tourists from mainland China. Humphrey Cheong, the band's saxophonist and a DJ for a local jazz radio show, notes that the event means that 'local musicians have the opportunity to perform to locals so they get to know more about us'. He says: "Apart from Tokyo, Macao is the second oldest city in Asia to hold an international jazz festival. We've been organising such events on and off for a long time."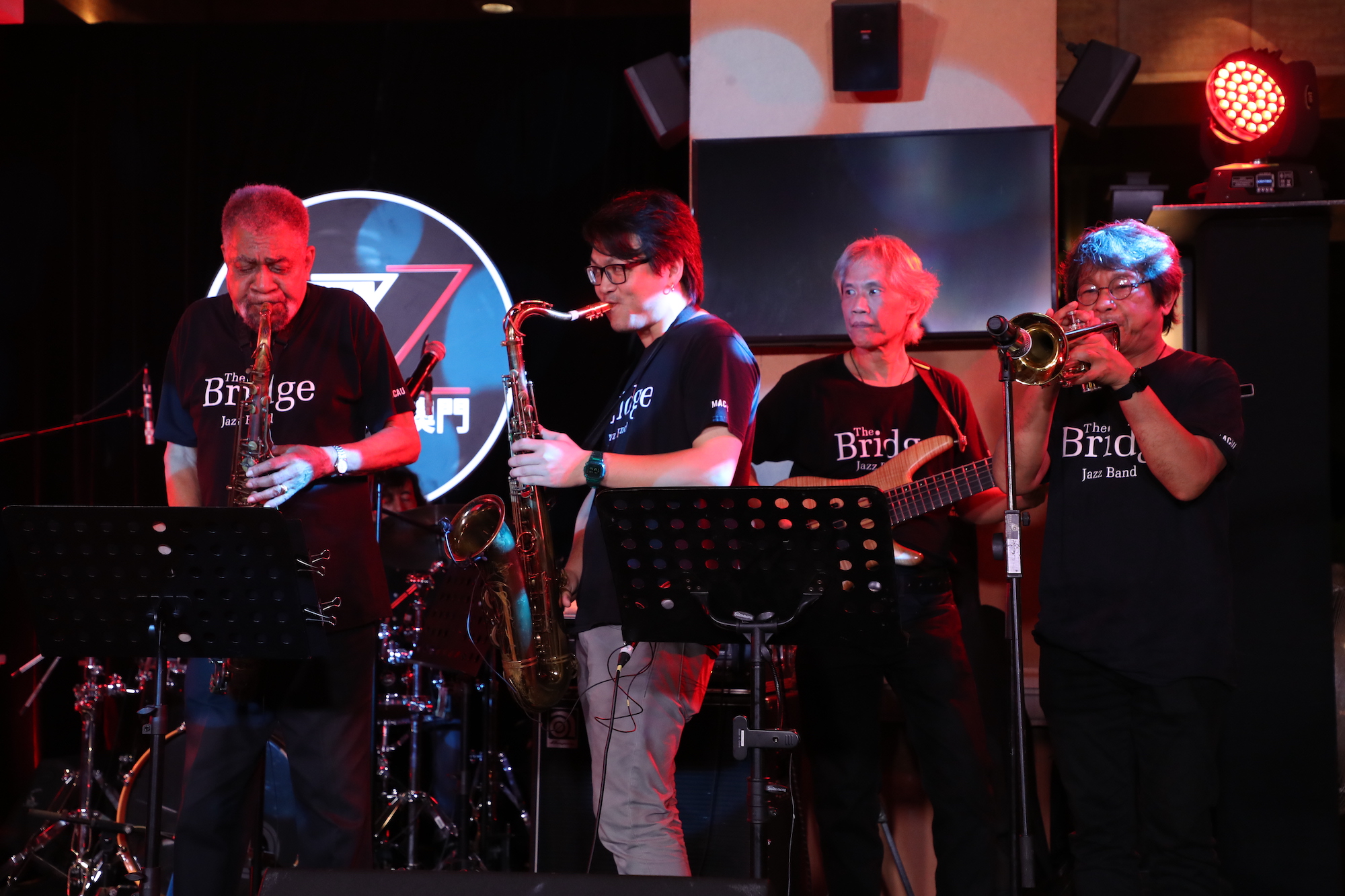 Cheong says that the JCM held an International Jazz Day on 30 April. The event, at Splash Restaurant in the Four Seasons Hotel Macao, aimed 'to celebrate jazz and highlight the natural force of this musical genre in bringing people together'. Big draws on the bill included the OR Quartet from China, as well as the Tomos Griffiths Big Band and, of course, The Bridge. "It was a great opportunity to get musicians together," says Cheong, "and was an important festival. Hopefully, after the pandemic, we can invite more artists to Macao and bring in more outreach events like the International Jazz Day."
Jazzing it up
The non-profit Macau Jazz Promotion Association, set up in 2010, has performed at events like the Macao International Music Festival, as well as at various spots across town, including in the Sir Robert Ho Tung Library, the Hong Kung Temple and the Lou Kau Mansion. In December 2012, the association initiated the popular Macau Jazz Week, which focused on local musicians jamming with international maestros. The event ran every December until the pandemic hit last year. Since 2014, the association has also performed once a month at the Rui Cunha Foundation.
The association holds jazz education as one of its artistic missions. It founded the Macau Jazz Orchestra in 2018 and the Macau Youth Jazz Orchestra last year. Also, since 2013, it has teamed up with Portuguese musician and composer Zé Eduardo to organise the Zé Eduardo Jazz Workshop series for anyone who's interested in the art form in Macao. Mars Lei, the president of the association, says it's difficult to survive, though. "Education is our main source of income," he says. "It's difficult to rely on other methods, such as performing."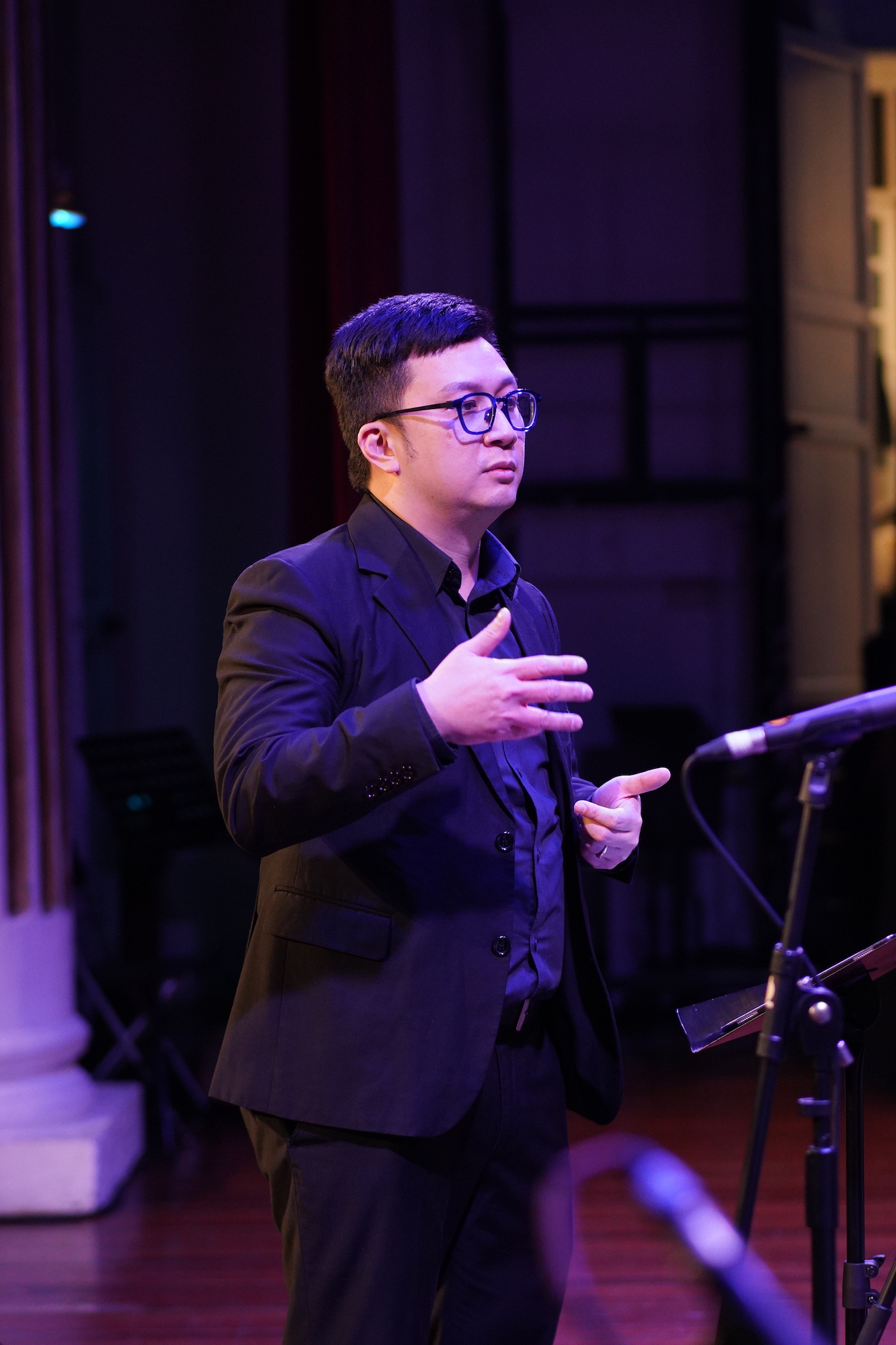 Since the Macau Jazz Promotion Association takes on the role of educating jazz, its packed schedule does not allow the team to work part-time, says Lei. "I work full-time now on a government subsidy," he says. "There is a lot of administration work to take care of." He also indicates the importance of training the younger generations in jazz. Compared to classical music instruments, jazz instruments entice far fewer students, he notes. "Many parents don't understand," he says. "Some of our students come here because their fathers like jazz." 
Macau Youth Jazz Orchestra is split into two groups – primary and secondary pupils. Those who already have a certain level of musical experience are taught to play instruments like saxophones, jazz drums, piano and bass. Primary pupils also take lessons in musical genres like swing and bossa nova. Secondary pupils traditionally come from the city's Portuguese or international schools, says Lei. "Teenagers are at an age when they shape their taste and character," he says, "so they embrace jazz music." He also notes that musical education outreach work in Macao has greatly improved over the past decade, allowing students to explore many types of instrument.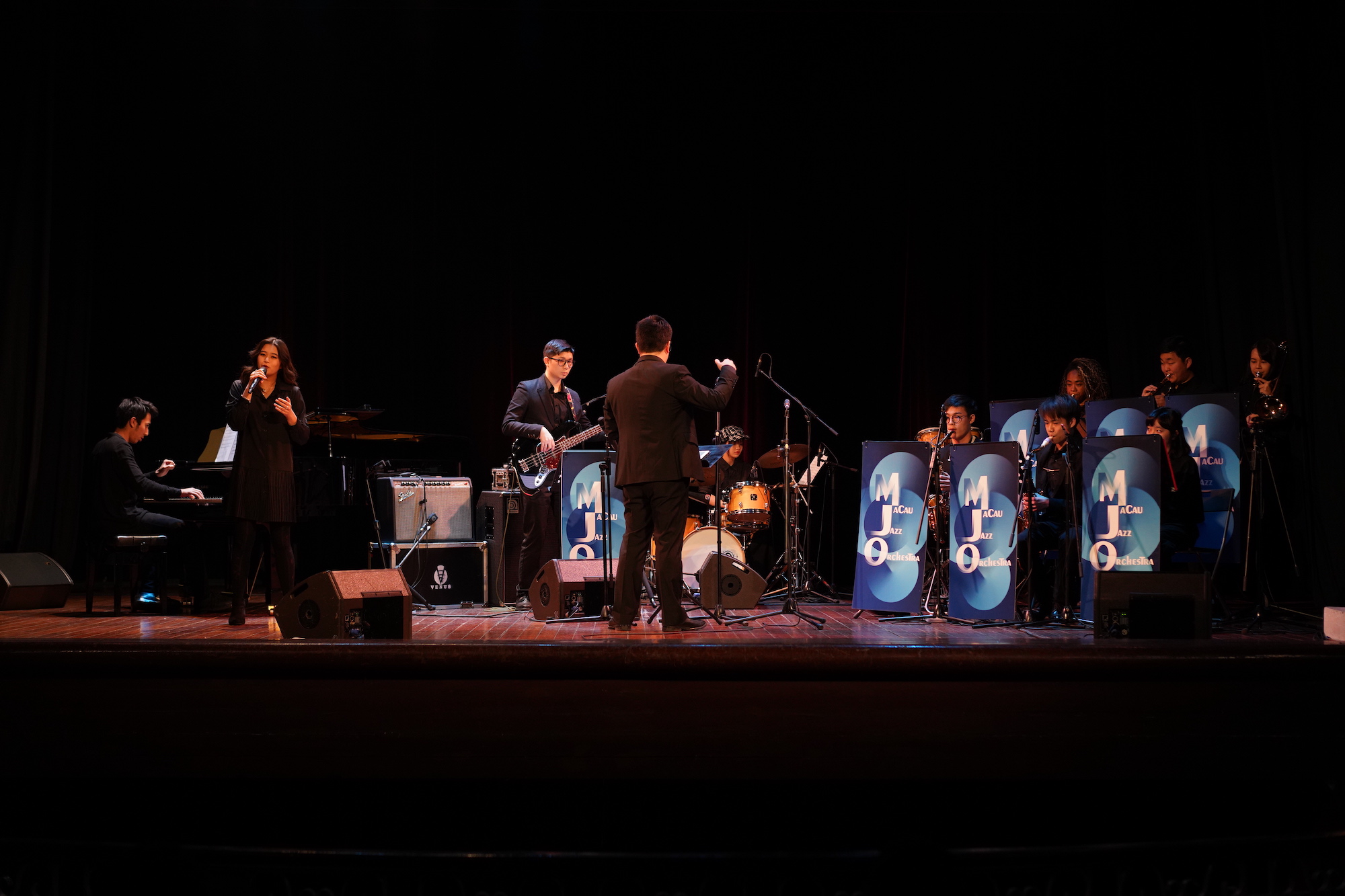 Rhythm and style
Talented jazz guitarist Hon Chong Chan started playing guitar in Macao at 14 years old. He furthered his string skills at the Beijing Contemporary Music Academy from 2008. Now 34 years old, he reflects on his youth, on when he fell in love with the art form and on American jazz trumpeter, bandleader, composer and legend Miles Davis. "At that time," he says, "I listened to Miles Davis albums but I didn't understand the layers. Pop music usually expresses with bass drums and snare drums, which is easier to understand. But jazz rhythm relies on cymbals. What I knew about jazz was lyrical and smooth jazz, such as Kenny G. Beijing opened up a world of jazz to me. There is so much jazz improvisation [there]." Chan also says that when he learned guitar in Macao, he mostly followed the guidance of his music teachers. But when he got to Beijing, he realised he must work hard on musical theory and his music score reading skills.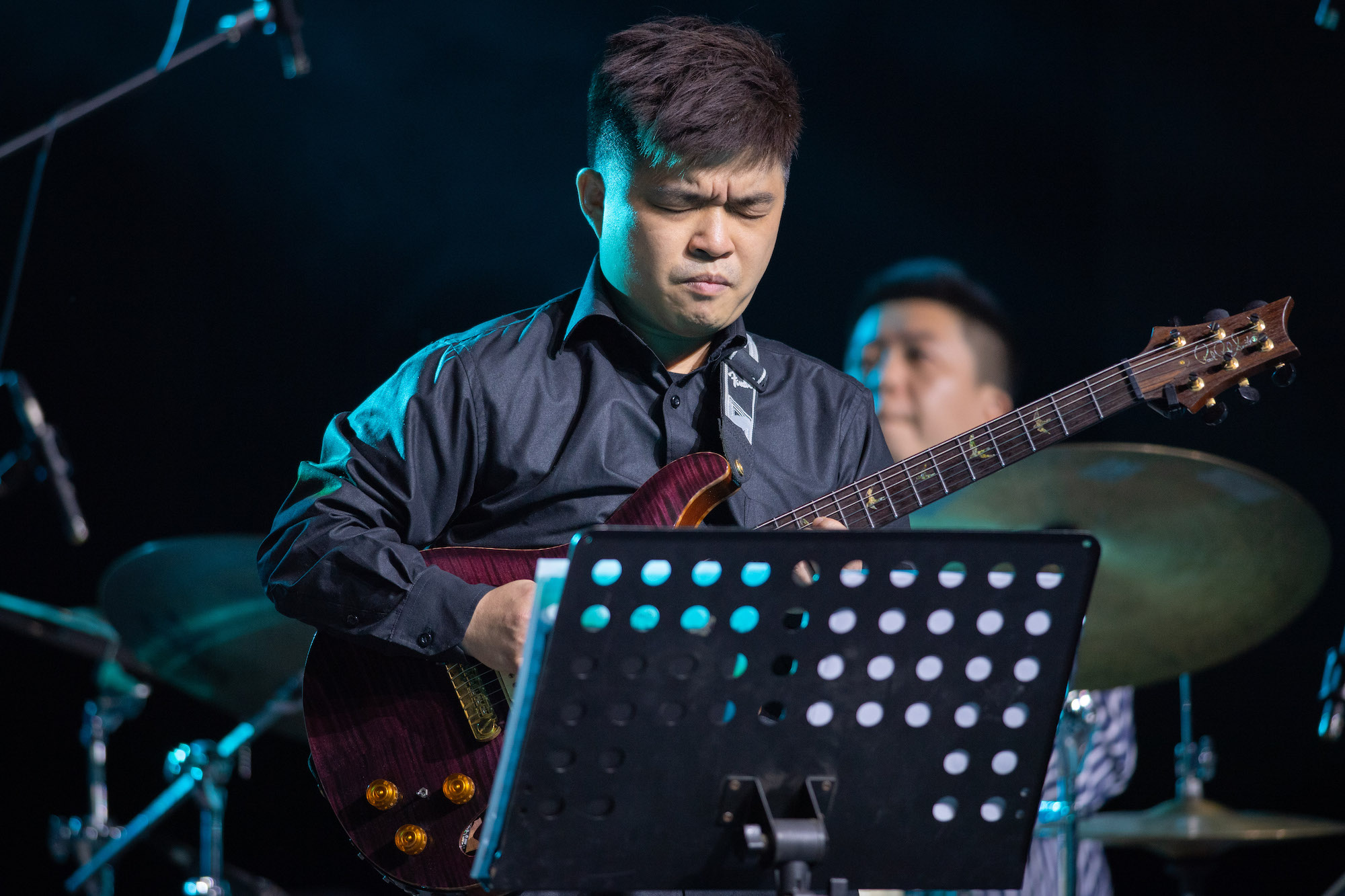 Chan – who used to study jazz guitar under well-known Hong Kong musician Tommy Ho – returned to Macao in 2011 and saw a few jazz performance opportunities. "I usually played once a month," he says, "mainly at music festivals and hotels." He now mostly plays in nearby Shenzhen. He notes that some musicians may stop playing later on in life because of family or career reasons. "Many jazz musicians or general musicians may stop playing when they reach a certain age. They have daytime jobs or families to look after. You can't only spend a year or two if you want to achieve something in jazz. You must spend eight to 10 years."
In 2019, Chan furthered his jazz musicianship at The Collective School of Music in New York. He says that the Big Apple is 'another world' in terms of jazz and he was inspired to record his first album, 'Traveling Coffee', with the Hon Chong Chan Quartet, which was recorded in New York before being produced and released just last year in Macao. "In New York," he says, "many musicians do that. A friend of mine, who is also a jazz guitarist from Hong Kong, advised me to record an album as a portfolio or a documentation of my journey in New York." Chan mentions the COVID-19 pandemic too as it hit the world not long after he returned to Macao in 2019. He says he's performed occasionally since, as well as taught guitar styles like jazz, rock and acoustic.
Jazz music has been around in Macao for many years. It has had periods of growth and decline but there is now a strong community of musicians and enthusiasts in the city which keep the scene going, whether that's in terms of gigs, festivals, education or outreach events. It can be cleverly promoted in the city – combining performances with good food, drinks and interesting interiors – but its future remains uncertain. However, if young people keep picking up their instruments and learning this exciting musical art form, then we should be fairly confident that Macao will be jazzing it up for decades to come.