When British-born Andrew Stow – who was neither baker nor lord – filled in the paperwork for a bank loan to establish a roadside bakery in Coloane Village, he had to list all the goods he'd be selling. Stow, who was 34 at the time, wrote down various types of bread, Chelsea buns, birthday cakes, and so forth. Then, right at the bottom, he scrawled two fateful words: egg tarts.
Fast forward 33 years, and these egg tarts have earned the status of edible icon. In fact, in 2020, the confections were added to the inventory list of Macao's protected Intangible Cultural Heritage. They've won the hearts and taste buds of locals and tourists alike in their journey to becoming a symbol of the city's gastronomic culture. Any local tour guide worth their salt will point visitors in the direction of Lord Stow's Bakery – biting into what Stow used to call "the perfect marriage between crispy shell and wibbly wobbly filling" while soaking in the peaceful charms of Coloane Village is a quintessential way to experience Macao.
Sadly, the man behind the brand died unexpectedly in 2006, following an asthma attack. Since then, his sister Eileen Stow has run the business alongside Andrew's daughter, Audrey Stow. They've faithfully continued their beloved brother and dad's legacy: today, Lord Stow's Bakery is one of Macao's most successful businesses and employs more than 130 people.
What started as an unassuming roadside bakery is now a thriving business empire with three locations (soon to be four) in Macao, one franchise in Osaka, Japan, and another franchise in Manila, Philippines. The beloved egg tarts are also available at Mandarin Oriental Hong Kong's Cake Shop, which has the only Lord Stow's licence in Macao's sister Special Administrative Region. This empire didn't go unnoticed to the British Monarchy either. In 2021, Eileen was honoured with one of the most prestigious distinctions when she was invested with the Order of the British Empire by the late Queen Elizabeth II herself.
One city, three types of egg tarts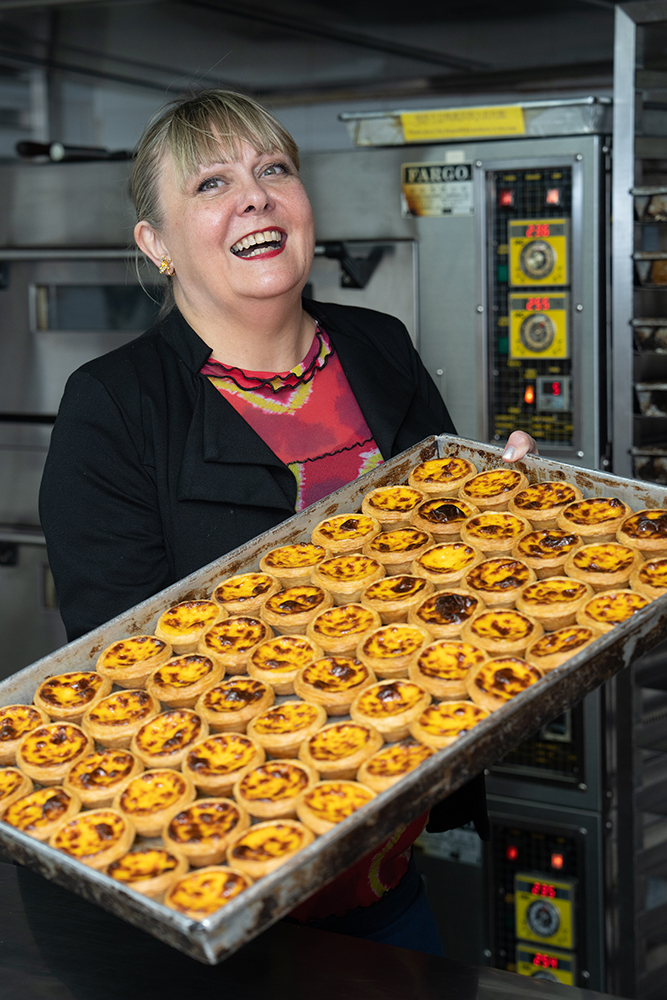 Sweet (and innocuous) egg tarts may be, they spark fevered debates in Macao. The tiny territory is home to three types of egg tarts: the Macao egg tart, which Andrew pioneered; the traditional Portuguese pastel de nata; and the Hong Kong-style dan tat, a British-inspired dim sum. Which type is the best, and which is the most authentically Macao, are popular subjects for discourse.
Wondering how to tell which tart is which? Lord Stow's and pastel de nata both use puff pastry and feature a brûléed layer on the surface of their respective custard fillings, while dan tat are made with shortcrust pastry and do not have the dark marks. The difference between a Lord Stow's egg tart and a pastel de nata is more subtle: the latter are sweeter and often flavoured with cinnamon and/or a hint of lemon.
Although Andrew Stow christened his creation eponymously, the egg tarts inevitably became known as pôu tát (Chinese for 'Portuguese egg tarts'). "The Macao people were very well aware of the dan tat [Hong Kong egg tart] in their dim sum history, so their way of describing Stow's egg tarts the local Chinese or their friends in Hong Kong was to call them a pôu tát [Portuguese egg tart], in order to differentiate them from the local version of a dan tat," Eileen Stow, Andrew's younger sister and director and chief executive of Lord Stow's, explains.
Crafting a unique egg tart
According to Eileen, Andrew's plan to sell egg tarts at his new bakery was simply "to give the Portuguese here at the time a taste of home." As such, he went with the puff pastry of pastel de nata instead of the shortcrust pastry used for the tarts of his homeland (and Hong Kong). As he didn't have a Portuguese recipe on hand, he created his own unique recipe – with the fillings more like English custard (less sweet and without cinnamon).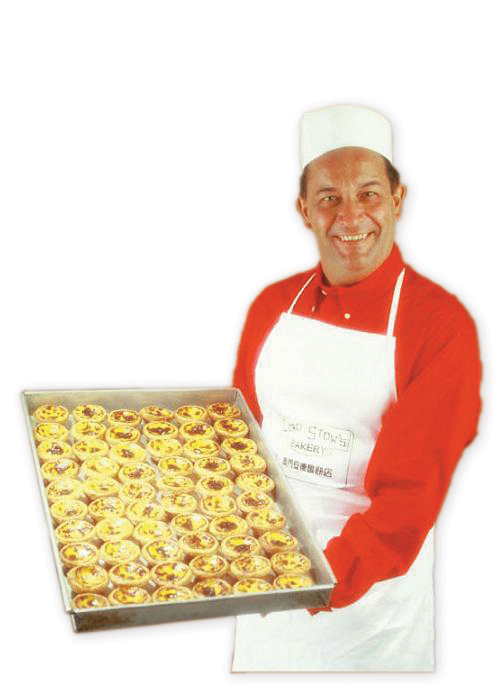 Andrew, a pharmacist by trade, moved from the UK to Macao in 1979 to work at Anglo French Laboratories. His scientific background showed itself in the precision of his cooking, says Eileen. It took him just five test runs to settle on what is now Lord Stow's egg tart recipe. Essentially, it's a secret ratio of eggs to milk to cream and sugar forming a silken mixture that's then baked in a puff pastry shell at a heat high enough to scorch the milk. Andrew's original recipe has stood the test of time; not a single adjustment has been made since the bakery was established in 1989.
But in spite of Andrew's well-meaning intentions, Macao's Portuguese community was not immediately won over by Lord Stow's egg tarts. "The Portuguese were horrified and told Andrew, 'This is not a pastel de nata!'" Eileen recalls with a laugh. She says he offered them a simple solution in response: "Well if you don't like it, don't buy it."
The bakery's subsequent success indicates sweet tooths may have decided these egg tarts were even better than pastel de nata.
An egg tart frenzy
As the buzz around Lord Stow's grew to a roar, Andrew found himself in need of an extra pair of hands. So, in 1993, Eileen moved halfway across the world to join her brother in Macao. She remembers witnessing an egg tart frenzy: wannabe pastry moguls approaching Lord Stow's staff at the bakery with cheque books in hand, hoping to entice them away and/or share that coveted recipe. "It was the most shocking time to go through," Eileen recalls.
Andrew Stow never expected his business to become the gold mine it has done. "He had envisioned himself getting up every morning to bake, staying in the shop until he sold the day's goods, then going out to have a glass of brandy somewhere before heading back home to put his feet up," Eileen says. "It wasn't anything other than that, that's why he took the low rent premises in Coloane Village."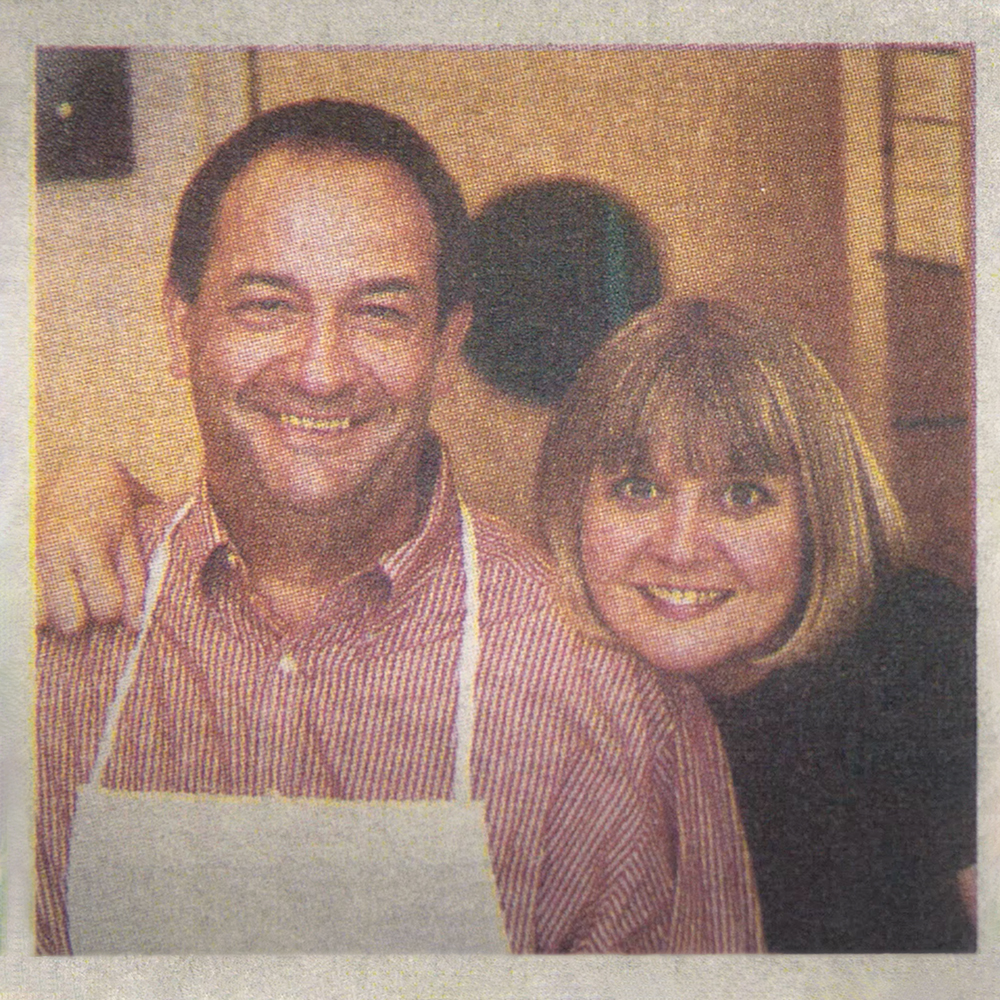 As Eileen sees it, all her brother wanted was a business that enabled him to stay in Macao, a city he loved. She took over the business after Andrew died, and has gone on to double Lord Stow's operations and production – while honouring the iconic pastry her brother created. "We've had people that come back ten or twenty years after trying our egg tarts for the first time and say, 'They're still the same, exactly as I remembered it,'" Eileen says with pride. "That's what Audrey [Andrew's daughter and director and executive of Food and Beverage for Lord Stow's Bakery] and I have been working for, to protect Andrew's legacy."
The confections' puff pastry is made at their small factory in Hac Sa Wan, by a quick-working team. "The process starts with snipping off the corner of a bag of flour at one end of the factory, and ends with trays of finished pastry shells ready to be shipped over to our bakeries in the city," Eileen explains. The first eggs are cracked early in the morning, using a specialised machine able to separate up to 8,000 egg yolks from their whites per hour. At Lord Stow's bakeries, the pastry is worked into moulds, filled up with custard and baked in the oven for half an hour.
At peak times before the Covid-19 pandemic, the three Lord Stow's Bakeries in Macao sold a total of about 22,000 egg tarts each day. During the pandemic, however, daily sales at times dipped as low as 3,000.
A new home at The Londoner Macao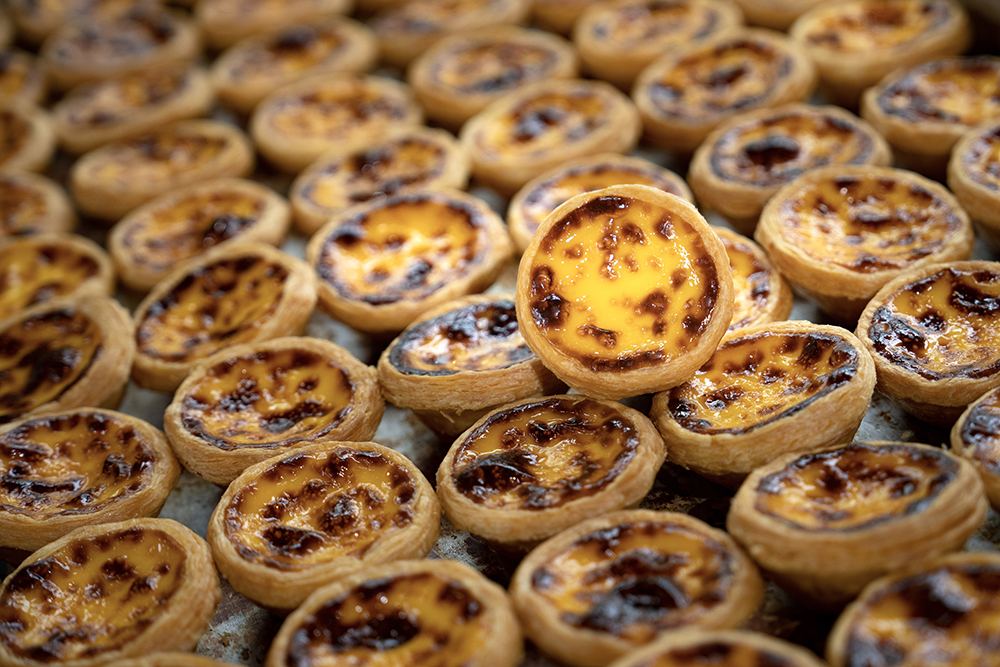 But now, after three long years, Lord Stow's is readying itself to expand once again. A massive, 4,500-square-foot space is set to become the egg tarts' salubrious new home at The Londoner Macao, Macao's British-inspired integrated resort.
As customers step into the new branch, they'll see the bakery's vast show kitchen. This will be their first opportunity to witness Lord Stow's egg tart bakers in action. The new kitchen has space for nine egg tart ovens. There'll also be a café area, where people can enjoy Macao's most famous pastries in situ.
Eileen says the sizable new store "reflects a vision for the next 10 years" and is a vote of economic optimism for 2023. "Hopefully, when it opens in September this year, we can expect better business in Macao."