Toys are traditionally for children. Playthings that are loved fiercely, often to the point of disintegration. But there's a growing subset of toy buyers who, while incredibly fond of their toys, prefer to keep them as pristine as possible. These are adults and they're not after cuddly teddy bears. They seek investment opportunities in the form of designer toys, also known as 'art toys', or chaowan in Chinese.
Art toys are limited edition objets d'art first and playthings second (if at all), made by small, independent companies and artists. The mainland's chaowan market was estimated to be worth more than RMB 38 billion (MOP 44.6 billion) in 2021; it's the second biggest toy market in the world.
The art toy boom has given Macao brands like Nativo and 50% Toy licence to flex their creative muscles and sell one-of-a-kind items at a premium.
"Shoppers in China love the fact that [our toys are] not mainstream. They can show it off to their friends, like, 'Look, I got this, and it doesn't look like anything else in stores,'" says Felipe Wong, co-founder of Nativo. "They're crazy about art toys."
Art toys come to Macao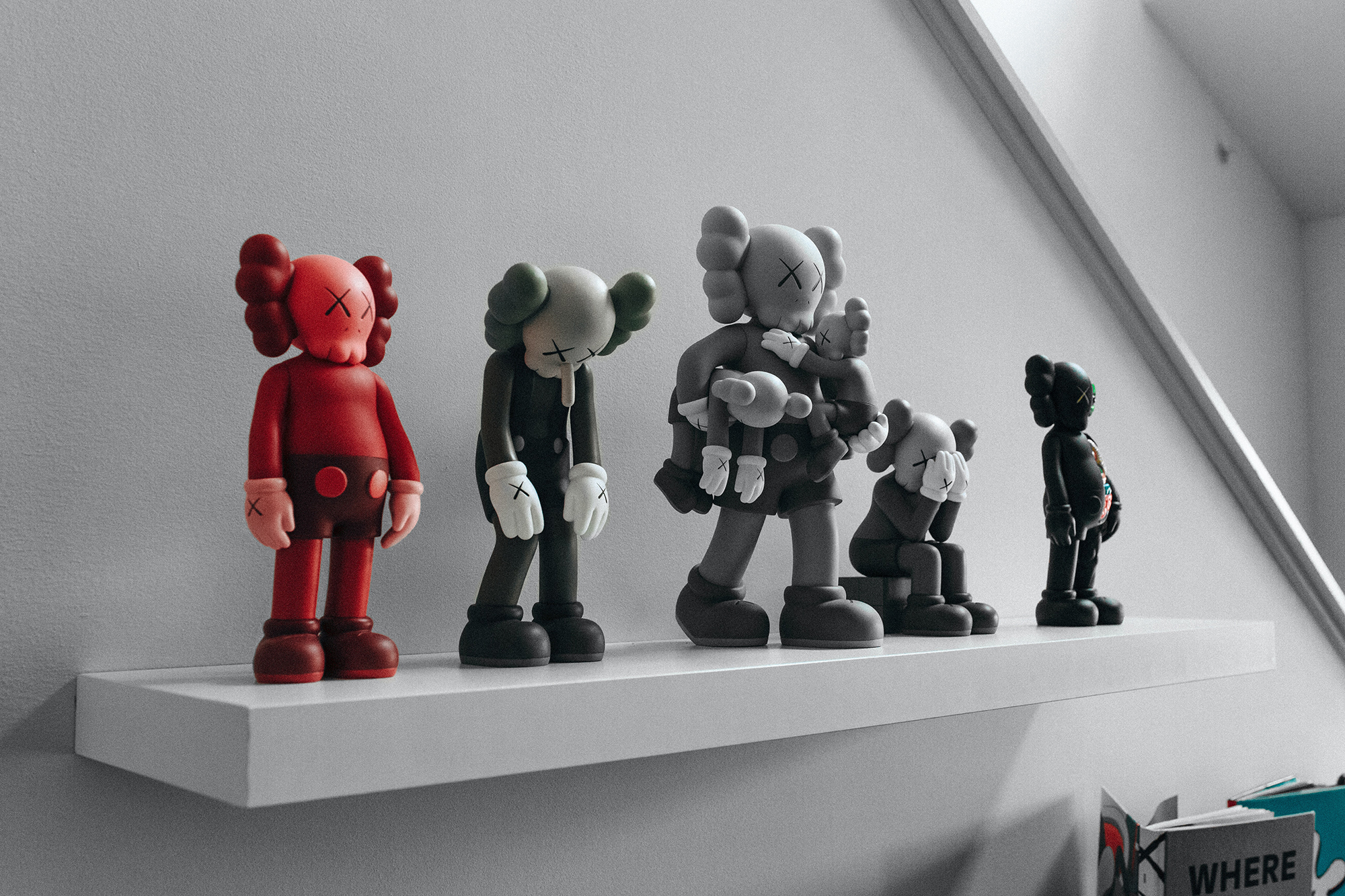 Art toys are having a moment, but they're not a new concept. One of the best-known examples is a series of vinyl figurines with crosses for eyes created by American artist Brian Donnelly – known professionally as Kaws – and the Japanese clothing brand Bounty Hunter. These came out in the 1990s and now sell for upward of US$100,000 (MOP 809,000). Bearbrick was another instant classic, made by the Japanese company MediCom in the early 2000s.
Closer to home, in Hong Kong, is the man now known as the 'godfather of art toys'. Michael Lau released his influential Gardener vinyl toy series in 1999 and went on to become one of the most influential toy designers in Greater China.
"We wanted to be like [Michael Lau]," admits Siomeng Chan, co-founder of 50% Toy. "Because of him, art toys started to become famous in Asia."
Chan, who studied graphic design at Macao Polytechnic University, started sketching prototypes for what would become the nascent brand's first character in 2016. That was Dino, a slouching, hulking figure in a yellow hooded jumpsuit.
Four years later, Chan and his friend from university, Kay Tung, left their careers in graphic design to launch 50% Toy.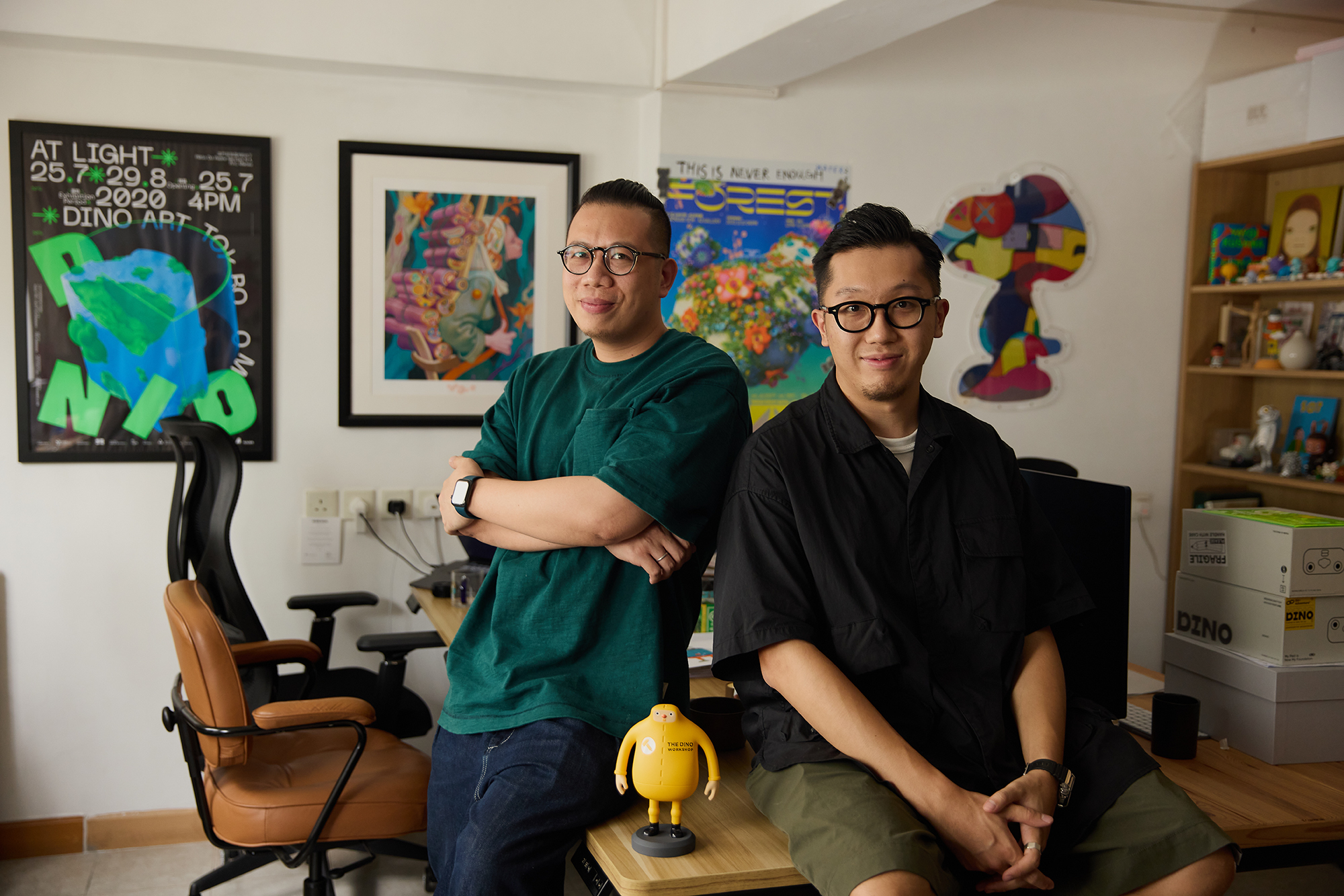 For inspiration, Chan and Tung looked to their childhoods – which were full of cartoons and action figures like One Piece and Gundam. After some trial and error in the production process, Dino was ready for the market. "The most difficult thing is when you transform a face from a 2D sketch to a 3D product," Chan says.
Today, 20-centimetre-tall, vinyl versions of Dino sell for MOP 800 and unique, cardboard pop-up versions of it sell for MOP 110. Chan and Tung are currently working to bring a second character named Joyboy to life. Joyboy is Tung's design, though the pair claim it's a manifestation of both of their inner childs.
The name '50% Toy' represents Chan and Tung's work philosophy: half fun, half professionalism. They aim to stoke that inner child. "We think [this mindset] is very important to making toys," explains Chan. "We need to make it fun and joyful. But on the other side of this, we also put our professionalism into our toys – our graphic design and illustration skills."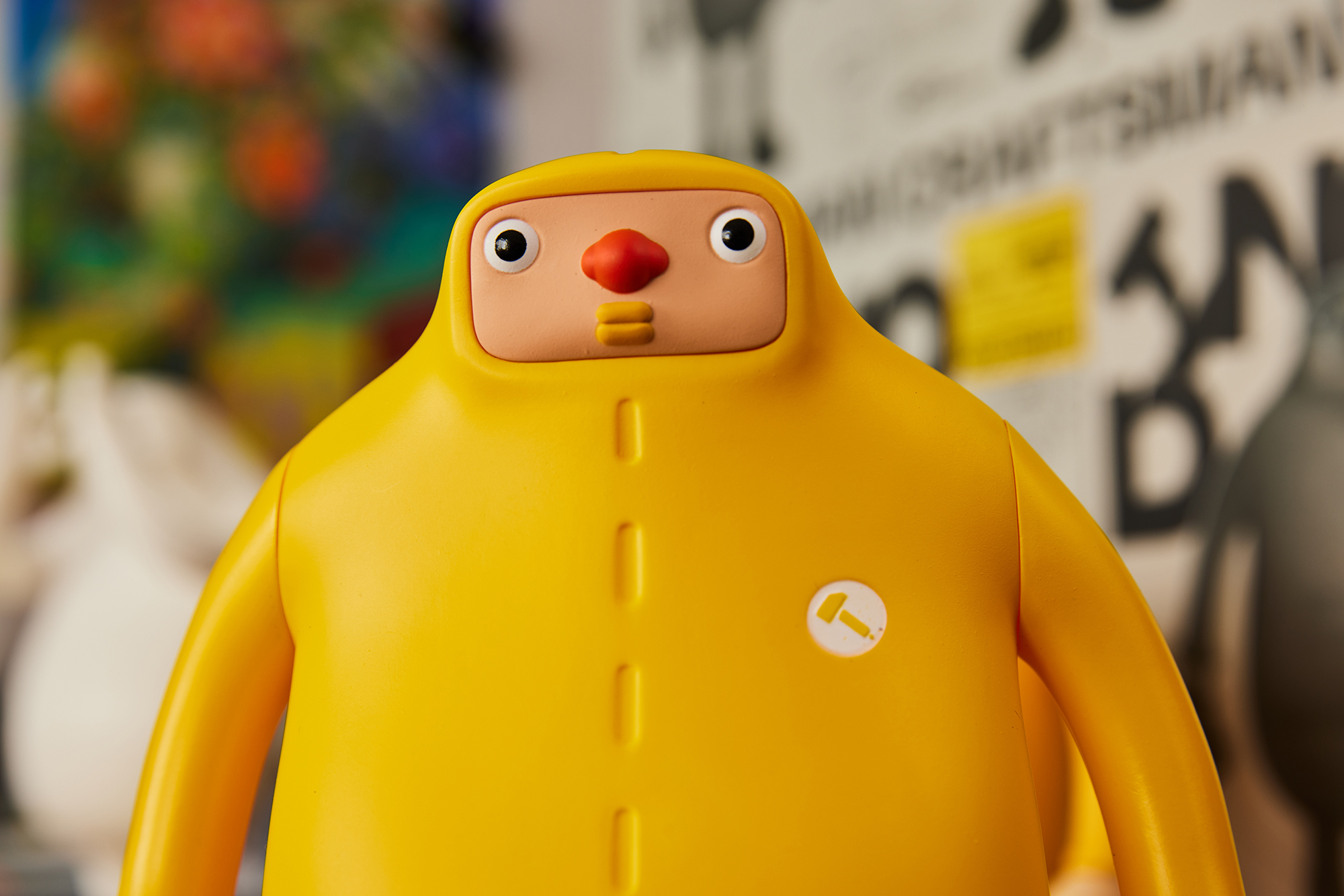 The process behind building something tangible – and sellable – from your imagination is hard work, according to Chan. He starts off with a sketch, either on paper or his iPad, then tweaks the design until it's perfect. The finished product gets sent off to resellers in the mainland, Taiwan, and beyond.
50% Toy's biggest reseller is in Taiwan, a store called Monster Taipei. It also sells direct from its website and through a store at the Macau International Airport. Expos play a major role in getting the company's name out there, as well as highlight Macao's creative potential. In terms of aspirations, Chan thinks big. "One of our ultimate goals is to collaborate someday with some world-famous brands, like Nike, Adidas or a luxury brand like Chanel," he says.
Redefining Macao keepsakes
While 50% Toy is working to raise Macao's creative profile overseas, toy company Nativo focuses on sharing stories and products that paint the city in a new and colourful light.
Since 2020, husband-and-wife duo Felipe Wong and Anny Chong have tapped into their creative backgrounds as street artists and in marketing to share a different narrative of the city – Chong's hometown."We don't want to use gimmicks like a picture of the Ruins of St Paul's on our toys. That's not art, but a souvenir," says Chong.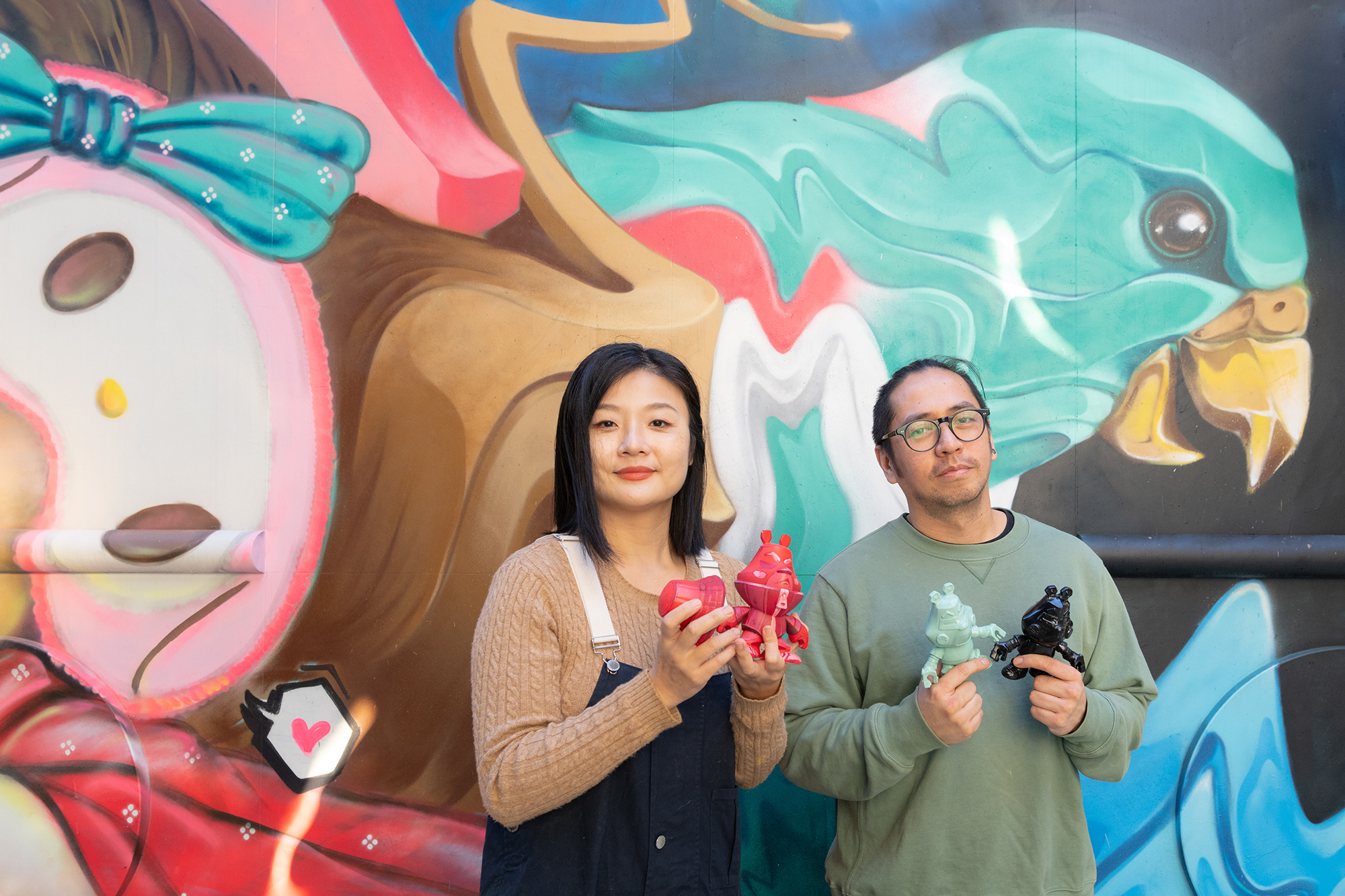 Their range of designer toys references Chinese traditions like calligraphy and feng shui, as well as things that are personal to the couple. MoeJoe, for instance, is a funky soft-toy inspired by their own dog – Macho – and described on their website as a "scaredy pup" on his way to becoming "the ultimate good boy." These small-sized figures sell for MOP 80. The MJ Espectro, a chrome-plated resin version of MoeJoe that sells for MOP 1,333, is described as "the portrait of that natural flow of things that brings us peace and balance".
The bulk of their unconventional toys reflect street culture. Characters like G-Blaster EIA – a Bearbrick-meets-hip-hop vinyl toy donning Nike Air Force 1s, retailing for MOP 1,333 – and the soft vinyl MoeJoe figures evoke graffiti art with their edgy colour schemes and cartoonishly round shapes. Chong and Wong say they are proud to represent this side of the city.
"We are very influenced by hip-hop culture," explains Wong, a Costa Rican who has been based in Asia since 2009. "The b-boys [breakdancers], the DJs, the rappers all have their own way to create art, their way to create style, their way to compete. When we paint, we call it a jam, just like musicians."
It took time to turn their jam sessions into collectible toys, however. The two have regularly worked together on wall murals under their alias AAFK for the past decade, including taking part in festivals like HK Walls. They have also worked together in a formal setting, in the marketing and advertising department for Dracco, a Hong Kong-based Danish toy company.
Their time at Dracco helped the couple develop a network as well as expertise in toy production. In 2020, they launched their own homegrown toy company, Nativo (which translates to 'native' in Portuguese and Spanish). Nativo's mission is to connect people through depicting their roots in toy form. Wong and Chong are proud to be viewed as pushing the Macao creative scene deeper into the city's collective consciousness.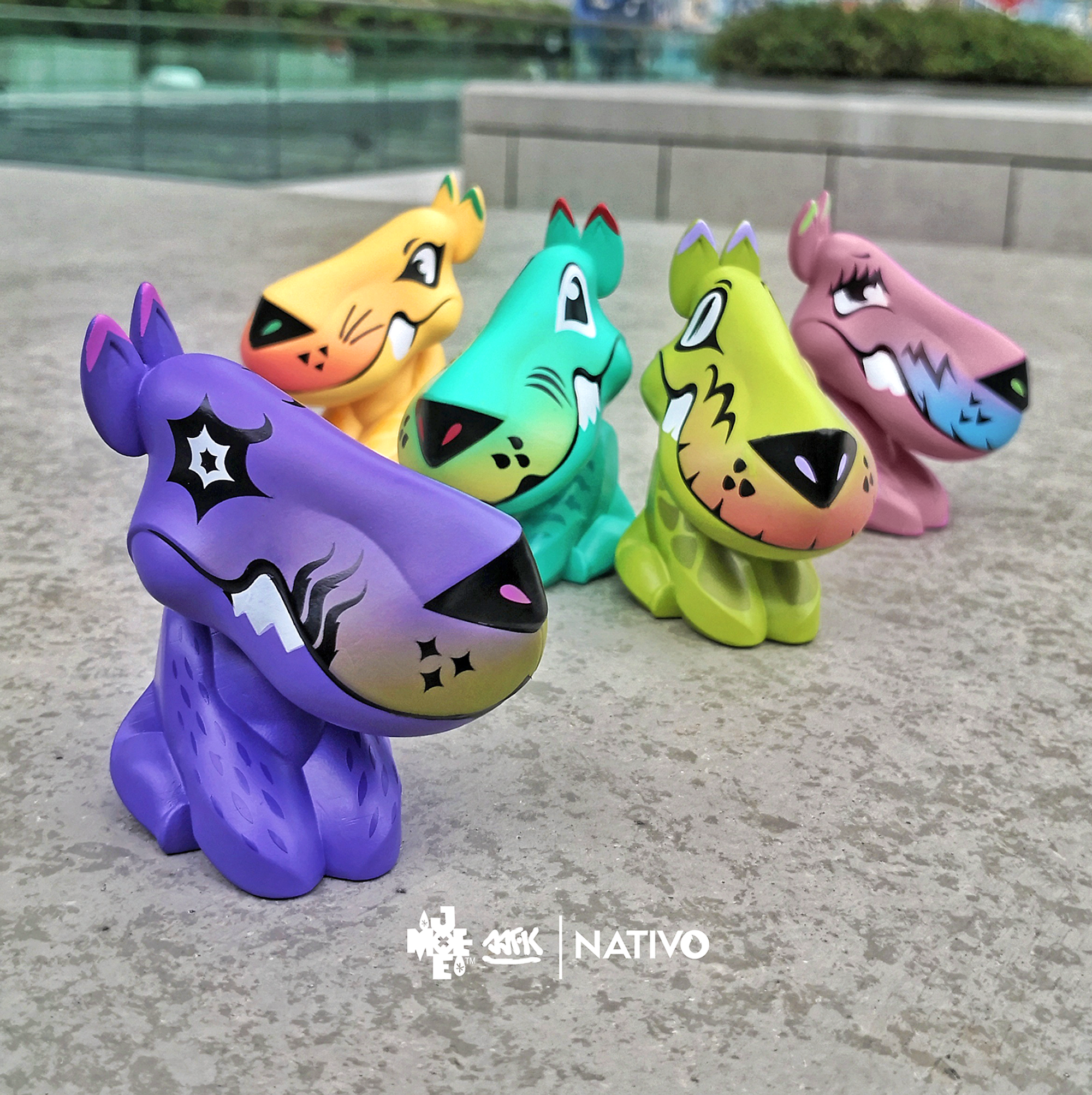 They developed the first Macao-made 'blind boxes' – mystery packages with a surprise toy inside, a booming trend in the mainland – and sell them both locally and internationally. They're also keen collaborators and are part of what's best described as a long-distance, artistic tag team. Basically, there's a global network of artists who work on customised toy designs for each other, sending the finished products back and forth around the world.
"We believe that [the art toy scene] only grows if there's an exchange of creative ideas," says Chong. "You have these figures and then everybody composes their story on top of it. That interaction is what is the most interesting. How are you going to tell your story with this canvas?"
In 2021, the couple organised Macao's first international toy exhibition through their spinoff brand, Toy Academy – a venture they are developing to support creators, exchange culture and knowledge, and educate people about designer toys. Due to the city's Covid-19 restrictions at the time, offshore designers weren't able to attend the exhibition in person. But toymakers from as far away as Costa Rica, Argentina, Colombia and Scotland still shipped their offerings to Macao to be part of the event.
Ultimately, Chong and Wong hope to position Macao as a hub for the global art toy industry – both as a creative centre and shopping destination. More projects and events are on the horizon.
"We do these things to educate our customers, to plant some seeds," says Wong. "We want to see if we can kick start something here and make people feel like, 'Wow, if these guys can do it, we can do it, too.' And if there's someone who can do it better than us, that's even better."