Terence and Elva Chan first crossed paths on a dating app, and fell in love while exploring their shared passion for vintage fashion. That was in 2012. Back then, the pickings were slim in Macao. So, the new couple took regular trips to Hong Kong in search of the perfect pair of vintage denim jeans.
In 2013, Elva opened her own online boutique selling a mix of secondhand and new garments with Terence's help. She named her e-commerce site Vintage Room. As its customer base expanded, the 35-year-old's ambitions grew: she opened her brick-and-mortar store, renamed Vintage Market, in 2014. It's a treasure trove of retro clothing, tucked behind a mustard yellow sliding gate in the trendy St Lazarus District. Today, Elva and Terence, 38 – now married – manage the store together.
The appeal of vintage fashion is manifold. Older clothes are often better quality than those made during the 'fast-fashion' era, because clothing from earlier decades was made to last a lifetime rather than a season. Buying secondhand is therefore a great way to get high-calibre attire for a fraction of what it'd cost new (if it's even still available to purchase). There's also that sense of personal achievement you get when stumbling upon something truly special, perhaps a piece of mint-condition French couture, while sifting through racks and stacks of random apparel. Nostalgia plays a part, too: the fact every vintage shirt, dress and accessory is a tangible link to places and times you may have only dreamed of. To top it off, wearing secondhand clothing is good for the planet. In the US, for example, 70 percent of clothing and footwear produced each year ends up in landfill, according to data from the US Environmental Protection Agency.
The Chans source most of their vintage items from abroad. They travel to Hong Kong, Taiwan, Japan, Thailand and the US, returning to Macao with colourful hauls of T-shirts, pants, shirts, dresses, skirts, kimonos, hats, shoes and accessories. Not everything they sell is secondhand, however. Vintage Market stocks hats made by H.W. Dog & Co., a premium Japanese brand known for its 19th- and 20th-century design inspiration. Items at the store tend to be priced between MOP 200 and 500.
Col Bleu.Union Vintage is a higher-end store, where pre-loved clothes have sold for upward of MOP 10,000. Like Vintage Market, its owners are a retro-loving couple who started selling online – then opened a brick-and-mortar shop in St Lazarus in 2018. Col Bleu purports to be the only store in Macao selling mainly French vintage items, including military uniforms and workwear, mostly made between the early 1900s and 1970s.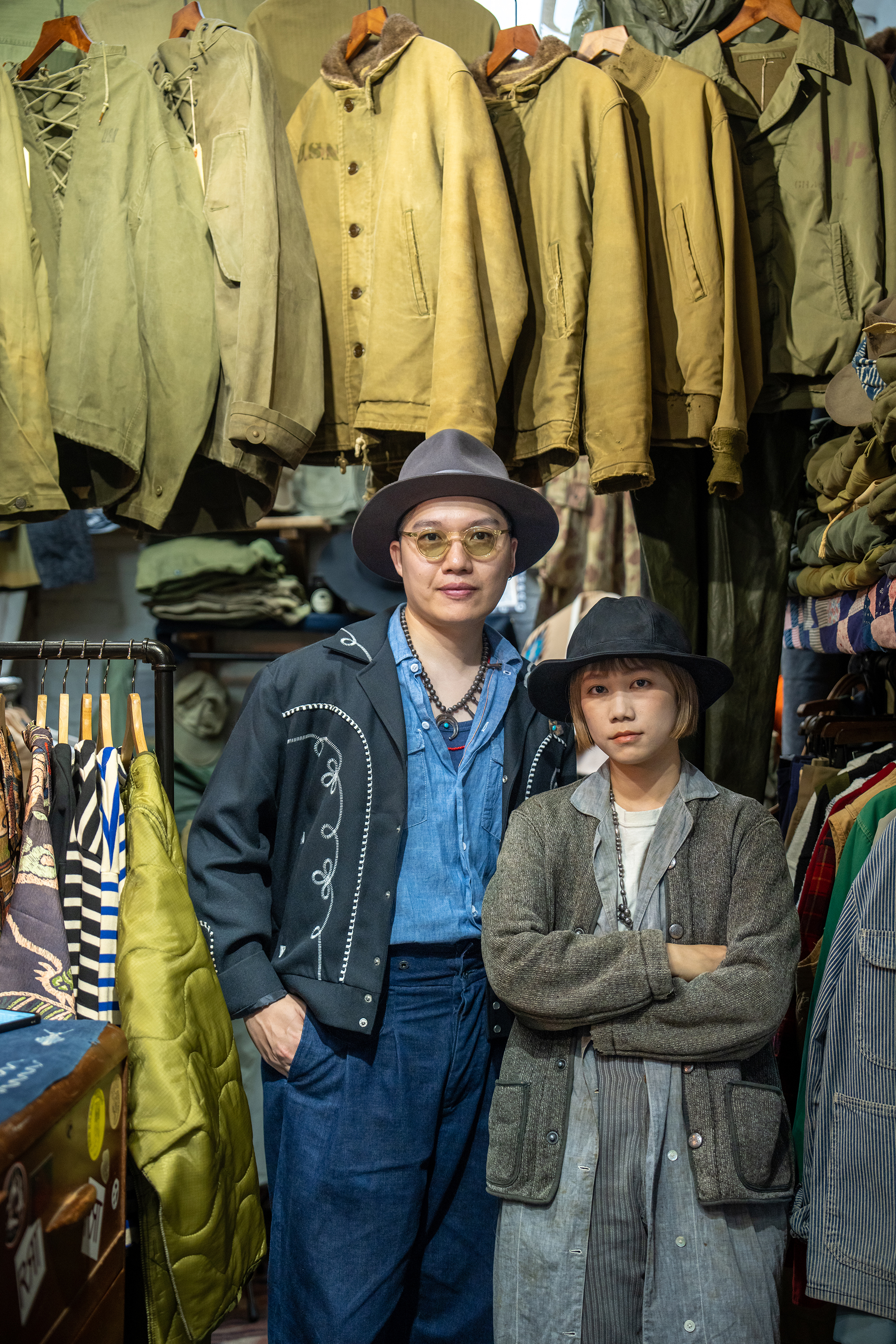 Its 30-year-old co-owner, Joseph Leong, says his clothes have "meanings or stories behind them – so customers are not only buying a piece of cloth, but also a piece of history."
The French phrase col bleu means 'blue collar' in English. It refers to Leong and his wife Mia Chang's appreciation for a specific style of indigo cotton twill jacket that indeed has a rich history. Between the 1940s and 1950s, blue-collar French workers wore a utilitarian bleu de travail, or 'blue work' jacket designed for demanding physical jobs. Workers often repaired rips with patches – a mentality and aesthetic Leong admires. These jackets have surged in popularity in recent years as must-have fashion items.
While Leong's wares are relatively pricey, he personally entered the secondhand scene as a way to save money. The 'aha moment' came when a friend informed him that he could buy a perfectly good pair of pre-loved Dickies trousers for about half the price they'd cost new.
Later, Leong came to appreciate the difference between what was merely 'used clothing' and the stuff sold at genuinely vintage stores. Thrift stores and charity shops (like the Salvation Army's store in Macao) sell the former, usually for very low prices. People donate their unwanted clothes to these stores, which donate any profits to a good cause. Those items' quality varies and most will be fast-fashion (cheaply made clothes that follow fleeting trends) or home-made (stuff that was never trendy in the first place). Vintage stores, however, are commercially savvy businesses that stock a carefully curated selection of secondhand goods. Designer items that are hard to find and will never go out of style, for instance.
A good vintage store also evokes a sense of stepping back in time, or, in the case of Pepperland, entering another universe. Both 33-year-old owners, Amy Pang and Sandy Vong, named their shop after a track featured in The Beatles' 1968 animated musical film Yellow Submarine – which is set within a psychedelic paradise. "We use yellow as the theme, so you feel like you step into the yellow submarine in Pepperland," explains Pang.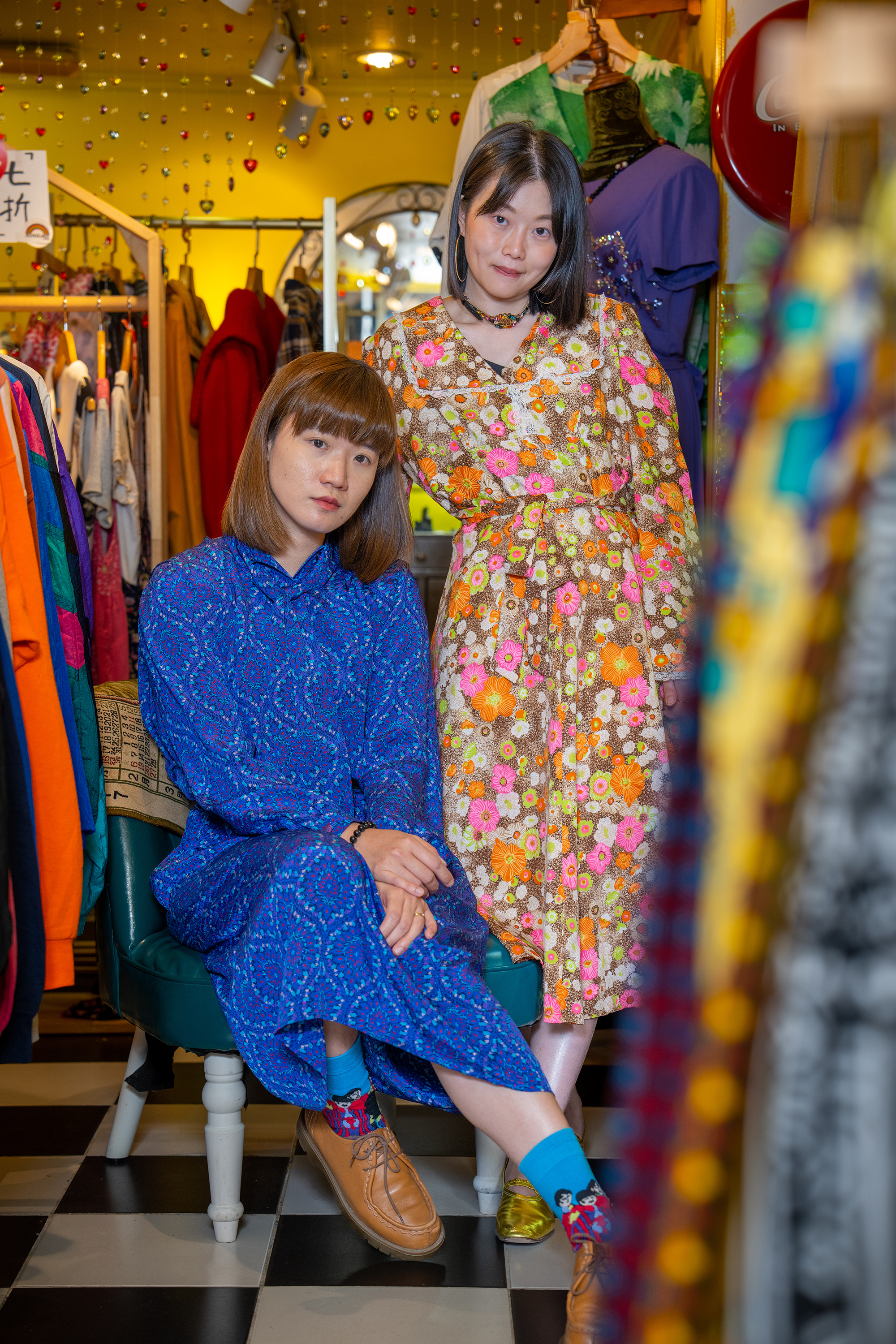 Pang and Vong have been friends since secondary school, at Sacred Heart Canossian College, and later studied together at the University of Macau. That's when they first discussed the idea of opening a vintage clothing store together. Both had a serious interest in fashion: Pang would travel to Taiwan specifically to peruse its excellent array of vintage shops; Vong's job as a buyer for Rainbow Group, an international luxury brand retailer in Macao, sent her to Milan, Italy, to purchase products from Emporio Armani.
On those trips, Vong recalls feeling astonished by how the locals dressed: "The Italians have their own style and uniqueness, and [I wanted to] bring that to Macao," she says.
The friends established Pepperland in 2016. Their store specialises in luxurious women's fashions and accessories, including jewellery, bags and clothing. It stocks frocks from couture brands like Dior and Givenchy, as well as exquisite vintage wedding dresses from Taiwan (that are also available to rent). Most items cost between MOP 300 and 1,500, though the wedding dresses sell for MOP 7,000. Pepperland also sells new accessories from contemporary Hong Kong brands like Cutcha, Amlas, Hahayhay and Glasshouse Plaiting.
Benny Tam is another luxury fashion buyer-turned-vintage aficionado in Macao. He and his wife, Vikki Wong, 35, discovered the joys of vintage fashion on a trip to Kowloon, in Hong Kong. "What is quite fascinating is that you can get quite good-quality stuff for a lower price [in Kowloon], and you can also buy clothes that you cannot find anywhere else," says the 34-year-old.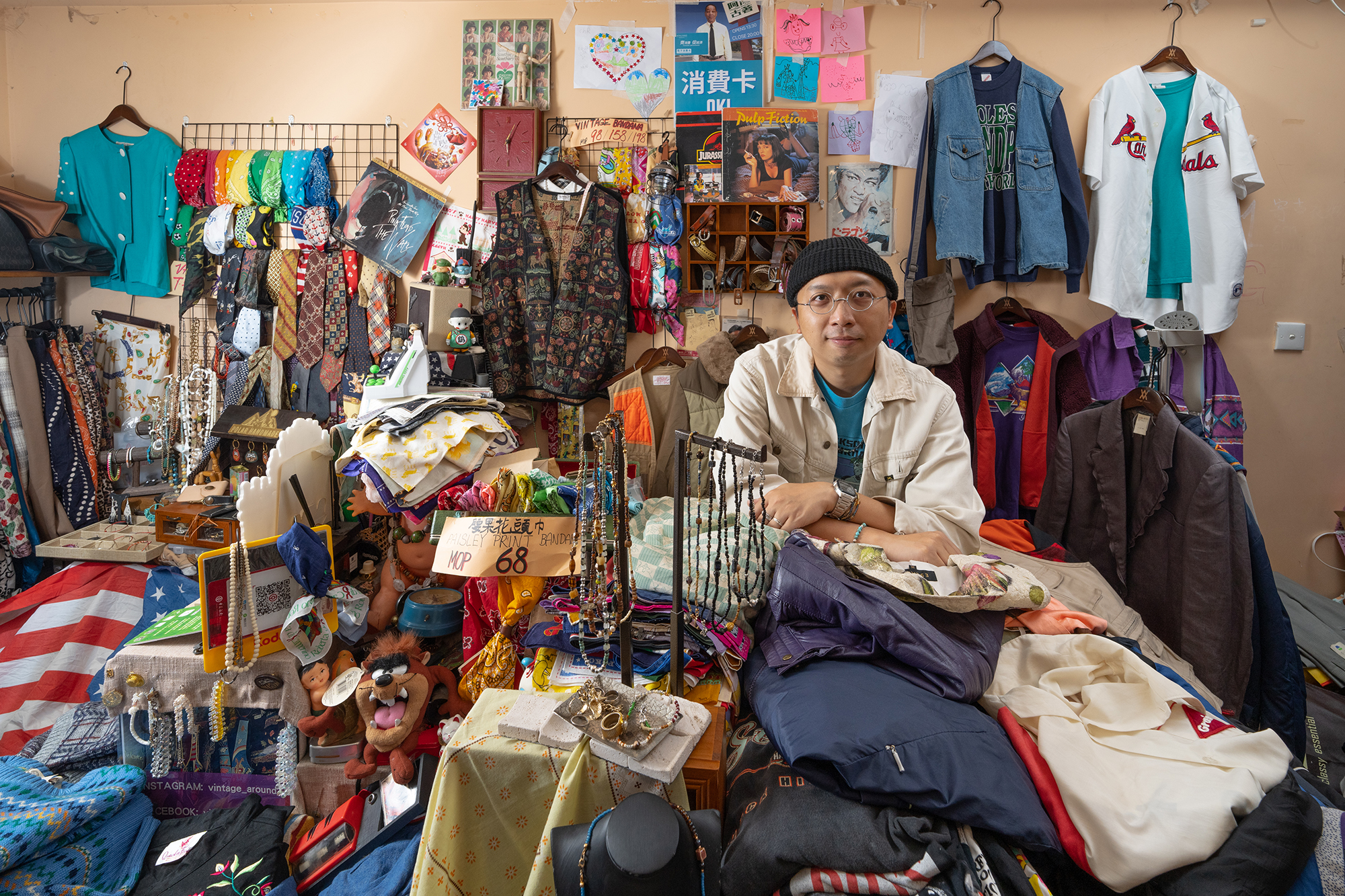 In 2018, the couple opened Vintage Around, a compact but comprehensive store filled with a rotating jumble of secondhand clothing. Some loyal customers visit the boutique every week, knowing they're sure to find fresh items. Vintage Around specialises in a colourful array of Hawaiian shirts and dresses, which Tam and Wong stock by the thousand.
The couple also collect retro sportswear that reflects historical moments. Their most highly prized item has been a Lithuanian basketball shirt from the 1992 Barcelona Olympics and Tam loves to tell its story. After the Soviet Union collapsed, the newly independent country couldn't afford to fund its basketball team at the Olympics. When American rock band the Grateful Dead heard about the team's plight, they printed tie-dye T-shirts and basketball jerseys in Lithuania's national colours – and paid for the team to join the Olympics. Lithuania's top basketballers went on to win a bronze medal in their category.
"It was pretty significant, and, of course, the T-shirt looks cool," Tam says, adding that the shirt – which features a skeleton shooting hoops – had a price tag of MOP 3,000. Most of the store's items sell for a more modest MOP 100 to 500, however.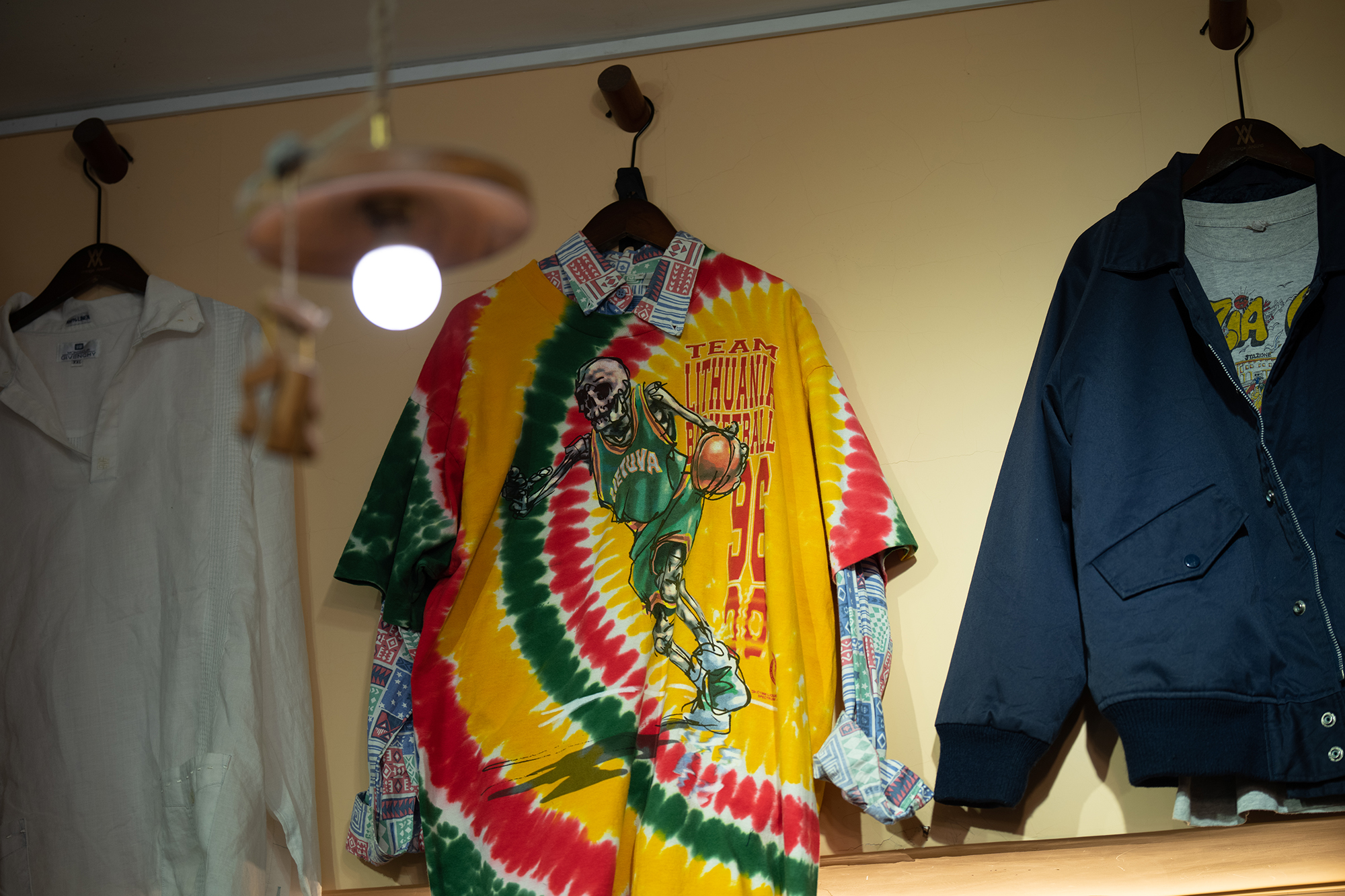 The current generation embraces vintage fashion's aesthetic and ethic more than their predecessors did, Macao's vintage purveyors agree. Ten years ago, when Elva Chan first opened her store, potential customers weren't that keen on wearing clothes that had already been owned by someone else – no matter how pristine the condition. They also worried that the yesteryear styles might look out of place on modern Macao's streets, or not suit them. Elva recalls needing to make a lot of suggestions; almost cajoling customers into trying on outfits they wouldn't have considered otherwise.
According to her, "Macao's culture has changed and today's customers are more open." They seek their fashion inspiration from a far wider range of sources than they did a decade ago – and there's more emphasis on dressing uniquely. "Now customers come in knowing the look they want, and don't need us to style them; that's the main difference from when we started," Elva says.