Macau's Productivity and Technology Transfer Centre (CPTTM) has always made a point of partnering with the world's top tech companies. Cisco, the digital communications conglomerate, for example, and major software multinationals like Oracle and Autodesk. These partnerships provide training opportunities for Macao's IT professionals.
While the global tech industry has historically been dominated by Western firms (Cisco, Oracle, and Autodesk were all founded in the US), Chinese tech companies like Huawei, the Alibaba Group and its affiliates, Tencent Holdings (owner of WeChat) and ByteDance (TikTok's parent company) are taking up an increasing amount of space. The CPTTM has responded to this shift by launching two new training partnerships with home-grown tech giants: Huawei, in 2021, and Alibaba Cloud in 2022.
The CPTTM is a non-profit, jointly established by Macao's government and the private sector, to do exactly what its name implies: make the city's businesses more competitive through exposing them to technological innovation and ensuring they're up to speed with the latest in IT developments. Given that increasing numbers of local companies are turning to Huawei and Alibaba Cloud's respective software solutions – having staff with in-depth understanding of how they work is vital, explains CPTTM's Alan Au Chi Vai. Au manages the organisation's Department of Information System and Technology.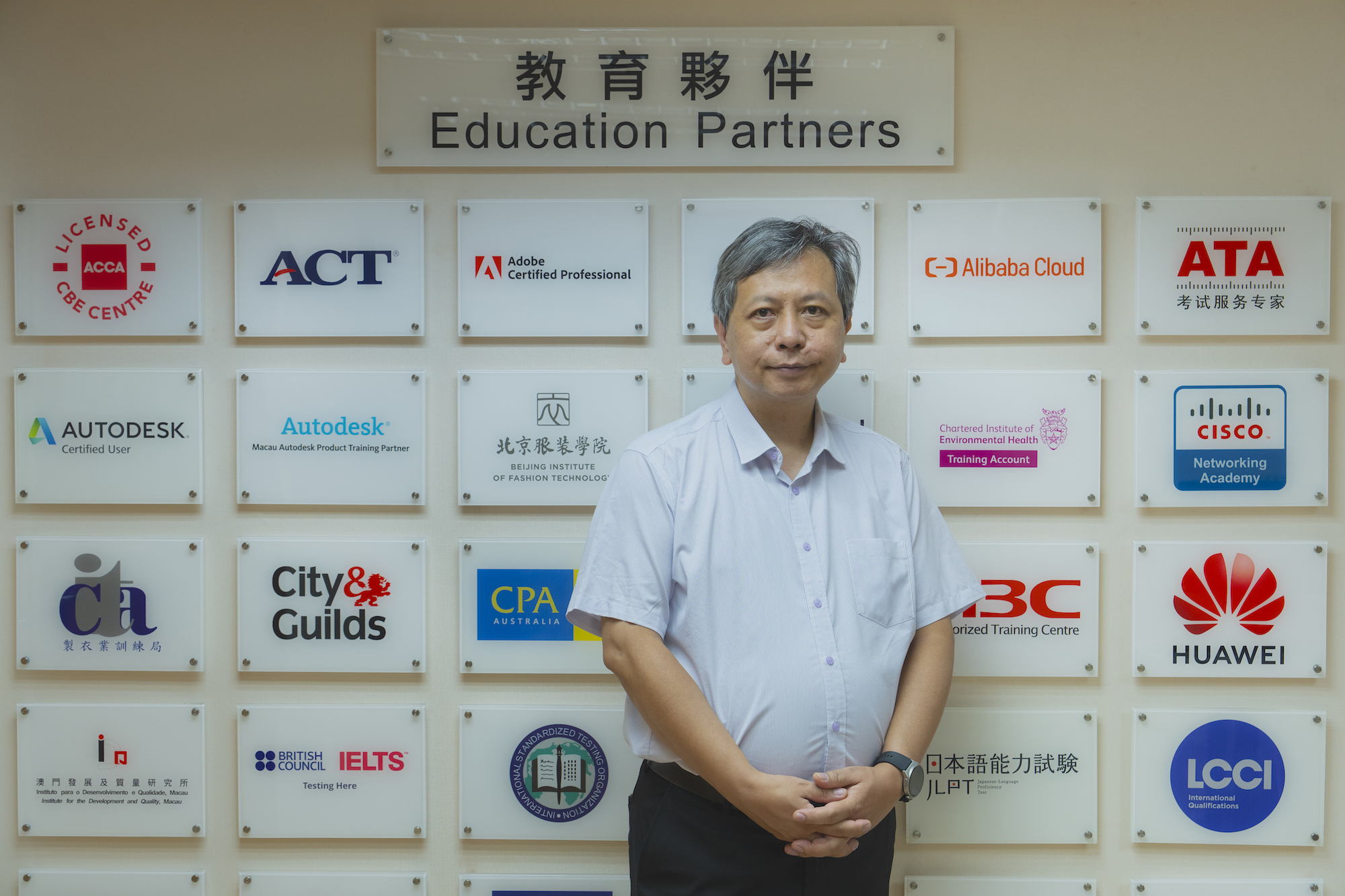 "In recent years, we have been shifting towards working more with Chinese IT vendors because we believe that vendors from across China will get more and more market shares in the Macao IT industry," he says. "The people we have trained are not only able to work in Macao but, if they'd like to, they can also go to one of the other Greater Bay Area cities and have their careers there."
Shenzhen-headquartered Huawei was founded back in 1987. It's mostly known for its mobile phones, smart devices, and other consumer electronic products. Alibaba Cloud, also known as Aliyun, is a subsidiary of Alibaba Group. Launched in 2009, it has become China's largest cloud computing company – and also supplies cloud infrastructure to other parts of Asia, Europe, North America, and the Pacific.
'IT workers need to constantly upgrade themselves'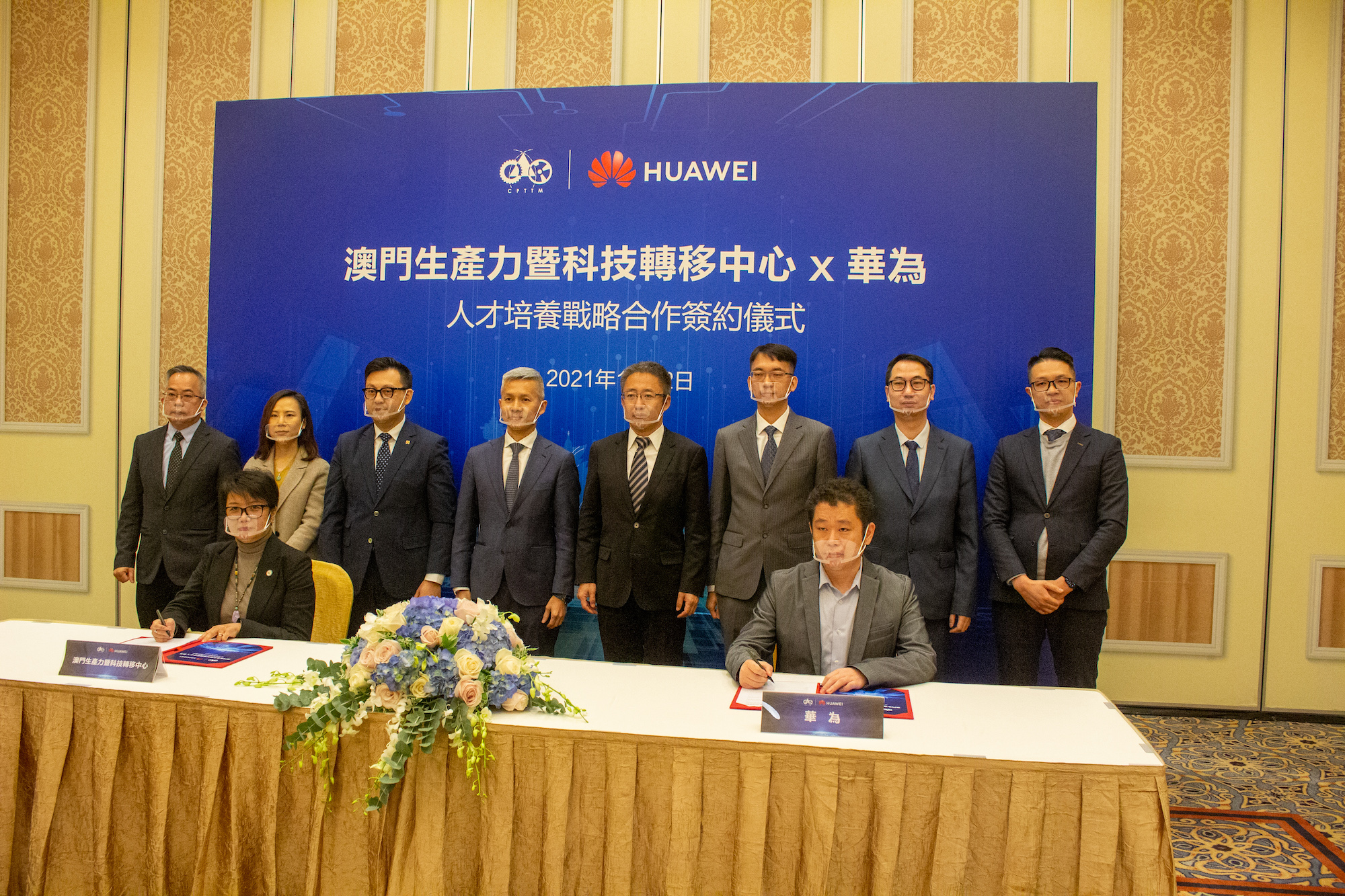 In late 2021, the CPTTM signed a memorandum of understanding with Huawei to deliver the latter's computer networking training course to IT personnel in Macao. "We collected feedback from students in our other IT courses and from different local enterprises, companies and government departments," says Au. "They all expressed the need to have a Huawei training programme," he says.
Computer networking, incidentally, is the practice of enabling multiple devices to share resources, exchange data, and communicate with each other – whether in the same room, or on opposite sides of the world.
Between December 2021 and December 2022, 58 students earned their Huawei HCIA-Datacom certification through the CPTTM. The pilot programme was considered successful enough to make CPTTM Macao's only Huawei-authorised learning centre. Under this system, Huawei has trained one local instructor to conduct its HCIA-Datacom course – and plans to train more down the line.
Alibaba Cloud, meanwhile, signed a cooperation agreement with the Macao government in 2017. The plan was to increase the use of cloud computing in the city, and to build a system that could process 'big data' – a necessity in Macao's journey towards becoming a so-called 'smart city'. Smart cities use data-driven solutions to address urban challenges and efficiently deliver public services.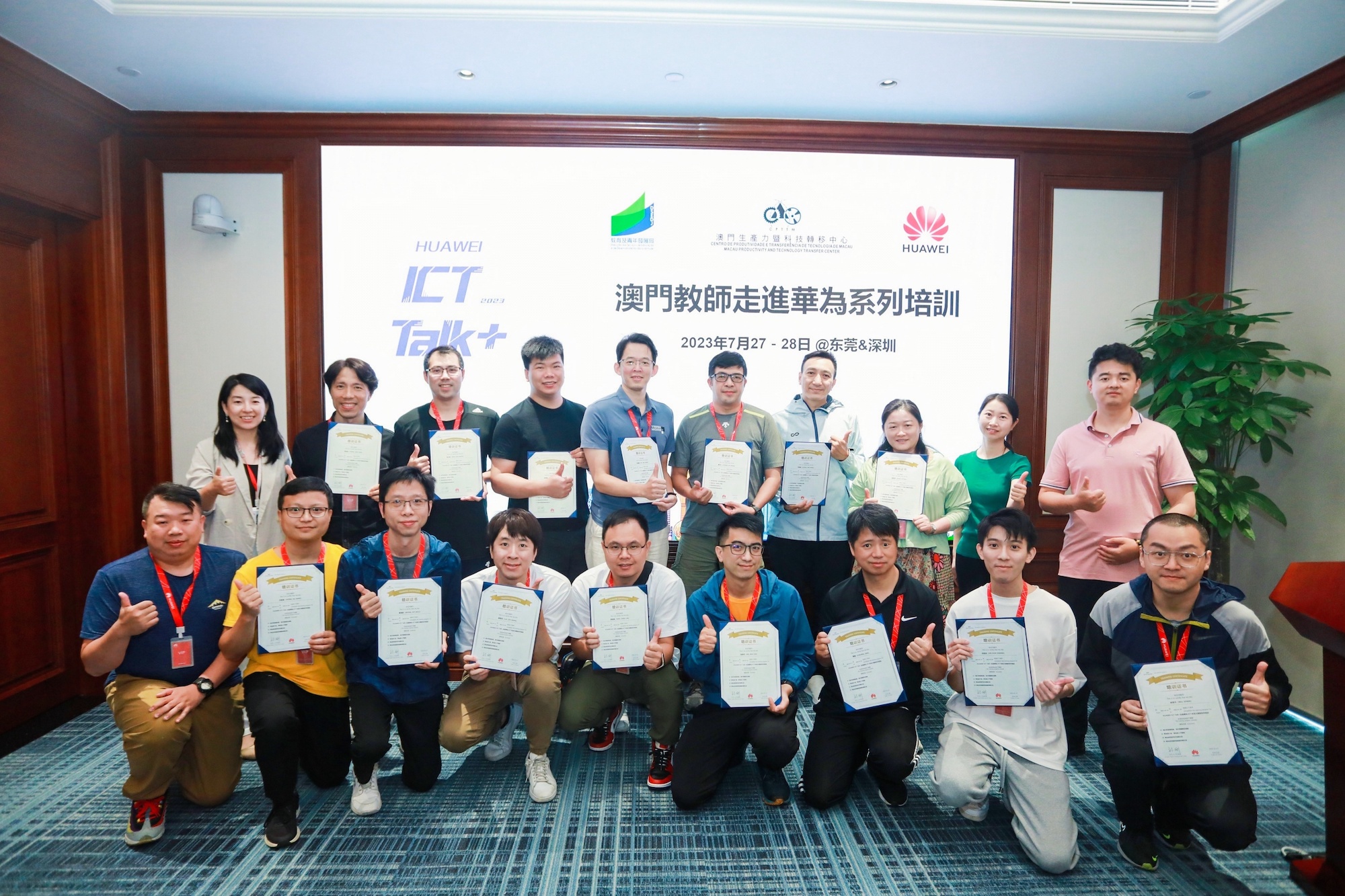 This agreement contained a training provision; the CPTTM would facilitate a handful of classes for local government staffers and IT professionals, teaching them technical essentials regarding use of Alibaba's cloud computing software. Noting growing demand for Alibaba Cloud training, the CPTTM entered into an official partnership in May last year. It now offers the ACA Cloud Computing Certification programme to locals. In it, students learn how to configure cloud computing platforms like Google Drive and Dropbox, as well as troubleshooting and optimisation techniques.
"IT majors at university mainly learn about theory and basic skills," says Au. "But our programmes teach more practical skills, particularly in relation to Alibaba Cloud and Huawei networking."
According to Au, these skills are in high demand in Macao – including at the city's integrated resorts and hotels. Each big hospitality establishment needs a professional IT team with expertise in cybersecurity, computer networking and programming, among other things. Au predicts the hospitality sector will only get 'smarter' with time, as it utilises new digital technology to smooth guests' experiences. Macao is also continuously developing e-services for residents, things like MPay and the Macao One Account mobile app, he notes.
"IT workers need to constantly upgrade themselves, especially moving forward into the future," says Au. "More and more companies nowadays depend on and make use of different IT systems to provide their IT-based services, which means there is going to be a huge demand for such IT professionals in the next several years – Yet, we are currently still lacking some IT expertise."
'There is no end to studying new technologies'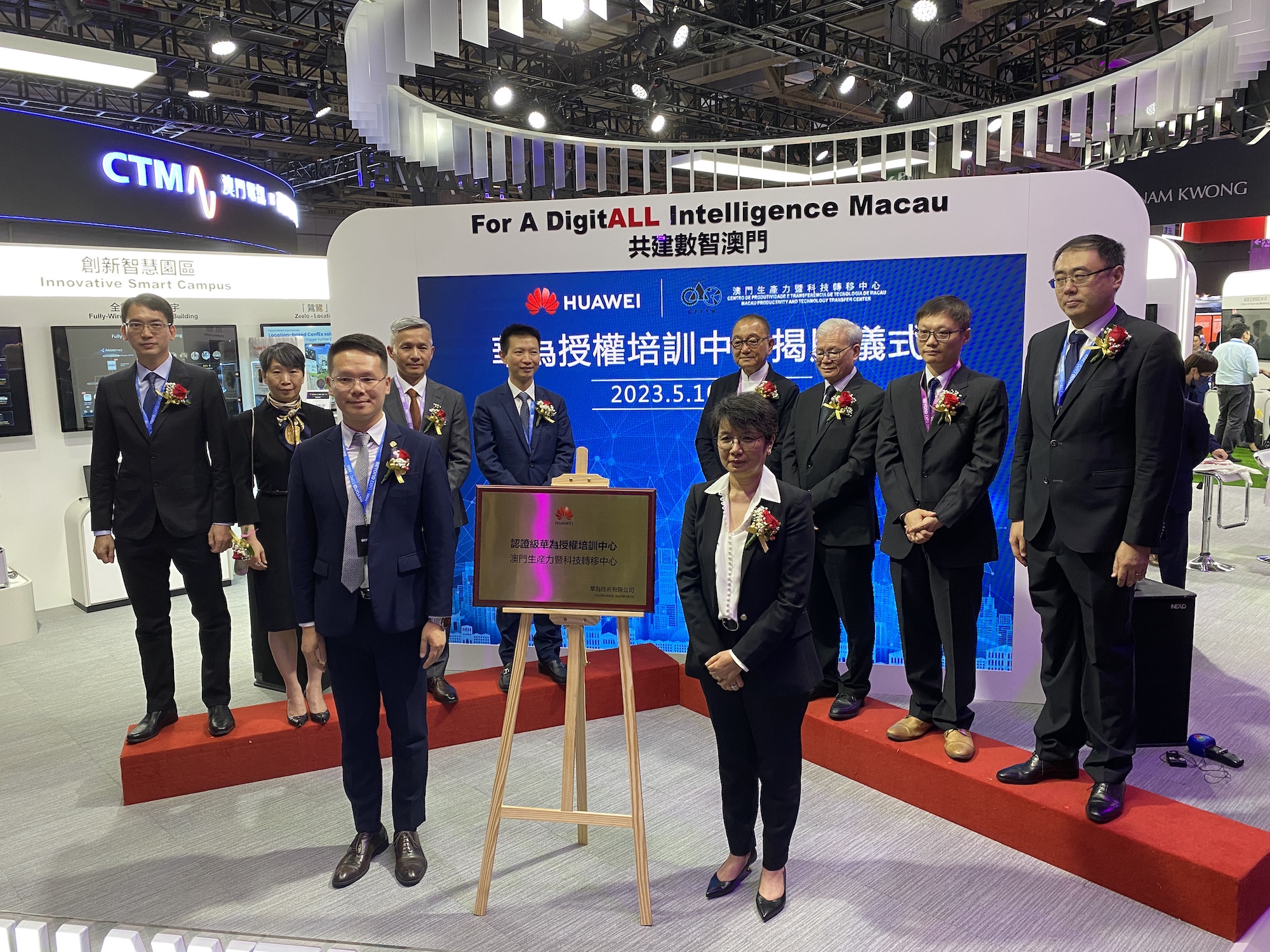 Like most of the CPTTM's IT courses, the Huawei and Alibaba programmes are held at its Cyber Lab in Nam Van, on the Macao Peninsula. Each class, taught in Chinese only, is limited to about 20 students. They're run during weekends, to let participants continue their day jobs uninterrupted. Each programme takes between four to seven days to complete, and each day is about seven hours long. Students who successfully complete a programme can opt to sit an exam, for an additional fee. Those that pass the exam will receive an internationally-recognised certificate issued by Huawei or Alibaba Cloud, depending on their programme – though each student that finishes their programme earns a certificate of completion.
Ken Ng is a local IT technician who earned his HCIA-Datacom Certificate through CPTTM at the end of last year. The 28-year-old says he signed up after noticing Huawei's technology becoming more and more ubiquitous across the GBA. "As an IT industry worker, I believe there is no end to studying new technologies," he told Macao magazine.
Twenty-nine-year-old Lo Chi In, a technical support specialist, joined CPTTM's Alibaba's ACA Cloud Computing Certification programme in March this year. "The Alibaba course I did was challenging but rewarding," he says. "I learned how to use Alibaba Cloud services, manage cloud resources, and understand best practices for cloud security and cost management. These courses have significantly expanded my skill set and prepared me for a variety of IT challenges."
Au says that while Macao's digital infrastructure is in good shape, the city could use more expertise in artificial intelligence, machine learning, big data and cyber security. "So that's the direction we want to take," he says.
In September, the CPTTM ran its first one-day ACA Alibaba Cloud Big Data Architecture Certification course, in cooperation with the Labour Affairs Bureau (DSAL), Alibaba Cloud and the State Power Investment Corporation. Seventeen students – mainly Macao IT workers – took part, learning about data integration, development, quality control, security, management and governance. This course was held in Hengqin, part of the Guangdong-Macao Intensive Cooperation Zone.
DSAL Director Wong Chi Hong said the course let participants "obtain recognised certificates for their skills to improve the local IT industry's standards and – at the same time – helped promote Macao residents' integration into the Guangdong-Hong Kong-Macao Greater Bay Area."