"Normal noodles with fish balls". This refreshingly straightforward dish description is typical at Ching Kei, one of Macao's longest-running eateries. It's also reflective of its wry owner, Ao Chi Keong – a restaurateur who shies away from all things over-the-top.
For Ao, the proof is in the pudding: "It either tastes good or it doesn't," the 60-year-old says. When it tastes good, in his experience, people come back. And customers have been returning for this mouth-watering Cantonese fare for generations.
The no-frills eatery's official name is Estabelecimento de Comidas Ching Kei (estabelecimento de comidas is Portuguese for 'food establishment'), but it also goes by Fung Shing Ching Kei – 'Fung Shing' being a subtle culinary credential known well by connoisseurs of Cantonese cuisine. The words translate to 'phoenix town', referencing a famous street in Foshan, Guangdong Province, that's celebrated for its excellent eats.
Ao's uncle, a man known to all as 'Mr Yip', founded Ching Kei in the 1960s. The restaurant is located in the Rua de Cinco de Outubro district, part of Macao's historic centre.
Under Mr Yip (who named the place after his sister), the eatery became known for three signature dishes: wontons, dumplings and fish dumplings (using wrappers made with minced fish). Ao took over in the 1990s (he can't remember the exact year) and while he has zhuzhed up the menu a little, time-travellers from back in Mr Yip's day would still feel perfectly at home.
A good, old-fashioned eatery
Ao was one of very few restaurateurs who didn't go down the food delivery path during the Covid-19 pandemic. While food delivery platforms were lifelines for many local eateries during city-wide lockdowns, when residents faced barriers to buying fresh food and hot meals in person, this old-school restaurateur sees them as blasphemy.
"I know food delivery will help expand my business, but I have standards to meet," he explains. "After I cook wontons and dumplings, I serve them immediately. If they are left aside for even half an hour, I'll throw them away. [With food delivery platforms] it takes almost an hour from the time I finish cooking, to when the dish is finally delivered to customers – do you really consider that food as still edible?"
This focus on quality over quantity is also why Ao refuses to become a large-scale food supplier. "It would indeed bring in a lot of business," he acknowledges. "But if we make a single mistake, our reputation will be ruined. Then, I would lose my business."
Ao's exacting attitude – as well as the fact he's spent so long perfecting his craft – has earned Ching Kei a place in the Macao Government Tourism Office's Distinctive Shops Programme. This initiative aims to preserve the city's indelible heritage through promoting small businesses that, in turn, contribute to Macao's unique culture. The programme plays a crucial role in safeguarding Macao's identity by ensuring the continuity of traditional trades and craftsmanship.
So, while Ao baulks at promoting his eatery, the programme does it for him. Ao did agree to concoct a special dish for the government's promotional campaign on social media, combining wontons, dumplings, and fish skin dumplings – and admits customers often order it after seeing the dish advertised.
Dishes aside, the restaurant hasn't changed much over the decades. Ao even uses the same noodle making machine his uncle had when he first opened. Ching Kei did move a few shops down Rua das Estalagens in 1995, but Ao says you wouldn't know based on the eatery's interior. The only real difference is its ten small tables. They were marble-topped at the original location; now they are stone-topped.
You could say that Rua das Estalagens has changed more than Ching Kei. The Rua de Cinco de Outubro District was Macao's major commercial centre up until the 1970s, and when Ao started helping his uncle out back in the early 1980s – while still at school – it was still a bustling area. He remembers mandarin sellers, small grocery stores, and other businesses selling their wares. It quietened down in the 1990s. "Many shops have closed since then," Ao reminisces. "There was a record shop and an herbal tea shop nearby. They are all gone."
Building on Mr Yip's legacy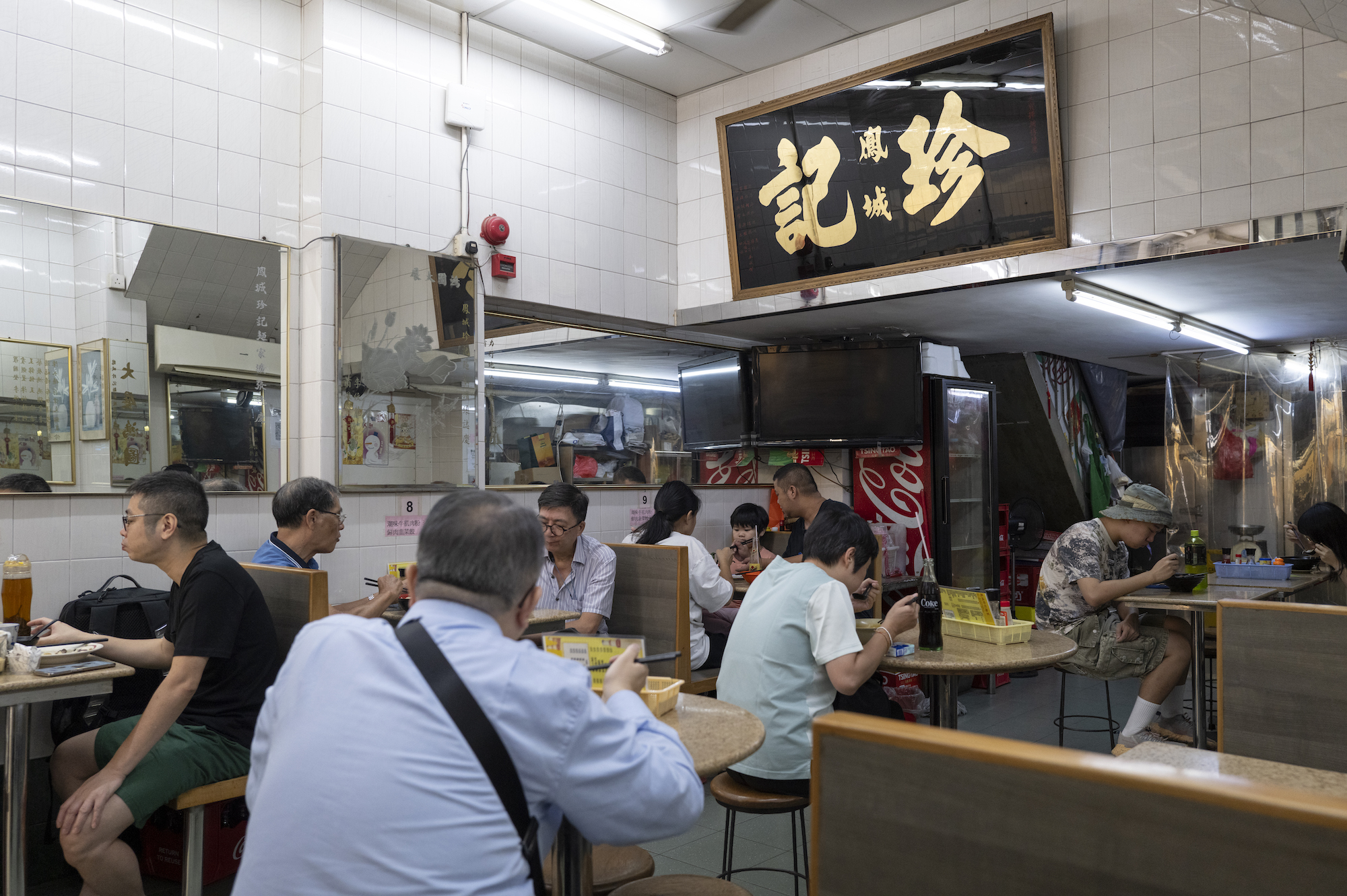 As a teen, Ao spent his free time getting to grips with the eatery's kitchen. "My uncle had a cook to marinate and mix the meat filling inside the dumplings, wontons, and handmade noodles, so I learned by helping him," Ao explains.
It was hectic work, but gratifying. "Our hands didn't stop," Ao remembers. In those days, very little was frozen. Masses of shrimps would arrive fresh, all at once, and Ao was charged with cleaning them as quickly as possible before storing them in the fridge. Those crustaceans were destined for Ching Kei's incredibly popular pork and shrimp wontons; demand for them also kept Ao busy.
As he grew more adept at culinary tasks, from sourcing the freshest raw ingredients to making noodles by hand, Ao developed a taste for innovation. By the time he took the business over from Mr Yip, he knew he wanted to be known for more interesting dishes than the wontons Hong Kong tourists used to buy from his uncle by the kilo.
"I didn't want to run my business like that," Ao says. "I wanted to create more sophisticated wontons, like dim sum … and I spent time learning more skills to elevate my food's taste."
A family trip to Japan in the early 1990s inspired Ao to invent one of his most popular dishes: green noodles, dyed with vegetable juice. He got the idea while eating kusa mochi, a Japanese sweet coloured by yomogi leaves. "I explored different things when I returned [to Macao] and ended up using chives to create my green noodles," he says.
Later in the 1990s, Ao spent four years at night school – taking a cooking course at the Macao Institute for Tourism Studies. "I've learned so much there, ranging from dim sum, siu mei [Cantonese-style roasted meat], poon choi [a traditional Cantonese festival meal] and Western pastries," he says. Skills gleaned during that formal training allowed him to develop personal takes on traditional dishes using his own secret recipes.
Ao notes that Japanese chefs' attentiveness to small details – and their emphasis on bringing authentic flavours to everything they cook – has strongly influenced his own food philosophy.
Today and tomorrow, at Ching Kei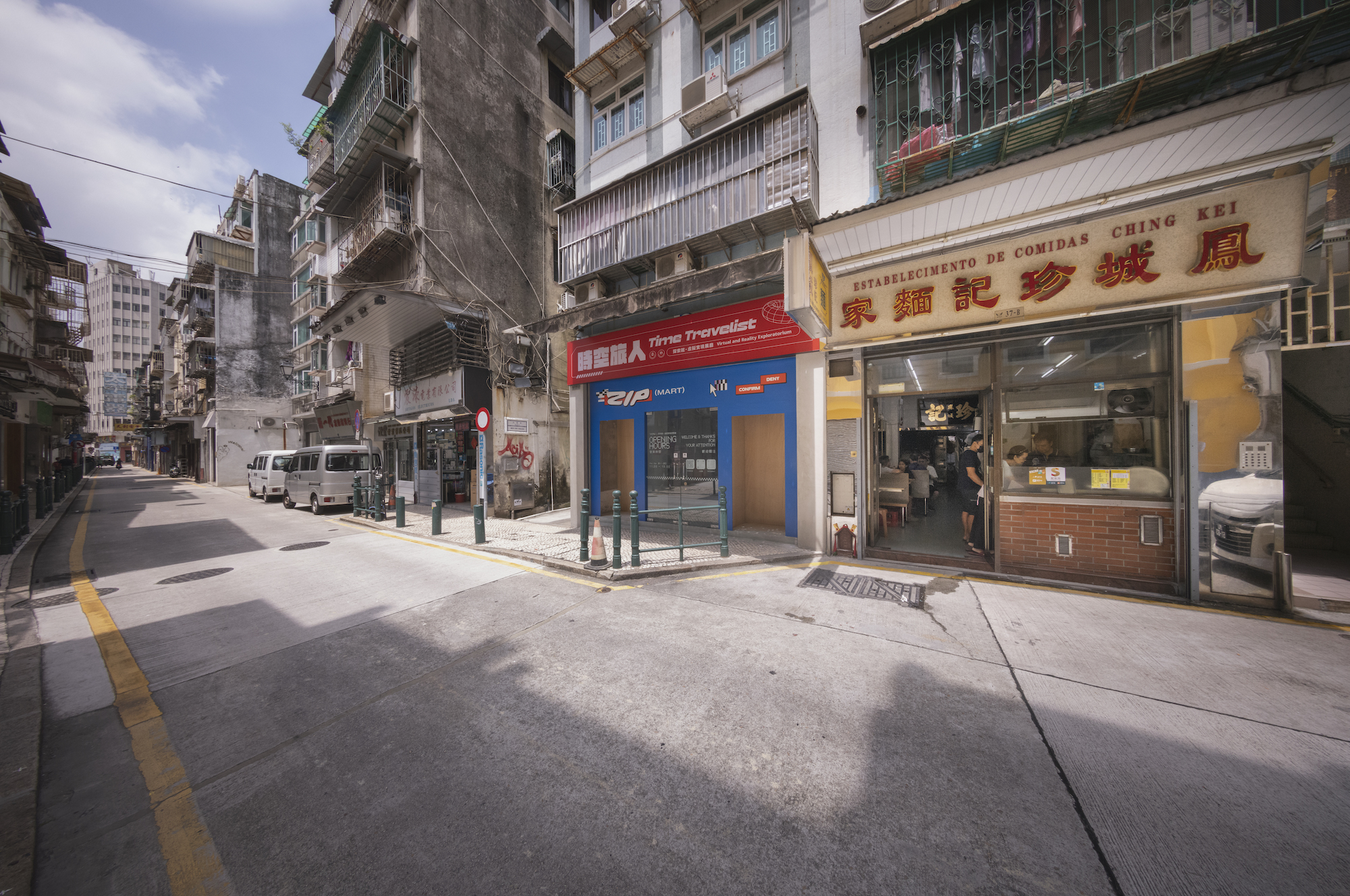 Every dish served at Ching Kei is made from scratch in the restaurant's own kitchen. Ao starts each day's food prep at 11 am, before the eatery opens at noon. After the lunchtime rush, he scours local markets for the freshest ingredients, then heads back to the kitchen. Alongside Ching Kei's signature dishes and green noodles, Ao has added beef brisket, curry chicken wings, chive dumplings and dace fish balls to the eatery's menu. 
His work day ends hours after the doors close at 9 pm – usually after midnight, sometimes as late as 3 am.
Ao's younger brother helps out with noodle making, but Ao himself handles the bulk of Ching Kei's food prep and cooking. The eatery's loyal customers have come to expect this level of dedication to their food, he says. Ao currently employs six part-time and full-time staff members who serve customers, clean up, help wrap dumplings, and man stoves when Ao is busy with other tasks.
On the subject of who'll carry this family business on when he retires, Ao says it depends on what his daughter chooses to do with her life. She is still studying at university and while Ao has taught her the ropes of running a restaurant, he says "she has more opportunities compared to me when I was young."
For now, he enjoys his work and spending time with his customers – some of whom come back to the area especially to eat his food, long after they've moved away. But Ao says he's still not seeing pre-pandemic volumes of patrons. While tourists are returning to Macao, more and more locals appear to be seeking dining experiences on the mainland, he observes.
Those that do make it to Ching Kei will find Ao as conscientious as ever. "I want to cook every dish attentively for my customers, so they know they haven't made a wrong choice to come to my eatery," he says.