Most of us know that spending time outdoors is an important part of a healthy lifestyle. Not only does a walk in nature enhance our mood and get us moving, it's also been proven to boost creativity, improve focus and help mitigate pain. Studies have shown that physical exercise actually feels easier when we're outside, due to a psychological boost from greenery, and that spending time on the playground as a child can reduce vision problems later on in life.
Having designated outdoors spaces for exercise and play are essential to a community's health and wellbeing. So it's welcome news that Macao's latest urban park, Kun Iam Statue Waterfront Leisure Area, is finally open to the public after a year of construction. The park is named for its titular statue of Kun Iam, erected to the side of the park, the Buddhist goddess of compassion, mercy and kindness, who is also considered the patron of seafarers.
Newly opened at the end of April, Kun Iam Statue Waterfront Leisure Area is a recreational area that stretches along Macao's waterfront, representing a welcome addition to the city's leisure services offerings. Spanning 15,000-square-metres, the park includes a range of facilities, including a 400-metre walking trail, a gateball court, a roller-skating rink, and a multipurpose court for sports like basketball, football and volleyball.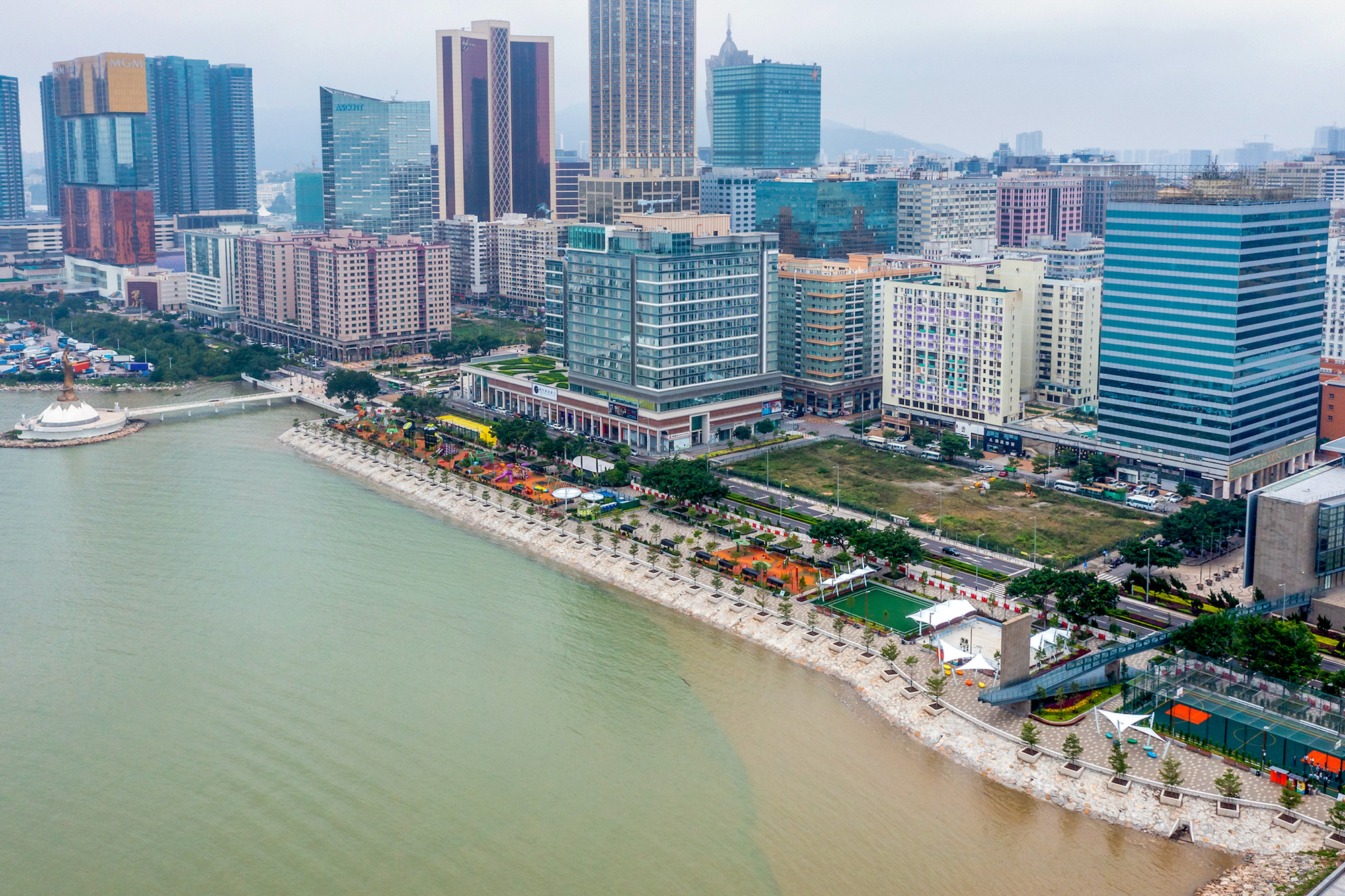 The park, which cost over MOP 55 million(US$ 6.9 million) to build and created over 200 jobs, was received with much fanfare from locals; IAM reported that more than 16,000 people visited the playground area in its first three days of operation.
Speaking to Josephine Tam Wai Fong, chief of the Division of Facility Maintenance at IAM's Department of Public Roads and Drainage, she says the vision behind the new promenade project was years in the making. "After the opening of the Taipa Central Park in 2012, we saw how popular it was to visit the park, for both residents and tourists alike," says Tam. "We thought that something similar to Taipa Central Park was needed Macao-side, and we started looking for a space big enough. We thought the empty area near NAPE Kun Iam Statue – which used to be a simple walking trail – was a perfect potential location for the park."
The park also offers lockers and vending machines under covered areas, with plans to build a café in the near future. Washroom facilities are still under construction, but IAM officials have announced that once they are completed, will offer family-friendly facilities including parent-child washrooms and nursing rooms for mothers.
Most impressive, however, is the sprawling 2,700-square-metre playground, with ample slides, swings and climbing structures to keep kids entertained for hours.
Families with their children enjoy the playground at the new leisure area – Photos by Denzel Calangi
A playground to rule them all
With the location selected, plans moved ahead to develop the park, in consultation with the public. Among the feedback that officials received from the community was the importance of a play area that catered to children of all ages.
"If a family has children in different age groups, they have to go to different parks. The multi-faceted design of this playground gives everyone a space to play in, allowing the whole family to be in one place together – no additional adults are needed," explains Tam, noting that different areas of the playground are designed for the needs of different age groups.
Equipped with large-scale play facilities, the playground includes ropes and obstacle courses for children to improve their motor skills and co-ordination, perfect for children aged five to 12 years old. In a separate nearby section, parents of toddlers can avail of a merry-go-round, swing sets, playground climbers and a small trampoline embedded into the ground, all suitable for younger children. Tam says that the design of the site also encourages play between children of different ages, which has been shown to improve the development of social skills among their peers.
Most of the equipment – which meets European international playground standards – was imported from Europe, South Korea and the US, where parks are much larger in scale than in Macao, according to Tam. The official says that the wider proportions give children more room to play in. "People also don't need to go all the way to Taipa just to find a good-sized park anymore," says Tam, adding that the park's convenience and waterfront view also add to its appeal.
Although the park isn't technically complete yet, with some equipment delayed by the pandemic, Tam says her team is happy with what they've been able to offer the community so far. "We've received great feedback from people," Tam says. "It makes us happy to be giving back. It's like seeing a newborn that we put all our hearts into coming to life."
Making health and fitness a priority
Beyond its cutting-edge playground facilities, Tam says the park has much to offer visitors of older ages as well. To encourage health and fitness within the park, planners looked at case studies from Europe and Singapore for inspiration, which were then adapted to fit the Macao environment. "We wanted to make use of whatever space we had, so nothing was left to waste, and we could give users the best facilities possible."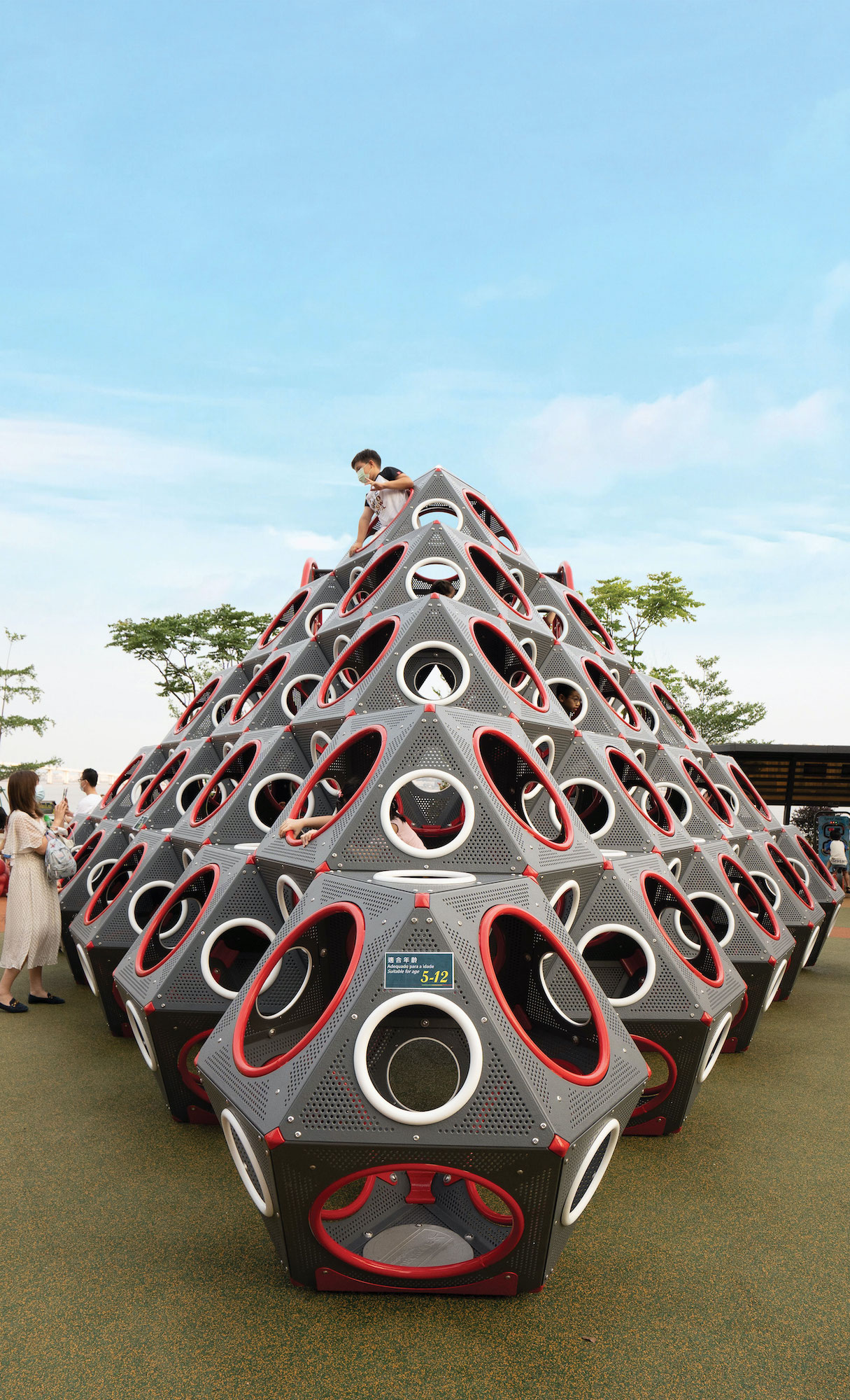 Adjacent to the playground is a workout area with outdoor fitness equipment including strength-training machines and mobility apparatuses, as well as comfortable seating areas. "Due to the pandemic, we found that offering different types of outdoors facilities could be helpful in attracting citizens to exercise more," says Tam. "Europeans believe that outdoor fitness is healthier than indoor, which is why we've introduced this kind of street fitness into the park. We've also made efforts to include equipment that the public are already accustomed to using."
Designed with the public in mind, Tam says the space was built to fit seamlessly into its surrounding community. The park is divided into sections, in order to meet the recreational needs of all its guests, citing the far-flung location of facilities like the sports courts and roller rink, which are closer to the Macao Science Centre.
"Because we anticipated a lot of noise from the multipurpose court, which is only open during the daytime, we moved it farther away from the NAPE residential area so that it would be less of a disturbance for people coming off of night shifts," Tam says.
"Our job is to make everyone's environment better, and an important part of that are parks like this for the public's use," says Tam. "Our team really wanted to give the community something new. From Monday to Friday, everyone is so busy, but we hope that this new space will benefit their health and get them to unwind here."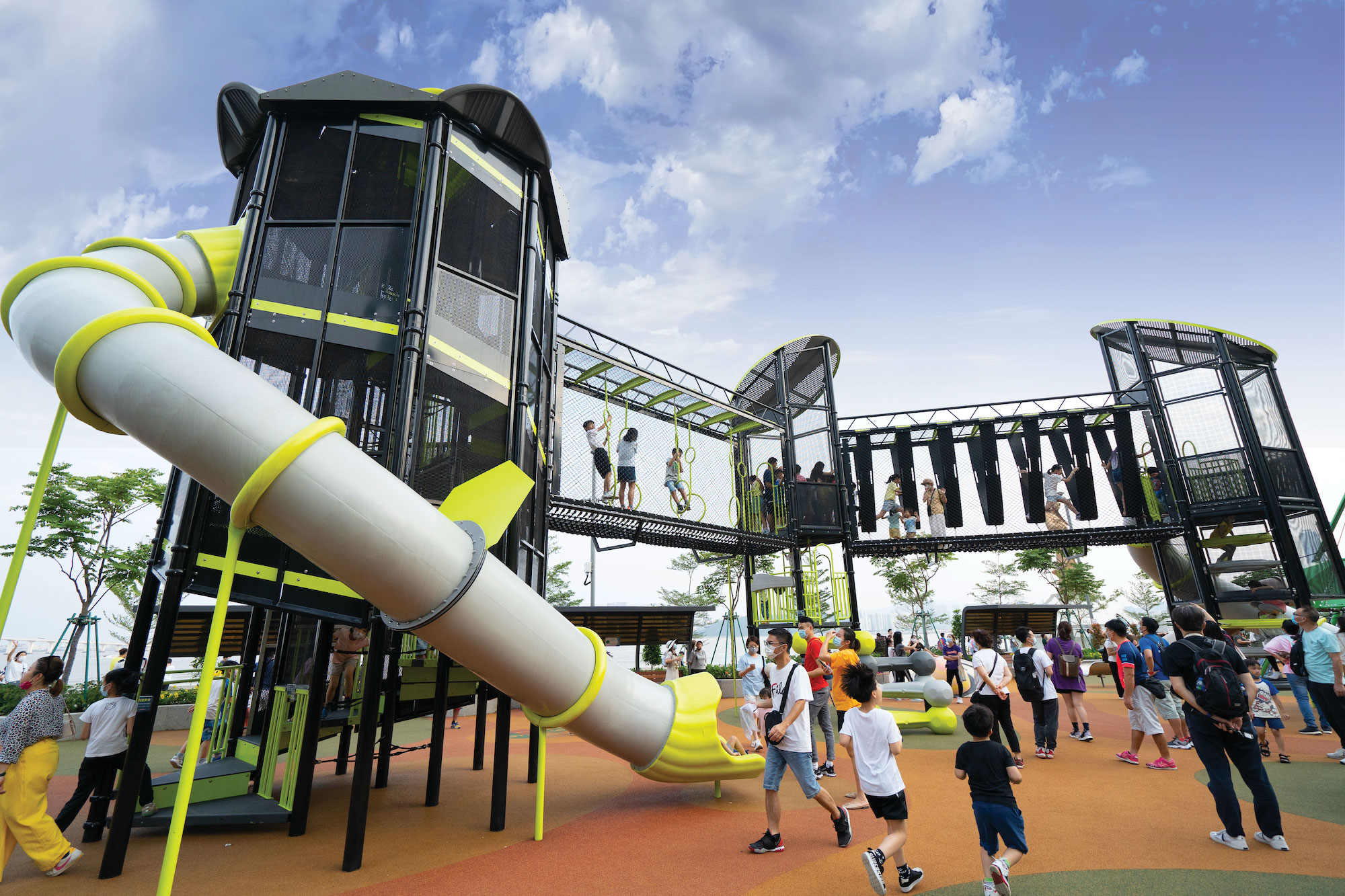 ---
Opening hours and ticketing

Due to the park's popularity, a ticketing system has now been set up to book and use the facilities. The playground, gateball court, roller skating rink and sports court are open from 7am to 11pm. Other facilities like the walking trail and adult fitness and leisure areas are open day and night.