At first glance, Cheong Kei Noodles appears to be a nondescript grocery store. The worn glass cabinet in its front window does display packets of dry noodles, but also cartons of drinks and a selection of eggs. Lots of the shop's foot traffic comes in to buy soft drinks. And for those who specifically seek noodles, it's easy to miss the store's wooden sign – which features a logo designed with the Chinese character sam, meaning 'heart' in English.
It is, however, home to an old-fashioned commercial kitchen churning out about 400 catty (240 kg) of fresh and dry noodles each day. This puts Cheong Kei Noodles at the boutique end of the noodle factory spectrum; owner Cheong Keng Lei says he's a quality over quantity sort of guy. His customers are Macao restaurants that use his famous shrimp roe noodles as a base for their own delicious dishes, as well as individuals who cook at home. But Keng Lei's noodles travel further afield, too. Right now he's busy accumulating customers in Hong Kong and on the mainland.
The 37-year-old is the second generation of his family to run the business, which was started by his parents in 1995. His parents – Cheong Iong Chai and Ho Wai Chan – left their birthplace in Guangdong Province for Macao in the 1970s. A relative had offered Iong Chai, who is now in his 70s, a job at their own noodle factory in the Three Lamps District. He ended up working there for over a decade.
"My father was offered many learning opportunities and acquired many techniques [at the Three Lamps factory]," says Keng Lei. "After ten years, his boss said my father was ready to run his own business and was happy to let him take some of his customers."
Iong Chai set up shop in northern Macao's bustling Fai Chi Kei neighbourhood, where he secured a large enough space with affordable rent. The Iao Hon Municipal Market is at the heart of this densely populated area. Cheong Kei Noodles, not to be confused with the restaurant of the same name in the city centre, still sits on one of the quieter streets radiating out from the market, Rua Graciosa.
A time-honoured history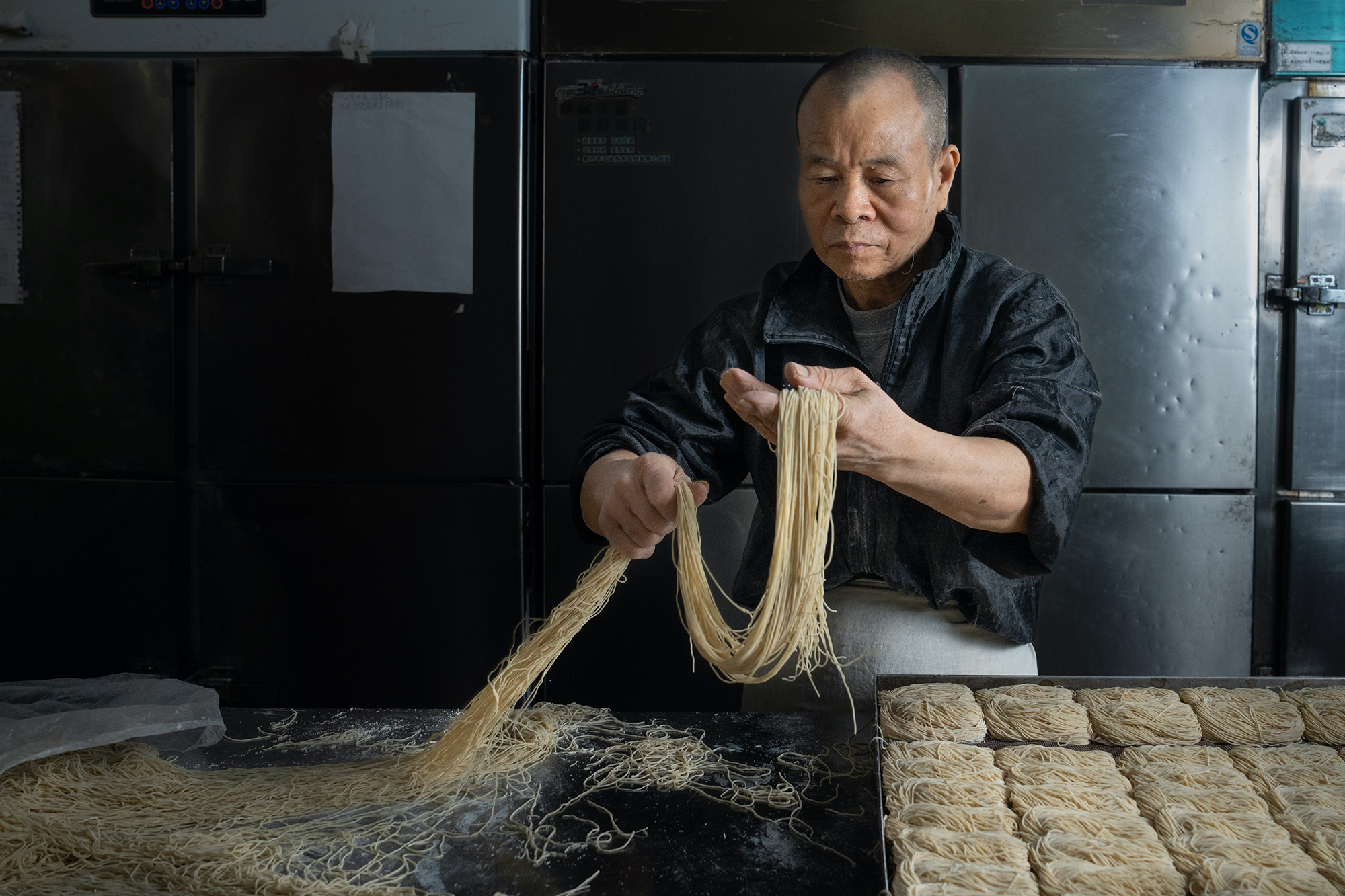 While noodles have played an important role in China's history, Keng Lei says his dad has always focused on the staple's here and now. First as his ticket to a paycheck when he arrived in Macao, though gradually – as Iong Chai mastered his chanced-upon profession – Keng Lei says he grew to appreciate the fact he was "making something delicious for local residents."
Nevertheless, both father and son are part of an industry that's fed their compatriots for millennia. The oldest noodles ever found date back some 4,000 years; they were made from millet and nestled in the very bowl they'd been served in, albeit beneath 3 metres of sediment. Archeologists unearthed those Xia dynasty-era noodles in 2005, at the Lajia archaeological site in mountainous Qinghai Province.
Since whatever natural disaster disrupted that ancient meal, narrow strips of unleavened dough – ie. noodles – have become a culinary staple in cultures around the world. They vary in shape, texture, colour and composition, but always contain some kind of starch. In Italy, cylindrical spaghetti and ribbon-like fettuccine are made from durum wheat semolina. Vietnam's fragile pho is a thin, white noodle made from rice flour and served in broth. Japanese udon are white, fat and chewy, made from wheat. Brown buckwheat gives Japanese soba noodles their distinctive grainy texture and colour. Korea's transparent dangmyeon noodles contain starch from sweet potatoes.
In China, of course, there are noodle varieties galore. The noodles themselves possess regional characteristics, as do the dishes they're used in: Sichuan's spicy dan dan noodles are served with chilli oil and minced pork; hand-pulled biang biang noodles from Shaanxi Province are as broad as belts; Beijing's ubiquitous zha jiang mian is made with slender wheat noodles fried in a rich and sweet bean paste. Meanwhile, Cantonese cuisine includes rare jook-sing noodles that are kneaded by a large bamboo pole, and braised e-fu noodles served at banquets.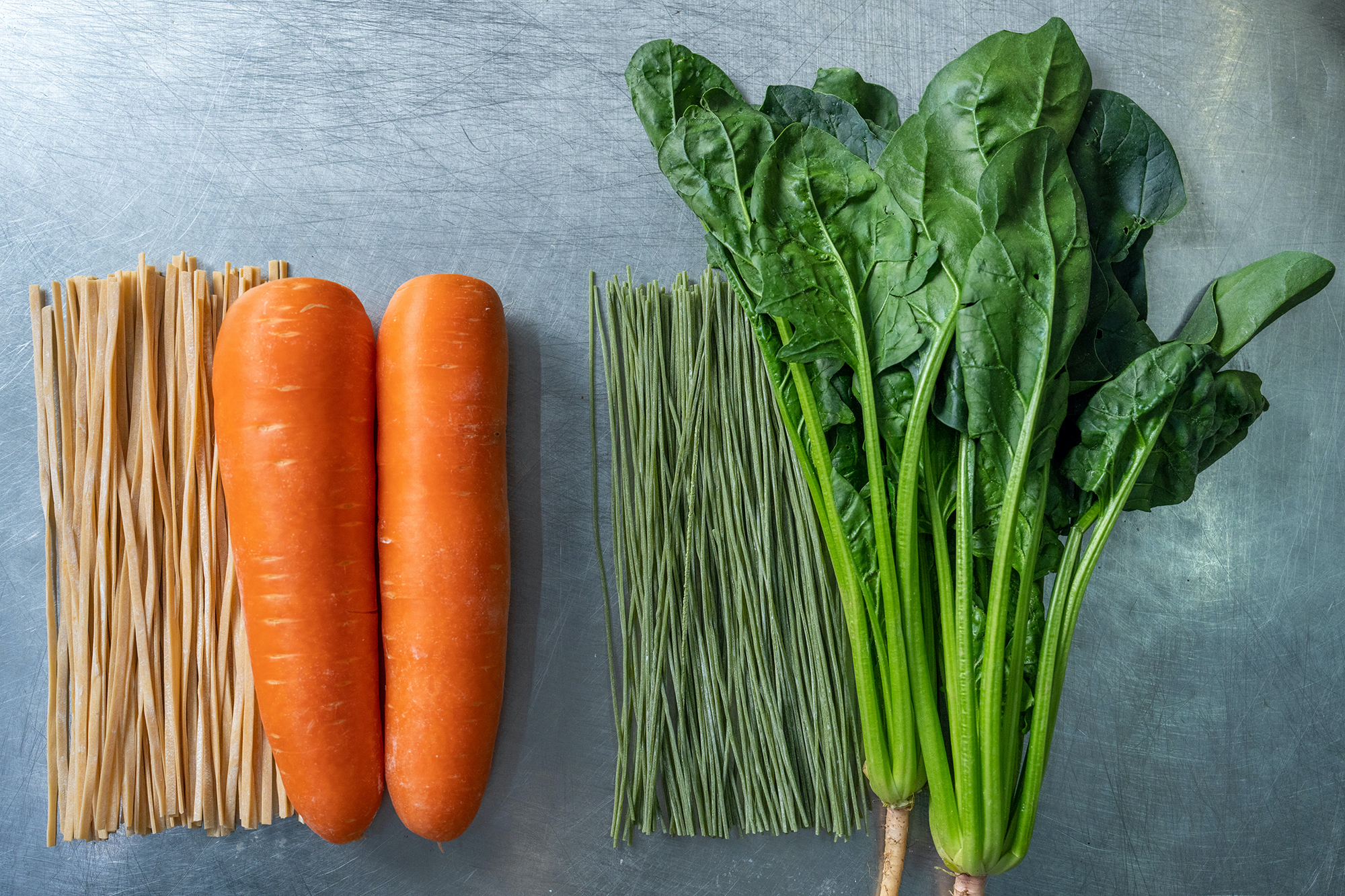 Inside Cheong Kei's kitchen, a team of seven prepare salty, speckled shrimp roe noodles, fish noodles, and an assortment made with spinach, carrots or Chinese yams. Each type has its own unique recipe and method. After the basic ingredients are kneaded into dough, rolled flat, and cut into long strips, the roe noodles are sprinkled with shrimp eggs and steamed, for instance. Vegetable noodles are hand-pulled then hung up on racks to dry. The fish noodles contain fish stock and egg whites, which – according to Keng Lei – provide not only the subtle fishy flavour but a smooth texture beloved by elderly customers.
Fish and shrimp roe noodles have been Cheong Kei's best sellers since the beginning, when Keng Lei's parents did everything themselves. The vegetable noodles are new products and they've proven to be a big hit. Not only are they popular with families who see them as a way to get their kids eating more vegetables, but they're naturally colourful (the spinach ones are green, carrot adds orange). "Colourful noodles are prevalent now, but ours are a healthy version," Cheong Keng Lei says of his recipe. "We do not add artificial pigments, food additives, or salt to our vegetable noodles."
Changing with the times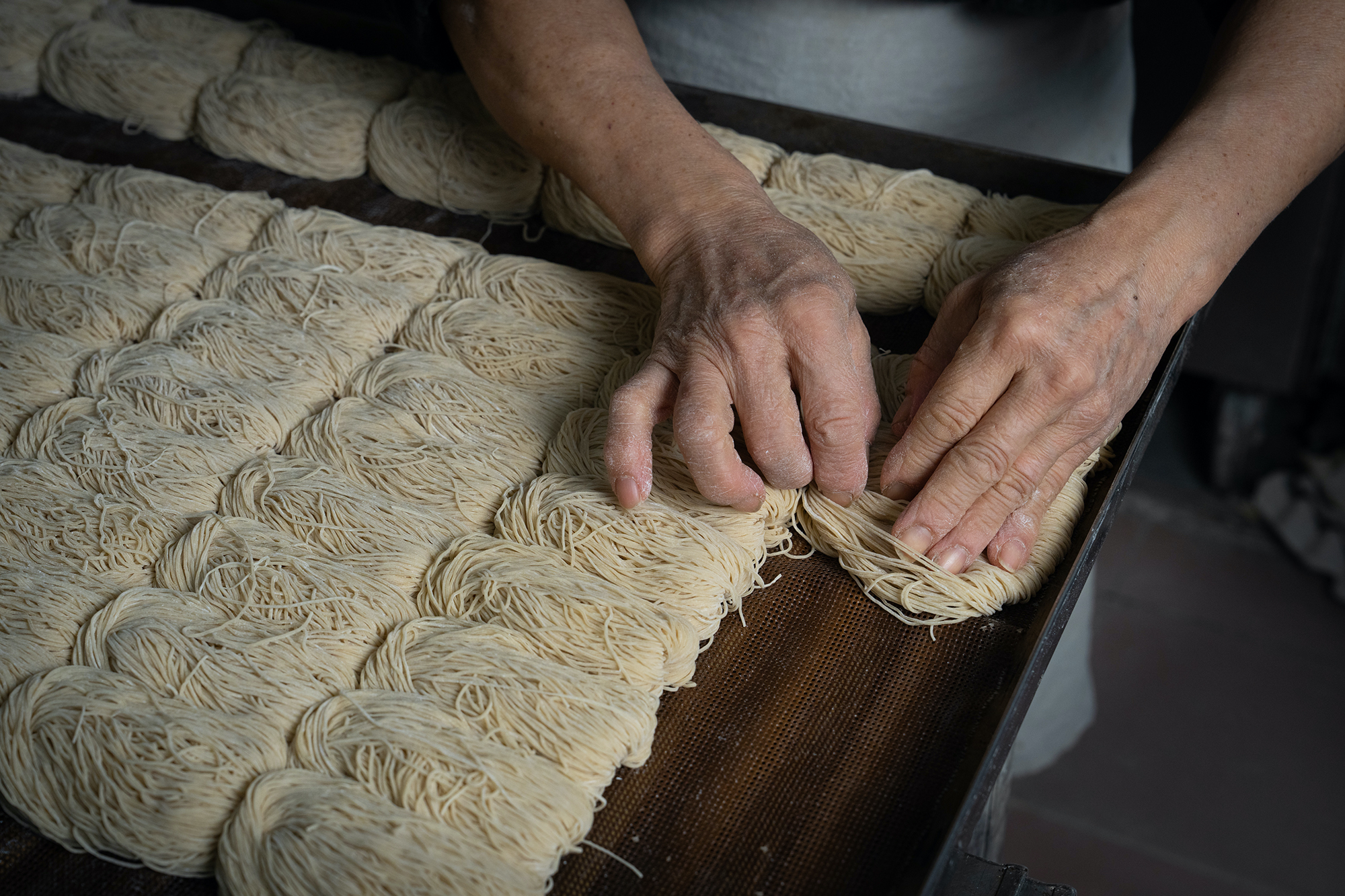 In 2017, Cheong Kei Noodles came close to closing down. "There was an issue with our licence, which my parents found difficult to sort out," Keng Lei explains. "My elder sister and I had other jobs, so they were considering closing the business. They felt sad about it, and so did I."
In the end, Keng Lei decided to leave his marketing career to take over the noodle factory. He says he'd always enjoyed helping out at the shop as a kid, delivering noodles to nearby eateries on foot or bike. "I thought it was fun," he recalls. When Cheong Keng Lei returned as an adult, he began learning how to actually make the noodles – and this, he discovered, was "so much fun."
"In my old marketing job, my team thought up a promotional strategy for a product, then another team would follow up and deliver that strategy," he explains. "However, here I am involved in production, quality control, sales, promotion and delivery. Being involved in the whole process gives me a great sense of achievement."
Today, Keng Lei is the boss; he mans the cashier, helps out in the kitchen, and sometimes – as he did in his youth – delivers noodles to customers. His dad, Iong Chai, hasn't fully stepped back from the business yet and still works in the kitchen – mainly on quality control. As for the other members of the team, they help out wherever they're needed.
"We're not running a large business here and there's not much job definition," Keng Lei says. "We all have to do everything, including mixing ingredients, topping up the fridge with drinks, sweeping, cleaning, cutting noodles, and packaging."
Cheong Kei Noodles has evolved with Keng Lei and his marketing prowess at the helm, as well as due to the Covid-19 pandemic. As lockdowns spurred the home delivery industry, more and more Macao people and eateries signed up to apps that enabled food to be brought directly to their doors. Cheong Kei Noodles got on board, covering the delivery cost for orders over MOP 1,610. Keng Lei says door-to-door deliveries were a major help during the pandemic.
Nevertheless, he admits the economics of running a food business are currently very tough. "The prices of raw ingredients have risen. Meanwhile, we keep the same price and quality," he says.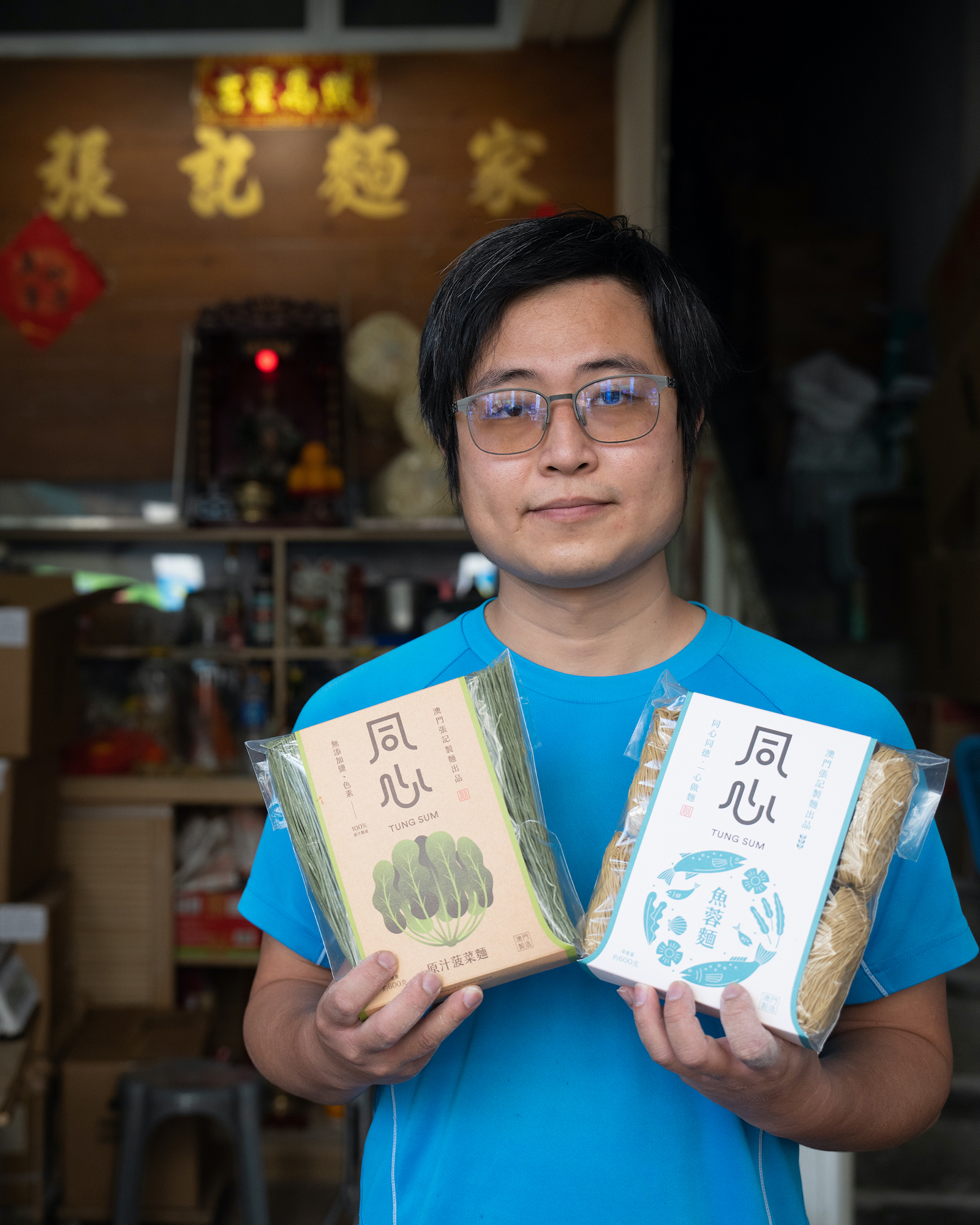 Leaning on his marketing background, in a bid to expand his customer base, Keng Lei has strengthened his noodle brand's online presence, translated his sales catalogues into English, and regularly attends trade shows in Macao, Hong Kong and the mainland. He's also launched a whole new brand – Tung Sum, or 'together, with one heart' – under the Cheong Kei umbrella.
The Tung Sum line packaging features beautiful illustrations of each noodle variety's hero ingredient, a far cry from the generic clear packaging Cheong Kei noodles originally came in.
The new style is attractive and instantly recognisable, drawing in customers – and potential overseas partners.
As Keng Lei presses ahead with his efforts to sell noodles far and wide, he never loses sight of Cheong Kei's origins. Some restaurants serving up his product today followed Keng Lei's dad from the Three Lamps factory back in the '90s, and there are Fai Chi Kei locals who've enjoyed the same noodles for almost three decades. "My parents think they haven't achieved a lot, but they have worked so hard," Keng Lei says. Tung Sum, in a way, is both a tribute to and continuation of his parents' legacy.