For 31-year-old designer Au Chon Hin, art came naturally.
Born in Macao in 1990, Au found joy in art and design as far back as he can remember. His family owned a mahjong school, where they taught the traditional tile-based game. After Au came home from school, he would spend his evenings at his parents' mahjong academy and pass the time doodling on the tiles – a creative hobby that his parents encouraged.
"As I grew older, I realised that [drawing] could be developed into a career," he says.
Although Au is no longer drawing on mahjong tiles, this formative experience has nevertheless influenced his life's work. Au has emerged as one of Macao's most promising graphic artists. His work is everywhere on the streets of Macao: the posters he created for the HUSH!! Full Music concert in 2020, the logo he designed for up-and-coming burger spot Dino Burger. The founder of Untitled Macao, one of the city's most popular design companies, Au even landed one of the design world's top jobs when he was hired to produce artwork for software giant Adobe. These incredible achievements helped Au earn a Medal of Merit from the Macao government last year.
For Au, however, personal accolades are not the end game. He has even grander ambitions.
Finding purpose in work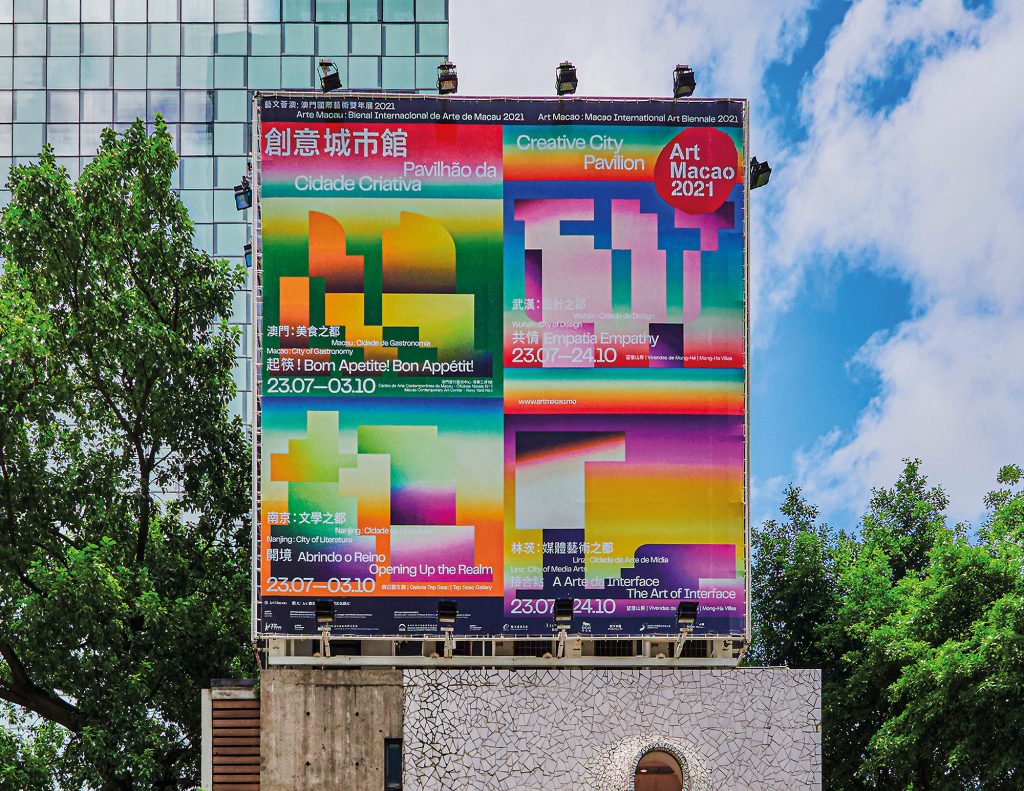 For much of his life, Au followed a familiar path for most young professionals. He attended school, studied his chosen field, design, and secured a good job with the Macao government after graduating. But this formal structure only provided a foundation for Au's career; success has come from what he has done with his opportunities, from his unique outlook on life and work.
After secondary school at Escola Catolica Estrela do Mar, he joined the Macao Polytechnic University (IPM) and graduated in 2014 with a bachelor's in design. During school breaks, he interned in big cities in the mainland including Beijing, Guangzhou and Shenzhen. Those internships not only helped him expand his professional network, they also gave him clarity for his career and provided an education he says designers can only get outside the classroom.
"We can only truly realise what the market expects [from] designers through [real-world] work," Au says.
The pieces of the puzzle had not come together by the time he graduated, though. Rather than pursuing art on his own terms right after school, he took a job with the Macao government for nearly four years. In his role, he worked on projects like the Macao Arts Festival, Macao International Music Festival and Macao City Fringe Festival. Although he remains proud of these projects, they did not leave him feeling satisfied. Something was missing.
"I tried creating designs for cultural activities, but that [kind of work] does not help designers grow in the business market," Au explains. He also says these projects often go unnoticed. "It's sad that people know Macao for its casinos, or as the second Las Vegas."
Several years into his career, Au found himself at something of a watershed moment. He feared his creative ideas would never come to fruition, that the artwork he really wanted to produce would never be seen by the public, and that he would never be able to give back to his hometown. So he took a leap of faith and started his own business, Untitled Macao, in 2017.
After hiring four designers to fill out his team, Au defined the company's mission: Specialising in branding, Untitled Macao "creates a new identity" for companies in Macao. They design everything from flyers, logos, banners and posters to websites and props for events, like the Infinite Love Marathon Concerts, which took place at Sai Van Lake in February.
Their work also aims to raise the banner for Macao designers. Au believes that the city puts too much emphasis on gaming and sports, neglecting the creative talent living in the shadows of the casinos and racetracks. With Untitled Macao, he hopes to nurture a new generation of artists and designers, providing opportunities to tap into their creative ideas and make a living out of it, too.
Moving up from the fringes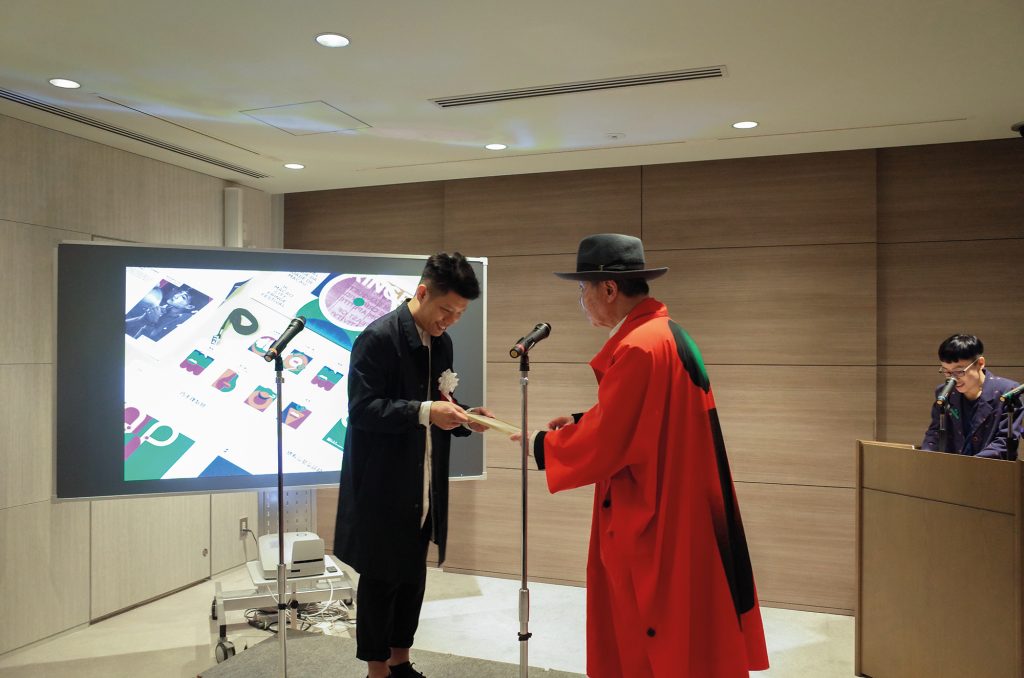 As Untitled Macao began to find its footing, Au started to receive recognition for his own style – one he describes as "avant-garde and unique", featuring eye-catching colours, simple shapes and art that will leave you wanting to know more about the business or event he's covering.
In 2018, Au established himself on the international scene at the Tokyo TDC Annual Awards. The influential event organised each year by the Tokyo Type Directors Club (TDC) showcases text-based design and attracts thousands of creative professionals from around the world. Among this crowded field, Au won the TDC Prize for his work for the 16th Macao City Fringe Festival.
Centred on the festival's "Feast of Creativity" theme, his winning illustrations featured neon-hued colours, playful patterns and fluid, recognisable shapes – common food items, utensils and others that spoke to the idea of a "feast". The work reflected Au's personal mission to show to Macao residents the role that great design can play in society.
It also gelled with the vibrant, evocative artwork that infuses every aspect of life in urban environments today, from bold, bright billboards to promotional materials for events put up across cities. The judges agreed. "[They] thought my work matched with society nowadays, this generation," he says.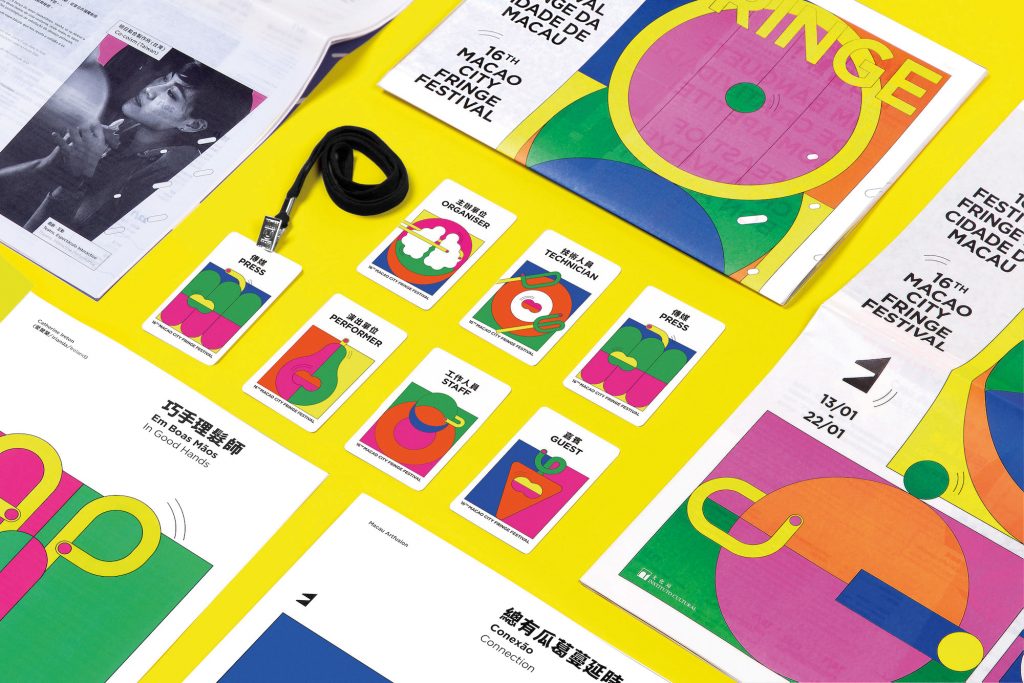 After winning the TDC Prize, Au was on a roll. He took home bronze at the New York ADC Awards and won top honours at the New York ADC Young Guns 17. He followed those up with four awards at the Macau Design Award ceremony in 2022: MDA Grand Prize, SJM New Talent Award, Best New Macau Designer of the Year and Brand identity Gold Award for Dino Burger.
As the wins piled up, so did the work. "I was happy but stressed at the same time," Au says of the attention that followed his TDC Prize. The scope of his projects began to change, too.
Opportunity comes calling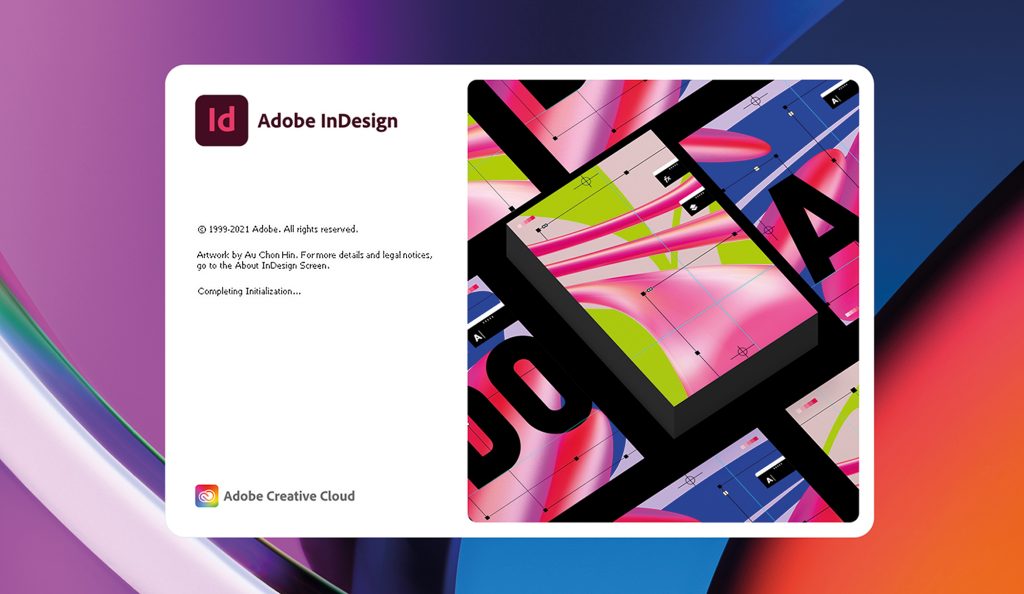 With Untitled Macao, Au has looked beyond the city to find clients. He has even branched out beyond the booming metropolises that make up the Greater Bay Area. "There are opportunities in the Greater Bay Area, but there are much more opportunities all over the world," he explains.
Online platforms like WeChat, ZCOOL, Tumblr and Behance have helped to spread Untitled Macao's reach. Behance has been especially fruitful. Owned by Adobe, the makers of software like Photoshop, Lightroom, InDesign and Premiere Pro that is preferred by millions of artists, illustrators, photographers and publishers around the world; Behance is one of the industry's most influential marketplaces. In just a few years, Au gained close to 30,000 followers and about 930,000 project views on his account. That has helped to turn the client-provider relationship on its head – rather than searching for business, business comes to him.
"We seldom approach or seek clients actively. We just share our work on these platforms," he says. "It shows [that clients] respect our design."
Behance has helped change the make-up of Untitled Macao's customers, too. About 70 per cent of their projects come from clients in Switzerland, Japan and the UK. It also attracted one very notable client.
In 2021, Adobe commissioned Untitled Macao to create the official artwork for InDesign 2022. Life had come full circle. Like so many designers, Au had used Adobe software since he was in secondary school. Suddenly, he was creating artwork for the company that would be seen by millions of people like him worldwide. And the opportunity stemmed from another Adobe product in Behance. Adobe representatives told Au they were impressed by Untitled Macao's Behance portfolio – their vibrant, eye-catching designs, including Au's work for the Fringe Festival, the Hush concert, Macao Design Week and the Macao International Parade 2019.
"Without a doubt, this project is the most important [of my career so far]. I know it will only be showcased for a year, but the world will get to see it," he says. "It is one of my biggest achievements."
After several 6 am Zoom meetings with Adobe's Art/Creative and Marketing Director and others in California, Au and the Adobe team agreed on a 'DNA' concept. In trademark fashion, the design pops with shades of pink, green and blue.
It also embodies Au's empathetic worldview and affinity for movies related to the universe, human beings and philosophy. The DNA concept, he explains, speaks to the way we are all connected yet have our own unique characteristics.
Doing more for Macao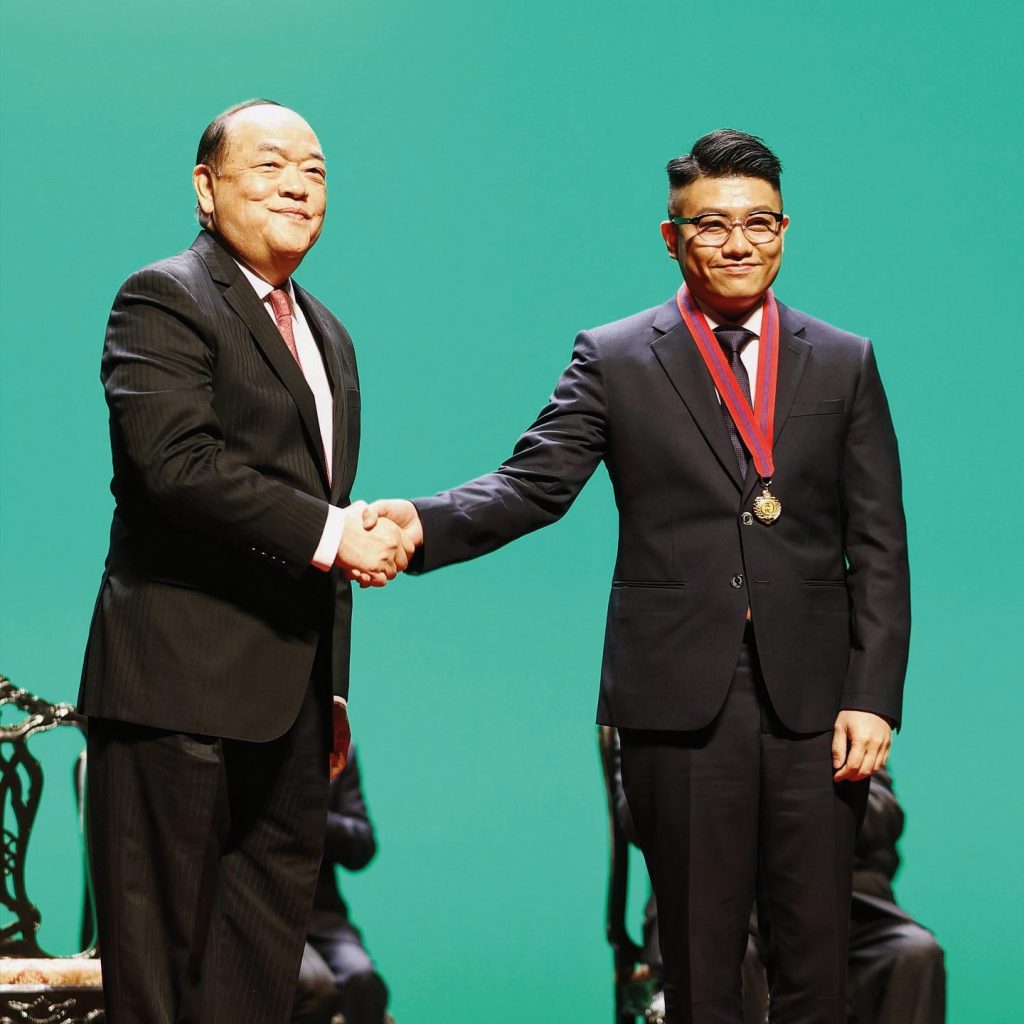 While Au would never downplay his achievements – his work with Adobe, his TDC Prize, his designs for Macao businesses – they are not the reason he is so laser-focused on succeeding.
He views awards as a "bonus", a way to gain recognition not just for himself but for all Macao designers. "My sole focus is to work on the local design industry and let people outside Macao know that a small city like [ours] has talented designers as well," he says.
Arguably the most important step forward in those efforts happened recently. On 18 February, Au was presented with the Medal of Merit in Culture by Chief Executive Ho Iat Seng at the 2021 Decorations, Medals and Certificates of Merit Awards Ceremony. "The chief executive said he appreciated my effort and contribution [to Macao's culture] and encouraged me to do more in the future," Au says.
Au is certainly not resting on his laurels. He says that receiving the Medal of Merit has only steeled his determination to do more for Macao and fuelled a fire to create greater work. It has also boosted his social consciousness. With Untitled Macao firmly on the up, he hopes to offer more jobs and internships to emerging designers in the city. Although he is just one person, and Untitled Macao is just one company, he believes he can help to lead a paradigm shift.
"Many locals used to underestimate the power of culture and design [and had] no idea how to find designers to help them with the branding or design of their products," he says. But now he thinks that is starting to change. As the city begins to invest in its creative industry, it might start to shed its reputation as a gaming hub.
"What keeps me going is the need to produce [works that benefit] society and transform the world through design," Au says. "Every time I receive an award, I'm more convinced that I'm on the right path."