We give you this year's lowdown on the 2020 Galaxy Entertainment Macao International Marathon while also looking at the mind, body and soul benefits of running in the city.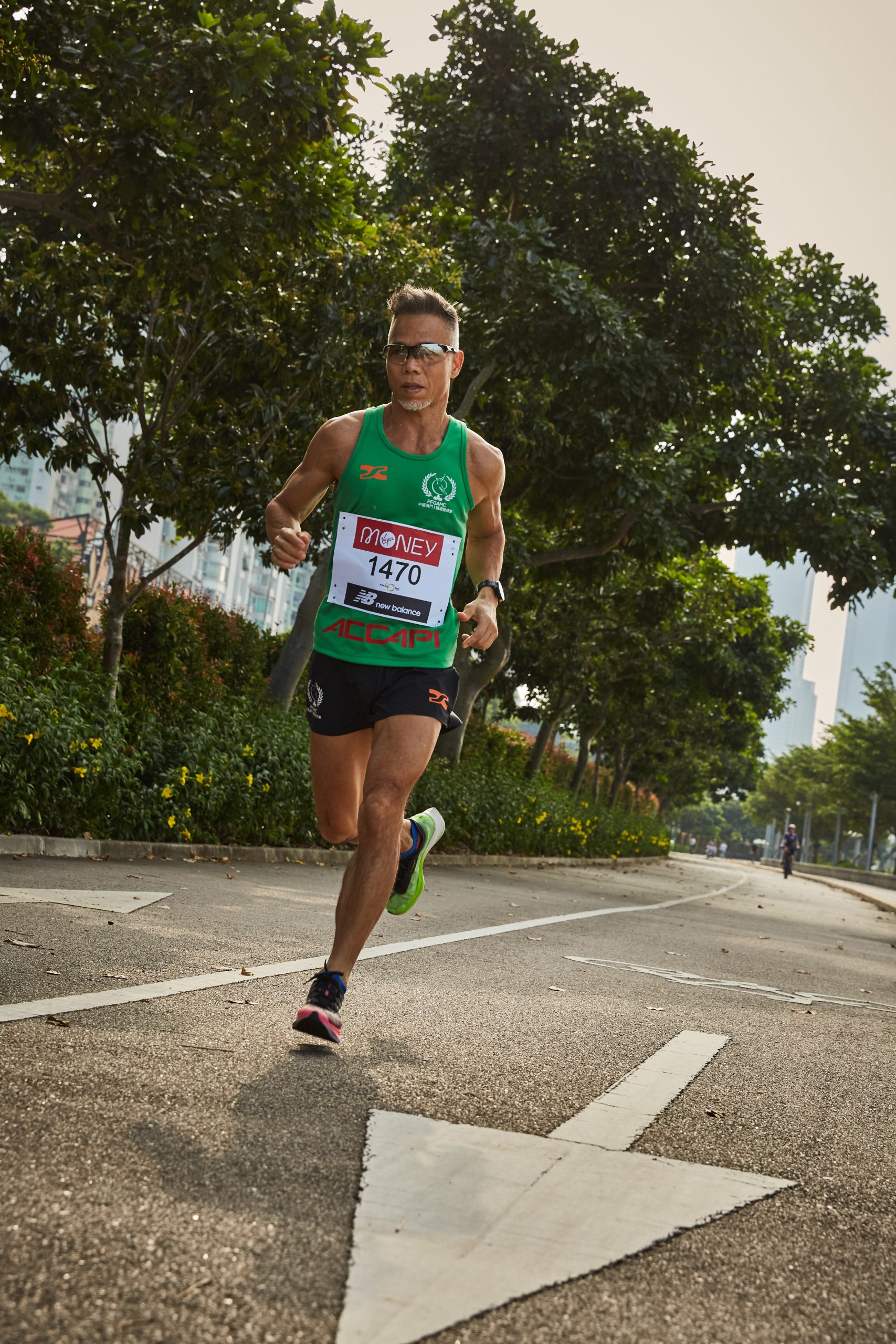 Macao is strapping on its running shoes and favourite sports shirt. Droves of people from all walks of life – including the writer of this story – are training hard for the 2020 Galaxy Entertainment Macao International Marathon, scheduled to take place on 6 December. Some are even running 'virtual marathons' – each modelled on famous races across the world, such as the recent London Marathon – from right here in Macao in preparation for the SAR's big annual race which so far, despite the COVID-19 pandemic, looks to be going ahead.
The Macao International Marathon is an institution in the city. This year is its 39th edition but due to COVID-19, international runners have not been invited. So, for the first time in its recent history, the event will be mostly for local athletes – and those from the Mainland and neighbouring cities and regions – who will be trying to take first place and thousands of patacas in prize money or just running for fun. It is being jointly organised by the government's Sports Bureau alongside the General Association of Athletics of Macau. Back in September, it was announced that the marathon would be going ahead – a move that was quickly celebrated by local athletics teams. After the registration opened on 12 September – online and with hundreds gathering outside the Tap Seac Multisport Complex – the places went quickly. It is expected that 1,400 people will run the full 42.195-kilometre marathon, with 4,800 people doing the 21.0975-kilometre half-marathon and 5,800 in the 4.5-kilometre mini-marathon.
Marathon running motivates you. It builds your patience and determination. It teaches you not to give up easily.

– Miguel Nuno Hong da Conceição
The marathon is title-sponsored by the Galaxy Entertainment Group (GEG) for the 17th consecutive year. The full and half-marathon races will start at 6am and the mini-marathon race begins at 6.15am from the Olympic Sports Centre Stadium in Taipa. The marathon and half-marathon courses pass by the Governor Nobre de Carvalho Bridge and the World Heritage attraction A-Ma Temple before heading along Sai Van Bridge. Trophies will be awarded to the public entity, private entity, school, sports association or government-registered organisation with the highest number of participants who complete the mini-marathon. Plus, popular activities 'Join Us and Upload Best Shot to Win Lucky Draw' and 'Most Creative Costume Award' are also expected to be featured in this year's event.
Safety first
At the event launch in September, Sports Bureau president Pun Weng Kun underlined that the marathon is one of the city's main sporting events of the year that allows participants to 'test their physical limits and willpower' and helps them to 'fill their lives with positive energy'. Ma Iao Hang, General Association of Athletics of Macau president, highlighted that adequate measures by the government have allowed for the pandemic to be controlled in Macao. "Just like in a marathon," he said, "it was necessary to persist in order to win." To make sure this 'sports tradition' – one of Macao's oldest and biggest athletic events, in terms of participation – goes smoothly during this pandemic year, a 1,000-strong team of workers has been put together for the event, Ma added.
Philip Cheng, GEG director, said at the launch that the marathon helps 'support Macao in promoting mass sports'. Over the years, he added, the GEG has 'proactively organised and participated in different sports events with an aim to catalyse the development of economic diversification and facilitate the city's position as a world centre for tourism and leisure'. "I hope," he said, "that all the runners can exemplify the marathon spirit and bring out their best during the competition."
This year's marathon will be unique due to the COVID-19 pandemic and the travel restrictions that are in place in Macao as a result. It means that most of the race winners will hail from Macao or mainland China. The champions are usually from Africa or, at least, from Europe or other parts of Asia but this year will give professional and semi-professional local runners an unprecedented opportunity to grab gold. Of course, for most of the runners, finishing the marathon in a good time is its own reward but some local runners will relish this year's unique chance of glory.
The last non-African and non-European male athlete to win the marathon in Macao was Ri Kum Song from North Korea, who triumphed in the men's event in 2007. The last Chinese male athlete to scoop gold was Zhu Ronghua in the 2002 race and the last Chinese female athlete to finish first was Wang Xueqin in 2010. Fifteen of the past 20 men's race winners are from Africa compared to just six African women's race winners. The women's race has mainly been won by runners from China, Ukraine, North Korea and Great Britain over the past two decades.
Last year, the men's marathon winner was Ethiopia's Tafese Delelegn Abebe, who finished the race in two hours, 12 minutes and 53 seconds. The women's race winner was Kenya's Lucy Cheruiyot, who finished in two hours, 31 minutes and 17 seconds. The record-holders are Kenya's Felix Kirwa, who won the 2017 men's marathon in just two hours, 10 minutes and one second, and Bahrain's Eunice Kirwa, who, also in 2017, completed the women's marathon in two hours, 29 minutes and 12 seconds. Another extraordinary run was done by Portugal's former Olympic champion Rosa Mota in last year's race. The then 61-year-old won 2019's 5.2-kilometre mini-marathon for the second year in a row in under 20 minutes.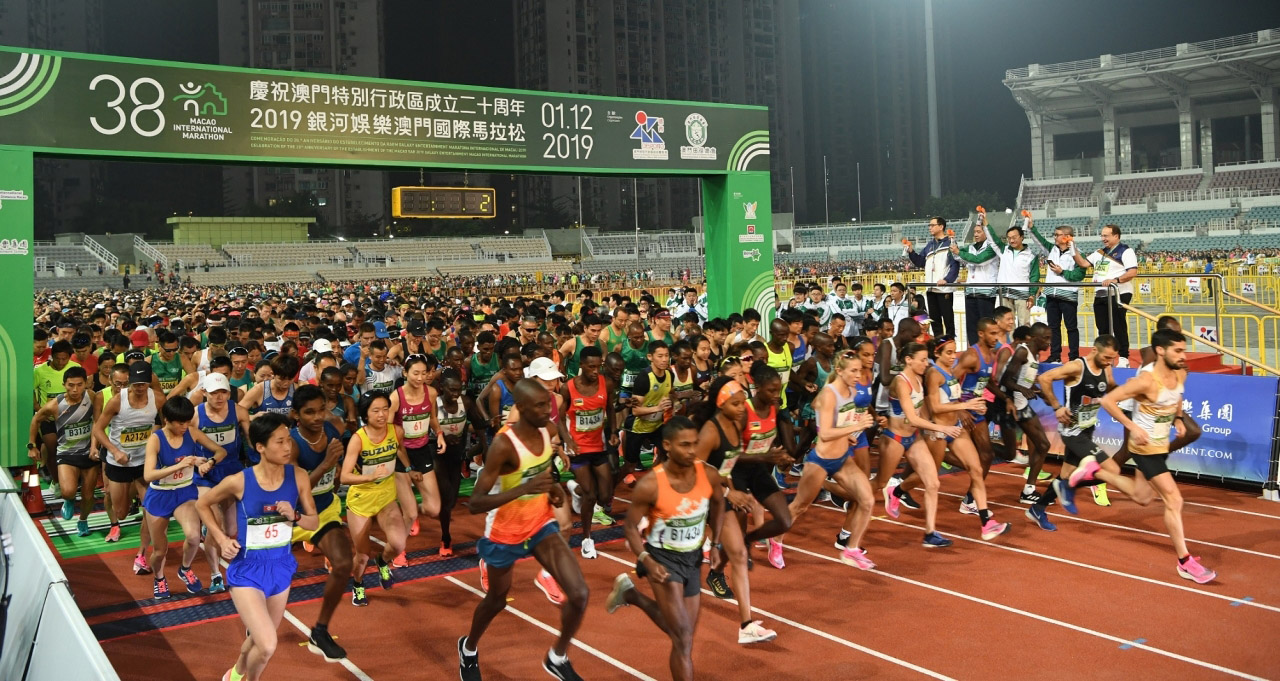 The practice runs
What makes Macao's marathon so tough? Simply, the heat. Hong Kong's main marathon, for instance, takes place at the end of a usually cool January. But Macao's race is in early December, which can still be pretty warm. And even if it's not, training for the big event can take many weeks, meaning that some Macao runners start training in the middle of summer. Coaches and physiotherapists warn that all running enthusiasts should take care when training in the city's hot, humid conditions.
And that was the exact message from veteran running coach Vincent Hoi Kam Fai on 4 October, when he led 14 people – the majority being women but one of them being the writer of this story – out to the Taipa seafront to run the 'virtual London Marathon'. It was 27 degrees Celsius and the humidity was high and Hoi was keen that everyone was safe, prepared and well-watered due to the hot conditions. Using a smartphone app, he was able to track the distance of the London Marathon – run over 42.195 kilometres – and run it with the team in real-time on Macao's roads and trails. Nearly everyone involved used the 'virtual marathon' as a warm-up for the real Macao version in December.
The 'virtual London Marathon', which was open to anyone in the world and for the first time ever allowed participants to use a special app where they could log their run and earn a medal and T-shirt for completing the marathon, actually saw the team, all dressed in green running shirts with the 'Kam's' team-name on the back, running just over seven stretches back and forth along the six-kilometre Taipa seafront. They started with a crucial warm-up and each person was prepared for the heat, with coolers spread along the path and plenty of cold drinks to hand to keep hydrated throughout the race. And then the marathon was run, with everyone finishing it and no casualties. Fun was the name of the game, however, it was also a reminder of how difficult it is to run a marathon on a hot Macao day.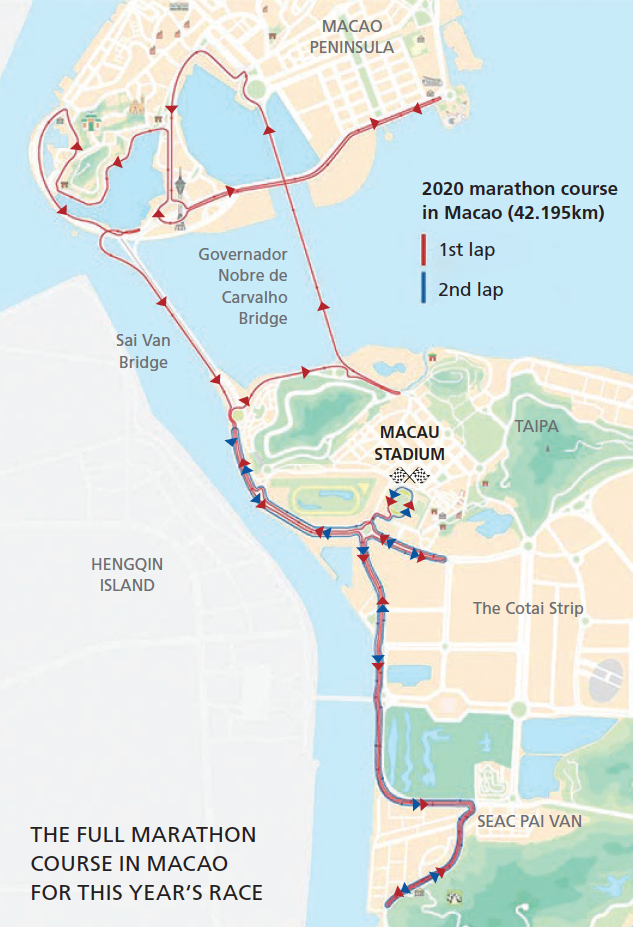 Hoi says the 'virtual marathon' was a success and that he's looking forward to the real Macao version. He has been practicing endurance sports, including marathon training, for more than 30 years and he's run several half and full marathons – from Macao and Hong Kong to Taiwan and Japan – over that time with his 'Kam's' team. He says that he sees the popularity of endurance sports growing in Macao, with long-distance running becoming a major exercise trend. And he's there to help any novices – he says he once noticed that the majority of new runners lack proper fitness knowledge or exercise techniques, so ever since then he has made guiding them in the art of the long-distance run a personal 'passion'. "I feel the need to keep practicing running," he says, "so I can use my experience to continuously refine fitness programmes to help runners and athletes." Hoi adds that there are obvious health benefits to long-distance running but says that crucially the sport 'helps to develop persistence in life'.
Another running group in Macao that keeps itself regularly active is the Spirit Running Crew. This team has about 130 members and one of them is 40-year old Miguel Nuno Hong da Conceição, who is preparing for his second marathon in Macao. Having only started running four years ago, he has already finished 18 marathons. Last year, he finished his sixth and last of what's seen as the six major marathons of the world Tokyo, London, Boston, Berlin, Chicago and New York. This is a huge achievement for a marathon runner, especially one so new to the challenging sport. "Marathon running motivates me," says Conceição. "It builds my patience and determination. It teaches me not to give up easily."
Despite the fact that Macao hasn't had a COVID-19 case for months now, Conceição says he will take precautions during the December marathon – basically, he will keep his distance from all the other runners. He says that this year's race will be 'special' as it will be the only marathon he has run all year due to the pandemic. "More and more people are practicing running all the time in Macao," he says. "Everyone cares about their body, shape and health. And I think running is the easiest exercise because we can just put on our shoes and go wherever we want."
Making Conceição look like a veteran, Rachel Li has only been running long distances for two years. The PhD student first ran the city's marathon in 2018, opting for the then 'not too difficult' – her words – mini-marathon. Last year, she raised the bar and completed the half-marathon, a feat she is hoping to repeat in December but with, perhaps, a better finishing time. She says: "The most important and happiest thing for me is to run all the way and cross the finish line. That's enough for me!"
Li will run with teachers and other PhD colleagues from the City University of Macau. "I'm very happy to see the 2020 Marathon is being held," she says. "I'm very excited." Li took up running to lose weight but in the process she kept exceeding her goals. "I remember, in the beginning, that I spent 30 minutes running two kilometres," she says. "I would get really tired. But, now, two kilometres is a piece of cake for me. Running helps you keep healthy and also gives you time alone to relax and think." Li trains at Taipa Stadium, near to the Olympic Sports Centre Stadium – the place the marathon begins on 6 December. "Macao is a small place but the public facilities, like the Olympic Sports Centre Stadium, are excellent," she says, adding that she often runs at night to avoid the hot, sweaty days. If she's out of energy, she says she walks around Taipa's many hiking trails where she observes that 'more and more people seem to be out running all the time'.
Treading carefully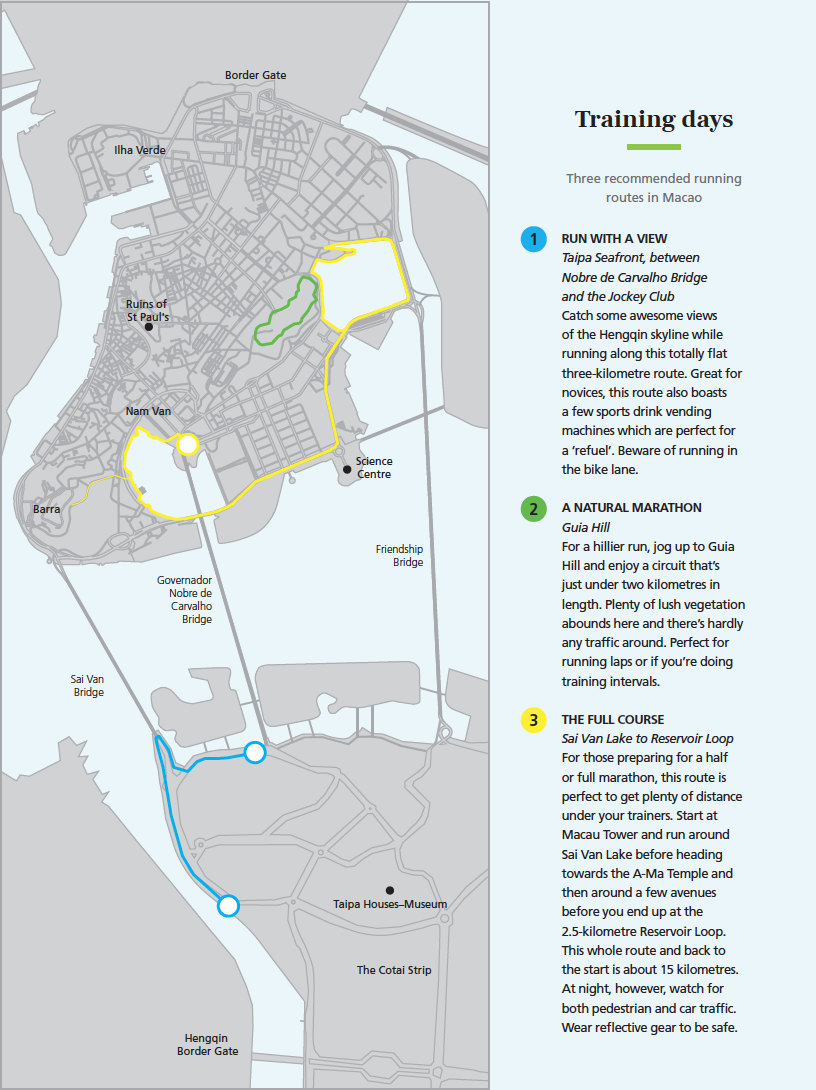 While long distance running is a sport for any time, anywhere, it is not for anyone, anyhow. Coach Hoi says it's important to keep in mind that in half-marathons the runner can 'appropriately push the pace and intensity threshold', while in full marathons, it should be 'about developing and maintaining enjoyment throughout the process'. As someone who works with beginners at different levels, he says that some people need to acquire appropriate running form and technique while others need to strengthen key muscles such as the core, quads, hamstrings and glutes. "Strength training is extremely important in helping runners build up solid muscles," he says. "Core muscle training helps to establish a strong core so you get the stability, balance and endurance to run further and more efficiently. For beginners, the key is to progress gradually rather than pushing for an increase in distance or intensity within a short period. When undergoing long distance running, finding and maintaining a steady, consistent pace will help minimise extreme fatigue and burnouts."
Hoi says that, in preparing for a marathon in December, the runner must undergo the hardest training in September and October, when, due to Macao's steamy climate, the athlete must make sure they are staying completely hydrated. Then, in the few weeks before the 42-kilometre race, muscle fatigue needs to be avoided so the training is less intense. Hoi adds that throughout this period, eating healthy, nutritious meals and avoiding excess, prolonged exposure to intense sunlight is essential. He advises lots of 'stretching, massaging, replenishing fluids and nutrients, and getting plenty of sleep'.
Hoi also says that it's important to listen to your body and allow sufficient time for it to fully rest and recover before participating in training again. "Watch out for signs of injury," he says, "and make sure to get treatment or therapy if you experience any type of pain." Preparing for a marathon, he says, actually starts on your plate. During training, he claims, it's important to eat foods such as whole-grain pastas, breads, rice and starchy vegetables. Additionally, protein-rich foods such as lean meats, eggs and beans can also be eaten to aid muscle recovery. Junk food should be avoided, he says.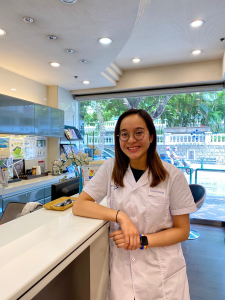 Asked about the benefits of running, Macao physiotherapist Coco Ieong quotes UK health promotion consultant, Dr Nick Cavill. "If exercise were a pill," says Dr Cavill, "it would be one of the most cost-effective drugs ever invented." Ieong is an athlete and former swimming representative of Macao. She has participated in international, national and local swimming competitions, as well as aquathlon races – where participants run and swim – and track and field events. "Personally," she says, "I am a runner and swimmer. I prefer swimming over running purely because it is pleasant to jump into the pool on a really hot day." Exercising regularly, she says, is proven to prevent major chronic illnesses such as cardiovascular disease, cancer, type two diabetes and strokes. She says that benefits include 'improving the metabolic rate, boosting the release of feel-good endorphins into the brain, improving sleep quality and reducing chronic pain'.
"Listen to your body and do not overtrain," says Ieong. "You know your body more than anyone. Knowing when to rest and when to push through is undoubtedly the most important rule in long distance running training. Pace yourself, start low and gradually progress the intensity and volume of training each week." Ieong quotes the '10 per cent rule', which states that the overall running mileage must not increase by more than 10 per cent in a week to allow gradual endurance building.
Ieong also reminds athletes to undertake a proper cooling down session after a run. This includes stretching and self-massage, both of which speed up the process of lactic acid removal from the muscles, boosting the body's recovery before the next training session. Failure to cool down properly could lead to injuries, she cautions. She also reminds runners that staying hydrated is essential but be careful not to over-hydrate to 'avoid the dilution of electrolytes', which can 'lead to dizziness, fatigue and cramping'. Of course, another crucial reminder is to wear appropriate footwear and avoid uneven and slippery surfaces during the run.
British Sikh marathon runner Fauja Singh is believed to be the world's oldest runner to complete a full-length marathon. Nicknamed the 'turbaned tornado', he is 109 years old. It's claimed that he still manages to run 10 to 15 kilometres every day to 'keep his engine going'. This incredible feat, according to Ieong, goes to show you are never too old to run a marathon as long as you have regular training. "Your age is not as important as your body condition and fitness level," she says. Whatever your age, background or ability, if you are taking to the track as part of Macao's annual marathon on 6 December, good luck. This writer will see you there.
---
Presented by the Sports Bureau