The Greater Bay Area is one of the 19 planned city clusters. Of these, the GBA, the Yangtze River Economic Belt in the east and the Beijing‐Tianjin‐Hebei area in the north, are undergoing the most developments.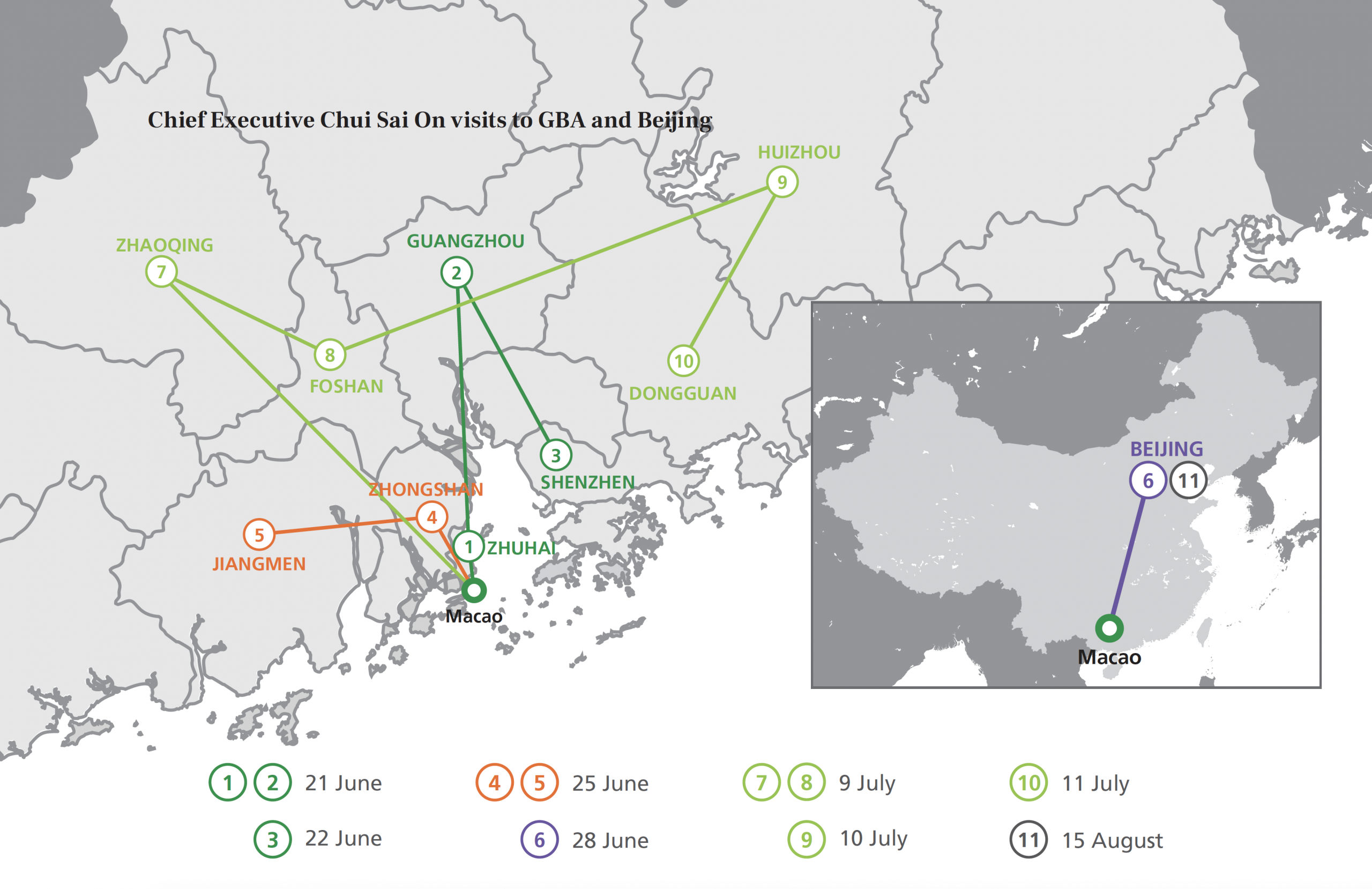 Over the next decade, the Guangdong– Hong Kong–Macao Greater Bay Area (GBA) will become a major priority for the Macao government as it works to pro‐actively promote the concept both at home and abroad.
Several foreign partner nations have hosted delegations from Macao in recent months, eager to access the rich economic opportunities presented by the GBA. Chief Executive Chui Sai On visited the Southeast Asian nations of Cambodia and Thailand in May, meeting with high‐ranking government officials from both countries and signing a number of agreements over the course of his five day visit.
Then in June, Secretary for Economy and Finance Leong Vai Tac headed a delegation on a combined visit to Portugal and Brazil, two major partners in the Portuguese‐speaking world. Like Chui, he advocated Macao as a platform for entry into the GBA and the broader Chinese market. The Chief Executive spent June and July closer to home, visiting the nine Guangdong cities included in the GBA (along with Hong Kong). He assured his counterparts that Macao is ready to co‐operate in the development of the cluster, explaining how the territory can contribute through its relations with the Portuguese‐speaking countries, platform for tourism, and financial centre.
He also travelled to Beijing in June to discuss the GBA with the Chinese Vice Premier Han Zheng, who oversees the GBA Initiative.
In August, Chui participated as a member in the first plenary meeting of the leading group for the development of the GBA at the Great Hall of the People in Beijing. The meeting was headed by the Vice Premier Han Zheng, a member of the Standing Committee of the Political Bureau of the Communist Party of China (CPC) Central Committee.
In the meeting, Han Zheng said that the 11 GBA cities needed to fully utilise the area's "comprehensive" advantages to build a vibrant and internationally competitive area and a world‐class group of cities.
Han Zheng also said that "one country, two systems" was the "best system" for ensuring Macao and Hong Kong's long‐term stability and prosperity. He added that the development of the GBA must closely follow the Basic Law, upholding strictly the principle of "one country" and utilising the advantage of "two systems," so that the GBA can be successful.