Wu Zhiwei's decision to invest in Portugal by purchasing Quinta da Marmeleira in 2016 looks to be a very safe bet. This year, the first wine from its vineyards will be placed on the market and will soon be available to Macao consumers.
This June, Macao Magazine travelled in the company of Macao entrepreneur Wu Zhiwei, his wife, daughter Victoria and employees, on a visit to Wu's new winery on the outskirts of Lisbon.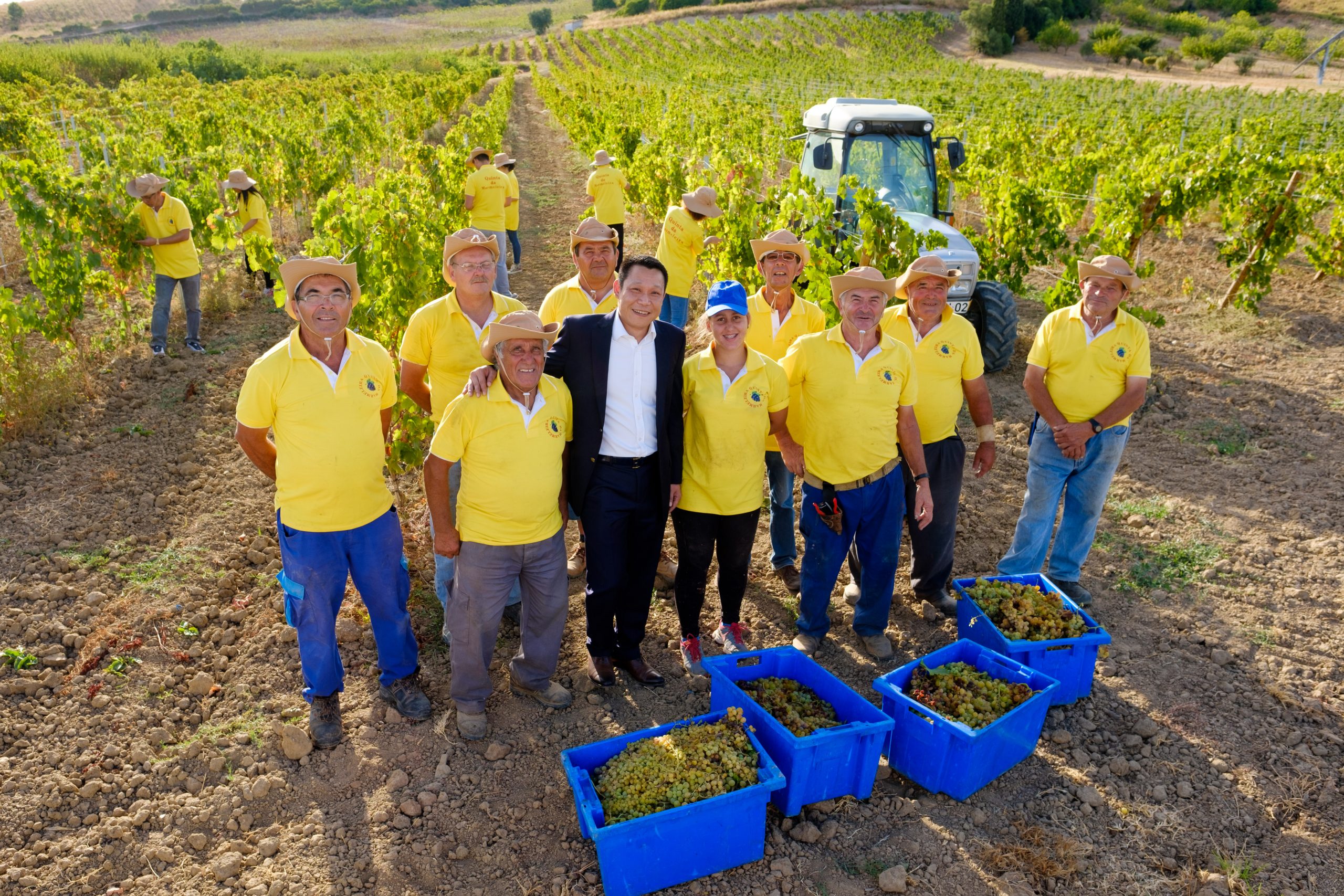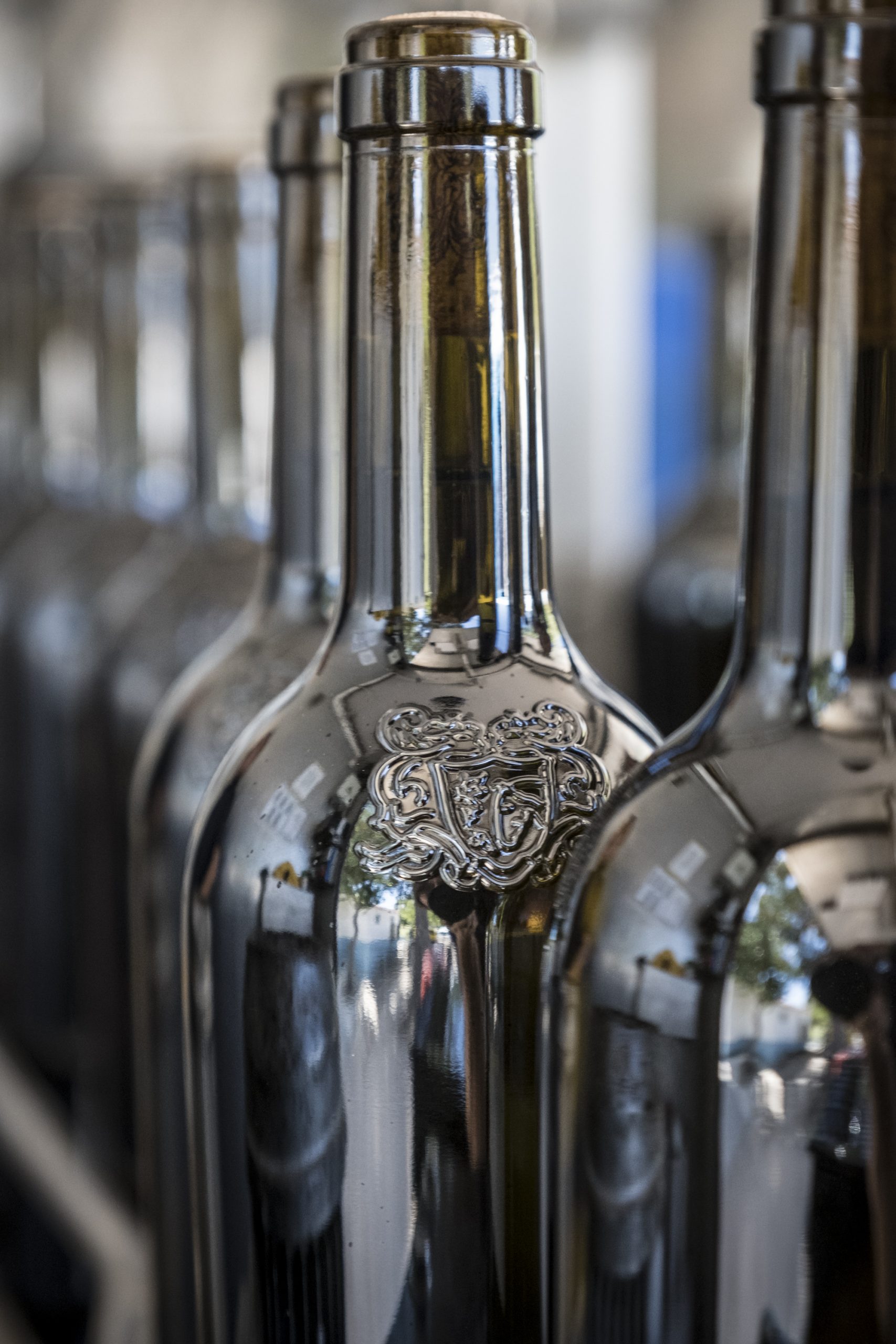 On that hot, sunny afternoon, there was little traffic on the motorway to Carregado, a 40‐km drive from the Portuguese capital. Mobile phone in hand, Wu looked on anxiously as the national teams of Portugal and Iran battled it out for a place in the knockout stage of the 2018 FIFA World Cup. The silence was only broken by cries of frustration whenever a shot by Cristiano Ronaldo went wide – or by a shuddering sigh when a Portuguese pass missed its mark or gave an opportunity to Iran. The final score, tied 1–1, made qualification uncertain.
Wu's decision to invest in Portugal by purchasing Quinta da  Marmeleira in 2016 looks to be a very safe bet. But the entrepreneur – owner of Tin Min Jade, active in Macao construction and real estate, as well as tea plantations and other businesses in mainland China – said it's only the beginning.
This year, the first wine from its vineyards will be placed on the market and will soon be available to Macao consumers.
Construction of the new winery building, designed in Macao, is about to begin and the next project, involving tourism, is starting to take shape.
But Portugal has become more than just a place for business or holidays for Wu and his family. Wu since May has been a leading member of the Chinese‐Portuguese Chamber of Commerce. His Portuguese language skills are improving. With the help of his driver, he memorises new words every day, and has already mastered the vocabulary for numbers, basic food and drink, and simple conversation. Enough to go to a café by himself and order a bica (expresso coffee) at the counter and say obrigado (thank you) when he's finished – the most basic of Lisbon daily habits.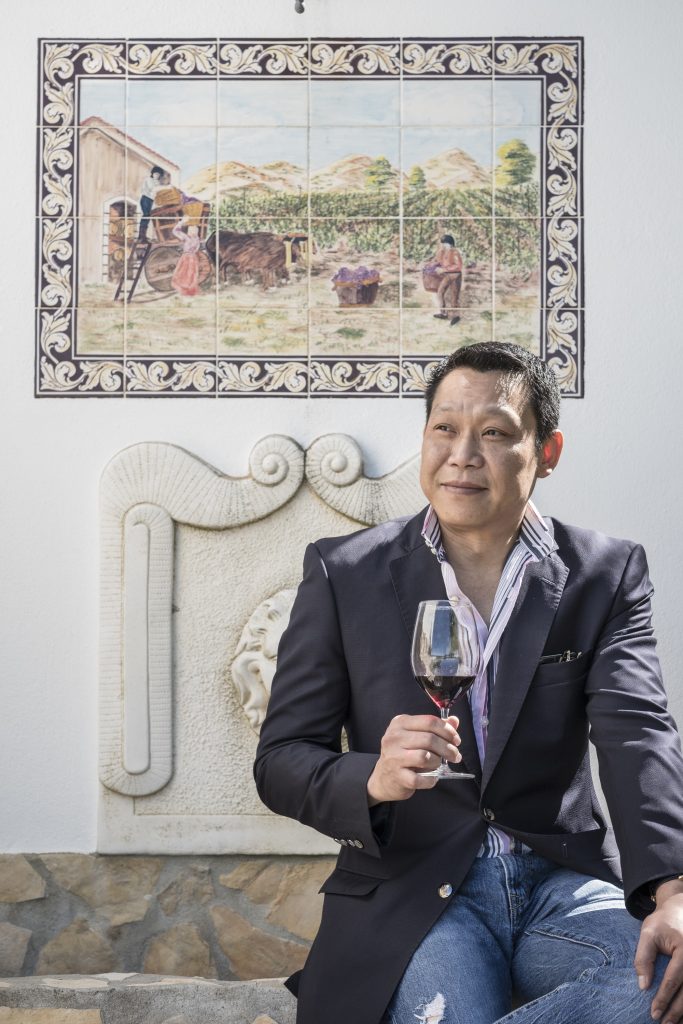 For his wife, Portugal is already a second home. Their youngest daughter is also learning Portuguese and should soon move there almost permanently: she's preparing to finish secondary schooling at one of Lisbon's best private schools and plans to attend university in the same city. She aims to study oenology (wine and winemaking), perhaps to help oversee wine production at Quinta da Marmeleira one day. Wu himself has been a Portuguese citizen for many years. The entrepreneur also has investments in London where the young daughter still studies.
The pleasure of business
On that afternoon Wu's wife took Macao Magazine on a tour of Quinta da Marmeleira. Accompanying them was the young Adriano Barrias, a Portuguese native who became fluent in Chinese in Macao, where he lived until his teenage years. He's now in charge of managing the large property, in addition to bridging the language gap with the other employees.
"My husband likes cigars, cigarettes, and wine. His dream has been to produce a top‐ ­quality wine," she said, "and I like nature very much." There's no shortage of that on their Portuguese property. In early summer, the trees around the main house at Quinta da Marmeleira are full of fruit: figs, lemons, plums, and more.
Tree branches bent low with fruit are a continual source of wonder. Wu ́s wife couldn't resist taking pictures with her phone along the way; occasionally plucking a piece of fruit from a tree, a little treasure for later. She stopped to sniff the lemons, inhaling the intense citrus aroma and even tried the figs, offering some to others. Smiling, it's clear the grove brings her joy and a measure of pride.
"I like Europe and wanted to take advantage of China's Belt and Road strategy," said she, also a Portuguese citizen. "We chose Portugal due to the good relationship through Macao; we have Quinta da Marmeleira wine bottles
a special connection to Portugal." She praised the Portuguese people for their kindness and hospitality, noting their welcoming approach makes it "easy for people who come from abroad."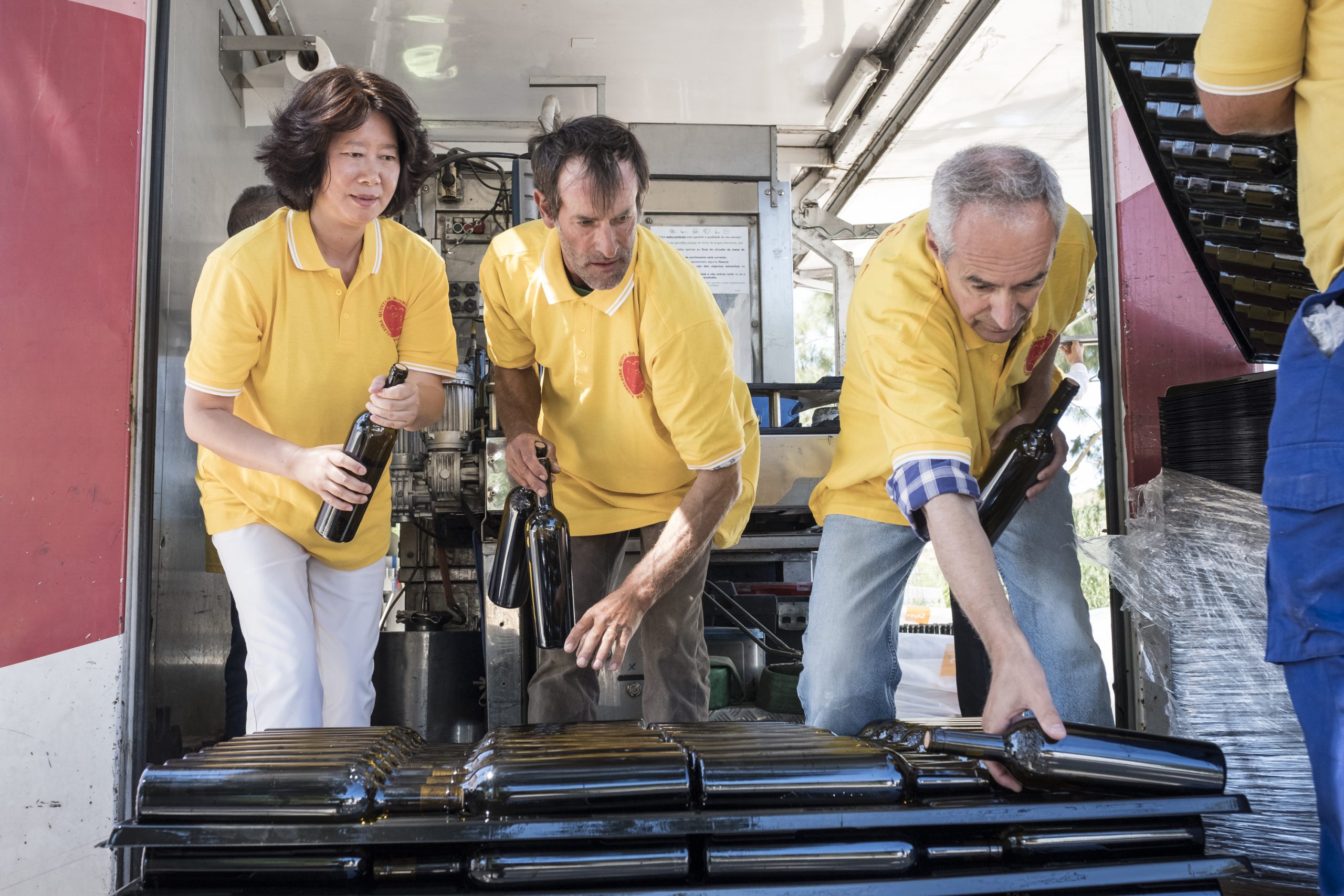 "Portugal is more relaxed for doing business or touring, which makes it very worthwhile," she said, gesturing warmly as she held two lemons in each hand. "We're developing this wine business and have ended up enjoying it."
Their youngest daughter's desire to come to Portugal, where Wu already spends half the year, has made both parents "very happy." It was not without difficulty, however: "She was upset because when she first came here, she couldn't speak to anyone because she didn't know Portuguese. She realised the distance was too large, so she decided to learn the language."
Harvest time is nearing and the vines at Quinta da Marmeleira were loaded with bunches of grapes. Green is still the prevailing colour in the estate's valleys, dozens of hectares planted with the touriga nacional, syrah, and alicante bouschet varieties. But the planted area is growing as adjacent land was purchased. The Quinta's new winery building is now undergoing the licensing process, with construction set to begin in September and finish within a year.
The winery's first vintage was nevertheless bottled in August. It's actually the third since Wu bought the property, but the first to be marketed: 60,000 bottles under three different labels for different market segments. The property has been expanding and the team has likewise grown. It now totals 15 people, including full‐time employees and service providers, from agronomists to stablehands.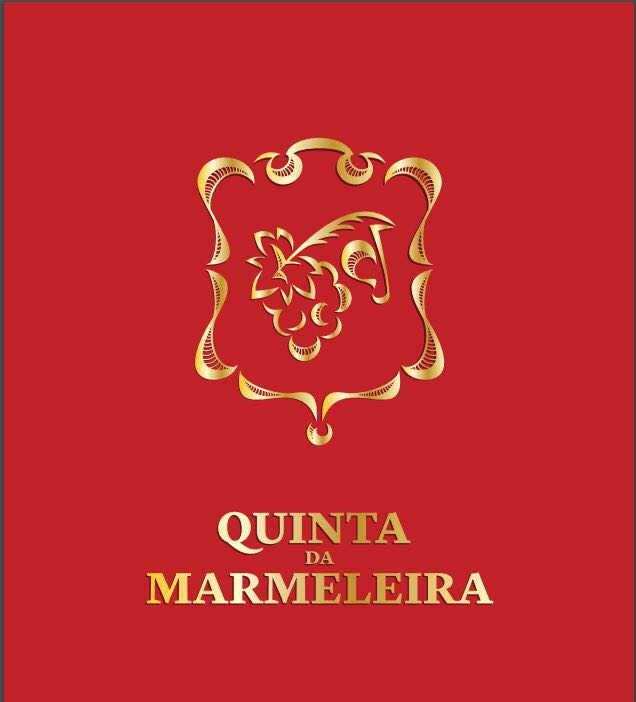 Dreaming big
"I'm not a wine expert, but if we talk about construction, I can tell you the names of each specific screw," Wu Zhiwei joked to Macao Magazine, taking refuge from the heat in his air-conditioned office at Quinta da Marmeleira. However, he has long appreciated good wine, especially from France.
'Quality' is the word most repeated when he talks about his wines. Wu is "learning as things are done," an unwitting paraphrase of the maxim "knowledge from experience made" of Portugal's greatest classical poet, Luís de Camões.
The three wine labels are almost ready, though certain details must still be worked out. The highest quality brand (reserva) represents the idea of 'change' and will be the high‐end brand, while the others are two combinations for the middle price ranges. Each label has a story connected to Quinta da Marmeleira, which has a history of producing award‐winning wines.
Although the wines will be available in Portugal, the main market, according to Wu, will be Macao and mainland China. Thus the wines' characteristics have been adjusted to the tastes of Chinese consumers, through personal consultations with his oenologist. Wu nevertheless stresses that the main goal is to "make quality wine, not to specifically adjust" to a market. "I hope the wines are not only accepted by the Chinese market," he stated. His wife nodded agreement by his side, while tasting plums picked in the field and trading impressions with their youngest daughter.
Wu has learned to appreciate the working methods of the oenologist, who was initially recommended
by friends. Now his concern is the "search for the ideal taste" for the wine, giving it time to age and exceptional conditions, including the use of wooden barrels. "If money was all that mattered," he emphasised, "we'd have bottled wine two years ago."
Recognition of quality is perhaps the only point in common between Portuguese and Chinese consumers, who have very different consumption habits, Wu noted. While for the Portuguese, drinking wine is an established part of the culture and daily life, for the Chinese, "the idea is different, more situation dependent… They may use a more normal wine at events or marriages, without being anything special. The drinking culture is more aggressive; the aim is to toast and then drink it down at once ganbei (bottoms up). Compared to the Portuguese, the Chinese drink less often, but can drink more each time.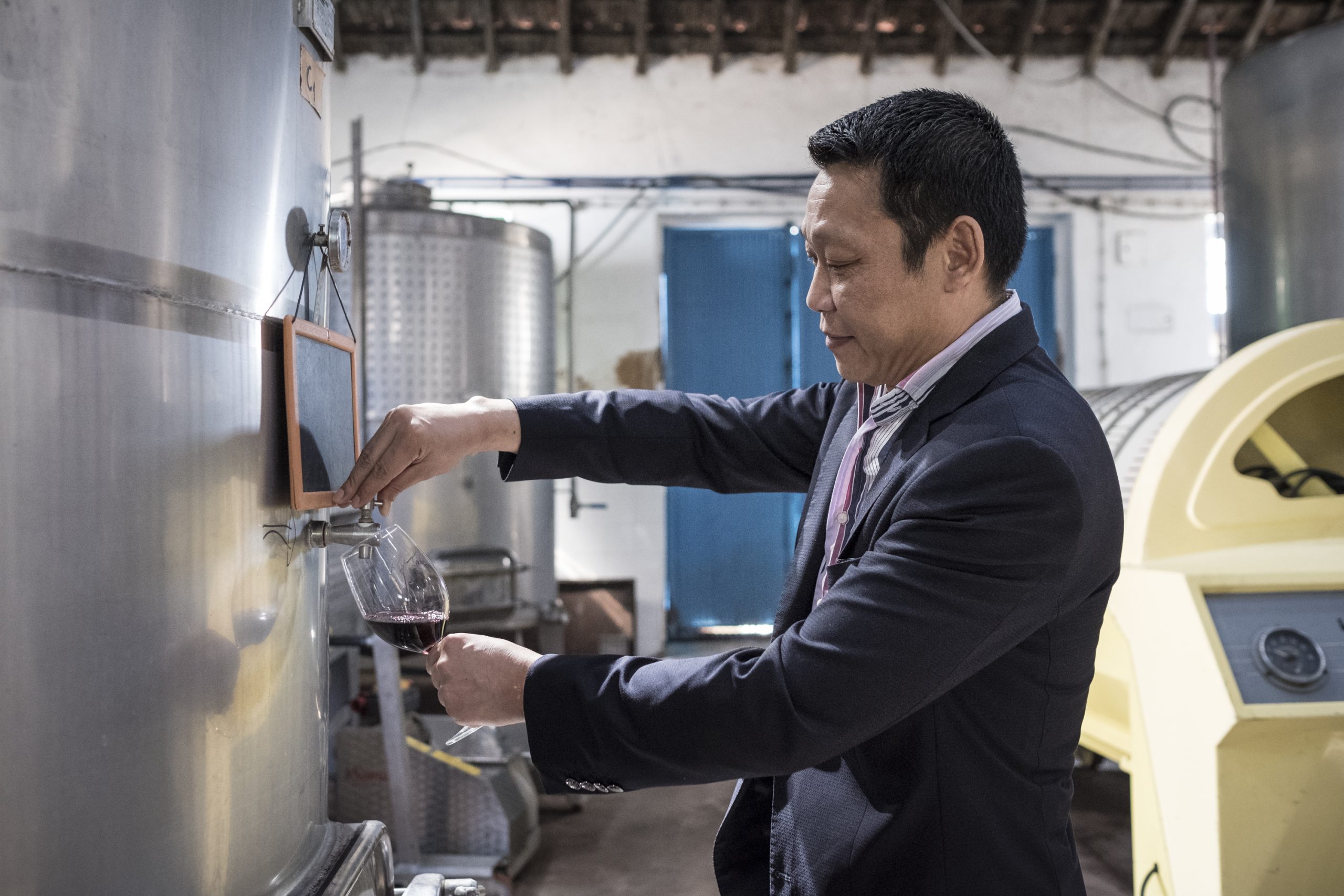 As the vineyard expanded, production will continue to increase in coming years. With more experience and more refined methods, the quality will also start standing out, believes Wu.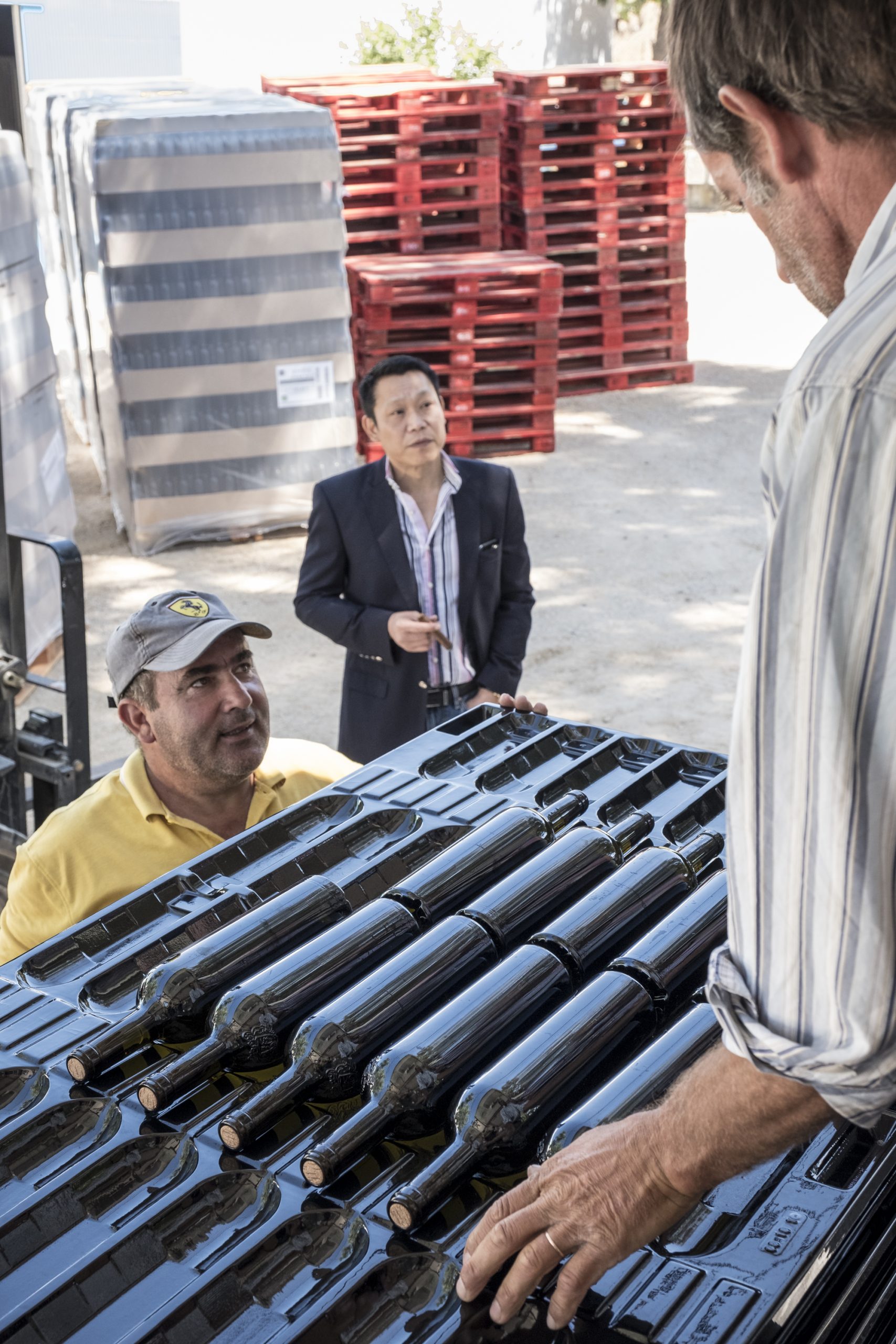 Before closing the deal on Quinta da Marmeleira, he visited many wineries in northern and southern Portugal, including some larger ones. The location – close to Lisbon, the airport, and some of the country's main motorways – proved decisive. "It was something that suddenly happened," said Wu. "But my dream is very big."
The drinking culture is more aggressive; the aim is to toast and then drink it down at once ganbei (bottoms up). Compared to the Portuguese, the Chinese drink less often, but can drink more each time.
'Made in Macao' architecture
The architectural plans for the new winery had just arrived at Quinta da Marmeleira from Carlos Couto. A long‐time Portuguese resident of Macao, Couto, is an international renowened architect with projects in Macao, Shangai, Taiwan, Cabo Verde, and Portugal, among others places. These days he divides his time between Macao and Taiwan, where he owns Tuga, a Portuguese restaurant, and sells Portuguese wines.
When asked, Couto jumped at the chance to design the winery; he had always wanted to do such a project, but never had the opportunity. Wu recounted his admiration for projects by the architect, a former civil servant, who offered an added confidence due to his knowledge of licensing processes in Portugal.
The structure will incorporate elements of traditional Portuguese architecture, particularly in the style of the windows and roof. Every detail has been thoughtfully planned with advisement from the oenologist, including the kind of vats used to age the wine, their arrangement, and the materials they will be made with. Wu is naturally excited by the construction project; after all, it's the business he's most familiar with. He's noticeably less interested in talking about the financial details of his investment: "I'm not worried about the amount invested… But I am concerned about the best price and deal. The aim is always to run a good business."
The original drawing of what would eventually become the winery, sketched by Wu within two hours in late 2016 and still in his possession, was inspired by a photo he saw of a former royal residence. Couto used it as a starting point to create the final project, which was modified to its current version during their successive conversations.
Meanwhile, another 'dream' is also taking shape: wine tourism. Despite the region's easy transportation access, including an airport, bus terminals and motorways, with Lisbon less than 30 minutes away, there are virtually no hotel offerings in the area. "People come here for events and then go sleep in Lisbon," Wu explained. By building a hotel along with the winery, those same people would be able to stay in the area. "It boosts the local economy when people stay longer."
The local authorities have shown a great deal of interest in the project, attracted by the potential to finally gain a hotel offering and develop tourism. The site for the hotel, located within the Quinta's property, has already been chosen.
But with wine production just beginning, things have to be done one step at a time, said Wu. The entrepreneur has businesses in various countries on two continents. He already spends half the year in Portugal, and with the winery project now well under way, he'll probably spend much more time there.
"I don't invest wildly in things. I'm focused on making this business work," he told Macao Magazine. And as this 'dream' consolidates, others move to the forefront. More familiarity with the local reality means new opportunities will naturally arise. The emphasis, as he continually repeated, is on quality. "My way of thinking is: first, do something well; then think of doing the next thing."
---
Marmeleira Winery looks to China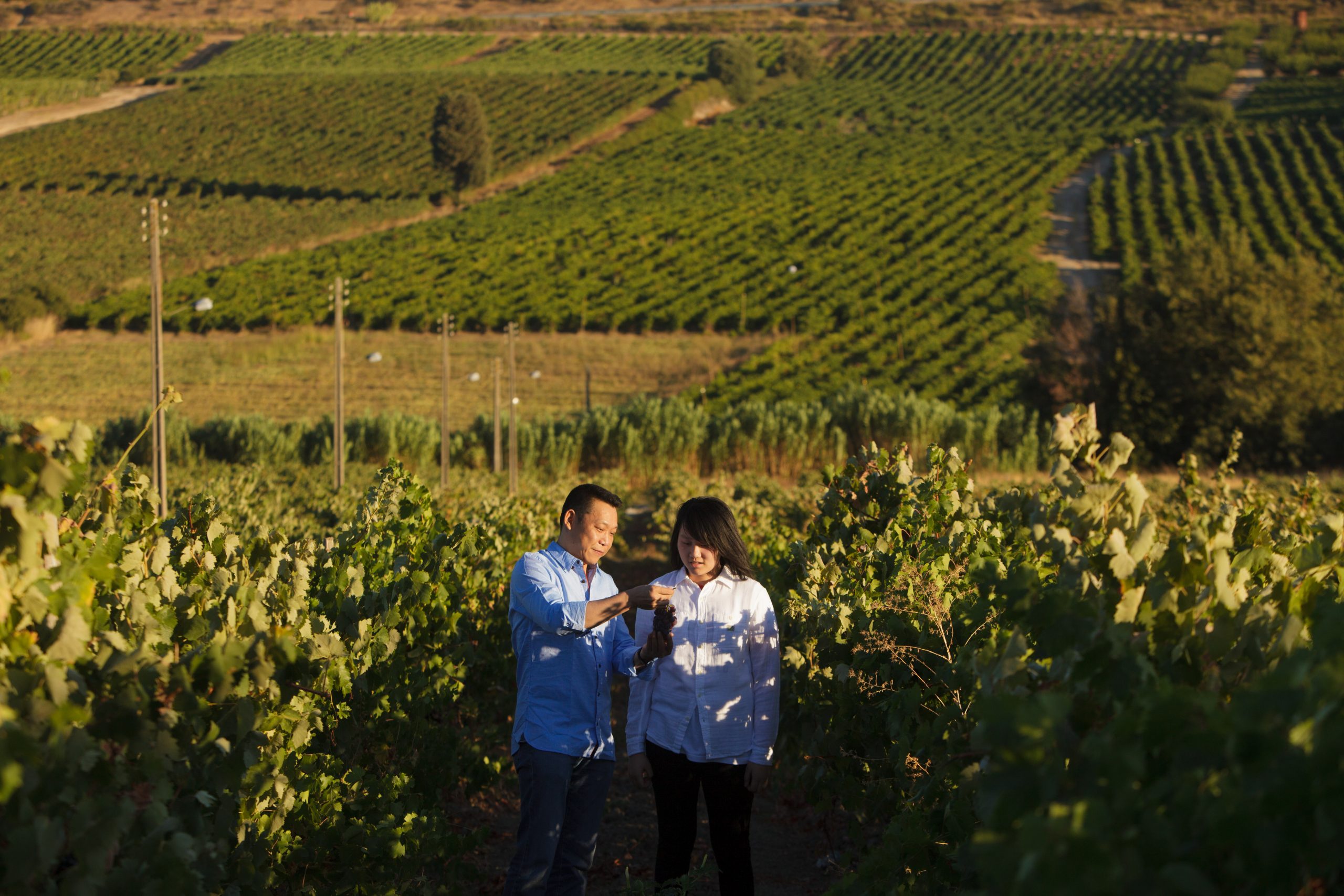 While the northern Douro Valley has an impressive reputation for winemaking, with production dating back to the Roman period, there is no shortage of admirers for wines produced the south. The areas surrounding the Tagus River, flowing through the heart of Portugal, boast their own centuries‐long tradition – and increasing popularity abroad.
The Quinta da Marmeleira ́s oenologist supervising wine production at Quinta da Marmeleira, cites the region's unique 'terroir' as central to its success: "The sea breeze rushes through the valley [where Marmeleira sits], so the heat of the day is tempered by the coolness of the nights," he told Macao Magazine.
Terroir encompasses the complete natural environment in which wine is produced, from the climate mix – Atlantic from the west, heat from the south and cool from the east – that gives the region "optimal wine maturity" to the mixture of clay and limestone soil in Marmeleira, similar to the famed Bordeaux region of France.
The estate's vines – half recently plant‐ ed, and half evenly split between 10 and 20 years old – are strategically distributed with two areas in the hills, facing north and south, and two in the lower part, with opposite positions facing the sun. According to Andrade, "the secret is to try to get the best from each position."
Other regions may produce more wine, but for the oenologist, the focus is "quality, not output." To reach dis‐ cerning consumers at every price point, Marmeleira is entering the market under three brands.
The top wine this year will be a red (10,000 bottles), selected from the best of the estate's crop, combining Portugal's "ambassador variety" – touriga nacio‐ nal – with syrah and alicante bouschet. A white wine version is planned for the future, once quality meets the winery's high standards for the brand.
"White wines depend a lot on the year – they are the ones that tell us when they're ready," he noted. Another top vari‐ ety is planned, but will only come out in exceptional circumstances, like Douro's Barca Velha, Portugal's most exclusive red wine.
"We have great ambition for this wine. With the 2017 crop we could have reached the point for bottling, but the weather was too warm," he told Macao Magazine. "This has to be a wine that lasts 20–30 years bottled."
The first white wine will instead be a reserva (40,000 bottles), a combination of arinto and moscatel varieties from the 2016 crop, that Andrade defines as "fresh, feminine, super floral." The red version (6,000 bottles) combines classical varieties like aragonez, castelão, syrah, and touriga nacional for a "soft, smooth [flavour] with hints of red fruits."
The 'budget' brand will be a red wine from the 2017 crop that combines aragonez, cabernet, castelão, and other grape varieties. Approximately 25,000 bottles will reach the market in the regular version – "open, simple, more consensual" – and 10,000 of the higher quality reserva version, fermented in wooden casks.
The oenologist has been attentive to pairing the Marmeleira identity and Lisbon area terroir with evolving wine-consumption trends, particularly in Macao and China. Andrade has been tasting over 50 Chinese wines a year, develop‐ ing a better understanding of the market, and notes that consumers tend to appreciate "Bordeaux‐style structure and colour."
Carregado, where Quinta da Marmeleira sits, has "exactly the features that Chinese wine drinkers value: warmth, softness."
The steady rise in wine consumption in China – and planting, already the second largest vine area in the world, after Spain – has led to more quality and refined tastes, drawing hundreds of European oenologists (namely French) to the Chinese market.
With the first bottling completed, Marmeleira turns its focus to grape harvesting, set for late September.