Among a flurry of development and urbanisation, the Pearl River Delta has been placing a heavier emphasis on its environmental credentials in recent years. And that's where the Macao International Environmental Co‑operation Forum & Exhibition (MIECF) comes in.
Innovative ways to support sustainability efforts was the name of the game at the conference, which took place from 30th March to 1st April. Hosted by the Government of the Macao Special Administrative Region (MSAR), MIECF was a joint effort between the Pan‑Pearl River Delta (PPRD) Region's various provincial and regional governments along with support and coordination from the Macao government.
The annual conference, put on at the Venetian Macao Resort Hotel, celebrated its 10th anniversary this year. The 2017 edition was centred around the theme, "Innovative Green Development for a Sustainable Future".
A leading event dubbed the "Green Forum" spanned eight sessions featuring some 50 distinguished speakers in the environmental sphere. They hailed from across the region and Portuguese‑speaking countries, as well as from nations worldwide, including the likes of the United States of America and Australia.
Alongside speeches on green development and an expansive session highlighting radical environmental initiatives across the PPRD Region, MIECF featured former executive director of the United Nations Environment Programme Achim Steiner as a keynote speaker. An exhibition showcasing products also took place concurrently at the Green Forum, attracting conference attendees with original ideas and inventions.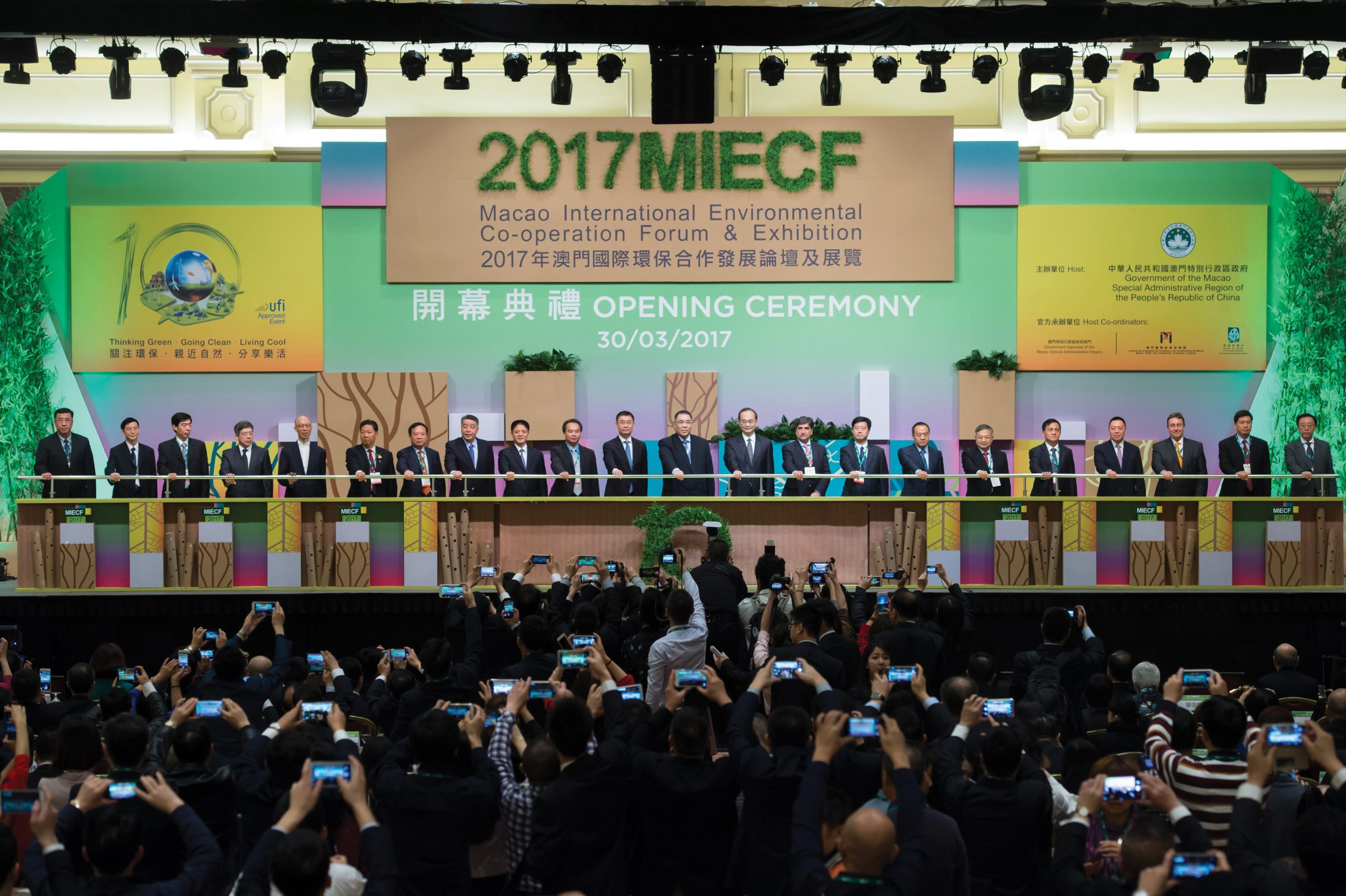 Bridging the gap
A bigwig in the environmental world, Steiner is the international vice‑chair of the China Council for International Cooperation on Environment and Development (CCICED). Speaking in an industry insights session, Steiner addressed harnessing environmental innovation as key driver for sustainable development.
He focused on how the environment can be a driver for not just sustainable development, but on innovative aspects of environmentally friendly measures carried out in policy can actually aid business and industry rather than work against them.
In other words, it is possible to bridge the gap between environmental causes and business interests.
"When we talk about the environmental necessity to act on issues of change, very often this discussion in our society takes place as if environment is imposing a burden on society and on our economy, which in the end harms business rather than helps business," Steiner said. This logic has been "very much part of the 20th century across the world," he explained.
"In part, this is because in the last 200 years doing 'business' – even if it means exploiting the environment and polluting the atmosphere – did not seem to have a cost."
Steiner said environmental damages is a price that's no longer "justified or justifiable" in the 21st century. "We must decouple economic development and growth from making an impact."
From waste to energy
Elsewhere at the Green Forum, speakers from Macao and Hong Kong addressed delegates and media in a session dedicated to environmental solutions in the PPRD Region and Greater China. Li Juanqiao, chairman of the Macao Association of Environmental Protection Industry, spoke about the problem of food waste in the SAR.
"The daily waste created per person in Macao far outweighs those of other cities in the region, like Hong Kong and Guangzhou," he said. "The main reason for this is because large‑scale entertainment facilities near the Cotai Strip continue to develop."
An estimated 40 per cent of Macao's waste is generated by hotels, Li said. It is anticipated that food waste will continue to increase.
A clear solution would be to turn the waste into something useful. "Most food waste goes to a rubbish incinerator, which uses up more fuel and in turn increases energy consumption. If power can be generated from food waste – a practice that has been adapted by many countries – then the environmental benefits are considerable." Li added that 200 tons of food waste per day is estimated to generate 12 million kilowatt‑hours of energy, which is equivalent to what is needed to power 3,500 households for a year.
In the same vein, Zhou Zhiping, executive vice‑chairman of the Hong Kong Environmental Industry Association, provided his insight on models of community waste management in Hong Kong. He discussed the city's way of combating this with a system that includes smart bins that track waste levels.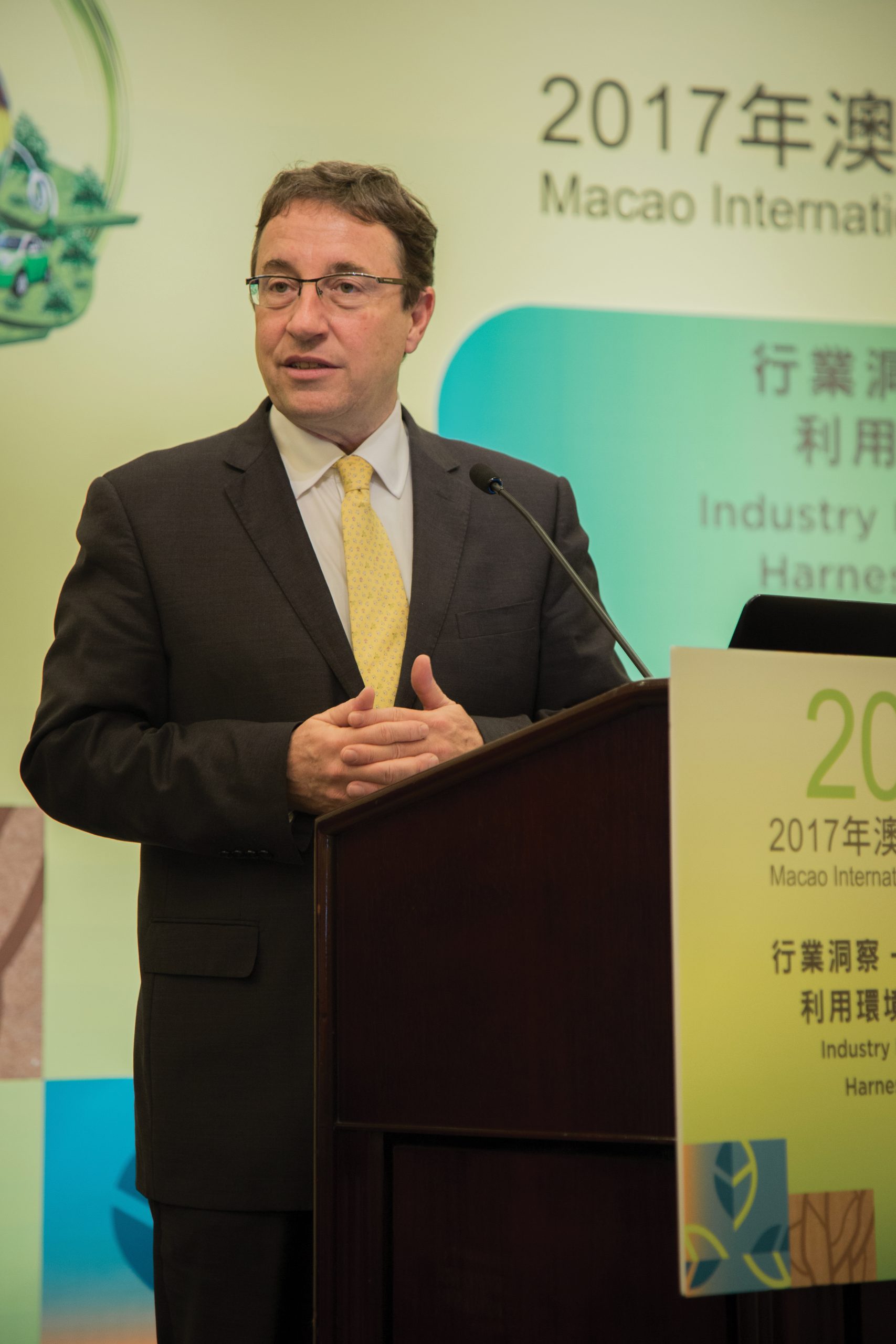 "The smart weighing system provides a platform to carry out classification of garbage at the beginning of collection, and [helps people understand] the concept of recycling," he explained.
"Through the smart weighing system we will be able to reduce the cost of waste collection, as well as transferring [the system] into a digitised model. This way, resources can be well‑utilised."
When we talk about the environmental necessity to act on issues of change, very often this discussion in our society takes place as if environment is imposing a burden on society and on our economy, which in the end harms business rather than helps business

Achim Steiner
Going coastal
While the spotlight was on the PPRD, representatives from other countries also shed some light on sustainability initiatives in their home countries.
Celso Aleixo Pinto, coordinator of the Unit for Coastal Monitoring and Risk at the Portuguese Environment Agency, spoke about sustainable coastal management, climate adaptation and resilience of cities, with an emphasis on managing the erosion of Portugal's coastlines.
In battling this, Portugal is very much taking nature into consideration. "It's clear for us that Portugal faces significant threat, arising from coastal erosion and coastal flooding," Pinto said. "Our main coastal management strategy is adaptation."
Developments in hazardous areas will be restricted, while existing hard defences will be kept in place. "These are under the concept of nature‑based solutions."
Saving future energy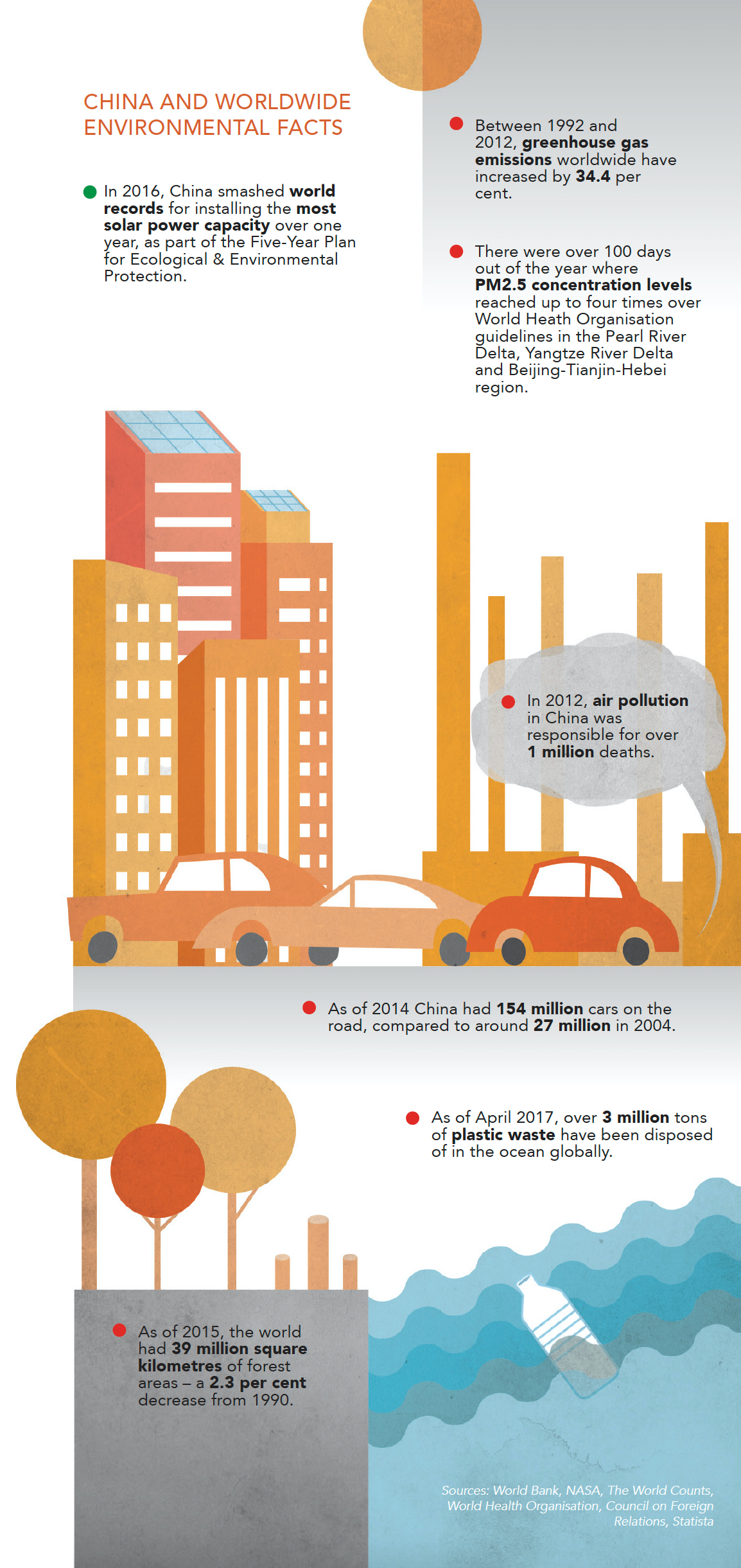 A session highlighting the blueprint for innovative green development was co‑developed by the Hong Kong and Macao Affairs Office alongside China's Ministry of Environmental Protection.
Li Haiying, a division director and secretariat of the China Council for International Cooperation on Environment and Development, spoke about the importance of a sharing economy in relation to reducing carbon footprint.
"Sharing economy is increasingly important in our daily lives," Li said. "Through it, future energy can be saved. It's becoming very much a part of life in China," she added, with the likes of AirBnB and taxi‑calling app Didi Dache gaining major traction. In 2015 the sharing economy industry reached RMB1 billion in China alone.
"We're making China realise its sustainable potentials." Tao Xiaosong, the division director of the general office at the Ministry of Environmental Protection in China, addressed the importance of deepening reform in environmental protection. In particular, the Five‑Year Ecological Environmental Protection Plan released by China's State Council – which published the 13th edition in 2016 – served as a focal point of her speech.
"The structure is changing in China, which brings environmental challenges," Tao said. "However, we've not only expanded in size, but also become more efficient."
Despite positives such as attention from the public and widespread use of social media on environmental causes, major developments across the country means pollutant levels remain high. Meanwhile, the economic downturn has unfortunately culminated in great pressure on the environment.
The good news is, the authorities have made active progress in their endeavours, she added.
Reduce, reuse, recycle
Global and local companies alike put their best inventions forward at the Green Showcase, an exhibition featuring energy‑saving measures in aid of sustainable living.
The standout product of the day, however, goes to a booth design by Melco Resorts and Entertainment, which comprises a wall featuring recyclable materials generated from daily operations in the hospitality industry.
"We aim to showcase the variety of products that can be reused and recycled… to minimise waste and encourage recycling," says Joshua Ho, vice‑president of property services, Melco Resorts and Entertainment.
More than 90 per cent of the materials featured on the wall are used products, he explains, which range from wine wood box for the booth flooring, to water bottles and guest room key cards as decoration.
The wall was the brainchild of Akiko Takahashi, executive vice‑president and chief officer responsible for Melco's human resources and corporate social responsibility. Takahashi provided the team with ideas and directions, while Melco's local SME partner EgoDesign developed design details.
The design won the Green Booth Award, which in true spirit of the conference encourages exhibitors to use environmentally friendly materials in the construction of the booths themselves, which in turn reduces waste once the event wrapped up.
The wall was unveiled during the 2015 MIECF with "very positive comment from the industry," Ho adds.
This is far from Melco's first brush with environmentally friendly initiatives: the company has invested over MOP183 million in green infrastructure. The iconic House of Dancing Water show, for example, uses a filtration system and large water tank during maintenance, enabling infinite recycling.
"We understand that the daily hotel and resort operations consume a lot of resources. Hence, we believe that it is our obligation to take the lead in the sustainable development of Macao, and reduce environmental footprints," Ho says.