As Secretary for Social Affairs and Culture, Alexis Tam Chon Weng has been responsible for the health, education, sports, social welfare, tourism and culture sectors of Macao since 2014. He has been working as a civil servant since 1989.
From 1999 to 2009, Tam headed the office of Chui Sai On, then Secretary for Social Affairs and Culture. In 2009, when Chui Sai On was appointed Chief Executive of Macao, Tam headed Chui's office once again.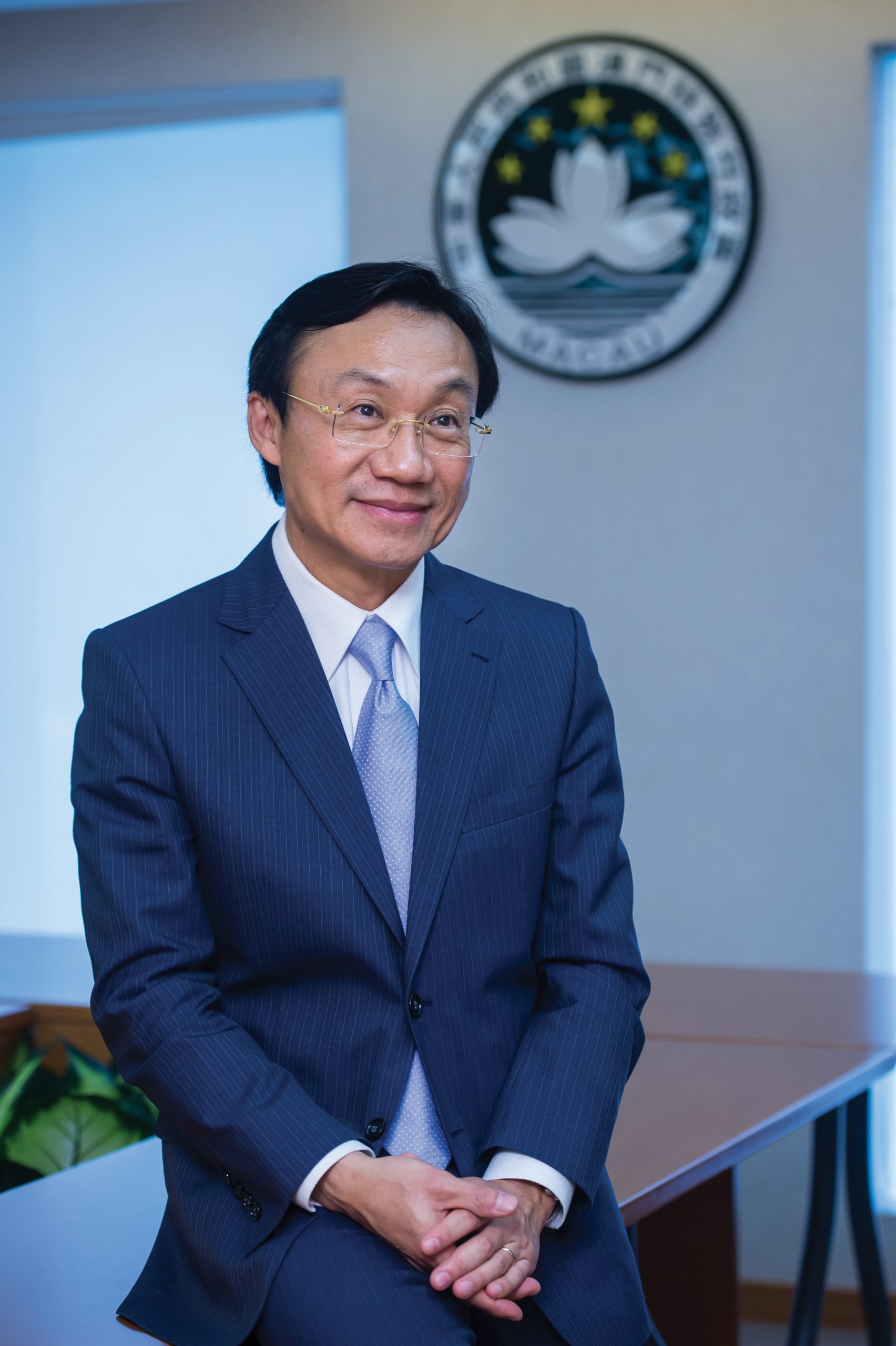 You oversee a wide range of areas, each requiring its own set of specialised professionals. Are there sufficient skilled labour and professionals in Macao to meet the city's growing needs?
Where there are needs, they are met. Of course, how those needs are met varies depending on the specific project or area concerned. For example, we may hire foreign experts when required, as in the case two years ago when we contracted two non‑Chinese‑language therapists or when we hire medical specialists not found locally. However, we always look for solutions locally first. Regardless, one thing is certain, our priority is the wellbeing of our residents, as President Xi Jinping stated during his visit in 2014.
Do you believe Macao's limited geography affects the local quality of life and the development of new ideas?
Macao is small in geographic terms. That is a fact. But its size does not hinder the development of new ideas. Indeed, the city has been a source of inspiration for many writers – as recently evidenced at The Script Road Macau Literary Festival – as well as in cinema and cuisine. The city's growth undeniably has presented challenges to local quality of life: for one, the streets are more crowded with vehicles and pedestrians.
Macao is not the tranquil city of old. It's a cosmopolitan city with a vibrant pace whose dynamics continue to draw many people to settle here. We have to balance development with maintaining quality of life. Statistically, life expectancy in Macao has increased, which is only possible with increased standard of living.
Your connection to and friendship with the Portuguese community is well known. Do you think that a stronger relationship with Portugal and Portuguese‑speaking countries is an added value for Macao?
The Central Government has enhanced the role of Macao, entrusting it with the mission of acting as a trade platform between China and Portuguese‑speaking countries. During Premier Li Keqiang's recent visit, Macao was also entrusted with a new role—that of acting as a cultural bridge between these nations.
Macao's history is indelibly bound to that of the West and particularly to the Portuguese. It is part of our very essence. This unique connection is the foundation of the important role we play, and we are proud of the responsibility entrusted to us. And from another angle, Macao is singular in its instruction of the Chinese language and in sharing its cultural values.
In addition to these added values, Macao's inclusion in the "Belt and Road" initiative highlights the importance of its historical role.
You have advocated the importance of training bilingual professionals in Chinese and Portuguese. What are the government and government‑backed institutions doing to promote this?
This is both a necessity and an opportunity. In recent years, we have increased training opportunities for those who want to further their language knowledge, increasing enrolment for beginner's courses as well as fluency. The Office for Higher Education has increased grants for those who wish to continue their studies in Portugal which are no longer limited to the study of Portuguese language or law. The number of schools offering language courses has been growing as has the number of students attending. The Education and Youth Affairs Bureau has been providing more human and material resources to support schools that offer Portuguese language. We plan on offering two bilingual courses in 2017. I am acutely aware, as we all should be, that this is a complicated project and will take time over many generations, but I would like to ensure that learning Portuguese language is an opportunity within everyone's grasp.
Macao offers a very dynamic culture, history and heritage. What can be done to further attract tourists and disassociate Macao from its reputation as being merely a casino destination?
The promotions we have undertaken in various marketing campaigns have focused precisely on our heritage, both tangible and intangible. We hope that the candidacy we submitted to UNESCO for recognition as a gastronomic destination is successful, which could then count as one more attractive element. Our cultural dynamism throughout numerous diverse areas of creativity will also continue to attract more people to our city. However, we must bear in mind that the gaming industry accounts for a significant portion of our GDP, a connection that is ever present. Efforts have been made and actions implemented by various players to increase the availability of non‑gaming activities, which contributes to the government's diversification strategy.
How do you feel about micro‑museums? Can Macao adopt this strategy as other countries have?
Macao already has the highest per centage of museums per square kilometre of any city in the world, but I see no reason to exclude any new forms of cultural exhibition. There are aspects of our history that could indeed be creatively publicised via micro‑museums. It would be interesting and strategic to position them along local commuting routes.
Macao has become increasingly well known in the past few years for its cultural activities. Do you consider Macao a hub for creativity?
The creativity of our local artists is gradually earning recognition. As Secretary for Social Affairs and Culture, this is particularly satisfying, as we have striven to develop the creative and cultural industries. While there is no guarantee that a start‑up will succeed, the assistance granted by the Cultural Affairs Bureau and the Creative and Cultural Industries Fund is substantial, enabling many projects to reach maturity. We are confident that the help we provide is vital, but this process is still in the early stages and is dependent on geography. For example, merchandising material for the Grand Prix has now become a key component of the local cultural and creative industry. I am very pleased that major local companies increasingly value the acquisition of local products, which is also a means of promoting and recognising the value of local creativity.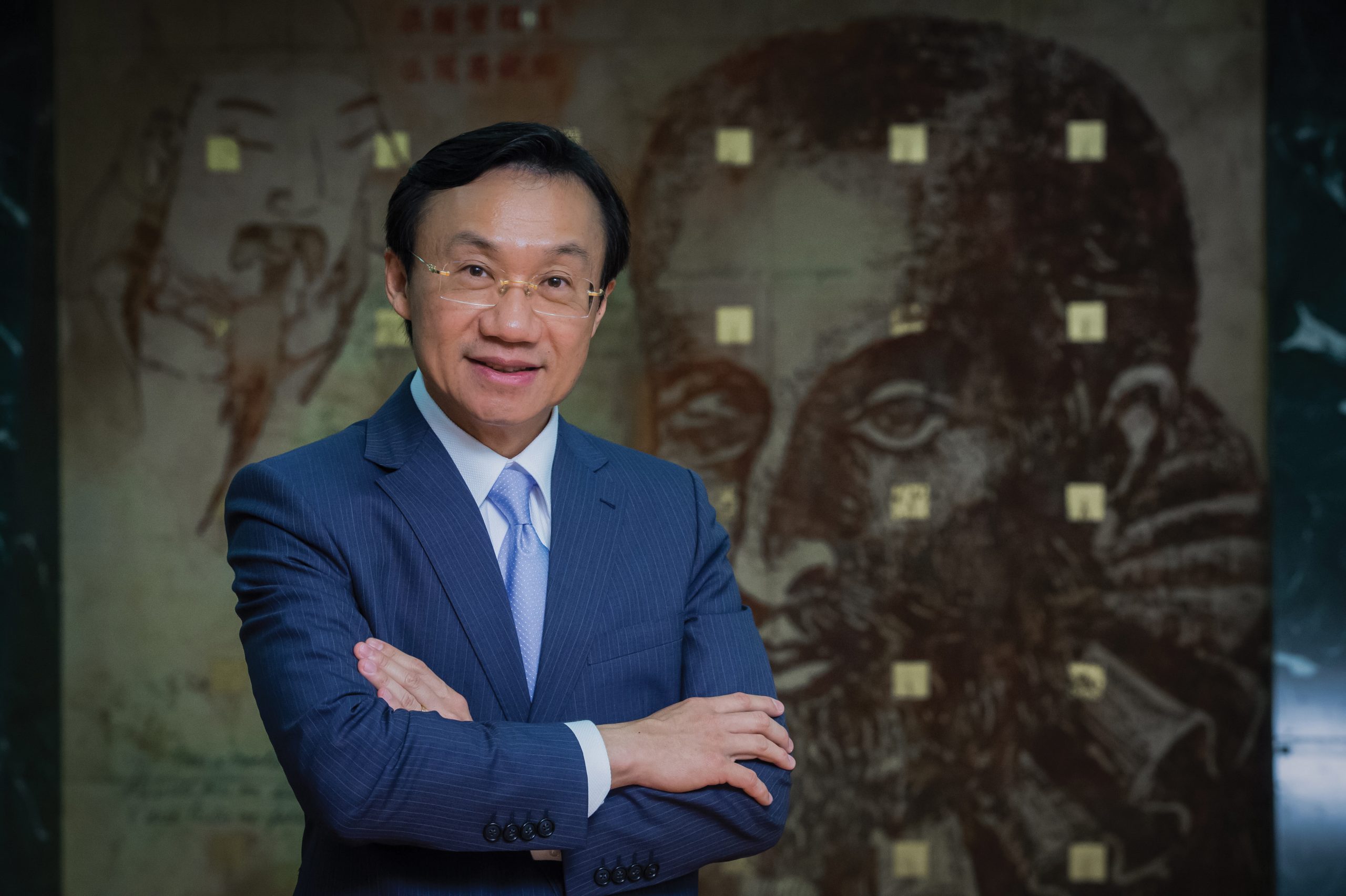 Macao's history is indelibly bound to that of the West and particularly to the Portuguese. It is part of our very essence. This unique connection is the foundation of the important role we play

Alexis Tam
Tourism continues to grow annually. What is the government's plan for handling this situation?
A look at the last seven years shows a trend of significant growth from 2010 to 2012, followed by a decline through 2015, and then a resurgence. The current projections for 2017 are encouraging. The government's strategy is to continue dealing with this pragmatically. We are dedicated to maintaining the standard of living. To that end, we have successfully implemented a number of measures to control tourism where and when appropriate. The National Tourism Administration has also helped by reporting the number of visitors from mainland China. Studies have indicated that Macao's tourism capacity has yet to reach its limit and that opening new enterprises helps redistribute tourism pressure in certain areas of the city. We are striving to become a world tourism and leisure hub and that means ensuring that visitors enjoy their time here.
A good health system is fundamental for quality of life. How would you evaluate Macao's?
The latest studies have shown that satisfaction with the public health system has been growing significantly and consistently. An independent evaluation conducted by an Australian entity rated Conde São Januário Hospital as excellent for the first time in four categories. The investments we have made in training and hiring new professionals along with purchasing new equipment have yielded results. Additionally, adjustments in clinical consultation schedules within specialty areas and the creation of diagnostic centres have also improved management efficacy. Finally, our partnerships, including those with the private sector, have helped improve efficiency by reducing waiting lists, for example. So I believe the strategy we are taking is both right and necessary.
Macao's aging population is growing, and increasingly support is needed for the elderly. What is the strategy for 2017?
The government's strategy is clear: it advocates and supports that the elderly remain close to their loved ones and maintain social interaction and physical activity. Family plays an indispensable role. The 2016–2025 action plan for elderly support services lays out several measures and initiatives comprising medical, legal and social components, among others. Major goals include enhancing the role of senior citizens and their contribution to society alongside guaranteeing their physical and psychological wellbeing. This incorporates partnerships with various civic organisations, without whom it would be much harder to achieve these aims.
You have been in public administration for many years. How would you evaluate your work, and is there anything you still hope to accomplish?
I feel privileged. My civil service career began in 1989, and I have had the honour to serve Macao in various positions. Naturally, I feel satisfied and proud when our work gains social recognition, but I also pay close attention to social opinion with the humility expected of one who serves in public office. As long as I am here, I want to do my best and help the Chief Executive accomplish policies. I strive to do what I do well in order to work on behalf of the people, which is very uplifting and stimulating.
Where do you see Macao in the next decade with respect to cultural development?
Macao will be a hub of great cultural dynamism, and not just in our role as a privileged platform for cultural interchange with Portuguese‑speaking countries: Macao will also be enlivened thanks to its ability to foster public‑private initiatives around the common goal of jointly promoting its culture, tourism and leisure. I'm certain that the experience that began in Nam Van can be successfully repeated in other parts of the city, thereby improving residential living while simultaneously diversifying tourism. Several initiatives are currently in the works, such as the Macao Grand Prix as well as numerous exciting festivals including The Script Road ‑ Macau Literary Festival, cinema festivals and even one featuring fireworks. Macao is also becoming known for its cuisine, its support of the arts, and the cultural vitality of its many diverse residential communities, making this an ever more interesting place.