The presentation ceremony of Decorations, Medals and Certificates of Merit 2016 was held at the Macao Cultural Centre on January 6th 2017. Cheong U and Lei Pui Lam each received the Decoration of Honour – Golden Lotus and Kou Hoi In and Van Kuan Lok each received the Decoration of Honour – Silver Lotus.
These prestigious awards were given by the Macao Special Administrative Region Government to individuals or entities who have made an outstanding contribution to Macao and improved its image and reputation. In total, the government awarded 36 individuals and organisations in recognition of their achievements.
Cheong U
Golden Lotus
Cheong U was the first commissioner of the Commission Against Corruption, set up in December 1999 after the handover. He held the post for 10 years. Then he was appointed Secretary for Social Affairs and Culture, a position he occupied until December 2014. He has had more than 30 years experience in the civil service.
He was born in China in November 1957 and has lived in Macao since 1963. He obtained a Bachelor's degree in Public Administration at the University of Macau and a Master's in Public Administration from the Zhongshan University.
Cheong joined the Macao government in 1980 and served as the head of the Department of Public Health and Environment on the Municipal Council. He was appointed a member of this council in 1996 and vice president in 1997.
Speaking at the awards ceremony, Cheong said that he was honoured and thankful to receive the award. "I thank the country and Macao for giving me this opportunity. In more than 30 years of public service, I have been very fortunate to work with an outstanding team… this award belongs to everyone."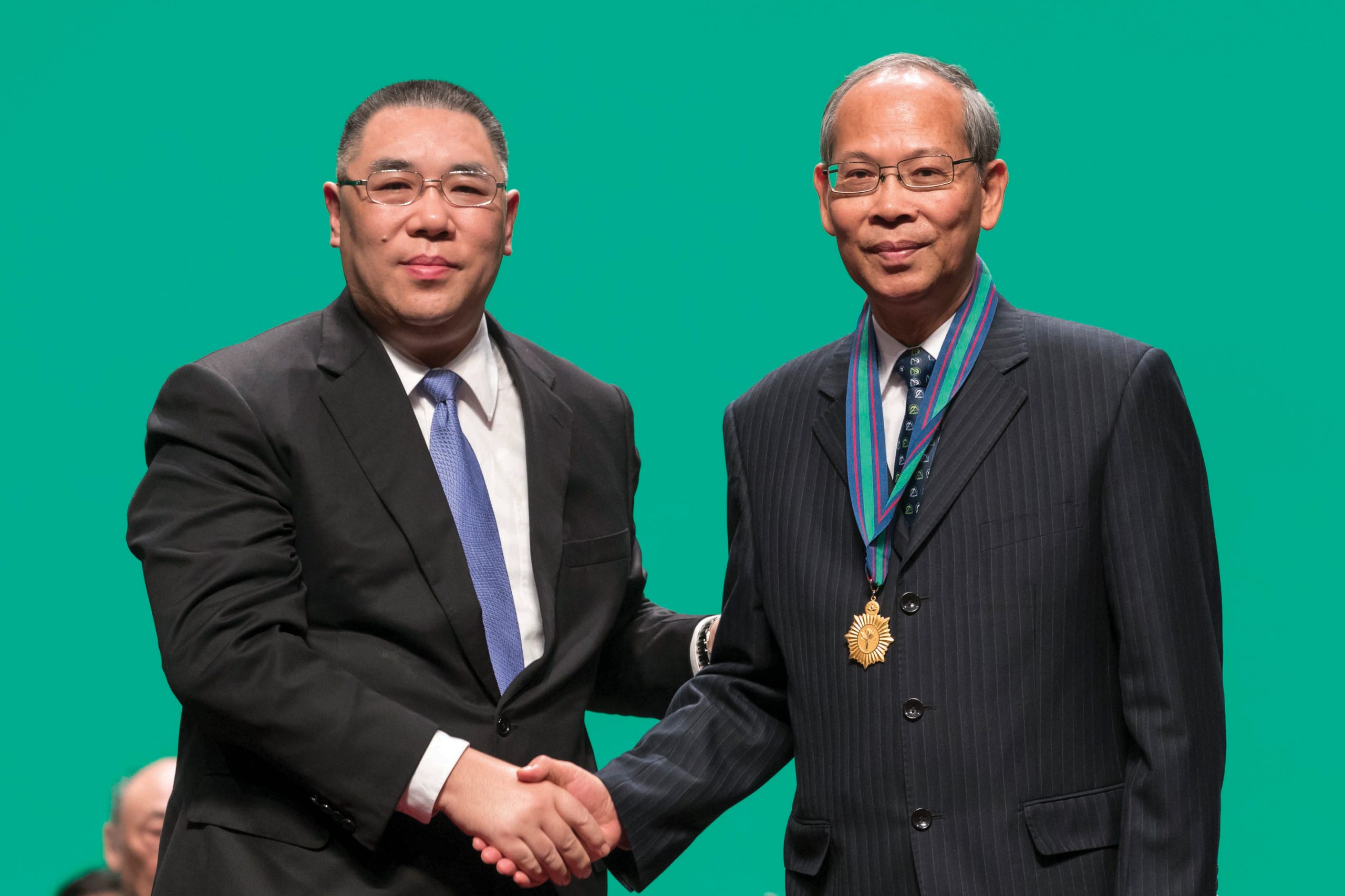 Lei Pui Lam
Golden Lotus
Lei Pui Lam is deputy chairman of the Macao Chinese Educators Association (MCEA) and a member of the National People's Congress. He was born in 1948 and started his teaching career at the age of 19. Lei Pui Lam has been involved with education in Macao for nearly 50 years and continues to be one of the leaders within the education sector.
Founded in 1920, the MCEA is one of the oldest cultural and educational groups in Macao, with 32 schools and more than 4,000 individuals as members.
Speaking at the awards ceremony, Lei said that he was delighted to receive it. "What one person can do is limited. This award is an honour for collective effort and a new starting point, to contribute all our efforts in the education field."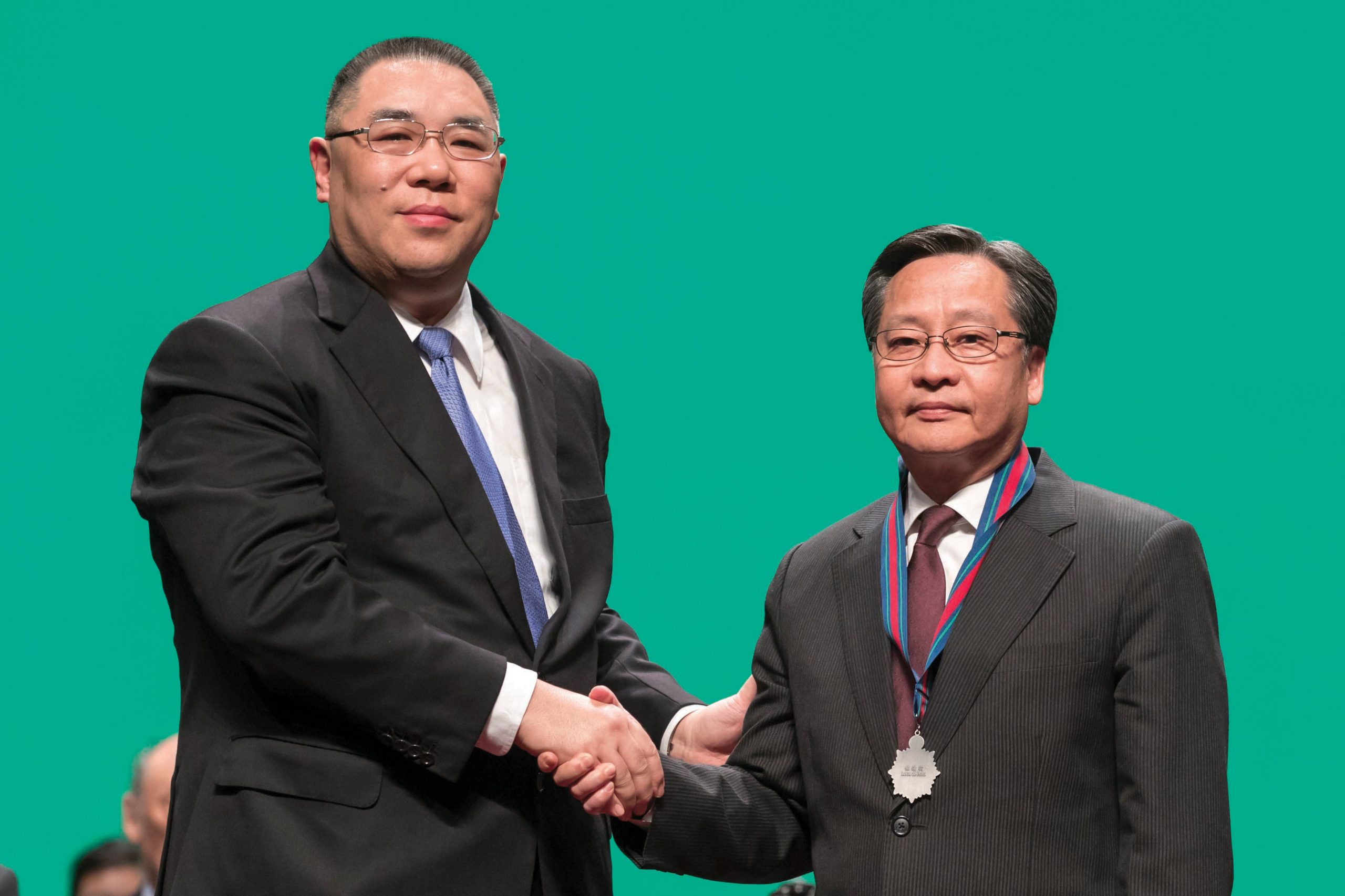 Kou Hoi In
Silver Lotus
Kou Hoi In is president of the board of directors of the Macao Chamber of Commerce, a member and second secretary of the Legislative Assembly and also a member of the National People's Congress. He was born in Macao in January 1953 and his ancestral home is Haifeng, Guangdong province.
For nearly 40 years, he has held many positions in public and business life. He is vice-‑chairman and chief executive of the Macao Chinese Native Products Company and the Macao China National Goods Company, as well as vice-‑chairman of different business associations. He has also been active in charity and education, serving on the charity board of the Kiang Wu hospital and on the administrative board of several schools.
Speaking after the award ceremony, Kou thanked the government for the honour. "I would like to share the award with my colleagues, family and friends. In the future, I will work harder to serve Macao, especially to create a good environment for industry and commerce. I will do more for the prosperity, stability and continuing development of Macao."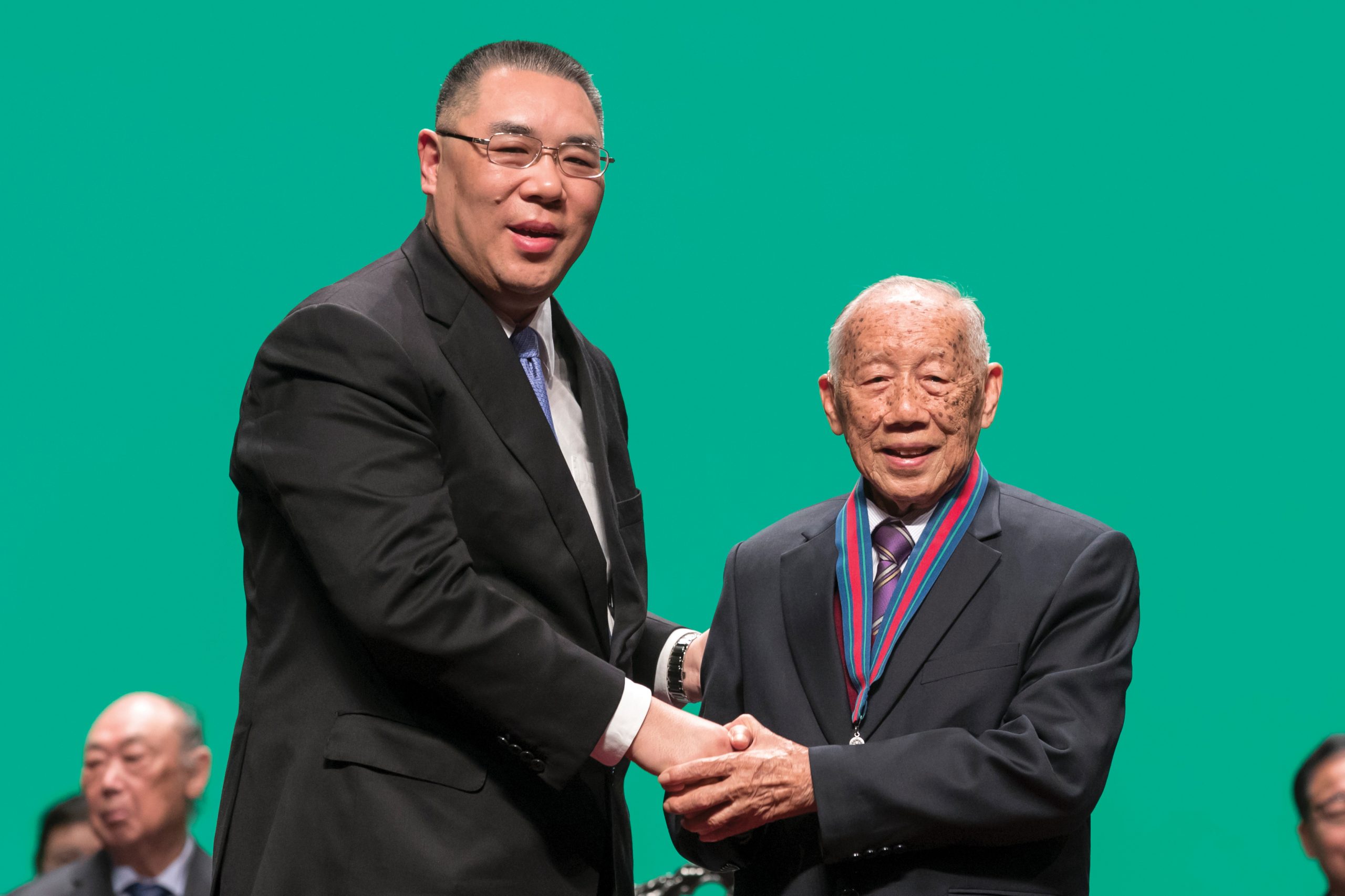 Van Kuan Lok
Silver Lotus
Van Kuan Lok is president of the fiscal committee of the Sports Olympic Committee of Macau China. A former school headmaster, he has been involved in the sports community of Macao for more than 60 years. He was born in 1921 in Guangzhou, capital of Guangdong province, but grew up in Xinhui city which is also located in Guangdong.
He has held leadership posts in many sports associations in Macao, including those of ping pong, Wu Shu and Chinese chess (Xiangqi). He has held leadership roles in the Asian and world governing bodies for Chinese chess.
In 1988, he received an award from the Macao administration for his achievements in sports and is also a member of the Chinese People's Political Consulative Conference for Xinhui.
After receiving the award, Van said that he was happy and thanked his colleagues, saying that the award was a group effort. "The government is promoting the reform of sport education and continuing development of sports. I hope I can work hard in the future, to further these goals."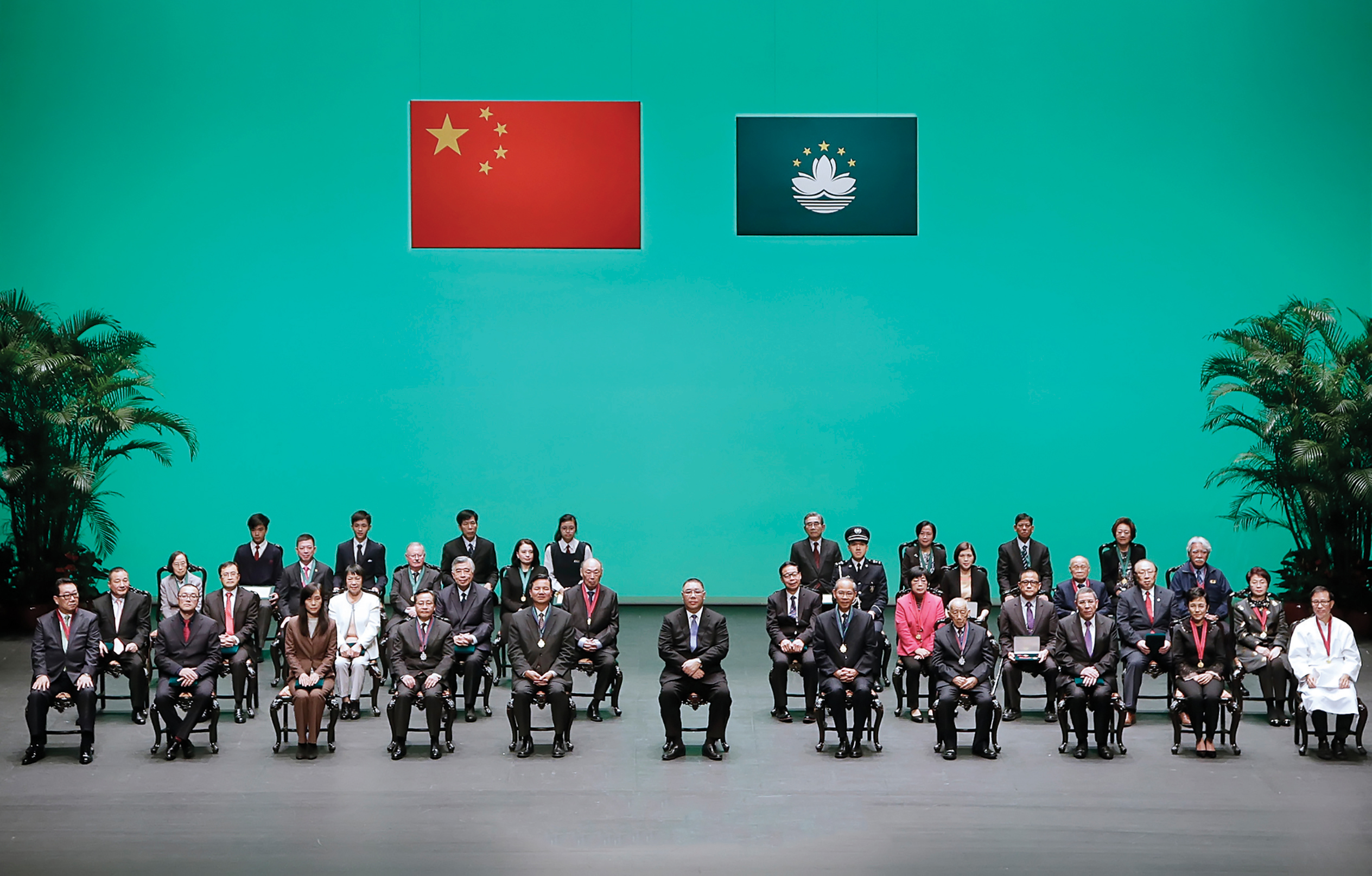 ---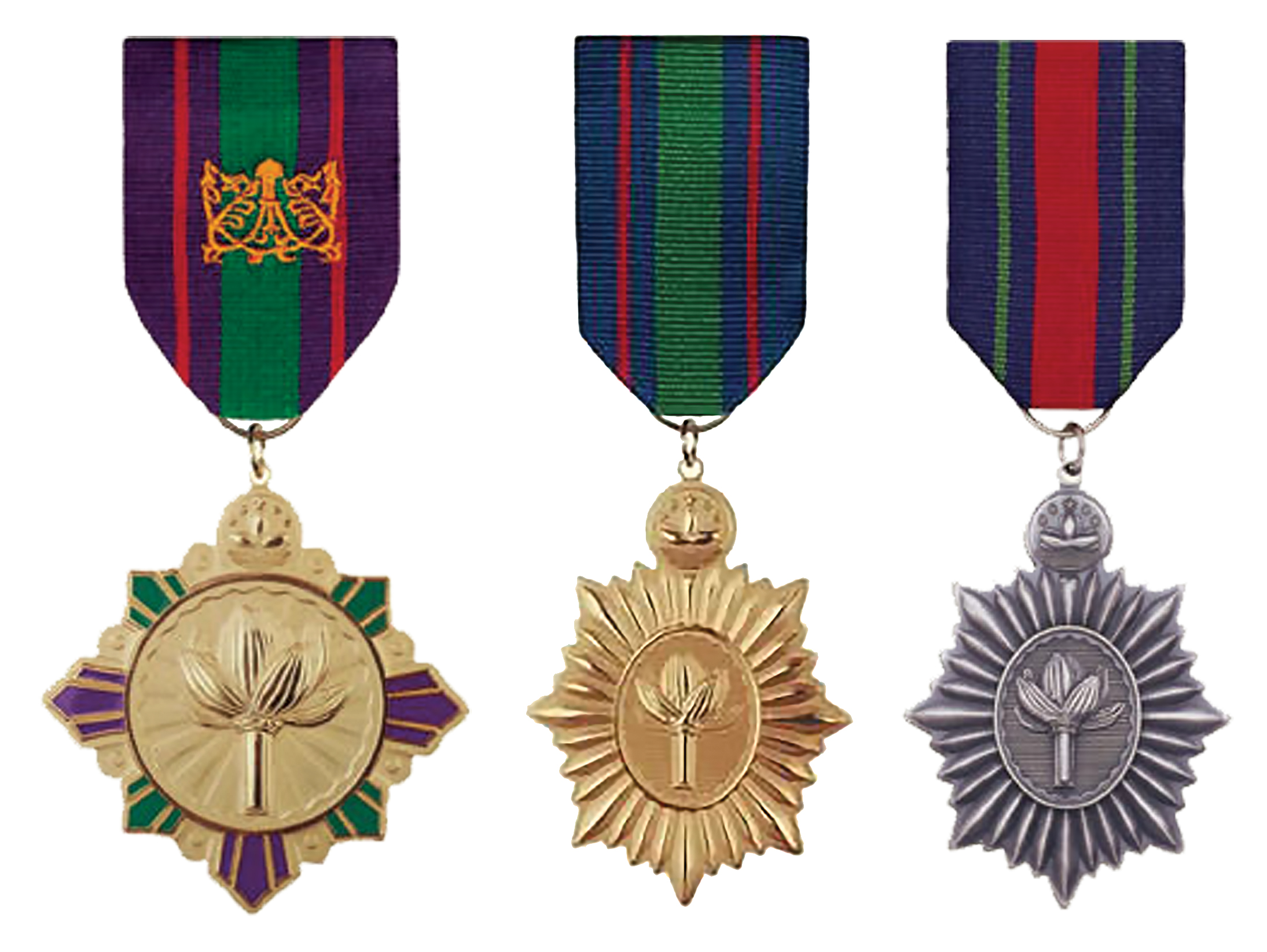 The awards for Decorations of Honours include the Grand Lotus; the Golden Lotus; and the Silver Lotus. These awards are given to individuals or entities that have made outstanding contributions to Macao.