The central government recently revealed its master plan for the Guangdong–Macao Intensive Cooperation Zone, which aims to increase integration across four sectors.
Zhuhai might be the smallest city in Guangdong province at just over 1,700 square kilometres, but its economy is one of the strongest. In 2020, the city recorded a per capita gross domestic product (GDP) of US$ 20,693 (roughly MOP 166,000). Among the nine mainland cities in the Greater Bay Area (GBA) area, Zhuhai ranks second only to Shenzhen in terms of per capita GDP.
A special economic district in Zhuhai, Hengqin is a major contributor to the city's economic strength despite its relatively tiny population of 3,000. In 2019, the island, which is three times the size of Macao at 106 square kilometres, is home to 90 per cent of the city's 6,750 financial institutions and a raft of development projects, said Zhuhai Deputy Mayor Yan Wu.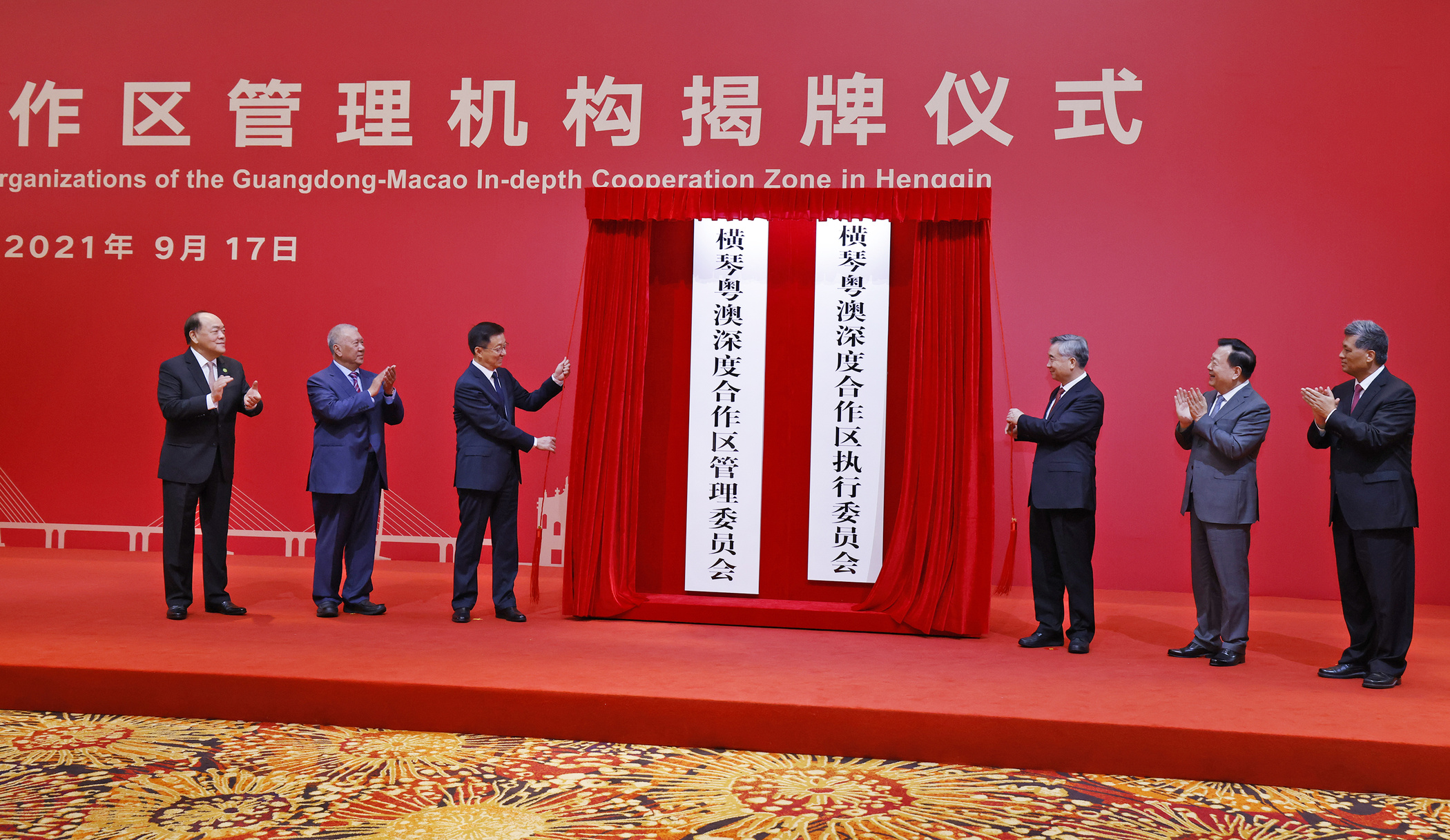 On 5 September, the Central Government published the Master Plan of the Development of the Guangdong-Macao Intensive Cooperation Zone covering the entire island of Hengqin. Often dubbed the "backyard" of Macao since it's right across the water, the new cooperation zone has already attracted attention from both international and local companies.
According to Niu Jing, a member of the Zhuhai Government Party Committee and the party secretary of the Hengqin New District Party Committee, the island expects to see its GDP skyrocket to RMB 1.8 trillion (MOP 2.2 trillion) by 2025, and rapid population growth on the order of hundreds of thousands during the same time span. As Hengqin and Macao become more deeply integrated, Niu predicts that between 30,000 and 50,000 people from Macao will be living or working on the island in the next three to four years.
Integration and collaboration between the two cities is well underway. Ever since the State Council of the People's Republic of China leased part of Hengqin to Macao in 2009 to build the University of Macau campus, the island has been intertwined with the SAR's economic development and diversification efforts.
Taking these efforts one step further, the newly revealed plan further blurs the boundaries and strengthens the links between Macao and Hengqin, while simultaneously making an effort to move the SAR away from its reliance on the gaming industry.
How it works
With the new master plan in place, the Guangdong-Macao Intensive Cooperation Zone encourages more cross-border collaboration and investments under the "One country, Two systems" principle. Despite the differing legal systems between Guangdong and Macao, the two will co-administer the zone under a pilot governance scheme. Macao will implement civil and commercial laws, while mainland authorities handle public security matters.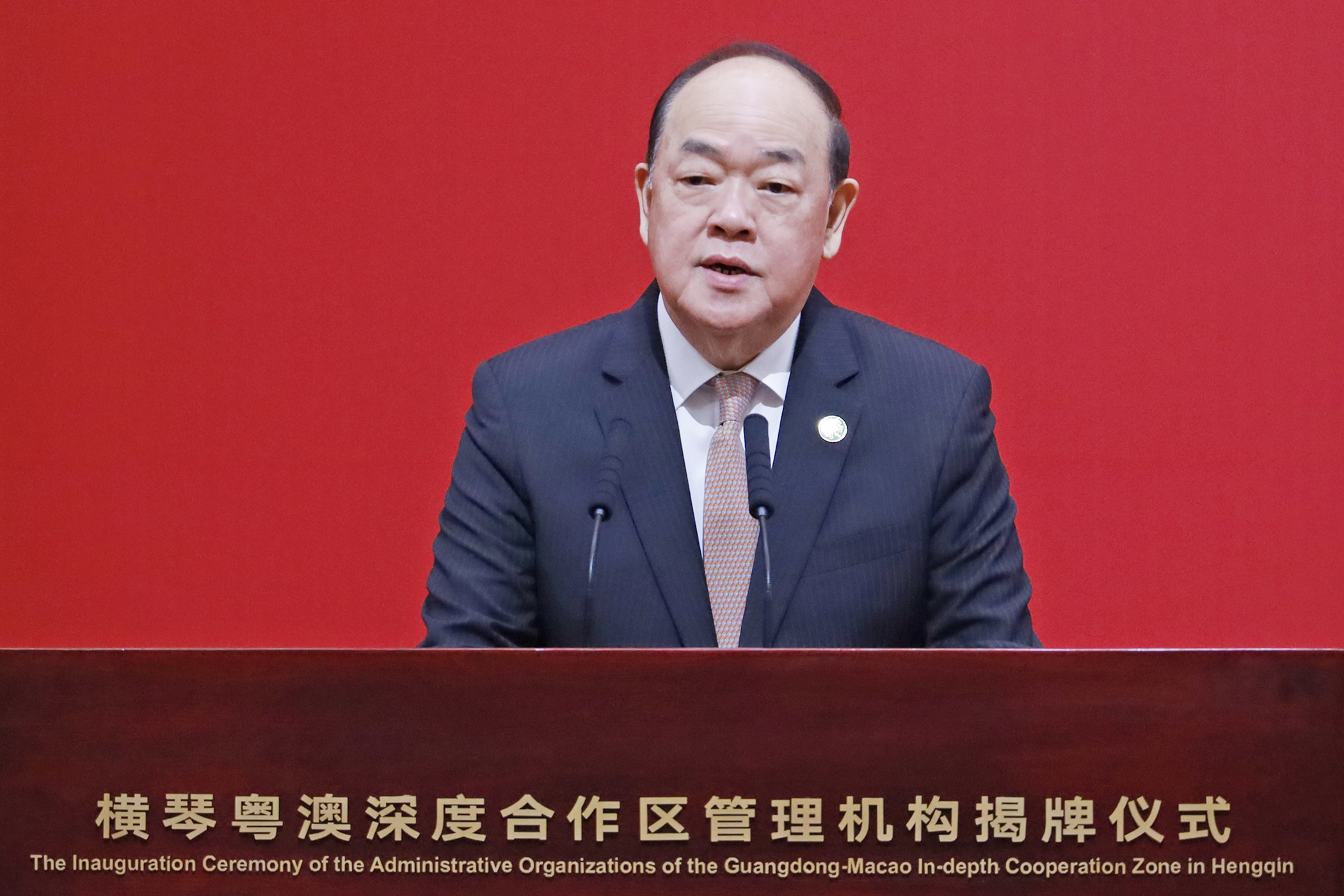 Macao Chief Executive Ho Iat Seng and Governor of Guangdong Ma Xingrui will jointly manage the zone as part of a dual-director system, alongside an administrative committee that will coordinate and make decisions on major issues. This will create a new development model with "Chinese characteristics" showcasing the advantages of "two systems", as Ho said during the zone's inauguration on 17 September.
What's more, Ho said the "innovative initiative" will "inject new dynamics, provide new space, and create new opportunities for Macao's long-term development." And in the long run, he continued, the zone has great potential to contribute to the social well-being of residents and Macao's "long-term integration into national development."

Four sectors in focus
According to the government's blueprint, the zone will focus on four industrial sectors – finance, traditional Chinese medicine, scientific and technological research, and tourism and MICE (meetings, incentives, conferences, exhibitions) – to spur diversification and collaboration across the GBA.
"Major industrial projects will be mapped out to facilitate the formation of innovative and technological platforms," Ho said. "New technologies, new industries, new ecologies, new models will be developed in order to create impetus for the sustainable development of Macao's economic diversification."
In terms of science and technology, the zone aims to develop a high-end manufacturing industry that covers everything from research and the development of integrated circuits to electronic components, new energy, big data, artificial intelligence, Internet of Things and biomedical engineering.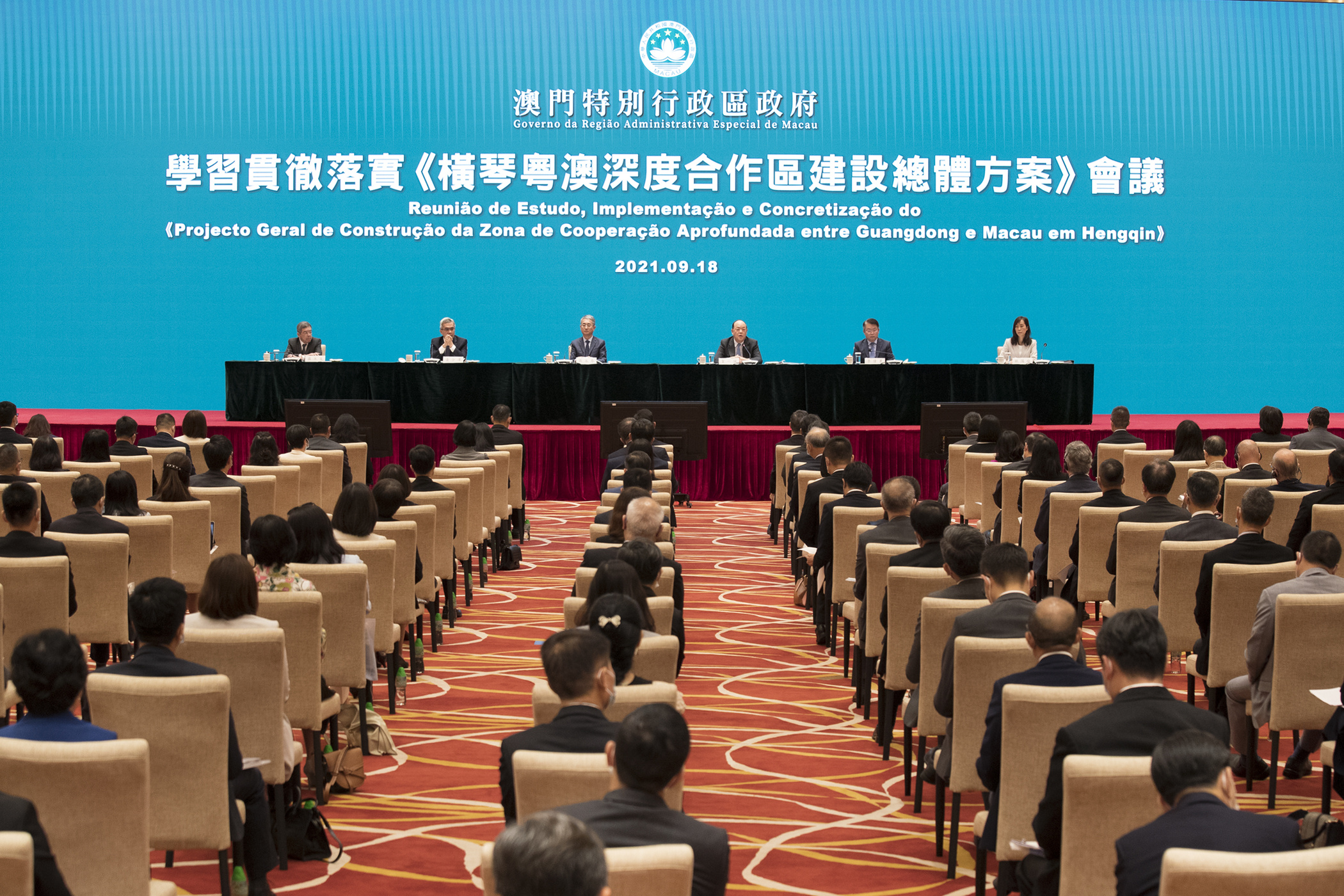 To support the industry's growth and fuel innovation within the GBA, the University of Macau and the Macau University of Science and Technology will set up bases where industry leaders can collaborate with academics to research, improve technology and innovate production methods.
The cooperative zone also strives to develop a world-class traditional Chinese medicine (TCM) hub, where premium "Made in Macao" goods can be manufactured and exported. Authorities plan to optimise the existing 500,000-square-metre Guangdong–Macao Traditional Chinese Medicine Technology Industrial Park, which debuted in 2011. In this expansive setting, TCM leaders can develop state-of-the-art innovations and rewarding trade connections within the GBA.
The central government has already designated Hengqin as an International Leisure Tourism Island, so it's only natural that one of the zone's key sectors will include the development of tourism. It's a broad umbrella – including independent, group, wellness, sport, health and business travel – and one that can support Macao's continuous development as a tourism and leisure centre.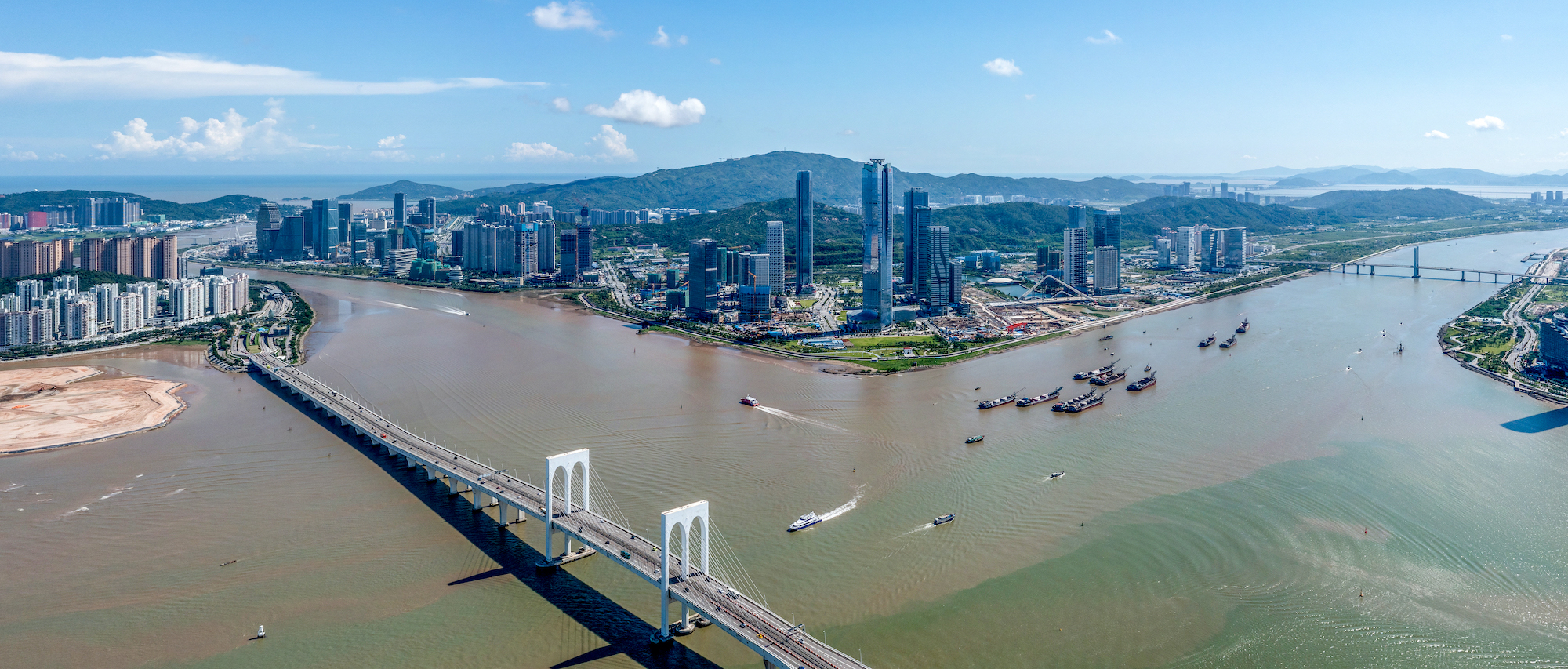 Business travel, in particular, will play a major role in the zone. To encourage more MICE events, both Macao and Zhuhai will issue more travel visas that enable exhibition staff, convention participants and visiting professionals to travel more seamlessly.
Finally, the master plan envisions the cooperation zone as a financial service platform between China and Portuguese-speaking countries. The zone not only provides new opportunities across the GBA, but will also support Macao firms by making it easier to set up businesses in areas like wealth management, bonds and leasing. At the same time, the government plans to establish multi-currency investment funds that will support the finance industry.
More cooperation, more opportunities
Designed to help Macao diversify its economy and integrate further into the GBA, the new zone must achieve its development goals to enhance the region's economic strengths and technological competitiveness by 2035. According to the government's plan, the zone will progress in stages.
First, the government expects joint administration and shared benefits to run smoothly by 2024, which coincides with the 25th anniversary of Macao's transfer of administration to China. By 2029, the zone should see improved cohesion across systems, such as cross-border regulations, public services and social security.
When it comes to everyday life, Macao residents with a home return permit (回鄉證) can enter the island visa-free (others can obtain a visa at immigration). In addition, the central government is currently considering waiving tariffs on qualified goods and simplifying customs declarations procedures. That means daily necessities available in Macao will remain similarly priced when imported to Hengqin, assuaging concerns about cost of living.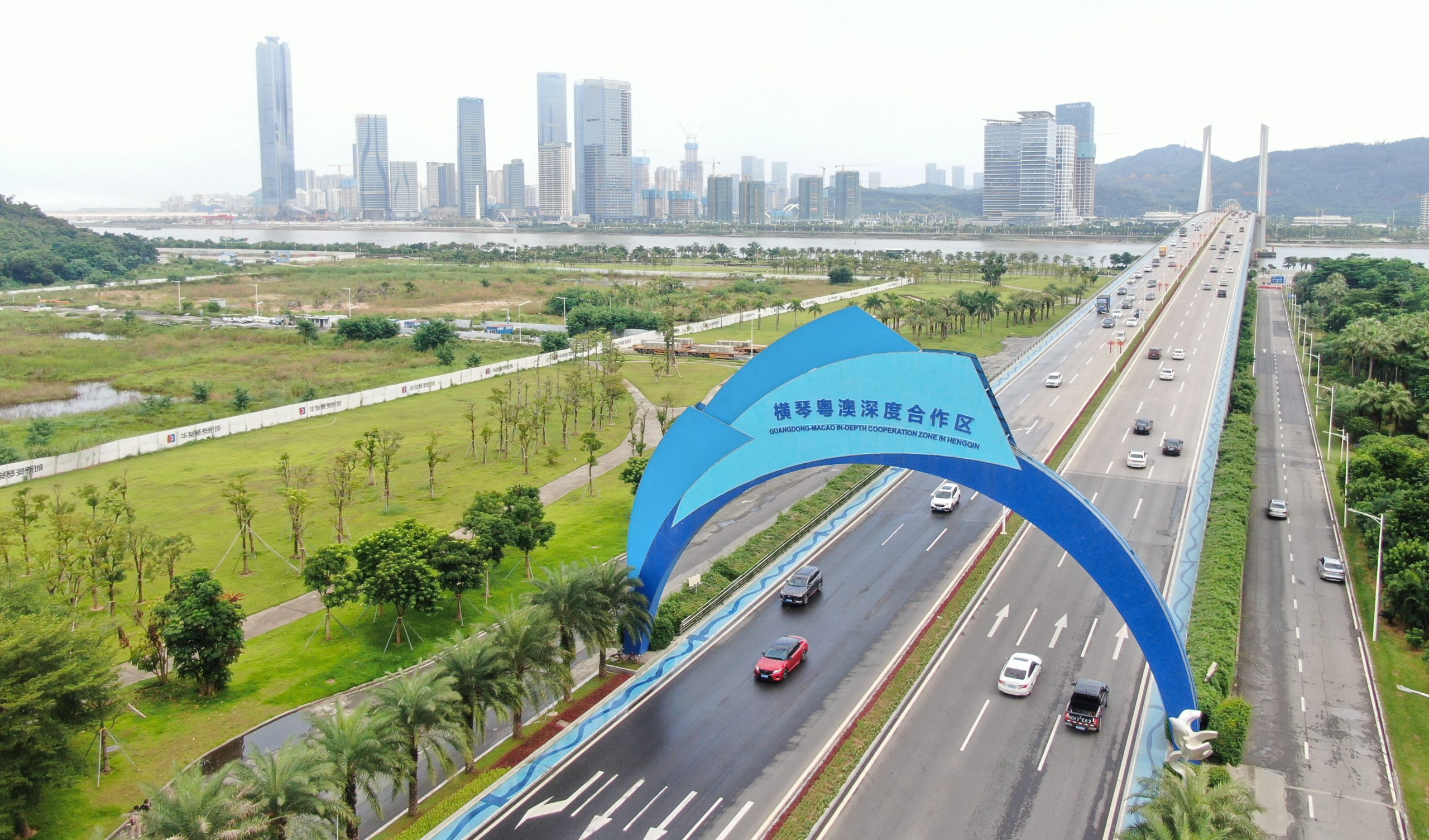 Exceptions include foreign products like automobiles, which will be subject to customs duties. Meanwhile, the personal income tax for Macao residents working in the zone will remain at a similar rate to the SAR. Online content viewable in Macao will also be accessible in Hengqin, provided that materials don't contain "extreme content" opposed by the central government.
As it evolves, Ho believes the cooperation zone will provide new job opportunities for the people in Macao while supporting existing industries and investments that are already operating in the SAR. The six gaming operators based in Macao, for instance, have been welcomed to invest in non-gaming businesses, such as in cultural and sports facilities, in the new zone.
What's more, investments from Macao-registered companies in the zone will also be included in Macao's GDP. Additionally, enterprise income tax rate will be 15 per cent for companies – notably lower than mainland China's standard rate of 20-25 per cent.
"The zone will provide a high-quality living space and make everyday life easier for Macao residents, and create an environment conducive to life and work similar to Macao's," Ho said. With significantly more land and development opportunities, the cooperation zone in Hengqin will not only aid Macao's economic diversification and growth, but it will also provide a more "convenient and livable space" for Macao residents to explore in the long run.

---
Who's who?
These officials have been appointed to the Administrative Committee for the Guangdong–Macao Intensive Cooperation Zone, serving alongside Macao Chief Executive Ho Iat Seng and Governor of Guangdong Ma Xingrui, who oversee the zone as part of a dual-director system.
Administrative Committee Executive Deputy Director:
André Cheong Weng-chon, Macao Secretary for Administration and Justice
Guangdong–Macao Intensive Cooperation Zone Deputy Directors:
Wong Sio Chak, Macao Secretary for Security
Elsie Ao Ieong U, Macao Secretary for Social Affairs and Culture
Lin Keqing, Guangdong Vice-Governor
Zhang Xin, Guangdong Vice-Governor
Guo Yonghang, CCP Zhuhai Municipal Committee Secretary
Secretary-General of the Guangdong-Macao In-Depth Cooperation Zone:
Lei Wai Nong, Macao Secretary for Economy and Finance
Nie Xinping, Guangdong Provincial People's Government's Hengqin Office Director and Executive Committee of the Guangdong-Macao In-Depth Cooperation Zone Deputy Director
Executive Committee Members :
Lei Wai Nong
Nie Xinping
Fu Yongge
Niu Jing
Hoi Lai Fong
Su Kun
Ng Chi Kin