Macao signs co‑operation agreements with Cambodia and Thailand to promote the Belt and Road Initiative.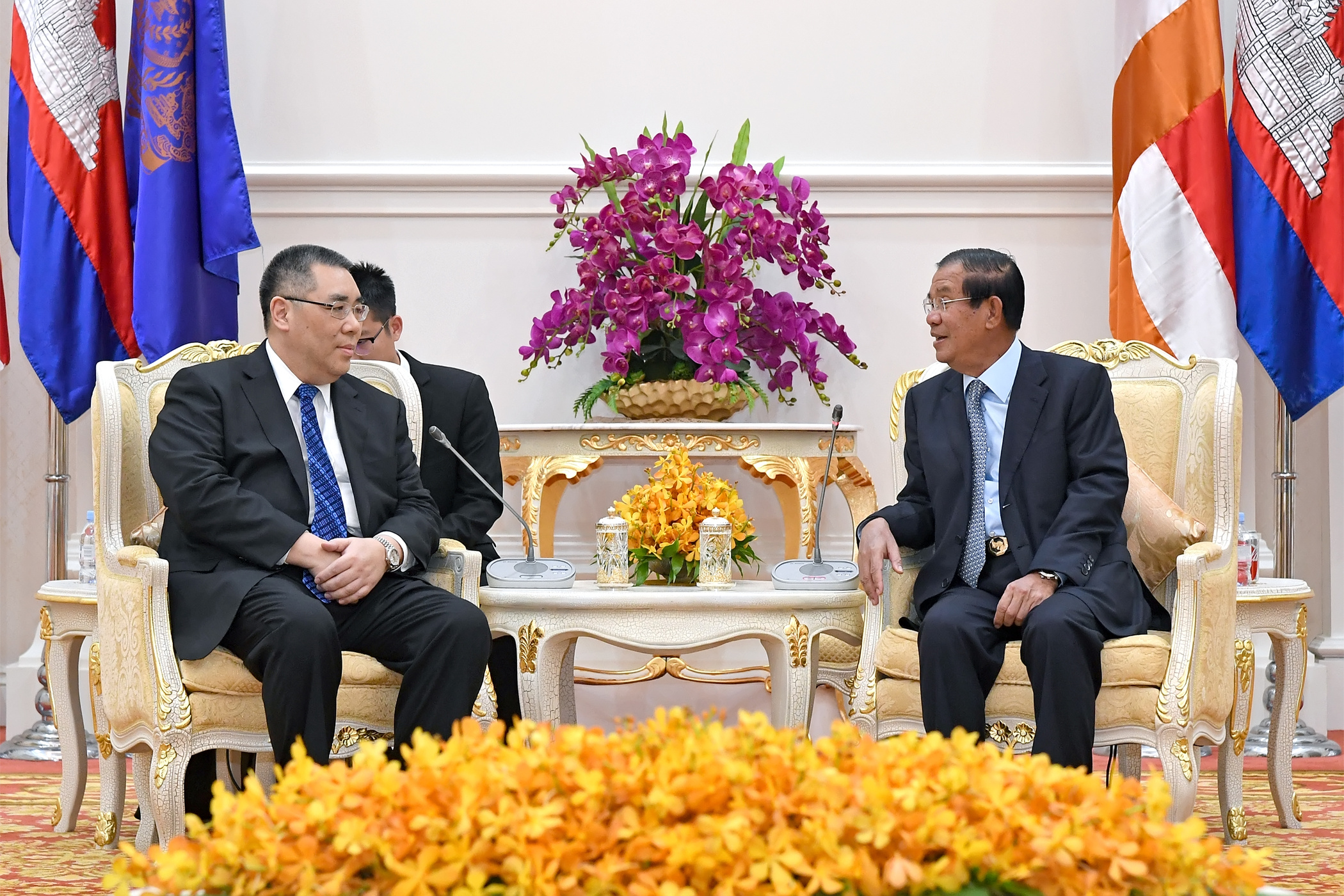 In early May, Macao Chief Executive Chui Sai On visited the Southeast Asian nations of Cambodia and Thailand, both key partners in Macao's promotion of the Belt and Road Initiative (BRI). The Chief Executive described the visit to the two countries as "productive and fruitful, particularly in terms of expanding Macao's contribution to the BRI."
The five‑day visit, 7–11 May, included stops in Cambodia's capital, Phnom Penh, and the Thai capital of Bangkok, at the invitation of the respective national governments. During the visits, the Macao government signed a Memorandum of Understanding with Cambodia's Ministry of Foreign Affairs, and a twinning arrangement with Thailand's Phuket Province. It also signed two co‑operation agreements relating to the development of traditional Chinese medicine in Thailand.
Leaders of the two countries spoke highly of Macao's achievements in tourism and in economic and trade matters. They also highlighted the city's strategic positioning as a world centre of tourism and leisure, and as a commercial and trade co‑operation service platform between China and Portuguese‑speaking countries (collectively known as the Platform and Centre).
According to the Chief Executive, the visits achieved four goals: reinforcing ties and outlining clear guidelines to deepen mutually beneficial co‑operation; promoting Macao's unique advantages in terms of facilitating the BRI; boosting efforts to diversify Macao's economy and promote bilateral co‑operation in a range of industries; and lastly, it complemented the Macao government's policy of promoting youth development.
The visits marked the first time a government delegation included representatives of local youth associations and members of the "Gathering of Thousand Talents" group, inaugurated last April. It was a sign of the government's support for the involvement of local young people in national development strategies, while also helping them to develop a global outlook. The Macao government delegation also included the secretary for Administration and Justice, Chan Hoi Fan; secretary for Economy and Finance, Leong Vai Tac; secretary for Social Affairs and Culture, Alexis Tam Chon Weng; as well as all members of the Executive Council and representatives of returned overseas Chinese communities in Macao.
In addition to meetings with senior officials of Cambodia and Thailand, the Macao government also organised a number of events in each country to promote Macao's tourism industry and the development of traditional Chinese medicine.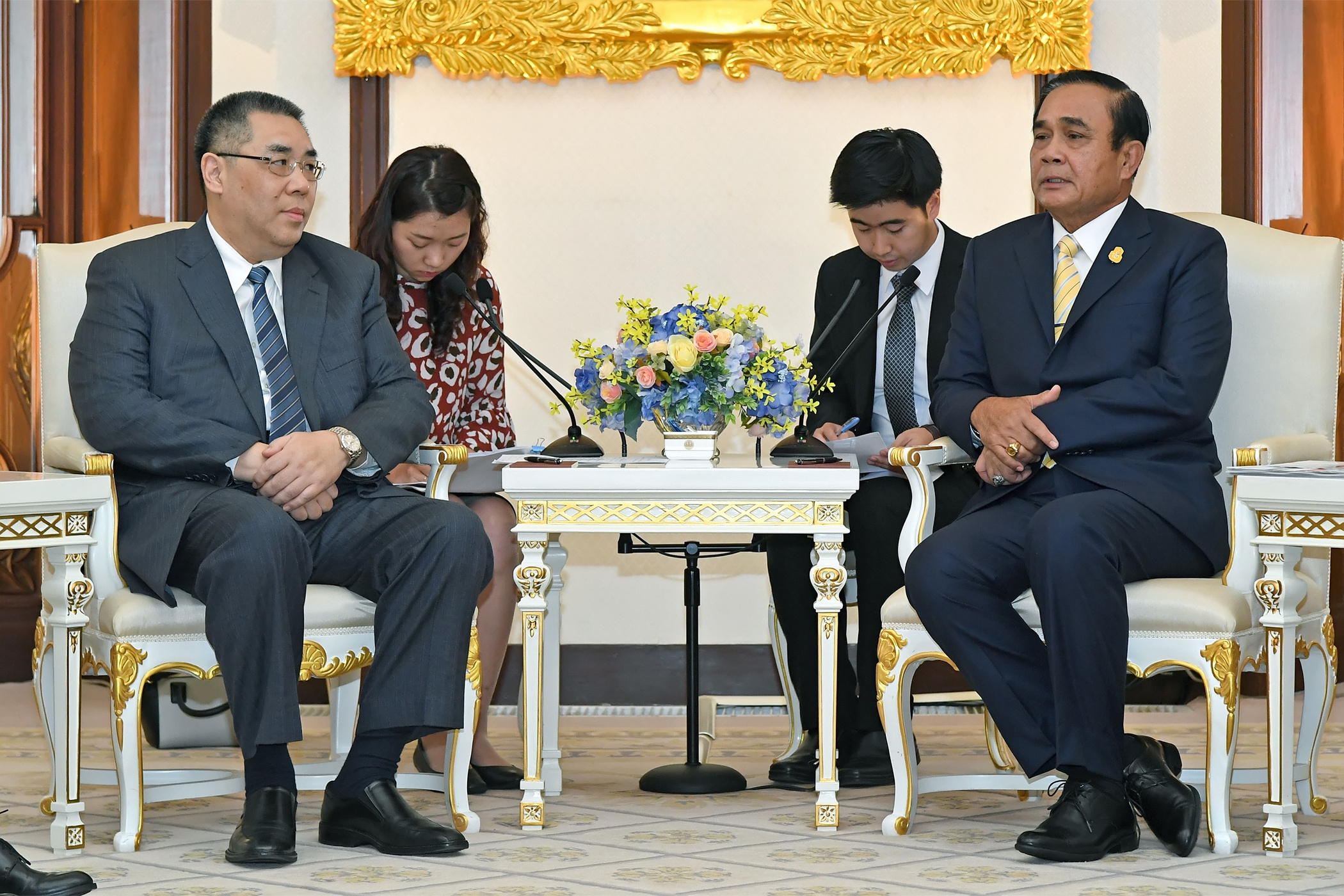 Visit to Cambodia
The first stop on the visit was Cambodia, where the delegation spent three days. Chief Executive Chui had a meeting with Cambodian Foreign Minister Prak Sokhonn on 7 May, shortly before the two men signed a Memorandum of Understanding on co‑operation for the promotion of friendship. On 8 May, Chui met with members of the Senate and National Assembly, including Heng Samrin, president of the National Assembly.
Chui noted that the Macao government "pays great attention to fostering closer ties with Cambodia as part of Macao's contribution to the BRI," adding that the two sides will work together to seek closer co‑ ‑operation, particularly in tourism and training, cultural affairs, education, and financial services. Samrin said Cambodia has a strong relationship with China, noting that the country has offered strong support to Cambodia's development. Investments from China, particularly in infrastructure development under the BRI, have played an important part in its economic growth, he noted.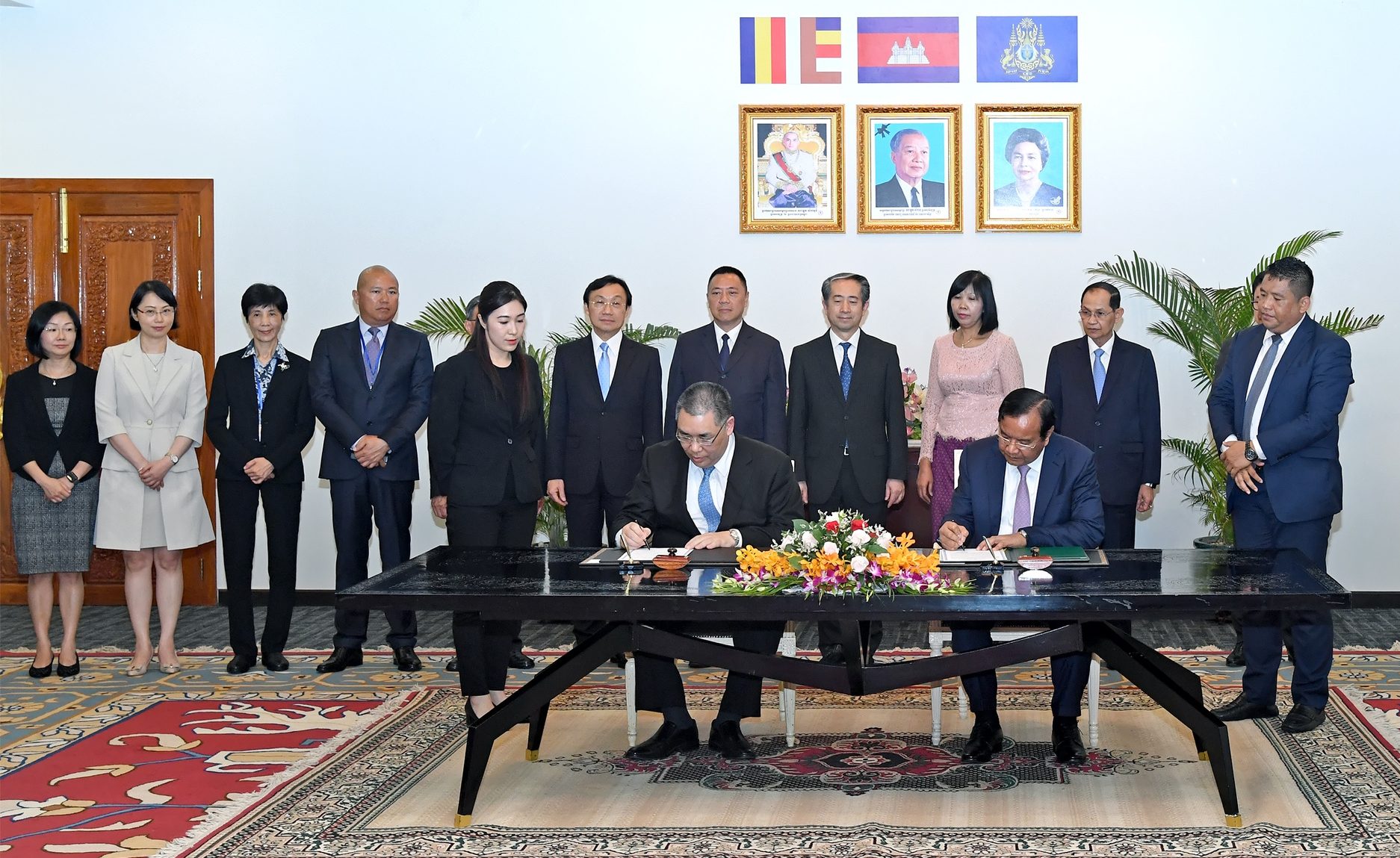 Samrin expects both sides to strengthen co‑operation in several areas, particularly in tourism, by studying the possibility of establishing more direct flight services.
The Chief Executive touted the potential benefits of closer ties between Macao and Cambodia in tourism, namely in areas such as tourism management and training. "Cambodia has rich tourism resources in terms of historic and cultural attractions, while Macao is a well‑established tourist destination, combining a historic centre included on the World Heritage List of UNESCO with modern entertainment facilities," he said.
Macao and Phuket sign winning agreement
The visit continued in Bangkok, where Macao and Thailand's Phuket Province agreed to the establishment of a twinning arrangement to promote co‑operation and mutual development.
The "Memorandum of Understanding on the Establishment of Friendship City between the Phuket Province of the Kingdom of Thailand and the Macao Special Administrative Region of the People's Republic of China" was signed by the director of the Protocol, Public Relations and External Affairs Office of Macao, Lei Ut Mui, and the governor of Phuket Province, Norrapat Plodthong.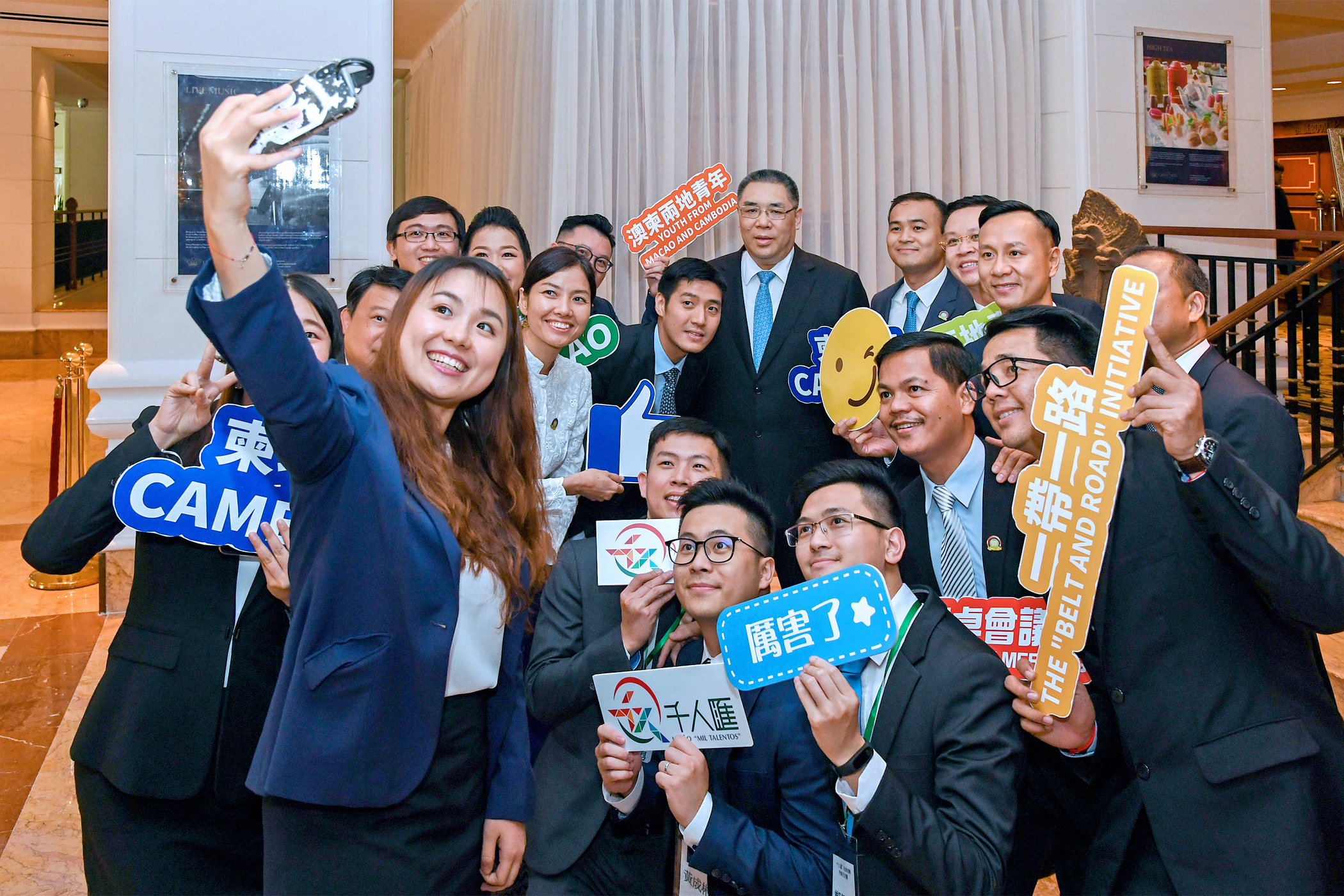 The document, signed on 9 May, aims to advance co‑operation between Macao and Phuket in various aspects, while encouraging more frequent exchanges between government officials and relevant public departments from both places.
Chief Executive Chui and the Minister of Foreign Affairs of Thailand, Don Pramudwinai, witnessed the signing ceremony, after which they held a joint press conference. Speaking at the press conference, Chui said there are bright prospects for co‑operation between Macao and Thailand, describing Thailand as one of its key regional partners in helping Macao to push forward its contributions to the BRI.
He affirmed Macao's commitment to expanding co‑operation with Thailand, particularly in fields such as education, traditional Chinese medicine, and exchanges with Portuguese‑speaking countries. For his part, Pramudwinai said Thailand could assist Macao in exploring new markets in other member countries of the Association of Southeast Asian Nations, such as Laos and Myanmar.
He believes Macao could play an important role as a gateway for Thailand to access markets in southern China. The minister said he hopes there will be a greater number of investments in Thailand from Macao via the country's Eastern Economic Corridor Development Plan, which plans to invest US$45 billion in the development of infrastructure in three provinces east of Bangkok by 2021.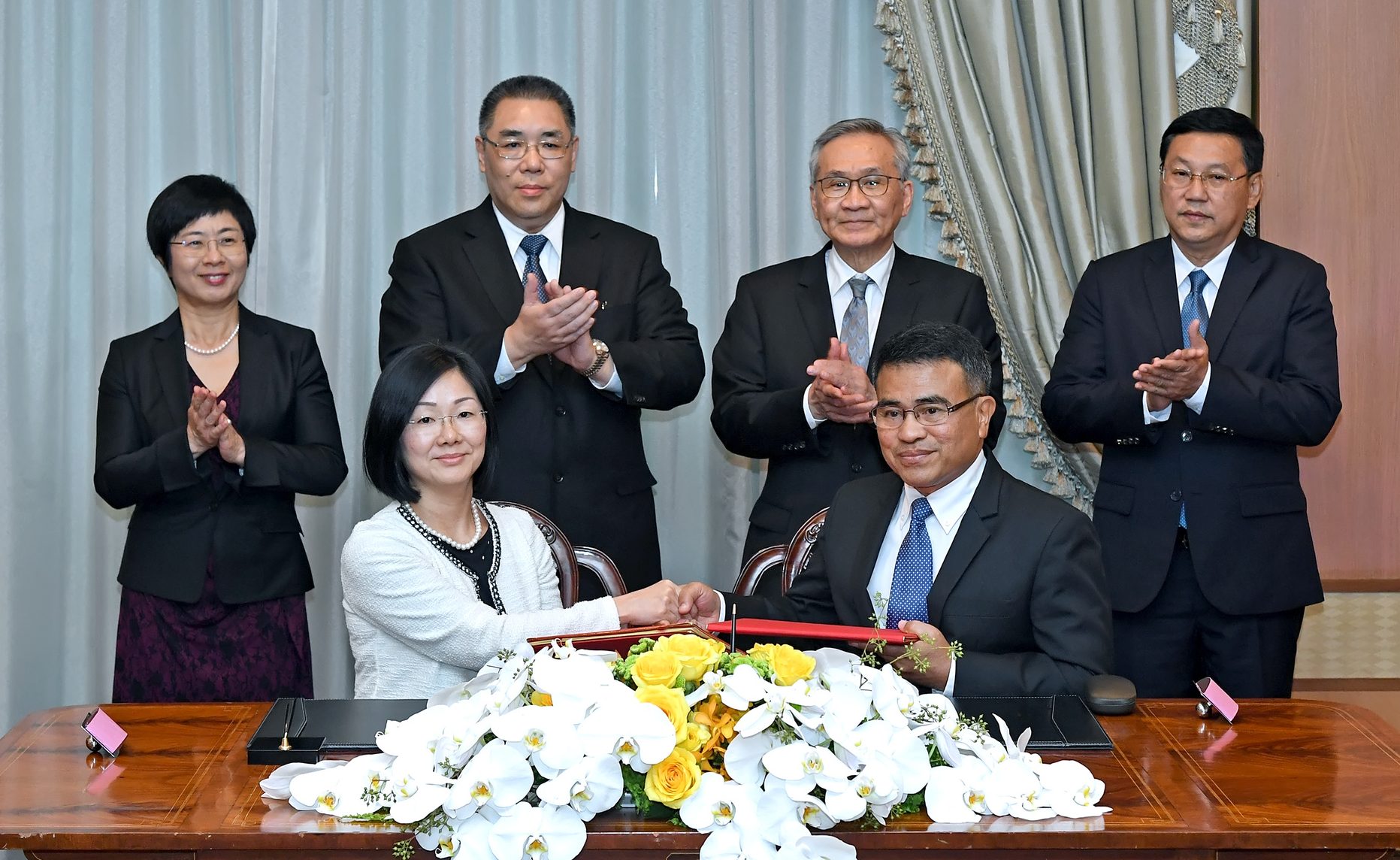 Gateway to the Pearl River Delta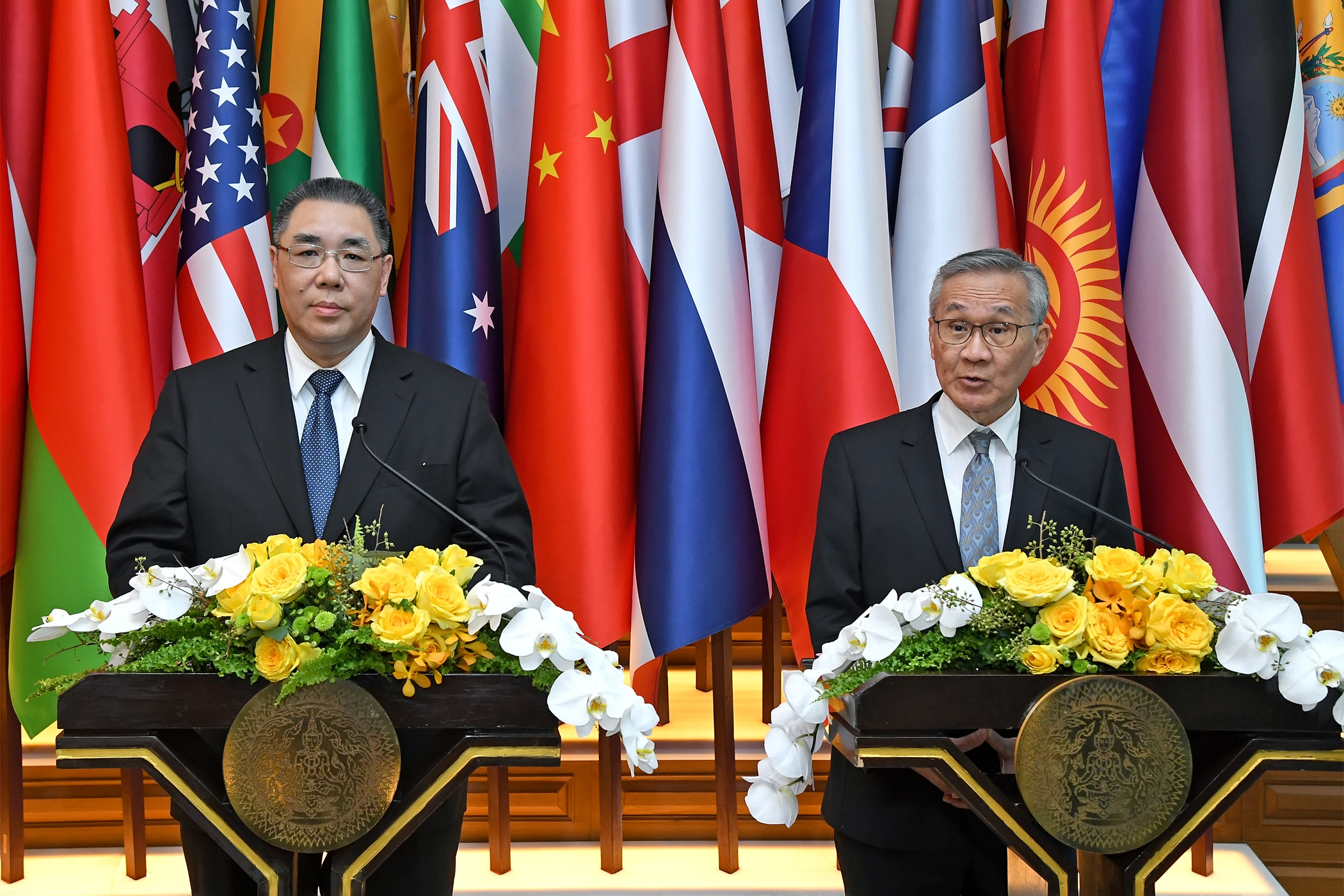 The following day, 10 May, Chief Executive Chui met the Prime Minister of Thailand, Prayuth Chan‑ocha, in Bangkok. Chui stated that Macao's engagement in the development of the Guangdong–Hong Kong–Macao Greater Bay Area could promote closer co‑operation between Macao and Thailand, pointing to the potential benefits for overseas economies willing to participate in the project.
"Macao welcomes closer ties with Thailand, particularly in areas such as tourism, cultural affairs, economy and trade, and financial services. The Macao government is looking forward to learning from Thailand's experience as a long‑standing global tourism destination." He stated that both sides should jointly participate in the development of the BRI, utilising their respective strengths with a focus on the Initiative's goals of unimpeded trade, financial integration, and people‑to‑people bonds.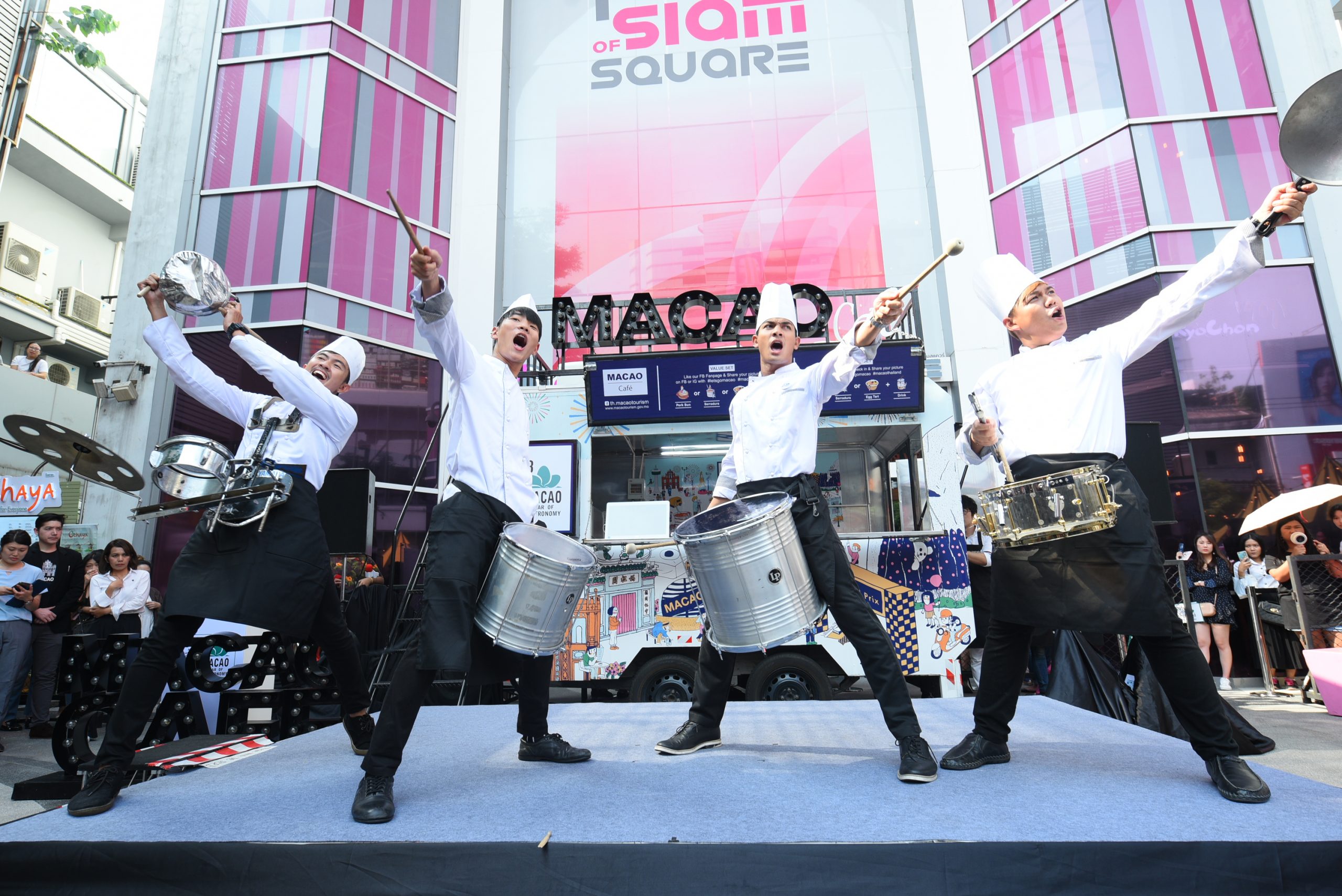 During the meeting, the Chief Executive briefed Prime Minister Chan‑o‑cha on Macao's development prospects. These included the city's Platform and Centre policies, its contribution to the development of the BRI, and opportunities arising from the Hong Kong–Zhuhai–Macao Bridge, a landmark transport link expected to open soon. Chan‑o‑cha highlighted the deepening ties between Macao and Thailand in various areas, the result of years of successful co‑operation.
He added that the Thai government has a policy of promoting tourism co‑operation with neighbouring jurisdictions; that could be another driving force for sustainable links between Macao and Thailand. Chan‑o‑cha stated that, following Macao's inclusion in the UNESCO Creative Cities Network in the field of Gastronomy, there are good opportunities for co‑ ‑operation in that area, as well as in garment, hospitality, and creative industries.
Macao could become an important gateway for Thailand to access markets in southern China.

Prayuth Chan‑o‑cha
The Thai Prime Minister said he believes Macao could become an important gateway for Thailand to access markets in southern China, benefiting from both the BRI and the development of the Pan‑Pearl River Delta (PPRD) region. Chief Executive Chui also met Thailand's deputy prime minister, Somkid Jatusripitak, and stressed the importance of enhancing regional co‑operation. Chui said Macao would strive to transform itself into a gateway for Thailand to promote trade co‑operation and tourism in markets within the PPRD region. He added that the city's links with Portuguese‑speaking countries would also facilitate sustainable co‑operation between Macao and Thailand.
Chui noted that Macao and Thailand already have in place a good foundation for close co‑ ‑operation, adding that he is looking forward to strengthening ties in tourism and financial services. During the meeting, Jatusripitak said that Thailand, in turn, plans to position itself as a gateway for the PPRD region to explore opportunities in Cambodia, Laos, Myanmar, and Vietnam. To achieve that, Thailand plans to use Macao as a connecting point within the PPRD region.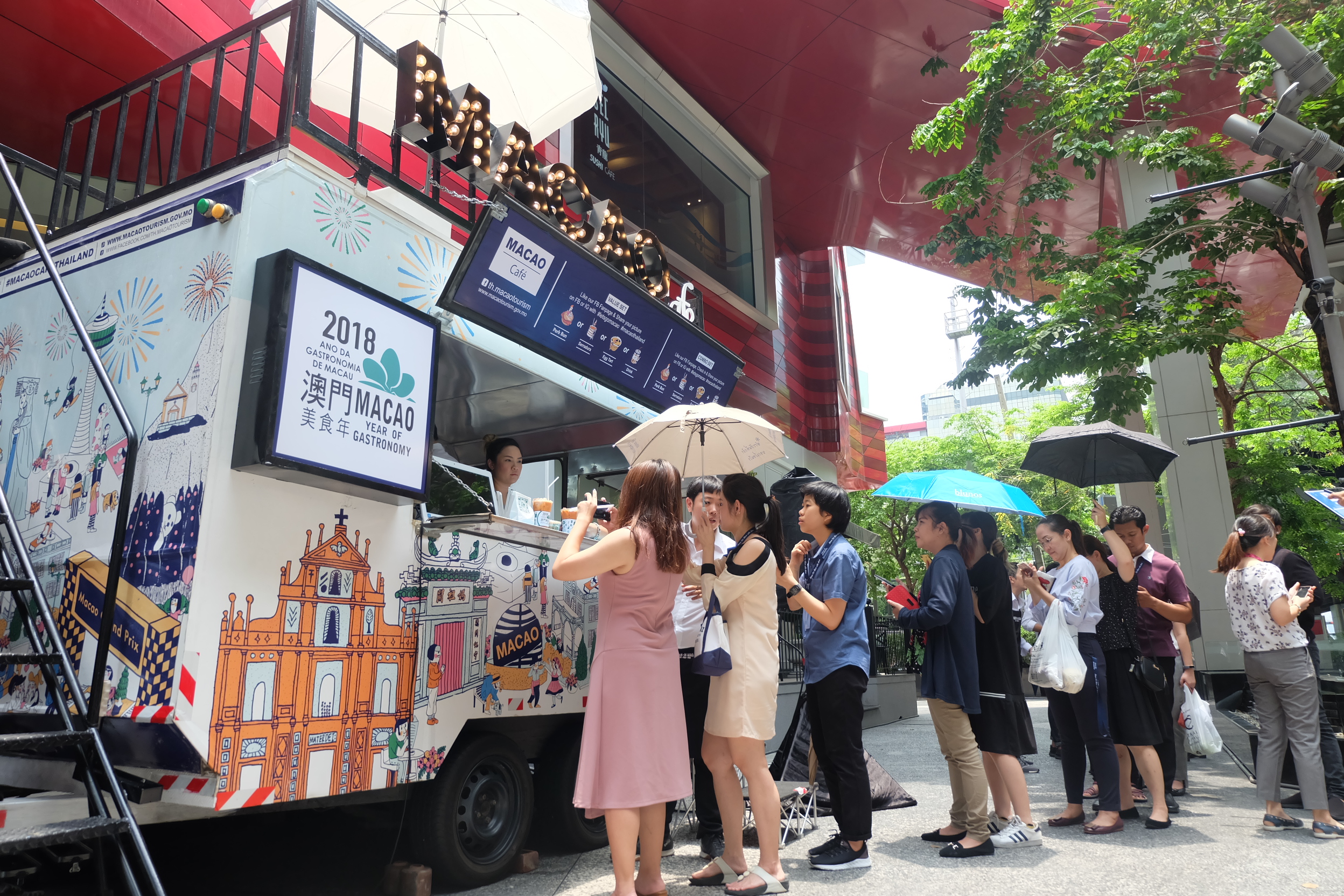 The Thai deputy prime minister proposed the establishment of a communication channel between Thailand and the provinces in the PPRD region, as well as the cities of the Greater Bay Area. This aims to boost ties with all parties, namely on investment and trade, education, and tourism. Aside from the meetings, the Macao government delegation also attended the opening of the 2018 Traditional Medicine International Development Forum (Thailand). During the forum, the Chief Executive witnessed the signing of five agreements between public departments of the Macao and Thai governments, and between commerce chambers and associations.
MGTO brings taste of Macao to Bangkok Elsewhere in Bangkok, the Macao Government Tourism Office (MGTO) kicked off a three‑day promotion of its cuisine in the city. The Macao Café Food Truck toured different locations in Bangkok to meet with the public and promote Macao as a newly designated UNESCO Creative City of Gastronomy with a diverse array of tourism offerings. Thailand is one of Macao's top ten sources of visitors. MGTO Director Maria Helena de Senna Fernandes and MGTO representative in Thailand, Uracha Jak, together with Thailand's