While there are already Macao people living in Hengqin, the local government's residential development on Zhuhai's largest island – dubbed 'Macau New Neighbourhood' (MNN) – will make its residents feel like they're still in Macao. It's set to be ready mid-2023.
Commuting between Macao and Zhuhai has been routine in the city since the local gaming and hospitality industry began developing in the early 2000s. Many employees working in this sector travel across from the mainland for work every day. They are mainlanders, but also Macao locals who've moved to Zhuhai for its more affordable housing. Students cross the border, too, to attend Macao's schools and universities. Tourists also visit from the mainland, though fewer than before the pandemic.
Cross-border travel is expected to increase in the near future, as more opportunities on the mainland arise for people and businesses from Macao. Particularly in the rapidly growing Greater Bay Area (GBA), which consists of Macao, Hong Kong, and nine Guangdong cities including Zhuhai and Shenzhen. The GBA's combined population is over 86 million people and its 56,000-square-kilometre footprint is nearly one-third the size of Guangdong province.
MNN's more than 4,200 apartments are expected to attract Macao residents eyeing opportunities in the GBA. While the project's developers have expressed confidence that MNN will be an instant hit amongst Macao residents, local real estate agent Black Fong Seng Lok told Macao magazine he expects take up to be slow. He predicts it will be more than five years before the ambitious new complex fills with people and businesses.
GBA on the rise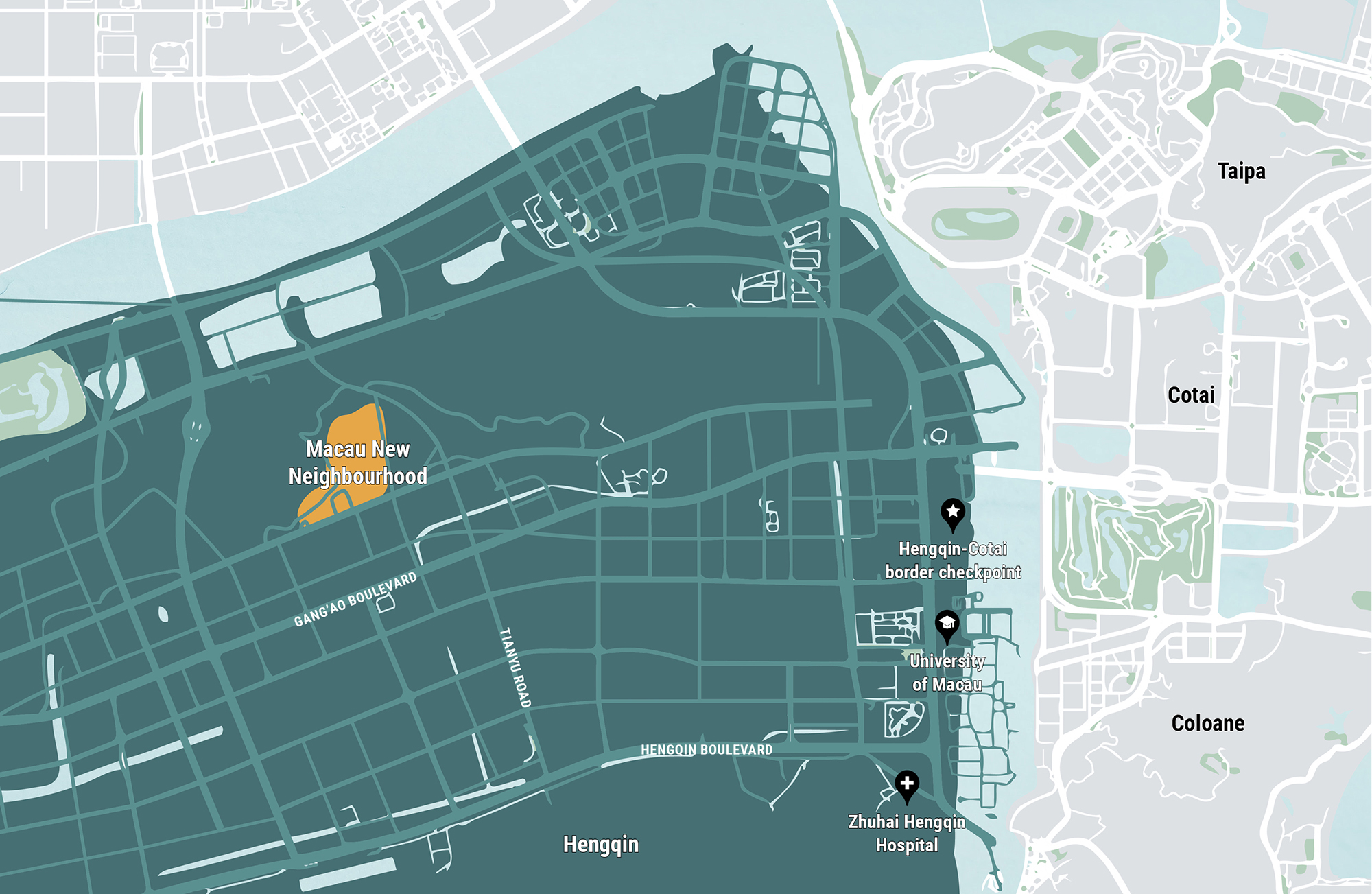 Dubbed China's answer to the US global high-tech and innovation hub Silicon Valley, the GBA has China's highest concentration of Fortune 500 companies (the world's top corporations by revenue, compiled and published annually by Fortune magazine). Twenty-five out of 136 Chinese companies listed are located in the area, including three of China's leading technology firms. Telecommunication giant Huawei and multimedia conglomerate Tencent (which operates WeChat and is one of the world's largest video game companies) are both based in Shenzhen, while Gree – the world's largest residential air-conditioner manufacturer – is located in Zhuhai.
In 2021, gross domestic product in the GBA exceeded RMB 12.6 trillion (MOP 13.9 trillion). Central and regional governments have worked together to facilitate a cross-border flow of goods, investments and people within the GBA since its development plan was launched in February 2019.
The 106-square-kilometre Guangdong-Macao Intensive Cooperation Zone, covering the entirety of Hengqin island, is part of the plan. The zone was initiated by General Secretary Xi Jinping in December 2019 and aims to diversify Macao's economy. Establishing a financial services platform between China and Portuguese-speaking countries and developing new industries for the area – sci-tech research and high-end manufacturing – are two diversification schemes.
MNN is being built in the heart of the cooperation zone, just across the Cotai-Hengqin river. The area is an increasingly popular choice for Macao people wanting to benefit from the GBA's growth. The Hengqin-Macao border checkpoint is just a few minutes' bus ride from Macao's entertainment district of Cotai; and the Cotai-Hengqin LRT line – set to open in 2024 – will provide direct access to Hengqin which will then connect to the Zhuhai Airport via a speed train.
Macao's 'new neighbourhood'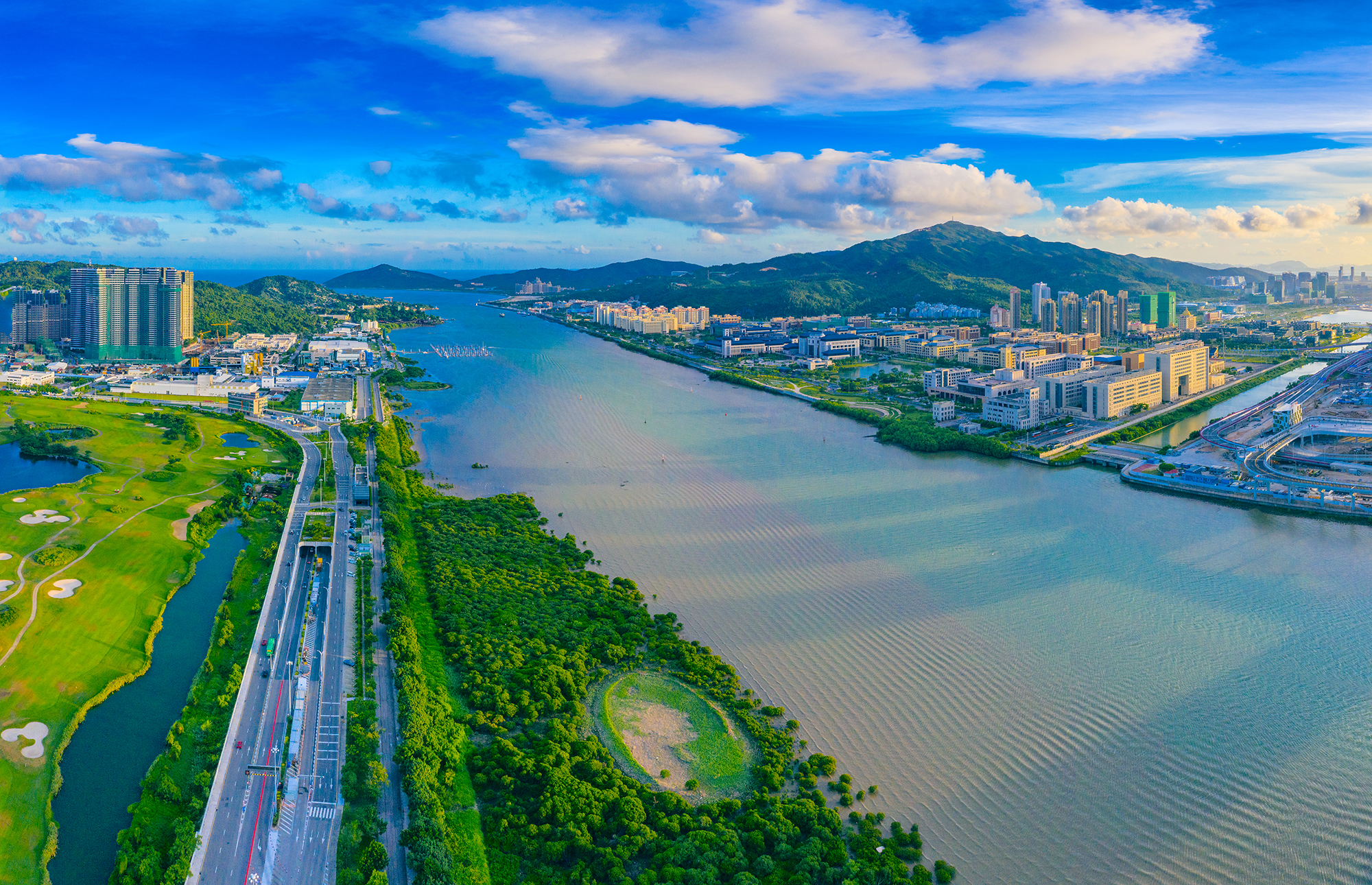 Macau Urban Renewal Limited (MUR) has been tasked with MNN's construction, which began in January 2021. MUR is a public company formed by the Macao government, the Macau Industrial and Commercial Development Fund, and the Science and Technology Development Fund.
Covering over 190,000 square metres, the residential complex will boast 27 apartment towers accommodating up to 15,000 people between them. Around 4,000 units will be available for "eligible Macao ID holders" to purchase, while 200 rental units will be reserved for "qualified professionals", according to MUR's website. MNN will be 80 per cent two-bedroom, 90-square-metre units with the rest being three-bedroom units ranging from 100 to 120 square metres.
Some parts of the project's constructions use prefabrication technique – components are assembled elsewhere before being transported to the construction site for installment – including the use of precast concrete and aluminium moulds as well as 8,000 façade panels, 1,000 staircases and 175,000 autoclaved lightweight concrete panels.
Apartments will be available for purchase in 2023, after MNN's December topping-out ceremony. Topping-out is a tradition in the construction industry, where the final beam is placed atop a building during construction, marking its structural completion.
According to MUR's website, only Macao residents who meet the company's yet-to-be-specified criteria can buy MNN apartments. Their apartments can only be resold after five years of ownership, in line with Zhuhai's standard housing regulations, unless owners are willing to pay extra taxes. In Macao, a residential property buyer can generally only resell their property after two years of ownership, though the number of years can be higher for public housing.
MUR has not announced if foreign nationals holding a Macao ID card will be eligible to purchase an apartment at MNN.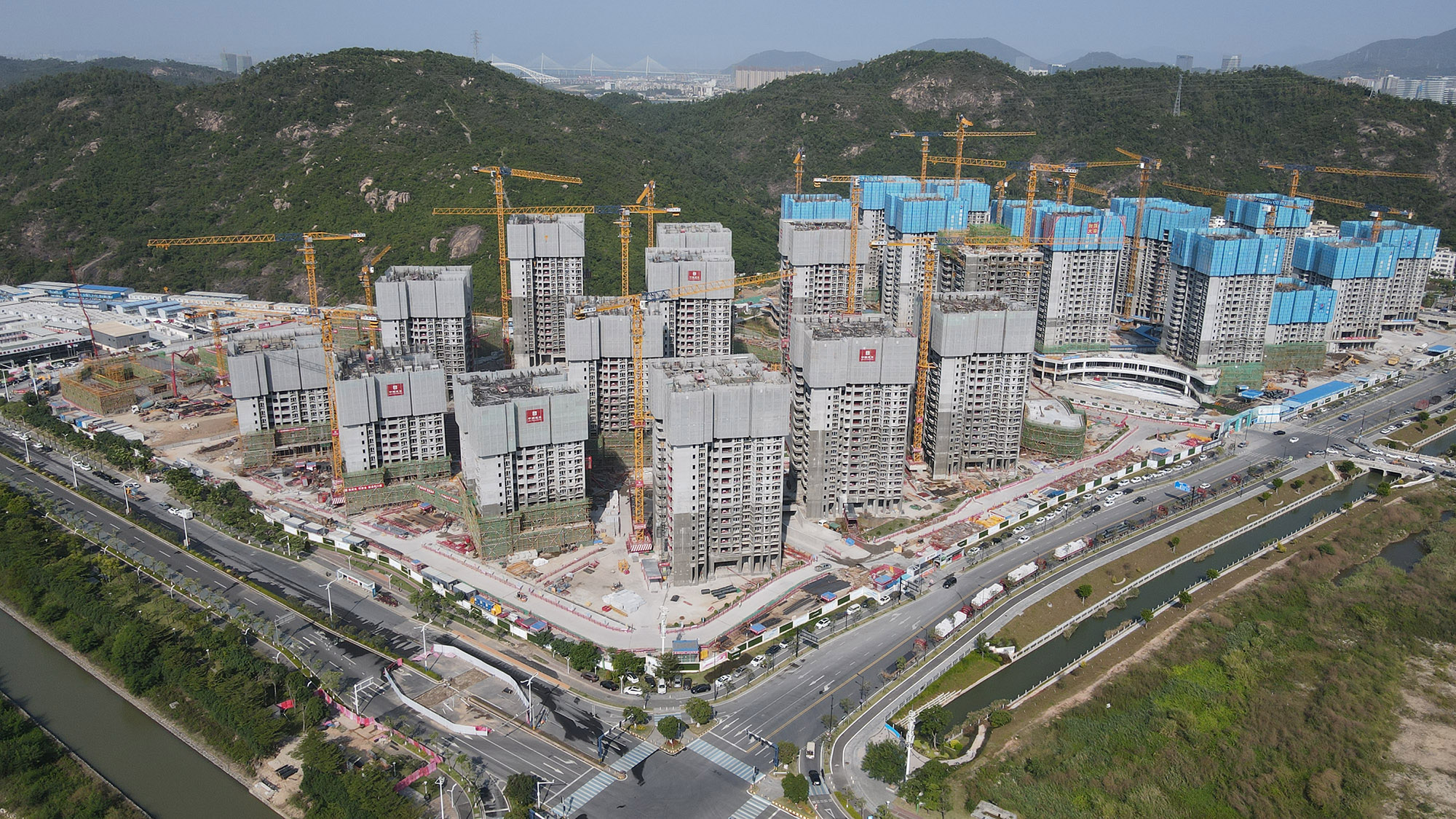 Neither MUR nor the Macao government has released information about the cost of developing MNN, or how much apartments will cost. But local real estate agents expect MNN apartments' prices to fall in line with Hengqin's existing housing market: RMB 2.5-2.7 million (MOP 2.8-3 million) for a two-bedroom unit and RMB 3.2-3.5 million (MOP 3.6-3.9 million) for a three-bedroom unit. However, the fact that these are public housing units may make their prices even lower. The Macao government purchased the land being used for MNN from Zhuhai's local government for RMB 5.35 billion (MOP 5.95 billion) in April 2020.
"Macao people will move there" but not immediately, predicts real estate expert Black Fong Seng Lok, CEO of Shoffize Estate Technology Company Limited, who opened a branch of his real estate company in Hengqin in 2017. He helps clients buy and sell properties throughout Hengqin and the surrounding regions.
"Hengqin's rapid development over the past few years has brought more people from Macao to invest there, especially in real estate," the 34-year-old Lok says. He adds that the area's policies "are very accommodating for setting up a business and for growing new businesses." As someone who lives in Macao and regularly commutes to Hengqin for work, Fong also appreciates how easy the authorities have made it to get in and out of the mainland.
According to Fong, there is growing interest among Macao residents to buy MNN apartments. Ultimately, however, their popularity will come down to price and the ongoing Covid-19 situation. Fong believes Macao's pandemic-afflicted economy is the main reason people will be slow to purchase MNN apartments. Another reason is the fact that they have options. New public residential developments are being built within Macao itself, which Fong says will attract locals – especially if the MNN units prove to be more expensive.
"I predict MNN will only be fully settled with people close to 2029," he says.
Like living in Macao, but greener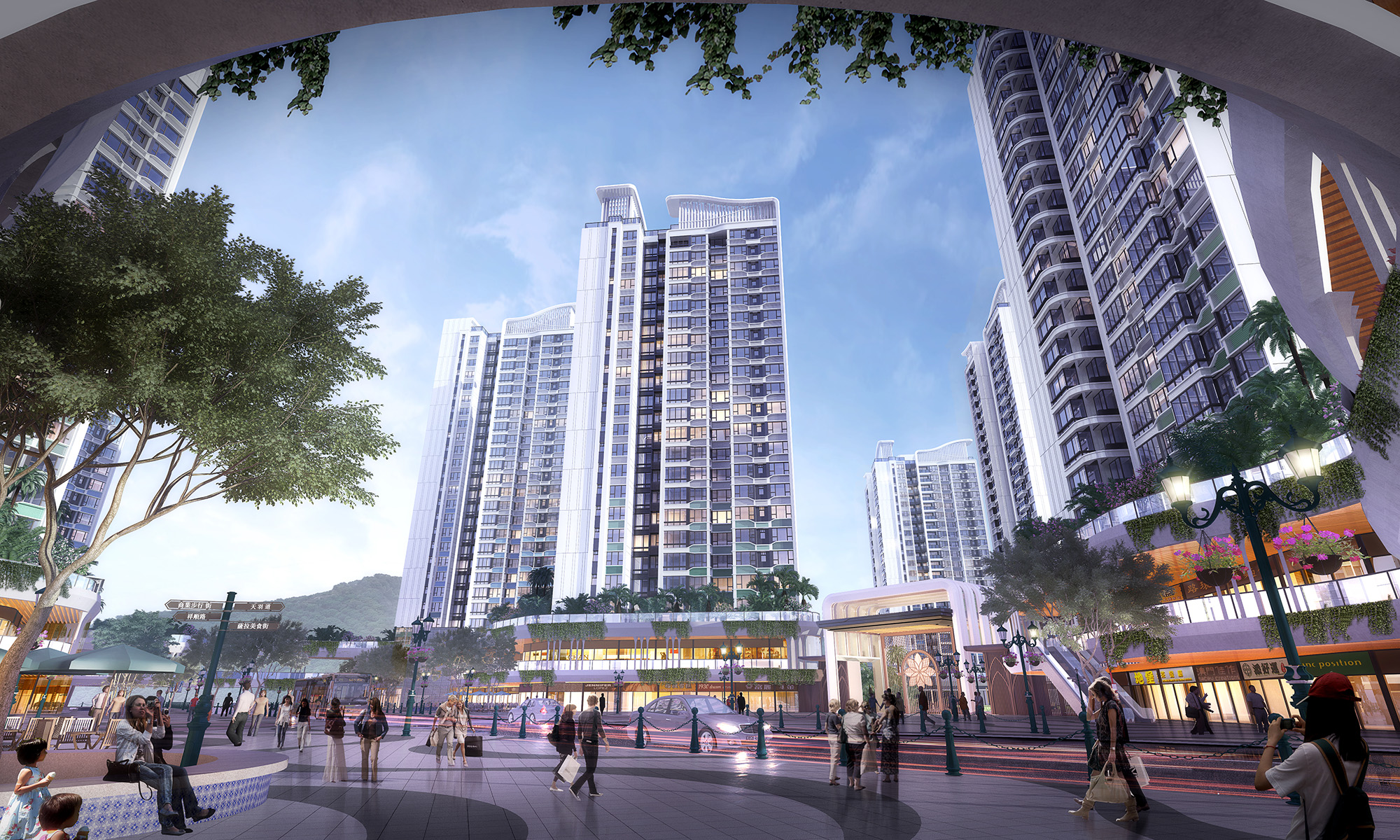 MNN will undoubtedly be a convenient place for Macao locals to live, when they are ready. It only takes six minutes to drive from the complex to the Macao-Hengqin border checkpoint. Macao people that work, own a company or flat in Hengqin can apply for a permit to drive into and around Hengqin island in a Macao-only registered vehicle, though they do need a mainland driver's licence. Vehicles with a dual Guangdong-Macao registration plate can travel beyond Hengqin, but only within Guangdong province.
Some of Macao's public services, such as public utilities and healthcare, will be easily accessible for Macao people living and/or working in the Guangdong-Macao Intensive Cooperation Zone. MNN is being set up so residents don't need to return to Macao for these services.
The complex will boast a kindergarten, primary school, and over 3,000 square metres of sporting and play areas – including playgrounds, basketball and badminton courts, a gym and an outdoor swimming pool. There will also be medical and elderly care facilities, community centres, 4,000 parking spaces and 5,000 square metres of commercial space able to accommodate about 60 shops, from retailers to branches of Macao's banks.
MNN has been designed to create a living environment similar to Macao's. Public areas throughout MNN will feature familiar designs, from European-style street lamps and railings to iconic Portuguese-style cobblestone pavements.
With over a third of MNN's total area set to be greenspace, future residents are promised a closer-to-nature lifestyle than they'd experience in many parts of urban Macao.