A reliable and efficient public transport system is one of the marks of a truly world-class city. Proponents argue that commuting by public transport is one of the best ways to alleviate traffic congestion and is an even greener alternative to owning an electric vehicle.
Nearby cities like Hong Kong and Singapore have highly efficient mass rapid transit (MRT) networks that transport millions of passengers each day. Expansive in scope and complemented by other means of getting around such as buses and trams, these networks make even the remotest part of the cities easily accessible by public transport.
Macao's public transport system is not yet on that level. Most locals use the existing bus network because of its round-the-clock operations. Although onboard WiFi access and real-time service updates shared via an app have improved the experience for commuters, road closures and peak hour traffic gridlock still hinder our bus network.
Meanwhile, Macao's light rapid transit (LRT) currently has just one line which covers 11 stations across Taipa and Cotai, and only about 2,000 passengers ride it daily.
Fortunately, the Transport Bureau is intent on improving the state of commuting in Macao. Recently, the bureau unveiled the land transport master plan for 2021-2030, a blueprint that aims to expand the LRT system to cover the whole city, add a harbour-crossing cable car line and develop a web of elevated walkways to make the city friendlier to pedestrians.
When officials meet their ambitious goals, getting around Macao could look very different in only a matter of years.
Line by line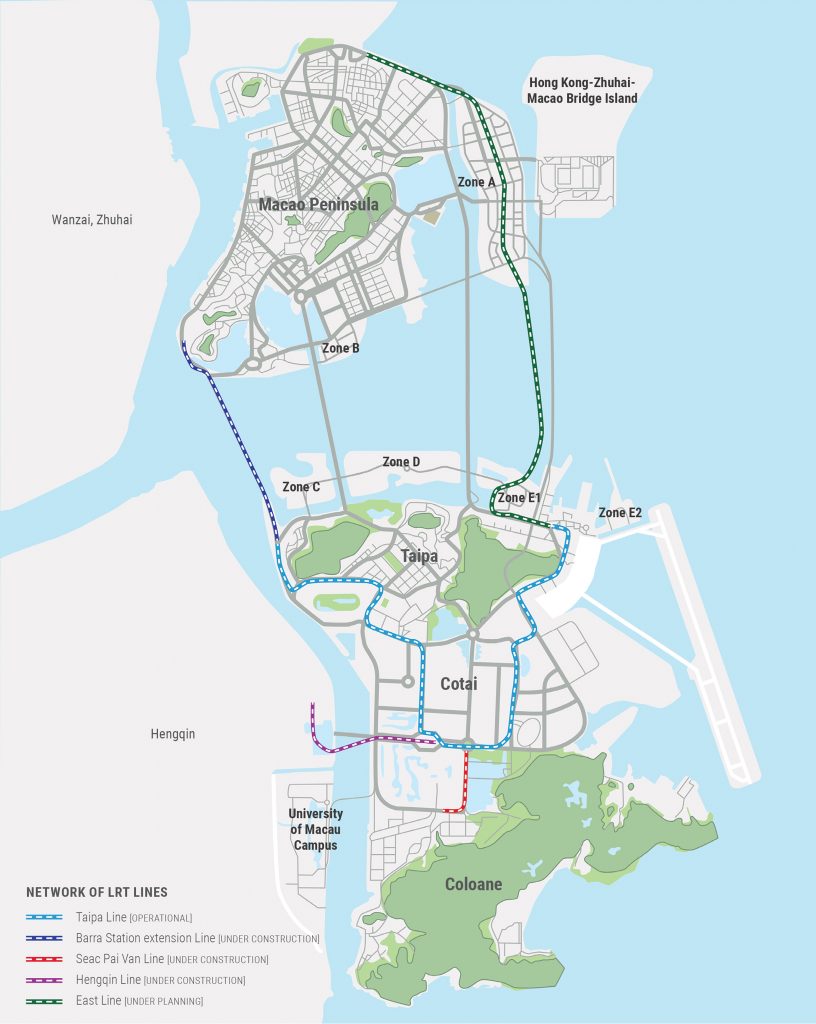 Chief among the plans is the expansion of the existing LRT Taipa to Macao. The Barra Station should be completed by early next year and will be the first LRT station on the peninsula. The line running through Sai Van Bridge linking Ocean Station in Taipa to Barra is expected to be operational by 2024.
Another expansion project will add two new stations spanning 1.4 kilometres across Cotai, one in the upcoming Islands Hospital development and a second in the Seac Pai Van public housing complex. Nearby areas also include private residential compounds such as One Oasis and Praia Park. The project is scheduled to be completed by the end of 2023.
By the end of 2025, a dedicated underwater tunnel will link Taipa to the newly-built Hengqin Station, making it easier to travel across the border to Hengqin via the Lotus Checkpoint Station.
East, meet West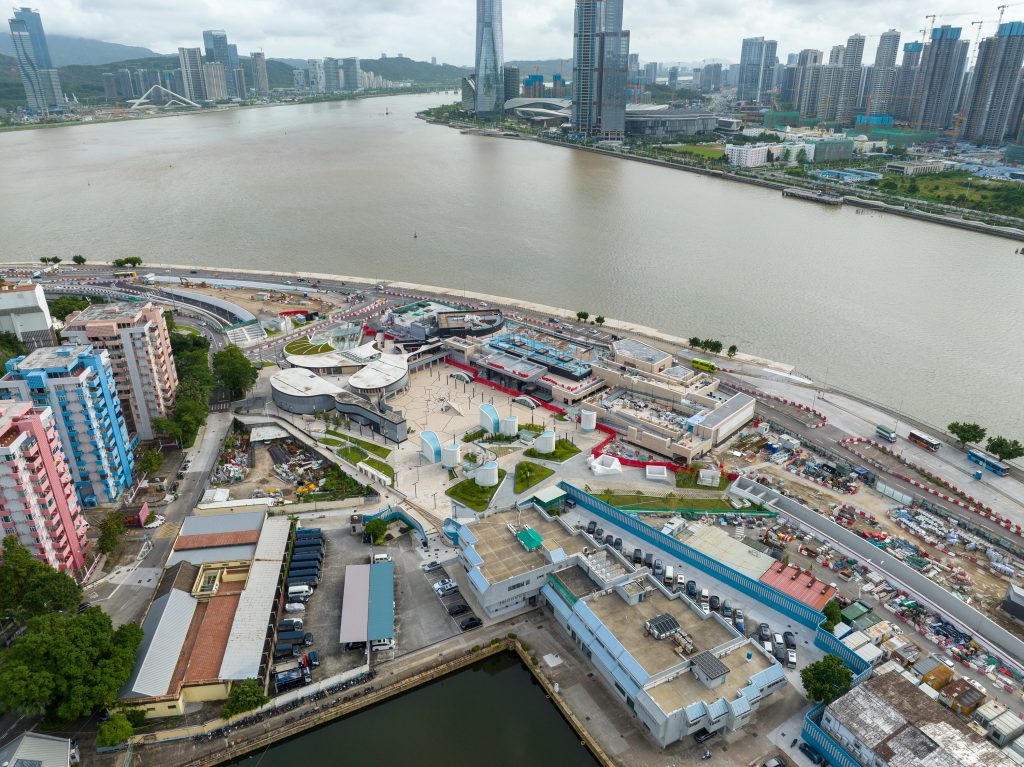 The government also plans to build a sea-crossing LRT section connecting the Barrier Gate border checkpoint and the Taipa Ferry Terminal in Pac On via the Zone A and Zone E1 land reclamation areas, officially known as East Line. This is expected to be completed by 2028.
Transport Bureau Director Kelvin Lam Hin San said that after the four new LRT projects are completed, Macao's LRT network will have more than doubled from the current 9.3 kilometres to about 24 kilometres.
Lam predicted that daily LRT passenger traffic will increase from an average of 2,880 passengers per day in 2020 to 137,000 passengers per day in 2030. He also estimated that the total average passenger trips in Macao in 2030 will be about 3 million per day.
Further down the line, the government aims to build a new LRT line connecting Barra to the Barrier Gate along the peninsula's western coast, known as LRT West Line.
However, Secretary for Transport and Public Works Raimundo do Rosário acknowledged that construction of the LRT West Line would be "very complicated".
He said that the current projects awaiting completion have temporarily overloaded the bureau due to a shortage of human resources, which will make it difficult for the government to come up with a blueprint for the West Line within the next decade.
But if plans to construct the West Line are successful and subsequently linked to the upcoming East Line, the LRT system will effectively cover the entire perimeter of the Macao and Taipa islands in a closed-loop network that will include the newly reclaimed area zones.
Strings attached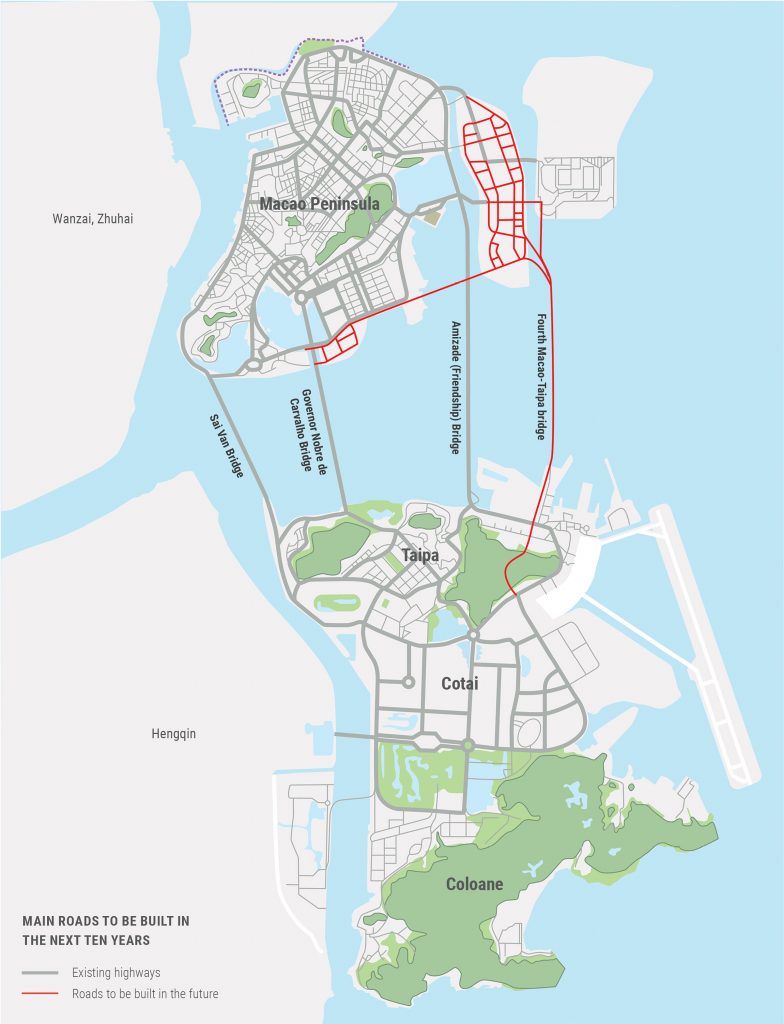 The statement also noted that the government hopes to build Macao's first cross-sea cable car between the Macao Science Centre in NAPE and the Zone A land reclamation area.
However, answering questions from lawmakers, Lam acknowledged that Macao is often affected by typhoons and that the cable car system's reliability during such extreme weather events is still unclear.
Lam reiterated that the cable car would not be considered a major means of transport between the two areas but rather a supplementary transport facility even for residents.
In a sense, then, the proposed project will serve a similar function to Hong Kong's Ngong Ping 360 cable car: mostly a tourist attraction that links Tung Chung to Lantau, but also a faster option than riding a bus to reach hilly and steep areas. This would still amount to a major upgrade for Macao. Chongqing has a similar cable ropeway that crosses the Yangtze River, for example, and it has cut travel time between the Yuzhong and Nan An districts to a mere four minutes.
Power to the pedestrian
To make Macao more walkable, the government is building a 10-kilometre-long system of elevated walkways across the peninsula.
Transport Bureau Director Lam said the plan will benefit around 99,000 pedestrians.
A pedestrian tunnel that runs through Guia Hill could open to the public as soon as this October. Once completed, it will link the ZAPE area and the Avenida de Horta e Costa neighbourhood, cutting the walking distance between the two from 1,100 metres to about 400 metres.
Another project will connect Montanha Russa Park to Areia Preta Urban Park via Avenida do Nordeste. Lam added that the planned Avenida do Nordeste elevated walkway will also extend to Avenida 1 de Maio before connecting to a future LRT East Line station.
Lam said that the government would also study the feasibility of building elevated walkways in the Zone A and Zone B reclamation areas, as well as around Cotai.
This isn't the first undertaking of its kind in Macao. Last year, the 700-metre Avenida de Guimarães elevated walkway in Taipa opened after almost three years of construction, and a footbridge over the Istmo Roundabout in Cotai was built in 2015.
Lam said that the government would continue to optimise the city's system of walkways to provide a safer, more effective, convenient and environmentally-friendly network for pedestrians. Rosário, however, acknowledged that the construction of elevated walkways in the peninsula would be difficult because of its narrow roads and streets.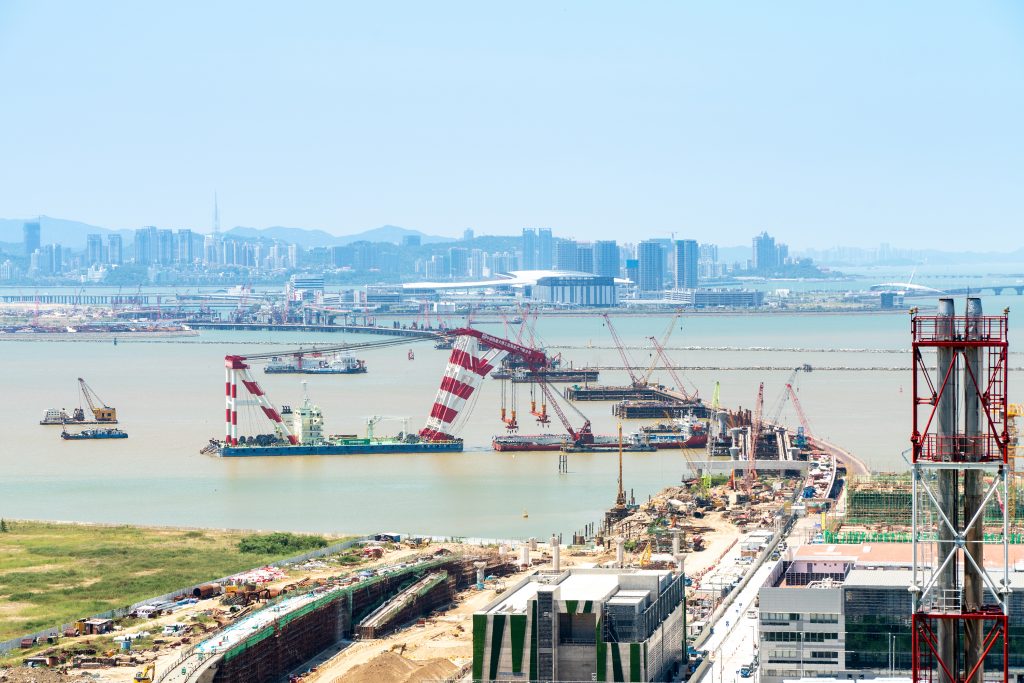 Green machines
In order to help preserve the environment, the government plans to encourage all public administration services to buy electric vehicles starting from next year. Car parks in new private and commercial buildings will also have "slow electric charging points and the respective infrastructures for all parking spaces".
Government officials also plan to gradually increase the city's fleet of electric buses. According to government proposals, before 2025, more than 90 per cent of public buses will be powered by new energy while the number of electric taxis is also due to increase.
The local population is expected to grow by over 20 per cent to 791,000 by 2030. If the Transport Bureau achieves its plans to improve public transport and upgrade current options, Macao will make itself substantially more livable, not to mention friendlier and more convenient for visitors.
Additionally, increasing public transport usage will help reduce the use of private vehicles, which will lower levels of air pollution and make Macao's streets less congested and safer for everyone.