When newly graduated chemical engineer Eddy Leong heard there was a pharmaceutical plant operating near the Taipa Carmo Municipal Cemetery, he headed over in his car to find out its exact address. Outside what was once a major firecracker factory, Leong found a small sign bearing the word 'Hovione' – marking the modest outpost of a Portuguese drug manufacturer. He noted down the street number and drove home to post the company his resume.
That was in 1997. Hovione Macau offered Macao-born, US-educated Leong – now 49 – a job as a shift officer, and he went on to earn the top job of site manager. Hovione Macau's multinational parent, Hovione PharmaScience Limited, is headquartered in Loures, Portugal. There are two other manufacturing plants in the US state of New Jersey and in Ireland's city of Cork. It also maintains offices in India, Japan, Switzerland and Hong Kong.
Hovione Macau was established in 1986 and is the only drug manufacturer in the territory. The plant is responsible for a large percentage of all generic active pharmaceutical ingredients (APIs) produced by Hovione PharmaScience for the global pharmaceutical industry.
From Europe to Asia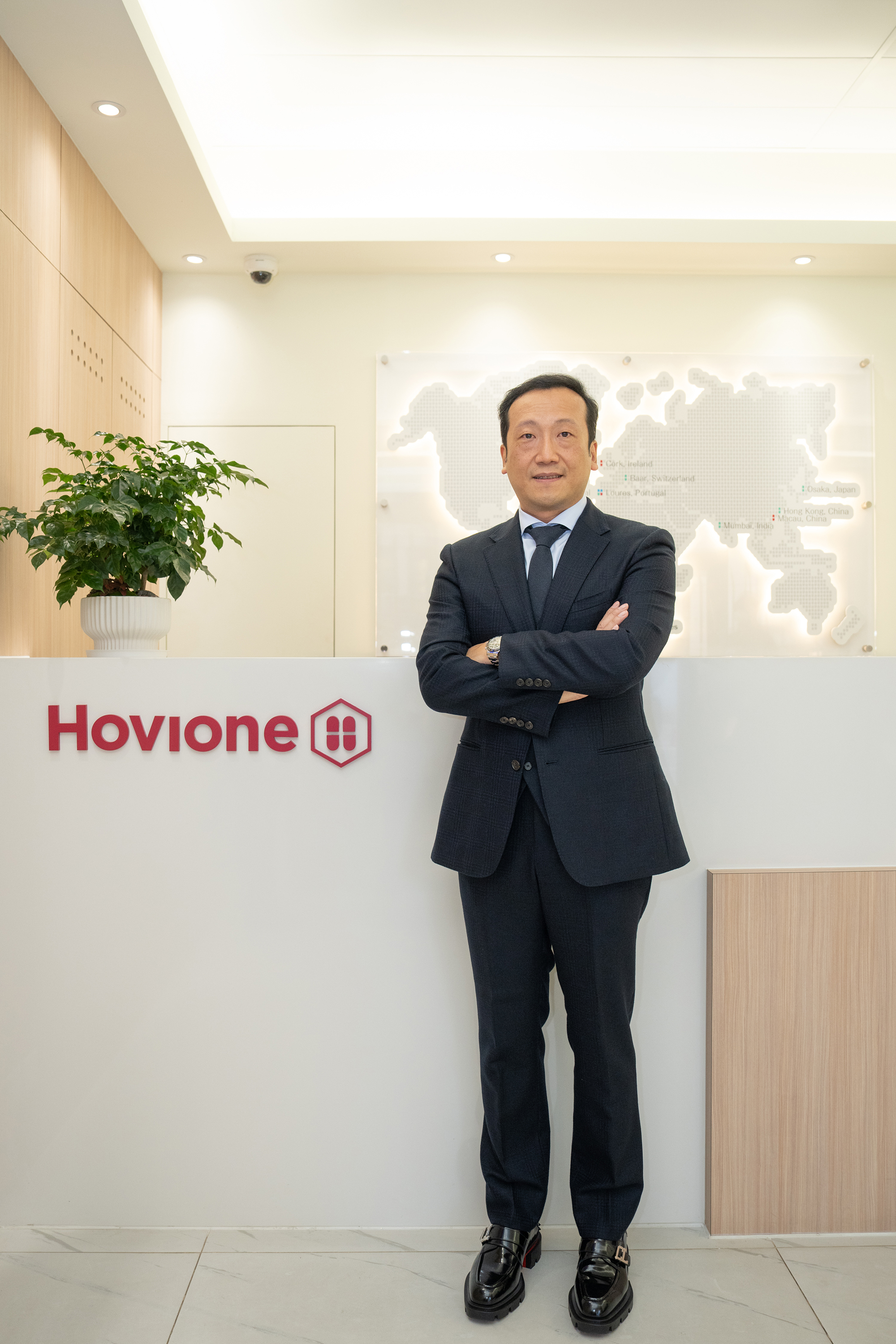 Hovione was founded in Portugal, in 1959, by four Hungarian refugees: husband-and-wife Ivan and Diane Villax, Nicholas de Horthy, and Andrew Onody. The word 'Hovione' is an amalgamation of letters from the co-founders' family names.
In the late 1970s, these founders famously predicted that the world's "centre of gravity will be in Asia". They also believed China would become the world's largest producer of pharmaceutical ingredients, so promptly opened an administration office in Hong Kong – a strategic location for purchasing raw materials from the mainland.
As the company grew, its founders decided to open an in-region manufacturing plant. Macao was an obvious choice for its proximity to the mainland, but also for the fact that the city was still under Portuguese administration. It had similar tax and legal systems to what Hovione was used to in Loures.
In 1986, the Portuguese administration granted Hovione Macau a lease on the same plot of land it occupies today – where Him Un Iec Kei Chan firecracker factory once stood. Incidentally, the pharmaceuticals company has preserved two of Him Un Iec Kei Chan's old buildings, as a nod to one of Macao's bygone industries. The defunct factory's name is still displayed across the site's main gates.
In 1987, the US Food and Drug Administration approved the plant as an API manufacturer – a crucial step for any company aiming to export drug substances to the US.
"Time has shown us that [setting up here] was the right decision," Leong says. "Not only has it brought Hovione closer to the supply chain, but it's opened up new opportunities." According to Leong, China's ever-increasing investments into healthcare and medical research is paving the way for more collaboration between local and international players in the pharmaceuticals field.
Made in Macao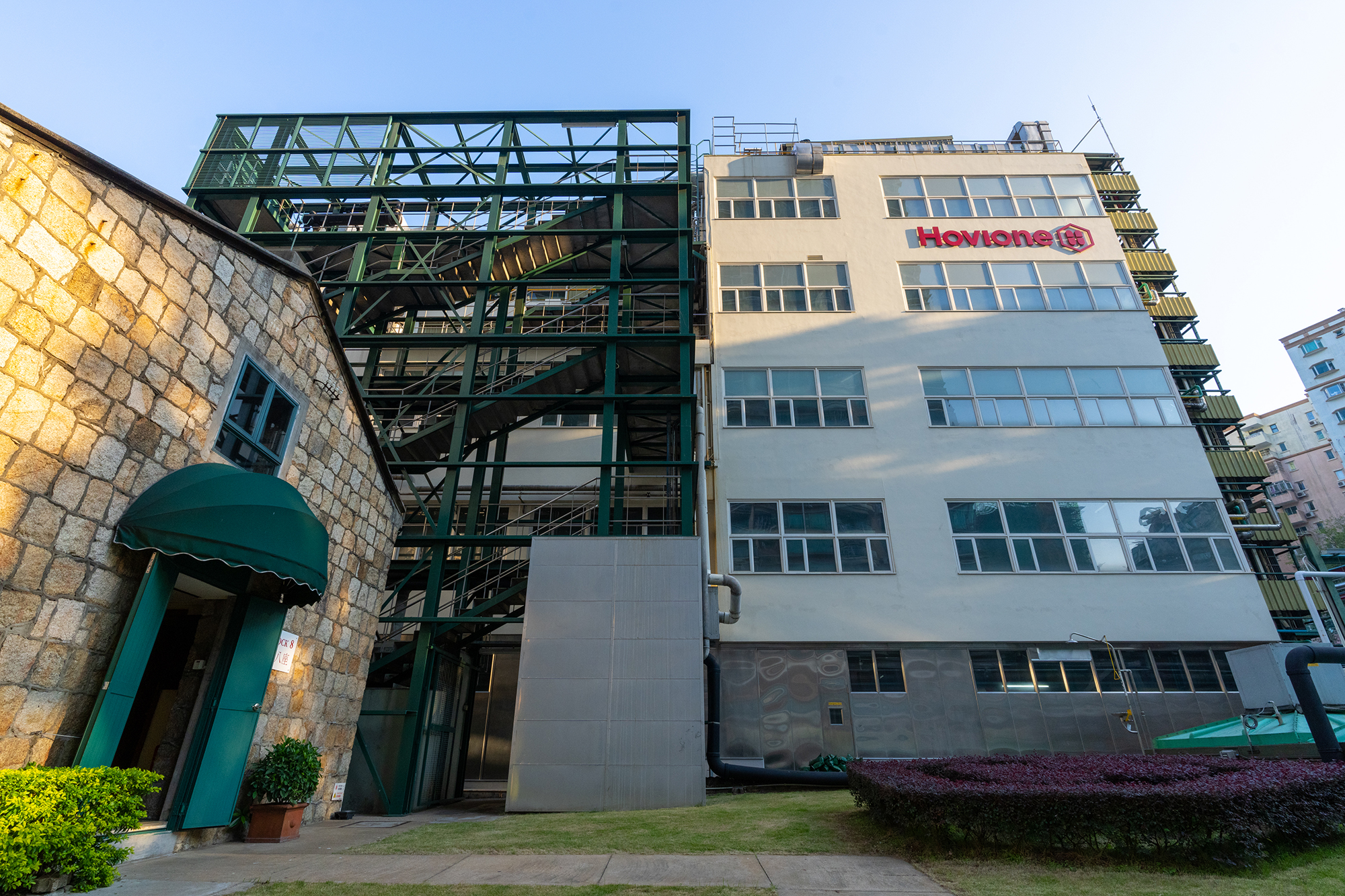 Like Hovione's other manufacturing plants, Hovione Macau's focus is on making APIs – also known as drug substances. As the name suggests, APIs are the ingredients that make drug products (usually a combination of two or more APIs in the form of a tablet, capsule, or solution) alleviate and/or cure medical ailments.
Doxycycline, for example, is an API used in antibiotics. The antiparasitic API ivermectin is used to treat the likes of head lice, scabies, and river blindness (caused by a parasitic worm primarily found in sub-Saharan Africa).
Hovione manufactures a sizeable fleet of APIs, including anti-inflammatory corticosteroids; glycopyrronium bromide, which inhibits anaesthetised patients' respiratory secretions; and a substance called salmeterol xinafoate – used to make breathing easier during asthma attacks. Some of Hovione Macau's customers request exclusive 'recipes' of drug substances, an offering known as custom synthesis.
Making APIs is a round-the-clock-process. Shift workers are on-site 24/7 to ensure Hovione's highly technical manufacturing operations run smoothly.
Once they're ready, APIs get sent off to pharmaceutical companies around the world. Those companies process them into generic-name (as opposed to brand-name) drug products, or use them in non-drug goods like medical shampoo. The resulting user-friendly end-products are then dispersed to other markets, including back to Macao. "If you buy drugs from a pharmacy, you won't see Hovione's name on the drugs but there's a good chance most of them use ingredients from here," Leong explains.
He says the company's biggest customers are in the US and Europe. India and Japan are emerging markets for Hovione Macau, while Australia and South Africa are smaller players in the industry.
Growing with the company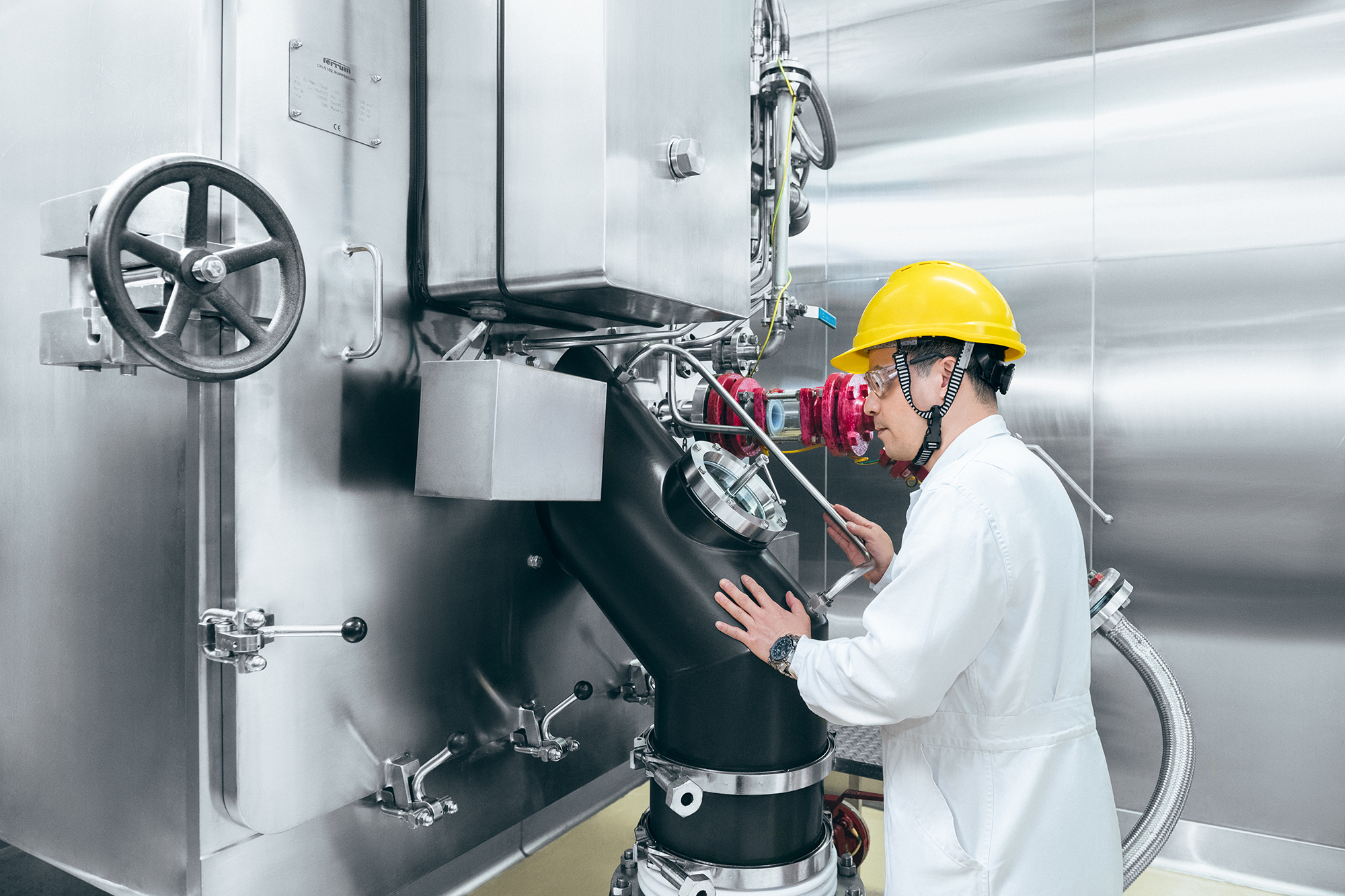 When Leong started with Hovione as a shift officer, he performed a lot of grunt work. Packing finished products, loading and unloading boxes, even washing floors and tanks. He points out that these tasks taught him the ins and outs of the plant. "Every step in the chain impacts on the quality of the products and, in the end, affects the final consumers – the patients," he says.
Leong was promoted to chemical engineer in 1998 and in 12 years made it all the way to general manager. That's the role he still holds, though in 2022 his title was changed to 'site manager'. "For me, this has been a fulfilling career," Leong says. "Because what I do actually helps save lives and improve the quality of life for so many people around the world."
The company has grown alongside Leong. These days, Hovione Macau has around 170 employees – more than double the number of people it had back in 1997.
Many of the original staff came from Portugal, as local pharmaceutical talents were few and far between at the time. "You couldn't find people here with the right degree, so a lot of technicians and engineers came from abroad," Leong explains. Nowadays, most Hovione Macau's staff members are Macao people who studied abroad then returned – like Leong did in the 1990s. Macao-based staff get opportunities to transfer to other Hovione sites around the world: "We believe the right talents need to move to the right places," Leong says.
Being a B Corp: safety and sustainability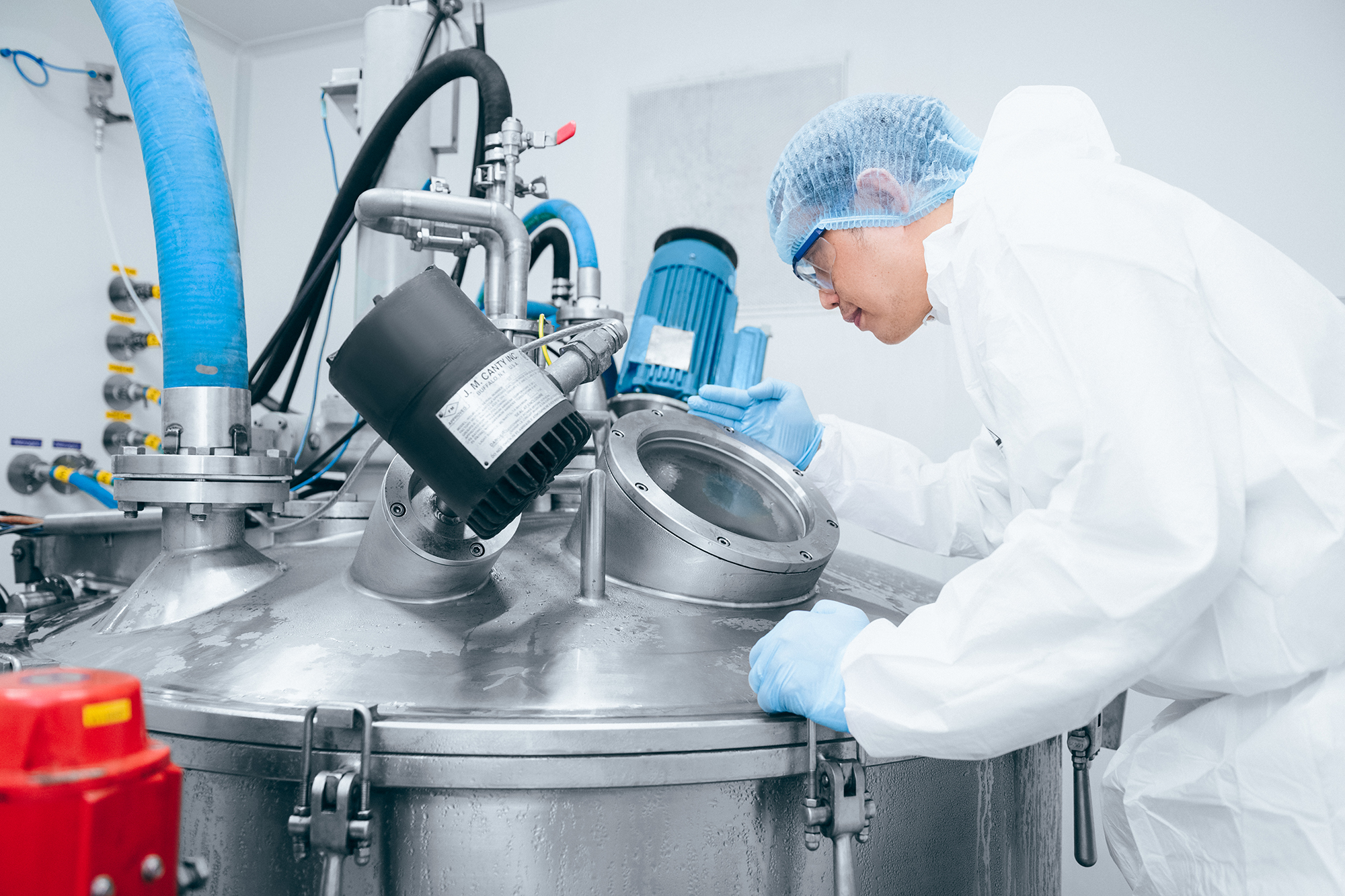 Hovione was certified as a B Corporation across its global operations in 2017. B Corps, as they're known, are recognised for their excellent social and environmental efforts. The accreditation is fashionable nowadays, but this company's slogan – 'Safety First, Quality Always' – has been at the heart of its culture since day one. "I believe the most important thing [in a workplace] is having a safety-conscious and quality-driven culture amongst employees," Leong says. "It means we don't just save patients' lives with our products, but also protect our colleagues' lives on the job."
There are many on-the job risks at a 24/7 manufacturing plant, including complex machinery, chemicals and burnout. "Hovione commits to managing its activities in accordance with the principles of protecting people, facilities and the environment, strategically to our development," explains Leong, underlining that the manufacturing site is ISO 45001 certified (an international occupational health and safety standard).
Sustainability is an increasingly important part of the company's culture, too. Leong says Hovione Macau has its own on-site recycling plant where the likes of used solvents get disposed of safely. Only waste that can't be recycled gets sent off-site to the government-operated Macau Refuse Incineration Plant, he adds.
"We always fuse sustainability into our processes and operations, so we can reduce the waste and recycle what we can."
Leong is committed to year-on-year water, electricity and gas reductions. With pride, he notes that Hovione Macau managed to use 20 percent less water in 2022 than in 2021. The company likes to think of itself as ahead of the game in this respect. In 2017, for instance, it spent several million US dollars constructing a system that could reduce the company's greenhouse gas emissions – before Macao's government introduced its 2030 carbon peak commitment.
The pandemic and its aftermath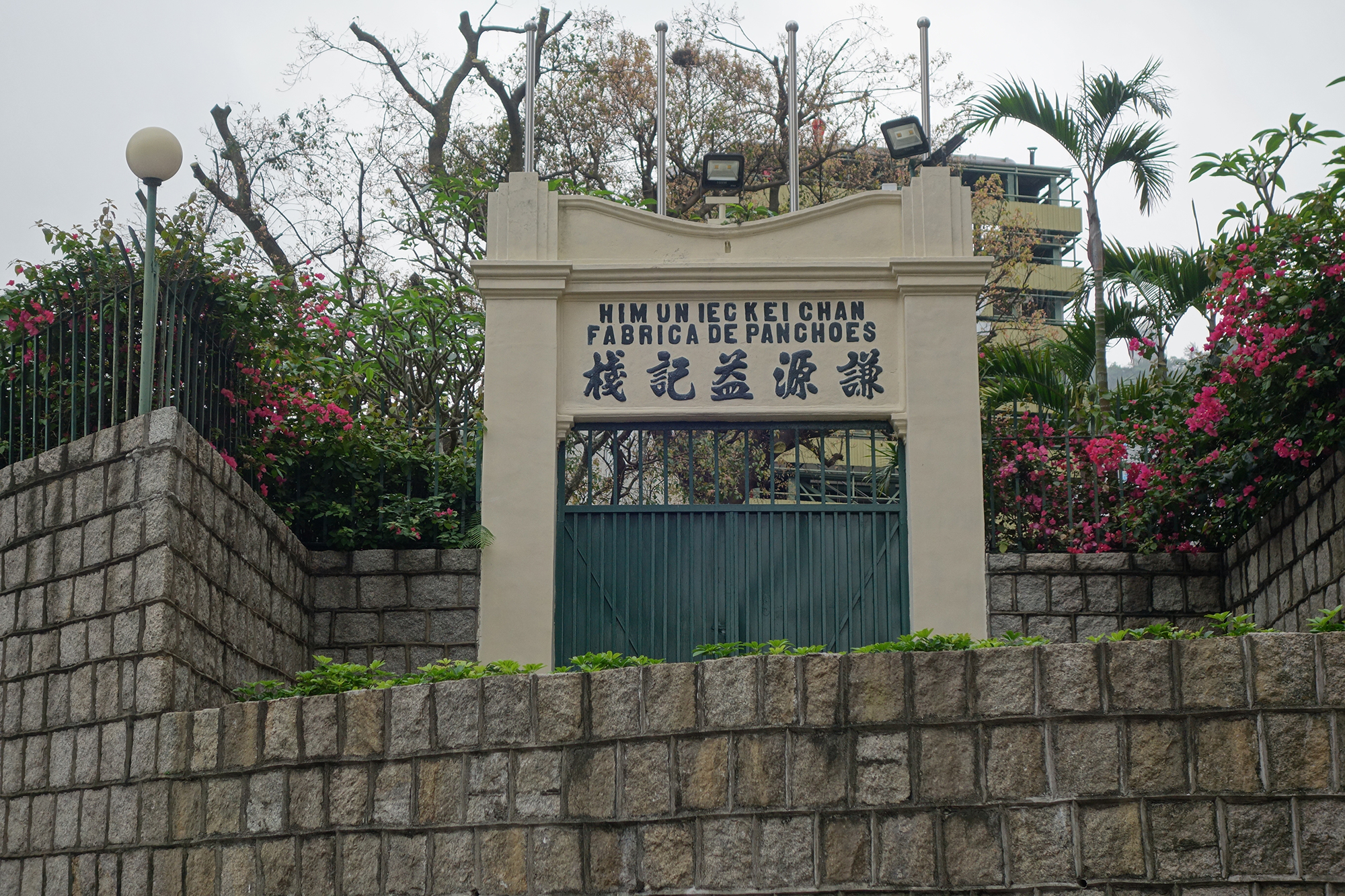 While none of Hovione Macau's APIs are used to treat or prevent Covid-19, sales stayed strong throughout the pandemic. As Leong says, "It's not like all the other diseases just stopped."
Restrictions did impact the company's day-to-day operations, however. "All audits and visits – from customers as well as from Hovione headquarters – had to be done virtually, or they had to be delayed," says Leong. Much of Hovione Macau's complex equipment comes from abroad, and requires regular upgrades. But the suppliers' technicians couldn't enter Macao during the pandemic, so the company had to rely heavily on internal resources.
Key raw materials used in Hovione Macau's APIs could keep entering the city from their origins in the US, India and Japan. But negotiations around major orders, normally conducted in person, had to happen online.
Now that the border has opened and operations are returning to normal, Leong says he's confident 2023 will be a good year for the company – which plans to expand its range of products.
For young people in Macao interested in entering the pharmaceutical industry and developing their careers with Hovione, the company offers internships to university students and highschool graduates. "They don't even need to work here in the future, we just want to cherish science and technology in Macao," Leong says. "We cannot have everyone in Macao working in tourism. I know we cannot change this number one industry, but we can complement it with other industries in the city."