Opening a snack bar, cafe, restaurant or clothing store used to be among the first choices of many local young people starting their own business, but in recent years, the options have multiplied.
From the Young Entrepreneurs Aid Scheme to the establishment of the Macao Young Entrepreneur Incubation Centre, the Macao government has introduced several programmes in the past few years to promote the city's economic diversification. These measures have improved the environment for innovation and entrepreneurship in the city by encouraging entrepreneurs to think creatively and explore new business opportunities.
We talk to three entrepreneurs who are following the 'Macao dream' and expressing the tremendous vitality and imagination of the city's younger generation of corporate pioneers.
Payboy – A big change for small change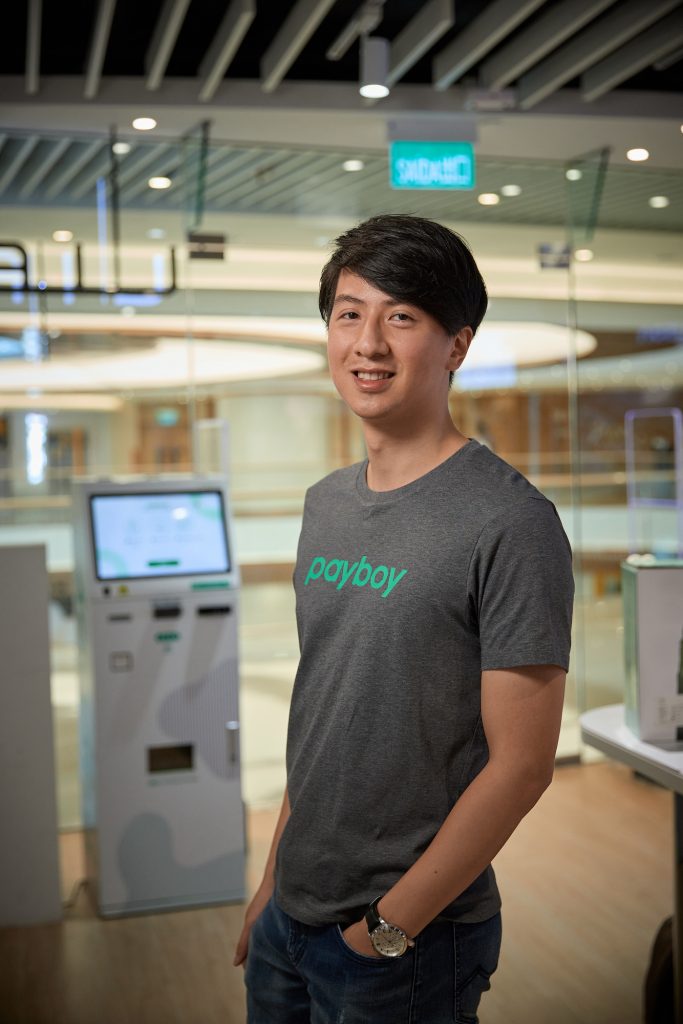 Most people from time to time accumulate piles of low-denomination coins in their homes after emptying their pockets and purses of small change from supermarkets, convenience stores or restaurants. On their own, they are too awkward to carry around endlessly for the next low-cost purchase and it's too time consuming to queue up at the bank to exchange for notes. One by one, the pile of coins gradually gets bigger.
Oscar Leung, 29-year-old local entrepreneur, recognised this problem and founded Payboy, which develops self-service coin-collection machines. This not only releases the value of these hoards of coins but it also optimises the circulation of small change in the market.
Unlike the current coin conversion service offered by banks, Leung describes Payboy's service as "simpler". While most banks require staff to painstakingly sort and count the coins by hand, Payboy allows users to simply pour all the coins into the machine, which instantly recognises and calculates their value. Users can then choose to convert the amount into e-vouchers for merchant purchases or donate to local charities.
Since the launch of the first Payboy machine in a large shopping mall in Taipa in mid-January 2021, the startup has added eight more machines across town, totalling nine Payboy machines. They collect all denominations of Macao pataca and Hong Kong dollar coins.
Payboy's three machines at the Original Technology stores in the city have since collected more than 1.2 million coins with about 60 per cent of them being MOP ten-cent coins. "The main purpose is to help the public to rediscover the value of coins. They may consider that the amount of coins accumulated is small, but the value is often greater than people expect," says Leung.
Inevitable setbacks in entrepreneurship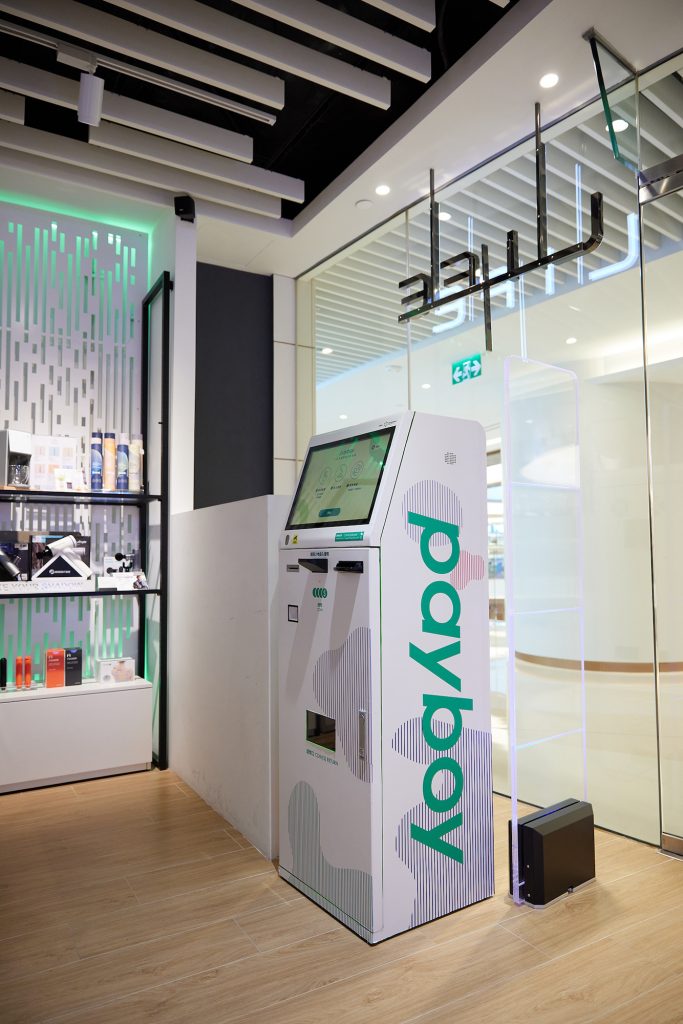 To encourage the public to exchange coins, the Payboy machines are free of charge and the current revenue model is mainly based on the commission of merchants, as the machines attract people to the store.
"One of the most difficult things to do was to talk to merchants about setting up the machine because they didn't think it would generate much revenue for them. But after the first machine was put into use, more and more merchants were interested."
Before starting his own business, Leung worked as an analyst at a local company, where his job included checking the daily news. "One day, I noticed a news story about a coin-changing machine launched by a startup company in Hong Kong. I remembered that I had seen a similar machine when I was studying in the United States. I thought there was room for Macao to promote related businesses."
Inspired by this, he contacted the Hong Kong-based company and became its representative in Macao in 2017. However, due to the Covid-19 pandemic and other factors, he decided to take on this venture on his own under the brand name Payboy.
"In recent years, there has been a boom in entrepreneurship. Whether it's government incubators or [private] accelerators, young people have more ideas to start their businesses." Looking back on his entrepreneurial journey, there were bumps along the road, but Leung is glad to have had the support of different government departments and units, such as the Economic and Technological Development Bureau, Monetary Authority of Macao, Science and Technology Development Fund and the Macao Trade and Investment Promotion Institute.
Cash circulation
Despite the rise of electronic payment, particularly due to Covid-19, Leung says that cash will remain one of the main methods of transactions in the future. "The pandemic has fostered citizen's usage of electronic payments and they use cash less often than before, but this has simply strengthened the understanding of the importance of coin recycling."
In less than a year, he has also successfully partnered with Bank of China and Banco Nacional Ultramarino to run coin-collection machines for them. With six machines spread across six branches, users are now able to convert their coins directly into notes, which he has noticed has significantly increased user interest.
In terms of Macao's market size, Leung expects 15-20 Payboy machines are needed to meet demand but this year he hopes to expand to transport hubs such as the border gate to make the process even more seamless for tourists so when they depart Macao, they aren't carrying a pocketful of coins with them.
He is also working towards transferring the money directly into bank accounts in the future – essentially integrating with the government's fast payment system. "We hope to develop financial self-service devices in Macao and to provide more services such as self-payment, self-deposit and self-checkout," Leung says.
Less is More – "Naked shopping"
Concepts such as Danshari (a Japanese word which means "decluttering") and minimalism have swept across the world in recent years, encouraging people to re-examine their relationships and other personal matters as well as to reflect on what they really want in life and to abandon unnecessary baggage. 32-year-old Rachel Wong is just one example. In addition to putting the philosophy into practice in her own life, she also started a business, Less is More, to popularise her beliefs and lifestyle to reduce unnecessary waste in the city.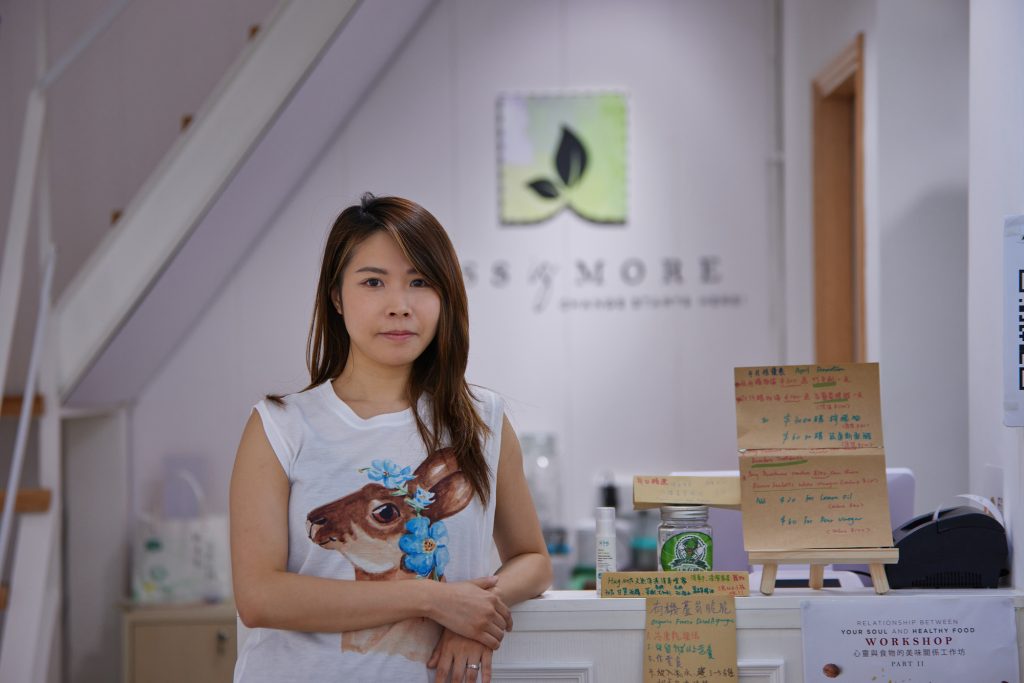 Located in Rua Nova à Guia, Less is More opened in May 2019 and focuses on selling organic health products, such as natural food, fruit vinegar and oil, spices and cleansing skincare products. Unlike traditional stores, products are sold packaging-free to reduce unnecessary wrapping and plastic containers. For example, customers need to bring their own containers to the store when buying cleaning liquid, though she also provides clean reusable glass containers at her store for convenience.
Starting a family made Wong notice just how much waste a single household could produce. "I have always been interested in minimalism. Especially after the birth of my child, I began to reflect on why we all generate so much garbage in our lives, so I hope to implement minimalism in my own life. However, it is not easy to live that kind of life in Macao. For instance, products in supermarkets usually have multi-layer packaging," she says. Wong was inspired to start her own business when she came across the concept of "shop naked" online. "Before I opened my store, I worked in the make-up and skin-care industry and later became a stay-at-home mum. At that time, I didn't have the urge to start a business."
From zero to one
From the store name and logo, to the location of the store, daily operations and inventory management, everything was a new experience for this young entrepreneur. "Every day was a challenge, because I didn't have the relevant experience, so I had to figure everything out myself," Wong admits.
However, the business was disrupted by Covid-19 and the store was closed for more than a month. After that, the business had to rely on regular customers' orders for a period of time. Today, thanks to Macao's remarkable results in the fight against the pandemic, the business volume of the startup returned to its pre-pandemic level.
In addition, Wong plans to add an online sales platform for the store soon, so that customers can buy their desired products without leaving home. She also hopes to hold regular workshops on healthy eating and natural products to promote a healthy living culture and deepen the connection between customers and the shop.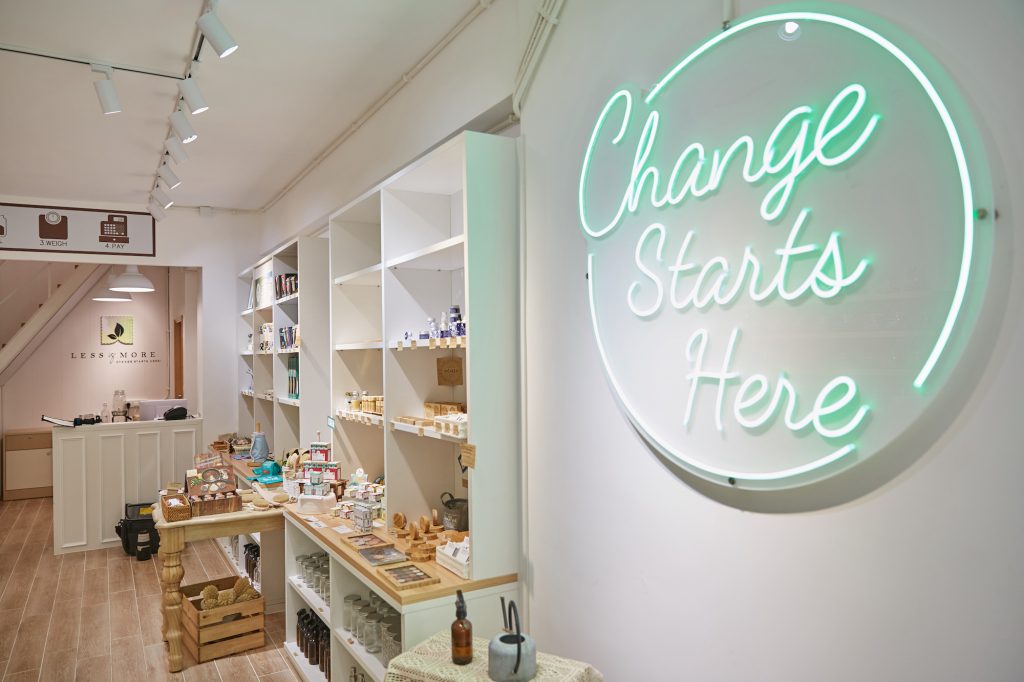 Gathering companions
Three years ago, Less is More was one of only two "naked selling stores" in the city. "Many people would curiously hang around outside the store when we first opened, so we had to go out and talk to them about the shopping model and further their understanding of it."
The store has seen the gradual emergence of a few competitors. Wong also commented on the two or three "naked selling stores" that have recently opened: "The aim of these stores is to inspire people to simplify life and focus on what they love and what's important, so I'm glad to see this lifestyle becoming more popular."
"My ultimate goal is of course to make waste reduction a daily habit for people in Macao. Not only for our kind of shops, but also for supermarkets and other large chain stores that can try 'naked selling'," Wong says.
"Startups need capital, both at the beginning and in the middle and later stages of development."

Marco Duarte Rizzolio
Follow me Macau – The business of Travel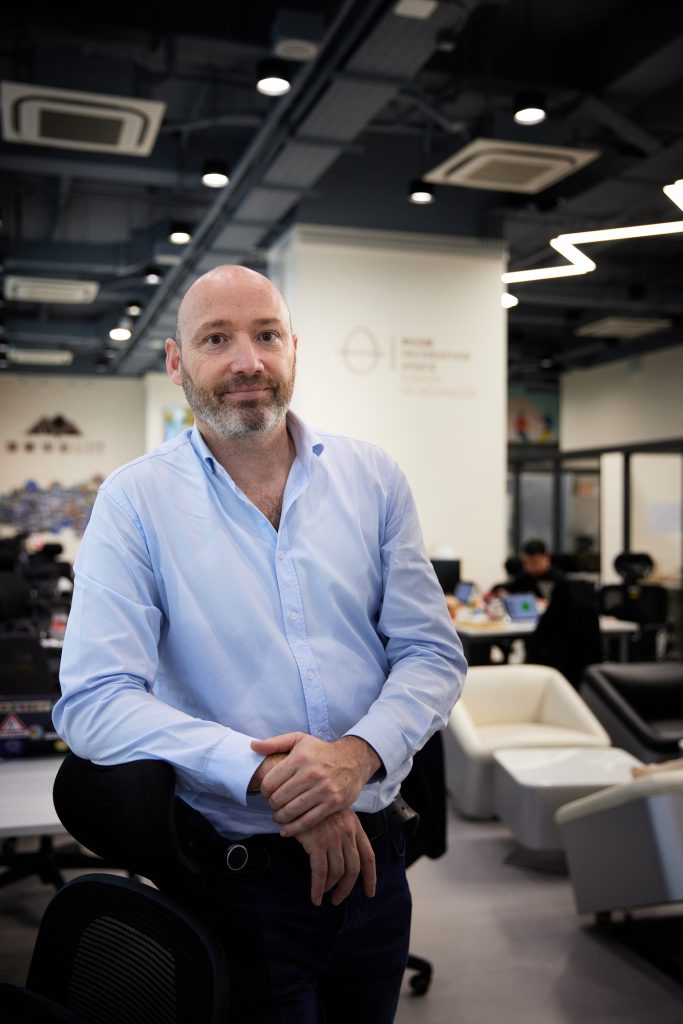 Macao's business environment not only encourages more local young people to pursue their dreams, but also attracts people from overseas to explore opportunities in Macao. Portuguese entrepreneur Marco Duarte Rizzolio took advantage of Macao's booming tourism industry, for example. The entrepreneur developed and launched Follow Me Macau, a one-stop booking platform for Macao travel experiences, opening a new chapter in his career.
With years of financial experience in Spain, Italy and Brazil, 48-year-old Rizzolio moved to Macao seven years ago with his wife and family. "Before my departure, I did a lot of research on Macao and I thought there was a good opportunity to grab [in the tourism market]." After a stint at a gaming company, he co-founded Follow Me Macau in 2017 with his business partner, offering a one-stop guide to Macao allowing travellers to book dining, shopping, leisure, cultural, sporting and other activities on the platform.
The platform initially operated on a B2C (business-to-customer) basis, but Rizzolio gradually saw more room for expansion in corporate events and incentive travel (sometimes referred to as MICE – Meetings, Incentives, Conferences and Exhibitions).
"Every year [prior to the Covid-19 pandemic], a number of visitors come to Macao for MICE. These business tourists usually stay in Macao for three to four days. In addition to participating in exhibitions and events, the organisers or their companies will reserve a day for them in Macao for team-building activities. So, about six months to a year after we launched, we changed our business strategy a little bit. We focused more on a B2B (business-to-business) model, which means planning actitives for different companies," Rizzolio says.
This change quickly received a positive response from the market; the platform has successfully attracted companies from Singapore, India, mainland China as well as Hong Kong and Taiwan. Prior to the pandemic, Follow Me Macau had an average of two clients per month that engaged them to put together corporate events.
Pandemic Challenges
However, the pandemic has disrupted this progress, with travel restrictions and quarantine measures having a major impact. "Since the outbreak, business has come to a complete halt," Rizzolio said. "There have been no phone calls or emails." Although the outbreaks have been controlled in the mainland and Macao, and some travel restrictions between the two places have been eased, entry to Macao from other places remains severely restricted.
"A small number of companies started inquiring about our service in February or March last year, but the business situation is still poor." Rizzolio expects to see an upturn in his business in 2022 due to wider takeup of vaccinations and further relaxation of travel restrictions. At this stage, Rizzolio is focusing on reducing costs, as well as developing and preparing new products and services in response to the latest market trends.
In this difficult time, the business fortunately has the strong backing of the Macao Young Entrepreneurs Incubation Centre, which was funded and established by the Macao government at the end of 2017.
The centre provides a 24-hour shared workspace for Macao entrepreneurs, as well as diversified support services such as professional consultations, training and coaching, access to expert advisors, road-show marketing and investor-investee matching.
Follow Me Macau was one of the first members of the centre and Rizzolio said that he had been fortunate enough to visit other cities in the Greater Bay Area through the centre's exchange activities and entrepreneurship competitions to expand his network and raise his business to the next level.
Compared with neighbouring cities, Rizzolio, who is also a guest lecturer at the City University of Macau, says that the entrepreneurial environment in Macao is still in its infancy, but with the strong promotion of the local government and the rich resources of the mainland, especially the Greater Bay Area, the entrepreneurial ecosystem will gradually improve.
"Startups need capital, both at the beginning and in the middle and later stages of development. While Macao doesn't have a complete capital market, Hong Kong, Guangzhou and Shenzhen have a complete system, so the focus is on how to connect and share these resources."
"China is a dream market for startups and many Portuguese-speaking startups want a piece of the pie, so Macao can serve as a bridge to attract startups from relevant regions to Macao," he adds.
Macao's drive for domestic economic diversification and integration into the Chinese national economy provides a wider spectrum of business opportunities today for entrepreneurs based in the city.
Leung, Wong and Rizzolio represent very different business sectors, ranging from finance, to no-frills retail and travel apps – the very definition of diversity – but have also brought insights from their own lives, whether spotting a business model overseas, having international corporate experience, or simply going through a change in family life cycle, these entrepreneurs have brought a new energy to Macao's entrepreneurial environment.
It also raises the bar for creativity and ingenuity in developing fresh industries and services. This is a challenge the new generation of business people are keen to take up.
However, these entrepreneurs are not alone, they have the strong backing of the Macao government through funding and support programmes of varying kinds. In a sense, Macao's entrepreneurial environment is itself in its early stages, a period full of excitement and enthusiasm combined with imagination and growing expertise but most of all a determination to succeed.