Under the shadow of the Ruins of St Paul lies an unassuming street called Rua dos Ervanários. Despite only being a flight of steps away from Macao's most recognisable landmark, it's often overlooked by passersby. If you detour down this street, you get a sense of being between worlds. Decades-old businesses sell antiques next to trendy new cafes, locals who call the street home play mahjong with their neighbours while camera slinging tourists trod past, and cobblestone streets are juxtaposed with modern street art. Despite its small size, this street provides a great snapshot of both Macao's past and future.
Rich with history
The area surrounding Rua dos Ervanários has attracted merchants and traders since the 16th century. In his book Macao Streets, historian César Guillen-Nuñez wrote that the street became the de facto centre for goods coming in and out of the city, which at the time was a burgeoning Portuguese trading port.
While the street's name is taken from the Portuguese word for herbalist, presumably after the traditional medicinal herbs that were sold in the area, its Chinese name, 關前正街 (Gwan Chin Jing Street), comes from the customs services that used to oversee Macao's foreign trade from here, according to the Macao Government Tourism Office.
With the customs building right next door, traders set up on the street displaying goods from all over the world, a global marketplace before globalisation was commonly adopted. For hundreds of years, merchants took advantage of this prime location, their customers able to pick from porcelain vases from mainland China to intricate ornaments from Portugal.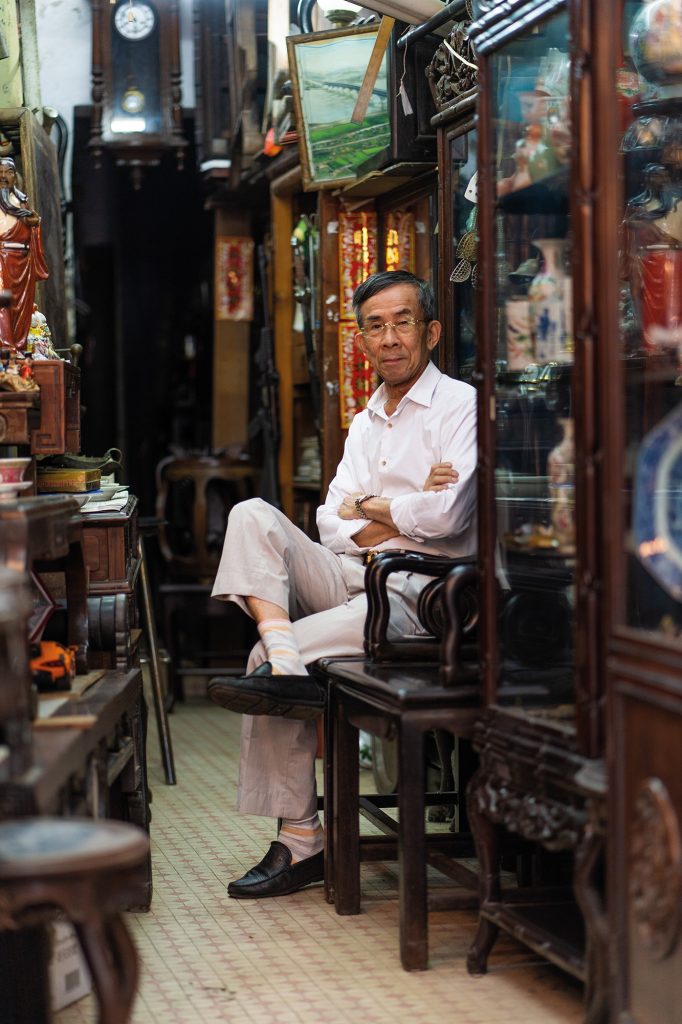 Antique store owner Ian Siu Pou has been in business in the area since the 1970s, when he took over his father's business. "At the time, Macao had many old houses so we would buy old furniture from there and sell it at our store," he says.
The 75-year-old can still recall a time when the area was teeming with traders who would carry around baskets full of goods hanging from bamboo shoulder poles. But he says Ervanários has changed completely over the past 50 years. Street traders now prefer to sell their goods in more formal settings or over the internet.
Ian's clientele has also changed. Before Portugal handed over the city's administration to China, most of his customers were Western, the bulk of them Portuguese, coming to him for sturdy vintage furniture made with blackwood and rosewood from India, Vietnam and Thailand.
At the dawn of the new millennium, however, Ian noticed more customers from the mainland. As Beijing reforms created newfound wealth for Chinese citizens, many became interested in antique goods to display in their homes.
"The environment [here] is really changing. But I can't say whether I miss the old times or not. All I know is that it's changing. You just have to make your living," he says.
New neighbours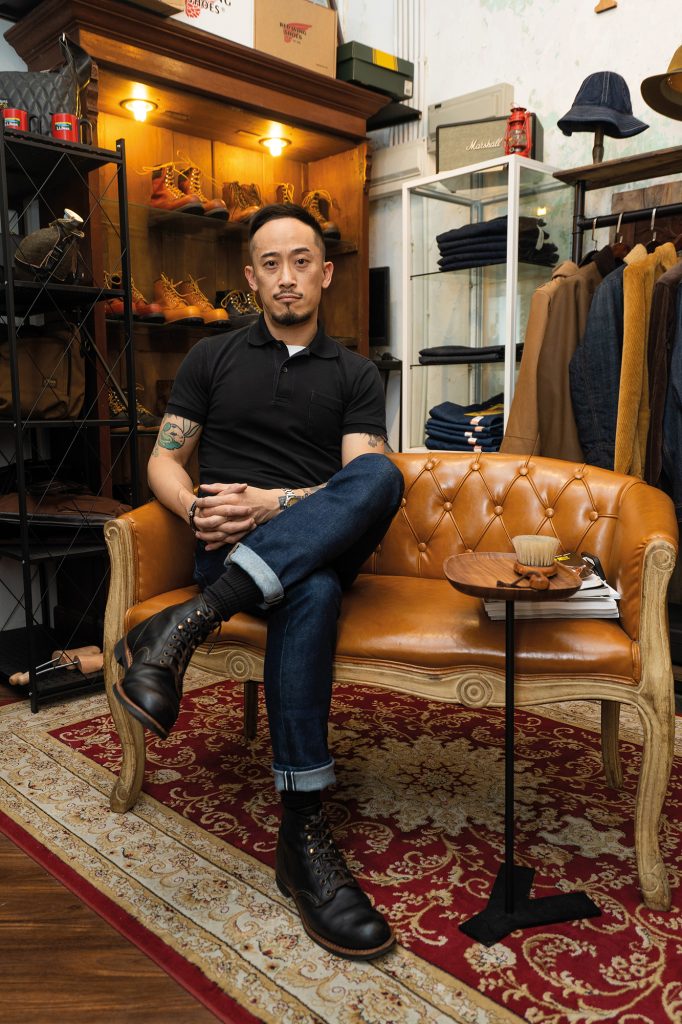 Aside from the existing antique stores and incense shops, Rua dos Ervanários remained relatively under the radar until about five years ago, when real estate investors set eyes on the neighbourhood.
When musician and artist Fortes Pakeong Sequeira was shown available spaces in the neighbourhood, he said it was like a homecoming. "I have very good memories of this street as a child. I remember walking through here with my parents. It has a very communal feel. People would stop you and chat with you for half an hour even if you don't know each other," he says.
Longtime local shop owners discouraged him from investing in a space on Rua dos Ervanários, however. They told him their own businesses weren't doing well, but Sequeira decided it was worth the risk and leased a building that used to be a blacksmith's workshop.
In 2017, he opened A Porta Da Arte, which means 'The Door of Art' in Portuguese, a cafe and retail space showcasing locally made goods and vintage clothes. He named items on the cafe's menu after metalworks and retained some of the building's original brickwork to speak to its history.
About a year later, Wallace Chan moved in across the street. In the building that used to house Macao's customs services, he opened Ho Ho Market, a store that sells creative goods from places like Taiwan and Japan. Selling imported items in the same place where all imported and exported items once passed through "felt like fate", he says.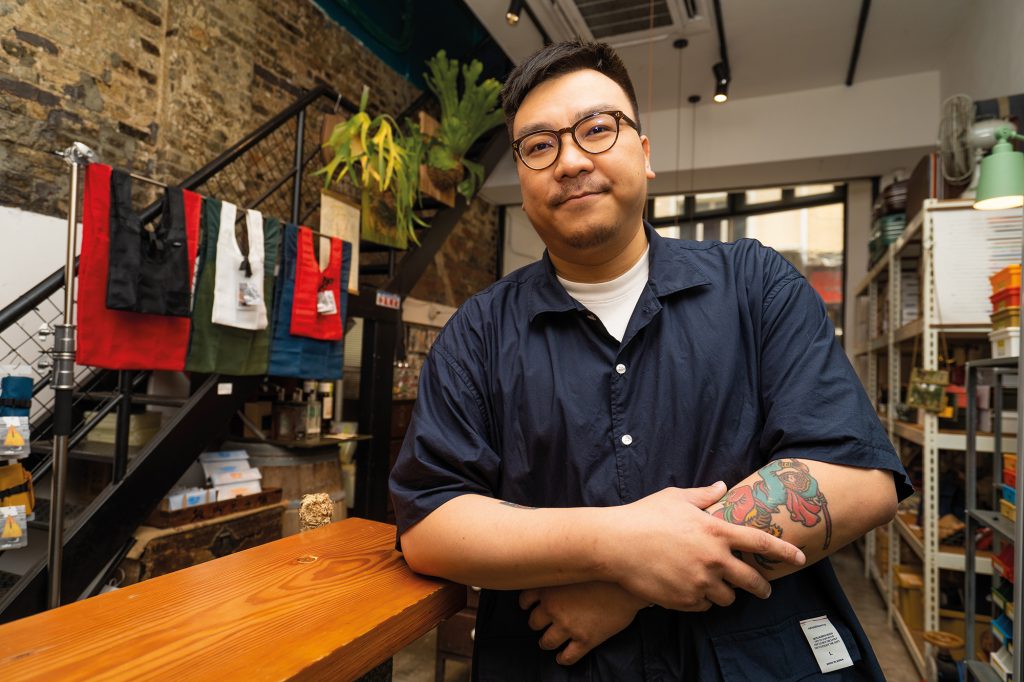 From then on, Rua dos Ervanários developed a reputation as a hub for creative endeavours. Today, it's home to everything from Portuguese eatery Food Truck Company, whose claim to fame is being home to Macao's best Portuguese beef steak sandwich, to crystal healing shop Gems Awakening.
The street also hosts a bi-weekly crafts bazaar letting locals sell their handmade goods on the streets, harking back to the street's history as a centre for traders.
More recently, Ervanários business owners have capitalised on the city's cafe craze. There are nearly a dozen cafes in the area. If you are nearby and need a pick-me-up, you'll have an abundance of options, from late hangout Meta Coffee to pet-friendly Woofpetsion. Chan muses that Ervanários is beginning to be colloquially referred to as "cafe street".
Sequeira adds that the naysayers who warned him just five years ago have changed their tune, too. "Business has changed and we have a good connection with our neighbours and the vibe is different from before."
Weathering the storm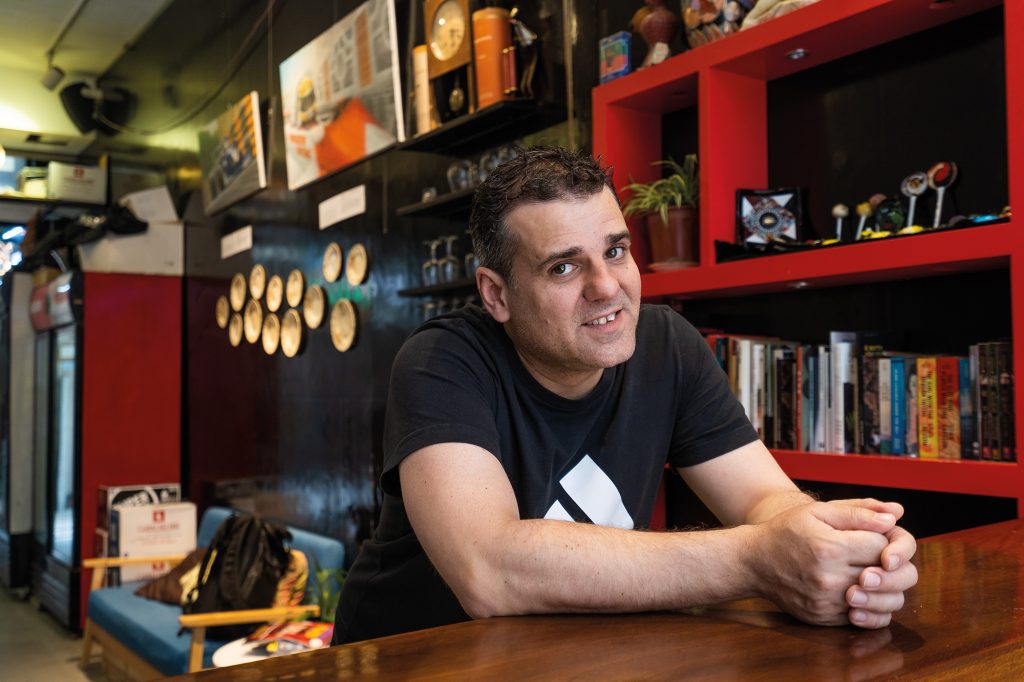 The street's revitalisation has not been immune to the pandemic. Being so close to the Ruins of St Paul used to guarantee steady footfall for businesses on Ervanários. But border closures have significantly cut off tourism, the city's main source of livelihood, and pushed most business owners to the brink of closure.
Pedro Esteves was among the first business owners to move into the area when he opened Food Truck Company in 2017. He has been in the restaurant business for over 16 years, but he says Covid-19 has been his toughest adversary yet.
Esteves hopes that Macao can reopen to visitors from Hong Kong soon. His restaurant used to attract many customers from the neighbouring city and he finds it difficult to turn a profit from local patrons alone.
In an attempt to drive more people to Rua dos Ervanários, local associations, including the Industry and Commerce Federation of Macau Central and Southern Districts and the Macau Historical Districts Developments Promotion Association, have organised an open-air fair that will be hosted on the street until 24 June. In addition to promotional campaign drives on social media, organisers have also incorporated augmented reality (AR) attractions to encourage locals and visitors to explore the street and learn about its history. Additionally, more than a dozen stores, including Ho Ho Market, are running exclusive promotions, and customers can take part in a virtual lucky draw offering prizes such as iPhones, iPads and hotel stays.
Organisers say they hope the activities can help shops boost business by as much as 40 per cent. It is already paying dividends for some.
"This activity has helped my business," says Chan. "Just the other day a couple spent around MOP 400 here and I gave them some lucky draw coupons and they won a hotel reservation at Lisboeta. They were really happy."
Past and present collide
Sequeira admits the influx of new businesses in Rua dos Ervanários could eventually transform the street's original character. But the 44-year-old thinks change is inevitable and should be embraced. "This is a new generation and people are changing and so is the culture. All I can do is what I'm good at and what I love."
From his humble store at the end of the street, Ian watches as buildings he's known most of his life get fresh coats of paint and house new merchants. He still comes to the store everyday – "No days off," he declares – sitting among the furniture and antiques that have provided him with a living for so long. He says trendy new stores and cafes don't impact his business as they don't cater to his customers.
Next door, in another storefront Ian acquired in the '80s, his son runs a small supermarket, continuing the family's half-a-century presence in Rua dos Ervanários and providing proof that while the street continues to evolve, some things will remain the same.
---
SHOP GUIDE:
The Ervanários area (which includes its namesake street and nearby Rua da Tercena and Rua de Nossa Senhora do Amparo) is home to an abundance of shops from some of Macao's most creative minds. Some merchants have also been doing business here for several decades, making this an exciting way to experience the Macao of past and present.
Keep an eye out for the craft market fair, held every other weekend, when local vendors line the street with pop-up stalls and sell their handmade goods. Don't miss the Ervanários Fair, held until 24 June, either. Use your phone's camera to experience Ervanários through AR and unlock exclusive deals – you might even get lucky and win a prize.
To get you started on your adventure, here are five of our favourite spots to hang out and shop in Ervanários, from the new and exciting to the old and historic. Now get exploring!
1. A Porta da Arte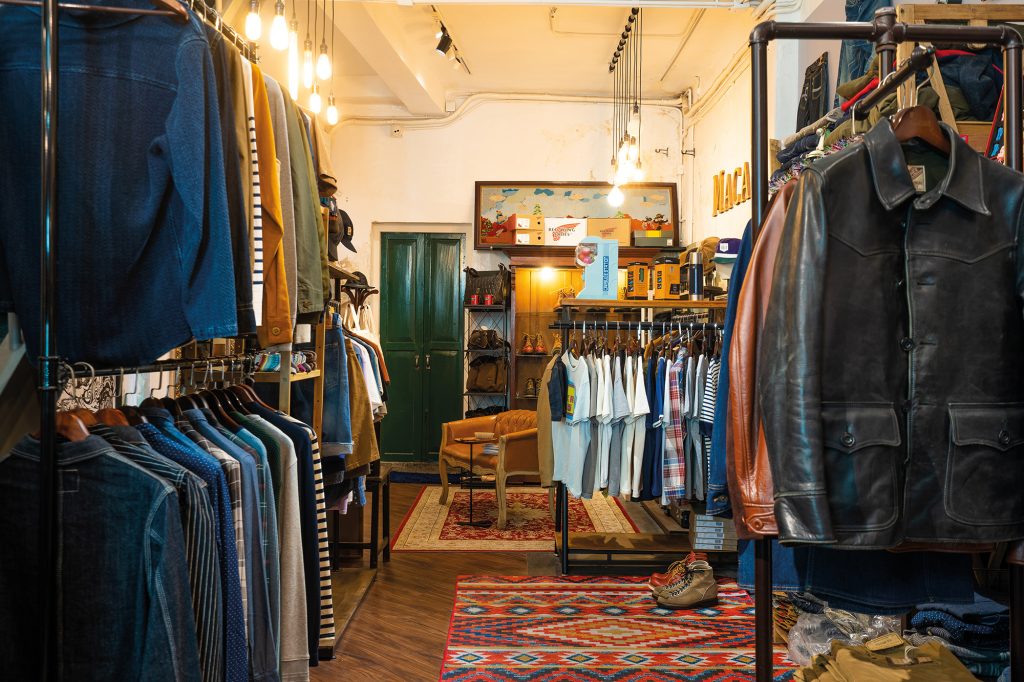 What is it? A four-storey building that houses a cafe, leather goods store and its owner's personal workshop.
Store story: A Porta da Arte was among the first wave of new shops that moved into the neighbourhood back in 2017. The building it's in used to be a blacksmith's workshop. "When I first came here, it was like an abandoned space. It was so messy but I loved it!" says owner Fortes Pakeong Sequeira. The local artist spruced up the spot but kept certain elements intact, including an exposed brick wall, to honour the building's history. On the street level is a cafe which stocks Macao-brewed coffee beans, upstairs a local leather worker's products are displayed for sale, on the third floor is a vintage shop, and Sequeira's office and studio are perched on the top floor. The sofas peppered across the store are perfect for lounging, making this space feel more cosy than commercial. "I'm not a natural born businessman. I'm an artist. I paint, I sing and I compose. I just wanted a space to do my work and also gather some of my friends to sell their handicrafts and artwork." Mission accomplished.
Pro tip: If you happen to run into Sequeira, ask him to let you up the building's rooftop where you can enjoy your brew with a bird's-eye view of Ervanários.
2. Ho Ho Market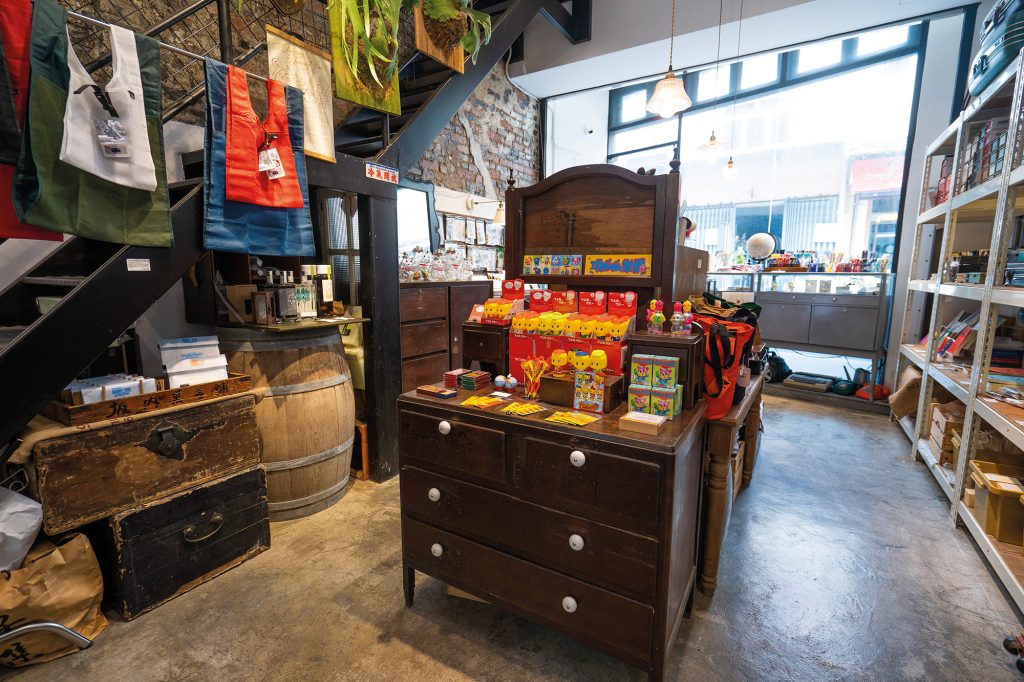 What is it? As its name suggests, a market for all things good and useful. You'll find whimsical (yet functional) objects, products from your childhood and even exotic succulents.
Store story: Macao-born, Taiwan-raised Wallace Chan values a good story. He set up Ho Ho Market in 2018 (that's 好好, ho ho, as in 'good good' in Cantonese) after noticing a lack of creative goods in Macao that incorporated the city's rich traditions. "At the time, most of the cultural products here lacked meaning. I wanted to see more goods with a story and items that embody local traditions so I decided to import them from abroad to inspire locals." Chan says the products need to have visual appeal to get people's attention but they also have to be useful. As a result, Ho Ho Market is a hodgepodge of all kinds of items from around the world, ranging from utilitarian Japanese officeware to quirky Taiwanese homeware. There are products that evoke nostalgia, like a label maker from Penco, and stuff you never thought you needed, like a candle that replicates the smell of a campfire. True to its mission statement, the store also stocks locally designed goods from streetwear to egg tart-shaped and -scented candles. If you're after a unique gift for someone, Ho Ho Market is sure to have something for you.
But wait, there's more: The second floor is home to a personal interest of Chan's: rare succulents. Neatly lined up under bright lamps, some of these botanical wonders look so obscure, they seem as if they're from another planet. Chan painstakingly imports them from arid places in Africa and the Americas. His pride and joy: the many agave plants he has on hand, though he doesn't plan on going into the tequila business anytime soon.
3. Gems Awakening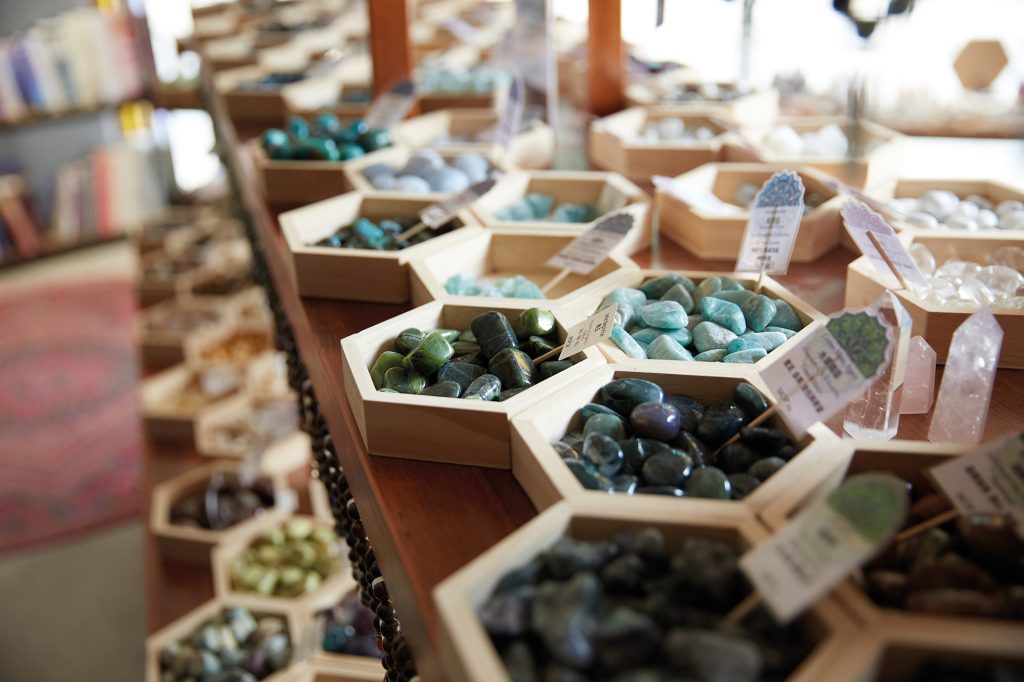 What is it? Holistic wellness store that specialises in crystal healing.
Store story: Gems Awakening is Macao's first crystal healing shop. Owned and operated by married couple Carol and Arthur Lim, the shop has been in business since 2020, preaching the benefits of the alternative wellness practice. "With this shop we want to educate people about the thousands upon thousands of stones out there. Different stones have different energy, and that can help you in different areas of your life," says Arthur. They source their stones from different suppliers around the world, including those in the US, Brazil and Madagascar. Enter the store, and you'll be greeted by the smell of incense and the occasional hum of a singing bowl. Whether you buy into the purported healing properties of crystals or not, this shop is well worth a visit for the sensory experience alone. Who knows? You might just learn something new!
4. Veng Heng Cheong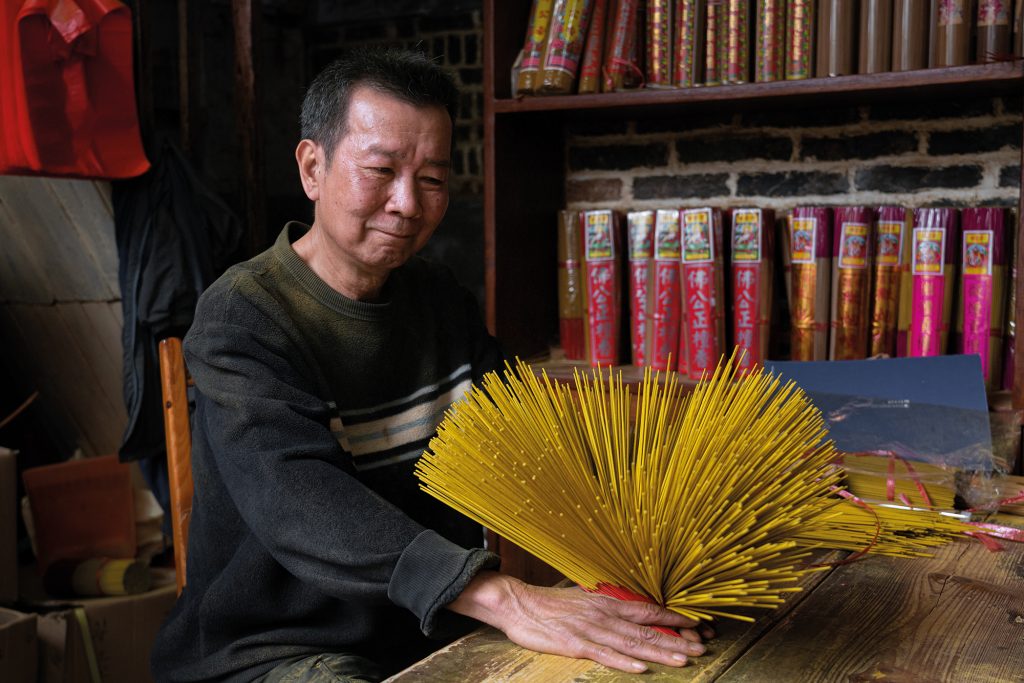 What is it? Family business selling joss sticks that has served Macao worshippers for decades.
Store story: Conveniently located near several temples, the Ervanários area is a prime spot for selling goods for worshipping. The Tam family saw this as a business opportunity back in 1968 when they opened their incense store, Veng Heng Cheong. Tam Kin Hong says the store was named after his father, Tam Veng. His parents taught him how to make incense when he was in middle school. His mother would take him to the factory to learn the trade, and when he was 17, he apprenticed with a master incense maker. Now 70, Tam continues to run the family business, one of the last joss stick stores in Macao, but he's unsure how much longer the tradition can last. "If I am no longer in good health, I will have to stop doing this."
Did you know? Joss stick manufacturing was once one of Macao's biggest industries, along with matchstick and firecracker production. At one point, there were more than 40 incense factories in the city but the opening of the mainland market in the '80s ramped up competition and the local industry was not able to keep up.
5. Son Kei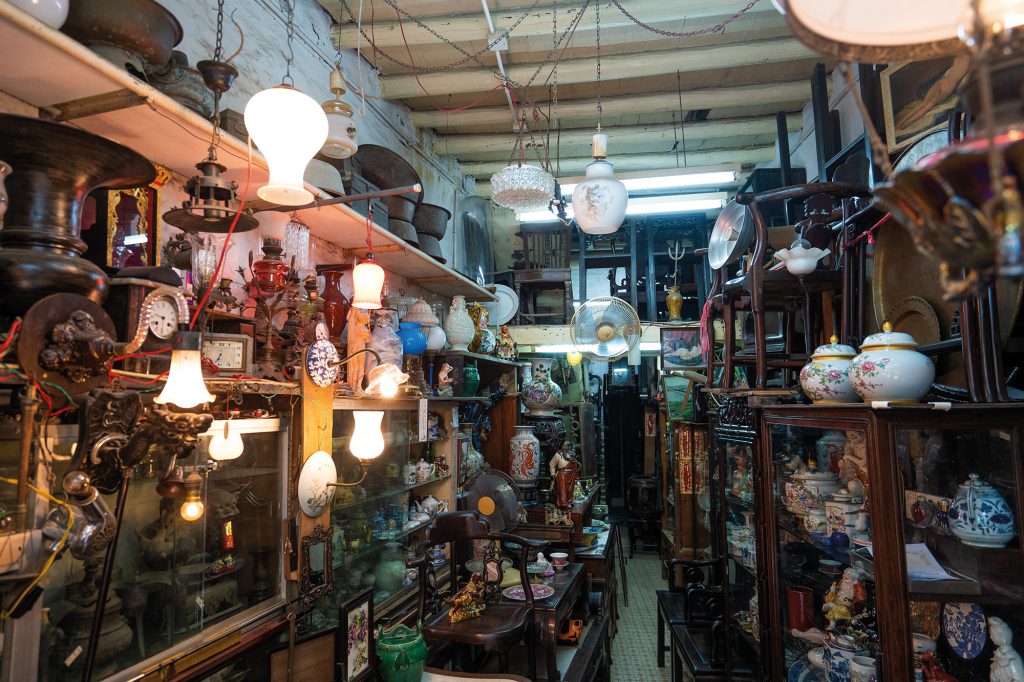 What is it? Antique store stocking rosewood furniture and ceramic kitchenware.
Store story: From a young age, Ian Siu Pou knew he wasn't cut out for school, so he started trailing his father, who ran an antique store. When he was only seven years old, he stopped going to school. He and his father would go to old houses and buy furniture there to sell in their store. Ian eventually took over the business in the early 1970s. He recalls mainly catering to a Western clientele in the 1980s and 1990s, but since the new millennium, he has started seeing more customers from the mainland. The furniture he sells is made from sturdy blackwood and rosewood sourced from the mainland and South Asia. He isn't sure how old some of the pieces are but says people value them for their quality and design. Now in his 70s, Ian continues to run the store. Despite the slowdown in business these past two years, he's not worried, as his son runs a small grocery in the property he acquired next door.