Macao's Chief Executive Ho Iat Seng said in April that Macao still heavily relies on the gaming sector and on mainland visitors which is why Macao is suffering from a negative "synergy" from both factors amid the Covid-19 pandemic.
Ho noted that the Covid-19 pandemic has reduced the number of visitors to Macao to the level around the time when the Macao Special Administrative Region (MSAR) was established in December 1999. The 2021 visitor numbers stood at around 7 million.
"The tourism sector needs to reposition itself and open up to other source markets, it cannot depend exclusively on mainland Chinese tourists," Ho emphasised.
The chief executive noted that in 2000 there were around 5,400 retail outlets, restaurants, eateries and other catering venues, employing around 22,000 people in Macao. In 2020, the number of these venues has risen to around 9,600, employing nearly 74,000 people in Macao. Prior to the pandemic, these retail and catering outlets served millions of visitors a year, as well as local residents, which is why local businesses continue to suffer under this current pandemic.
Ho explained that the average daily number of visitors to Macao had increased to around 30,000 earlier this year; however, at this point, various areas in the mainland are being hit by a surge of local Covid-19 transmissions, decreasing the number of mainland tourists visiting the city.
Ho pledged that once the Covid-19 wave in the mainland recedes, Macao authorities will discuss with the central government the resumption of organised tour groups to Macao which have been suspended since the beginning of the Covid-19 pandemic in early 2020.
Chief Executive Ho said that Macao health officials have been discussing the latest Covid-19 developments worldwide with mainland experts. They pointed out that no new Covid-19 variants have been detected in Western countries over recent months and as a result they concluded that the Covid-19 epidemic in the mainland would stabilise later this year.
Gaming operators fulfil their corporate social responsibilities
Ho Iat Seng recognised that the six gaming operators have been shouldering their corporate social responsibility by not laying off their local staff and that even though some staff members have had to take unpaid leave or half-paid leave amid the Covid-19 pandemic, none of the operators have carried out any major lay-offs of local staff.
Ho went on to say that the gaming operators are employing a disproportionate number of staff members in relation to the current visitor numbers, but they have adhered to the basic principle of not laying off their local staff. Still on the topic of gaming operators, the government has pressed ahead with reducing the quota of non-resident workers in large-scale gaming resorts and managing non-resident worker quotas to improve local people's work opportunities.
Ho stated that the latest unemployment rate among local residents has increased to 4.3 per cent and this was partially due to the closures of some junket companies and satellite casinos over the past few months.
During the session, the chief executive explained that the Macao government is supporting the unemployed by launching new initiatives such as a website with information on vacancies and job-application procedures; which to date has included more than 6,000 vacancies, covering a variety of posts. Ho encouraged members of the public to consider fresh employment paths and opportunities.
In addition, the Macao government plans to optimise its paid-internship programme for higher-education graduates, as well as the subsidised-training programme, allowing more Macao residents to participate in such programmes and increasing the number of training courses.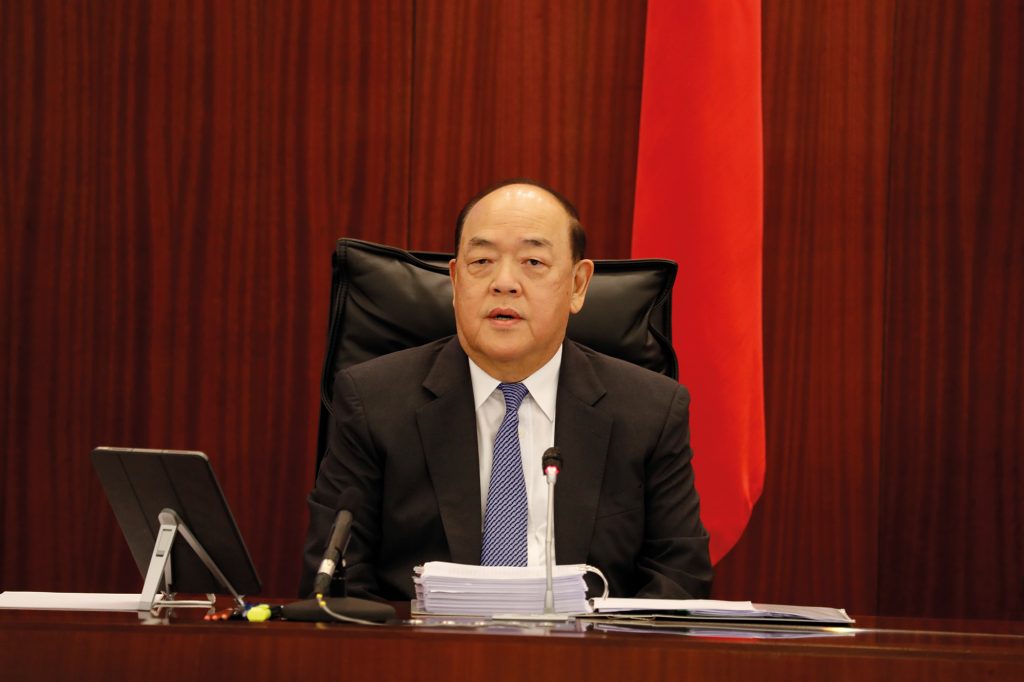 Government offers financial support
Chief Executive Ho Iat Seng also announced a new round of electronic consumption benefits with the aim to relieve residents' financial hardship and support local businesses. Ho underlined that the government is aware that the "prolonged" Covid-19 pandemic has had various repercussions on Macao's economy and civil society, and understands the difficulties that residents and small and medium-sized enterprises (SMEs) face.
In addition to the new round of the electronic consumption benefit scheme, Ho said, the government is also studying other measures that can support SMEs, such as subsidising water and electricity bills.
Ho also noted that local residents started to receive this year's MOP 10,000 (US$1,235) "wealth-sharing", urging those who have received the cash handouts to spend it on boosting the local economy.
Ho noted that all local residents' cash handouts amount to around MOP 7 billion (US$87 million) equivalent to the current monthly value of the city's retail sales. He added that this amount could help support many SMEs' business operations and stabilise residents' employment.
Broaching a few other topics at the end of his speech, Ho said that the Islands District Medical Complex is expected to complete basic construction this year, with interior decoration to begin by the end of the year. He also said that the government will allow two additional international schools to be established in Macao, to help attract outside talent. Lastly, Ho said to protect our environment, government departments would use only electrically-powered vehicles in the future.