TEXT Christian Ritter and Gonçalo César de Sá
For decades, the main passenger channel between Zhuhai and Macao has been the Gongbei Checkpoint, also known as the Border Gate, in Macao's northern district. However, it has been running far beyond its capacity for many years. The checkpoint has seen the highest number of annual border crossings in the whole of China for the past eight consecutive years, with a total of 145 million people crossing it just last year.
All this changed, however, on 18 August when the groundbreaking Macao-Mainland joint Hengqin Port in Zhuhai was inaugurated. The new 24-hour border crossing point, known simply as Hengqin Port, has been created to help ease the pressure on the Gongbei Checkpoint, along with Macao's other border crossings, as tourist numbers are expected to rise over the coming years. The new checkpoint between Macao and Zhuhai has a daily capacity of 222,000 people, so it also allows an increase in the daily capacity of travellers between Guangdong and Macao from 750,000 to 900,000 people.
The new checkpoint has a 450,000-square-metre main working area – equivalent to 63 football fields. There are 48 joint e-channels – which combine both Macao and Chinese IDs in one easy, fully electronic channel – as well as eight joint manual channels – where Macao IDs are checked in electronically and then an immigration officer deals manually with the Chinese IDs – and 13 conventional manual channels – all dealt with by immigration officers. On top of this, there are eight e-channels for vehicle clearance services.
To get to Hengqin Port from Macao, travellers must go along the Lotus Bridge from Taipa, following the directions. The port checkpoint and its nearby area provide 11,474 parking spaces for cars, motorcycles and heavy vehicles, according to Hengqin New Area Administrative Committee director Yang Chuan. He says that a new link – by access roads and a bridge – between the University of Macau (UM) campus on Hengqin and the checkpoint itself is expected to be completed by 2022. "Moreover," he says, "an area has been reserved for the extension of Macao's Light Rail Transit [LRT] and other kinds of transportation to the checkpoint."
Photos Courtesy of Government Information Bureau
The new Hengqin Port is a benchmark project in the development of the Greater Bay Area. Its launch has created favourable conditions for further exchanges between Macao and Guangdong.
During the border's opening ceremony, Guangdong Governor Ma Xingrui said that 'the new Hengqin Port is a benchmark project in the development of the Greater Bay Area [GBA]'. He said: "Its launch has created favourable conditions for further exchanges between Macao and Guangdong for closer Guangdong-Macao ties and for the advancement of the GBA."
The inauguration took place one day after Macao Chief Executive Ho Iat Seng's six-day official visit to Beijing where the development of the GBA, which includes nine cities on the Mainland as well as Macao and Hong Kong, was reportedly heavily discussed. Other topics of discussion were reportedly Macao's economic diversification strategy and the Guangdong-Macao Intensive Co-operation Zone (GMICZ), which aims to deepen the co-operation between Guangdong and Macao, from the legal mechanisms at play between both areas to crafting a healthy business environment that serves both well. Support for this zone was announced by the central government towards the end of last year.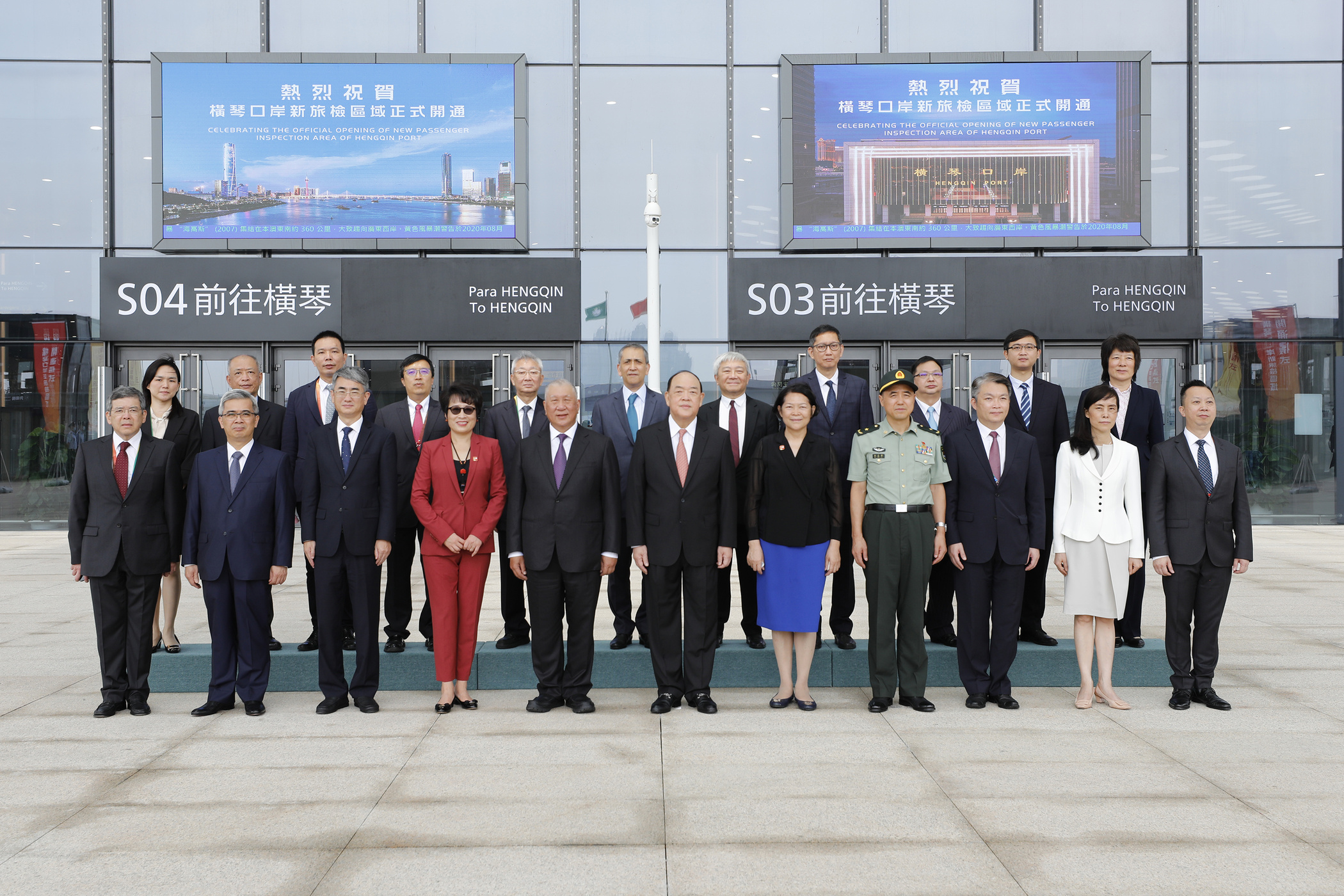 At the inauguration ceremony, Ho said that 'the opening of the Hengqin Port checkpoint is an enormous opportunity for the Macao government and it will take advantage of the support and policies provided by China to further deepen co-operation with Zhuhai and Guangdong'. He also said that the joint Hengqin Port has implemented a 'Joint Inspection and One-Time Release' principle for customs clearance, where travellers are required to pass border controls only once  as opposed to passing through two separate immigration checkpoints when completing their departure and arrival formalities, thus drastically reducing the travel time. This is possible due to the Zhuhai and Macao customs sharing information. The same clearance methods are currently being used at the Hong Kong-Zhuhai-Macao Bridge, which opened in 2018.
High-profile meetings
Chief Executive Ho Iat Seng visited Beijing between 12 and 17 August. He met, among many other senior central government officials, with Public Security Vice Minister Xu Ganlu, who heads the National Immigration Administration (NIA), to exchange views on a wide range of issues, including Macao's effort to promote its economic diversification, policies aimed to increase cross-border movement efficiency and tackling cross-border crime. According to a statement put out by the Government Information Bureau (GCS) on the same day of the meeting with Xu, Ho indicated in that meeting that he looks forward to additional assistance from the NIA in implementing these policies.
According to the GCS statement, Ho also met with General Administration of Customs (GACC) Minister Ni Yuefeng to discuss the development of the Guangdong-Macao Intensive Co-operation Zone initiative. During the meeting, the Chief Executive said that the zone was crucial to Macao's future prospects, as the SAR faces a raft of challenges concerning its limited land resources – Macao's current land area amounts to just about 33 square kilometres – and high cost of labour. He also said that Macao enterprises would be able to take advantage not only of the land resources available in Hengqin to develop their businesses but would also benefit from favourable customs clearance regulations, under an arrangement called 'Opening the first line and controlling the second line'. Responding to Ho during the meeting, Ni supported the idea of setting up a 'separate management model' in Hengqin. He was also quoted by the GCS as saying that the GBA was an important part of the 'dual circulation' economic policies laid out by President Xi Jinping. According to state media reports, 'dual circulation' refers to a new model of development in which 'domestic and external demand complement each other'.
Photo by Xinhua News Agency
During the visit to Beijing, leading officials from the State-owned Assets Supervision and Administration Commission of the State Council (SASAC) and the National Development and Reform Commission (NDRC) pledged their continued support for Macao's ongoing effort to diversify its economy and exchanged views on how state-owned enterprises (SOEs) – in particular centrally administered SOEs – are supporting Macao's economic development.
Hao Peng, chairman and party committee secretary of the SASAC, was quoted in an official GCS statement as saying that the council would support the establishment of the GMICZ, as well as projects that could enhance Macao's public services, infrastructure and people's well-being. He also said the SASAC could offer internship opportunities at its organisation for Macao's young people who are looking to enhance their professional competitiveness. Hao also said that the two sides could work even closer to strengthen co-operation between China and Portuguese-speaking countries (PSCs) by making use of Macao's platform role and its historic links with the PSCs. Ho Iat Seng added that Macao was looking forward to additional assistance from the SASAC regarding promotion of its traditional Chinese medicine (TCM) sector and the development of infrastructure projects.
In a separate meeting with NDRC chairman He Lifeng, Ho Iat Seng expressed his appreciation for He's guidance on the development path for Macao and Hengqin, as well as the development direction for the GBA. Ho told the NCRC chairman that, during his various meetings in Beijing, the Macao government had received positive feedback and strong support for the development of the GMICZ in Hengqin. Ho also said the impact from the COVID-19 pandemic had brought to light the problems brought about by the city's over-reliance on a single economic sector (gaming) which reinforced his government's determination to press ahead with policies promoting the city's economic diversification. In the second quarter of 2020, the city entered a period of recession when its gross domestic product (GDP) dropped by 67.8 per cent year-on-year. This recession meant that the government's total current revenue fell 61.9 per cent year-on-year to MOP 28.53 billion (US$3.57 billion) in the first seven months.
After more than half a year of enforcing strict travel measures in Macao due to the COVID-19 pandemic – causing a drop in visitor arrivals of 86 per cent year-on-year to just 3.34 million people – the central government in Beijing announced that by the end of this month, all Mainland Chinese residents will be able to apply to visit Macao through individual and group travel visas. With Mainland Chinese visitors representing 28 million of the nearly 40 million visitors that Macao receives on an annual basis, this will help Macao's economic recovery in the latter half of the year, said the Chief Executive at a press conference held at Macao's airport just before he departed on his visit to Beijing.
Between the borders of Macao opening up to all of Mainland China and the inauguration of the Hengqin Port checkpoint, the last quarter of the year is expected to be eventful and it is hoped that the streets of Macao will once again be busy with both locals and visitors.
---
The show must go on
Big tourist events in Macao are still scheduled to take place this year, although they will be for an exclusively Chinese audience.
Over the past few weeks, the steps taken by the Chinese health authorities on relaxing border restrictions between Mainland China and Macao have been phased out. First, entry to residents from Zhuhai municipality into Macao was allowed from 12 August onwards, followed by residents from the Guangdong province from 26 August onwards and finally, all residents from Mainland China are expected to be allowed entry into the city by 23 September.
Going the other way, Macao residents are now also able to enter Mainland China. The director of the Macao Government Tourism Office (MGTO), Maria Helena de Senna Fernandes, said during an interview with a local newspaper that 'we can't expect that tomorrow, millions of tourists would come' to Macao. She also said 'that would not happen' because 'people would still have that little bit of fear of travelling, so we need time to overcome that'.
Although tourists from the Guangdong province – with a population of 113 million – represent between 42 and 45 per cent of all Mainland Chinese tourists in Macao, Senna Fernandes remains conservative in her estimates on the influx of future visitors given the new health and travel restrictions. She also said that the MGTO will focus its initiatives and campaigns on the Chinese market as Macao still remains closed for foreigners.
In the second half of this month, the MGTO launched its first tourism campaign since the start of the pandemic. This campaign will be promoted across Beijing with the main theme being the 15th anniversary of the inscription of the Historic Centre of Macao on the UNESCO World Heritage List (see p.48 for the full story). The campaign will feature Macao's six gaming concessionaires' hotels and restaurants and will also include local companies. For the remaining months of the year, annual events such as the Macao International Music Festival, which began on 22 August and is scheduled to finish on 31 October, and the Grand Prix, which is scheduled for between 19 and 22 November, are expected to go ahead, however, it is likely that some of these events will not have much participation from other countries, said the MGTO director.
Despite the recent measures to facilitate the entry of tourists to Macao, Ho Iat Seng also admitted just before his visit to Beijing that the government 'is unable to predict how many visitors from Mainland China will come to Macao'. The city is in the 'last kilometre of the fight against COVID-19', he said but he also reaffirmed the need for all residents to continue to take measures to prevent the outbreak of virus cases. "It is better to be able to go around with a facemask than not being able to go out at all," said the Chief Executive. "We must continue to use the digital health code [the online declaration forms used to show the current health status of residents and visitors] to enter government and private establishments because it ensures that we are in good health." To date, more than 150 million masks have been sold under a government scheme in Macao, ensuring everyone can safely walk the streets.