Macao – a Chinese port with distinctive Portuguese characteristics – is unique in so many ways, but three of its age-old traditions combine to make it one of Asia's most intriguing destinations.
First and foremost is a centuriesold Euro-Asian fusion cuisine; less well-known are its Patuá plays, staged in one of the world's few extant Creole languages; and thirdly is the veneration for Tou Tei, a ubiquitous deity whose presence infuses almost every aspect of life in the city.
Each was formally recognised as part of China's intangible cultural heritage by the State Council in Beijing in June 2021, providing an extra incentive to preserve and promote three of the aspects of Macao that make it so assuredly Macanese.
The city's cuisine is a potential meal ticket for the tourism industry which is on the look-out for new sources of non-gaming income which will shift the perception of Macao as nothing more than a mecca for gamblers.
Customarily, the term 'Macanese' refers to Macao's community of Asian-Portuguese descent and its diaspora as well as its cuisine and other cultural aspects.
Macanese cookery is an enticing blend of mostly Portuguese, Indian,Malay and Cantonese recipes and ingredients. Popular Macanese dishes are 'capela' (meatloaf), 'porco balichão tamarindo' (balichang tamarind braised pork, 'balichang' being a traditional Malay condiment made of krill), 'sopa de lacassá' (shrimp vermicelli soup), 'tacho' (stew) and the famous 'minchi' (minced beef and pork with deepfried diced potatoes).
Macanese cuisine is one of the oldest Euro-Asian fusion cuisines, going back to the 16th century. Traditional European-overseas fusion cuisines going back hundredsof years such as in Macao can also be found in India, the Caribbean and the Philippines. They are the culinary product of the so-called Age of Discovery.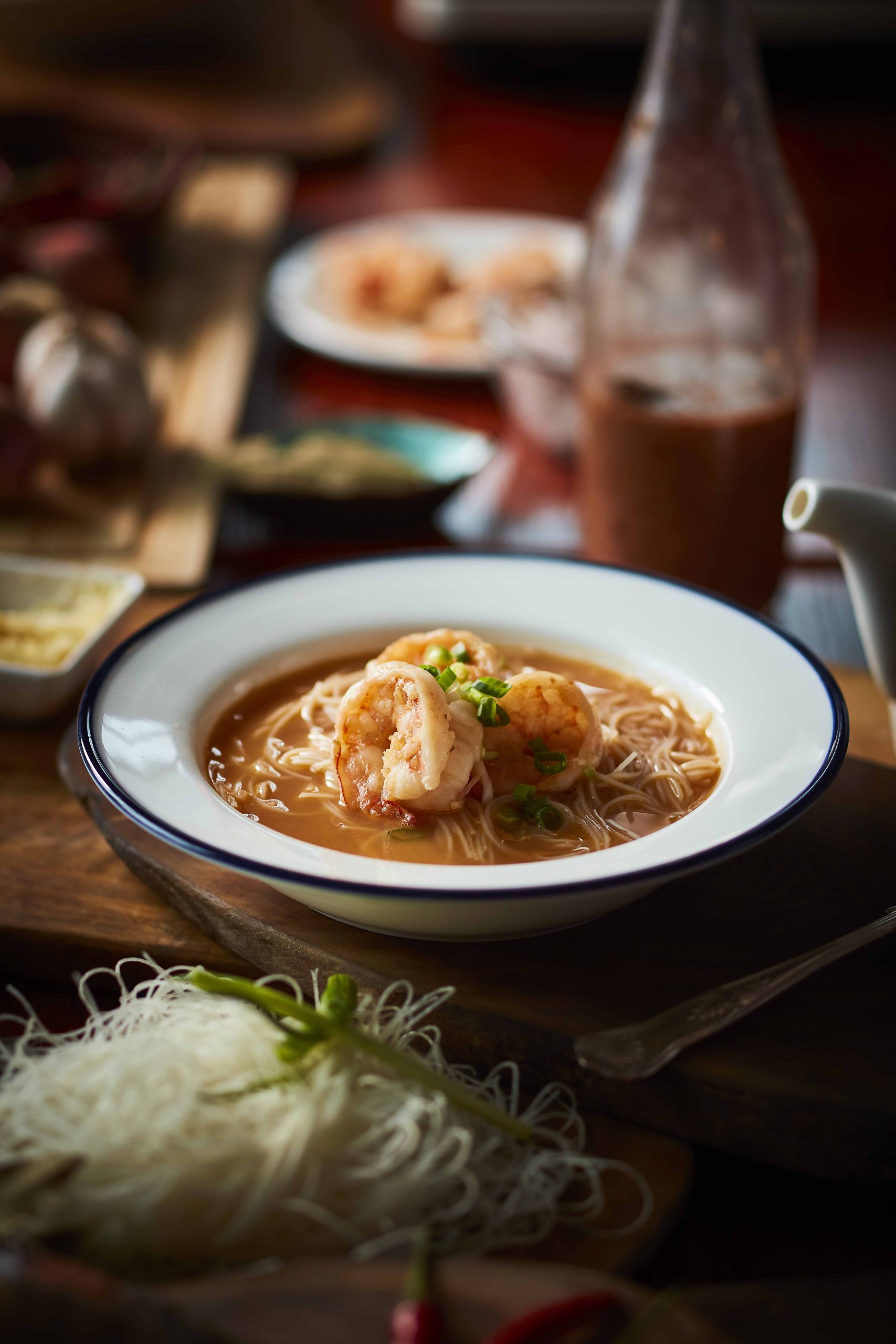 Typical of the sort of restaurant that trumpets the glories of Macanese cuisine on a daily basis is La Famiglia in Taipa Village, run by Florita Alves on lines that could only be described as utterly authentic and totally traditional.
"Eating is a necessity for everyone," she says. "It's a good way, and a direct way, to deliver a part of our culture to the community."
A retired civil servant, Alves grew up helping her grandmother in the kitchen. "But my real exposure to Macanese food came when I married my husband," she explains.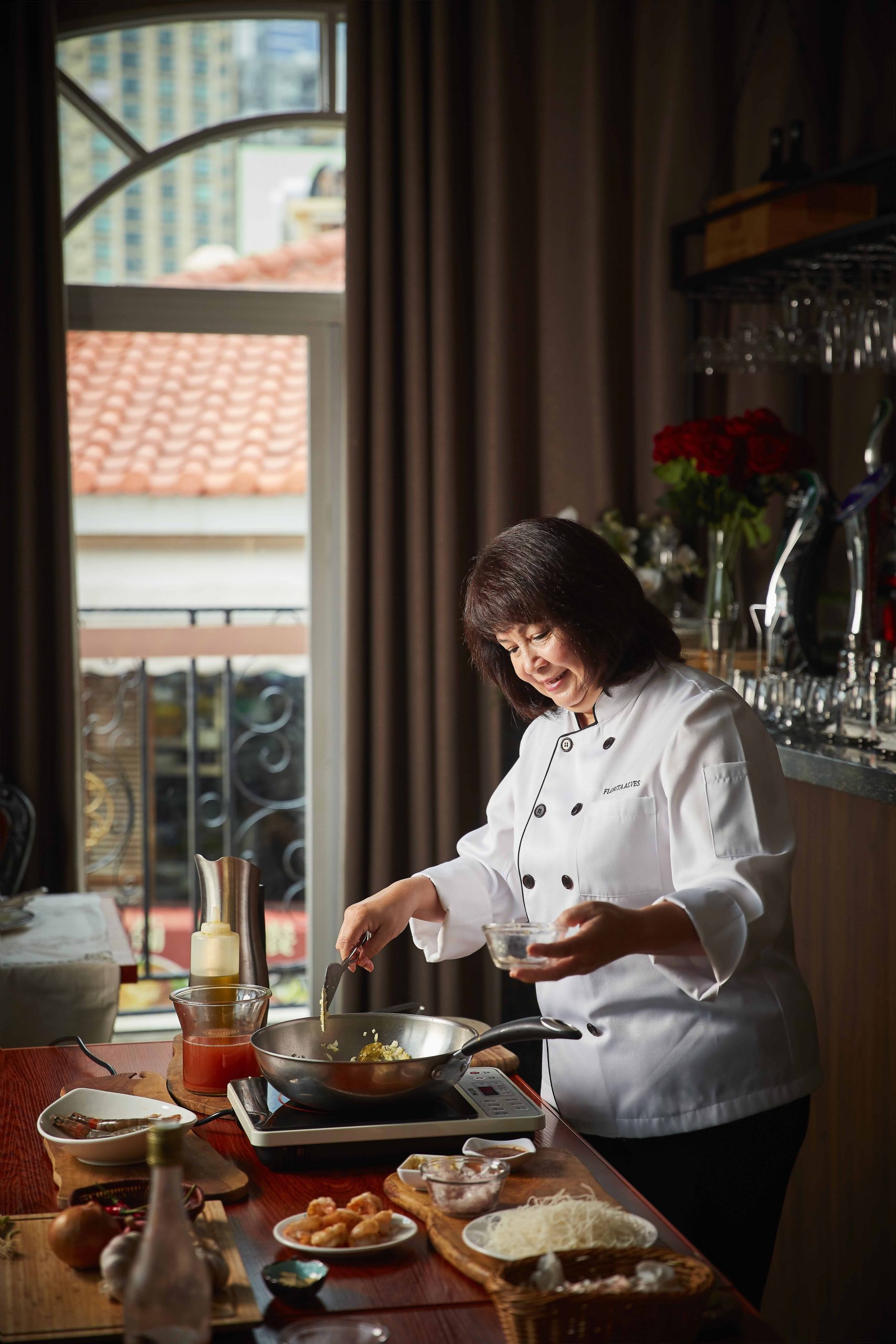 "My mother-inlaw and her friends were very skilled in the kitchen, and I had the great privilege of learning from them," she says, as she flips through a trove of handwritten family recipes passed down to her, some dating back as far as the 1800s. Scribbled on scraps of notepaper or the backs of old newspaper ads, the recipes are documented in a flowery, elaborate script from a different era, the paper's edges delicately crinkled and discoloured from centuries of use.
With so much inherited knowledge at her disposal, Alves felt impelled to make use of it. "I don't feel like it's an obligation to pass on the Macanese cuisine," says Alves. "Instead, it's something I feel inside, something I really want to do. As an intangible part of Macanese heritage, I feel quite honoured that I can play a role, however small, in keeping it alive."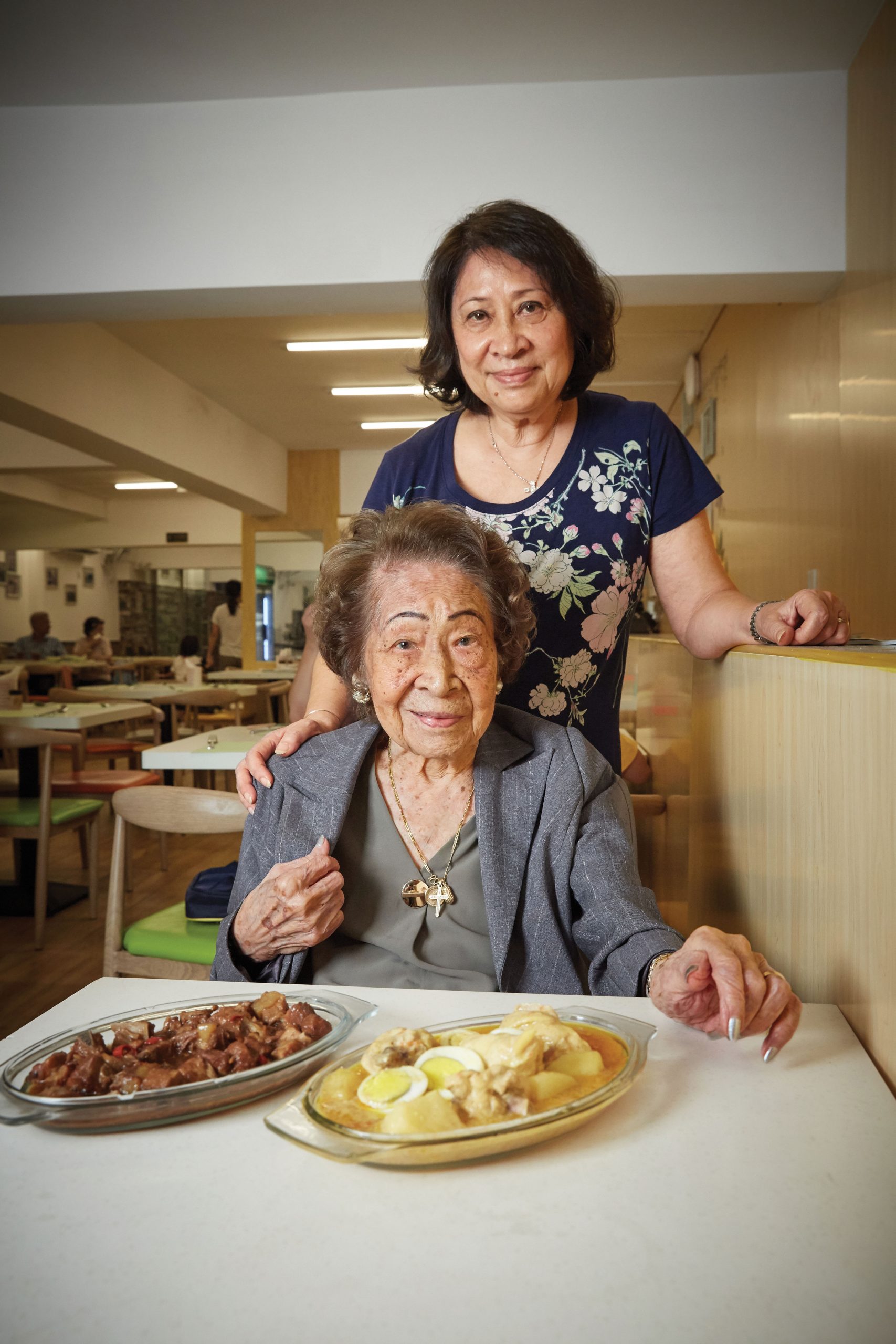 The formal recognition of Macanese cuisine is also a welldeserved lamentably posthumous honour for Aida de Jesus, the doyenne of Macanese cuisine, who passed away at the age of 105 in March 2021. Without Dona Aida, as she was endearingly known by her many friends and admirers, Macanese cuisine's multi-ethnic recipes would hardly have survived to this day. And Macanese author Cecília Jorge's 'Macanese Cooking' book's English edition has helped make Macao's very own cuisine known to the international public.
Dona Aida was also one of the few remaining speakers of Patuá, the highly-endangered Portuguese Asian Creole. She loved watching the comedies staged by the 'Dóci Papiaçam di Macao' ('Macao's Sweet Language') group of amateur actors, directed by lawyer-cum-playwright Miguel de Senna Fernandes. Patuá plays, which poke fun at local customs, community relations and politics, are an entertaining effort to keep the language alive at least on stage.
Patuá is a local Creole that emerged in the 16th century when Portuguese seafarers settled in Macao after long journeys around Africa and via India and Malacca. The language is a mix of Portuguese, Malay and Cantonese. While a major part of its vocabulary is Portuguese, its grammar is strongly influenced by Asian languages. According to local scholars, possibly just a few dozen people in Macao still speak Patuá, or at least have a basic understanding of the language, while there are probably hundreds among the Macanese diaspora who are still fluent in the language.
While some local academics in Macao have run Patuá courses for a small number of students over the past few years and a basic Patuá- Portuguese-English dictionary was published some two decades ago, the language is not taught at local schools, not even at the Portuguese school, and no textbook of the 'sweet language' has ever been published.
UNESCO has classified Patuá as a highly endangered language. Urgent revival action is needed to stop Patuá from becoming another corpse in the world's language graveyard.
"Our stage is a cultural platform that represents all parts of Macao: we have Macanese, Portuguese and Chinese actors," says Miguel de Senna Fernandes.
"Because this is a Patuá show, it is mostly performed in Patuá. But we also include Chinese actors who speak Cantonese, Portuguese actors who speak Portuguese, and some English, too. With so many different elements, this makes it a multicultural platform that reflects our audience.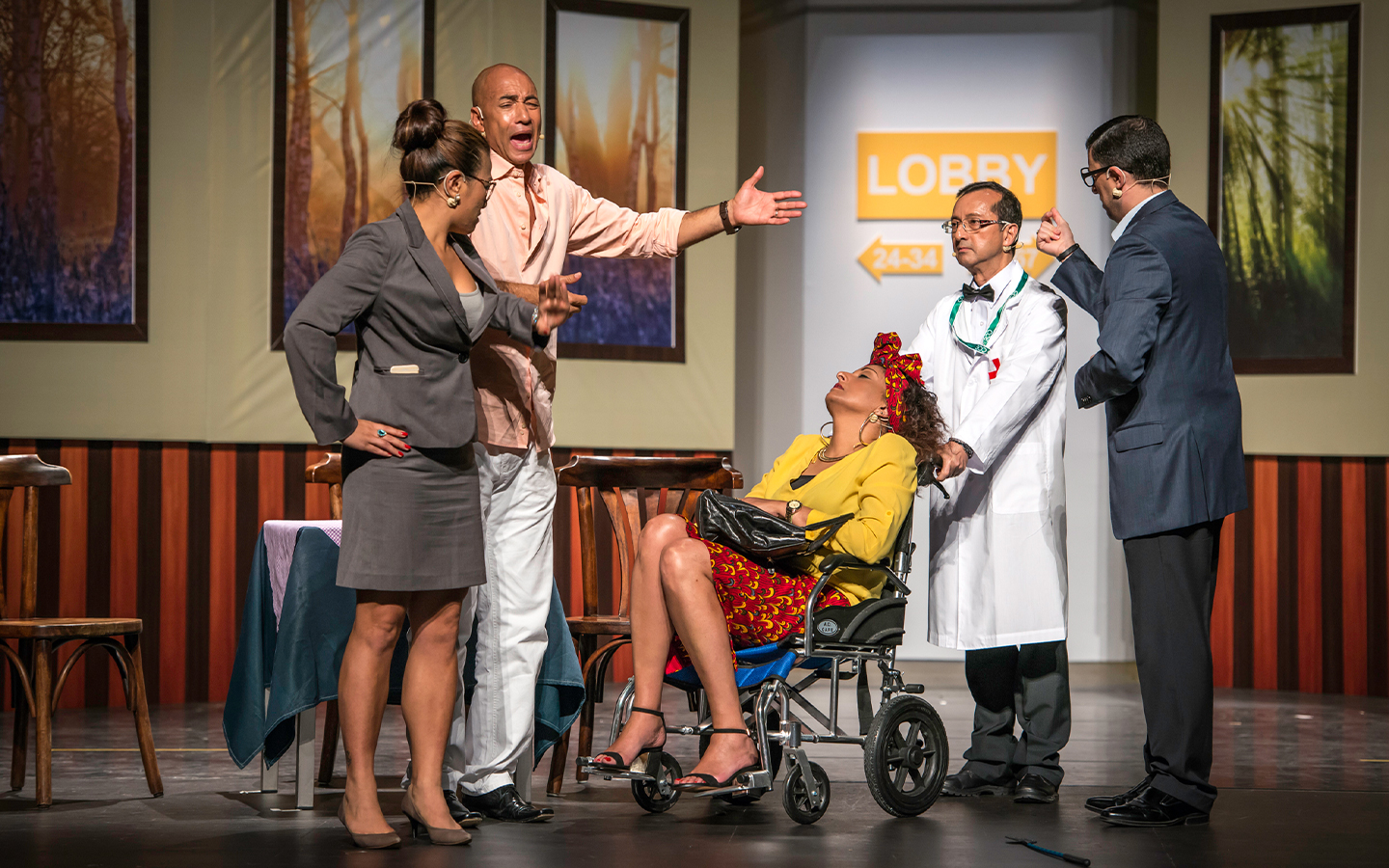 "We are trying to preserve our collective memory through these performances. We want to raise awareness of the social and cultural aspects of the language. Nowadays, since we all use Cantonese, English or Portuguese, there's not much space for Patuá. Younger people don't know much about it. So it only survives in the theatre."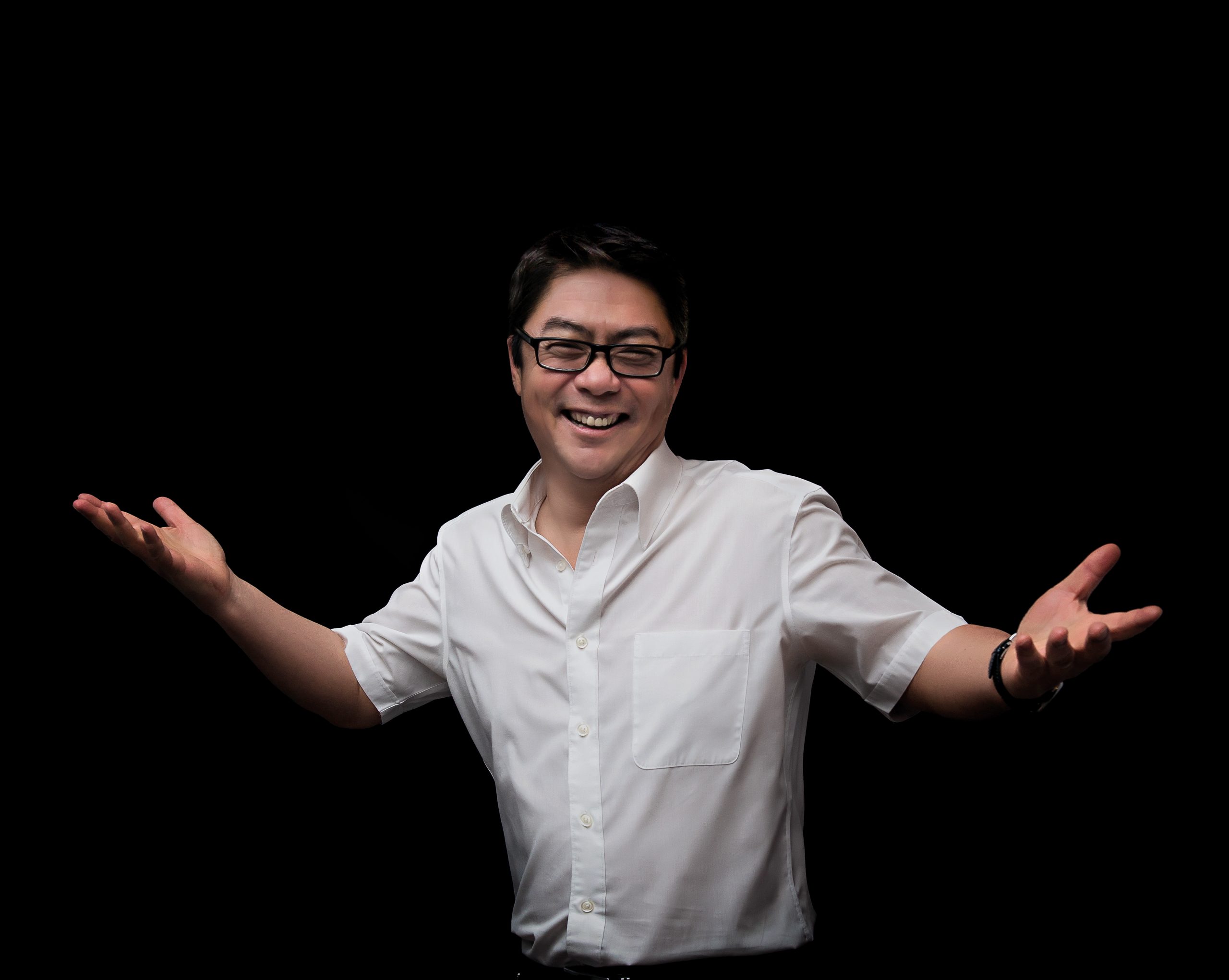 The third heritage item from Macao is the belief in a divinity called Tou Tei in Cantonese – the God of Earth known in Putonghua as Tudi ('Earth and Ground'). Tou Tei is ubiquitous in Macao thanks to the many temples, shrines and statuettes in his honour.The tutelary deity is widely worshipped as a guardian, patron and protector of a particular place such as one's home or shop, and the Feast of Tou Tei on the second day of the second lunar month is one of Macao's most important religious festivals.
Tou Tei statuettes are commonly placed in front of residential, commercial and other kinds of premises in the expectation that the deity protects the owners and even helps increase their wealth. For instance, several Tou Tei temples and shrines are located around the city.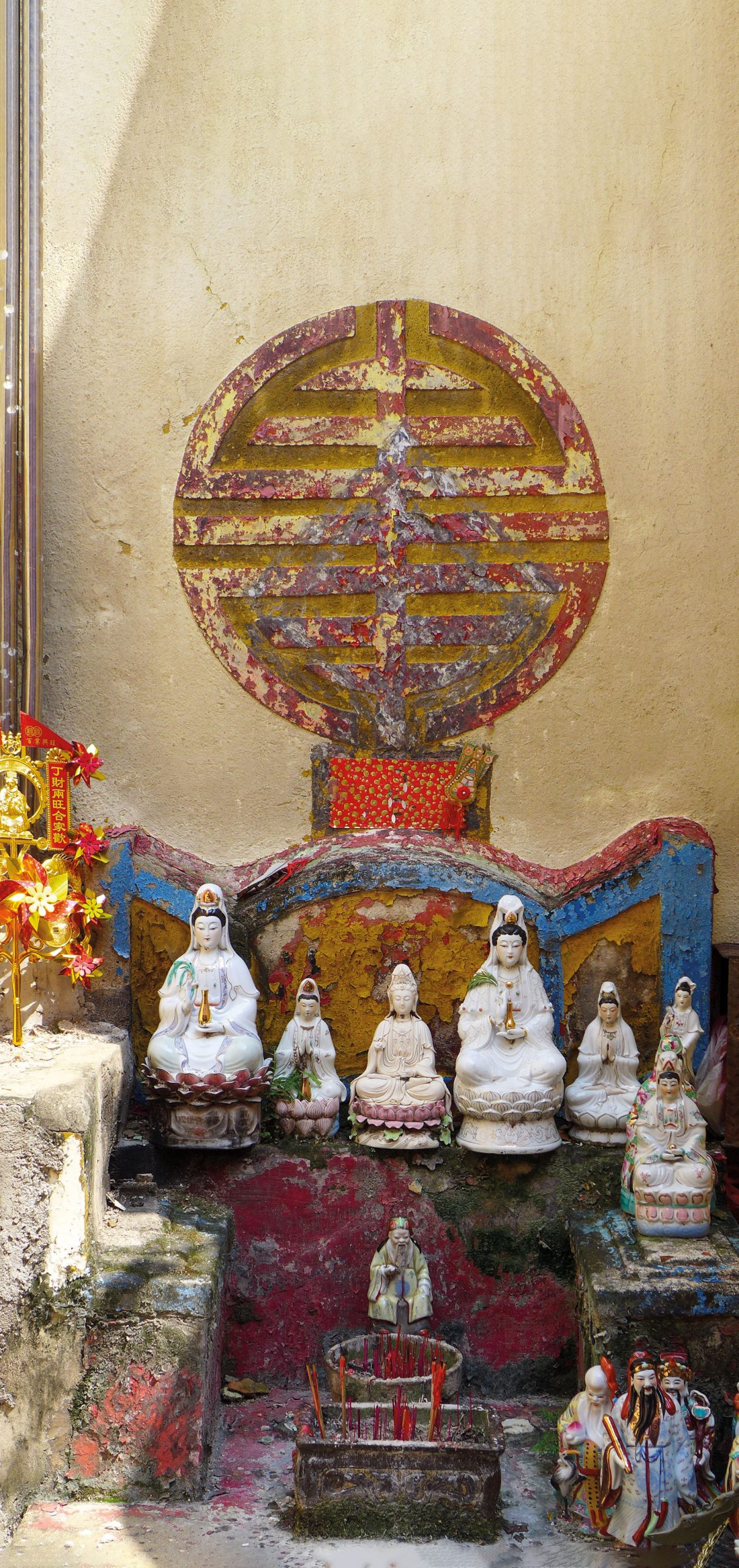 Folk belief – customarily blended with Buddhism and Taoism – is Macao's main religion, and it is one of the most important aspects of local culture.
"Chinese civilisation developed within an agrarian context that has always been present in almost every aspect of its culture" says cultural commentator António Conceição Junior, who is one of Macao's bestknown artists.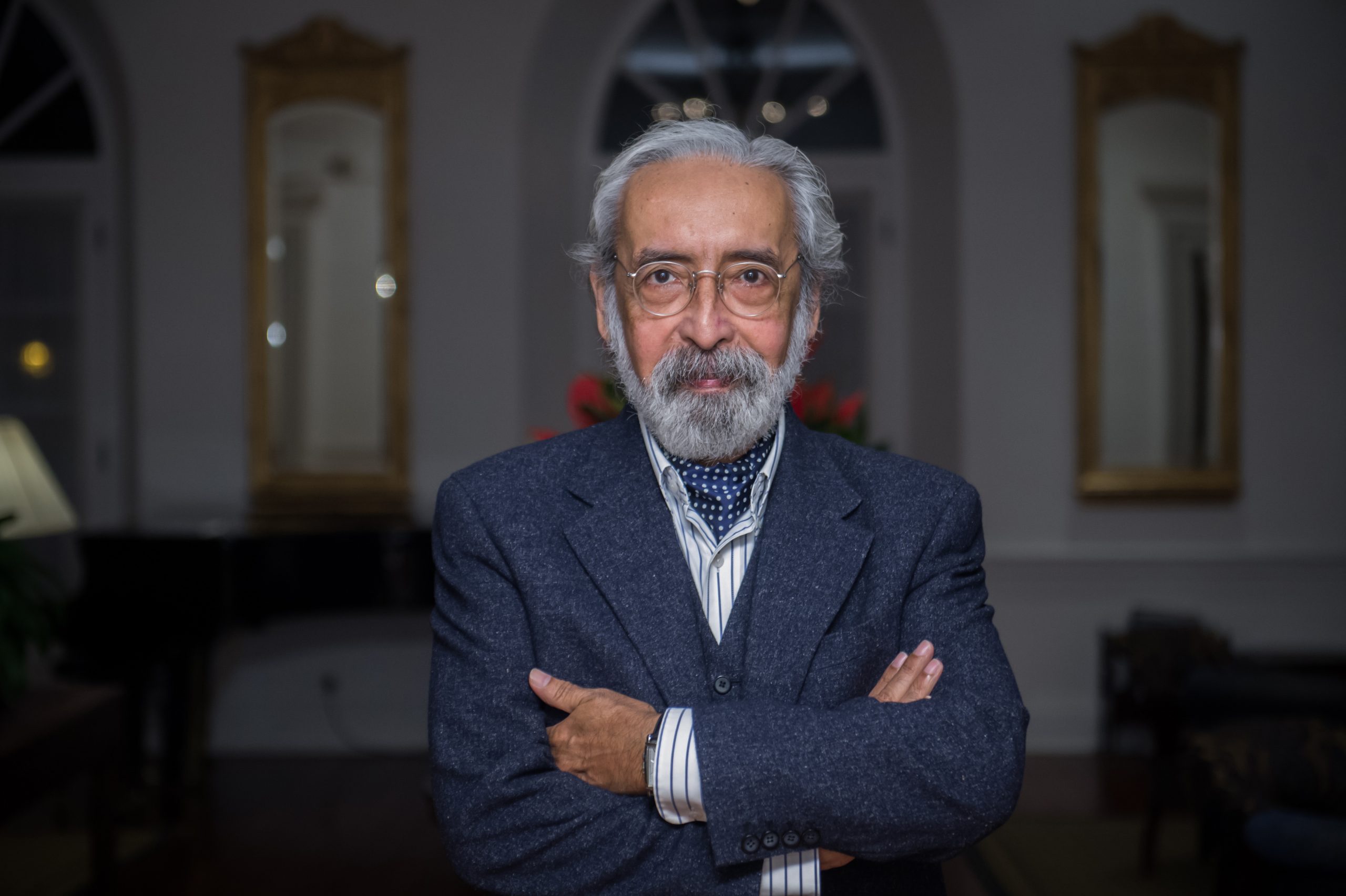 "This cult of millennia evolved into Tu Ti Gong (the old man of the earth), spreading throughout the Empire. Thus, Macao too shares the same rites and temples dedicated to its own Tu Ti Gong or, in the Cantonese dialect, T'ou Tei Kông, whose celebration takes place in the second lunar month."