Today, the majority of the world's population lives in urban areas and by 2050, 68 per cent of humanity will live in towns and cities, according to the Food and Agriculture Organization of the United Nations. Trees not only add visual beauty but also offer a whole range of other benefits, from producing oxygen, countering carbon emissions to offering shade and, according to US research, in sufficient numbers can reduce urban temperatures by more than 10 degrees celsius. Physical and mental health are also improved when people are close to urban greenery.
Macao's tree population is safeguarded by the Department of Green Areas and Gardens, a specialist group working under the Municipal Affairs Bureau (IAM) which cares for the territory's greenery that covers roughly 33 square kilometres.
Aside from the urban trees spread throughout Macao, the IAM's experts also have a mission to protect specific trees which are classified as ancient or are considered of historic and cultural value. Every year since 2013, the bureau has reviewed and updated the 'List of Old and Valuable Trees of Macao'. Currently, there are 616 protected ancient trees listed in the Macao peninsula, Taipa and Coloane. Ng Ian Ian and Cheong Ngou Si – who both work for the IAM's Department of Green Areas and Gardens – explain the process by which urban trees in the city are protected, including the ancient ones.
Tree Classification and Protection
Urban trees in Macao are defined as 'trees planted on urban land outside of mountain forests' and are 'mainly distributed in green belts, streets, recreation areas and parks'. There is also a category of 'slope' trees, which are situated along roadsides, as well as a subcategory of 'Old and Valuable Trees'.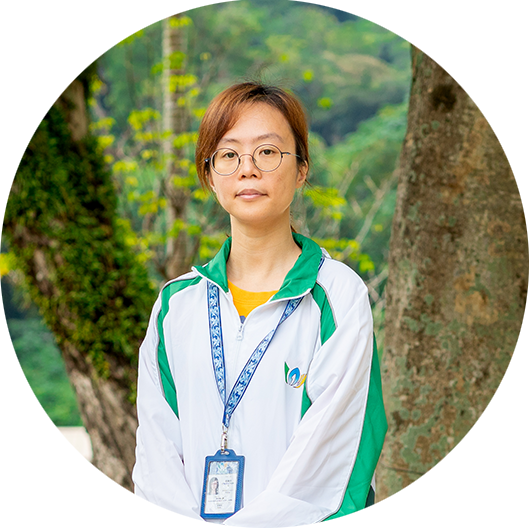 Macao has over 66,000 trees, with over 30,000 of those classified as urban trees and over 35,000 slope trees, says Cheong. With assistance from the Cultural Affairs Bureau (IC), the IAM also contacts 'owners, holders or occupants' whose private properties have ancient trees on site which the law requires to be conserved.
Urban trees need maintenance and Cheong says the green areas and gardens department regularly inspects and monitors the health of trees. As Ng elaborates, the team rates the health of each old tree and observes their overall condition. The team organises an inspection at least once a year 'to monitor the overall growth status of ancient trees, pests, diseases, and site conditions,' says Ng. "If health conditions are critical, we increase the frequency of follow-ups, with people sent every month to monitor the tree's health and how much danger it might be in."
Caring for urban trees – which includes ancient trees – is the responsibility of the green areas team of 60 people, consisting of 18 technicians and 42 frontline staff, says Ng. The staff members have varying academic backgrounds in agronomy, horticulture, environmental sciences and forestry. They manage the proper pruning of trees, as well as adding or reinforcing structural support where necessary, applying pesticides if needed, repairing damaged trees and improving soil quality.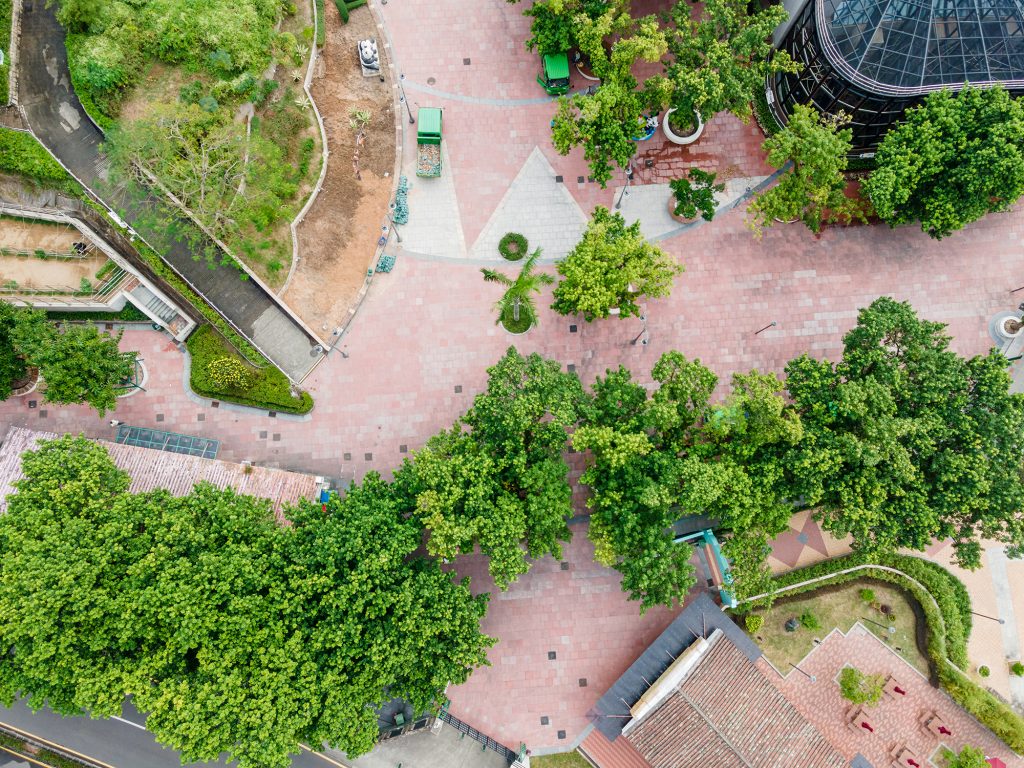 Roots of the matter
In March 2013, the IAM published an extensive record on 'The Charm of Old Trees'. This book, which is available for purchase at the IAM online bookstore, notes that while Coloane island has a large number of old trees, most of the historically noteworthy ones are on the Macao peninsula around Guia Hill and Camões Garden. This year 32 ancient trees were added to the list, with the oldest being a 260-year-old Camphor tree, located inside the defunct Iec Long Firecracker Factory lot in Old Taipa Village.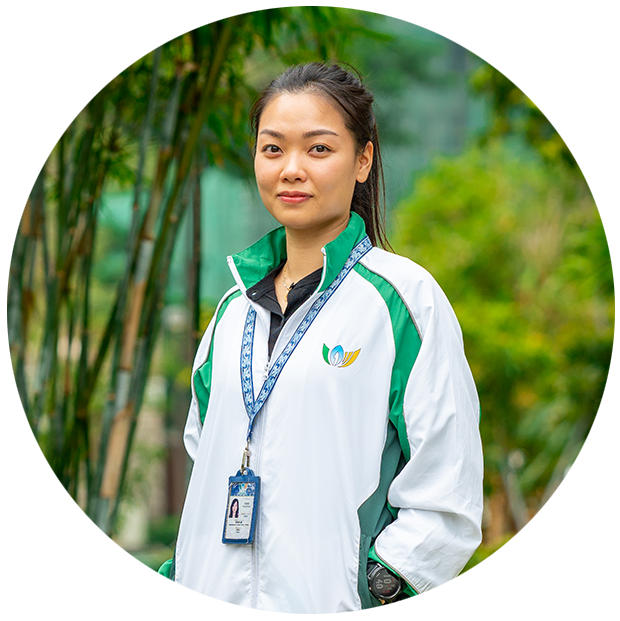 Ng says the bureau has its own classification system to determine which trees qualify as old or are otherwise valuable. To determine the age, the IAM has three different age designations: First- Class Ancient Trees are those 500 years old or over, Second-Class Ancient Trees are those between 300 and 499 years old, while Third-Class Ancient Trees are those 100-299 years old.
Trees are also classified by their special historical or cultural significance to Macao. Ng notes that there are four 'valuable' trees in Macao that were planted by past and current chief executives of Macao. These are a white jade orchid tree in Comendador Ho Yin Garden, which was planted by former Chief Executive Edmund Ho Hau Wah in 1999, while the latest was a local-variety Machilus Chinensis tree planted by Chief Executive Ho Iat Seng at the Taipa Pequena 2000 Circuit nature trail in 2020, adjacent to two others planted by Edmund Ho Hau Wah and Fernando Chui Sai On.
One of the oldest trees in Macao, classified as a First-Class Ancient Tree, is a Jambolan plum tree aged 510 years old located within the small courtyard of the Kun Iam Ancient Temple. At Lou Lim Ioc Garden there is a Second-Class Ancient Tree, a longan tree aged 310 years old.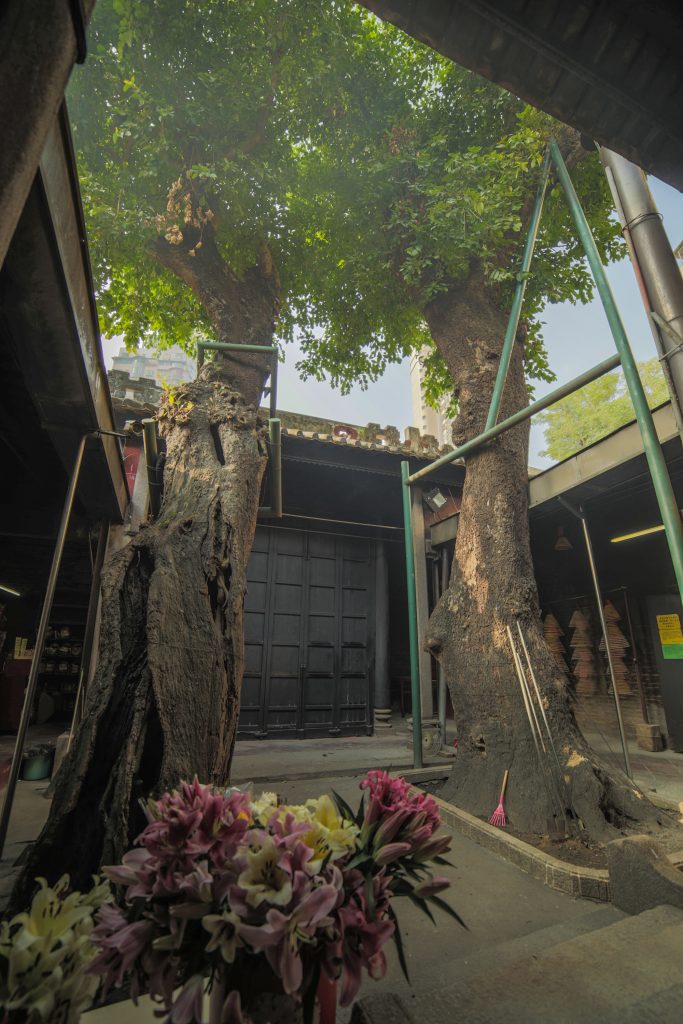 Trees tell tales…Until they can't
While trees are one of Macao's precious natural resources, they also embody the collective history of the city. If every ancient tree could tell its tale, it would reveal a different facet of Macao's rich heritage. With some of Macao's ancient trees, the IAM has unearthed their rich historical backgrounds. For instance, the large Hackberry tree planted in 1851 inside the courtyard of the Sir Robert Ho Tung Library at Largo de Santo Agostinho is 170 years old and is therefore classified as a Third-Class Ancient Tree. The library was originally built in 1894 as a house for Carolina Antonia da Cunha, the widow of a former Portuguese governor, the house was later purchased by Hong Kong businessman and multi-millionaire Sir Robert Ho Tung in 1918.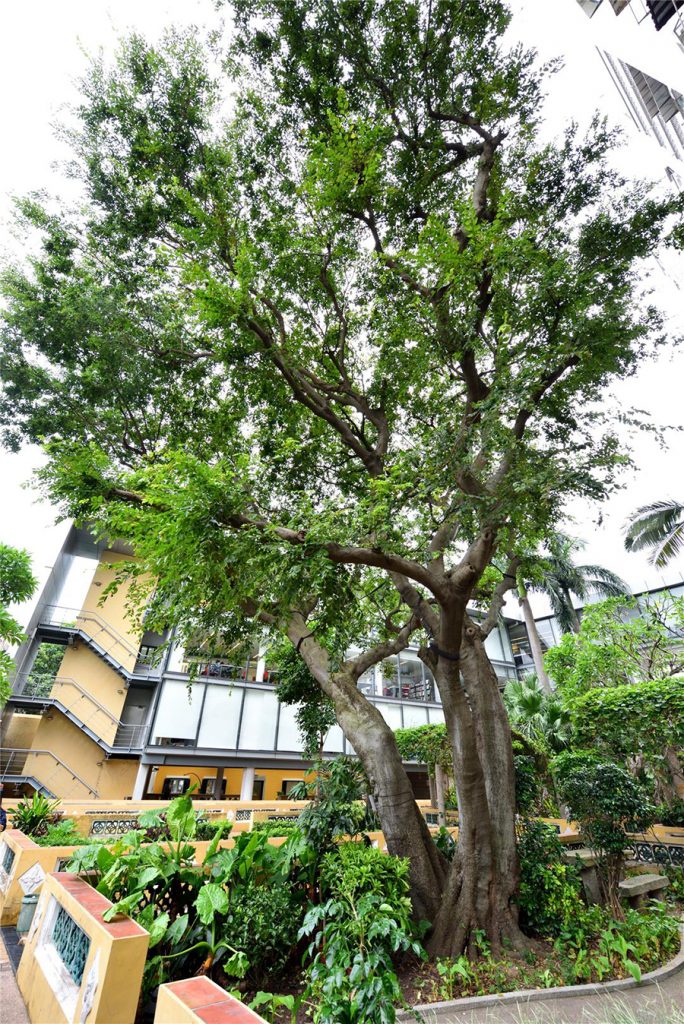 He bequeathed the house to the Macao government in 1956, which opened it as a public library in 1958. After the city returned to Chinese administration in 1999, MOP 10 million was invested in a modern extension at the back of the main building, with the library reopening in 2006. The library is considered one of the most generous gifts Sir Robert Ho Tung made to Macao. And through all these structural changes and transfer of ownership, the Hackberry tree remained intact.
However, due to pests or diseases, some trees wither and have to be removed. Urban pollution, typhoons and other types of extreme weather can also damage trees. While Ng says that however much they wish there were other solutions aside from cutting down sick trees, the welfare of the surrounding still healthy trees must take priority. For instance, in September 2020, an old tree was found to be infected with brown-root disease at Camoes Garden and had decayed. Since it posed a danger to its immediate surroundings, the green areas and gardens team had to cut the tree down. During Typhoon Hato in 2017, two ancient trees were felled and had to be removed, says Ng.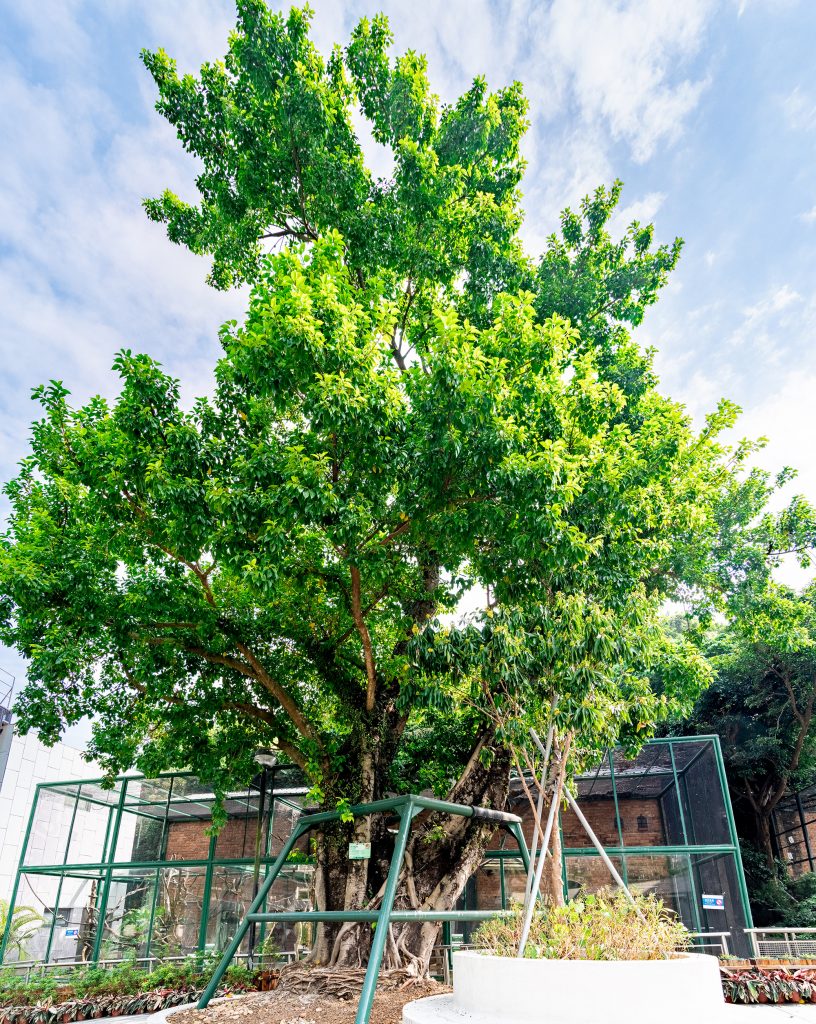 "When the health or structural problems of a tree have an impact on the public and are dangerous, we will remove it if it cannot be pruned or treated against pests or diseases, or by adding support to reduce the risk," she explains, adding that the team regularly reviews tree checkup procedures to ensure maintenance is appropriate.
The team also patrols the city, trimming unhealthy parts of trees, says Ng, and following typhoons, bureau staff inspect urban trees as soon as it is safe to do so. Daily tasks include pruning trees, monitoring soil health, clearing weeds and reinforcing tree trunks and branches.
Cheong and Ng are passionate about safeguarding Macao's urban trees. The team organises Green Week tours of ancient tree sites to educate the public about their history and importance. "I hope that through different promotional activities the public will understand how we work," Ng says, adding the importance of highlighting the role of trees in the ecosystem. "We hope that from the promotional publicity and education, everyone can reach a consensus that the protection of trees should start from the individual."
Given such dedication and expertise, Macao's trees seem destined to enjoy even longer lives for future generations to appreciate.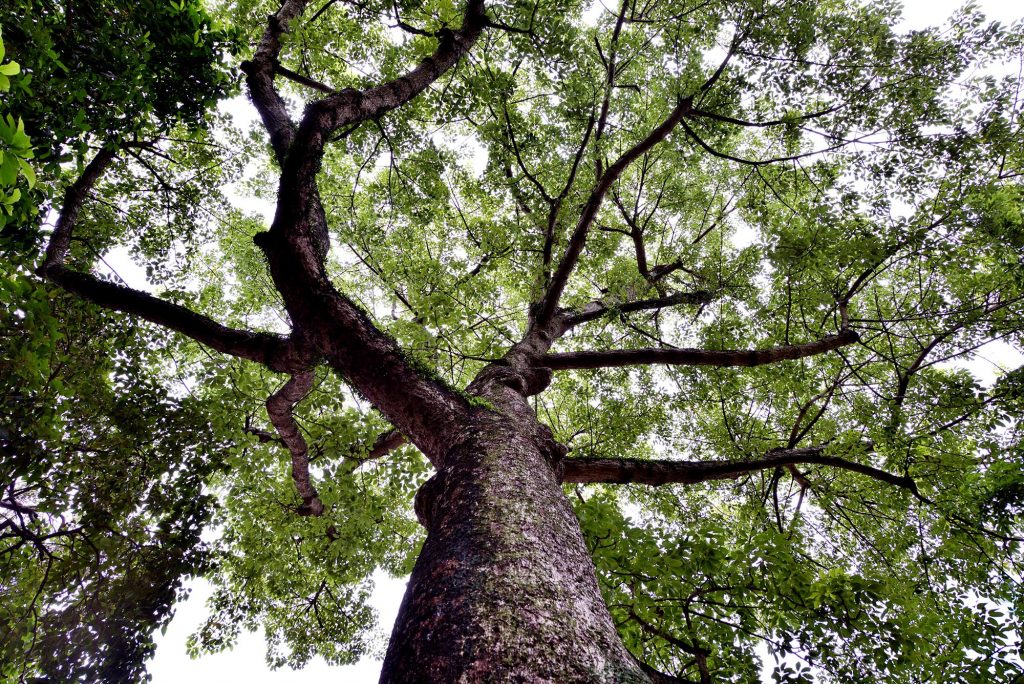 ---
The Old and Valuable Trees of Macao
The Municipal Affairs Bureau (IAM) has created a thematic site called 'Old and Valuable Trees of Macao' that is accessible to the public through this link.
On the website – only available in Chinese and Portuguese – visitors can use a map to locate where First-, Second- and Third-Class Ancient Trees are located throughout the city.