Mozambican products and resources spotlighted at Macao International Fair 2018.
"More than coming to Macao, we came to the world," said Ragendra de Sousa, Mozambique's Industry and Commerce minister. He spoke to Macao Magazine after a busy morning on the first day of the Macao International Fair 2018 (MIF), 18 October, where Mozambique was the featured Lusophone country.
"Not only is Macao here, but also Europe, Canada, the US, and all the Portuguese‐speaking countries," he said after visiting the 2018 Portuguese‐speaking Countries Products and Services Exhibition (PLPEX). "Macao is a hub that has everything to go right."
This trip marked de Sousa's first experience of the city, and he could not help but marvel at Macao's development, rivalling some of the world's more modern cities. "The physical dimension of what I'm seeing here is a complete surprise," he remarked.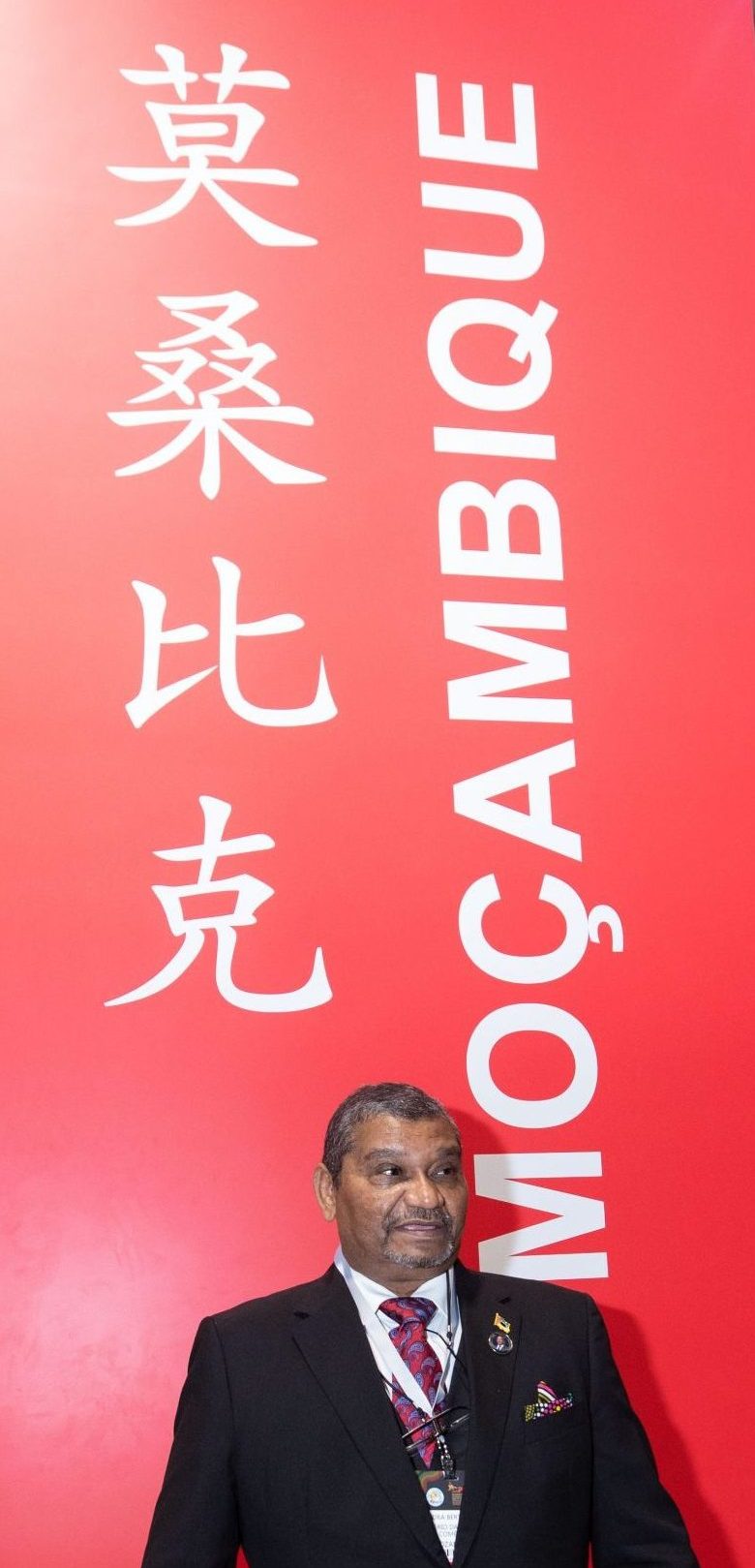 De Sousa, a member of the country's ruling party and a respected, well-established academic, didn't come to Macao to see the sights, though. He and his frequent companion, Lourenço Sambo, the head of Mozambique's investment promotion agency (APIEX), spent their stay focused on attracting major investments during this critical time for Mozambique.
While de Sousa captivated audiences with his good‐humoured approach, Sambo brandished a long list of concrete investment proposals – from mining to tourism resorts – spread across the country's provinces.
"We know our potential. But our international partners don't know us," de Sousa said. "We came here to make ourselves known to the world, both in terms of our production, but also the investments that the country needs."
Chinese investment exists in every major sector of Mozambique's economy, from tea and cashew farming, to heavy sands and coal mining, to industry – and the government is keen to build on that success.
"We have several Chinese investment projects ongoing, and we came here to get even more, because our economy needs a lot of investment to reach the kind of fast‐paced economic growth that we want and need," the minister said.
Mozambique needs all kinds of infrastructure, from housing to hotels that will lodge in the future liquid natural gas workers, to agriculture in the vast available land. With so many of these types of investments needed in the near future, now could be the most advantageous time to invest, and both Chinese investors and the Mozambican government know it.
At MIF, de Sousa had not a minute to spare between the official events, and meeting Macao government officials and potential investors.
Mozambique is expected to have a major economic boom in 4–5 years, with liquefied natural gas (LNG) investment projects – one of them (Area 4) involving China National Petroleum Corporation (CNPC) – coming on stream.
At MIF, de Sousa consistently referred to the massive energy project as Mozambique's "blue-eyed-girl," a Portuguese term for a precious and much-valued possession.
A Chinese business mission, including many of those that approached Mozambique's investment agency at MIF, is being organised to visit the country in a little over a month.
Agriculture, tourism, and telecoms will be a significant part of the mission, de Sousa told Macao Magazine. "We are restructuring the public sector, including some companies that need fresh capital in their shareholder structure, and the business mission will come in due time for this matching to be made," he added.
A budding eco‐economy
The Lusophone country opened its stand at PLPEX 2018 in a lively fashion, with Mozambican musicians setting the tone and the brilliant, bold patterns of traditional capulanas (Mozambican sarongs) worn by APIEX staff adding colour.
Nearly 30 Mozambican companies participated in the exhibit, highlighting the country's diversity and its ambition for growth and partnerships.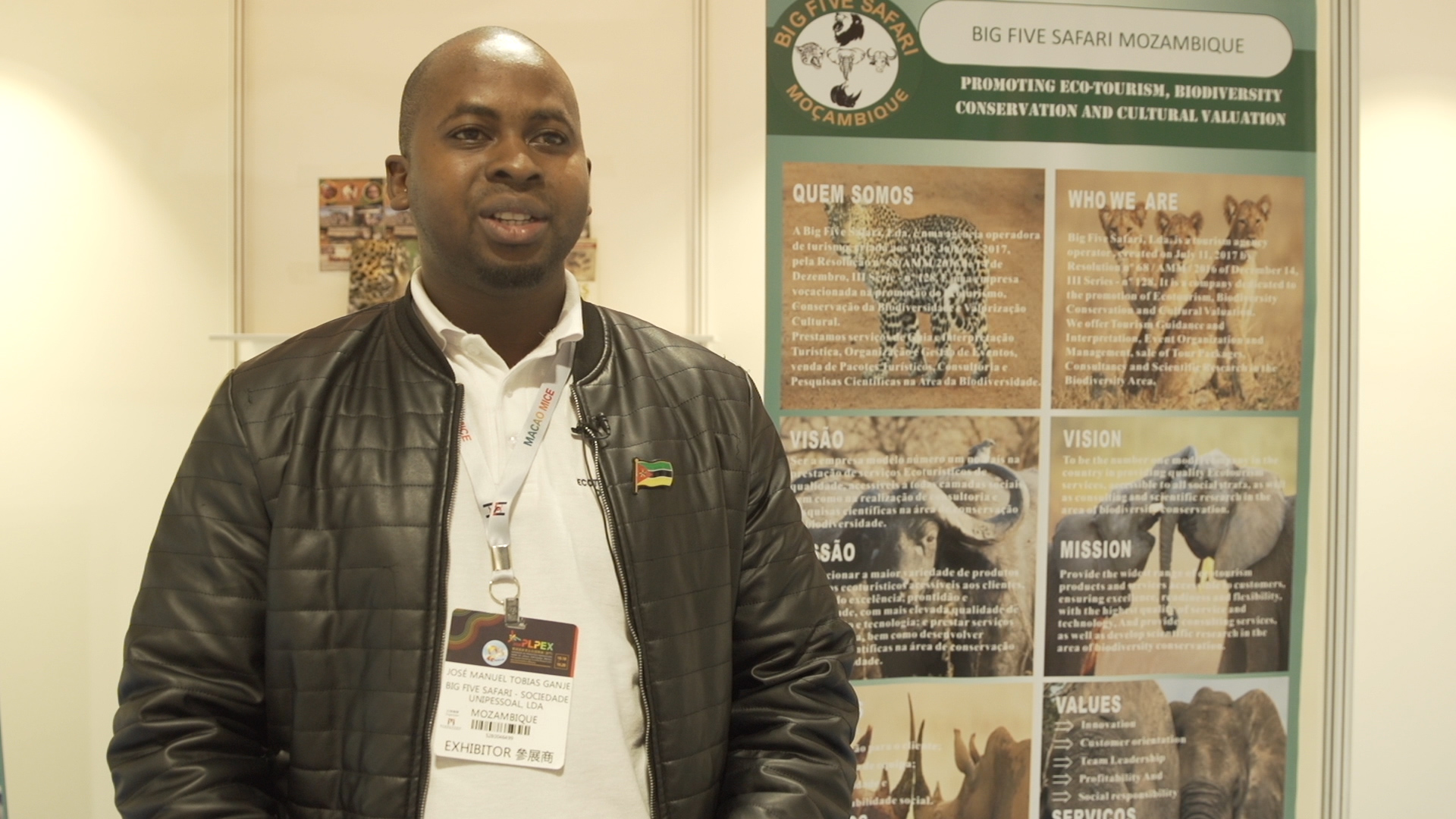 José Ganje of Big Five Safari sees potential to attract tourists for eco‐tourism and photographic safaris in his country, namely in the massive Gorongosa National Park, one of the world's best animal reserves.
"To be here is an enormous, very noble opportunity. We're making contacts and visitors are keen to know more of Africa and Mozambique," Ganje said. The event also provided an opportunity to learn more from Macao's huge and booming tourism industry.
"I'm going home with more knowledge," he told Macao Magazine. "This city is spectacular, with its bridges, islands and very unusual buildings, which I never imagined to see."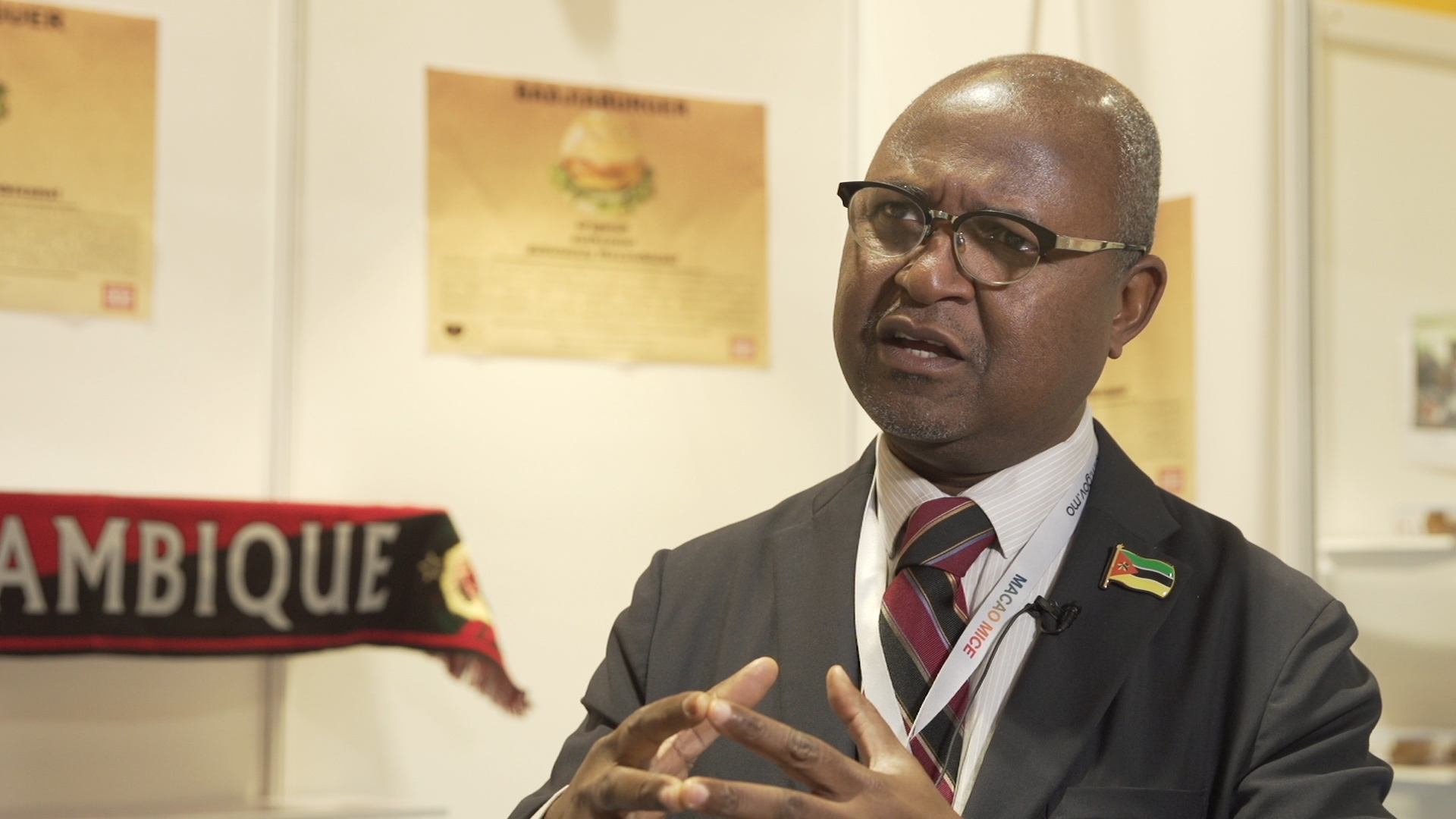 The wonders of Macao were more familiar to António Matonse, a veteran former diplomat who first visited the city while still under Portuguese administration. Today, he sees a "super modern region, attractive for everyone and especially tourists, very developed and obviously a notable economy, in global standards."
The fledgling entrepreneur also sees an opportunity at MIF 2018: "This is a great doorway for China and the Portuguese‐speaking countries." Matonse came to the event looking for partners for a new food concept: badjia burgers. Made of traditional nhemba beans and spices, these vegetarian burgers look like the real deal and taste great, too.
"The consumer's reactions have been beyond our expectations. People value the fact that this is a vegetarian burger, but also very tasty, and both these qualities interact in a very positive way," he told Macao Magazine.
His goal is to franchise his recipe to Macao and mainland China, while also exploring the possibility of securing a Chinese investor to help bankroll a healthy fast-food chain.
But the badjia burger, Matonse explained, is a cultural experience as well, a true taste of Mozambique's heritage. While the badjia concept – nhemba bean flour mixed with spices like saffron and fried – was brought to the country by Indian migrants, the burger is Western.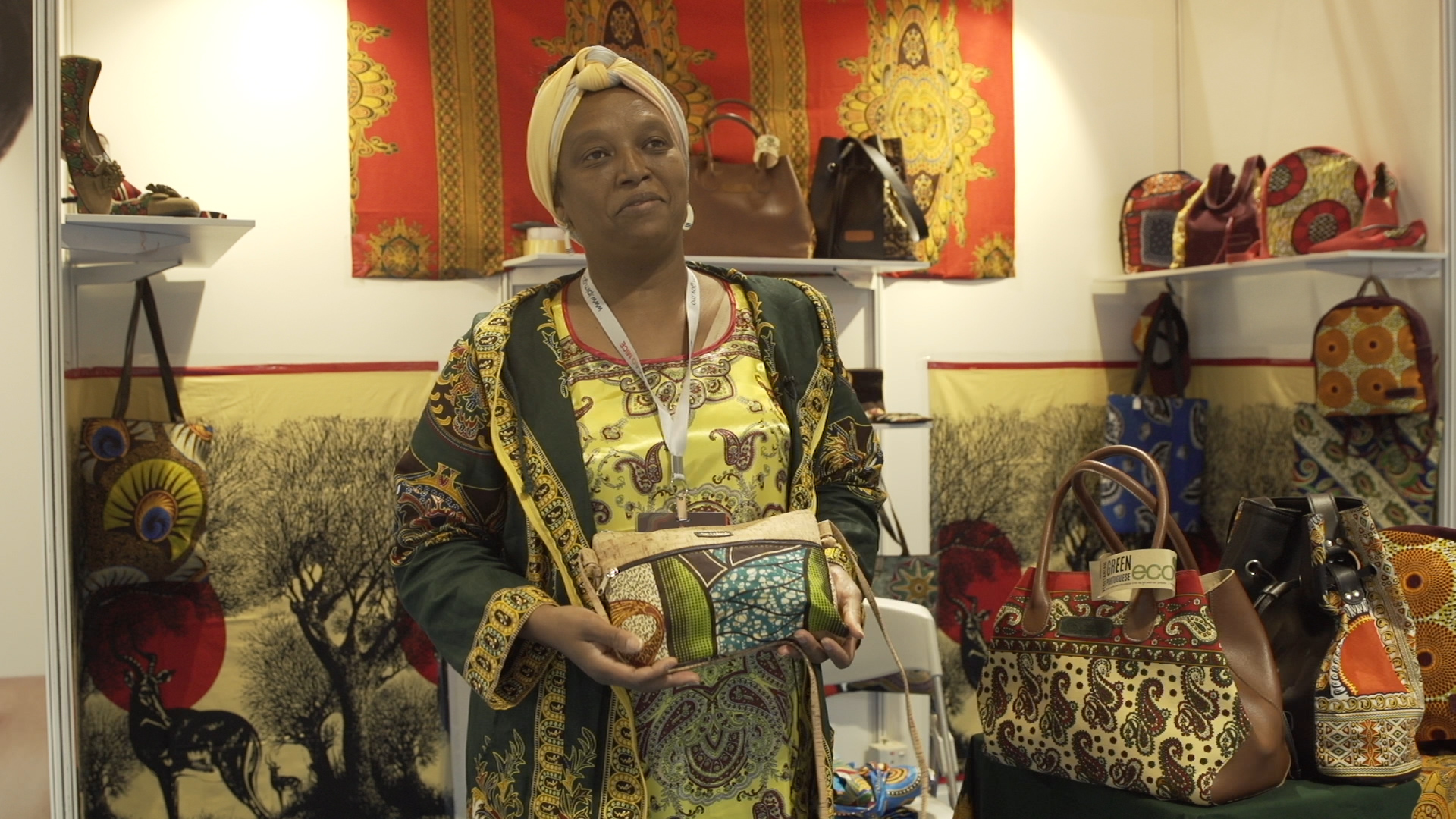 Orlanda Barbosa, who recently expanded from the food industry to clothing and accessories, brought her own cultural fusion product to the fair. Her designs combine the traditional capulana cloth of Mozambique with leather and cork from Portugal, where she currently lives, to make unique, eco‐friendly products. With bold colours and striking patterns, the coats, wallets, shoes, and fashion accessories displayed drew many a fairgoer to her booth.
"My goal is to combine and show our Mozambican culture in many ways," Barbosa told us. "If we produce something which is very traditionally African, people in other countries will not wear it. But anyone can wear my models."
Being in Macao was much more than a business opportunity for Barbosa. She fell in love with the city's "very strong energy" on a previous visit. "I felt an enormous will to live and I said that I had to come back," Barbosa recalled. "There is a lot of light and energy here."
The blue-eyed girl and her 'suitors'
While Mozambican entrepreneurs were busy showcasing their goods, the government officials, de Sousa, and Sambo shuttled around holding meetings and opening official events. Sambo highlighted specific opportunities while de Sousa chose to "speak to the heart" of potential investors.
At a business forum highlighting MIF 2018's two featured guests – Mozambique and Fujian province – de Sousa reminded investors of the country's vast and largely untapped potential, including a nearly 2,500‐km Indian Ocean coastline that makes it an excellent fit for businesses connected to the nascent blue economy.
Located in the southeastern corner of Africa, Mozambique boasts 800,000 sq km and a population of a mere 30 million, which de Sousa noted, gives the country a very low population density.
"It's the equivalent of 4 people for a football pitch. So in my country, it's still very difficult to play football, because we need a lot more to have the 22 people you need" for two teams, the minister playfully told the Forum's audience.
"Because of this lack of people to 'play football,' the country is primed to receive agricultural investments," de Sousa said. "We have a lot of arable land, but our agriculture is mostly small‐scale. We need to modernise and jump into commercial farming."
In addition to cropland – "available for Mozambicans, but also for any investor in the audience" at the Forum – de Sousa highlighted an opportunity in forestry. "We want to preserve, to make sustainable forestry. To export processed wood, not in rough, and invest in replanting trees," he said.
Serving all of this new economic activity creates a challenge for infrastructure. Mozambique has three major ports: one in Maputo (south), serving the capital and adjacent regions, as well as South Africa and Zimbabwe; another in Beira, which serves the centre of the country, along with Malawi and Zambia; and the Nacala deep water port, which is also a special economic zone. With its vast shoreline, the country is not only interested in developing more ports, but also coastal shipping, as a way to link industrial zones to major ports, as a gateway for exports.
Then there is what the minister calls "the blue‐eyed girl": Mozambique's vast natural gas resources.
"This will turn Mozambique, in the next 7–10 years, into a major LNG producer," de Sousa pointed out, reminding the audience that contracts have already been signed and exploration platforms are under construction, set to reach the area in the near future.
The country wants to export gas, "but also to develop its chemical industry," he said. There are projects already ongoing, and others planned, for LNG sub‐products such as fuels and fertilisers and "the country is open to more proposals to develop the downstream" of the energy industry.
Playing off the Mozambican minister's metaphor, Leong Vai Tac, Macao's secretary for Economy and Finance said that, while Mozambique had its blue‐eyed girl, Fujian province was akin to a "very good-looking boy, able to venture and be successful in the world."
"With Macao being such a romantic city, we can only imagine what will happen between this girl and this boy," Leong told the amused audience, adding, "Do not forget Macao and what we did for your future."
On a more serious note, Leong underlined that China has become Mozambique's biggest foreign investor, and that the African country is located at a "key point" within the Belt and Road Initiative (BRI). Macao, he added, is keen to actively engage in the BRI, while achieving "very positive results" both in strengthening its role as a global centre of tourism and leisure, and as a hub for Lusophone countries.
According to Fujian Vice‐ ‐Governor Zhang Zhinan, co‐ ‐operation between Macao and Fujian exists in multiple areas but there is ample room for growth, namely in Lusophone countries. "Mozambique has many human and natural resources, and we can certainly continue to work together to create a positive environment of economic and commercial co‐operation through platforms such as MIF and strengthen our ties." Fujian, Zhang said, will be "a central point for the Maritime Silk Road," and the authorities welcome a more global reach for the province's economy.
Displaying Macao's matchmaking skills, several agreements were signed at the Mozambique‐Fujian‐ ‐Macao Investment Forum, including plans to exhibit Fujian products in Macao, a medical centre, along with other projects in environment and the blue economy.
We want to preserve, to make sustainable forestry. To export processed wood, not in rough, and invest in replanting trees.

Ragendra de Sousa
Prioritising diversification
Mozambique came to Macao feet on the ground, with a set of specific priorities and projects, and left with a sense of mission accomplished. The road to sustainable economic growth and development remains long, but with investments on the rise there is cause for optimism.
APIEX head Lourenço Sambo told Macao Magazine that the goal is clear: to have "more Chinese investors in Mozambique," adding to economic growth and development.
According to CLBrief Intelligence Service, Macao tourism and real estate developer David Chow also met with the Mozambican authorities at MIF and showed interest in looking for investments in the African country. Macao construction company Charlestrong already has an extensive portfolio of projects in Mozambique.
While it is important to have major multinationals investing on a billion‐dollar scale in LNG or coal, gems and graphite mining projects, the government attaches great importance to bringing in service providers for the energy industry, typically small and medium enterprises.
Numbering the priorities, Sambo puts agriculture at number one, given the quantity and quality of arable land available, and infrastructure at number two "because you can't have agriculture working without irrigation or energy" from coal, gas or hydroelectric, all abundant resources in Mozambique. Being "such a beautiful country," tourism also ranks high in terms of priorities, Sambo said.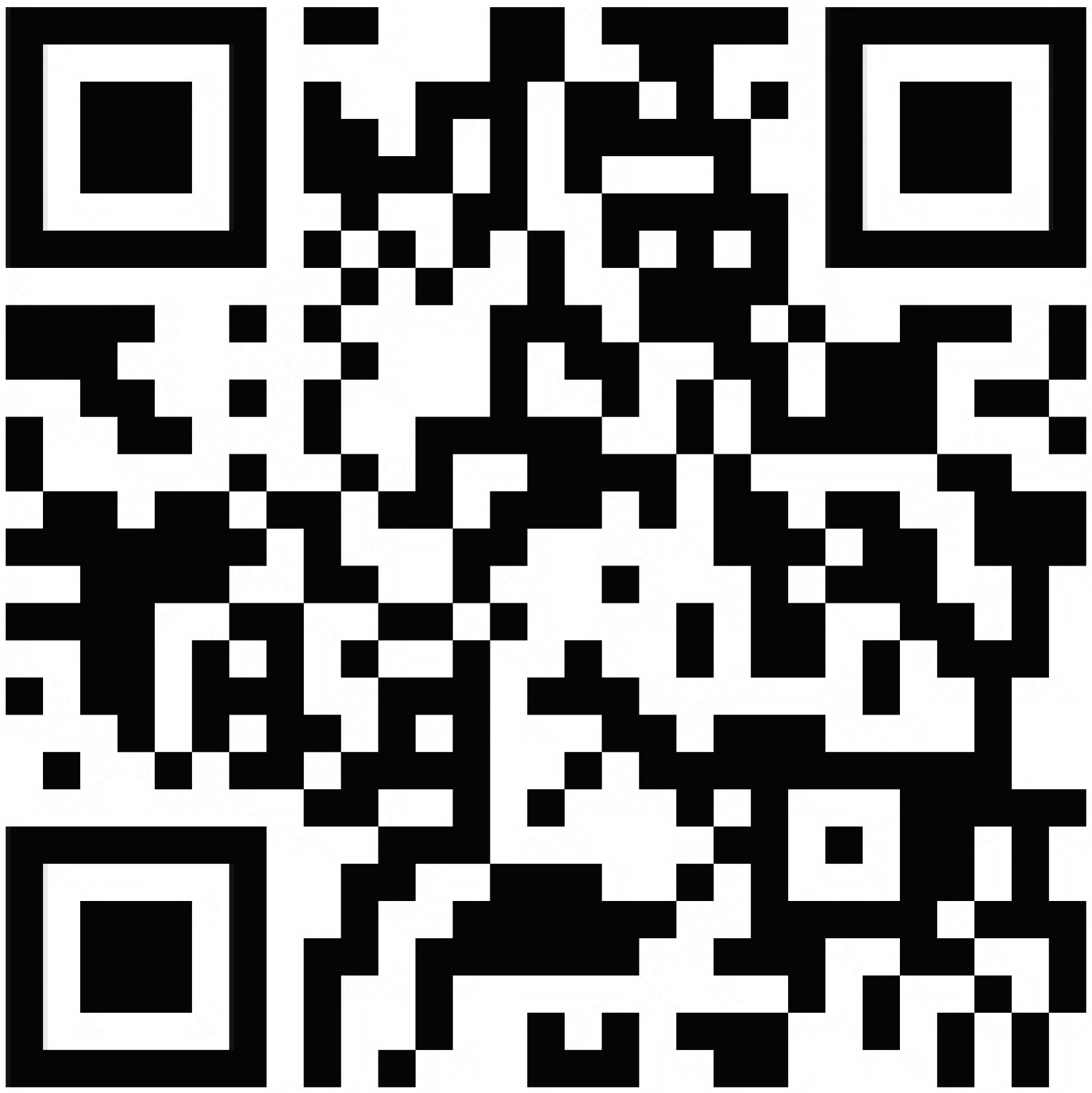 The key is economic diversity.
"We are already on the map in terms of coal and LNG, but that is not enough, because we are not going to eat coal or drink gas," he said. New industries are needed, that will create jobs and locally produced goods, and MIF offers an important stepping stone for the country.
"When we look at this hub in Macao, we see a huge market – which is China – and also the interaction with the Portuguese‐speaking countries," Sambo said. "For us, that is crucial."