TEXT Hélder Beja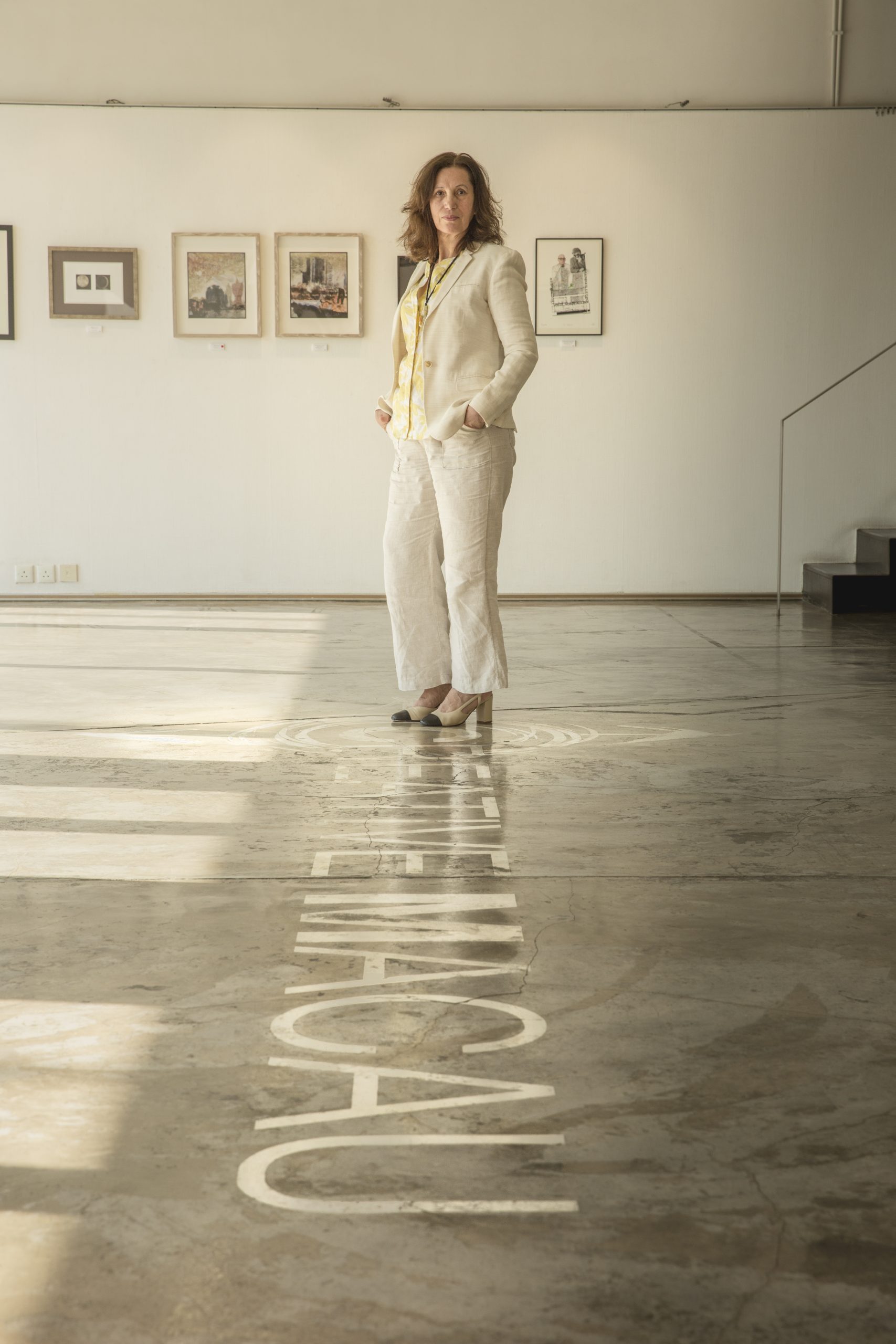 Creative Macau – Center for Creative Industries celebrates its 15th anniversary this year. Founder and coordinator Lúcia Lemos sees a bright future for the project in continuing to develop and promote local creative talents.
For the past 15 years, Creative Macau has nurtured artistic and creative development in the city, offering local creators the chance to showcase their works both at home and abroad.
The project, developed and managed by the Institute of European Studies of Macau (IEEM), has grown to more than 500 members under the leadership of founder and coordinator Lúcia Lemos. When Lemos was invited to spearhead the project in 2000, few could have predicted the economic boom to come.
"Due to the economic crisis that hit Asia, Macao and Hong Kong suffered a lot. Everything basically stopped, and we thought we could contribute with something, by creating a structure, a kind of inner bridge to connect the local creative people," said Lemos.
"We've tried to create a space to show what creative people from several fields were doing. We wanted people to be able to show their works, to communicate and to use this space for gatherings, meetings, and exchanging ideas." The Creative Macau gallery, located on the ground floor of the Macau Cultural Center, welcomes art forms ranging from painting and photography to film, installation, and design.
In its first years, Creative Macau had a very practical goal of trying to connect artists and businessmen. "Macao's economy started showing that it could grow, with the opening of some of the main casinos. From 2004 onwards, there was a boom," Lemos said. Recognising a valuable new market, the team at Creative Macau worked to connect the casinos with the works of local creative people.
At the same time, Creative Macau was trying to showcase local creations abroad, traveling to different fairs and shows around the world. "In 2005, we were invited by Experimenta Design to show local works in Lisbon.
I'm thinking of new ideas and for sure will go beyond Creative Macau.

Lúcia Lemos
Later on, we got a similar invitation to Hong Kong," she recalled. Other trips have taken them to cities like London and Porto, Portugal and to the furniture show Salone del Mobile in Milan, Italy.
"Some of our activities aimed to show what was being done here to the outside, a lot in Asia, through conferences and seminars." But, she stressed, "the most important thing we've done was to give the opportunity to creative people to show their works."
Obstacles to development
Lemos admitted that the idea of putting together a quality cultural space "wasn't easy to achieve." Creative Macau "can't subsidise everything, especially not the creative process, there's no budget for that." Instead it offers creators a platform for their work, helping with promotion and exhibiting. The early years of the gallery were marked by "very unconventional shows, displaying things in a very different way."
"I remember that the Hong Kong artistic community, singers and others, would come here to look for products they couldn't find elsewhere," she said. "I believe we were pioneers in some ways."
Over time, the gallery shifted to a more classical way of showing artworks, with a mix of shows from well‐established artists and those taking the first steps in their artistic careers. "In the beginning, there were not many solo exhibitions. Only the very big names would do it," Lemos recalled. "Now, we've opened that path to many artists who've never had a chance to do a solo before."
Supporting a broad range of creators holds a certain satisfaction for Lemos, who hopes to encourage emerging artists who have shown potential in their works.
Showcasing local talents like Mel Cheong, Kent Ieong, Fortes Pakeong Sequeira, João Miguel Barros, Rui Rasquinho, Alice Kok, and Noah Ng Fong Chao not only elevates their individual profiles, it enriches the creative landscape of the city. This, Lemos believes, is a central piece of the institution's legacy in Macao.
But not everything has been easy along the years. Looking back, Lemos can clearly identify what she hoped could have gone better. "There are things that we couldn't make happen. We've listed 12 fields of work, and that's a lot," she said. That range – from crafts to software development – has allowed Creative Macau to develop a more broad‐based concept of creative arts in the city. But for a project with only three people on staff, including Lemos, they can only do so much.
"When we've tried to take local products abroad, I felt that we didn't have enough new products to keep showing. Creators believe you can show the same products in the same events, but that doesn't work," she explained. Lemos and her team considering renting a work space for local creators who haven't developed far enough to have their own studios or companies. "But we realised that probably would only be possible in a different kind of culture; it wouldn't work here."
According to Lemos, the "very fast pace" in Macao makes projects more volatile. She referenced the Cultural Industries Fund, created by the Cultural Affairs Bureau "with a great budget, but still with results that are not stable."
"Perhaps that's a characteristic of Macao. In Hong Kong, where I went for many meetings, if you wanted to be a fashion designer or a graphic designer, you'd be able to start working," she noted. "Here, despite all our efforts, we were never able to help the companies' representatives and the creators find a common ground and work together. They could never trust each other."
Her other great regret centres on the many opportunities that local artists chose not to take. Creative Macau has "many contacts from many countries, for the local artists to go on artistic residences," but "in general, people didn't want to go," said Lemos. "There was a lack of commitment, and when that doesn't exist, things are not possible. I believe we gave opportunities, but those were not always taken."
Moving images
An opportunity well taken by thousands of video makers is the Sound & Image Challenge (www. soundandimagechallenge.com), a video competition launched by Creative Macau years ago that evolved into an international film festival. This year, for its 9th edition, the festival received more than 4,000 film submissions from countries such as Brazil, Portugal, Belgium, Russia, and the US. The music video competition, which aims to promote original music from Macao, drew more than 600 entries.
The 72 short films selected in the categories of fiction, documentary and animation, as well as 11 music videos, will be presented over six days, 4–9 December, in the Dom Pedro V Theatre in Macao.
Prior to the festival, the Creative Macau gallery will be hosting an exhibition of shortlisted posters for this year's edition. Turning the promotional poster into its own contest in 2017 pulled yet another aspect of Macao's creative arts – graphic design – into the festival.
"I'm thinking of new ideas and for sure will go beyond Creative Macau," Lúcia Lemos said with a smile. Having been with the project for 18 years, Lemos remains committed to what she believes is an important contribution to the city and its government.
"I want to put my hands on new things, but still need time to mature these ideas," she intimated. "I would love to continue doing this for some more years, and I'm fully open to the challenges ahead of me."