Four-year-old Lei Pak Ioi has walked through the 400-metre long Guia Hill Pedestrian Tunnel twice a day since it opened in October, accompanied by either his parents or nanny. The kindergartener declares that it's not only a handy shortcut to school, but an aesthetically pleasing experience in itself.
"I like the tunnel because I can go to school faster now; and I think it looks good," Pak Ioi says. He's of the opinion that the passage beneath Guia Hill has the potential to become as popular as some of the city's major landmarks – like "Tai Sam Pa", he suggests, using the Cantonese name for the Ruins of St Paul's.
That is, in fact, along the lines of what the Macao government was aiming for when it began planning the tunnel. Sure, it would be a shortcut between Avenida de Horta e Costa, one of the city's main streets with residential buildings, and the Reclamation Zone of Porto Exterior (ZAPE), where several hotels and office buildings are located. But at the same time it's a recreational destination for residents of the surrounding areas.
Developing Macao's pedestrian network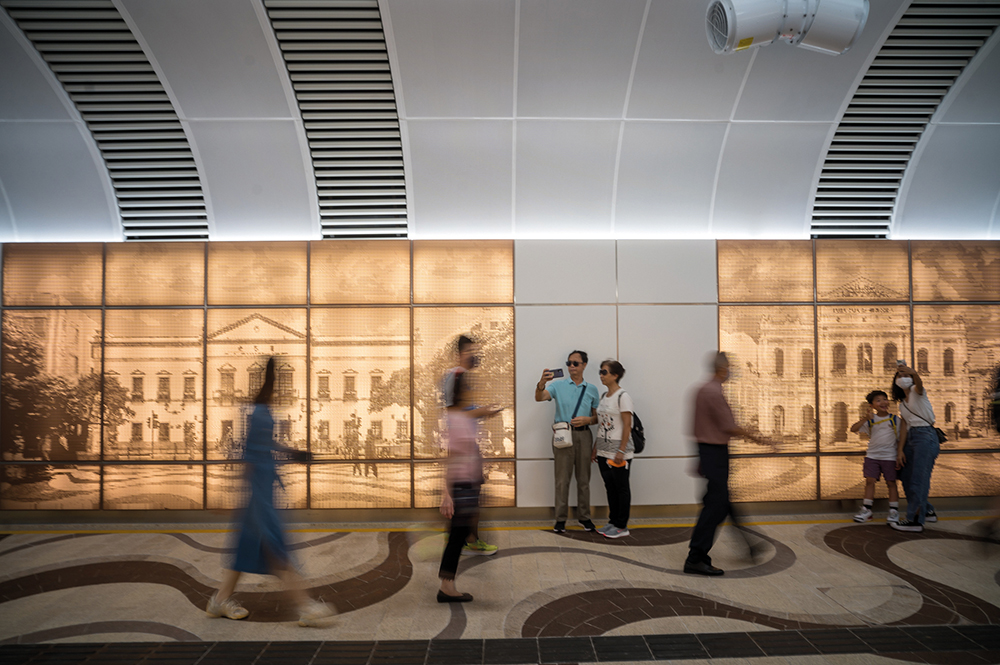 The Macao government has made significant improvements to the city's pedestrian network in the past decade. Particularly via structures like tunnels and bridges that allow people to get from A to B on foot, faster.
These projects include a footbridge connecting ZAPE to the Guia Hill Hotel Macau, which opened in 2016. And another that opened in Taipa last summer, running alongside Avenida de Guimarães for 700 metres – above the busy Rua de Nam Keng, Rua de Coimbra, Rua de Seng Tou, Rua de Bragança and Rotunda do Estádio.
In June 2020, the now-defunct Land, Public Works and Transport Bureau (DSSOPT) received 10 bids through public tender from companies eager to design and construct the Guia Hill Pedestrian Tunnel. The bureau, since renamed the Land and Urban Construction Bureau (DSSCU), eventually settled on Consórcio de San Kei Ip – China Railway International – China Railway First Group for the job.
The design process began in the fourth quarter of 2020, and excavation works on Guia Hill kicked off later that year. Construction workers digging beneath the hill from either side met in the middle in October 2021, a major milestone in the innovative project that cost the government MOP 235 million to build.
A tunnel is born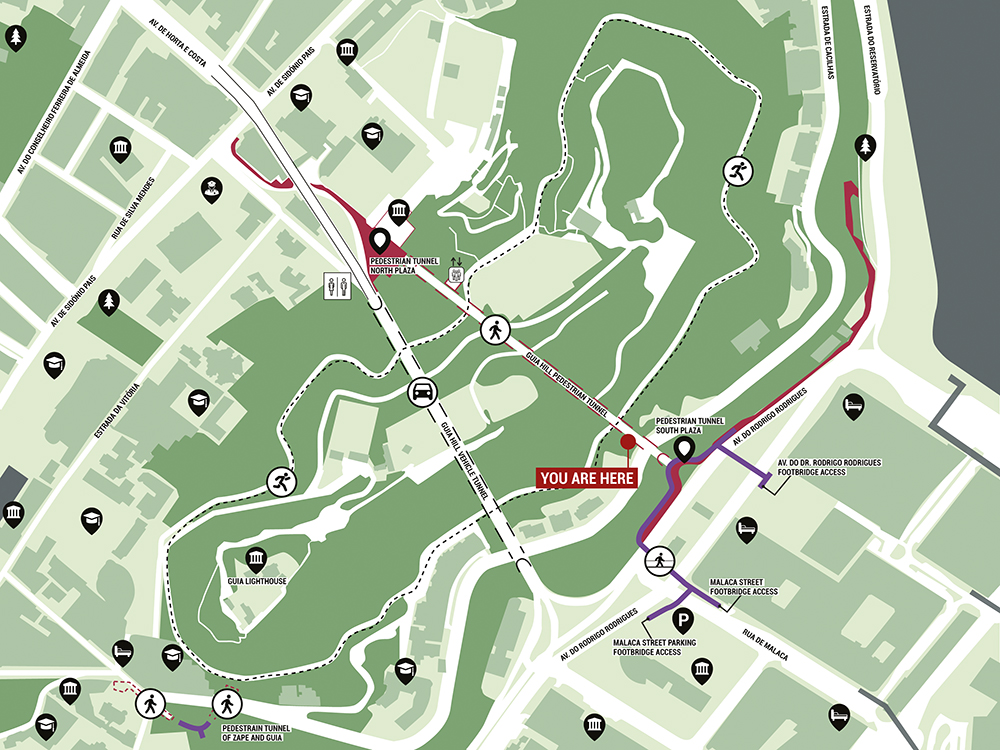 The Guia Hill Pedestrian Tunnel officially opened to the public almost exactly a year later, on 1 October 2022. It became an instant hit with commuters like young Pak Ioi, who use it to get from home to work or school. But people flock there to socialise as well; the entrances provide pleasant park-like spaces to hang out in. Elderly folk in particular enjoy relaxing on benches outside the tunnel in the morning and afternoon sun, while non-resident workers gather there on Sundays to catch up with compatriots. Visitors from the mainland have also been spotted taking selfies inside and in front of the new tunnel, treating it as a tourist attraction.
Running parallel to the two-lane Guia Hill vehicular tunnel, in use since 1990, the pedestrian version runs north-south beneath the hill. It has cut the route between Avenida de Horta e Costa and the petrol station in Avenida Dr. Rodrigo Rodrigues down from 1,100 metres to around 400 metres. Meaning what once required a 15 to 20 minute walk around Reservoir Road is now a three minute stroll.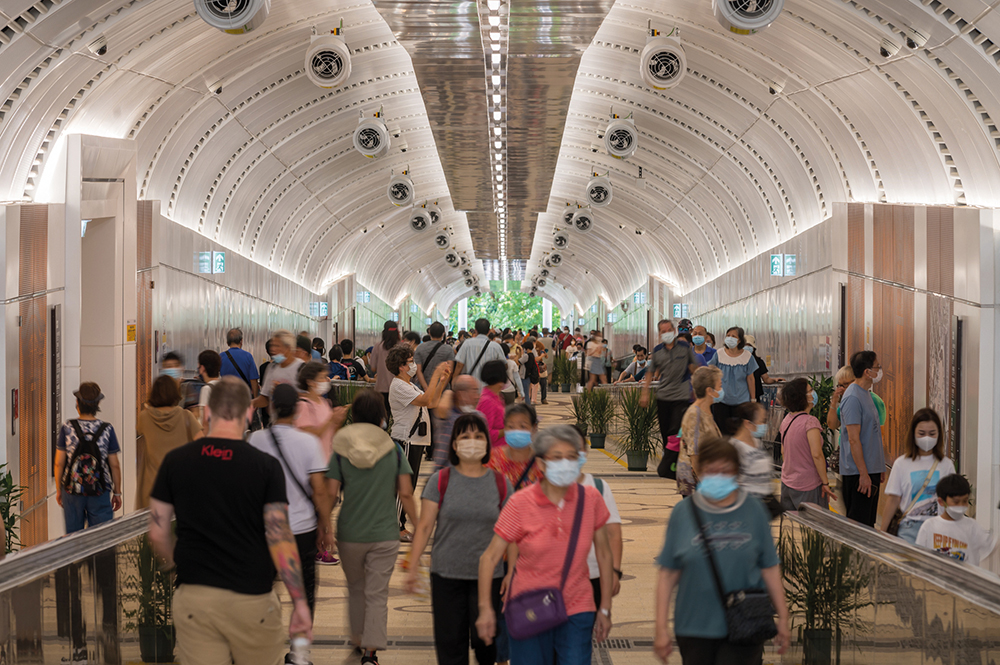 Two footbridges on the ZAPE side connect the tunnel's entrance to Rua de Malaca and the Jai Alai hotel complex respectively. At the opposite entrance, there are public toilets and two elevators carrying pedestrians up to the Flora Garden – a sizeable park featuring 'the Cute Animal Zone', located on the Guia foothill. The elevators also provide direct access to Guia Hill's popular walking and running trail, known as Estrada do Engenheiro Trigo.
Strolling through the tunnel itself is a visually stimulating experience; innovative murals created by lights depict landmarks from the city's UNESCO World Heritage-listed Historic Centre and scenes from the olden days. There are aerial maps of the tunnel and its surrounding neighbourhoods inside, too, with information about the city available in Chinese, Portuguese and English.
The new tunnel is 6.7 metres wide and has a ventilation system that turns on automatically if temperatures exceed 30 degrees Celsius, to ensure pedestrians stay comfortable.
'It's much more convenient'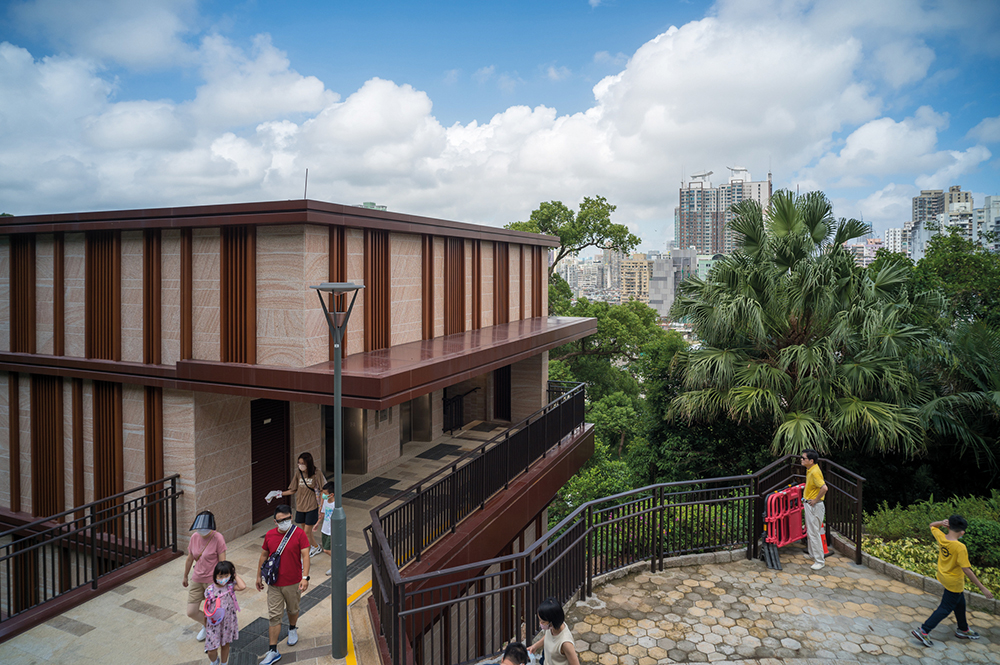 One 60-year-old retiree, who gave his surname as Un, told Macao magazine that the tunnel – especially its elevators – was really great for Macao's elderly and disabled. "It's much more convenient after the opening of this tunnel," he said. "Before, if [people with mobility issues] wanted to go up to the Flora Garden, they had to use the cable car, which is very inconvenient. But there's a lift now, which makes it easier for people who are in wheelchairs or older to go up."
Mani Fong, a 36-year-old office worker, uses the tunnel every day to get home from work. "Walking home has become like daily exercise for me," she says, noting that the tunnel cut her journey in half – a good incentive to make it on foot. "In the past, I always took a bus home and sometimes it took quite a long time for me to get home because of the traffic; and waiting for a bus can take a while too."
Fong had one concern, however: she thinks the ventilation system could be improved. "In winter, the tunnel's fine. But during autumn, it was a bit stuffy inside and it made me dizzy."
A non-resident worker named Tuginah, who is from Indonesia and lives in the Tree Lamps District, recently walked through the Guia Hill Pedestrian Tunnel with her friends. "I think the tunnel's good in terms of cutting the time taken to make a journey from one side to the other," the 49-year-old says. "So, if we want to go to the area around Rio and Casa Real Hotels, we don't need to go around the hill or use public transport anymore."
The Guia Hill Pedestrian Tunnel is a taste of more convenience to come, according to Macao's secretary for Transport and Public Works, Raimundo do Rosário. He said the government will continue its quest to improve the city's walkability by building more pedestrian access routes across Macao over the coming decade.