Allen Choi is on a mission to elevate sneaker culture in Macao with his pioneering local company: Maccrew. Opened in 2019, the city's first custom sneaker studio brings fresh, artistic and totally one-of-a-kind shoes to the city's fashion lovers.
You may have even seen the designs brightening up the city's streets already. From Nikes covered in technicolour snakeskin to white Adidas blooming with hand-drawn lotus flowers, Maccrew's artwork transforms everyday sneakers into a canvas of personal style.
"With sneakers, there is no limit [to what you can do]," says Choi. "You can add different colours, patterns or unique elements. Let's say leopard print – you add whatever you like to them."
Not only do bespoke designs enable a world of exciting artistic possibilities, but Choi says he saw an excellent business opportunity, too. "The trend is so hot in the US and Europe because of some famous NBA players" and singers like Justin Bieber, Choi explains. "Custom sneakers have been very popular in foreign countries and the mainland for a while. I know there are quite a lot of people in Hong Kong and Singapore who are very into custom sneakers as well. But it's still the beginning stage in Macao."
In just a few short years, Maccrew has had a hand in creating more than 10,000 sneakers, the most expensive of which fetched MOP 67,000. Although customisation might seem to be a service centred on the wealthy, the store's baseline starts at a more approachable MOP 300. By offering bespoke services at affordable price points, Choi has carved out a unique concept in Macao.
Sports to fashion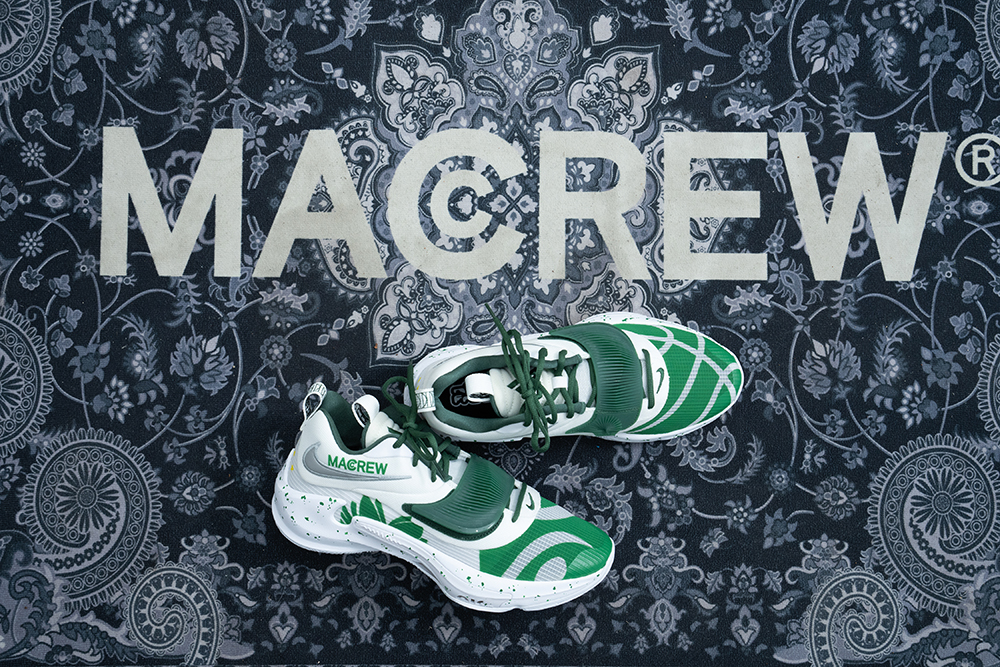 Born in Zhongshan, in Guangdong, Choi moved to Macao with his family when he was 7. As a child, he says he got into sports with his dad and brothers. "Because of them, I developed a hobby of playing basketball," he says, and he found an idol in Allen Iverson, the scrappy guard who turned the Philadelphia 76ers into a perennial title contender in the NBA.
"I got my English name from Allen Iverson," he adds. "He isn't a strong or tall athlete like other NBA players – he became famous because of his work ethic and passion for basketball."
When he was young, he also picked up sanda (full-combat Chinese boxing) and became so skilled that he has become a star Macao competitor, representing the city abroad for over a decade. He will also likely partake in the upcoming Asian Games in September 2023.
A passion for athletic pursuits led him to study sports management at Beijing Sport University and Tsinghua University, where he earned a master's degree. Meanwhile, his love of the NBA provided a gateway into sneaker culture that would lead him to where he is today.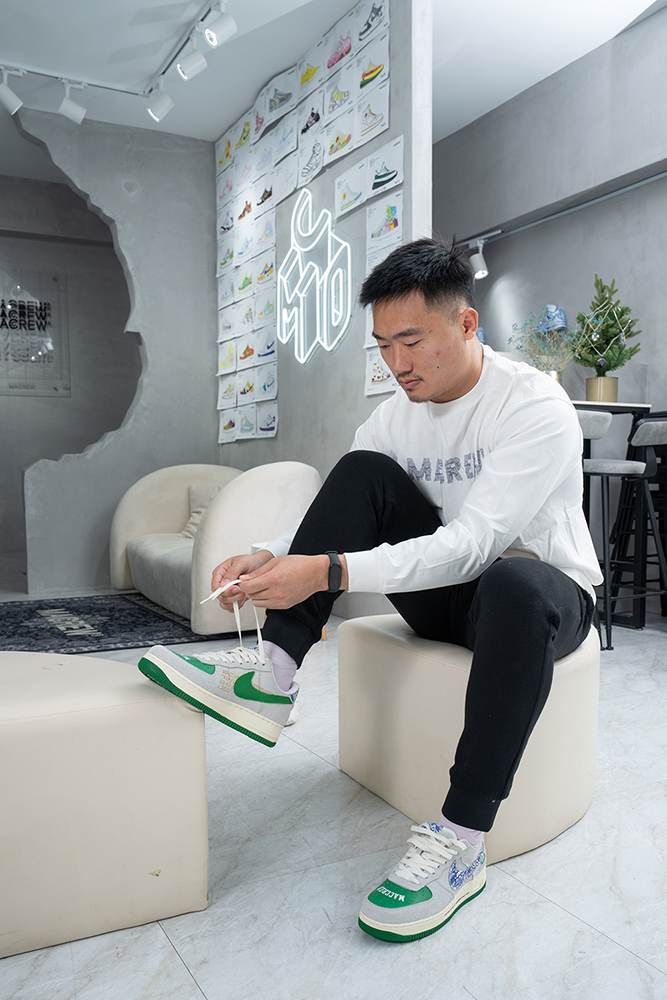 "From the NBA, I learned about American pop culture and street culture. From that, I learned about Kanye West and Virgil Abloh and drew a connection from sports to fashion. Then I realised in the mainland or Macao, no brand connected the two," explains the 27-year-old. So why not do it himself?
Indeed, sneaker culture and sports are intertwined. In the past, bespoke fashion was typically reserved for luxury men's tailoring. However, in the 1980s, American hip-hop culture began to pave the way for customisation in the world of sneakers. In 1986, Run-DMC, an influential American hip-hop group, struck a sponsorship deal with Adidas after releasing the track "My Adidas", cementing the music genre's role in the rise of sneaker culture.
With the rise of the NBA came a wellspring of signature shoes endorsed by celebrity players like Michael Jordan, Kobe Bryant and LeBron James. None has had a greater impact on fashion than the Nike Air Jordans – a shoe that transcended its celebrity endorsement and became a cultural icon – but many other shoes backed by basketball stars have become sought-after items, too. Even Choi admits the first sneaker he owned was Reebok's Answer 1, the shoe made for basketball star Allen Iverson.
As early models like the Nike Air Force 1 started soared in price and desirability on the resale market, luxury brands and, now, custom workshops have carved out space in the rapidly expanding industry. The sneaker market is expected to reach US$102 billion (MOP 822 billion) by 2025.
'An experience store'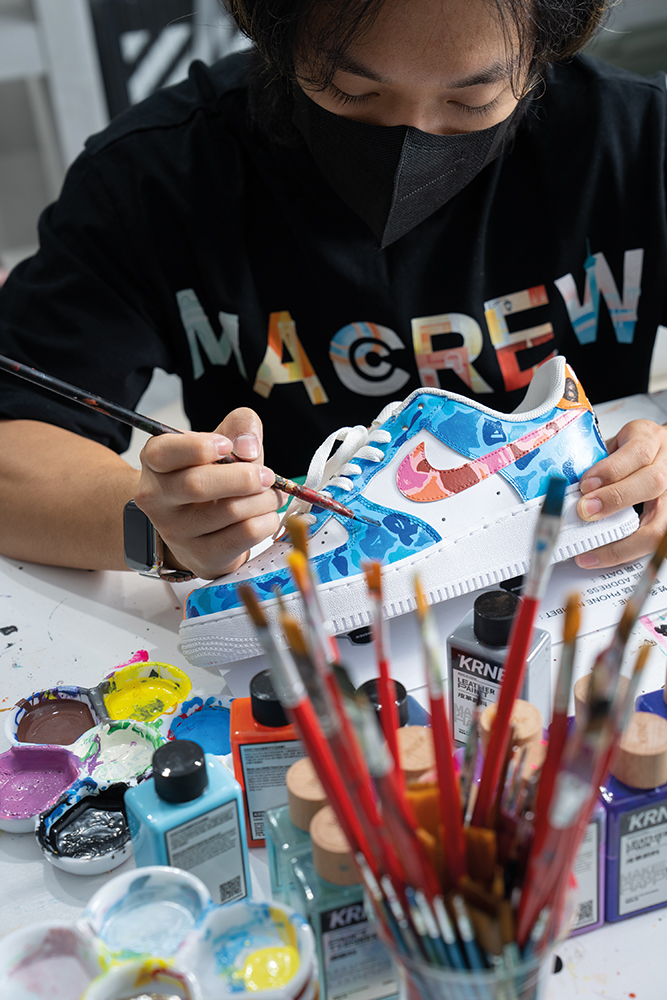 Eyeing a once-in-a-lifetime opportunity to build a company that combines his love for sports, sneakers and style, Choi launched Maccrew with a mission to bring customisation to Macao and make it more accessible in the process.
At his spacious shop in Taipa Village, just off Rua Gov Tamagnini Barbosa, Choi says he offers "an experience store" – not a typical boutique. Graced by natural light, the airy duplex features fine art collages of fashion icons made with materials from deconstructed shoes. There's also a café where customers can enjoy a refreshment while exploring the customised sneakers, hats, phone cases, and apparel on display.
If they are keen to kick-start the design process, customers can discuss the options with Maccrew employees or sign up for a workshop. For the latter, participants either bring a pair of sneakers from home or buy them from the store (Nike Air Force 1, Nike Dunk SB, and Converse All-Star are all popular models, adds Choi). Maccrew employees then offer tools, such as paint and draft paper, and guide them step-by-step, from the blueprint to the finished product.
Choi says the workshops are popular among customers who want to save time. For example, if one of Maccrew artists customises a pair of shoes, it could take one to three weeks from start to finish due to the work involved. The designers disassemble each pair, then rebuild them with custom paint jobs, laser engravings or textural elements ranging from leather from Louis Vuitton handbags to old denim. But if customers attend a workshop, they can add some basic custom elements in three to four hours. It's also a more affordable way to take home bespoke shoes.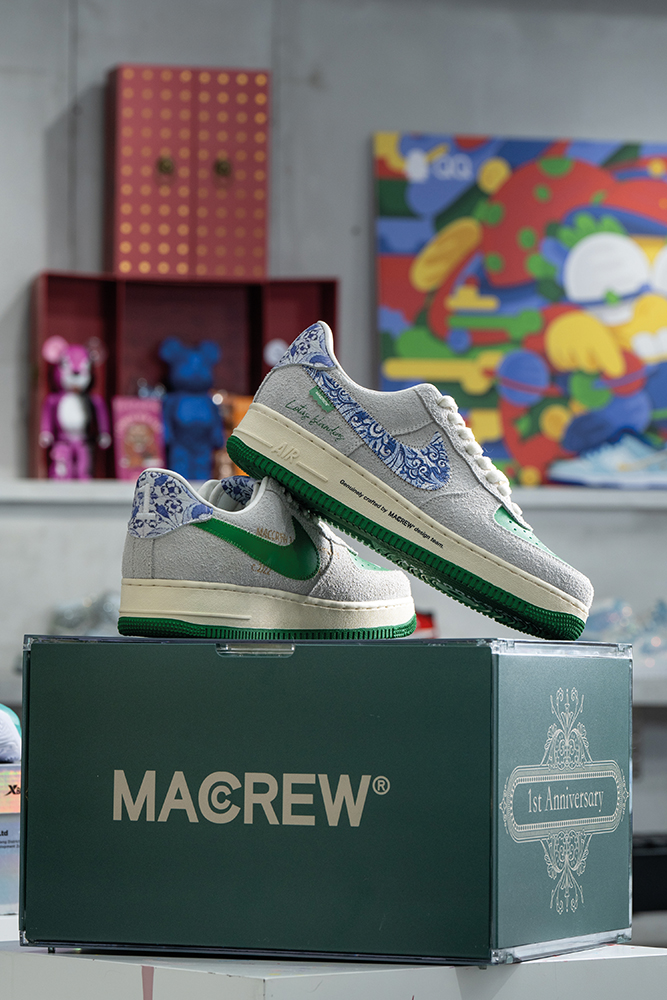 "You can get a blank white Warrior shoe from the mainland and just pay for the customisation, like the paint job," he explains. "Around 90 per cent of sneakers are customisable."
With Maccrew's success in Macao, Choi is planning to expand in the Greater Bay Area, beginning with a store in Shenzhen tentatively scheduled to open in mid-2023. In addition to customisation services, he's also open to embracing other forward-looking trends to stay a step ahead of the curve.
"Sneaker culture will be a combination of the digital world and real world," says Choi of the future of his industry, referencing the digital fashion in the metaverse, NFTs (non-fungible tokens) and smart features like auto-lacing as potential growth areas. Whatever Maccrew does next, Choi is sure to bring his passion, discipline and work ethic – and hit the ground running.