This month marks AirAsia's 15th anniversary in Macao. The Malaysian airline flew 83.4 million passengers to more than 140 destinations across the continent last year, making it the largest low-cost – and the fourth largest – airline in Asia after Chinese carriers.
Operating in Macao since 2004, AirAsia has carried more than 10 million passengers to date. It holds 15 per cent of Macao's market share and uses 16.5 per cent of Macau International Airport's capacity. Last year alone, it carried over one million passengers with almost 100 weekly outbound flights.
AirAsia founder and AirAsia Group CEOTony Fernandes stated in a newspaper interview earlier this year that 'entering China could be via Macao' and that there was a possibility of creating a base in the city. This came after the Civil Aviation Authority of Macau (AACM) announced that it will not renew Air Macau's exclusive concession contract, which is set to expire after November 2020. This contract includes the transport of passengers, baggage, cargo, mail and parcels to and from Macao.
"In an open economy, competition is a good thing," says Glenn McCartney, associate professor in international integrated resort management at the University of Macau, in a Macao newspaper interview. "It brings standards up and so forth. It's definitely a step in a good direction in terms of bringing more players into the market, more routes and airlines."
With this in mind, we sit down with Hong Kong and Macao CEO Celia Lao for an update on AirAsia after 15 years of operations. Lao says she is not yet ready to comment on the possibility of creating a base in Macao but talks us through the firm's plans for expansion in the region and the carrier's low-cost strategies.
What are AirAsia's most successful routes departing from Macao?
All of the Thailand destinations are popular but Bangkok is our most successful route. That's why we operate four daily flights to that city alone. Our route network covers mainly Malaysia, Thailand and the Philippines. Two new routes between Macao and the Philippines launched this year, which include Cebu and Kalibo (Boracay). The Kalibo route is outperforming Cebu because it is a beautiful beach destination and attractive to travellers. We will still need some time to develop the Cebu route.
How many flights do you operate from Macao every day?
We are currently connecting Macao to 11 destinations which include six in Thailand – Bangkok, Pattaya, Chiang Mai, Phuket, Krabi and Chiang Rai – two in Malaysia – Kuala Lumpur and Kota Kinabalu for Sabah – and three in the Philippines – Manila, Cebu and Kalibo for Boracay – with 94 weekly flights.
What is your market share in Macao and where are your passengers from?
In 2004, we had one daily flight from Bangkok to Macao. We are now, 15 years later, operating 11 routes at Macau International Airport. Last year, our market share by passengers flown was 13 per cent but this year we have grown to almost 16 per cent already – because of the increase in routes. We don't have any direct competitors in Macao as we work with different markets [in Southeast Asia] and other airlines fly to places like Japan, Korea and Taiwan. Generally speaking, around 50 per cent of our passengers are from mainland China and 20 per cent are from Malaysia and Thailand. Macao makes up less than 10 per cent of the passenger base. We hope to increase our Macao passenger numbers by 10 to 20 per cent soon.
How many people do you have working for AirAsia in the SARs?
Locally, we have a team of 30 people who support Macao and Hong Kong's routes and operations and are constantly working with our headquarters to implement projects and initiatives from marketing promotions to press releases. Across the AirAsia group, we have over 20,000 staff and out of the nine airlines within our group, three airlines – AirAsia Berhad, Thai AirAsia and Philippines AirAsia – fly to Macao and Hong Kong, meaning that local teams from these three countries also support these routes.
And how does AirAsia maintain its competitive advantage with increasing competition from other low-cost carriers?
AirAsia has developed to the scale it has today because most importantly we control our costs and keep them as low as possible. If you can control your own costs, no matter how keen the competition is, you can still manage. As an airline, we are very disciplined.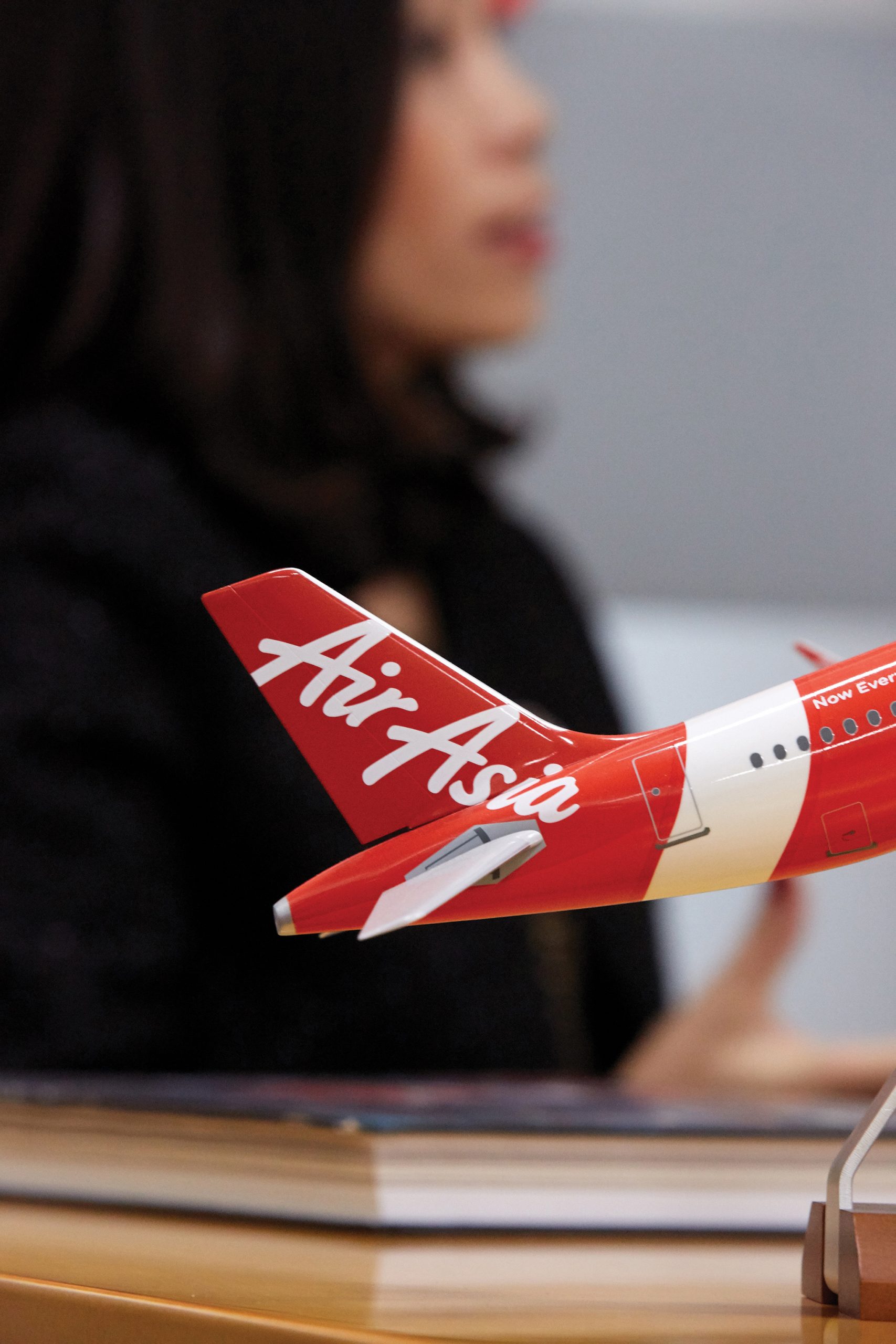 How do you keep your costs low?
We use technology to help and we have innovation labs and the region's biggest ICT [Information and Communications Technologies] department which is based in Malaysia.
We are the first carrier in the region to introduce FACES [Fast Airport Clearance Experience System] boarding – a biometric technology system used in Johor Bahru and Penang's airports – and we hope to roll this out to other airports in the future. Such initiatives will not only keep our costs low, but also enhance our passengers' experience by allowing them to have more self-controlled time throughout the journey. Another important cost-saving measure is maintaining high aircraft utilisation – ie using the aircraft as much as possible for operational efficiency. We aim for 25 minutes in Macao and 35 minutes in Hong Kong to turn around the aircraft. The quick turn-around time allows us to use the aircraft for 13 hours a day. 
Is AirAsia introducing any policies to reduce its environmental impact?
We are trying to go paperless and are targeting to install Wi-Fi in all of our planes by end of this year. We are also going to phase out magazines onboard including the inflight magazine, duty free catalogue and food menu. We are trying to do this step by step. It always depends on customer feedback.
Has the Hong Kong–Zhuhai–Macao  Bridge impacted AirAsia's business?
The bridge connects these two SARs in 30 minutes and as we have been launching more unique routes to Macao, these provide another option for Hong Kong travellers. Since the bridge opened, we have not seen any significant increase in numbers but we believe there will be more passengers that choose Macao when the destinations meet their requirements.
How is AirAsia using the Pearl River Delta (PRD) region to further its business and reach?
Macao has a population of around 600,000 people, which is insufficient for our routes, so we need to attract more passengers from the Pearl River Delta. At the moment most of them fly out of Guangzhou and Shenzhen – but we have some unique routes which those cities do not provide. We also work with KOLs [Key Opinion Leaders] from mainland China to show them how convenient it is to fly from Macao. In this way, we hope to expand our reach. We also now host our events in the Greater Bay Area, such as our Phuket route launch.
What challenges is the airline facing?
Market demand: to make our routes successful, we need more reasons to attract travellers to come to Macao or fly out of Macao for leisure or for business. Thus, local attractions become critical and we aim to work closer with local key stakeholders and local partners on such directions.
Capacity: Zhuhai airport has overtaken Macao in terms of passenger traffic since 2017. As an airline, we see the need to expand Macao's airport urgently because without expansion, it's hard for traffic to grow further. The passenger throughput of Macau International Airport was more than eight million passengers last year. At the moment, the airport is undergoing some works to expand the terminal [scheduled to be completed by the end of this year], which, according to the Airport Authority, will increase the passenger throughput to 10 million. But we will reach 10 million very easily, thus a bigger expansion is required. Looking at the region, with the introduction of the GBA strategy, we believe that traffic to the five airports in this region will benefit. The earlier that Macao's airport can increase its capacity, the more it will be able to capture the future demand.
---
Pearl River Delta airports: the numbers
Over the past 19 years, the five airports in the region – Guangzhou, Shenzhen, Zhuhai, Hong Kong and Macao – have seen significant changes with the PRD market expected to reach 380 million passengers in 2030 from almost 49 million in 2000. Passenger traffic across all PRD airports in 2018 was 213 million.