Modern dance troupe tells story of migration
Audiences at the Macao Arts Festival in May had the opportunity to see one of the city's best known modern art troupes present a production about migration.
Comuna de Pedra Arts and Cultural Association debuted Songs of Migrants, a reflection on the migration of millions of people around the world, at an old shipyard next to the A‑Ma temple.
"I have been fascinated by the contradiction between people's deep desire to put down roots in a place, in a community, and their desire to travel and migrate," says Jenny Mok, the association's director who helmed the production.
"Macao is a city of immigrants. My own parents came here from Guangdong in the 1980s to work in the textile factories," she says.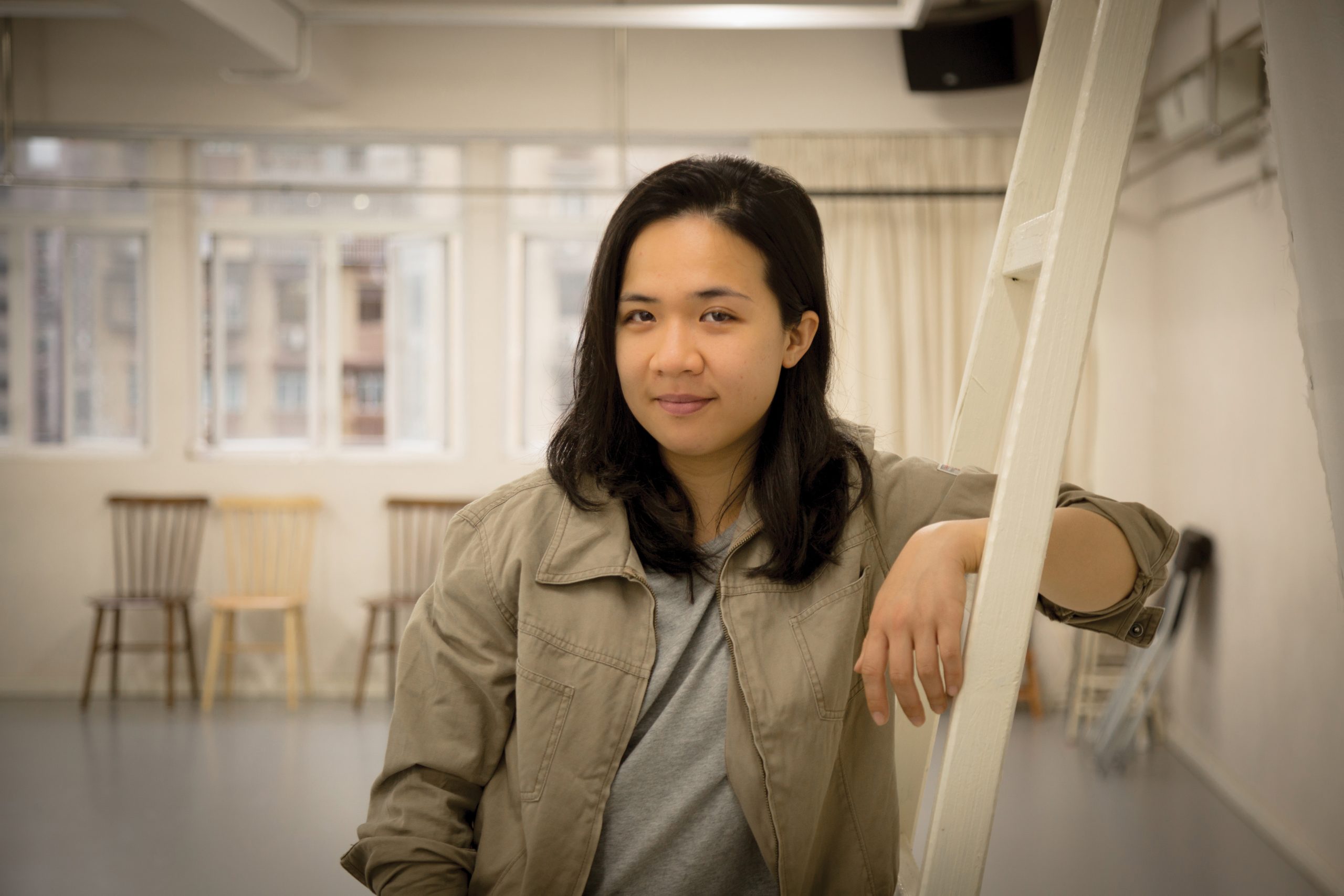 Collective creation
Seven members of the diverse troupe – one Filipino, one Brazilian, one Taiwanese, and four from Macao and Hong Kong, including Mok as director – played a role in crafting Songs of Migrants.
"We have no script," she explains. "The six created it together through their rehearsals. A session of five hours could yield one result. The piece came together slowly.
"We started on it at a workshop in October 2016, with production research and organisation. Then it gradually developed from January of this year, with 1–2 creative workshops a week from January to March, and intensive work in April. Our member from Taiwan had to fly in for the rehearsals," she says.
The result is 75 minutes of dance, with songs and language, performed primarily in Cantonese with parts in Mandarin, Portuguese, and Teochew dialect.
"The piece incorporated text creation, choreography, local sounds, and folk music with an analysis of the complex relationship between migration, people, society, metropolises, and history, forming a poetic ode to the migrants," members of the troupe explain.
"People leave their homes behind in the hope of safety and prosperity elsewhere. The memories they carry, of the lives they left behind and those they built in their new home, serve as an important contribution to the local history. As time passes, we cannot help but ask: how is the individual identity of a migrant defined?"
Each of the four performances, from 12th – 14th May, drew an audience of 70 to Navy Yard No.1. The space, located behind the A‑Ma Temple, met the troupe's desire for an unfinished site. "The Cultural Affairs Bureau (IC) proposed the location. We performed both inside and outside, where you can see the mainland across the water," Mok says. "Songs of Migrants does not define migration as good or bad. It is normal, and much of it is forced, through wars, economic or social factors or the need to find work."
Child of migrants
Mok herself is a child of migrants. In the 1970s and 1980s, Macao had a booming textile industry, thanks in part to quotas for export to Europe and the United States. The high demand for workers attracted people from outside the territory in search of a better life. Among them were Mok's parents, who came from the city of Jiangmen in Guangdong.
"My father was born in Macao and grew up in the mainland. His parents had separated and his mother had remained in Macao. The mainland government granted him a visa to come to Macao, which was extremely hard to get at that time. When he came, he had no property and owned very little. My parents wanted to build a better life here."
Having grown up in Macao, Mok says that she has no strong connection to her parent's native Jiangmen. After graduating from secondary school, she obtained a bachelor's degree at the University of Macau. She worked as a director, performer, and theatre teacher for a few years before leaving to study at École Lassaad, the International School of Theatre in Belgium.
She joined Comuna in 2002, only returning to Belgium in 2012 for a further two years of study.
Pioneering modern dance in Macao
Founded in 1996 as one of the city's first modern dance troupes, Comuna de Pedra performed on stage and on site. It also focused on promoting art education, and developing art and culture in the city.
"Frank and Jane Lei founded the troupe, one a choreographer and one a photographer," says Mok. "They studied in Paris in the 1990s before returning to Macao. They wanted to set up an avant‑garde cultural and artistic group here. At that time, dance and visual arts in the territory were very traditional and narrowly defined. There was little innovation, and no venue for modern dance."
In the 1990s, both Macao and Hong Kong faced a future of returning to China. There was intense debate and discussion among people in the two cities about the issue and what it would mean. "The Leis wanted to use their art to reflect events in society," says Mok.
The early years were not easy. The troupe had no fixed venue for its office or for rehearsals. In 2001, its members used the former Old Ladies' House for events, including exhibitions, performances, lectures, and an artist‑in‑residence programme. It received funding from the IC, the Macao Foundation, and other donors.
"In the beginning, we received funding project by project. The members had no wages; they had to support themselves entirely through other work," says Mok.
But the troupe's persistence and determination paid off. Since 1996, it has conducted nearly 50 performances, with dance, music, words, and puppets. It has performed in a wide variety of locations across Macao, including markets, shopping malls, parks, fountains, bars, commercial centres, empty factories, and the first bridge to Taipa. It even performed at the Ruins of St. Paul, a UNESCO World Heritage site.
Comuna has explored different forms of performances, including contact improvisation, video art, and installations. It also incorporates elements of literature, recorded and live music, as well as masks and large puppets, into performances.
Since 1996, Comuna de Pedra Arts and Cultural Association has conducted nearly 50 performances, with dance, music, words, and puppets. It has performed in a wide variety of locations across Macao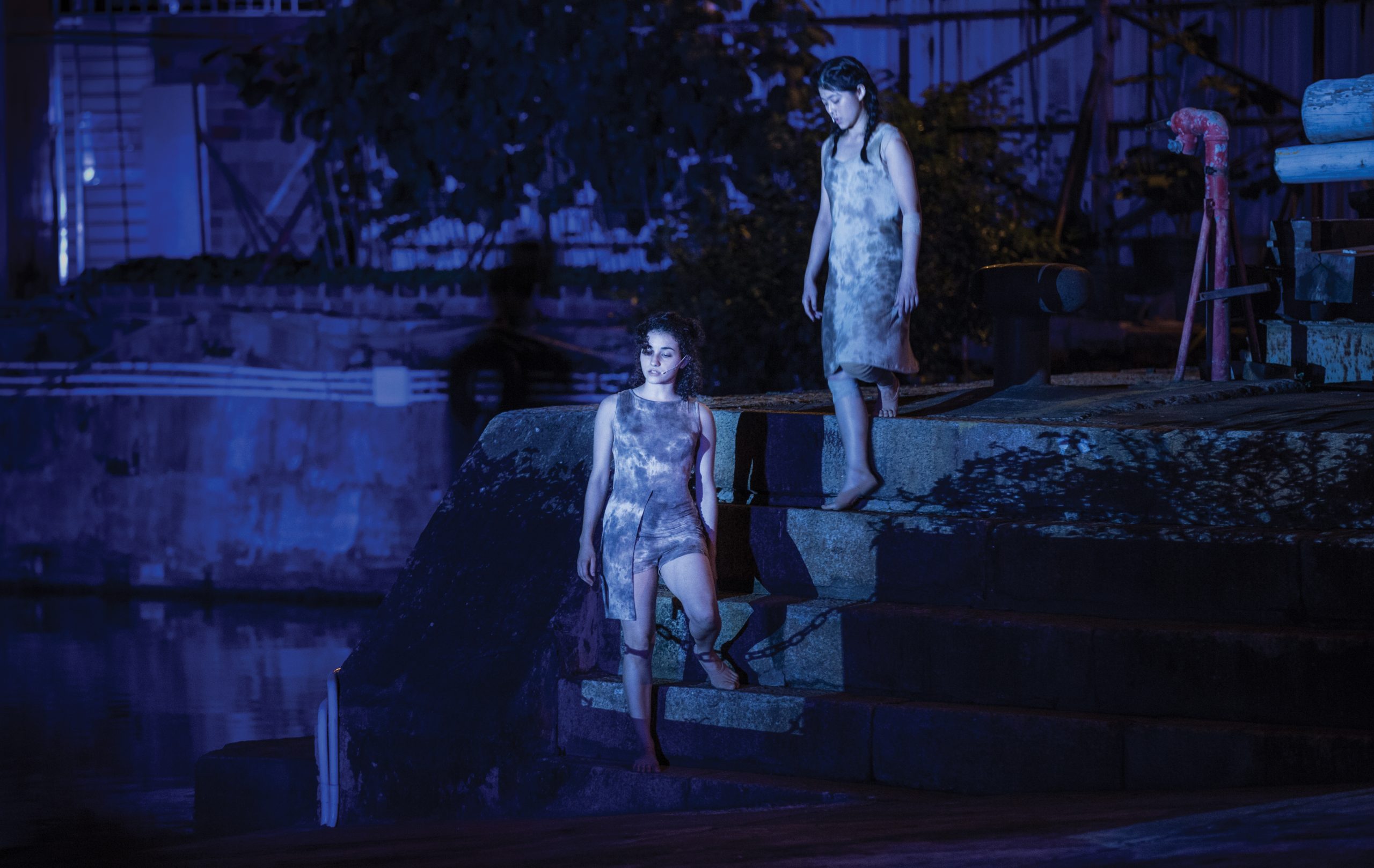 This creativity and innovation has earned the troupe invites to perform in festivals around the world. It performed in Hong Kong, Beijing, Nanjing, Taiwan, and Thailand, as well as Germany, Ireland, Great Britain, Brazil, and the United States. This long list notably includes the Galway Fringe Festival in Ireland, where Mok won the Best International Performance Award in 2014, and the world's largest arts festival, the Edinburgh Festival Fringe in Scotland.
It often works with local and international artists, such as Japanese choreographer Makoto Matsushima, Sichuan Opera singer Tian Mansha, and Raúl de Jesus Saldaña of Mexico. It also collaborates with other groups, including the Shim Theatre of South Korea, the Guiling Street Avant‑garde Theatre of Taipei, and the Fratellanza Theatre Company of the U.S. In 2009, it organized the S/Low Macao/Xiaozhou Art in Life Festival in Xiaozhou village, Guangzhou city.
Since 1996, the troupe has brought in experts from Macao and overseas to teach contemporary arts appreciation, physical training, movement therapy, mask‑making, dance, voice, and percussion. In 2016, it collaborated with White Space, a performing arts training studio, in an on‑going effort to improve the quality of local training.
"We are the second generation," Mok says. "We have 14 members in the company. Financially, things are a little better now. We're able to do community and educational projects." It works with the Macau Cultural Centre, Macao Cultural Institute, the Education and Youth Affairs Bureau, and public libraries on projects for children and teenagers. It also champions special education through work with local schools, community centres, and institutes.
"But we still cannot afford to pay a salary of MOP20,000 a month for a full‑time performer. Those who join our troupe must be passionate about the work," she explains.
After 21 years, Comuna de Pedra remains faithful to its roots. Breaking boundaries brought the troupe international acclaim, and opportunities to partner with organisations and artists around the world. Yet they remain dedicated to serving the community, through art and education, and reflecting the issues that animate Macao society.