Meet five young people who are dedicating their lives to helping vulnerable people in Macao. This is a chance to thank all the young people in the city who are tirelessly trying to create a better society for everyone.
When an adult hits a certain age, they sometimes want to give back to the world. They have taken from their community, city, country and planet for many years and feel it is time to come to the aid of others. So they begin a period of charity or social work, raising money, raising awareness or directly helping those in need. That is always worthy of praise and helps the world go round – however, it's even more admirable when young people, before they've even had time to take from their community, city or planet, dedicate their efforts into helping others who really need it.
Eric Ho Chon Hou, Ngou Cheng Ruby Chui, Rainnie Wong, Andy Lam and Lisa Ho are five selfless young Macao residents who have not chosen glamorous, glitzy or super–well–paid jobs. They have chosen roles after leaving education that help others. They each get a sense of great pride and achievement in working with the more vulnerable or needy people in the community, with a view to creating a better society.
Each member of this quintet is under 30 years old. They regularly encounter children or adults who find life challenging – but they tackle their roles with passion and dedication, each one caring for the people around them. And each one of the five hopes their work can contribute to creating a better Macao for all of us.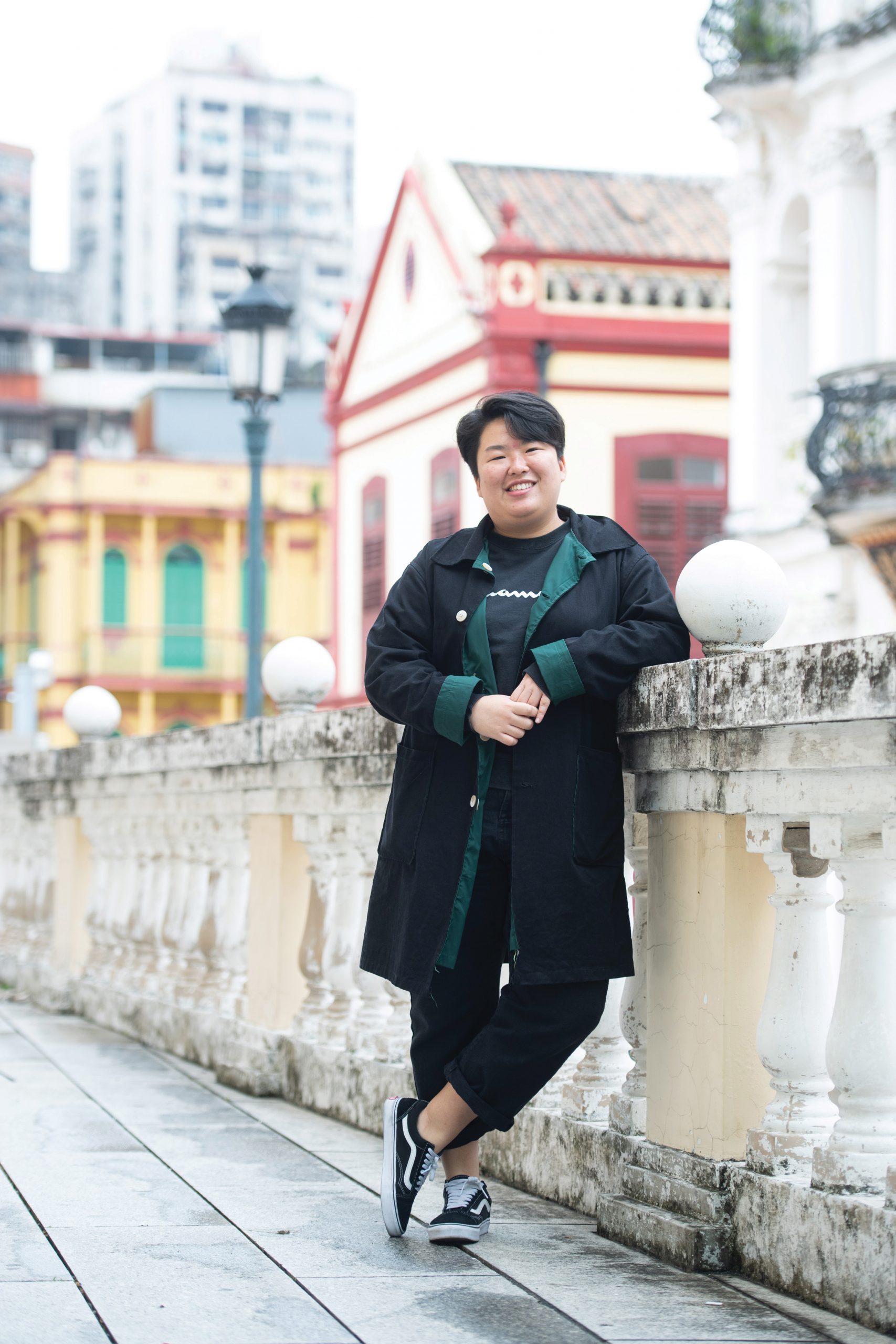 The disabilities worker
Working with people who have disabilities is hugely challenging. However, some people choose to do this as a career due to the equally huge rewards. This is why Ngou Cheng Ruby Chui decided to take up the post of assistant manager at the Fuhong Society of Macau's Pou Lei Centre. Founded by a group of volunteers in 2003, the Fuhong Society of Macau is a non-profit government-funded social service organisation in the city that provides services for people with disabilities, as well as those with mental illnesses who are being rehabilitated. It runs 13 service units in Macao, including Pou Lei Centre, which was also established in 2003 and specialises in the development of vocational training for people with disabilities.
I'm really pleased to be able to devote my life to not only people who need help but also to educating the community into accepting them.
Chui, who is a psychology graduate from the University of Macau and also has a master's degree in cognitive neuropsychology from the UK's University of Essex, says that working for the Fuhong Society of Macau allows her to use all she has learned at school and university, plus she has always wanted to help vulnerable people in her community. The 24–year–old is also passionate about spreading the importance of helping those with mental health issues.
In June, when the Fuhong Society of Macau organised and hosted the 2019 Rehabilitation International Asia and Pacific Regional Conference in Macao, Chui's role at the event was that of co–ordinator. At the conference, there were seminars and workshops in which the rehabilitation of people with disabilities was discussed – and Chui says she is proud to have taken a leading role in such an important event.
Because of their disabilities, says Chui, 'the world tends to sideline' them. She says that many people with disabilities feel they are seen as not being able to do anything useful in society. However, she says this is not the case. She helps organise vocational training programmes for them, with the hope that many of them can get jobs as a result.
Chui hopes that she and her colleagues are making a positive difference to these people's lives in Macao. She says that some of them have gone on to become, for instance, slipper packers at hotels and box folders at bakeries. That may not seem much to some people – but to those with disabilities, this is a way they can play an active part in their community.
Many of the people who use the society's services are creative and some have made beautiful handicrafts and illustrated items, like postcards, over the years. The society sells some of these products, like scarves and towels, raising money in the process that goes directly back to their service users in the form of subsidies or is used to develop new programmes and activities that further develop their skills. Chui recalls how one person with autism was calmed by his box folding job and he could also do it quickly. He didn't need to interact with anyone, which was a huge plus for him. "I believe, from observation," says Chui, "that our service users really enjoy working and enjoy the idea of getting rewarded for it."
The people with disabilities are not 'problems which need curing', emphasises Chui. Instead, she says they are people who often struggle to understand the world around them and are often misunderstood by that same world. "They are still people like all the rest of us," she says. "People sometimes need to take time to understand their world too. I'm really pleased to be able to devote my life to not only these people but to also educating the community into accepting them."
The student counsellor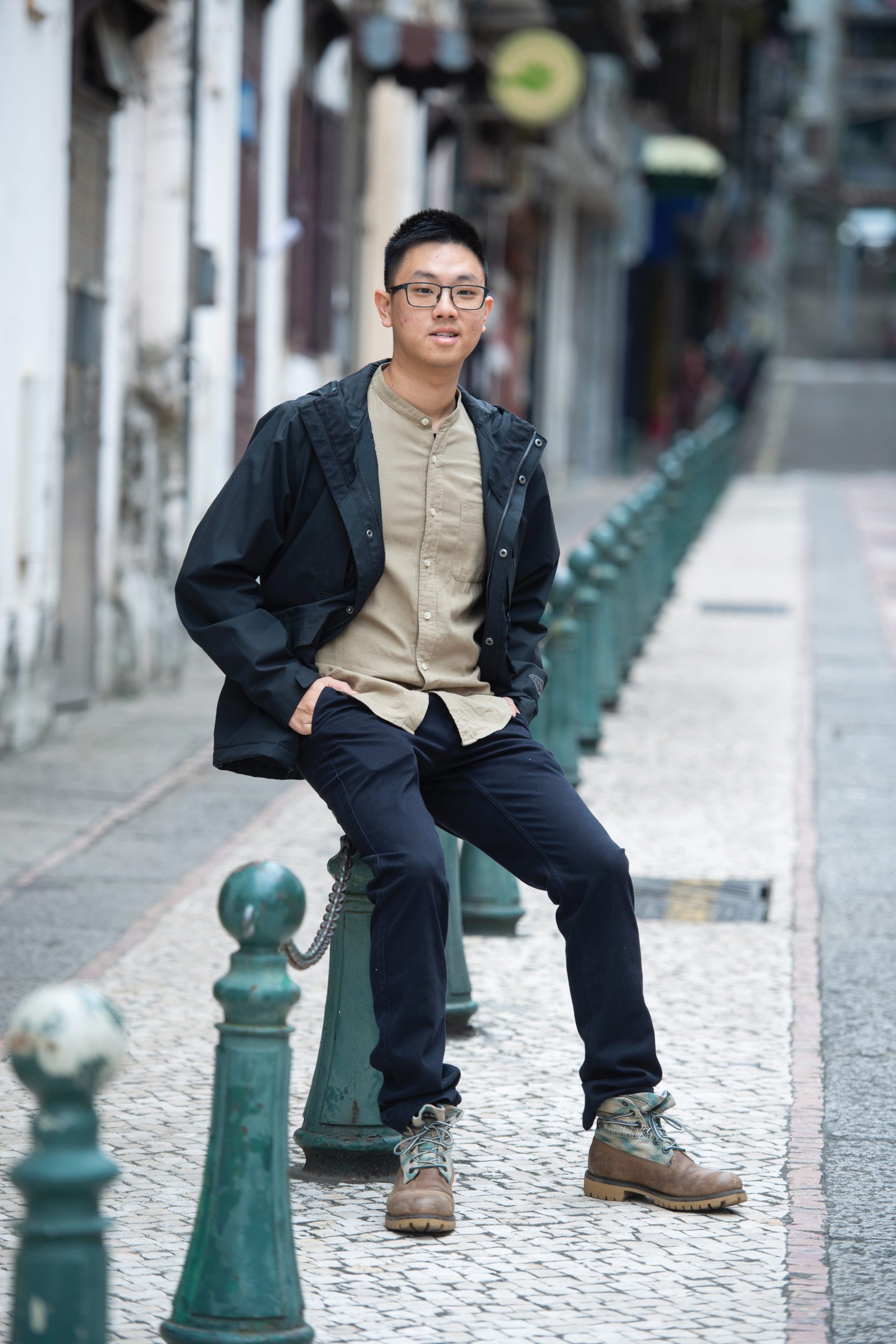 Students feel stress. Some students feel so much stress at school, they crumble under the pressure. But help is always there – and in Macao it comes from people like Eric Ho Chon Hou. The 24–year–old has been working for the 'União Geral das Associações dos Moradores de Macau' (UGAMM) – which translates to the 'General Union of Macau Residents Associations' – since he graduated from university last year. The group employs him as a school counsellor – a role he sees as extremely important.
Ho has been assigned by UGAMM to work with students at 'Escola Seong Fan da Associação Comercial De Macau', a school that is situated near the city's ferry terminal. The students, who are all part of the school's 'back to education' programme and are thus in the 18 to 24–years–old bracket, are referred to him by teachers – they are usually young people who are having problems coping with the workload or who are perhaps facing difficulties at home. So Ho talks to them about their mental and emotional wellbeing and, in instances where he sees fit, he then begins follow-up treatments with them to help them cope. He may also involve their teachers in the treatment so everyone is able to help the student.
Flexibility is a must in Ho's work. He says that each student reacts differently to situations of stress and that each case is unique, so he must be flexible in order to accommodate each of the students' needs. He says, however, that he takes a great deal of pride when a student begins to cope and progress better at school. "When I see them change after I have established a relationship with them," he says, "I feel satisfied."
Ho may not seem like he has enough life experience to help someone only a few years younger than himself. However, he disagrees. He decided to take on this role because he was once depressed at school after receiving poor exam results, so he brings plenty of experience to the table. He was helped by a counsellor through those tough days and was encouraged to regain his confidence, which he did before completing a social work degree at the University of Saint Joseph. And then he wanted to give back.
Since he started his role as a student counsellor, Ho has learned a lot and he is always gaining more experience from each case so that he can improve all the time. He says that his role gives him a 'great sense of achievement' – and that isn't just when it comes to one–on–one sessions with students but also when he arranges career–planning and mental health workshops for them or when he takes them to visit the elderly so they can learn from their experiences.
Ho always appreciates feedback from the students. He remembers how one young person he counselled told him that after their talks that they felt 'comforted' and they were then able to gain confidence and focus once again on their studies. "It is precisely this sort of feedback," he says, "that allows me to see that my work is valuable. It motivates me and keeps me moving forward. I always say 'never give up and be your best!'"
The special education worker
Where Eric Ho Chon Hou works with young people on their problems and Ngou Cheng Ruby Chui works with people with disabilities, Rainnie Wong does both. For the past two years, the 26–year–old has worked for the Macao branch of Special Olympics, the world's largest sports organisation for children and adults with learning or physical disabilities. She assists children with special education needs at one primary school in the city, helping them to better connect to the world around them as a result.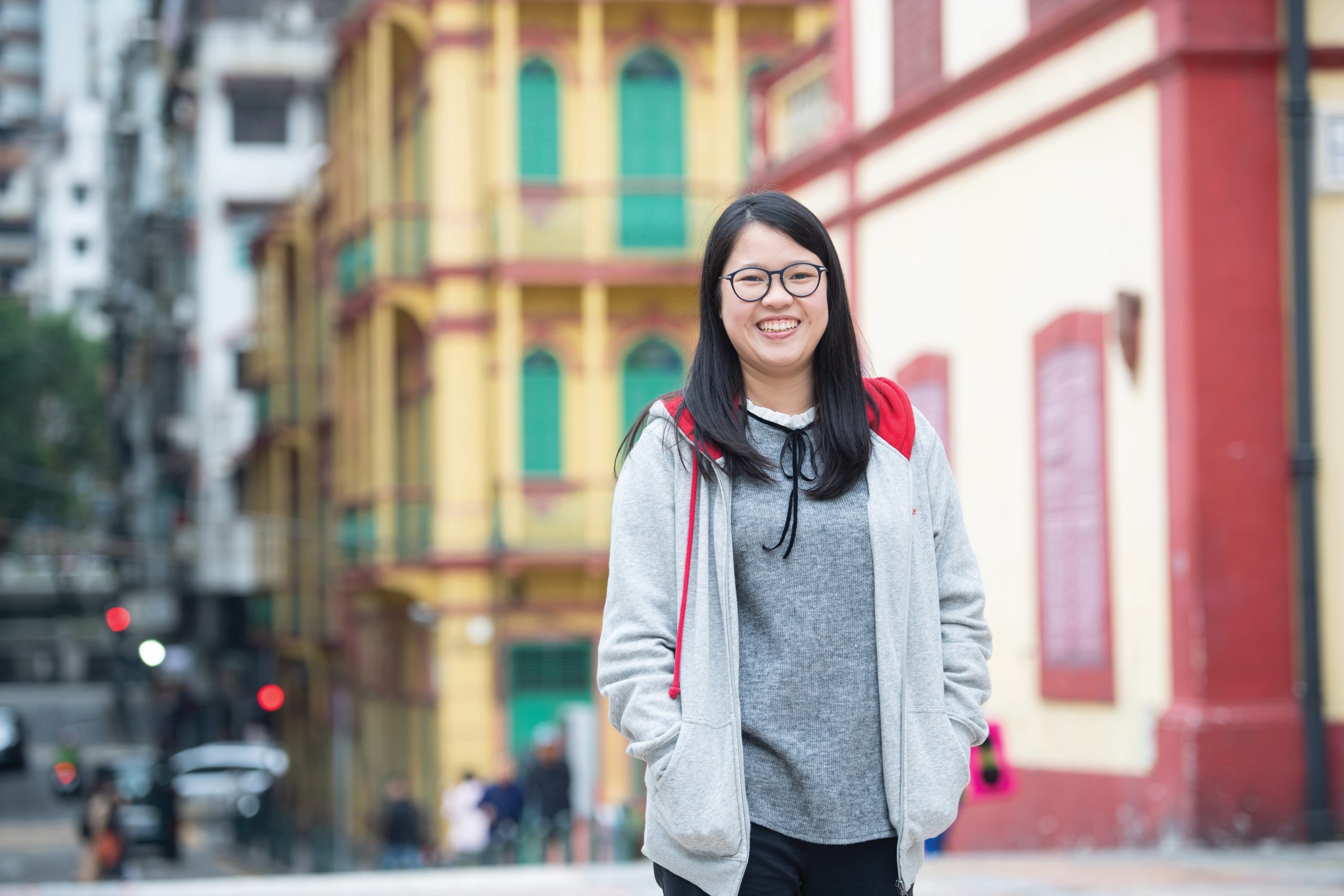 The Special Olympics organisation is mostly known for developing the athletic skills of those with learning or physical disabilities. In Macao, however, the branch also provides other services to special needs individuals by offering job training and placements to them, as well as a range of counselling and mentoring services. This is where Wong comes in – less of the sports side and more of the personal development side.
Since she was young, Wong has always found joy in helping others, willingly finding time to volunteer and join all sorts of charity activities that engage with those in need in Macao. She says she could have chosen a career as a maths teacher but her heart told her otherwise. "I chose social work like this," she says, "because I get to help people."
Wong, who has a degree in social work, is kind and patient – qualities which are of major importance when it comes to working with children between six and 12 years old who have special educational needs, particularly if she needs to counsel them through emotional problems. She also conducts group sessions with children with a range of disabilities at the Macao branch – which is actually a handful of centres in the city, including the main base at Seis do Bairro da Areia Preta – to help improve their social skills, focus and attention.
In June, Wong, who helps out with the organisation's sports activities during school holidays, joined the branch's speech training programme – a programme that sees special needs children being taught how to improve their communication skills – which gave her the opportunity to step out of her comfort zone. "I was an unconfident person before," she says, "but the trust my colleagues placed in me by allowing me to be a key part in this programme gave me encouragement. I believe everyone has their own special value. Maybe they can't see it yet, so it is my duty to spot this with the children."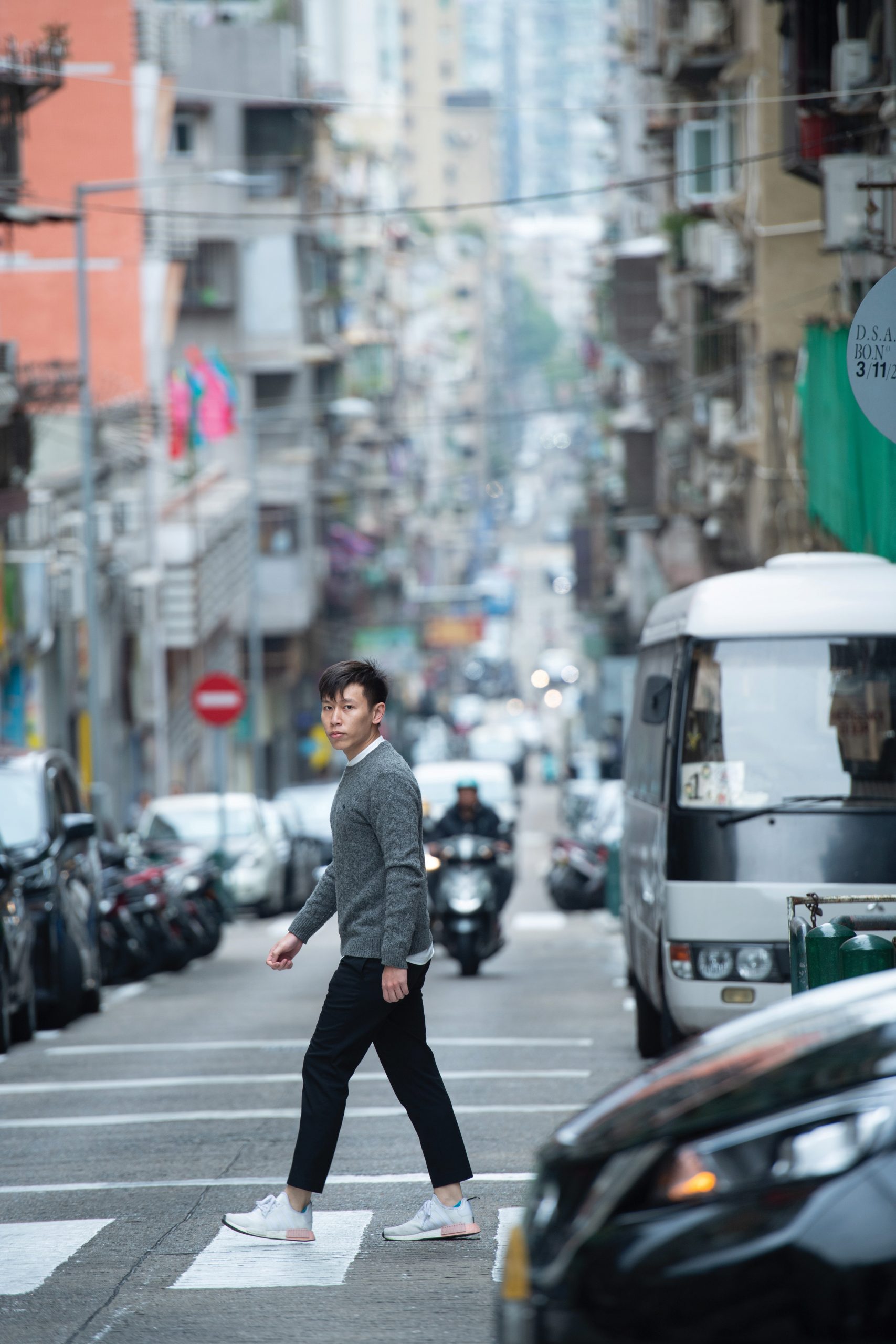 The crisis counsellor
When you're in a crisis and just need someone to talk to so you can get at least a glimmer of hope and perhaps some advice, then Andy Lam is here. The 25–year–old is – along with many other caring souls in the city – a counsellor at Life Hope Hotline Caritas Macau, an organisation that sees people from all ages and backgrounds calling in on the phone at any time of the day or night if they need emotional support, help and information during any sort of crisis. Counsellors like Lam have been lending an empathetic ear and encouraging callers 'to go on with life with hope and dignity' for more than 35 years under Caritas, a Catholic relief, development and social service that spans the globe.
Lam joined the service in 2016 and was given a lot of training to deal with the sort of calls that the Life Hope Hotline receives. In 2018, he received a Professional Certificate in Gambling Counselling, which gives an indication as to some of the calls he deals with on a daily basis. Shortly afterwards, Lam joined the Caritas delegation at the Asian Family Summit in Hong Kong, the first multi-day consortium of family and social service institutes to discuss family wellness and other topics in the region. Since then, he has actively taken part in discourse on the subject – and emotional wellness in general – in Macao.
It was a tough road that Lam walked on his way to realising his ambition to become a crisis counsellor. He hit a low point at school during his teens and, as a result, he met with his school's social workers. During that process, he grew close to the social workers who helped him and, as his emotional well–being improved, he began helping them by volunteering to join them at events, such as comforting the elderly at nursing homes. He learned a lot about counselling and decided this is what he wanted to do with his life – help others in distress. "I wanted to give something back," he says. "I wanted to help people get over their difficulties and watch them grow just like I did."
Aside from providing 24–hour emotional support for people in need on the phones, Lam also creates activities that promote suicide prevention in the community and online. He helps Caritas promote its services too – and he occasionally gives lectures on family and emotional wellness. But he does admit that the greatest challenge lies on those phones – particularly as all callers are anonymous, so he is unable to ring them back to check up on their progress. Lam says, however, that the anonymity is vital so those who call in can feel uninhibited and talk about whatever they want, from their day-to-day work life to their family problems.
Suicide, of course, is always tricky to deal with so Lam needs to be extremely alert when dealing with calls of this nature. "The biggest challenge," he says, "is to always be ready to provide the best support for everyone in need." One example Lam gives that made him realise the importance of his role was when a caller contemplated suicide due to martital issues but, after two hours of counselling, the caller said they felt motivated to continue with their life. That person thanked him for 'being there during a really low point' in their life at the end of the call. "At that moment," says Lam, "I was proud of my work and I felt that everything we do here is always meaningful.
The child worker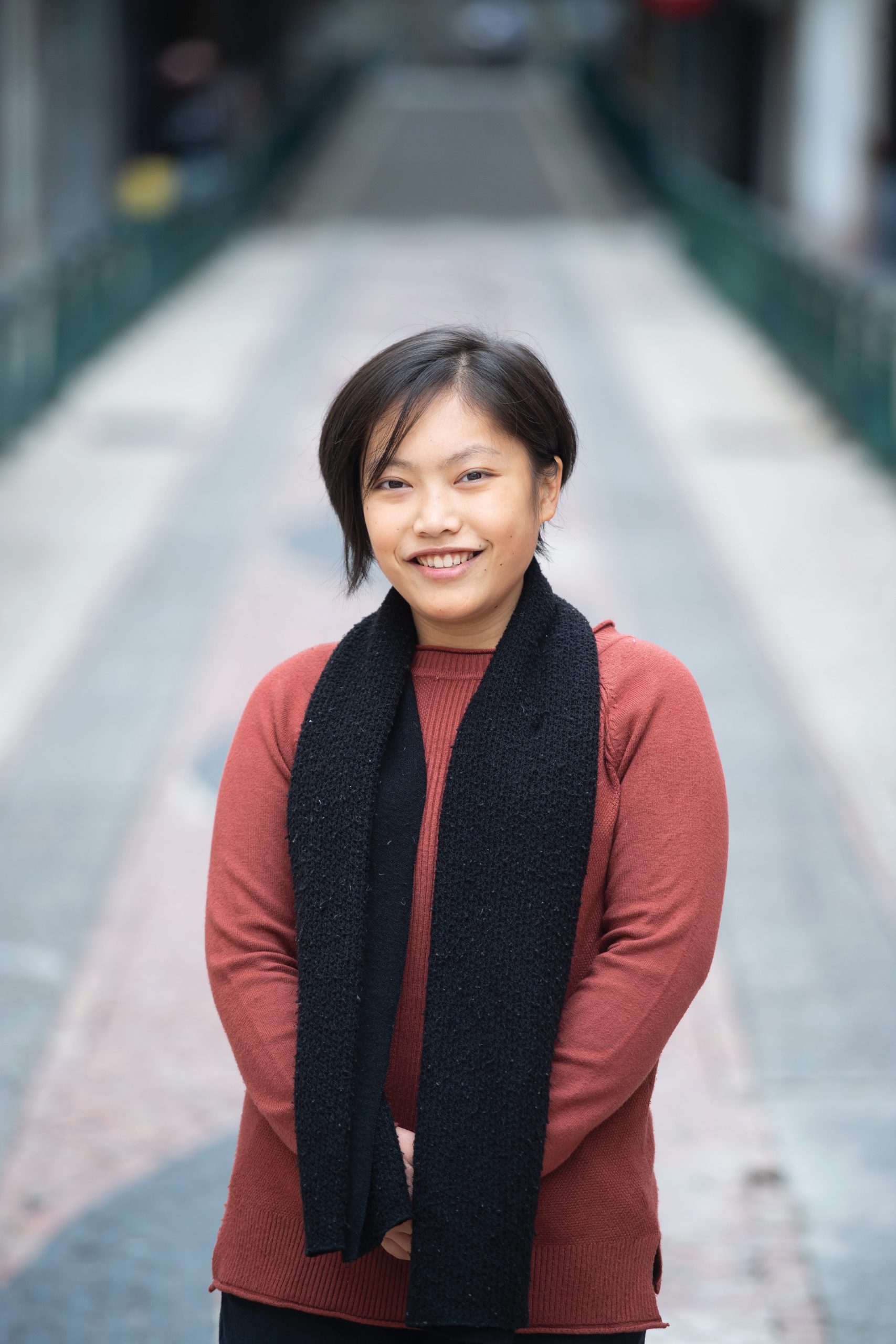 Working with children can bring great rewards – just ask Lisa Ho. The 28–year–old social worker deals directly with young children at Macao's Cradle of Hope Association (COHA), a non-profit Christian organisation that manages two homes in the city for children and teenagers up to the age of 18 whose families may not have had the ability to take care of them properly. Together with the city's Social Welfare Bureau, the organisation supports children – many who have suffered poverty, abandonment, neglect or violence in their early life – until they are self-sufficient through education or employment training.
Ho has been at COHA for five years now, mainly working at the organisation's centre that is dedicated to children under four years old. "For me," she says, "I love working with kids the most. Children live in a less complicated world and it's a joy for me to be able to help guide them and provide a positive influence as they are growing up."
It was difficult for Ho to decide what she wanted to do after she left high school in Macao as she had many choices out there. But she liked the idea of working with children so she considered becoming a kindergarten teacher. Then, she found social work. She had already studied many theories on family and child development, so she wanted to put her knowledge to good use and help young people at the same time to get a good start in life like she had done.
Ho, a graduate of the Macao Polytechnic Institute, was overjoyed when she was hired by COHA but over the past five years, she has not rested on her laurels. She has continually attended further training courses offered by COHA and the Social Welfare Bureau and amassed experience on dealing with vulnerable children. She says that social work is not only about serving others but also learning about yourself. "You, yourself, are the first client," she says. "All you learn is important to you and then, as a result, it becomes important to others."
According to Ho, social workers provide a vital service in Macao, however she does understand cultural differences. For instance, she says that 'it may take more time' for some Chinese families to approach social services to reach out for help than it would for, perhaps, some Western families. "But, whatever the culture or background," she says, "social workers are there to give good suggestions and advice to those who need it. And that is just as important in Macao as anywhere else in the world. We have a really good society, especially when it comes to our financial well-being, but there are other parts of our society like vulnerable children and elderly people who live alone that we need to take care of – and social workers help to do this important work."
Ho says that her job brings her immense satisfaction. She faces all problems with a smile and tries to help each and every child in her care. "There may be difficulties and disappointments along the way," she says. "Life is not always good. But you do your best to help. It might not always work out with a child you are trying to help but that doesn't mean you're a failure. It means you tried. And wouldn't it be great if everyone in the world at least tried to help others who are maybe less fortunate than them as much as they could?"
Commendable careers
Charitable young people like Eric Ho, Lisa Ho, Chui, Wong and Lam, who each have chosen a role in Macao that helps others to a better life, are to be commended, according to the assistant professor and co-ordinator of the University of Saint Joseph's Department of Social Work, Ning Tang. The professor also praises all social and charity workers in the city, adding that most work with 'families, children and communities'.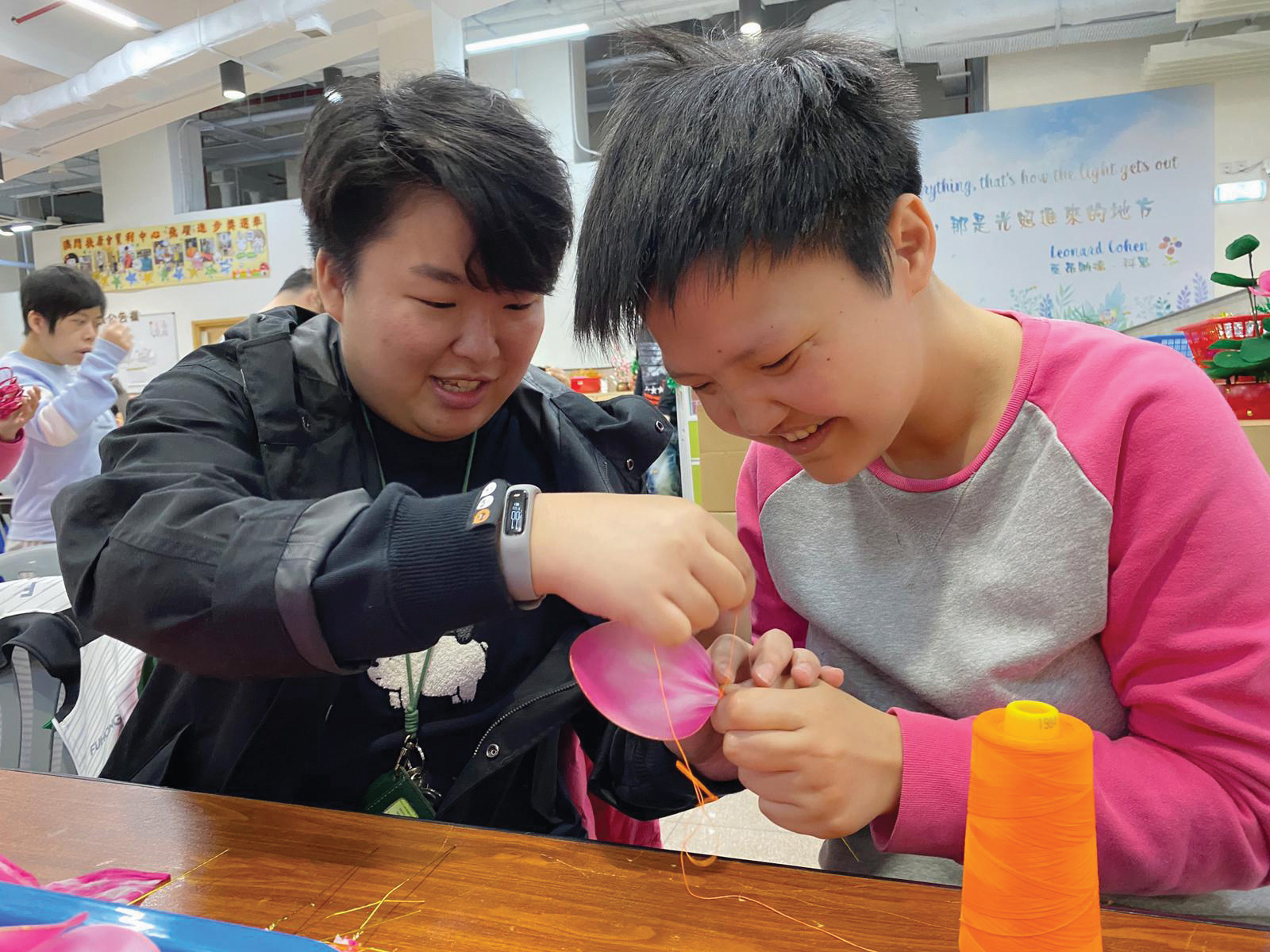 Professor Ning Tang says that, with strong support from the government, especially the Social Welfare Bureau, in terms of funding and with the introduction of better social work laws over time, the status of the social and charity work professions in the city will grow over the coming years. "I'm optimistic about the future of social work in Macao," she says.
Some people may believe that social work and psychology are one and the same. This is just not true, according to the professor. She says these professions may seem similar but they function in different ways within a society. Whereas psychologists manage patients on a one-on-one basis, she says, social workers are equipped with the skills to address issues on a community level. "We should not only care about the mental status of people because that's not the only reason that causes problems," she says. "We also have to look at the environment around the people, which is what social workers can do."
Macao is lucky to have its social and charity workers who give up their chance to earn huge wages and opt to care for other people and for their society instead. And it is even more fortunate that, just like our quintet of selfless young people, it is home to caring souls in their teens and 20s who, for their whole lives, just want to create a better Macao for all.
---
WOMAN-KIND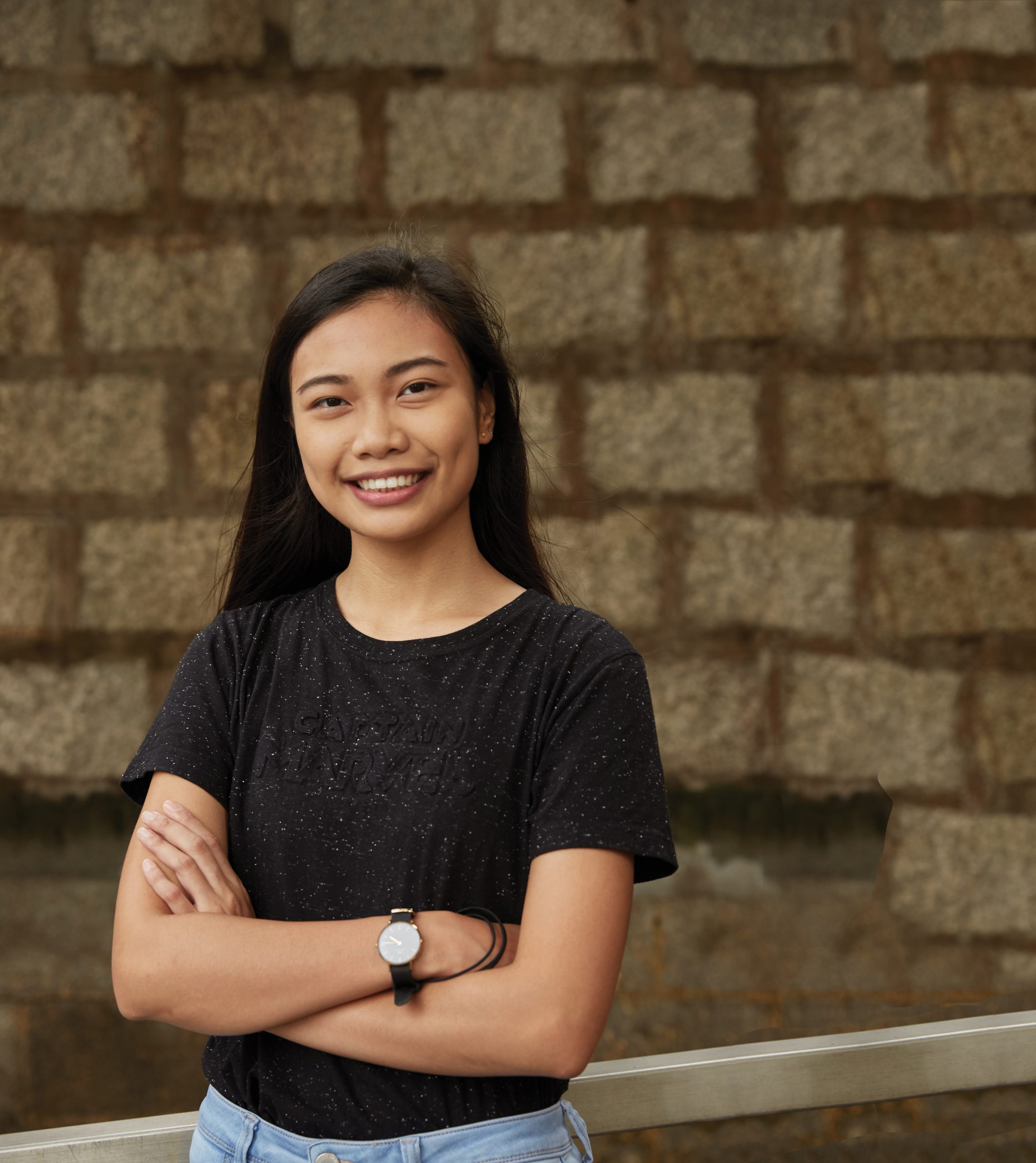 At just 25-years-old, Ana Catarina Alvarez Doctor helps young women who have been subjected to abuse like battery or emotional torment
Aside from our quintet of young charity and social workers, one 25-year-old woman stands out for her courage when it comes to dealing with female victims of abuse. Ana Catarina Alvarez Doctor deals with traumatic cases every day and, despite her young age, gives her heart and soul to helping other women in need.
Doctor works at a centre for women in the city, which she does not name due to confidentiality rules. At the centre, regularly, women come through the doors seeking help for troubles at home – sometimes serious troubles that involve physical or emotional abuse. Doctor and her team counsel the women, help them look into points of law and generally lend a shoulder to them as they work through their trauma, often on a 24-hour basis.
This line of work ultimately affects Doctor's emotional well-being as she struggles with some of the cases where the women can be helpless and hopeless. However, in times like these, she says she does her best to compartmentalise. "In order to help them," she says, "I also need to take care of myself. I need to discover the things that help me as a person in order to provide help to others."
Growing up in a migrant family in Macao, Doctor struggled through high school with both her studies and her own self-confidence, particularly as she was constantly juggling different languages. However, she found encouragement through the counsel of her church pastor, who holds a psychology degree, when she faced difficulties at school, which, like some of our quintet, led her into the world of social work. Overcoming her difficulties, she's now gifted with a plethora of languages – Cantonese, Mandarin and English, as well as Tagalog and Ilocano from the Philippines – which greatly helps her with her work as she can speak fluently to most of the women who come into the centre.
"At first, I thought becoming a social worker meant helping other people," says Doctor. "But then I realised that not only do you help others but you get to discover yourself." Because of a process of self-discovery through her job, she's now more confident than ever when it comes to helping others in need. She also says she hopes that one day Macao might have more forums for social workers to frequent so they can get to know one another. There are a handful of groups out there already but she says she would like to see more. "It might take time," she says, "but it's possible."
---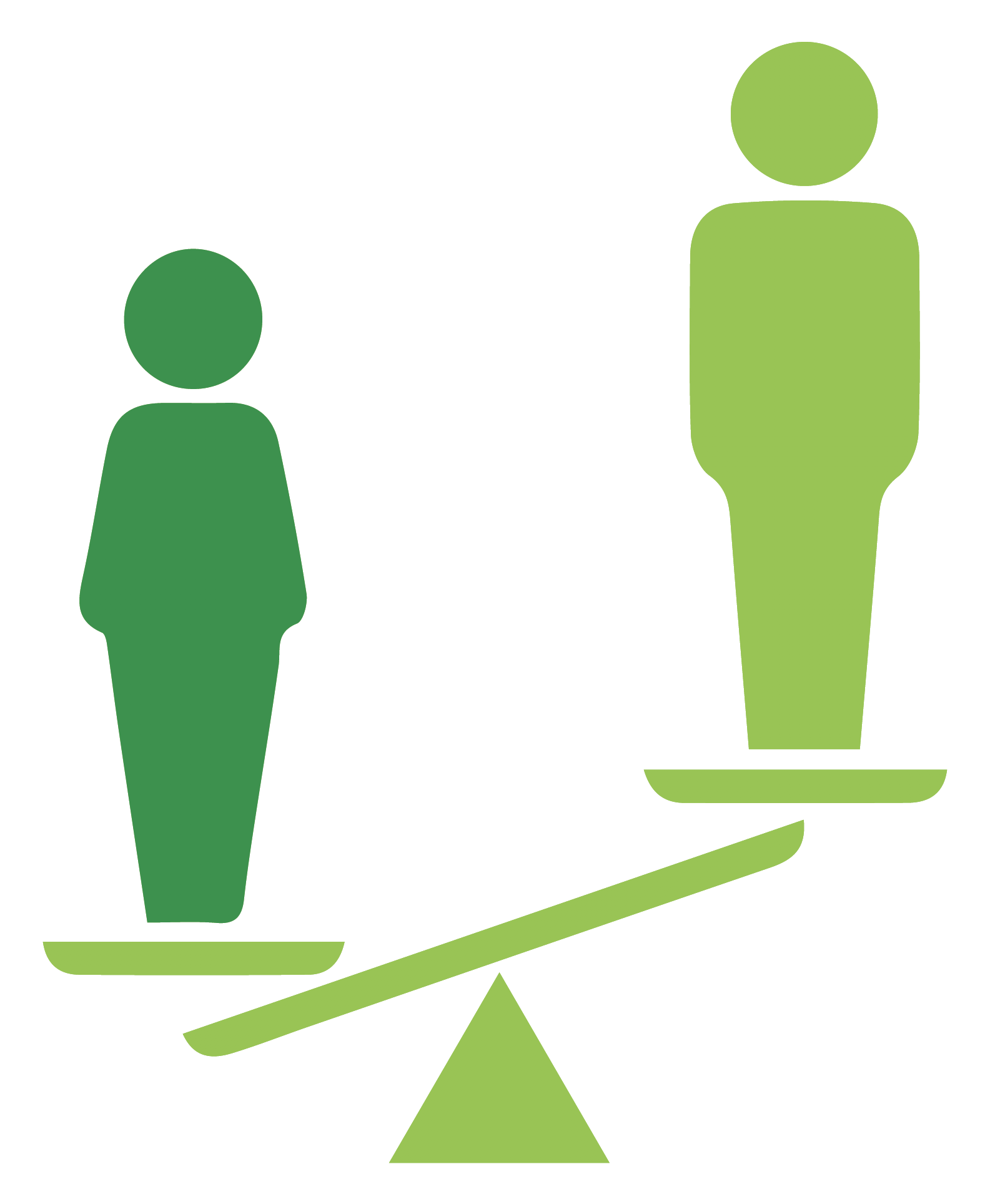 THE GENDER DISPARITY
Professor Ning Tang collected data for a study she was undertaking in 2018. In that study, she compared the amount of social work students in Macao to the amount in Zhuhai. She found that 70 per cent of social work students were female in Zhuhai but that figure was on a more even keel in Macao at 60 per cent.
Even so, the professor points out that 'there are more females than males in general' in social work and that this 'is not unique to Macao'. "Also," she says, "social workers can't make a lot of money in the profession. So, for many males, especially in Asian culture where they are the breadwinners and may be looking to support their whole family, they are probably going to look for better-paid jobs."
The professor adds that the historical 'pioneers in social work' were 'mostly females as well'. "Usually," she concludes, "females are better at caring work than males. Females have more empathy than males and are better at building connections."
---
HELP IS OUT THERE Search online if you want to find out more about any of the organisations in this story. If you need to call the Life Hope Hotline, phone 2852 5222 for Chinese or 2852 5777 for English.