Macao has just become home to its first two zero-waste stores that could pave the way for an eco-friendly movement in the city. We talk to the green-minded shopkeepers who hope they're starting a trend.
From the outside, Mei Lon looks like another ordinary Macao wholefood store. Sitting among the clothing, accessories and stationery outlets in the quiet neighbourhood of Rua Nova de S Lázaro, the cosy little shop, that opened just two months ago, appears like any new business – looking only to turn a profit and establish a firm customer base. But Mei Lon is doing something quite different. Welcome to Macao's first zero-waste shop.
Inside Mei Lon, which is a play on the word 'grain' in Chinese, the interiors are similarly ordinary. The store may appear more modern than the typical traditional wholesale food outlet in Macao but it nevertheless displays its large hoppers – containers for bulk materials – of beans, noodles and dried fruits in a conventional manner, with friendly staff who serve the steady line of customers.
However, this is no ordinary store. This is a whole new approach to shopping where customers are encouraged to bring along their own takeaway boxes or glass bottles and select foods from the hoppers or from a range of eco-friendly household essentials such as homemade body washes and laundry powder with added enzymes. Should they forget to bring their own containers, they can use the free donated glass containers or paper bags. Alternatively, the store also stocks a selection of budget-friendly glass jars in various sizes, as well as handmade cotton bags and silicon lunchboxes.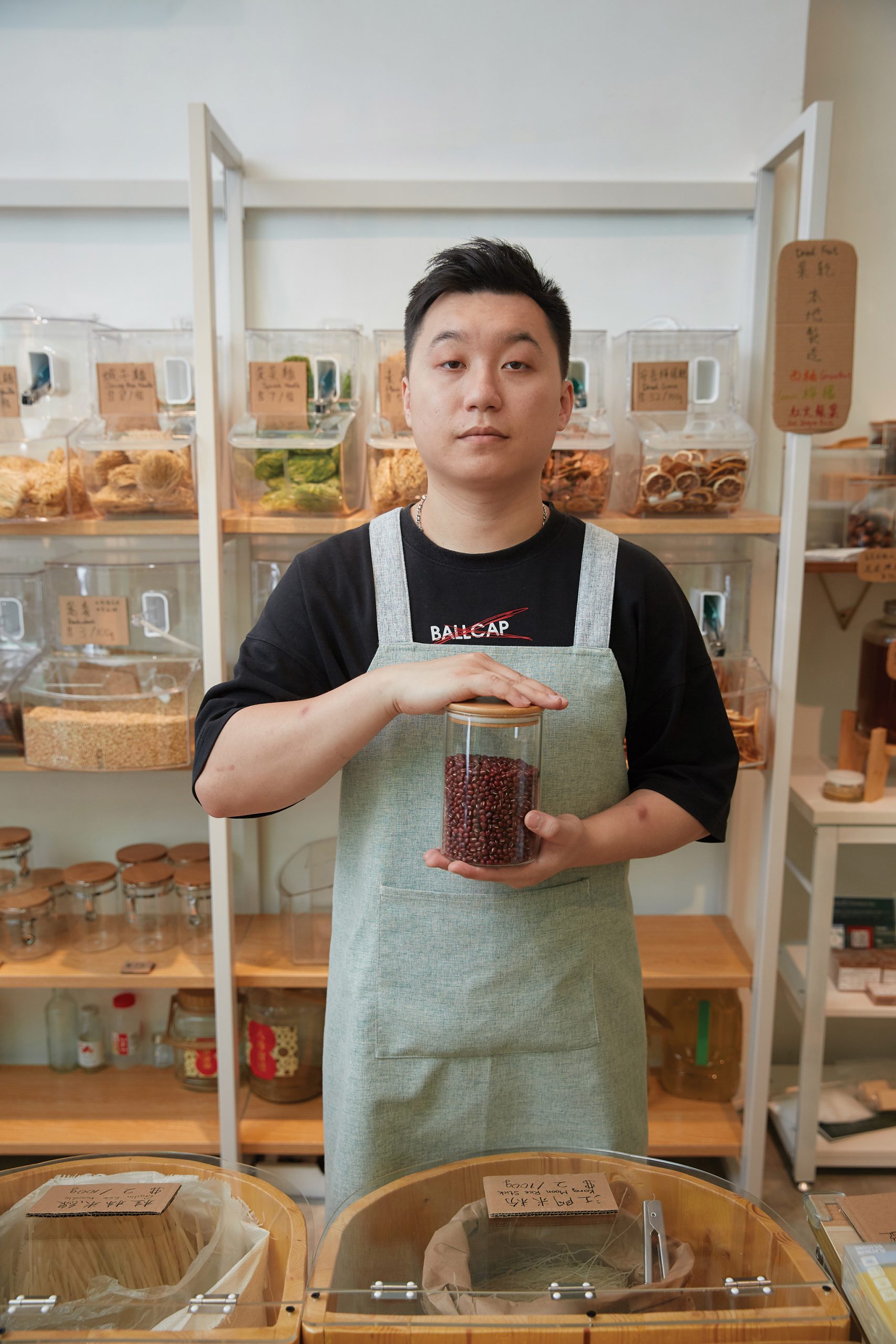 Mei Lon's founder, 28-year-old local entrepreneur Sou Chon Kit, says the store is his first venture into the business world. However, he never just wanted to open a run-of-the-mill shop. His vision is far bigger than just making profit – he wants to promote a shopping style that generates a minimal amount of waste, something that no other store in Macao has ever done before.
Sou came up with his concept in 2016 after he took part in a beach clean for the first time at the rarely visited beach behind Tam Kung Temple in Coloane. Upon arrival, he says he was shocked by the scenery in front of him: countless plastic bags, bottles and other unidentified trash scattered across a wide area. He recalls that the smell from dead fish and shrimps which had become entangled in all of the rubbish was appalling.
As a result, Sou says he asked himself 'why do we do this to our environment?' and then decided to do something about it. He immediately discussed his concerns about Macao's waste pollution with his friends and he was introduced to the idea of package-free groceries, which has long been embraced by green businesses and consumers in many Western countries. He says: "I thought, if this is workable in other countries, why can't we have a zero-waste shop in Macao?"
After careful planning, research and building connections with suitable suppliers, Sou launched Mei Lon in May. His business strategy is simple: eco-friendly and affordable. "Many people think that being environmental is something trendy and expensive," he says, "but I want it to become a normal, necessary everyday practice. It shouldn't be something that seems like a good idea when you first hear about but you soon forget about doing it."
A global movement
The concept of following a 'zero-waste lifestyle' is nothing new. Many people take their own containers or bags to shops, proactively purchase reusable items or seek out only natural cleaning products. But Sou describes the 'zero-waste lifestyle' as being like 'going back to the good old times'. "A society may go in the wrong direction," he says, "when it develops too quickly and money becomes a priority. That's why we have to look back into the past to find the right path. As for zero-waste stores, they are actually just like the old groceries in the past, where people would bring their own jars or bags to buy soy sauce or rice."
The first zero-waste grocery in the modern era, Unpackaged, opened in London in 2007. It became an inspiration for the next 200 bulk stores that sprung up across the UK in the next decade. The concept also spread to different parts of Europe and then to other continents, thanks to the growing understanding of plastic pollution and waste issues combined with zero waste lifestyles becoming more popular.
Zero-waste shopping is gaining momentum in Asia, with countries and regions such as China, Singapore and Taiwan welcoming more package-free groceries over the past few years. Last year, the concept was brought to Hong Kong by Live Zero, opening in Sai Ying Pun and selling bulk bin perishables such as oats, quinoa, nuts and dried fruits. Since it launched, more zero-waste brands such as Edgar, Seeds, Lively Life, Vom Fass and Audrey have popped up in different areas in the city.
Macao could benefit from the launch of zero-waste stores. The level of municipal solid waste reached 522,548 tonnes last year, which translated to 2.17kg of solid waste per person per day. While this figure could be attributed to the large number of tourists the city receives each year, awareness on waste reduction has been growing among local citizens who wish to relieve the city – and the planet as a whole – of its waste burden.
Local resident Mandy Ng says she has been practicing package-free shopping for the past year. "I always opt for buying from traditional wet markets and grocery stores," she says, "where I can shop with my own bottles and takeaway boxes." Another green consumer Wing Ho says she always opts for products with less packaging and avoids supermarkets that use excessive amounts of plastic packages even for fruits and vegetables with skins.
Meanwhile, the government has recently made considerable efforts to reduce municipal waste through a number of measures, including plans for a levy of between 50 cents and MOP1 (six US cents and 12 US cents) on takeaway plastic bags at shops which could be in place by the end of this year. It has also launched various incentive programmes to encourage the replacement of single-use plastic bags with reusable shopping bags and, between December and May, the Environmental Protection Bureau rewarded diners who refused to take plastic utensils at around 200 local food and beverage retail outlets and online takeaway websites, with a set of eco-friendly tableware. Meanwhile, water dispensers have been set up in public facilities, such as parks and recreational areas, to encourage the use of reusable bottles.
Biologist and local environmental activist Joe Chan believes that growing awareness combined with the supportive policies from the government is transforming waste reduction into a social culture in the city. He says the next step would be the
adoption of zero-waste concepts in everyday consumption. "Zero-waste shopping makes it possible to avoid unnecessary plastic further down the manufacturing process," he says, "and it has proven successful in many European countries and in a number of cities in Asia and America."
The starting point
Rachel Wong is among the people in Macao who share a growing concern over waste pollution. The mother of a one-year-old opened Less is More, the city's second zero-waste store, in June, just days after the launch of Mei Lon. The two-storey shop in Rua Nova à Guia stocks a variety of wholefood and plastic-free beauty and bathroom products on its first floor, while its second floor houses around 30 types of plant-based oils and vinegars. "I hope that this shop can cover everything we need in our daily lives," says the 30-year-old founder, "so that anyone who wants to follow a zero-waste lifestyle has what they need under one roof."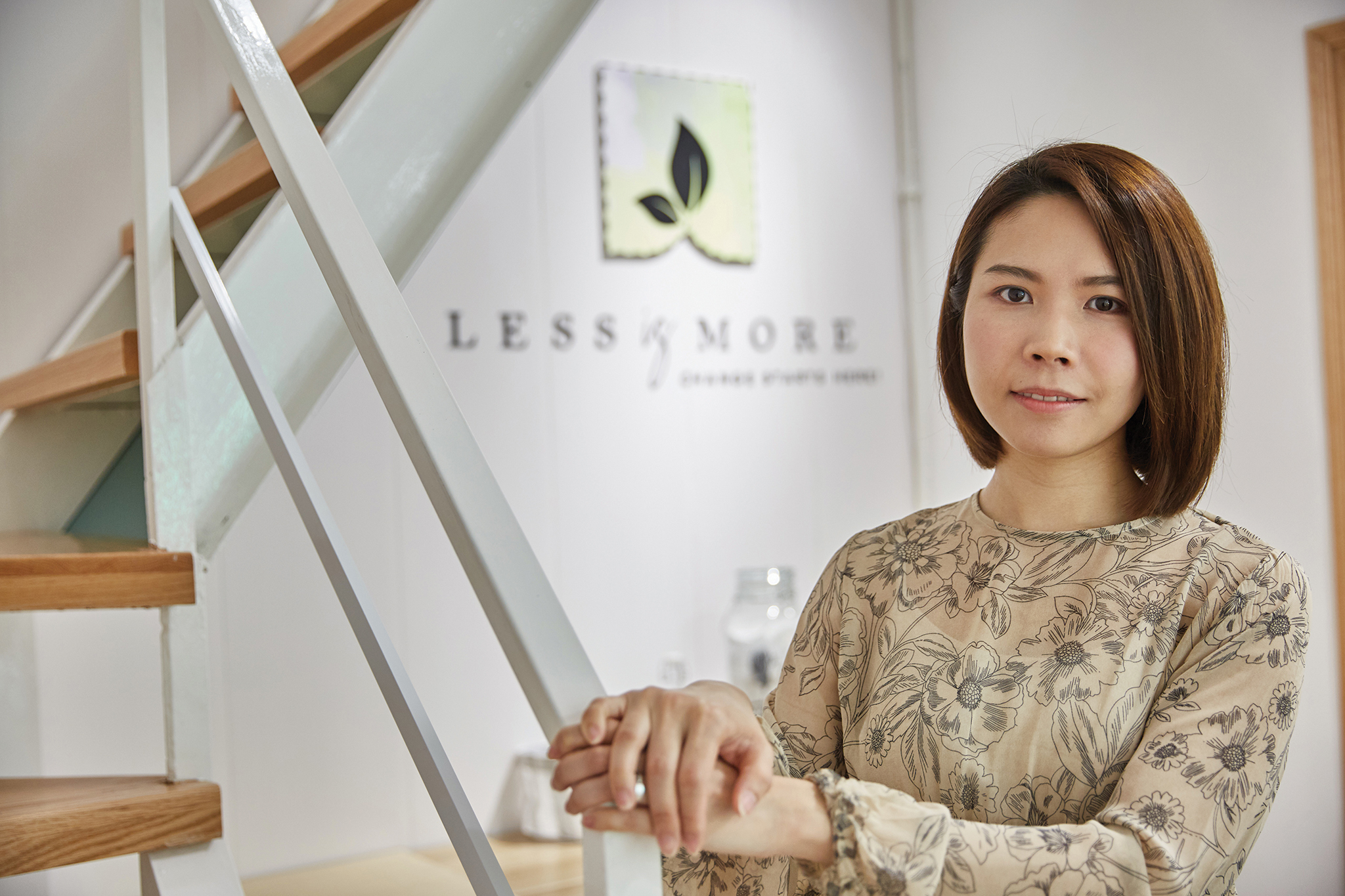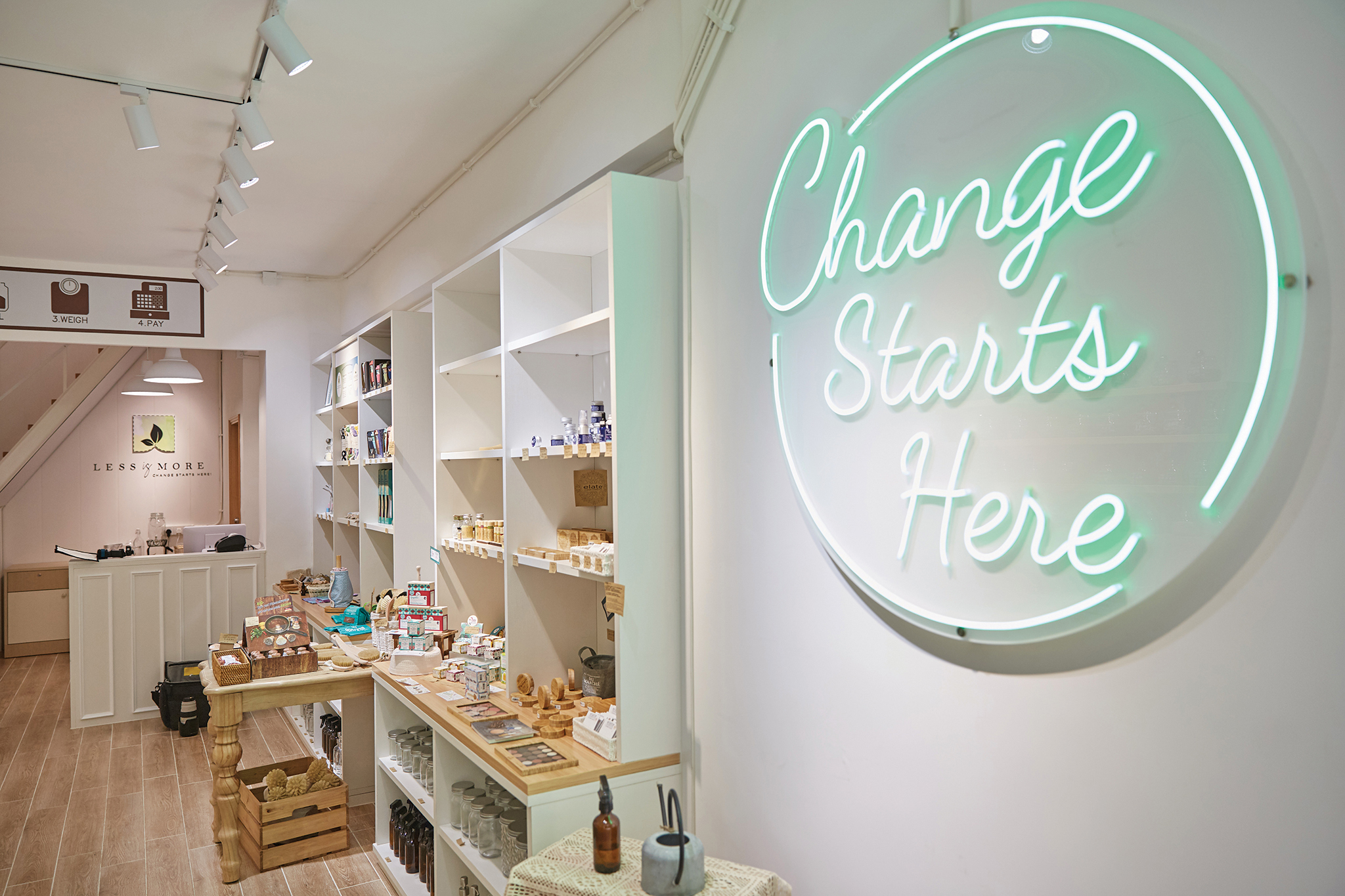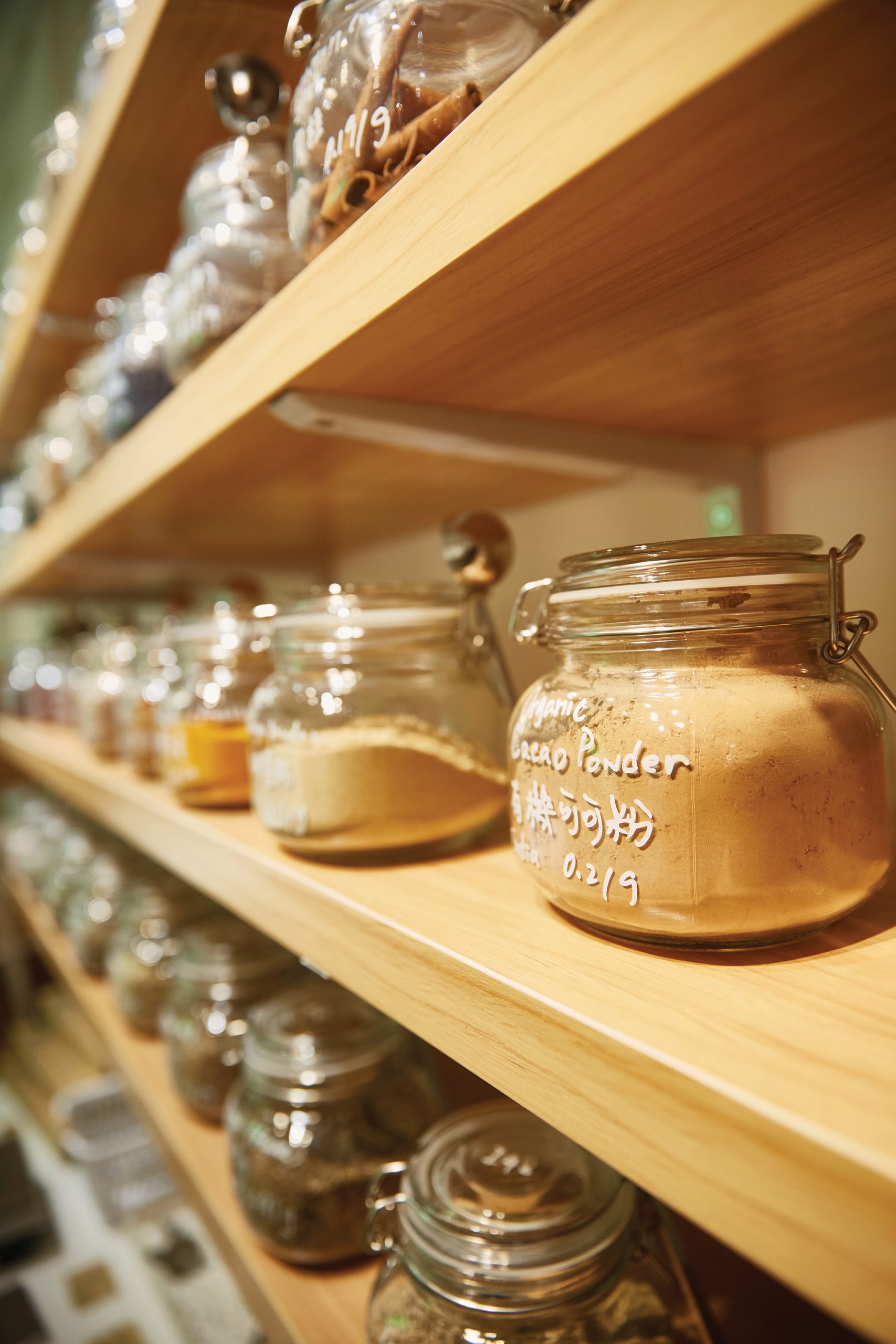 According to Wong, the idea for Less is More originated from her desire to live a minimalist lifestyle, which is all about 'living freer and lighter'. "A few years ago," she says, "I started to feel really annoyed by all the unnecessary junk that piled up in my home. I kept asking myself 'can I have fewer things?'." Wong's mission to live with less then brought her attention to environmental issues such as climate change and plastic waste in the oceans. And the birth of her son became the catalyst that pushed her into taking action. "I don't want my son to live in a world full of pollution," she says. 
Wong says she visited the zero-waste shops in Hong Kong and Thailand for inspiration and then spent the next nine months looking for a location in Macao, connecting with suppliers and formulating business plans before she officially opened Less is More. "I hope this shop can be a starting point for changes," says Wong. "If you can change yourself first, you will be able to motivate others to change."
Challenge and encourage
While their products may vary, both Mei Lon and Less is More are keen to source products from local suppliers or nearby regions such as Hong Kong and Taiwan in order to minimise carbon emissions from transportation. In Mei Lon, for instance, customers can find Cantonese noodles produced by Hon Kee Noodles, a local 50-year-old noodle factory, or dried fruits and handmade soap from other suppliers in town. "Macao has a lot of quality local products," says Sou, "but not many people know about them."
However, in just the first months of operation, Sou and Wong have realised how the humid, subtropical climate of Macao may pose a threat to the storage of package-free products. "For instance," says Wong, "nuts can easily soften. I have already thrown some of them away." To prevent moisture damage, both shops resort to dehumidifiers to maintain a humidity level of 40 per cent to 65 per cent. According to Sou, it is the standard range adopted by most supermarket warehouses in Macao. "It's not a perfectly environmental solution," he says. "However, if you don't use the dehumidifiers and let the food turn bad, this will be even more wasteful."
Wong echoes Sou's concerns. "It takes time to find out the best solution," she says, "and to find out which products sell faster than the others, so that we can determine how often we make orders and how much stock we should store in the hoppers." The two shopkeepers also agree that greater turnover brings fresher products – however, this depends largely on customer acceptance of this new shopping approach. Fortunately, before reaching out to the wider public, the shops have already drawn groups of green followers.
"In the past, I always had to buy refills that came with packaging," says Flora Fong, a regular of both Mei Lon and Less is More. "The opening of zero-waste shops makes it possible for us to buy oil, noodles and even rice and snacks without single-use packaging. This is wonderful."
Sou and Wong are happy with the responses to their shops and products however they say that what's even more encouraging are the positive changes they have inspired among residents living nearby, including those who had never previously thought about reducing waste and packaging.
"More and more customers are starting to bring their own containers," says Sou. "And even if they forget to bring one, they will just go home to get it as they realise that even paper bags are not so environmental."
He adds: "I understand that it's not easy for a person to change their habits. That's why it makes me feel really touched and hopeful to see the positive changes around the neighbourhood."
Spreading ideas
Sou and Wong don't yet know how their enterprises will fare but they are both optimistic and predict that we will see more package-free stores opening in Macao in the near future. "I believe that Macao people are ready to embrace a greener lifestyle," says Wong, "especially the younger generations who can access more information, news and reports through the internet."
Mei Lon and Less is More may be the only two zero-waste shops in Macao to date but a number of local grocery stores, such as Eco Mode, Stuffbox Natural Friendly Store, Concept H and Ho Ho Market Macau, are entering the zero-waste movement by introducing more package-free products on their shelves. However, it's not always an easy start.
Wing Chan, founder of Ho Ho Market Macau, started selling package-free body wash in October alongside popular artisanal toys and nostalgic stationery. He says he waited two months for the first buyer of the body wash. "Apparently, the culture of zero-waste shopping is still not very strong in Macao," he says, "but thanks to the eco-customers who helped me promote my products on social media, I am gradually building up a customer base, which allows me to expand my green collection."
Chan agrees that the close-knit society of Macao may benefit from the spread of such a new culture as zero-waste shopping – however, he also calls for more choices and promotion to keep the momentum going. He stresses: "We need to make package-free products more available in the market in general and provide more information on why and where customers buy these products, so that they can be motivated to follow this lifestyle. At this stage, however, most products available in major shopping facilities are still wrapped in unnecessary packaging."  
Macao's two new zero-waste stores are a step in the right direction for many. But does a shop need a zero-waste label in order to sell zero-waste products? Wong says no: "A supermarket can also go zero-waste – at least partially," she says. "Compared to us, they have bigger advantages to do this because they have more resources, more customers and a bigger turnover of products. Why do we always have to buy tomatoes wrapped in plastic?"