Macao is getting on board one of the world's most ambitious railway development programmes as part of the wider transformation of southern China's Greater Bay Area (GBA).
China's plan to turn the 11-city GBA along the Pearl River Delta into the world's most important economic hub depends to a large degree on integrating the cities and towns of the region through a dense network of criss-crossing rail routes, and which also connect to air and sea ports.
Home to 72 million people, the GBA consists of nine mainland cities – Guangzhou, Foshan, Jiangmen, Zhongshan, Zhuhai, Shenzhen, Dongguan, Huizhou and Zhaoxing – and the special administrative regions (SARs) of Hong Kong and Macao. The extension of the rail network across this dynamic and populous region offers multiple potential benefits to Macao.
The vision
The plans are described in the recently published Outline Development Plan for An Integrated Multi-dimensional Transport System in Guangdong (2021-2035).
The aim is to create a "one-hour transport circle" within the Pearl River Delta (PRD) by 2035, meaning that travel between the major cities of the PRD should take one hour or less. Travel from major cities to prefecture-level cities in Guangdong should be within a two-hour period and three hours should allow access to major cities in neighbouring provinces, such as Changsha (Hunan province), Fuzhou (Fujian), Nanchang (Jiangxi), Nanning (Guangxi) and Haikou (Hainan). This involves a total investment of over 470 billion yuan (US$74 billion) and the construction of 13 intercity railways and five hubs.
The GBA network will have a total track length of 4,700 kilometres in operation by 2025. By 2035, the rail network will reach 5,700 kilometres in length, covering all cities above the county level in Guangdong province.
China's central government wants to create a dense railway network similar to those in the greater metropolitan areas of Tokyo, New York, London and Paris, but with even greater speed and efficiency. It sees such a network as essential infrastructure to make the GBA one of the most economically developed areas in the world.
This programme has enormous potential for Macao's residents, cross-border commuters and visitors.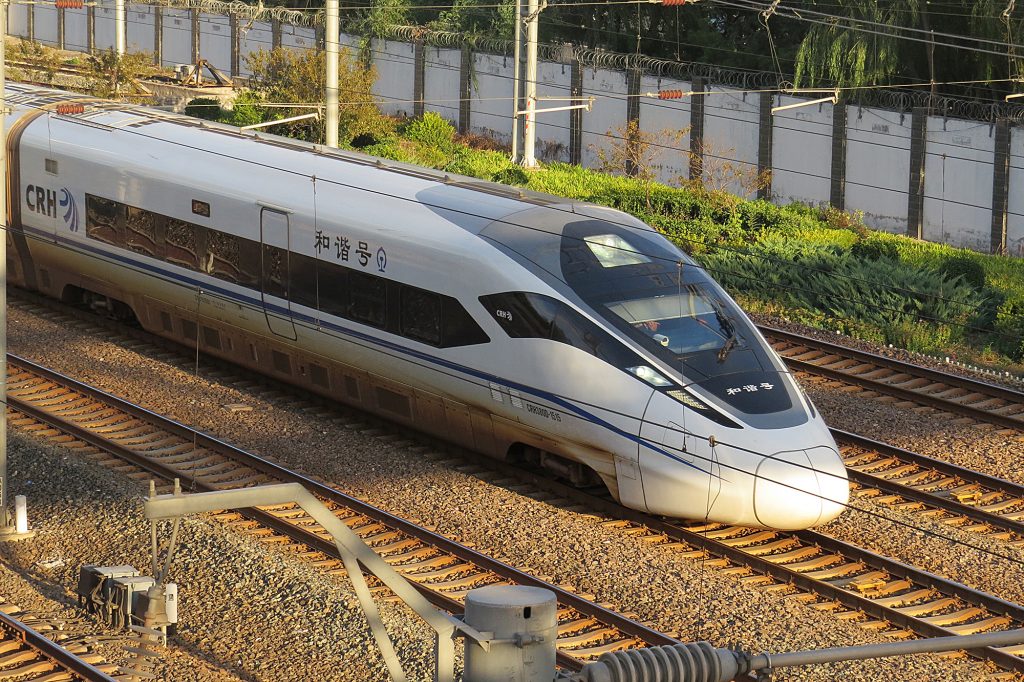 For example, Macao residents and visitors to the city will soon be able to take two high-speed railway (HSR) routes to Guangzhou and Zhaoqing, in Guangdong, where they can join the national HSR network. In the longer term, they will be able to take a train to Shenzhen, with a travel time of just 30 minutes. HSR trains can travel at speeds of 200-350kmh, depending on the line.
One part of the plan is the construction of an urban rail line from Hengqin Island, which borders Macao, to Jinwan Airport which serves the city of Zhuhai. This is due to be completed in 2023 as part of a major airport expansion.
Macao's Light Rail Transit (LRT) will be linked to Zhuhai's airport rail system, making it easier for travellers to reach Jinwan from downtown Macao.
Zhuhai Links
Currently, Zhuhai is linked to Guangzhou by a passenger railway and a freight line that runs from Zhuhai's port at Gaolan. One of the two new HSR lines under construction will run from Guangzhou North Railway Station to the city's Baiyun (White Cloud) International Airport, Yuzhu, Nansha and Zhongshan stations, reaching Hezhou station in Zhuhai and then its final destination at the Hengqin Checkpoint.
The second HSR will start at Hezhou station and run to Jiangmen via Lianzhou town in Doumen to Zhaoqing East Railway Station, where it will be linked to the Guangzhou-Guiyang HST. Located in the east Doumen district of Zhuhai, Hezhou station is planned as a hub for the west bank of the Pearl River Delta. Hezhou station will handle inter-regional and inter-city trains.
The most ambitious project is the rail link from Zhuhai to Shenzhen. Since this needs to cross the Pearl River, the engineering and economic challenges are enormous, and it will be difficult to complete within 10 years, analysts say.
When the project is completed travellers from Macao will be able to reach Shenzhen within 30 minutes.
Currently, passengers from 74 mainland cities can cross into Macao at Gongbei border point next to Zhuhai Station, via the passenger train service to Gongbei from Guangzhou South Station.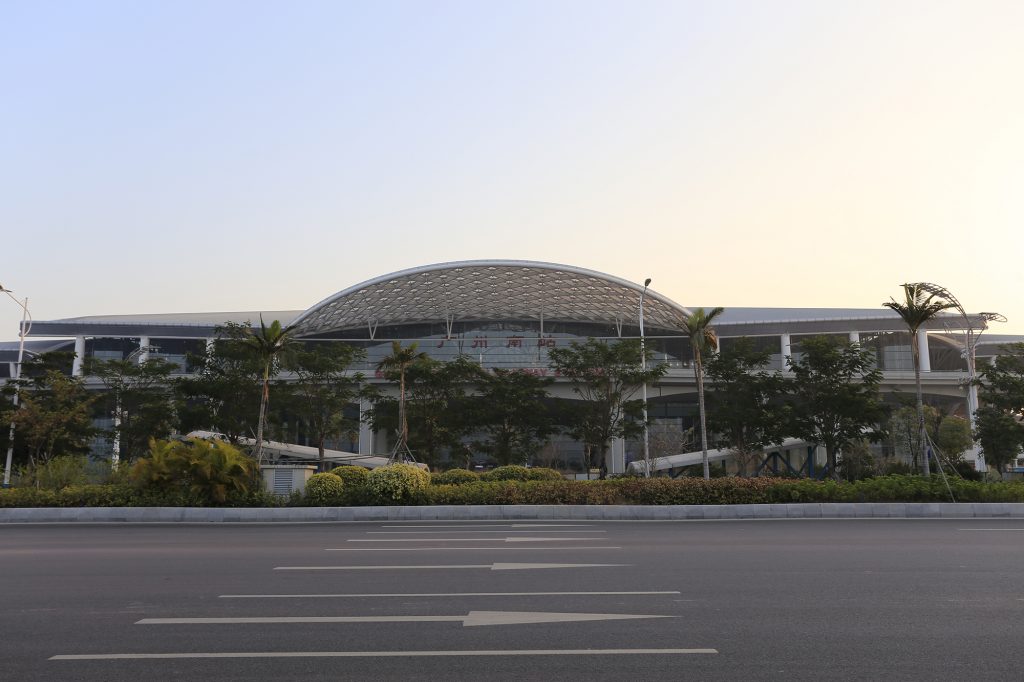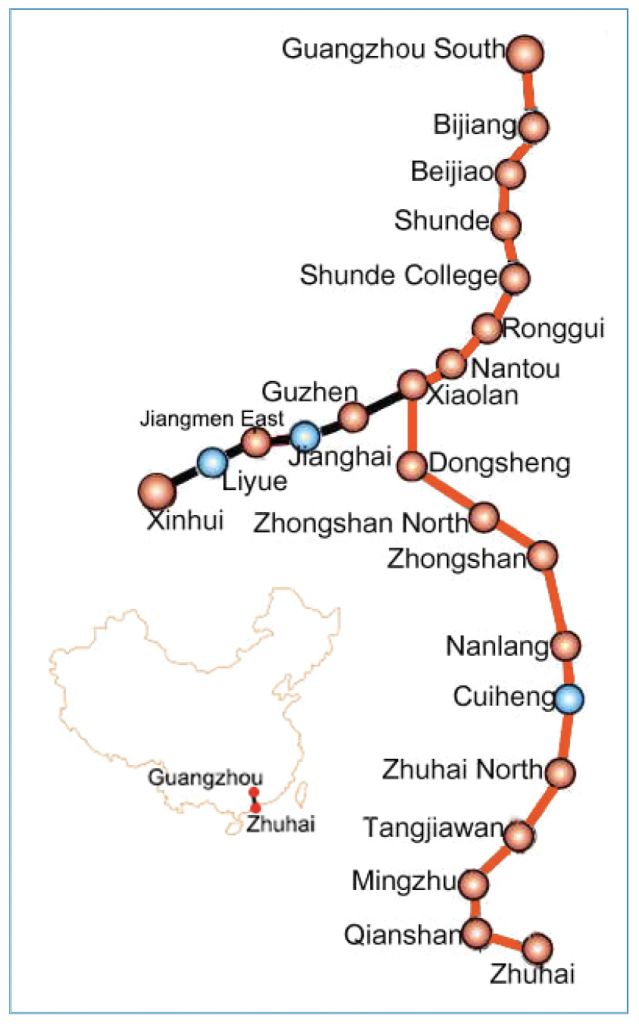 Jinwan Airport
One part of this dense network of lines aims to improve access to Jinwan airport in Zhuhai, which is 50 kilometres from the city centre and 25 kilometres from Macao. It opened in 1995 and has struggled to compete with the other airports in the PRD because of poor land access and no international flights access. The government aims to correct both of these deficiencies.
In the first week of January 2022, the first 50 metres of track of the east line of Phase II of the Zhuhai Airport Urban Rail, in Hengqin Island, was completed. The line will link Hengqin to Zhuhai's Jinwan airport, with the entire length of 39.48 kilometres due to be ready by 2023.
Phase II begins at Chimelong station in Hengqin, which serves a major tourism district, and runs through Hengqin, Shangniujiao and Jingwan tunnels before emerging onto the Jinhai Avenue Bridge. It is one of the world's widest multi-tower cable-stayed bridges, with a highway and railway on the same platform. After reaching Jinwan's Sanzao town, the line will be connected to the planned Zhuhai Airport Comprehensive Transportation Hub.
With the train reaching speeds of up to 160 kilometres per hour, travel time between Gongbei, the border-crossing point with Macao, and Jinwan airport will be cut to half an hour from the current 80-minute trip.
In 2019, Zhuhai airport handled 12.28 million passengers and 51,000 tons of cargo and mail with a total of 89,000 flights. It is home to more than 30 Chinese airlines, with China Southern as the main carrier as well as hosting the China International Aviation and Aerospace Exhibition, the country's most important aviation show, every other year.
The first phase of this airport link, completed in August 2020, is already up and running. The 16.86-kilometre line, with seven stops, takes only 20 minutes to run between Gongbei and Chimelong in Hengqin.
Zhuhai wants to add international routes, to increase the appeal of the airport to residents of the GBA. Airport Authority Hong Kong currently holds a 55 per cent stake in Zhuhai airport and wants to increase it.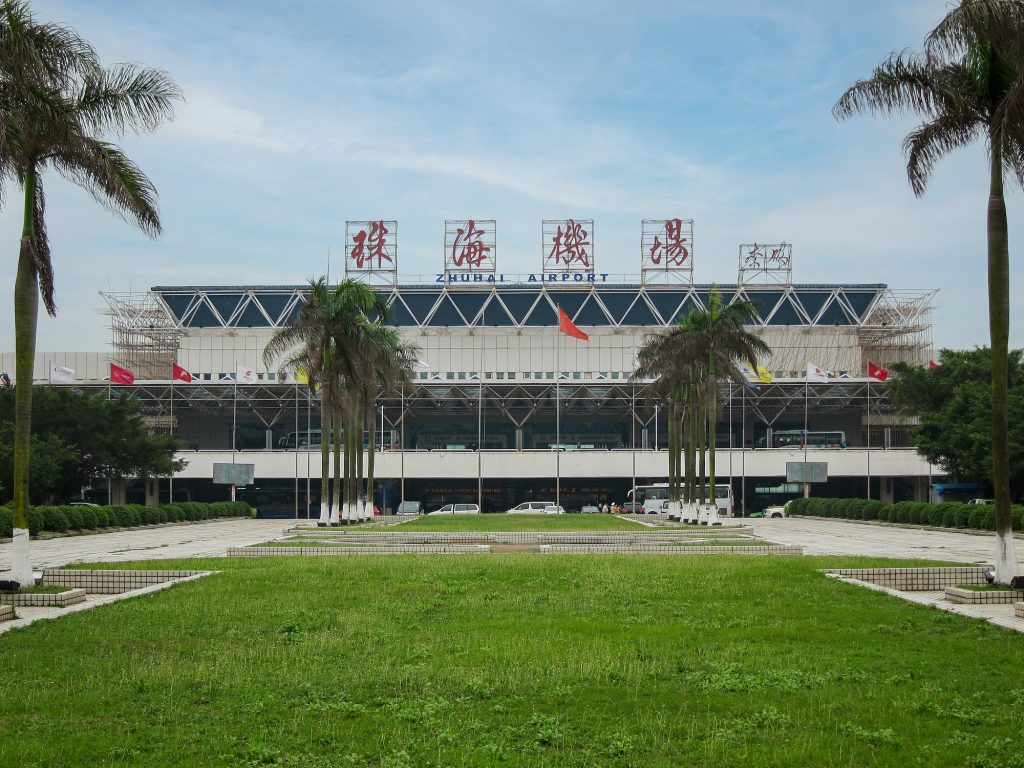 By comparison, last year Macau International Airport handled 1.147 million passengers, down from 1.173 million in 2020 but less than half the figure of 2018 (3.295 million).
Before the pandemic, 34 airlines operated at Macau airport connecting to some 59 destinations covering areas in mainland China and Taiwan, Southeast Asia and Northeast Asia. Due to Covid-19 restrictions, Macau airport currently only handles flights to and from mainland China.
With international flights and a rail link to Zhuhai, as well as to Guangzhou and the country's HSR network, Jinwan could become a more serious alternative to the Macao airport.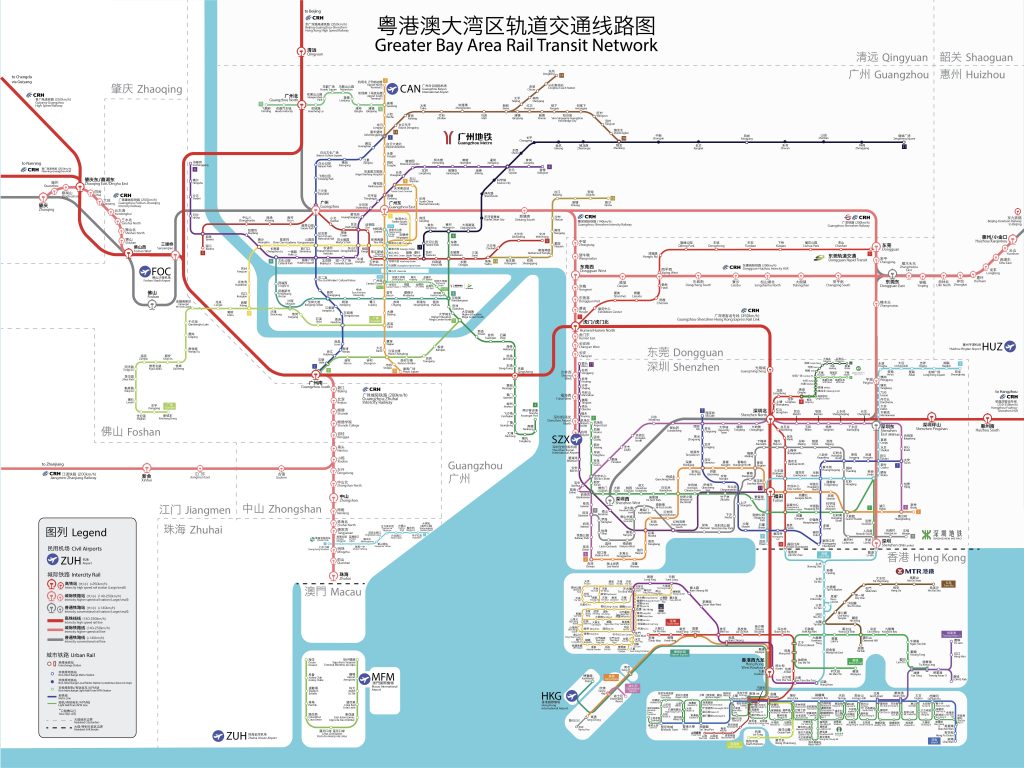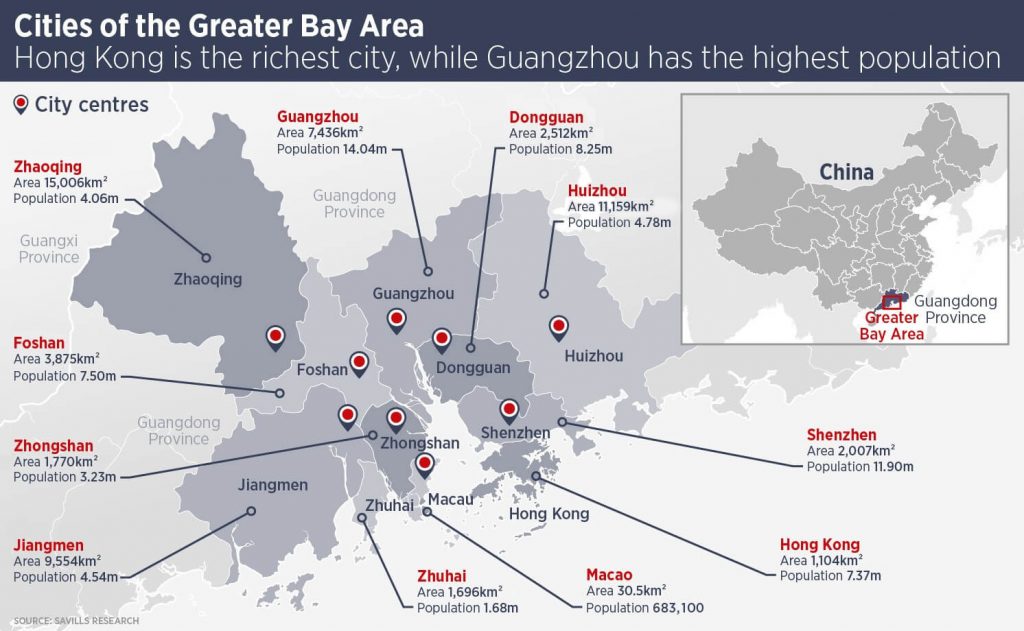 Hengqin Development
Hengqin Island is critical to Macao's future economic growth and diversification. The centrepiece is the Guangdong–Macao Intensive Cooperation Zone, which takes regional integration and the "One Country, Two Systems" to new levels.
Macao is building a 2.2-kilometre extension for its light rail system to link Cotai, home to several integrated resorts, to Hengqin Island, with a target completion date of 2023. There will be a viaduct, an underwater tunnel and two stations.

This Hengqin Line will run from HE1 Station near the Taipa Line's Lotus Bridge Station, along the Lotus Bridge via an overpass and pass through the Shizimen Waterway in a 900-m immersed tunnel to HE2 Station beneath the Hengqin Checkpoint. Passengers can then transfer to other means of transport at a transit complex.
The Macao-based, state-run Nam Kwong Group is building the line at a cost of MOP 3.5 billion (US$ 436 million). This new line will help integrate Macao into the one-hour living circle of the GBA.
Macao's LRT East Line will also connect the Gongbei Border checkpoint to the Taipa Ferry terminal via an underwater tunnel. This new 7.6-kilometre line will have six stations with a 15-minute ride from start and finish.

Once this extension is completed, passengers coming to Zhuhai from the rest of the country via the existing Zhuhai-Guangzhou intercity high speed train could stop at Gongbei, hop over to another platform to catch Zhuhai's airport rail link to go to Hengqin or get on Macao's LRT East Line to go to Cotai. Gongbei, the world's busiest frontier post, is currently undergoing massive expansion.
Hengqin Port, which opened in 2020, is also expanding. Open 24 hours a day, it has a maximum capacity of 220,000 people a day and 80 million people per year. Hengqin Station, which is 60,000 sqm in size, is the second-largest underground railway station in China and is built to handle inter-city trains.
In his annual work report on 12 January, Zhuhai Mayor Huang Zhihao said that the city government would press ahead with the Guangdong-Macao Intensive Cooperation Zone in Hengqin and that transport infrastructure linking Zhuhai and Macao will be improved, he said.
Huang said Zhuhai will also accelerate construction of the Hezhou New Area and Guangdong-Hong Kong-Macao Logistics Park and build a Hong Kong-Zhuhai-Macao Bridge economic zone.
With exciting economic opportunities arising across the GBA, Macao is perfectly placed to benefit from more convenient transport networks for tourists, workers and business people. China's railway revolution is picking up speed and Macao is at the beginning of a long and exciting new journey.