Dogs are often described as man's best friend. But well before dogs became our loving companions for walks and lunch dates, humans trained them to hunt, guard farm animals and protect homes. As far back as ancient Greece and Rome, dogs have been synonymous with security and, still today, many work to keep our community safe.
In Macao, the Public Security Police Force (PSP) Police Dog Group, or K-9 unit, has been building a team of crime-fighting dogs since 1995. The PSP founded the unit with 30 dogs, which they trained to detect drugs at the Macao airport and land border crossings, deter street crime, and protect visiting officials and other VIPs.
"Since we have an international airport, it's very important to have drug detection dogs at the airport so there's a deterrent and preventive effect," says Senior Inspector Chan Wai In, who oversees operations at the unit.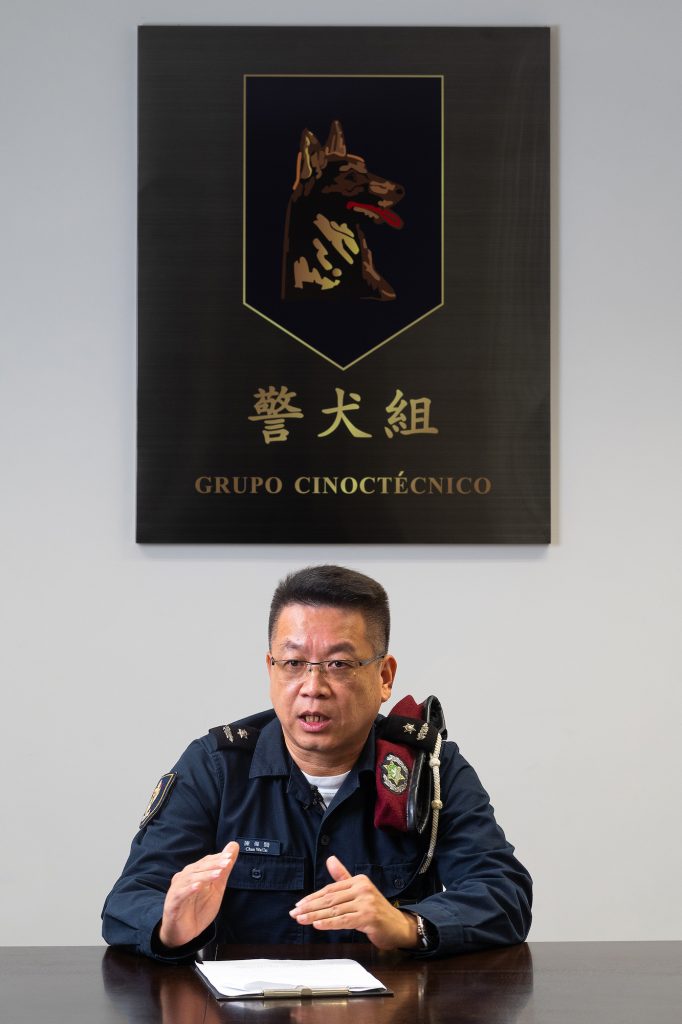 Now with 108 dogs in its employ, the K-9 unit is an integral part of Macao's safety and security strategy. Between 2010 and 2021, the animals helped the police solve 106 drug cases and three tracking cases by identifying illegal substances and searching for clues.
On occasion, the Police Dog Group has also supported the Judiciary Police Bureau, which usually tackles criminal investigations and helps prosecutors catch violent criminals. Most recently, in June 2021, the canine unit helped solve a murder case. In this tragic and gruesome incident, the dogs discovered a suitcase at Taipa Grande Hill that contained dismembered body parts of a murdered woman. Police already had the suspect in custody, but needed the suitcase to prove their case.
"It was quite difficult because it is on a hill and it's a large area – we had no direction and no clues at first," says Chan. "So it might have been a mixture of skills, coincidence and luck for the dogs to have found the body parts in three to four hours."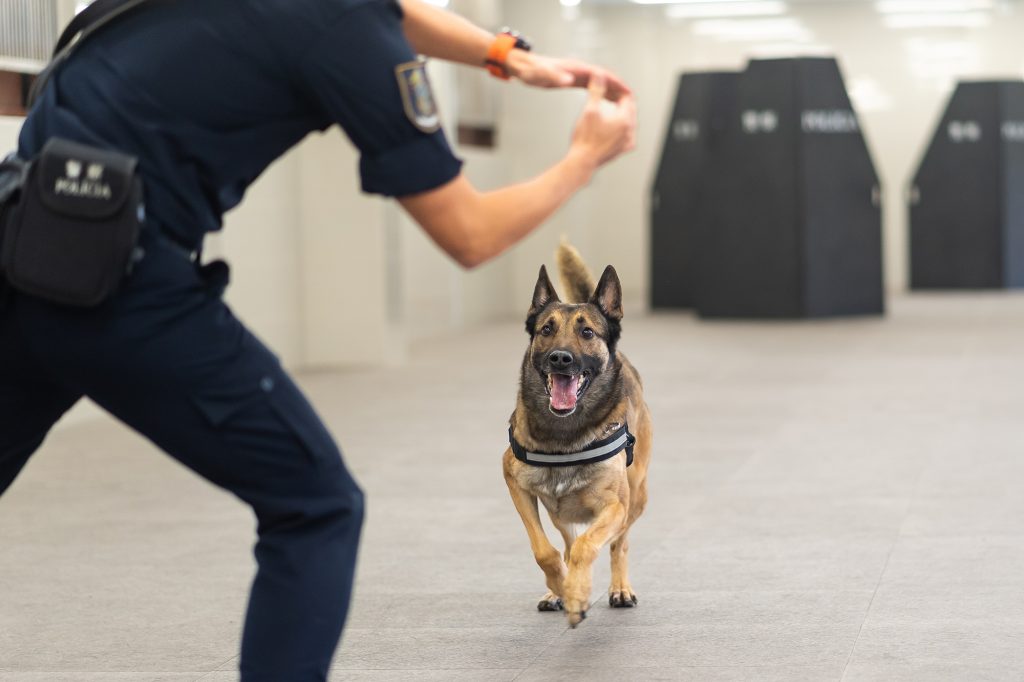 Building A K9 Team
Located at the intersection between Estrada de Hac Sa and Avenida de Luís de Camões, the K-9 division is part of the Special Police Unit, which stretches across a four-storey administrative building and a 3-storey kennel building next door.
To build up the unit, the police purchases dogs from reputable breeders in countries such as the UK or the Netherlands, as well as mainland cities like Nanjing and Kunming. These dogs are also internationally recognised working dog breeds and all must undergo professional assessments before being assigned to a department.
According to Chan, the unit does not accept adopted dogs because they encountered behavioural problems in the past. "We tried to accept other dogs but they have some bad habits and it's very hard to change their bad habits once they're already older," he says, adding that it's much easier to train puppies.
When they are roughly 10 months old, the Special Police Unit divides the dogs between its three divisions – Patrol, Drug Enforcement and Security Inspection – since each department requires a different type of dog and skill set. This leads the dogs to develop specialised roles in areas such as drug detection, patrolling, tracking, or search and rescue.
For instance, patrol dogs are assessed for their obedience and attack abilities, while drug detection dogs and security dogs are tested for their ability to track and search.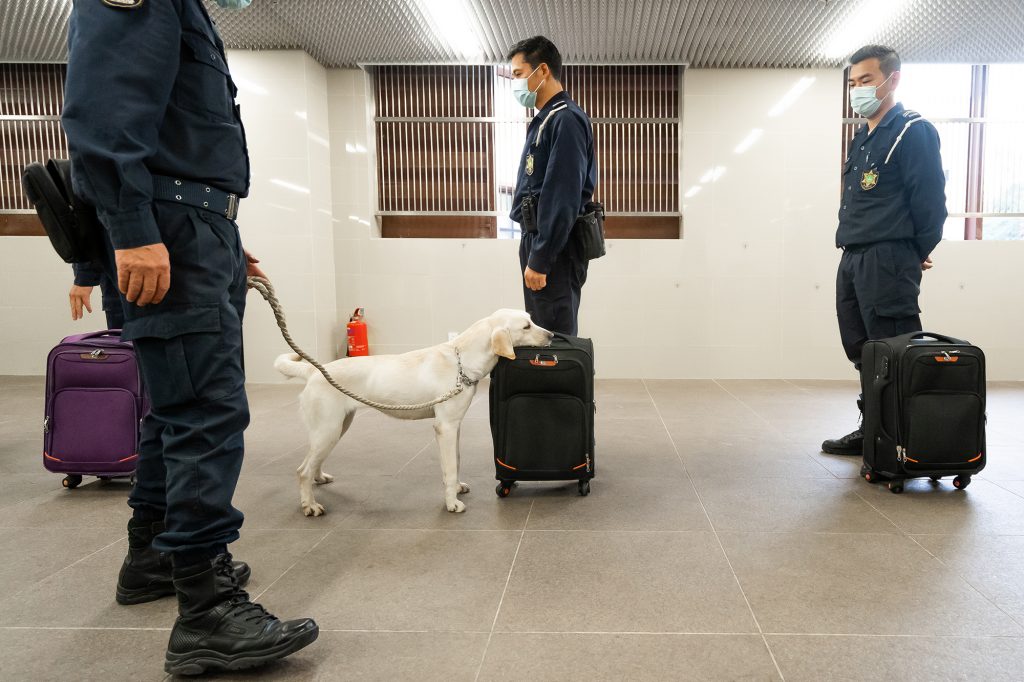 When it comes to matching breeds with the most appropriate job, German shepherds and Belgian malinoises typically help with patrolling, crime prevention and crowd control, thanks to their intimidating size, strong physique, obedience and ability to deter criminals.
Labrador retrievers, springer spaniels and Kunming wolfdogs often join drug detection and security details – which also involves screening and tracking – because these breeds are very intelligent with a keen sense of smell and flexible personalities. You've likely seen drug detection dogs deployed at the airport and other border checkpoints. They typically patrol the area, sniffing passengers, luggage and cargo in an effort to identify drug-related crimes.
Meanwhile, screening dogs – usually a German shepherd or a Belgian malinois – often check event venues for anything suspicious, from contraband to explosive devices, ahead of a VIP visit, while tracker dogs go into action when investigators need help hunting down clues and searching for suspects. In October 2016, for example, a tracker dog helped the police thwart an attempted murder by leading them to the crime scene before the perpetrator could use deadly force.
Last, search and rescue dogs help officers during and after large-scale disasters. For example, after a landslide or building collapse, these heroic dogs may be able to help locate a missing person.
The police use a mix of playful games and goal-oriented drills to train the dogs and keep them engaged. To teach a dog to track down drugs, for instance, the police use a 'find it' game featuring the animal's favourite toy. After placing a drug-scented item in the toy, the police then hide the toy and have the dog track it down using their strong sense of smell. Soon, the dog will associate the scent of the drug with their toy and easily identify it at airports and other border crossings. In the same way, if a dog is looking for a missing person, they can use an item of the individual's clothing to follow the scent.
Lucy, an eight-year-old Labrador retriever, is one of the department's drug detection dogs. In a demonstration at the unit's Coloane base, her trainers place a row of luggage bags in a room with a tennis ball hidden inside one of them. In walks Lucy, who eagerly searches for her favourite toy, sniffing each suitcase until she excitedly finds the right one in a matter of seconds.
Spring Training
In May 2021, the unit welcomed a new cohort of nine Belgian malinois puppies. Known for their distinct black faces and ear markings, these golden-brown dogs have long been a favoured breed for police and military service.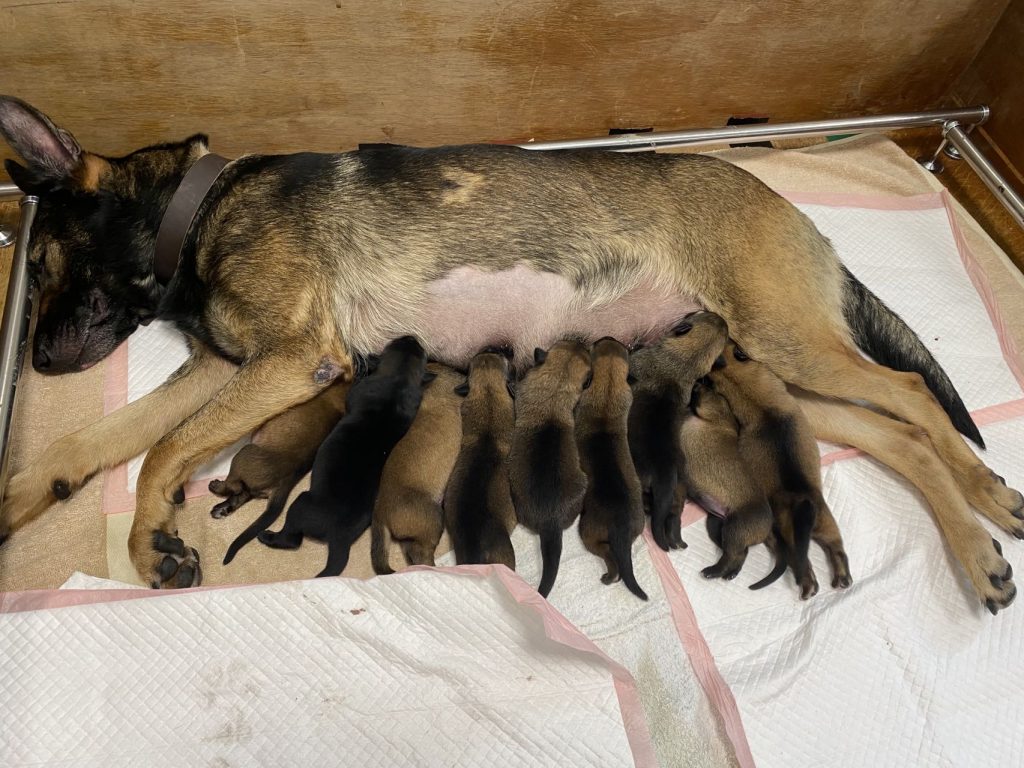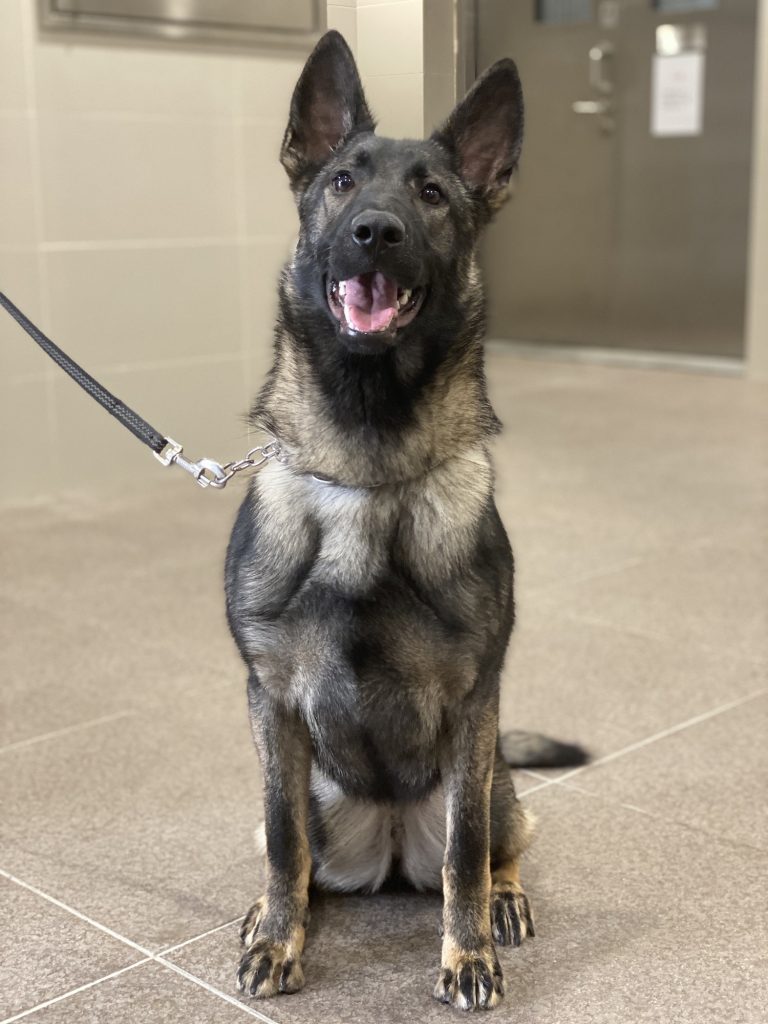 Currently eight months old, the dogs will undergo a series of health checks and tests, then begin training for a specialty department in March. It's best to train dogs when they are still puppies, says Chan, since they are still young enough to learn new habits while treating it as play. "If they are older than one year, their character is fixed already and habits are hard to change," he says. "This is why early training is important."
Among the nine dogs, the youngest, Mandy, will become a patrol dog. Characterised by her strong physique, obedient nature and lively personality, Mandy is an ideal candidate for patrol work.
From beginning to end, each dog will undergo 12-15 weeks of training to learn the essential skills in their unit. Security dogs, trained in a similar manner as drug detection dogs, will learn how to identify explosives, while patrol dogs learn how to listen to commands, jump and attack. When they begin their service in the unit, they continue receiving regular training to stay sharp.
Next comes the matching process. The department typically looks for a complementary pairing when it comes to assigning dogs to officers. "For example, if the handler is very active, he will need a dog that is less active," says Chan, because they need to balance each other's strengths and weaknesses.

The officer is not only the dog's work partner but also its handler, taking care of the dogs day to day. Since working with police dogs is a popular and vital role, the recruitment process is very competitive. Handlers undergo intense training and only the top performers will be assigned to the K-9 unit.
Good dog handlers must be lively and love working with dogs through both training and play.
"I once handled two dogs but they have both passed away," says Chan, who has two pet dogs at home. "I was very fortunate to be selected for this unit, where I am now the senior inspector managing the base and its operations."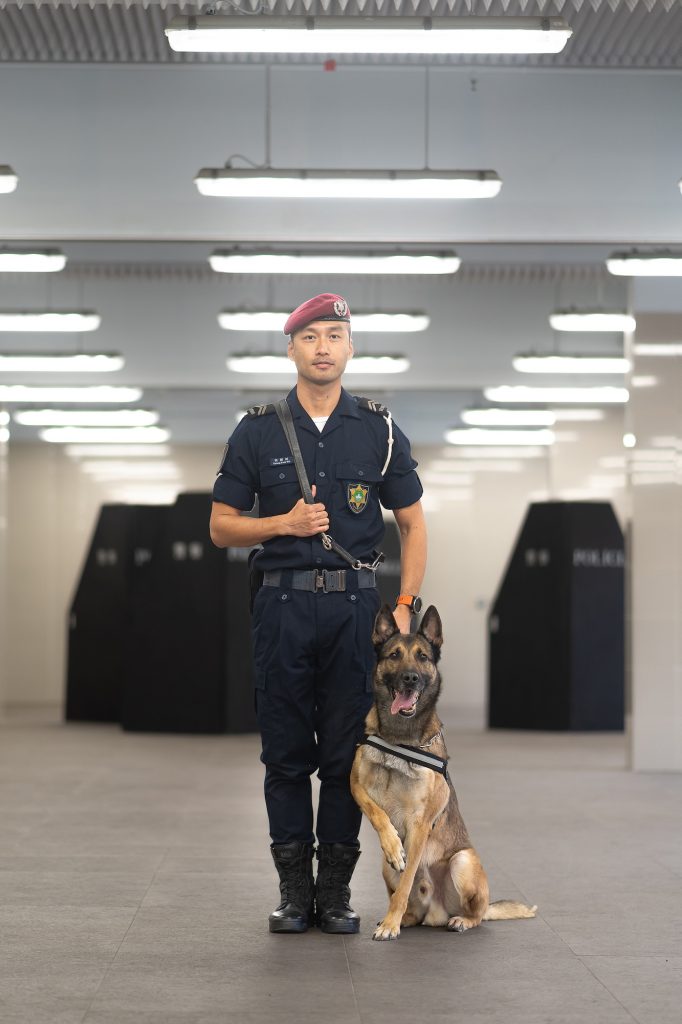 Once a dog is assigned to a handler, they typically work together for many years and develop a strong relationship. For instance, Jerry, a 5-year-old Belgian malinois, has been working with Officer Cheong Kwok Wai for the past four years, becoming close partners.
Most of the dogs in service will be part of the police family for the rest of their lives, while working and in retirement. The police unit usually retires dogs when they reach eight years, on average. Handlers will have an opportunity to take the dog home as a pet, or if that is not possible, the animal will remain at the base for the rest of its life.
As of January, the oldest dog at the department is a former drug detection Labrador named Tina who is almost 14 years old. She's still active and able, but has not worked for a few years. Instead she is enjoying retirement at the base, living out the rest of her life as a beloved pet.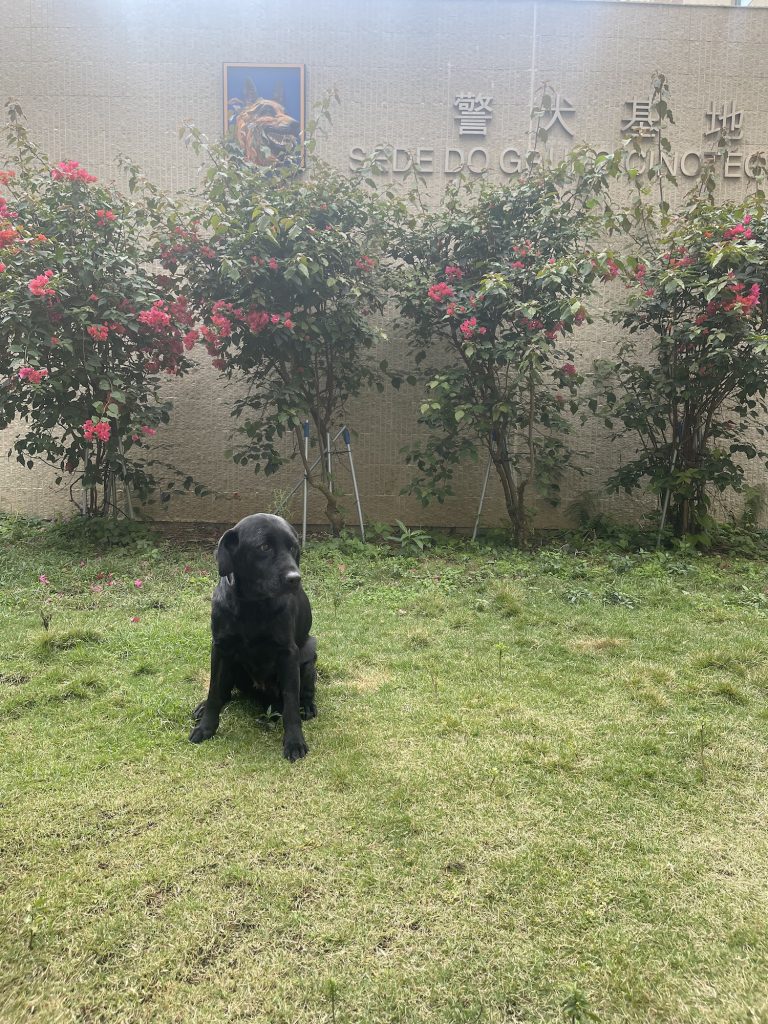 After the nine young Belgian malinois dogs have been trained, Chan says the police will have enough dogs and officers in the K-9 unit. "We will keep on studying if there's a need to expand the unit according to social changes," he says. "In the process of training, we bring in fun but even so, as members of the police force, the dog unit serves as a bridge between officers and the public, performing the same work as police do in upholding general safety."