Inclusion in the GBA offers Zhaoqing the chance to develop more rapidly, partnering with its richer neighbours to offer complementary products and services.
For the city of Zhaoqing, inclusion in the Greater Bay Area (GBA) Initiative promises the opportunity to catch up with other cities in Guangdong that developed faster during the reform area.
Located in the central-western part of Guangdong province, most of Zhaoqing sits north of the Xijiang River, nestled between plains and mountains. It has the largest land area of any city in the GBA, coming in just under 15,000 sq km, with a population of 4.12 million. With a GDP of CNY220 billion (US$31.93 billion) in 2017, it accounted for only 2.45 per cent of the province's GDP.
Zhaoqing is, along with Jiangmen, the least developed of the 11 GBA cities. While both cities boast a per capita GDP above the national average in China, they fall well below that of Shenzhen and Guangzhou, as well as the unofficial threshold for developed countries. The two SARs, by comparison, have per capita GDPs well above many developed countries.
Although manufacturing is a staple for Zhaoqing, primary industry – agriculture, forestry, and fisheries – account for 14.8 per cent of its GDP, more than any other GBA city. Conversely, the service sector makes up a far smaller per cent of the GDP than other GBA cities, at 38.3 per cent.
Inclusion in the GBA offers Zhaoqing the chance to develop more rapidly, partnering with its richer neighbours to offer complementary products and services. Each city in the GBA belongs to a cluster of two to three cities centred around a stronger 'core' city to encourage stability and growth. Zhaoqing, along with Foshan, is clustered around Guangzhou, which boasts a GDP nearly nine times that of Zhaoqing, at CNY1.95 trillion (US$283 billion).
Natural strengths
Zhaoqing not only has the largest land area within the GBA, its soil is less contaminated by industrial pollution. It can meet the demand of middle-class GBA residents for high-quality and specialty foods. These residents also want new leisure activities, like weekends away, scenic tours, and second homes. It has spectacular scenery. Dinghu Mountain, located in the south-eastern part of Zhaoqing, was the first nature reserve in China and is listed by UNESCO as an international biosphere reserve. With its natural beauty and property prices among the lowest of GBA cities, Zhaoqing is well positioned to meet these needs.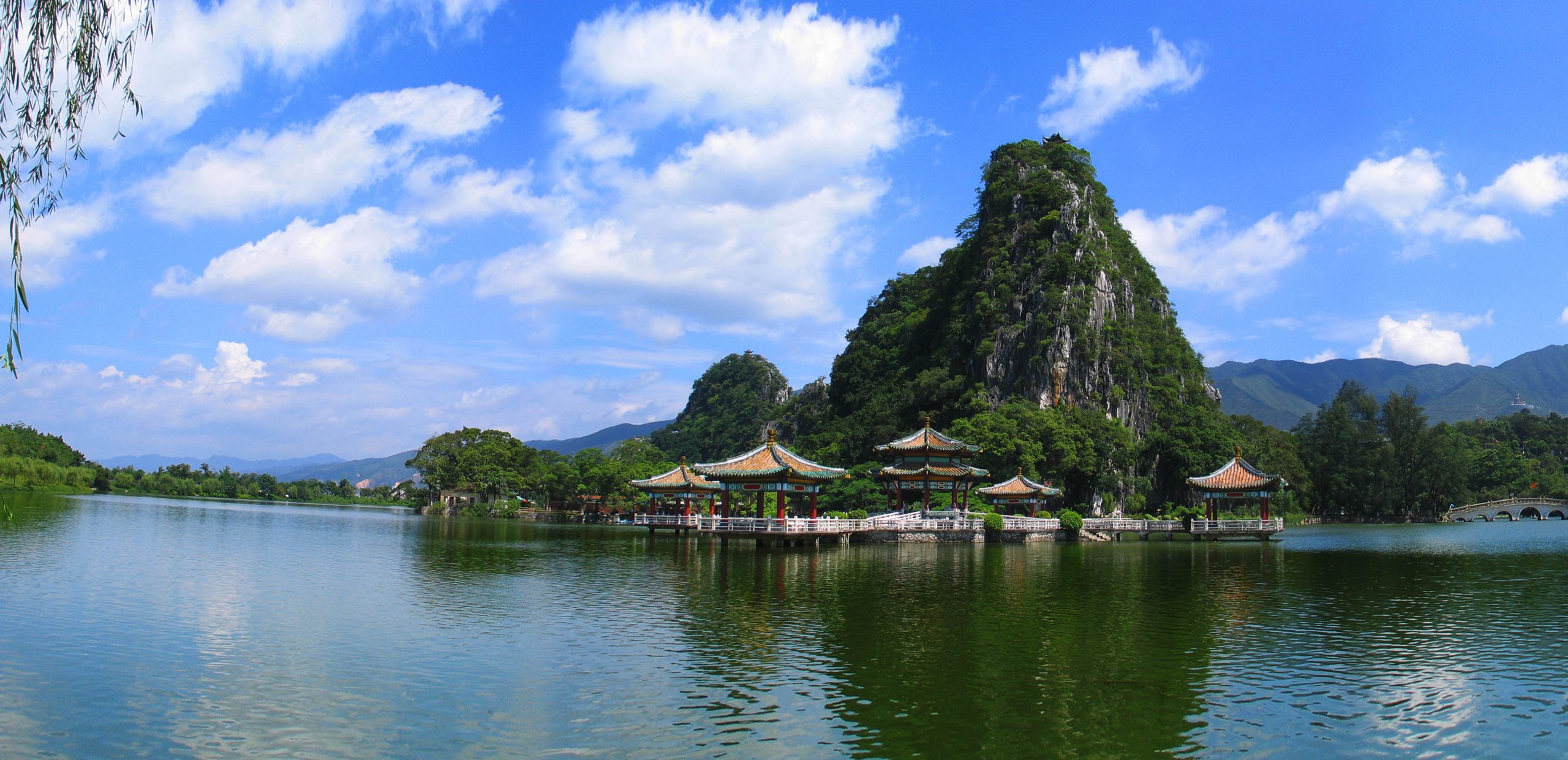 The mountains of Zhaoqing also hold considerable mineral wealth. It is the most important gold producer in the province, with mines concentrated in Gaoyao district, and Huaiji and Fengkai counties. Its non-metallic mines include limestones for flux and gypsum, granite for overcoating and construction, porcelain clay, ink-stone, mineral and geothermal water. It leads the nation in production of ink-stone, a unique ornamental stone.
Zhaoqing also boasts a well-development transport system, with eight external ports. Its New Port is one of the 28 most important inland ports in China. It has three national expressways, plus three more in the pipeline, and two high-speed railways, with an intercity railway connecting it directly with Foshan and Guangzhou.
Looking to the future
Zhaoqing has six key traditional industries: textiles and garments, food and beverages, furniture, building materials, metal products, and home appliances. In total, these six industries contributed 33 per cent of the city's value-added industrial output in 2017.
The city's 13th Five Year Plan (2016–2020) designated five industries as priorities for future development: new materials industries, high-end new-type electronic information industries, biomedicines, advanced equipment manufacturing, and energy-saving and eco-friendly industries.
It is developing three industrial clusters worth over CNY100 billion (US$14.51 billion) that specialise in the areas of the advanced equipment manufacturing, focusing on new energy vehicles, as well as environmental protection equipment and intelligent equipment. Each of these clusters will eventually produce goods worth hundreds of billions of yuan.
The city is also looking to promote cloud computing, Big Data, and industrial robotics in order to boost the smart capabilities of its manufacturing sector and to improve its overall technology.
In agriculture, Zhaoqing's Huaiji county is one of Guangdong's primary grain production bases. The 13th Five-Year plan calls for adoption of the "internet + agriculture" production and operational mode, harnessing new technologies to modernise farming. Capabilities range from collection and analysis of data on things like crop yields and weather conditions, to e-commerce and the development of more specialised farm products for consumers in the Pearl River Delta.
Economic performance
In January 2018, in his annual report on the city's economy, Mayor Fan Zhongjie said that Zhaoqing's GDP in 2017 was CNY220 billion  (US$31.93 billion), an increase of 5.2 per cent over the year before, with an average per capita GDP of CNY53,674 (US$7,790). He said that industrial added-value, fixed asset investment and retail spending rose by 4.9, 9, and 10.6 per cent year-on-year respectively.
He reported that the 366 Industrial Development Project was proceeding smoothly, with an increase in the proportion of GDP of the three priority industries: new energy vehicles, modern equipment manufacturing, and environmental protection and energy saving.
Traditional industries accounted for one-third of the increase in industrial added-value in 2017. Production of furniture rose and of construction materials, 6.1 and 17.5 per cent respectively, while textile and garment production fell 18.5 per cent.
Retail sales rose 10.6 per cent to CNY80.99 billion (US$11.75 billion). Exports fell 28 per cent to US$22.23 billion and imports fell 9 per cent to US$13.57 billion. Contracted foreign investment fell 80.2 per cent to US$267 million and actual foreign investment fell 51.1 per cent to US$181 million. The number of visitors rose 2.4 per cent to 519,400. The average disposable income of the city's residents in 2017 was CNY22,360 (US$3,245), an increase of 8.7 per cent.
From Ancient to Modern Silk Road
When the West first encountered China, Zhaoqing served as the hub of the famed Silk Road. The county of Fengkai, part of Zhaoqing, was the earliest contact point for the Maritime Silk Road during the Western Han dynasty (206BC–9AD). Several hundred and up to 1,000 years ago, the county of Huaiji, also in Zhaoqing, was an important trading point on the Maritime Silk Road.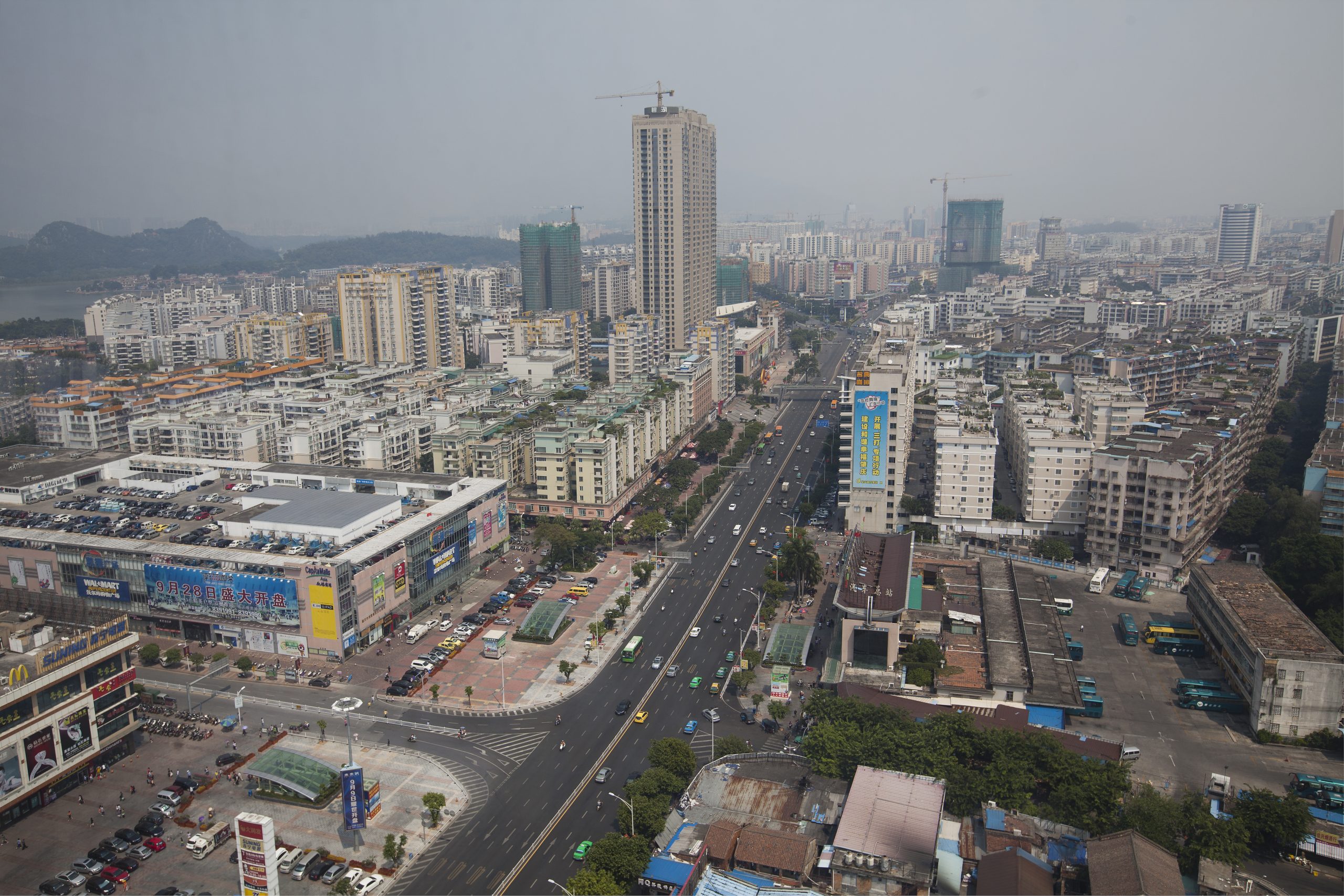 The first European-style map in Chinese originated from the city, published by a Jesuit priest named Matteo Ricci in 1584. The map aroused enormous interest among the residents who learned for the first time of countries that they had never heard before. Two years earlier, in 1582, an agreement signed in Zhaoqing established the Portuguese trading centre of Macao; Ricci was living in Macao at the time.
Zhaoqing served as the seat of the provincial governorship of Guangxi and Guangdong, a position it held for nearly 200 years beginning in the 16th century. During this period, it was the centre of south China, largely due to the inland water navigation system that linked Zhaoqing at the Xijiang to waterways in Guangxi and the north and downstream to Guangzhou and the Pearl River Delta (PRD) region. Its importance in trade stemmed from its prosperous agrarian and craft economies that had for thousands of years specialised in stationery, textiles and handicrafts, and later in sugar; these were commodities sold to the rest of the country as well as for export. Its local population density had been higher than that in the Guangzhou area for centuries.
Its military strategic location – at the junction of the PRD plains and the Dinghu Mountain of the Dayunwu Mountain Range – also allowed it to lead the local government to face the challenges of pirates and the newly arrived European maritime powers.
When the centre of power shifted to Guangzhou in the late Qing dynasty (1644–1911), the city went into decline.
Passed over by manufacturing boom
With the growth of trade in Macao, which linked Guangzhou and the PRD to the intercontinental and trans-Pacific Ocean trade routes, the export economy of production and services in Guangzhou prospered at the expense of Zhaoqing. Over the following centuries, Guangzhou expanded into a world metropolis; it is the centre of the PRD and connected by railways, sea, and air to a much larger hinterland than the regional economy.
Meanwhile, Zhaoqing was relegated into a provincial town lying idle on the outskirts of Guangzhou. The Xijiang River and its tributaries were unable to help Zhaoqing to modernise and industrialise.
The export-oriented industrialisation drive of the PRD over the last three decades centred on the relocation of industrial processing manufacturing from Hong Kong and beyond, using an army of migrant peasant workers from all over China. The export nature of the industrialisation concentrated manufacturing in areas bordering Hong Kong; this made Shenzhen, Dongguan, and Guangzhou the 'world factory' for labour-intensive products.
There was no significant industrial spillover to peripheral Zhaoqing. In recent years, when industrial processing has seen cost inflation and depressing external demand and many foreign-invested firms in Dongguan, there was no chance for less competitive firms to relocate to Zhaoqing. Its local cost structure and policy regime were not attractive enough to compete with overseas low-cost production centres like Vietnam, Indonesia and, more recently, Myanmar and Bangladesh. The miracle of the export-oriented industrial processing manufacturing never quite reached Zhaoqing.
Beginning in 2003, Zhaoqing tried its own industrialisation; it developed indigenous heavy industry to replace the industrial processing dominated by foreign investors. Guangzhou did the same with some success, benefitting from greater human and capital resources than Zhaoqing.
The push for industrialisation turned out to be a mixed blessing for Zhaoqing. Heavy industry replaced light industry as the engine of growth of the local economy; but it was achieved by excessive investment – the ratio of fixed asset investment to GDP has reached over 50 per cent since 2003, with individual counties at over 90 per cent in some years.
Remaking its economic future
The development of the GBA marks a new economic era in the region, one that promises Zhaoqing many new opportunities. It has been designated as the major supply base of agricultural products for the GBA, capitalising on its plentiful cultivatable land. Urban residents in the GBA have become affluent enough to become more concerned with food safety and freshness, making them an ideal market for organic and locally grown food products.
Another opportunity is leisure and holidays. Where Macao promises glitz and glamour, Zhaoqing provides a more relaxed getaway with its lower-density development and natural beauty, especially in the mountains surrounding the city. Perfect for weekends away in accommodations or a second home, both high priorities for the burgeoning middle class in the GBA.
It is developing the Qixingyan-Dinghu tourism and leisure area as a centre of tourism in the GBA, and a national leisure and tourist resort. Zhaoqing has a good ecological environment, large space for development and rich tourism resources. Only a fraction of its total land area – just 5 per cent – has been developed. Its mountainous area includes four counties – Fengkai, Deqing, Guangning, and Huaiji – that cover 72.1 per cent of the city's land area but have only around half of its population.
The city will be greatly helped by its excellent transport network of inter-provincial high-speed railways and expressways. The city is only 70 minutes from Guangzhou. It has major highways connecting to neighbouring Foshan and Jiangmen, as well as the city section of the Pan-Pearl River Delta Highway. High-speed railways run north to Guiyang, capital of Guizhou province, and west to Nanning, capital of the Guangxi region.
This wealth of land links will facilitate the arrival of visitors and tourists, as well as the delivery of Zhaoqing products to markets elsewhere.